Gunsmoke is an American radio and television Western drama series created by director Norman Macdonnell and writer John Meston. The stories take place in and around Dodge City, Kansas, during the settlement of the American West. The central character is lawman Marshal Matt Dillon, played by William Conrad on radio and James Arness on television. When aired in the UK, the television series was initially titled Gun Law, later reverting to Gunsmoke.
Contents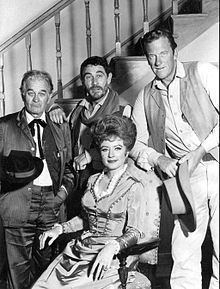 The radio series ran from 1952 to 1961. John Dunning wrote that among radio drama enthusiasts, "Gunsmoke is routinely placed among the best shows of any kind and any time." The television series ran for 20 seasons from 1955 to 1975, and lasted for 635 episodes. At the end of its run in 1975, Los Angeles Times columnist Cecil Smith wrote: "Gunsmoke was the dramatization of the American epic legend of the west. Our own Iliad and Odyssey, created from standard elements of the dime novel and the pulp western as romanticized by [Ned] Buntline, [Bret] Harte, and [Mark] Twain. It was ever the stuff of legend."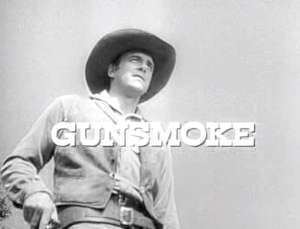 The world s finest fighting firearm rich wyatt gunsmoke guns tv
Radio series (1952-1961)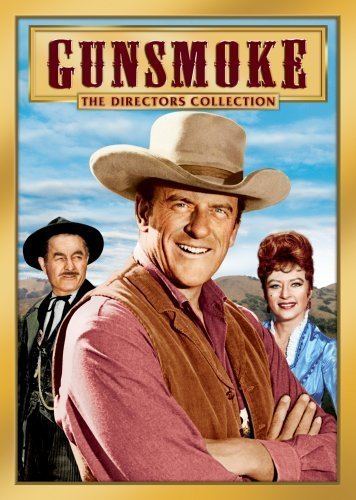 In the late 1940s, CBS chairman William S. Paley, a fan of the Philip Marlowe radio serial, asked his programming chief, Hubell Robinson, to develop a hardboiled Western series, a show about a "Philip Marlowe of the Old West". Robinson instructed his West Coast CBS Vice President, Harry Ackerman, who had developed the Philip Marlowe series, to take on the task.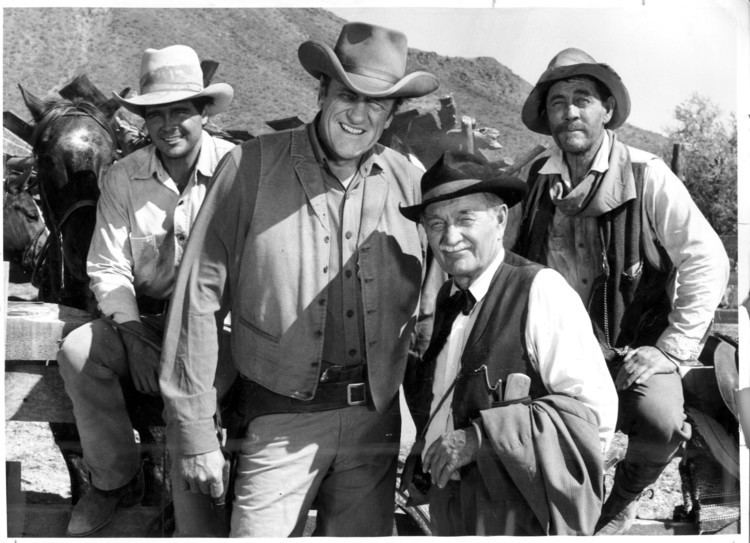 Ackerman and his scriptwriters, Mort Fine and David Friedkin, created an audition script called "Mark Dillon Goes to Gouge Eye" based on one of their Michael Shayne radio scripts, "The Crooked Wheel". Two auditions were created in 1949. The first was very much like a hardboiled detective series and starred Michael Rye (credited as Rye Billsbury) as Dillon; the second starred Straight Arrow actor Howard Culver in a more Western, lighter version of the same script. CBS liked the Culver version better, and Ackerman was told to proceed.
A complication arose, though; Culver's contract as the star of Straight Arrow would not allow him to do another Western series. The project was shelved for three years, when producer Norman Macdonnell and writer John Meston discovered it while creating an adult Western series of their own.
Macdonnell and Meston wanted to create a radio Western for adults, in contrast to the prevailing juvenile fare such as The Lone Ranger and The Cisco Kid. Gunsmoke was set in Dodge City, Kansas, during the thriving cattle days of the 1870s. Dunning notes, "The show drew critical acclaim for unprecedented realism."
Radio cast and character biographies
The radio series first aired on CBS on April 26, 1952 with the episode "Billy the Kid", written by Walter Newman, and ended on June 18, 1961. The show stars William Conrad as Marshal Matt Dillon, Howard McNear as Doc Charles Adams, Georgia Ellis as Kitty Russell, and Parley Baer as Dillon's assistant, Chester Wesley Proudfoot.
Matt Dillon
Dillon was played on radio by William Conrad and on TV by James Arness. Two versions of the same pilot episode titled "Mark Dillon Goes to Gouge Eye" are in the archives with two different actors, Rye Billsbury and Howard Culver, playing Marshal "Mark" Dillon as the lead, not yet played by Conrad. Conrad was one of the last actors to audition for the role of Marshal Dillon. With a resonantly powerful and distinctive voice, Conrad was already one of radio's busiest actors. Though Meston championed him, Macdonnell thought Conrad might be overexposed. During his audition, however, Conrad won over Macdonnell after reading only a few lines. Dillon as portrayed by Conrad was a lonely, isolated man, toughened by a hard life. Macdonnell later claimed, "Much of Matt Dillon's character grew out of Bill Conrad."
Meston relished the upending of cherished Western fiction clichés and felt that few Westerns gave any inkling of how brutal the Old West was in reality. Many episodes were based on man's cruelty to man and woman, inasmuch as the prairie woman's life and the painful treatment of women as chattels were touched on well ahead of their time in most media. As originally pitched to CBS executives, this was to be an adult Western, not a grown-up Hopalong Cassidy.
Dunning writes that Meston was especially disgusted by the archetypal Western hero and set out "to destroy [that type of] character he loathed". In Meston's view, "Dillon was almost as scarred as the homicidal psychopaths who drifted into Dodge from all directions."
Chester
Chester was played by Parley Baer on radio, and by Dennis Weaver on TV. Chester's character had no surname until Baer ad libbed "Proudfoot" during an early rehearsal. Initial Gunsmoke scripts gave him no name at all; his lines were simply slugged to be spoken by "Townsman". Again, Conrad's sense of what the program would be supervened, and Chester was born. Chester's middle initial was given as "W" in the June 15, 1958 episode "Old Flame", and a few episodes later, on the July 7, 1958 episode "Marshal Proudfoot", it is revealed that his middle name, as are his 10 siblings, is Wesley. The amiable Waco expatriate was usually described as Dillon's "assistant", but in the December 13, 1952, episode "Post Martin", Dillon described Chester as Dillon's deputy. Contradicting this description, in the July 5, 1954, episode "Hank Prine" (episode 116, minute 3:02) Dillon corrects a prisoner who describes Chester as his "deputy" stating "Chester is not my deputy", though they both agree Chester acts like he is. Whatever his title, Chester was Dillon's foil, friend, partner, and in an episode in which Chester nearly dies ("Never Pester Chester"), Dillon allows that Chester was the only person he could trust. The TV series changed the newly limping Chester's last name from Proudfoot to Goode.
Doc Adams
Howard McNear starred as Doc in the radio series, with Milburn Stone in the role for television. Doc Adams was, at first, a grumpy and somewhat dark character, but McNear's performances steadily became more warm-hearted. Doc Adams' backstory evokes a varied and experienced life: In some episodes, he had educational ties to Philadelphia; in others, he spent time as ship's doctor aboard the gambling boats that plied the Mississippi River, which provided a background for his knowledge of New Orleans (and acquaintance with Mark Twain). In the January 31, 1953, episode "Cavalcade", a fuller history is offered, though subsequent programs kept close listeners' heads spinning. In "Cavalcade", his real name is Calvin Moore, educated in Boston, and he practiced as a doctor for a year in Richmond, Virginia, where he fell in love with a beautiful young woman who was also being courted by a wealthy young man named Roger Beauregard. Beauregard forced Doc into fighting a duel with him, resulting in Beauregard's being shot and killed. Though it was a fair duel, because Doc was a Yankee and an outsider, he was forced to flee. The young woman fled after him and they were married in St. Louis, but two months later, she died of typhus. Doc wandered throughout the territories until he settled in Dodge City 17 years later under the name of "Charles Adams". The Adams moniker was another Conrad invention, borrowing the surname from cartoonist Charles Addams as a testament to Doc's occasionally ghoulish comportment.
Miss Kitty
Kitty was played by Georgia Ellis on radio, and by Amanda Blake on TV. Georgia Ellis first appeared in the radio episode "Billy the Kid" (April 26, 1952) as "Francie Richards", a former girlfriend of Matt Dillon and the widow of a criminal. "Miss Kitty" did not appear until the May 10, 1952, episode "Jaliscoe". Kitty's profession was hinted at, but never explicit; in a 1953 interview with Time, Macdonnell declared, "Kitty is just someone Matt has to visit every once in a while." An out-take from the program makes this hilariously obvious. The television show first portrayed Kitty as a saloon employee (dance-hall girl/prostitute) then later as the owner of the Long Branch Saloon. Sometime in 1959, Ellis was billed as Georgia Hawkins instead of Georgia Ellis.
Distinction from other radio westerns
Gunsmoke was often a somber program, particularly in its early years. Dunning writes that Dillon "played his hand and often lost. He arrived too late to prevent a lynching. He amputated a dying man's leg and lost the patient anyway. He saved a girl from brutal rapists then found himself unable to offer her what she needed to stop her from moving into ... life as a prostitute." Some listeners, such as Dunning, argue the radio version was more realistic. Episodes were aimed at adults and featured some of the most explicit content of their time, including violent crimes, scalpings, massacres, and opium addicts. Many episodes ended on a somber note, and villains often got away with their crimes. Nonetheless, due to the subtle scripts and outstanding ensemble cast, over the years, the program evolved into a warm, often humorous celebration of human nature.
Apart from the doleful tone, Gunsmoke was distinct from other radio Westerns, as the dialogue was often slow and halting, and due to the outstanding sound effects, listeners had a nearly palpable sense of the prairie where the show was set. The effects were subtle but multilayered, giving the show a spacious feel. John Dunning wrote, "The listener heard extraneous dialogue in the background, just above the muted shouts of kids playing in an alley. He heard noises from the next block, too, where the inevitable dog was barking."
Gunsmoke was also unique from other Westerns in that it was unsponsored for the first few years of production. The program got its support from CBS for the first two years. Series producers felt that if the show were sponsored, they would have to "clean the show up". The producers wanted to find a sponsor that would allow them to keep the show the way it was.
Talk of adapting Gunsmoke to television
Not long after the radio show began, talk began of adapting it to television. Privately, Macdonnell had a guarded interest in taking the show to television, but publicly, he declared, "our show is perfect for radio," and he feared, as Dunning writes, "Gunsmoke confined by a picture could not possibly be as authentic or attentive to detail." "In the end", wrote Dunning, "CBS simply took it away from Macdonnell and began preparing for the television version."
Conrad and the others were given auditions, but they were little more than token efforts—especially in Conrad's case, due to his obesity. However, Meston was kept as the main writer. In the early years, a majority of the TV episodes were adapted from the radio scripts, often using identical scenes and dialogue. Dunning wrote, "That radio fans considered the TV show a sham and its players impostors should surprise no one. That the TV show was not a sham is due in no small part to the continued strength of Meston's scripts."
Macdonnell and Meston continued the radio version of Gunsmoke until 1961, making it one of the most enduring vintage radio dramas.
Conrad directed two television episodes, in 1963 and 1971, while McNear appeared on six, playing characters other than Doc, including three times as storekeeper Howard Rudd.
Television series (1955-1975)
The TV series ran from September 10, 1955, to March 31, 1975, on CBS, with 635 total episodes. It was the second Western television series written for adults, premiering on September 10, 1955, four days after The Life and Legend of Wyatt Earp. The first 12 seasons aired Saturdays at 10 pm, seasons 13 through 16 aired Mondays at 7:30 pm, and the last four seasons aired Mondays at 8 pm. During its second season in 1956, the program joined the list of the top ten television programs broadcast in the United States. It quickly moved to number one and stayed there until 1961. It remained among the top 20 programs until 1964.
Longevity records
The television series remains the longest-running, prime time live-action series of the 20th century. As of 2016, it has the highest number of scripted episodes for any U.S. prime-time, commercial, live-action television series. Other TV show fans sometimes question its position as having the longest run. Outside the United States, some foreign-made programs have been broadcast in the United States which contend for the position as the longest-running series. As of 2016, Gunsmoke is rated fourth globally, after Doctor Who (1963–89, 2005–present), Taggart (1983–2010), and The Bill (1984–2010).
Character longevity
James Arness and Milburn Stone portrayed their Gunsmoke characters for 20 consecutive years, a feat later matched by Kelsey Grammer as the character Frasier Crane, but over two half-hour sitcoms (Cheers and Frasier). George Walsh, the announcer for Gunsmoke, began in 1952 on radio's Gunsmoke and continued until television's Gunsmoke was canceled in 1975. The first seven seasons were jointly sponsored by L&M cigarettes and Remington shaving products.
Transition to TV from radio
When Gunsmoke was adapted for television in 1955, in spite of a campaign to persuade the network, the network was not interested in bringing either Conrad or his radio costars to the television medium. Conrad's weight was rumored to be a deciding factor. Denver Pyle was also considered for the leading role, as was Raymond Burr, who was ultimately also seen as too heavy for the part. Charles Warren, television Gunsmoke's first director, said "His voice was fine, but he was too big. When he stood up, his chair stood with him." According to Dennis Weaver's comments on the 50th Anniversary DVD, Disc One, Episode "Hack Prine", John Wayne was never considered for the role; to have done so would have been preposterous since Wayne was a top movie leading man. The belief that Wayne was asked to star is disputed by Warren. Although he agrees Wayne encouraged Arness to take the role, Warren says, "I hired Jim Arness on the strength of a picture he's done for me ... I never thought for a moment of offering it to Wayne."
According to Thomas "Duke" Miller, a TV/movie/celebrity expert, this story was told to him by legendary actor James Stewart: "Jimmy said he was in the office with Charles Warren when Mr. Wayne came in. Mr. Warren asked Wayne if he knew James Arness, and Mr. Wayne said yes. Mr. Warren told Mr. Wayne about the transition of the show from radio to TV, and Mr. Wayne readily agreed that James Arness would be a terrific choice for the part of Matt Dillon. I have no reason to doubt the story, because Jimmy absolutely knew everybody."
In the end, the primary roles were all recast, with Arness taking the lead role of Marshal Matt Dillon (on the recommendation of Wayne, who also introduced the pilot); Dennis Weaver playing Chester Goode; Milburn Stone being cast as Dr. G. "Doc" Adams (later Galen "Doc" Adams); and Amanda Blake taking on the role of Miss Kitty Russell. Macdonnell became the associate producer of the TV show and later the producer. Meston was named head writer.
Good evening. My name's Wayne. Some of you may have seen me before; I hope so. I've been kicking around Hollywood a long time. I've made a lot of pictures out here, all kinds, and some of them have been Westerns. And that's what I'm here to tell you about tonight: a Western—a new TV show called Gunsmoke. No, I'm not in it. I wish I were, though, because I think it's the best thing of its kind that's come along, and I hope you'll agree with me; it's honest, it's adult, it's realistic. When I first heard about the show Gunsmoke, I knew there was only one man to play in it: Jim Arness, who is actually my friend. He's a young fellow, and maybe new to some of you, but I've worked with him and I predict he'll be a big star. So you might as well get used to him, like you've had to get used to me! And now I'm proud to present my friend Jim Arness in Gunsmoke.
Additional casting
Chester and Festus Haggen are perhaps Dillon's most recognizable sidekicks, though others became acting deputies for  2 1⁄2- to  7 1⁄2-year stints: Quint Asper (Burt Reynolds) (1962–65), Thad Greenwood (Roger Ewing) (1966–68), and Newly O'Brian (Buck Taylor) (1967–75), who served as both back-up deputy and doctor-in-training, having some studies in medicine via his uncle, which then continued under Doc Adams.
In 1962, Burt Reynolds was added to the show's lineup, as the "halfbreed" blacksmith Quint Asper, and performed that role elipsing the years just before the departure of Chester Goode and just after the appearance of Festus Haggen. Three of the actors, who played Dodge deputies, Ken Curtis, Roger Ewing, and Buck Taylor, had previous guest roles. Curtis, a big band and Western singer (Tommy Dorsey Orchestra, Shep Fields Band, Sons of the Pioneers), had five previous guest roles, including one in 1963 as a shady ladies' man named Kyle Kelly ("Lover Boy", season 9, show 2 [episode 307]).
Curtis first appeared in the 1959 episode "Jayhawkers" (season 4, episode 21 [episode 138]), where he played Phil Jacks, a Texas cowboy, with Jack Elam as his boss during a cattle drive from Texas. The second was another 1959 episode entitled "Change of Heart" (season 4, episode 32 [episode 149]), where he played Brisco. The third appearance is the 1960 episode "The Ex-Urbanites" (season 5, episode 30 [episode 186]), where he plays Jesse. He also had a small role as an Indian named Scout in the episode "Speak Me Fair" (season 5, episode 34 [episode 190]) in 1960. Curtis was reared in Las Animas, Colorado, and for a time was a son-in-law of director John Ford.
In 1963, Weaver left the series to pursue a broader acting career in TV series and films. In 1964, Curtis was signed as a regular to play the stubbornly illiterate hillbilly Festus Haggen. The character, heretofore a comic feature, came to town in a 1962 episode titled "Us Haggens", to avenge the death of his twin brother Fergus, and decided to stay in Dodge when the deed was done. Initially on the fringes of Dodge society, Festus was slowly phased in as a reliable sidekick/part-time deputy to Matt Dillon when Reynolds left in 1965. In the episode "Alias Festus Haggen", he is mistaken for a robber and killer whom he has to expose to free himself (both parts played by Curtis). In a comic relief episode ("Mad Dog"), another case of mistaken identity forces Festus to fight three sons of a man killed by his cousin. As a side note, only one episode has all three actors in it playing their respective roles. It is the 1964 episode entitled "Prairie Wolfer" (season 9, episode 16 [episode 321]), with Dennis Weaver as Chester, Burt Reynolds as Quint, and Ken Curtis as Festus.
When Milburn Stone left the series for health reasons for several episodes in 1971, Pat Hingle played his temporary replacement, Dr. John Chapman, whose presence was at first roundly resisted by Festus, a bickersome but close friend of Doc Adams.
Character back stories
The back stories of some of the main characters were largely left to the imagination of the viewer. Matt Dillon spent his early years in foster care, knew the Bible, was a wayward, brawling cowboy, and later mentored by a caring lawman. In a few episodes he mentioned having spent some time in the army. Kitty Russell, born in New Orleans and reared by a flashy foster mother (who once visited Dodge), although her father visited Dodge on one occasion and wished to have her return to New Orleans. Barkeep Sam was said to be married, but no sightings of a wife were made (In the episode "Tafton", he is seen side-by-side with a woman in a church singing). Quint Asper's white father was killed by white scavengers. Thad Greenwood's father, a storekeeper, was harassed to death by a trio of loathsome ne'er-do-well thieves. Chester Goode was known to be one of many brothers raised by an aunt and uncle, and he mentions his mother on one occasion; he referred to past service in the cavalry, and years as a cattle driver in Texas. The cause of Chester's stiff right leg was never given, but it was shown as his own leg and not a prosthesis. No direct reference was ever made to his disability in the script, although some oblique moments painted the free-spirited, comic deputy with a darker tone. Newly O'Brien was named after a physician uncle, who ignited his interest in medicine.
While Dillon and Miss Kitty clearly had a close personal relationship, the two never married. In a July 2, 2002, Associated Press interview with Bob Thomas, Arness explained, "If they were man and wife, it would make a lot of difference. The people upstairs decided it was better to leave the show as it was, which I totally agreed with." In the episode "Waste", featuring Johnny Whitaker as a boy with a prostitute mother, her madam questions Dillon as to why the law overlooks Miss Kitty's enterprise. It appears that bordellos could exist "at the law's discretion" (meaning the marshal's). As an historical matter, prior to the First World War, there were few laws criminalizing prostitution in the United States. Miss Kitty was written out in 1974. The actress sought more free time and reportedly missed her late co-star, Glenn Strange, who played her Long Branch barkeep, Sam. When Blake decided not to return for the show's 20th (and final) season, the character was said to have returned to New Orleans. She was replaced by the hoarse-voiced, matronly actress Fran Ryan (known to many as the second Doris Ziffel on CBS' Green Acres).
For over a decade on television, a sign hung over Doc's office that read "Dr. G. Adams". Milburn Stone was given free rein to choose the character's first name. The actor chose the name of an ancient Greek physician and medical researcher named Galen. He is first referred to in this manner by Theodore Bikel as "Martin Kellums" in the season-10 episode, "Song for Dying", aired February 13, 1965.
Radio and TV character differences
Differences were noted between the characters on the radio and TV versions of Gunsmoke. In the radio series, Doc was acerbic, somewhat mercenary, and borderline alcoholic—at least in the program's early years. On radio's Gunsmoke, Doc Adams's real name was Dr. Calvin Moore. He came west and changed his name to escape a charge of murder. The television Doc, though still crusty, was in many ways softer and warmer.
Nothing in the radio series suggested that Chester Proudfoot was disabled; this merely visual feature was added to the Chester Goode character on television because of actor Dennis Weaver's athletic build, to emphasize Chester's role as a follower and not an independent agent.
Miss Kitty, who after the radio series ended, was said by some to have engaged in prostitution, began in that role in the television series, working in the Long Branch Saloon. In an earlier 1956 episode, the owner of the Long Branch was named Bill Pence. A later 1956 episode begins with Chester pointing out to Matt (who had been out of town) a new sign under the Long Branch Saloon sign stating "Russell & Pence, Proprietors". In that same episode, John Dehner portrayed a dubious New Orleans businessman claiming to be Kitty's father, who tried to talk her into selling her half interest in the Long Branch and returning to New Orleans with him as a partner in his alleged freight business. In another 1956 episode (involving a new saloon girl named "Rena Decker" who causes four deaths by provoking men into fighting over her), Miss Kitty identifies herself as half-owner of the Long Branch with Mr. Pence (played by Judson Pratt). Subsequently, Miss Kitty transitioned to sole owner. Although early film episodes showed her descending from her second-floor rooms in the saloon with Matt, or showed her or one of her girls leading a cowboy up to those same rooms, these scenes disappeared later on, and viewers were guided to see Miss Kitty just as a kindhearted businesswoman.
Format
From 1955 to 1961, Gunsmoke was a half-hour show (retitled Marshal Dillon in syndication). It then went to an hour-long format. The series was retitled Gun Law in the UK. The Marshal Dillon syndicated rerun lasted from 1961 until 1964 on CBS, originally on Tuesday nights within its time in reruns.
Popularity
Gunsmoke was TV's number one-ranked show from 1957 to 1961 before slipping into a decline after expanding to an hour. In 1967, the show's 12th season, CBS planned to cancel the series, but widespread viewer reaction (including a mention in Congress and the behind-the-scenes pressure from the wife of CBS's president) prevented its demise. On the Biography Channel's Behind The Scenes: Gilligan's Island (2002); Gilligan's Island producer Sherwood Schwartz states that the wife of CBS's president pressured her husband not to cancel Gunsmoke in 1967, so the network cut Gilligan's Island instead. The show continued in its new time slot at 8 pm on Mondays. This scheduling move led to a spike in ratings that had it once again rally to the top 10 in the Nielsen ratings until the 1973–74 television season. In September 1975, despite still ranking among the top 30 programs in the ratings, Gunsmoke was canceled after a 20-year run; it was replaced by Mary Tyler Moore spin-offs Rhoda and Phyllis (though Rhoda actually debuted while Gunsmoke was still airing first-run). Thirty TV Westerns came and went during its 20-year tenure, and Gunsmoke was the sole survivor, with Alias Smith and Jones and Bonanza both leaving the airwaves in January 1973.
Arness and Stone remained with the show for its entire run, though Stone missed seven episodes in 1971.
The entire cast was stunned by the cancellation, as they were unaware that CBS was considering it. According to Arness, "We didn't do a final, wrap-up show. We finished the 20th year, we all expected to go on for another season, or two or three. The (network) never told anybody they were thinking of canceling." The cast and crew read the news in the trade papers.
TV movies
In 1987, CBS commissioned a reunion movie entitled Gunsmoke: Return to Dodge. James Arness and Amanda Blake returned in their iconic roles of Matt Dillon and Miss Kitty, with Fran Ryan returning in her role as Kitty's friend/saloon-owner Hannah and Buck Taylor returning as Newly O'Brian. Doc Adams and Festus Haggen were not featured in the film. Milburn Stone died in 1980 and the role of Doc was not recast. Ken Curtis, meanwhile, balked at the salary offer he received and said that he should be paid based on Festus' importance in the character hierarchy. The screenwriters responded to Curtis' absence by making Newly the new Dodge City marshal. The film, shot in Alberta, featured a now-retired Marshal Dillon being attacked and a vengeful former rival returning to Dodge City to entrap him.
In 1990, the second telefilm, Gunsmoke: The Last Apache, premiered. Since Amanda Blake had died the year before from AIDS-related complications, the writers decided to revisit a 1973 episode for the movie. The episode was based on "Matt's Love Story", which was noted for the marshal's first overnight visit to a female's lodgings. In the episode, Matt loses his memory and his heart, during a brief liaison with "Mike" Yardner (played by Michael Learned). In the film, Learned returned and Mike reveals to Marshal Dillon that he is the father of their daughter Beth (played by Amy Stock-Poynton) and asks him for help in saving her. Dodge City was never again seen.
Other films included Gunsmoke: To the Last Man (1992), Gunsmoke: The Long Ride (1993), and Gunsmoke: One Man's Justice (1994). Arness appeared in all five films.
1955 (presented March 17, 1956)
Best Action or Adventure Series — nominated (winner: Disneyland)
1956 (presented March 16, 1957)
Best Continuing Performance by an Actor in a Dramatic Series: James Arness — nominated (winner: Robert Young for Father Knows Best)
1957 (presented April 15, 1958)
Best Continuing Performance by an Actor in a Leading Role in a Dramatic or Comedy Series: James Arness — nominated (winner: Robert Young for Father Knows Best)
Best Continuing Supporting Performance by an Actor in a Dramatic or Comedy Series: Dennis Weaver — nominated (winner: Carl Reiner for Caesar's Hour)
Best Dramatic Series with Continuing Characters — won
Best Editing of a Film for Television: Mike Pozen for "How to Kill a Woman" — won
Best Teleplay Writing (Half-Hour or Less): John Meston for "Born to Hang" — nominated (winner: Paul Monash for Schlitz Playhouse of Stars - "The Lonely Wizard")
1958 (presented May 6, 1959)
Best Actor in a Leading Role (Continuing Character) in a Dramatic Series: James Arness — nominated (winner: Raymond Burr for Perry Mason)
Best Supporting Actor (Continuing Character) in a Dramatic Series: Dennis Weaver — won
Best Supporting Actress (Continuing Character) in a Dramatic Series: Amanda Blake — nominated (winner: Barbara Hale for Perry Mason)
Best Western Series — nominated (winner: Maverick)
1965-1966 (presented May 22, 1966)
Individual Achievements in Music - Composition: Morton Stevens for "Seven Hours to Dawn" — nominated (winner: Laurence Rosenthal for Michelangelo: The Last Giant)
1967-1968 (presented May 19, 1968)
Outstanding Achievement in Musical Composition: Morton Stevens for "Major Glory" (winner: Earle Hagen for I Spy - "Laya")
Outstanding Performance by an Actor in a Supporting Role in a Drama: Milburn Stone — won
1969-1970 (presented by June 7, 1970)
Outstanding Achievement in Film Sound Editing: Norman Karlin and Richard E. Raderman — won (tied with Alex Bamattre, Michael Colgan, Douglas H. Grindstaff, Joe Kavigan, Bill Lee, and Josef E. Von Stroheim for ABC Movie of the Week: The Immortal)
Syndication
All 635 episodes of the television series, and almost all 480 episodes of the radio show, still exist.
In syndication, the entire 20-year run of Gunsmoke is separated into three packages by CBS Television Distribution:
1955 – 61 half-hour episodes: These episodes are sometimes seen in their original format and sometimes in the Marshal Dillon format. When first-run, prime-time episodes of Gunsmoke expanded to an hour in fall 1961, CBS-TV reran the half-hour episodes as Marshal Dillon on the network on Tuesday nights from 1961 through 1964. These were later rerun in syndication. General syndication ended in the 1980s, but they do air occasionally on cable TV. Local stations would show the retitled Marshal Dillon version of the series, while the series under the original Gunsmoke title (with some episodes under the Marshal Dillon retitling) were seen in the late 1990s on TV Land and later Hallmark Channel. Encore Westerns aired this version under the Marshal Dillon title. RetroPlex also aired two half-hour episodes under the original Gunsmoke title, although the episodes are advertised as Marshal Dillon, on Saturday nights from 8 to 9 pm Eastern time. Me-TV announced that it will begin the half-hour black-and-white episodes beginning on January 2, 2017.
1961 – 66 one-hour black-and-white episodes: These episodes have not been widely seen in regular syndication since the 1980s, although selected episodes did air from the mid-1980s through the early 1990s on CBN Cable/The Family Channel, and later on Encore Westerns on a three-year contract that ended around 2006. As of January 2010, Encore Westerns was again airing the episodes. In October 2015, Me-TV announced that it would begin airing the one-hour black-and-white episodes on October 26.
1966 – 75 one-hour color episodes: The last nine seasons of the Western, the most widely syndicated episodes of the entire series' run, are still aired on some local stations, as well as nationally on TV Land and Me-TV.
DVD releases
In 2006, as part of Gunsmoke's 50th anniversary on TV, certain selected episodes were released on DVD in three different box sets. Twelve episodes, from 1955 to 1964, were selected for the Gunsmoke: Volume I box set, and another twelve episodes, from 1964 to 1975, were selected for the Gunsmoke: Volume II box set. Both sets are also available as a combined single "Gift Box Set". A third unique DVD box set, known as Gunsmoke: The Directors Collection, was also released with 10 selected episodes from certain seasons throughout the series' 20-year history. All of these box sets are available on Region 1 DVD from Paramount Home Entertainment and CBS DVD.
Additionally, Paramount Home Entertainment and CBS DVD have released the first 12 seasons (seasons one to six are known as the "half-hour years") on DVD in Region 1.
Regular cast; major characters
U.S. Marshal Matt Dillon (1955 – 75): James Arness
Dr. Galen "Doc" Adams, M.D. (1955 – 75): Milburn Stone
Kathleen "Kitty" Russell (1955 – 74): Amanda Blake
Chester B. Goode (1955 – 64): Dennis Weaver; left series to star in unsuccessful series Kentucky Jones
Festus Haggen (1964 – 75): Ken Curtis
Cast
Sam Noonan (bartender; 1955 – 59): Bert Rumsey
Clem (bartender; 1959 – 61): Clem Fuller
Sam Noonan (bartender; 1961 – 73): Glenn Strange
Rudy (bartender; 1965 – 67): Jeff McCann
Floyd (bartender; 1974 – 75): Robert Brubaker
Quint Asper (blacksmith; 1962 – 65): Burt Reynolds
Deputy Marshal Clayton Thaddeus "Thad" Greenwood (1965 – 67): Roger Ewing
Newly O'Brian (gunsmith/Deputy Marshal; 1967 – 75): Buck Taylor
Wilbur Jonas (storekeeper, 1955 – 63): Dabbs Greer
Howie Uzzell (hotel clerk, 1955 – 75): Howard Culver
Moss Grimmick (stableman; 1955 – 63): George Selk
Bill Pence (Long Branch owner/co-owner 1955?–56–?): Judson Pratt
Bill Pence, (1958–61): Barney Phillips
Big Ray (Bordello owner 1972 – 75): Matt Stroia
Jim Buck (stagecoach driver; 1957 – 62): Robert Brubaker
Louie Pheeters (town drunk; 1961 – 70): James Nusser
Ma Smalley (boardinghouse owner; 1961 – 72): Sarah Selby
Hank Miller (stableman; 1963 – 75): Hank Patterson
Mr. Bodkin (banker; 1963 – 70): Roy Roberts
Barney Danches (telegraph agent; 1965 – 74): Charles Seel
Roy (townsperson; 1965 – 69): Roy Barcroft
Halligan (rancher; 1966 – 75): Charles Wagenheim
Mr. Lathrop (storekeeper; 1966 – 75): Woody Chambliss
Bob La Mar (Backup gunslinger 1959)
Nathan Burke (freight agent; 1966 – 75): Ted Jordan
Percy Crump (undertaker; 1968 – 72): Justin McGeary
Ed O'Connor (rancher; 1968 – 72): Tom Brown
Judge Brooker (1970 – 75): Herb Vigran
Dr. John Chapman (1971): Pat Hingle
Miss Hannah (saloon owner; 1974 – 75): Fran Ryan
Angus McTabbott (1966): Chips Rafferty Australian actor
Dr. Rutherford B. Scraggleton (1972 – 73): David Cogan
Awards
In TV Guide′s April 17, 1993, issue celebrating 40 years of television, the all-time-best-TV programs were chosen. "No contest, this [Gunsmoke] was the TV western."
Entertainment Weekly (February 19, 1999, issue) ranked the premiere of Gunsmoke as No. 47 in the "100 Greatest Moments in Television".
Entertainment Weekly, in 1998, ranked Gunsmoke as No. 16 in The 100 Greatest TV Shows of all time.
In a 1998 TV Guide poll of 50,000, Gunsmoke was ranked as CBS's best western and James Arness was ranked as CBS's best "Gunslinger".
James Arness (Matt), Milburn Stone (Doc), Ken Curtis (Festus), Dennis Weaver (Chester), and Amanda Blake (Kitty) are all inductees of the National Cowboy & Western Heritage Museum.
In 1997, the episode "The Jailer" was ranked No. 28 on TV Guide

'

s 100 Greatest Episodes of All Time.
In 2002, TV Guide ranked Gunsmoke as No. 40 in the 50 greatest television shows of all time.
In 2013, TV Guide ranked it as #27 on their list of the 60 Best Series.
Miscellaneous
Dodge City's Boot Hill Museum has a tribute to Gunsmoke, including furniture from the 1960s and an old television tuned to the show. Signed photographs from the show's actors and other memorabilia are on display including a vest worn by Sam the Bartender (actor Glenn Strange) and a dress worn by Miss Kitty, (actress Amanda Blake).
Despite a rumor to the contrary, Albert Einstein never appeared on Gunsmoke. Albert Einstein died on April 18, 1955, 4 1/2 months before Gunsmoke aired. The fact checking website Snopes attributes the likely origin of the rumor to Stephen Hawking appearing in an episode of Star Trek: The Next Generation in 1993. Actor Brent Spiner was quoted at the time as saying it was "the most notable moment in television history since Albert Einstein guest-starred on Gunsmoke." Although Spiner's remark was a joke, someone wrote to TV Guide in 1994 to ask if Einstein really had appeared on the show.
The anime and manga Trigun, a western themed gunslinger tale, directly reference the series by naming the planet on which it is set planet Gunsmoke.
Notable guest stars
(partial list, alphabetical):
Willie Aames, Rico Alaniz, Jack Albertson, Mabel Albertson, Claude Akins, Chris Alcaide, John Anderson (12 times), Richard Anderson, Tige Andrews, R. G. Armstrong, Jenny Lee Arness, Jean Arthur, John Astin
Edward Asner, Val Avery, Lew Ayres, Jim Backus, Trevor Bardette, Patricia Barry, John Drew Barrymore, Richard Basehart, Ed Begley, Ralph Bellamy, James Best, Dan Blocker, Randy Boone, Bruce Boxleitner, Ray Boyle, Lane Bradbury (13 times),
Scott Brady, Eric Braeden, Peter Breck, Beau Bridges, Morgan Brittany, William Boyett, Charles Bronson, James Brown, Joyce Bulifant, Michael Burns, Gary Busey,
Sebastian Cabot, Frank Cady, David Canary, Harry Carey, Jr., David Carradine, John Carradine, Conlan Carter, Jack Cassidy, Mary Castle, Peggie Castle, Lonny Chapman, Andy Clyde, Phyllis Coates, Lee J. Cobb, Michael Cole, Don Collier, Chuck Connors
Mike Connors, Tim Considine, Pat Conway, Elisha Cook, Jr., Ben Cooper, Glenn Corbett, Noreen Corcoran, Alex Cord, Robert L. Crawford, Jr., Dennis Cross, Brandon Cruz, Robert Culp, Royal Dano (13 times), Kim Darby, Bette Davis
Bette Davis, Jim Davis (multiple appearances), Richard Deacon, Gloria DeHaven, John Dehner (12 times), Bruce Dern
William Devane, Angie Dickinson, James Doohan, Richard Dreyfuss, Buddy Ebsen, Barbara Eden, Jack Elam, Sam Elliott, Jena Engstrom (two episodes), Gene Evans, Shug Fisher, Paul Fix
Jay C. Flippen, Med Flory, Constance Ford, Harrison Ford, Jodie Foster, Ron Foster, Anne Francis, Dean Fredericks, Bert Freed, Victor French
Beverly Garland, Leif Garrett, Sean Garrison, Lisa Gerritsen, Melissa Gilbert, Harold Gould, Karen Grassle, Virginia Gregg, James Gregory, Tom Greenway
Kevin Hagen, Ron Hagerthy, Alan Hale, Jr., Lynn Hamilton, Mariette Hartley, Ron Hayes, Anne Helm, Katherine Helmond, Earl Holliman, Ron Howard, Bo Hopkins, Dennis Hopper, Rodolfo Hoyos, Jr., Marsha Hunt
Josephine Hutchinson, Betty Hutton, Steve Ihnat, John Ireland, Richard Jaeckel, Vivi Janiss, Salome Jens, Arch Johnson, Brad Johnson, Ben Johnson, Chubby Johnson
I. Stanford Jolley, L. Q. Jones, Robert Karnes, Don Keefer, DeForest Kelley, Jack Kelly, Ricky Kelman, Dan Kemp, Adam Kennedy, Douglas Kennedy, George Kennedy, Richard Kiley, Brett King, Wright King (eight times), Werner Klemperer, Jack Klugman, Robert Knapp (seven times) Ted Knight, Diane Ladd, Martin Landau
Allan Lane, Louise Latham, Harry Lauter, Anna Lee, June Lockhart, Jack Lord, Keye Luke, Dayton Lummis, Tyler MacDuff, Barton MacLane, George Macready, Rose Marie, Scott Marlowe, Nora Marlowe, Ross Martin
Strother Martin, Darren McGavin, Peggy McCay, Howard McNear, Patrick McVey, Tyler McVey, Vera Miles, Denny Scott Miller, John Mitchum, Roger Mobley, Ricardo Montalbán, Erin Moran, Harry Morgan, Read Morgan (12 times)
Wayne Morris, Anna Karen Morrow, Richard Mulligan, Diana Muldaur, Burt Mustin, Gene Nelson, Leslie Nielsen, Leonard Nimoy, Jimmy Noel, Jeanette Nolan, Nick Nolte, Carroll O'Connor, Simon Oakland, Warren Oates, Susan Olsen, Cliff Osmond
Manuel Padilla, Jr., Gregg Palmer (20 times), John Payne, Brock Peters, William Phipps, John Pickard (12 times), Slim Pickens, Suzanne Pleshette, Judson Pratt, Andrew Prine, Ainslie Pryor, Denver Pyle, Chips Rafferty (Australian actor), Dack Rambo, Gilman Rankin
Pernell Roberts, Wayne Rogers, Ruth Roman, Katharine Ross, Kurt Russell, Albert Salmi, John Saxon, Jacqueline Scott (nine episodes), Johnny Seven, Karen Sharpe
William Shatner, Dan Sheridan, Tom Simcox, Robert F. Simon, Tom Skerritt, Jeremy Slate, John Smith, Quintin Sondergaard, David Soul, Aaron Spelling, Loretta Swit, Harry Dean Stanton, Frank Sutton, Gloria Talbott, Russ Tamblyn, William Tannen, Vic Tayback
Dub Taylor, Robert Totten (also a director), Harry Townes (seven times), Daniel J. Travanti, Forrest Tucker, Lurene Tuttle, Cicely Tyson, Robert Urich, Joan Van Ark, Lee Van Cleef, Warren Vanders (12 times), Mitch Vogel, Joyce Van Patten, Robert Vaughn, Jan-Michael Vincent, Gary Vinson
Jon Voight, Lesley Ann Warren, Ruth Warrick, David Wayne, Adam West, James Westerfield, Jack Weston, Johnny Whitaker, James Whitmore, Robert J. Wilke, Elen Willard, Bill Williams, Chill Wills, Terry Wilson, William Windom, Morgan Woodward (19 times), Ian Wolfe, Dana Wynter, and Anthony Zerbe.
Gunsmoke had one spin-off series, Dirty Sally, a semi-comedy starring Jeanette Nolan as an old woman and Dack Rambo as a young gunfighter, leaving Dodge City for California in order to pan for gold. The program lasted only thirteen weeks and aired in the first half of 1974, a year before Gunsmoke ended.
Notable directors
Andrew McLaglen
Dennis Weaver
Irving J. Moore
Peter Graves
William Conrad
William F. Claxton
Music
The Gunsmoke radio theme song and later TV theme was titled "Old Trails", also known as "Boothill". The Gunsmoke theme was composed by Rex Koury. The original radio version was conducted by Koury. The TV version was thought to have been first conducted by CBS west coast music director Lud Gluskin. The lyrics of the theme, never aired on the radio or television show, were recorded and released by Tex Ritter in 1955. Ritter was backed on that Capitol record by Rex Koury and the radio Gunsmoke orchestra. William Lava composed the original theme music for television, as noted in the program credits.
Other notable composers included:
Products
The Gunsmoke brand was used to endorse numerous products, from cottage cheese to cigarettes.
Lowell Toy Manufacturing Corporation ("It's a Lowell Game") issued Gunsmoke as their game No. 822. Other products include Gunsmoke puzzles,
In 1985, Capcom released a video game for the arcade (and its corresponding game for the NES in 1988) with a Western theme, called Gun.Smoke. Other than the Western theme, the show and game have no relationship whatsoever.
Comics
Dell Comics published numerous issues of their Four Color comics series on Gunsmoke (including issues #679, 720, 769, 797, 844 and, in 1958 – 62, #6–27).
Gold Key Comics continued with issues #1 – 6 in 1969–70.
A comic strip version of the series ran in British newspapers for several years under the show's UK title, Gun Law.
Hardcover comic BBC Gunsmoke Annuals were marketed in Great Britain under the authority of the BBC which had broadcasting rights there.
Gunsmoke comics in Spanish were published under the title Aventura la ley del revolver (Gun-Law Adventures).
Books
In 1957, Ballantine Books published a collection of short stories. Each story is based on a half-hour Gunsmoke episode. Although a photo of James Arness and the CBS TV logo are on the book cover, in at least one story Matt introduces Chester as "Chester Proudfoot", an indication that the stories are actually adapted from radio scripts.
Whitman Books published
Gunsmoke by Robert Turner in 1958, and
Gunsmoke: "Showdown on Front Street" by Paul S. Newman in 1969...
In 1970, Popular Library published the following paperback book written by Chris Stratton:
Gunsmoke
In 1974, Award Books published the following paperback books written by Jackson Flynn based on the TV series:
Gunsmoke #1: "The Renegades"
Gunsmoke #2: "Shootout"
Gunsmoke #3: "Duel at Dodge City"
Gunsmoke #4: "Cheyenne Vengeance"
In 1998, Boulevard Books published the following paperbacks written by Gary McCarthy based on the TV series:
#1: Gunsmoke
#2: Gunsmoke: "Dead Man's Witness"
#3: Gunsmoke: "Marshal Festus"
A series of novels based upon the television series written by Joseph A. West with forewords by James Arness was published by Signet:
Gunsmoke: "Blood, Bullets and Buckskin", January 2005 (ISBN 0-451-21348-3)
Gunsmoke: "The Last Dog Soldier", May 2005 (ISBN 0-451-21491-9)
Gunsmoke: "Blizzard of Lead", September 2005 (ISBN 0-451-21633-4)
Gunsmoke: "The Reckless Gun", May 2006 (ISBN 0-451-21923-6)
Gunsmoke: "Dodge the Devil", October 2006 (ISBN 0-451-21972-4)
Gunsmoke: "The Day of the Gunfighter", January 2007 (ISBN 0-451-22015-3)
Independent E-book
Gunsmoke: Battlefield Dodge, June 2015, e-book, Amazon.com http://www.battlefielddodge.com
Reruns and syndication
The program currently airs on three major venues: TV Land, which has carried the show since its inception in 1996, Encore Westerns, and Weigel Broadcasting's MeTV digital subchannel network. Individual stations such as KFWD in Dallas also carry the series in their markets. It has also been shown on satellite channel CBS Action in the UK, Ireland and Poland. The series also appears intermittently on MeTV's themed sister network Decades, which CBS holds a partial interest in; it appears on the schedule depending on the theme and year a particular day has.
Additional reading
John Dunning, On The Air: The Encyclopedia of Old-Time Radio, Oxford University Press, 1998. ISBN 0-19-507678-8
SuzAnn Barabas & Gabor Barabas, Gunsmoke: A Complete History and Analysis of the Legendary Broadcast Series, McFarland & Company, Inc., 1990. ISBN 0-89950-418-3
Associated Press, July 2, 2002, Bob Thomas
Bill Carter, "NBC Will Bring Back All Three Law & Order Shows", The New York Times, May 14, 2007.
Matt's and Miss Kitty's romance referred to in Toby Keith song, "I Should've Been a Cowboy" (released February 1993).
References
Gunsmoke Wikipedia
(Text) CC BY-SA