Full Name

Lewis Frederick Ayres III

Born

December 28, 1908 (

1908-12-28

)

Minneapolis, Minnesota, U.S.

Resting place

Westwood Village Park Cemetery in Brentwood, California

Died

December 30, 1996, Los Angeles, California, United States

Buried

Westwood Village Memorial Park Cemetery, Los Angeles, California, United States

Spouse

Diana Hall (m. 1964–1996), Ginger Rogers (m. 1934–1940), Lola Lane (m. 1931–1933)

Movies

All Quiet on the Western, Johnny Belinda, The Dark Mirror, The Secret of Dr Kildare, Dr Kildare's Strange




Similar People

Lewis Milestone, Ginger Rogers, Laraine Day, Franchot Tone, Jean Negulesco
The charge all quiet on the western front 2 10 movie clip 1930 hd
Lewis Frederick Ayres III (December 28, 1908 – December 30, 1996) was an American actor whose film and television career spanned 65 years. He is best known for starring as German soldier Paul Bäumer in the film classic All Quiet on the Western Front (1930) and for playing Dr. Kildare in nine movies. He was nominated for an Academy Award for his performance in Johnny Belinda (1948).
Contents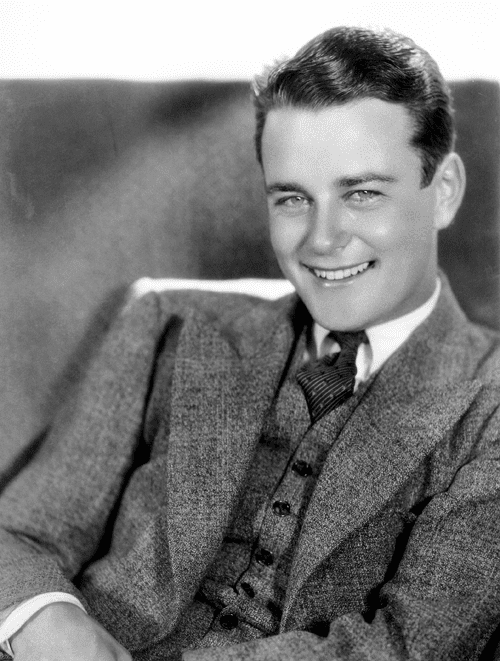 Movie Legends - Lew Ayres
Early life and career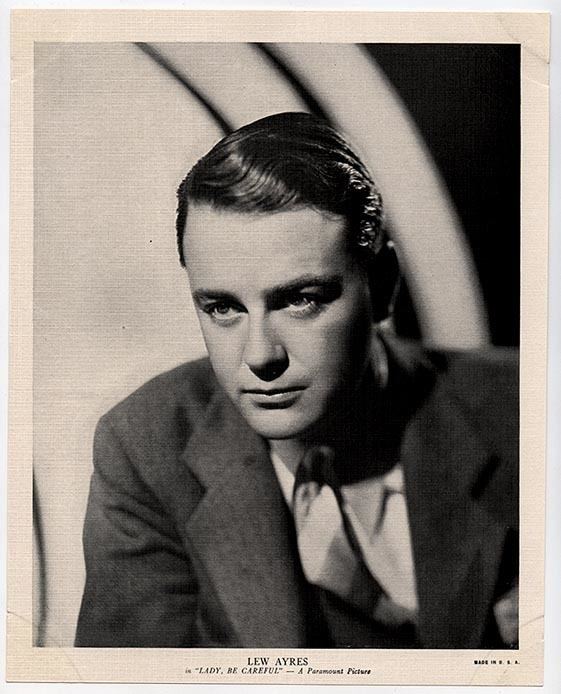 Ayres was born in Minneapolis, Minnesota to Irma Bevernick and Louis Ayres, who divorced when he was four. Louis, an amateur musician and court reporter, remarried soon afterwards. As a teen, Lew and his mother moved with his step-father, William Gilmore, and half brother and sister to San Diego, California.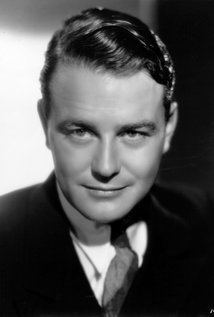 Leaving high school before graduating, he started a small band which traveled to Mexico. He returned months later to pursue an acting career, but continued working full-time as a musician. He played banjo and guitar for big bands, including the Henry Halstead Orchestra. He recorded one of the earliest Vitaphone movie shorts called Carnival Night in Paris (Warner Brothers, 1927). Ayres wrote, "I was a member of Henry Halstead's orchestra in 1927 at the Mission Beach Ballroom in San Diego, California for the summer. My instruments were tenor banjo, long-neck banjo and guitar. After a hiatus, I rejoined Mr. Halstead with a new group, including Phil Harris, on New Year's Eve the same year for the opening night of the Beverly Wilshire Hotel, a memorable occasion." He left a national tour to pursue a career as an actor full-time.
Acting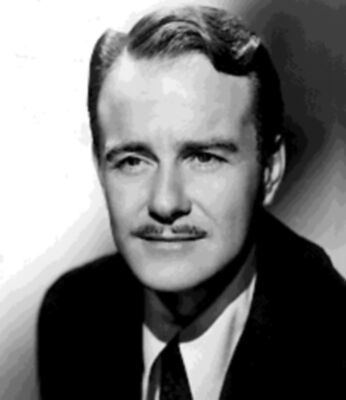 Ayres was discovered at a night club by talent agent Ivan Kahn. He was cast to play opposite Greta Garbo in The Kiss (1929), but it was his leading role in the original version of All Quiet on the Western Front (1930) that made him a star, secured him a contract with Universal—and made him a conscientious objector to World War II. (See below.) He made a number of mostly forgotten B movies for Universal, with the exception of Iron Man (1931), with Jean Harlow. His most successful movies at this time were those he made on loan to other studios, including The Doorway to Hell (1930) with James Cagney in a supporting role, and as Janet Gaynor's leading man in both State Fair (1933) and Servants' Entrance (1934), which featured a combination of live action and Walt Disney animation in a musical dream sequence, both for Fox Films.
Ayres left Universal to sign with Fox Films. In 1934 he was listed as one of Fox's second tier stars.
He moved to poverty row studio Republic Pictures to pursue a second career as a director, including the film Hearts in Bondage (1936), starring James Dunn and Mae Clarke. He moved to Paramount Pictures before finally being signed to MGM in 1938. At this time, he was loaned from Paramount to play the role of Ned in Holiday (1938). The role earned him considerable critical attention, including interest from MGM to put him under contract specifically for the role of Dr. James Kildare in an upcoming film series. Ayres played the role in nine films from 1938 to 1942 (and again in a 1950s radio series) while also appearing in light comedies for MGM, including Spring Madness and Rich Man, Poor Girl (both 1938), The Ice Follies of 1939 (1939), and Fingers at the Window (1942).
His final film as Dr. Kildare, Born to Be Bad, was re-edited after he was drafted and declared himself a conscientious objector in March 1942. This stance almost destroyed Ayres' reputation until it was revealed that he had served honorably as a non-combatant medic from 1942 to 1946. He returned to acting in the films The Dark Mirror (1946) with Olivia de Havilland and The Unfaithful (1947) with Ann Sheridan. For his role in Johnny Belinda (1948) he received an Academy Award nomination for Best Actor, while co-star Jane Wyman won Best Actress.
Ayres gradually moved to television, appearing in several anthology series in guest roles. In the summer of 1958, he hosted eleven original episodes of a CBS Western anthology television series called Frontier Justice, a production of Dick Powell's Four Star Television. He was offered the part of Dr. Kildare in an NBC series but his prescient request that the show have no cigarette advertising led to the offer being withdrawn, and the part going, in 1961, to Richard Chamberlain. He appeared as the Vice-President in Advise & Consent (1962), and in The Carpetbaggers (1964), but he was by then primarily a television actor, with only occasional film work. For a guest role in Kung Fu ("The Vanishing Image", 1974) he was nominated for an Emmy.
His documentary film Altars of the World (1976), based on a series of documentaries he made titled Altars of the East (1956), brought his Eastern philosophical beliefs to the screen and earned him critical acclaim and a Golden Globe Award for best documentary in 1977. Ayres guest-starred in an episode of The Bionic Woman ("Doomsday is Tomorrow", 1977) as Dr. Elijah Cooper, an elderly nuclear scientist who attempts to blackmail the world into peace. In 1985, he was cast in his first series as a regular cast member, as the father of Robert Wagner in the short-lived series Lime Street. His last role was in the made-for-TV film Hart to Hart: Crimes of the Heart (1994), also starring Wagner.
World War II controversy
In March 1942, Ayres was identified as a 4E conscientious objector and sent to a CO camp. As expected, the announcement that a Hollywood actor objected to the war was a major source of public outcry and debate. Within a month it was determined that he had initially requested to be A-O-1, so that he could serve as a non-combat medic. However, the military's policy that servicemen cannot request, or be guaranteed, where they will serve, forced him to request a 4E status. The U.S. military confirmed that they would place him as a medic and in April 1942, his status was changed. He enlisted in the United States Army on May 18, 1942.
He served as a First Aid instructor in the United States Army before requesting a drop in rank in order to serve as a medic and chaplain's assistant in the Pacific. He was one of 16 medics who arrived under fire during the invasion of Leyte to set up evacuation hospitals, and there he provided care to soldiers and civilians in the Philippines and New Guinea. He donated all the money he had earned as a serviceman to the American Red Cross. Serving for three and a half years in the Medical Corps, he was awarded three battle stars. After the war, he resumed his career and made scores of movies, but never reached the peak of his early Hollywood stardom.
Personal life
Ayres was married three times. He was married to actress Lola Lane from 1931 to 1933, and to actress Ginger Rogers from 1934 to 1940, whom he met while starring in the film Don't Bet on Love (1933). He was separated from both women considerably earlier than their legal divorces. His third marriage, to Diana Hall, lasted from 1964 until his death in 1996. They had one son, Justin, born in 1968.
Death and legacy
Lew Ayres died December 30, 1996, just two days after his 88th birthday. He was survived by his wife of 32 years, actress Diana Hall, and their son, Justin Ayres.
His body was buried under a simple headstone at Westwood Memorial Park in Westwood, Los Angeles, California (next to the unmarked grave of musician Frank Zappa).
On February 8, 1960, Ayres received two stars on the Hollywood Walk of Fame. The motion picture star is located at 6385 Hollywood Blvd. The radio star is located at 1724 Vine Street.
Radio
Philip Morris Playhouse - episode Dark Victory (1952)
The Story of Dr. Kildare - (1949--1951 series)
References
Lew Ayres Wikipedia
(Text) CC BY-SA