Cause of death

Cancer




Role

Actor




Name

Douglas Kennedy





Years active

1935 - 1973




Occupation

Actor




Education

Amherst College





Full Name

Douglas Richards Kennedy




Born

September 14, 1915 (

1915-09-14

)

New York City, New York, U.S.




Resting place

National Memorial Cemetery of the Pacific in Honolulu


Other names

Doug KennedyDouglas R. KennedyKeith Douglas




Alma mater

Deerfield AcademyAmherst College




Died

August 10, 1973, Honolulu, Hawaii, United States




Spouse

Betty L. (Bunny) Howell (m. 1955–1973)




Parents

Ethel Skakel Kennedy, Robert Kennedy




Movies and TV shows

The Lone Ranger and the L, The Amazing Transpar, The Big Valley, Dark Passage, South of St Louis


Similar People

Napoleon Whiting, Lesley Selander, Ray Enright, Ray Nazarro, Delmer Daves
Douglas Richards Kennedy (September 14, 1915 – August 10, 1973) was an American supporting actor originally from New York City who appeared in more than 190 films between 1935 and 1973.
Contents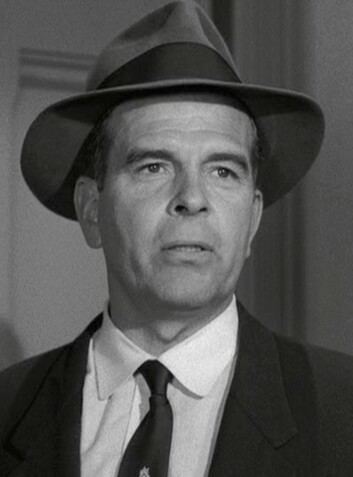 Douglas kennedy shares memories of his uncle
Career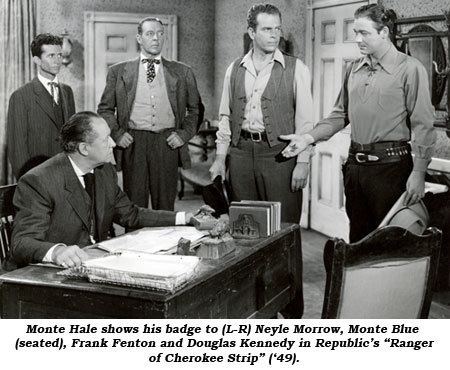 Kennedy was a character player and occasional leading man in Hollywood. He attended Deerfield Academy in Deerfield, Massachusetts, and afterwards graduated from Amherst College in Amherst, Massachusetts. Making his debut in 1935, he played a significant number of supporting roles and was able to secure contract-player status, first at Paramount Pictures and later at Warner Brothers.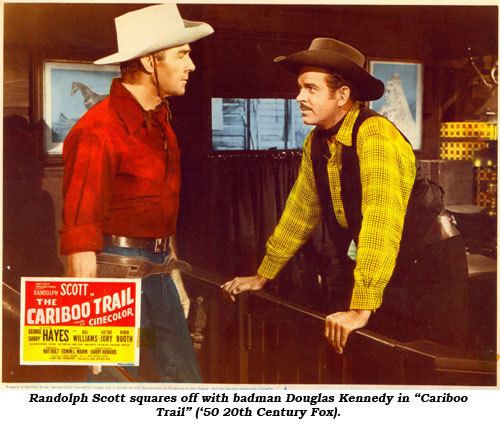 His acting career was interrupted by World War II service as a major in the Signal Corps with the Office of Strategic Services and Army Intelligence. After that, he returned to films and played character roles, often western villains or territorial marshals, as well as isolated leads in low-budget pictures.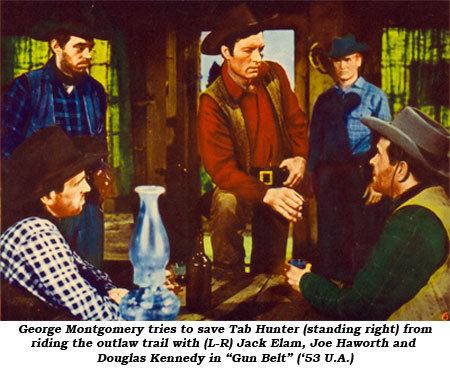 Kennedy had a starring role in the syndicated series Steve Donovan, Western Marshal, with Eddy Waller as his sidekick, Rusty Lee. He was also one of the policemen who vanishes in the science fiction classic, Invaders from Mars.
He played the gunfighter William P. Longley in a 1954 episode of the syndicated television series Stories of the Century, starring and narrated by Jim Davis.
In the 1957 (season one) Perry Mason episode 'The Case of the Moth-Eaten Mink' he played the part of Det. Sgt. Jaffrey, eventually revealed as the murderer.
In 1958, Kennedy appeared in Jim Davis' second series, Rescue 8 in the episode "Calamity Coach". In the story line, rescuers Wes Cameron (Davis) and Skip Johnson (Lang Jeffries) work to rescue three actors on location when a stagecoach tumbles down a mountain.
On January 12, 1959, Kennedy appeared in the episode "Shadow of a Gunfighter" of the NBC western series The Restless Gun. He plays a former gunfighter, Cal Winfield, who is informed that Vint Bonner, (John Payne), is responsible for the death of Winfield's son. Cal Winfield then comes out of retirement to extract vengeance. Robert Fuller appears in the episode as Jim Winfield.
Kennedy played the role of Jay Brisco in the 1959 episode "Law West of the Pecos" of the ABC/Warner Brothers western series, Colt .45. Frank Ferguson portrayed Judge Roy Bean, and Lisa Gaye was cast as June Webster.
Later, Kennedy portrayed the sheriff, Fred Madden, of ABC's The Big Valley, with Barbara Stanwyck. He made his last appearance in 1973 in three episodes of CBS's Hawaii Five-O, with Jack Lord.
Kennedy died of cancer at the age of fifty-seven in Honolulu, Hawaii, where he had been for the shooting of Hawaii Five-O. He is interred at National Memorial Cemetery of the Pacific in Honolulu.
Films
'G' Men (1935)
The Way of All Flesh (1940)
North West Mounted Police (1940)
The Bride Came C.O.D. (1941)
Affectionately Yours (1941)
Passage from Hong Kong (1941)
Nora Prentiss (1947)
The Unfaithful (1947)
Possessed (1947)
Dark Passage (1947)
That Hagen Girl (1947)
Embraceable You (1948)
Whiplash (1948)
Adventures of Don Juan (1948)
East Side, West Side (1949)
Flaxy Martin (1949)
Revenue Agent (1950)
Chain Gang (1950)
Convicted (1950)
I Was an American Spy (1951)
China Corsair (1951)
Indian Uprising (1952)
Invaders from Mars (1953)
War Paint (1953)
Mexican Manhunt (1953)
The High and the Mighty (1954)
Wyoming Renegades (1954)
Sitting Bull (1954)
Wiretapper (1955)
The Eternal Sea (1955)
Miami Exposé (1956)
The Last Wagon (1956)
The Land Unknown (1957)
Rockabilly Baby (1957)
The Lone Ranger and the Lost City of Gold (1958)
The Bonnie Parker Story (1958)
The Alligator People (1959)
Lone Texan (1959)
The Amazing Transparent Man (1960)
The Fastest Guitar Alive (1967)
TV shows
Fireside Theatre (1951–1953)
Cavalcade of America (1953)
Schlitz Playhouse of Stars (1953–1954)
Hopalong Cassidy (1954)
Letter to Loretta (1954)
Stories of the Century (1954) in the role of Bill Longley
Climax! (1954)
The Lone Ranger (1950–1955)
Science Fiction Theatre (1955)
Annie Oakley (1955)
Matinee Theatre (1955)
Dragnet (1955–1956, 1967)
Steve Donovan, Western Marshal (1955–1956)
Alfred Hitchcock Presents (1956–1959)
Tales of Wells Fargo (1957)
Cheyenne (1957)
Perry Mason (1957–1965)
Studio One (1958)
Tombstone Territory (1958)
The Rough Riders (1958)
Bronco (1958)
Wanted: Dead or Alive (1958)
Cimarron City (1958)
Northwest Passage (1958)
Jefferson Drum (1958)
Wagon Train (1958–1959)
Maverick (1958–1959)
Bat Masterson (1959)
Alcoa Presents: One Step Beyond (1959)
General Electric Theater (1959)
The Restless Gun (1959)
The Lineup (1959)
Colt .45 (1959)
Zorro (1959)
Wyatt Earp (1959)
Pony Express (1959-1960)
Laramie (1960)
The Texan (1959–1960)
Rawhide (1959–1965)
Bonanza (1959, 1965–1968)
Have Gun - Will Travel (1960)
Lock-Up (1960)
Riverboat (1960)
The Rifleman (1960)
Pony Express (1960)
Sugarfoot (1960)
Gunsmoke (1960–1966)
Ripcord (1961)
The Everglades (1961-1962)
The Outer Limits (1965)
The Legend of Jesse James (1965)
The Big Valley (1965–1969)
Lassie (1966)
The Virginian (1966–1967)
Cade's County (1971)
O'Hara, U.S. Treasury (1972)
Hawaii Five-O (1973)
References
Douglas Kennedy (actor) Wikipedia
(Text) CC BY-SA