Country

India




Population

177,230 (2001)




Area

87.915 km2


Region

Tondai Nadu





Elevation

216 m




Language spoken

Tamil




State

Tamil Nadu




Mayor

P. Karthiyayini






Colleges and Universities

VIT University, Christian Medical College & Hospital, Thiruvalluvar University, Vellore Government Medical College, Thanthai Periyar Government Institute of Technology



Map of Vellore
Vellore (formerly known as Rayavelur or Vellaimaanagar) is a sprawling city and the administrative headquarters of Vellore District in the South Indian state of Tamil Nadu. Located on the banks of the Palar River in the north-eastern part of Tamil Nadu, the city has been ruled, at different times, by the Pallavas, Medieval Cholas, Later Cholas, Vijayanagar Empire, Rashtrakutas, Carnatic kingdom, and the British. Vellore has four zones (totally 60 wards) which cover an area of 87.915 km2 and has a population of 423,425 based on the 2001 census. It is located about 135 kilometres (84 mi) west of Chennai and about 210 kilometres (130 mi) east of Bengaluru. Vellore is about (100) Km South West of Tirupati in Andhra Pradesh. It is Hotspot City Of Bengaluru - Chennai National Highway. Vellore is administered by Vellore Municipal Corporation under a mayor. Vellore is part of Vellore (State Assembly Constituency) and Vellore (Lok Sabha constituency).
Contents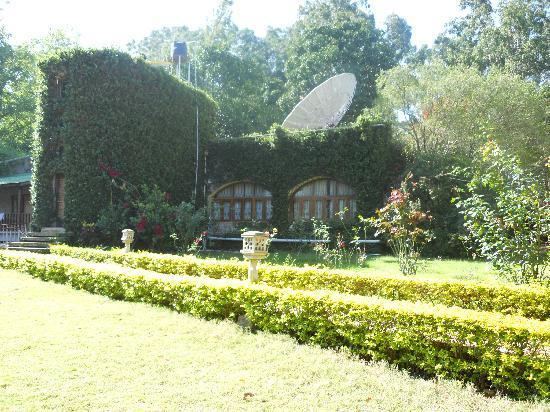 Vellore City is the home of two of India's top ten educational institutions, Christian Medical College & Hospital and VIT University. It is also a major centre for medical tourism in India.

Vellore region is the top exporter of finished leather goods in the country. Vellore leather accounts for more than 37% of the country's export of leather and leather-related products. Vellore is also home to several manufacturing and automobile companies such as Bharat Heavy Electricals Limited, MRF Limited, TVS-Brakes India, Tamil Nadu Industrial Explosives Limited, Greaves Cotton, ArcelorMittal Dhamm Processing, SAME Deutz-Fahr (Italy), Mitsubishi Heavy Industries (Japan) and KRAMSKI (Germany).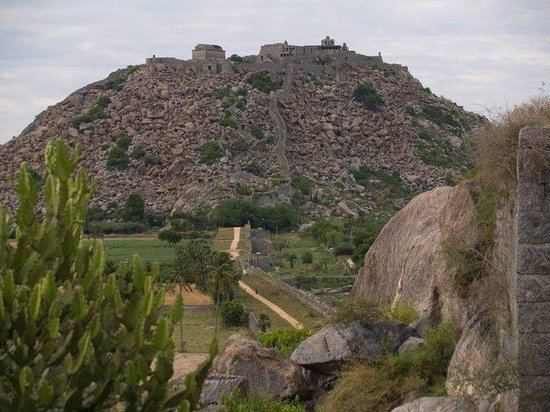 Vellore Fort, Government Museum, Science Park, Vainu Bappu Observatory, Amirthi Zoological Park, Religious places such as Jalakandeswarar Temple, Balamathi Hills [Murugan Temple)Vallimalai (Murugan Temple) Rathnagiri (Murugan temple) [Sripuram|Srilakshmi Golden Temple]], Big Mosque and St. John's Church and Yelagiri Hill station are the among top tourist attractions in and around Vellore.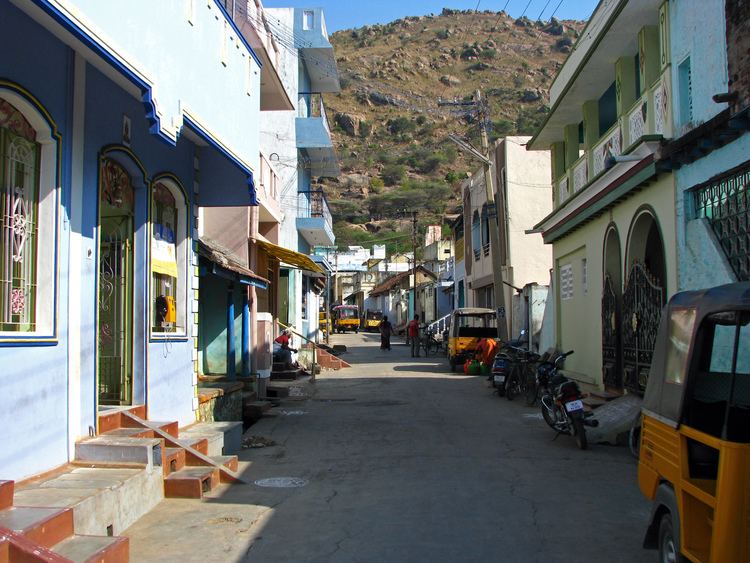 The Government of India has released the next round of smart cities project list. The Tamil Nadu state district Vellore also got a place on the list of 27 cities in the project.
Vellore revolt 1806 a spark to major mark
Indian cities glimpses of the beautiful vellore city vellore tamil nadu india
Etymology
In Tamil, the word vel means spear that is seen as the weapon of Hindu god Murugan and oor means place. As per Hindu legend, Murugan is seen as a tribal hunter who appeared in a lotus pond with his weapon to attack the enemies. Thus "Vellore" is seen as the place where Murugan appeared.
As per another legend, the region was surrounded by Velan trees (Babul trees), resulting in the place to be called Vellore.
History
The recorded history of Vellore dates back to the ninth century, as seen from a Chola inscriptions in the Annamalaiyar Temple in Tiruvannamalai. Further inscriptions made before the ninth century indicate the rule of Pallava kings, whose capital was Kanchipuram.
The Chola Kings ruled over the region from 850 to 1280. After the rule of Cholas, it came under the Rashtrakutas, the later Cholas, Reddy's and Vijayanagar kings. The Vellore Fort was built during the time of Chinna Bommi reddy, a subordinate of the Vijayanagar kings Sadasivaraya and Srirangaraya during the third quarter of the 16th century.
During the 17th century, Vellore came under the dominion of the Nawab of the Carnatic. As the Mughal empire came to an end, the Nawab lost control of the town, with confusion and chaos ensuing after 1753. Subsequently, there were periods of Hindu and Muslim stewardship of the region. The poligars opposed British rule but were subdued. During the first half of the 19th century, the town came under British rule.
Geography and climate
Vellore is at 12.92°N 79.13°E / 12.92; 79.13, 220m above the mean sea level. The city has a semi-arid climate with high temperatures throughout the year and relatively low rainfall. It is in Vellore district of the South Indian state, Tamil Nadu, 135 km (84 mi) west of the state capital Chennai. Vellore lies in the Eastern Ghats region and Palar river basin. The topography is almost plain with slopes from west to east. There are no notable mineral resources. Black loam soil is found in parts of Vellore Taluk. The other type of soil in the city is chiefly gravelly, stony and sandy of the red variety.
Vellore experiences a tropical savanna climate (Köppen climate classification Aw). The temperature ranges from a maximum of 39.4 °C (102.9 °F) to a minimum of 18.4 °C (65.1 °F). Like the rest of the state, April to June are the hottest months and December to January are the coldest. Vellore receives 1,034.1 mm (40.71 in) of rainfall every year. The southwest monsoon, with an onset in June and lasting up to September, brings rainfall of 517.1 mm, with September being the rainiest month. The northeast monsoon which lasts from October to December brings rainfall of 388.4mm. The humidity ranges from 40%–63% during summer and 67%–86% during winter.
Demographics
According to 2011 census, Vellore had a population of 185,803 with a sex-ratio of 1,034 females for every 1,000 males, much above the national average of 929. A total of 19,898 were under the age of six, constituting 10,093 males and 9,805 females. Scheduled Castes and Scheduled Tribes accounted for 14.16% and .18% of the population respectively. The average literacy of the city was 77.15%, compared to the national average of 72.99%. The city had a total of 42598 households. There were a total of 70,257 workers, comprising 297 cultivators, 395 main agricultural labourers, 4,387 in house hold industries, 59,281 other workers, 5,897 marginal workers, 59 marginal cultivators, 74 marginal agricultural labourers, 667 marginal workers in household industries and 5,097 other marginal workers. As per the religious census of 2011, Vellore had 70.09% Hindus, 24.28% Muslims, 4.79% Christians, 0.02% Sikhs, 0.03% Buddhists, 0.51% Jains, 0.26% following other religions and 0.02% following no religion or did not indicate any religious preference.
As of 2001, out of the total area, 69.88% of the land was marked developed and 31.12% of the city remained undeveloped. Out of the developed area, 55.76% was used for residential purposes, 8.34% for commercial, 1.58% for industrial, 3.3% for educational, 16.46% for public and semi public and 10.12% for transport and communication. The population density is not uniform: It is high in areas like Arugandhampoondi and lower in the peripheral areas such as Poonthottam. The average density of the city is 241 persons per hectare.
Administration and politics
Vellore is the headquarters of the Vellore District. The town was constituted as a third-grade municipality in 1866, promoted to first-grade during 1947, selection-grade from 1970 and a municipal corporation from 1 August 2008. The Vellore municipal corporation has 60 wards and there is an elected councillor for each of those wards. The functions of the municipal corporation are devolved into six departments: general administration/personnel, Engineering, Revenue, Public Health, city planning and Information Technology (IT). All these departments are under the control of a Municipal Commissioner who is the executive head. The legislative powers are vested in a body of 60 members, one each from the 60 wards. The legislative body is headed by an elected Mayor assisted by a Deputy Mayor.
Vellore is a part of the Vellore & Katpadi and it elects 2 members to the Tamil Nadu Legislative Assembly once every five years. From the 1977 elections, All India Anna Dravida Munnetra Kazhagam (AIADMK) won the assembly seat once (in 1977 elections), four times by Dravida Munnetra Kazhagam (in 1980, 1984 and 1989), twice by Indian National Congress (INC) (in 1991 and 2001 elections) and twice by Tamil Maanila Congress (TMC) (in 1996 and 2001 elections). The current MLA of Vellore constituency is P.Karthikeyan from DMK party.
Vellore is a part of the Vellore Lok Sabha constituency & Arakkonam_Lok_Sabha_constituency. It had the following six assembly constituencies before 2009 delimitation: Katpadi, Gudiyatham, Pernambut (SC), Anaicut Village, Vellore and Arni. After delimitation, it is currently composed of Vellore, Anaicut Village, Kilvazhithunaiankuppam (SC), Gudiyatham, Vaniyambadi and Ambur
From 1951, the Vellore parliament seat was held by the Indian National Congress for four times during 1957, 1962, 1989 and 1991 elections, AIADMK twice during 1984 and 2014 elections, CWL once during 1951 elections, and independent once during 1980 elections, Dravida Munnetra Kazhagam five times during the 1967, 1971, 1996, 2004 and 2009 elections, once each by NCO during 1977 elections, and twice by Pattali Makkal Katchi (PMK) during 1998 and 1999 elections. The current Member of Parliament from the constituency is B. Senguttuvan from the AIADMK party.
Law and order is maintained by the Vellore subdivision of the Tamil Nadu Police headed by a deputy superintendent. There are four police stations in the town, with one of them being an all-women station. There are special units like prohibition enforcement, district crime, social justice and human rights, district crime records and special branch that operate at the district level police division headed by a superintendent of police.
Economy
According to Indian Census of 2001, the urban workforce participation rate of Vellore is 43.64%. Vellore, being the headquarters of the district, has registered growth in the tertiary sector activities, with a corresponding decrease in the primary sector. Major employment is provided by the leather industry, agricultural trading and industries in and around the city. Approximately 83.35% of the workforce is employed in tertiary sector comprising transport, services and commerce. The secondary sector activities like manufacturing and household industries employs 13.52% of the workforce. Male workers participation (43.64%) is high compared to the female work participation (24.39%).
Hundreds of leather and tannery facilities are around Vellore and nearby towns, such as Ranipet, Ambur and Vaniyambadi. The Vellore district is the top exporter of finished leather goods in the country. Vellore leather accounts for more than 37% of the country's export of leather and leather-related products (such as finished leathers, shoes, garments and gloves). Bharat Heavy Electricals Limited (BHEL) is one of the nine major government owned enterprises in the nation. The Boiler Auxiliaries Plant of BHEL in Ranipet is the industrial hub of Vellore. Chemical plants in the Ranipet-SIPCOT economic zone are a major source of income to the residents of Vellore. EID Parry is a sanitary-ware manufacturing company with 38% of the world's market share in bathroom accessories. Tirumalai Chemicals and Greaves are among the international brands that have their manufacturing units in the city. Automobile and mechanical companies of global Brands, including SAME Deutz-Fahr, TVS–Brakes India, Mitsubishi, Greaves Cotton and MRF have their manufacturing units in the area. Brakes India Sholingur's foundry division is located at Vellore-Sholingur and is a major employer in the area. Vellore is known as the Leather hub of India
Asia's biggest explosives manufacturing company, Tamil Nadu Explosives Limited (TEL), is in Vellore at Katpadi. This is India's only government explosives company with more than a thousand employees. The company is headed by a senior Indian Administrative Service officer. Kramski Stamping and Molding India Pvt Ltd, a German precision metal and plastic integrated-component manufacturing company with automotive, telecommunications, electronics and medical applications is in Erayankadu, near Vellore. Major businesses in the city center are on Officer's Line, Town Hall Road, Long Bazaar and Bangalore, Scudder, Arni, Gandhi and Katpadi Roads. Many boarding and lodging houses are in and around Scudder and Gandhi Roads. Microsoft Corporation (India) Pvt. Ltd. announced the launch of 14 Microsoft Innovation Centers (MICs) in India. Trichy, Vellore, Coimbatore, Madurai and Salem in Tamil Nadu.
Christian Medical College & Hospital (CMCH), on Ida Scudder Road in the heart of the city, is Vellore's largest private employer and has a large floating population from other parts of India and abroad. Lodging, hospitals and allied businesses are among the major sources of income generated in the central part of the city. The Government Vellore Medical College and Hospital (VMCH) is located at Adukamparai in Vellore. With the advent of hospitals such as Apollo KH Hospital in Melvisharam and Sri Narayani Hospital & Research Centre in Sripuram, coupled with colleges such as CMC & VIT and other engineering and science colleges, the health care industry is growing rapidly.
The mainstay for people in the rural areas, more than agriculture, is industries such as weaving, beedi and matchstick rolling. The Indian Army has a number of recruits from the Vellore district (especially from Kammavanpet, which is known as "the military village") and military spending is a major sources of income.
Education
Vellore is considered a prominent destination for medical and technological education in India. It has a state-government university, a private technological university, one government and one private medical school and several engineering and arts and science colleges.
The country's first stem-cell translational research centre was established in Vellore in December 2005. The central government's biotechnology department selected the Christian Medical College (CMC) as the first in a series of centers, since it already had world-class clinical hematology and biochemistry departments. The college has made a breakthrough which attracted the attention of the country's medical and scientific community: the Centre for Stem Cell Research at the Christian Medical College succeeded in reprogramming cells from adult mice to make them function like stem cells found in the human embryo. The agricultural research station at Virinjipuram is in the Northeastern Zone of Tamil Nadu. It is one of 32 research stations of Tamil Nadu Agricultural University (TNAU). The Government of India-sponsored National Watershed Development Project for Rainfed Areas (NWDPRA) scheme has been in operation since October 1997, with the main objective being trials of conservation measures conducted in water and soil of 18 watersheds in the Vellore and Tiruvannamalai districts.
Thiruvalluvar University was split off from the University of Madras, previously in the Vellore Fort campus. Nearly all the government-run arts and science colleges in Vellore, Tiruvannamalai, Villupuram and Cuddalore districts are affiliated with Thiruvalluvar University. Thanthai Periyar Government Institute of Technology is the only government engineering college in Vellore. The Vellore Institute of Technology (VIT) has been ranked best private engineering university in India by the magazine India Today.
Christian Medical College & Hospital (CMCH), one of the largest hospitals in India and Asia, is based out of Vellore. It is a major health care provider for the surrounding districts.
Auxilium Women's College (founded in 1954) is the first women's college in Vellore district; Other arts and sciences colleges in the city are the Dhanabakyam Krishnaswamy Mudhaliar Women's College (DKM) near Sainathapuram and the Muthurangam Government Arts College (MGAC) in Otteri, near Bagayam. Voorhees College (founded 1898) is the oldest college in the district and known as the institution where S. Radhakrishnan (former president of India) studied; a commemorative stamp for the centenary of the college was issued by the government of India. C. Abdul Hakeem College is in Melvisharam. Arignar Anna Arts College for Women(AAA) is located in Walajapet.
The Government Law College, Vellore was established in 2008. It offers a three-year Bachelor of Laws (BL) degree with an annual intake of 80 students. The college is in Katpadi, Vellore. There are several Arabic colleges in Vellore such as the Madrasa Al-Baqiyathus Salihath, popularly known as Baaqiyaath, founded by A'la Hadrat Maulana Shah Abdul Wahab, which is the second oldest Arabic college in India after Darul Uloom Deoband in Uttar Pradesh.
Tourism
Vellore Fort is the most prominent landmark in the city. During British rule, Tipu Sultan's family and the last king of Sri Lanka, Vikrama Rajasinha, were held as royal prisoners in the fort. The fort houses a church, a mosque and a Hindu temple, the latter known for its carvings. The first rebellion against British rule erupted at this fort in 1806, and it witnessed the massacre of the Vijayanagara royal family of Emperor Sriranga Raya. The fortifications consist of a main rampart, broken at irregular intervals by round towers and rectangular projections. The main walls are built of massive granite stones, surrounded by a broad moat fed with water by subterranean pipes from the Suryagunta reservoir.
Within the fort is the similarly aged Jalakanteswara Temple. It is a noteworthy example of military architecture in South India. The fort houses the Tipu Mahal where Tipu Sultan is believed to have stayed with his family during the war with the British; the graves of Tipu's sons are found at Vellore. It is administered by the Archaeological Survey of India. Vellore Fort has been declared a Monument of National Importance and is a noted tourist attraction.
The State Government Museum is inside the fort. It was opened to the public in 1985. It consists of objects of art, archaeology, prehistory, weapons, sculptures, bronzes, wood carvings, handicrafts, numismatics, philately, botany, geology and zoology. Historical monuments of the erstwhile composite North Arcot District are contained in the gallery. Special exhibits include a bronze double sword from Vellore Taluk dating to 400 BC, stone sculptures from the late Pallava to Vijayanagar periods, ivory chess boards and coins used by the last Kandian King of Sri Lanka, Vikrama Raja Singha. Educational activities at the museum include an art camp for school students and the study of inscriptions and iconography for college students.
Jalakandeswarar Temple, Srilakshmi Golden Temple, and the Wallajapet Dhanvantri Temple and Ponnai Navagraha Kottai Temple are among the temples in Vellore. Sri Lakshmi Temple, popularly known as Golden Temple, is a newly built temple and spiritual park in Thirumalaikodi, Vellore. It is approximately 8 km from the Vellore bus terminus. The temple covers an area of 100 acres and has been constructed by Vellore-based Sri Narayani Peedam headed by Sakthi Amma. It has intricate carvings, hand-made by hundreds of gold artisans specializing in temple architecture. The exterior is laid with gold sheets and plates, with construction reported to have cost Rs.300 crores (US$65 million). About 1,500 kg of gold was used, the largest amount in the world.
Ratnagiri Murugan Temple is another prominent Hindu temple in the city.Virinjipuram, 17 km from Vellore is noted for its 1000-year-old ancient Margabandeeshwarar Shiva temple.
Assumption Cathedral and the 150-year-old St. John's Church inside the fort are among the churches in Vellore. The Big Mosque, in the heart of the city, contains the largest Arabic college in India. The city is also houses over 50 mosques some of which are over 100 years old.
Transport
The Vellore municipality maintains 104.332 km (64.829 mi) of roads. It has 50.259 km (31.229 mi) concrete roads, 6.243 km (3.879 mi) kutcha roads and 47.88 km (29.75 mi) bituminous road. The National Highways passing through Vellore are NH 46 (Bangalore - Chennai road), NH 234 (Mangalore to Viluppuram) and NH 4 from Ranipet to Chennai and the Cuddalore-Chittoor. Vellore is connected with major cities in the states of Tamil Nadu, Andhra Pradesh and Karnataka. Bus service is available to Chennai, Coimbatore, Bangalore, Thiruvananthapuram, Tirupathi, Kadapa, Anantapur, Salem, Chittoor, Kuppam, Kolar, Kolar Gold Fields, Madanapalle, Vijayawada, Hyderabad, Mangalore, Karur, Pallapatti (Karur), Aranthangi, Mannargudi, Nagapattinam, Goa, Hosur, Nagercoil, Marthandam, Thoothukudi, Thiruchendur, Sengottai, Cuddalore, Kurnool, Trichy, Thuraiyur, Thammampatti, Thiruvannamalai, Tindivanam, Pondicherry, Kallakkurichi, Viluppuram, Kanyakumari, Arani, Madurai, Tirunelveli, Kanchipuram, Tiruttani, Kalpakkam, Pallikonda, Gudiyatham, Dharmapuri, Erode, Tirupur, Palakkad, Krishnagiri, Gingee and other major towns and cities in South India. Vellore is served by a city bus service, which connects the city, suburbs and other places of interest. The bus service extends about 30 km from the city center. There are two bus terminals: the Town Bus Terminus (opposite the fort and near CMC Hospital) and the Central Bus Terminus (Near Green Circle). Other bus terminals are located at Chittor Bus Stand (near VIT Road), Bagayam and Katpadi(Junction bus stop). The bus stands are maintained by the Vellore Municipal Corporation.
Vellore has three main railway stations: Katpadi junction, Vellore Cantonment and Vellore Town. The largest is Vellore-Katpadi Junction, 5 km north of CMC hospital. This is a major railway junction on the Chennai-Bangalore broad-gauge line running to Chennai, Bangalore, Tirupati and Trichy. There are direct rail links to Vijayawada Junction, Tirupati, Bhubaneswar, Nagpur, Bangalore, Bhopal Junction, Mumbai, Mangalore, Tiruchchirapalli, Bilaspur, Korba, Patna, Ernakulam, Trivandrum, Kanniyakumari, Shirdi, Kanpur, Gaya, Dhanbad, Jammu Tawi, Madurai, Bhilai, Gwalior, Chennai Central, Howrah Station, New Delhi Railway Station, Coimbatore, Guwahati, Thiruvananthapuram, Kozhikode, Jaipur and other major cities. More than 150 trains cross the Vellore-Katpadi Junction daily.
Vellore Cantonment is in Suriyakulam on the Viluppuram-Tirupati broad gauge line, 8 km from Katpadi Junction. EMU and passenger trains to Tirupati, Chennai and Arakonnam depart from here. The 150-km broad gauge line was extended to Villupuram in January 2010 and connects Vellore and South Tamil Nadu; however, as of October 2010 it was not serviced by passenger trains. The line was opened for goods trains in June 2010. An EMU from Vellore Cantonment to Chennai Central was introduced on December 22, 2008. Vellore Town Station is in Konavattam on the line connecting Katpadi Junction with Viluppuram Junction via Tiruvannamalai.
The city has an airstrip near Abdullapuram; as of 2010 it was not open to the public and was used for aeronautical training programmes. The nearest international airports are Chennai International Airport (130 km) and Bengaluru International Airport (230 km); the nearest domestic airport is Tirupati Airport (100 km).
Utility services
Electricity supply to Vellore is regulated and distributed by the Tamil Nadu Electricity Board (TNEB). The city and its suburbs forms the Vellore Electricity Distribution Circle. A chief distribution engineer is stationed at the regional headquarters. Water supply is provided by the Vellore municipal corporation from the Palar river through Palar headworks and Karungamputhur headworks and distributed through ten overhead tanks. As of 2005, there were 16,371 connections against 33,772 households. In 2000–2001, a total of 7.4 million litres of water was supplied daily for households in the city. The other sources of water are Otteri Lake, Sathuvancheri town panchayat, Ponnai and street bore wells.
As per the municipal data for 2011, about 83 metric tonnes of solid waste were collected from Vellore every day by door-to-door collection. The source segregation and dumping was carried out by the sanitary department of the Vellore municipal corporation. The municipal corporation covered 16 wards for waste collection as of 2001. There is no underground drainage system and the sewerage system for disposal of sullage is through septic tanks, open drains and public conveniences. The municipal corporation maintained 145 km (90 mi) of storm water drains in 2011. As of 2011, 24 government and private hospitals and one veterinary hospital take care of the health care needs of the citizens. As of 2011, the municipal corporation maintained 5,241 street lamps: 735 sodium lamps, 73 mercury vapour lamps, 4,432 tube lights and one high mast beam lamp. The municipal corporation operates the Nethaji Daily Market that caters to the needs of the city and the rural areas around it.
References
Vellore Wikipedia
(Text) CC BY-SA