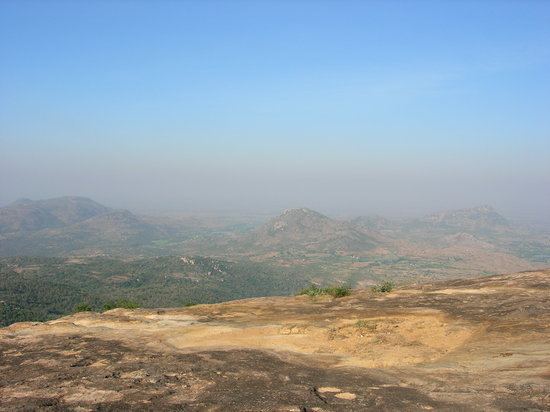 Madanapalle was founded by Sri Ahobila Naidu in 1618 AD.
Sir Thomas Munro was first collector of Cuddapah. He constructed a small thatched house at the present Collector's bunglow and visited Madanapalle every summer. In 1850, Madanapalle was developed as subdivision and F.B.Manoly was the first Sub Collector. The town experienced several natural calamities like floods, famines and epidemics.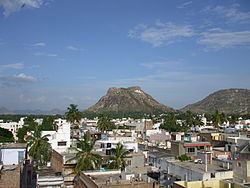 Rabindranath Tagore translated "Jana Gana Mana" from Bengali to English and also set it to music in Madanapalle. The National Anthem was written by Rabindranath Tagore as early as in 1911 and was sung at the annual session of the Indian National Congress at Calcutta on December 27 that year. But it was actually done in Besant Theosophical College, Madanapalle, where Tagore stayed for few days in February 1919 that the now familiar tune was set. It was Margaret Cousins, wife of educationist, Dr. James Henry Cousins, who composed the tune for "Jana Gana Mana". Dr. Cousins was then the Principal of the Madanapalle College that was established by Dr. Annie Besant.
It is located at an average elevation of 695 m (2,280 ft) above mean sea level.
Madanapalle is located at 13.55°N 78.50°E / 13.55; 78.50.
Source : Climate
Madanapalle has pleasantly mild, to warm summers with average high temperatures of 30 to 35 degrees Celsius (86 F to 95 F). Temperatures do not exceed 40 degrees Celsius (104 F)and winters are cold with temperatures between 7 and 15 degrees Celsius ( 44.6 F to 59 F). Usually summer lasts from March to June, with the advent of rainy season in June, followed by winter which lasts till the end of February.
As of 2011 Census of India, the town had a population of 136,414. The total population constitute, 67,432 males, 68,237 females and 13,448 children, in the age group of 0–6 years. The average literacy rate stands at 81.40% with 99,486 literates, significantly higher than the national average of 73.00%.
The municipality was formed on 1 April 1961 and is spread over an area of 14.20 km2 (5.48 sq mi). There are 35 election wards represented by a councilor. Madanapalle urban agglomeration is spread over an area of 23.44 km2 (9.05 sq mi). Its constituents include the municipality of Madanapalle, the out growths of Ankisettipalle, Chippili, Pamaiahgaripalle, Papireddipalle, Venkappakota, partial out growths of Basinikonda, Kollabylu, Ponnetipalem and Madanapalle (rural).
Madanapalle is an assembly constituency in Andhra Pradesh and the constituency number is 283.
The economy is based on agriculture and main products include tomato, mango, groundnut, tamarind and silk saris. Madanapalle is famous for agricultural products such as tomato, mango, groundnut, tamarind etc., Madanapalle is the biggest tomato market in Asia. The tomatoes from here are supplied to the most of the southern states & some of the northern states of India.
It is also famous for silk and silk products like saris and other casuals. The quality of silk product is recognizable. You can get silk sarees here at production cost. These are supplied to all major cities in South India including Bangalore, Chennai and all silk product towns for sales. Madanapalle surroundings have enormous reserves of granite.
Madanapalle is very well connected by road and rail. There are three Bus terminals in Madanapalle. State owned APSRTC buses run to different parts of the district, state and interstate - Bangalore (KA), Mysore, Bellary and Chennai (TN), Vellore. Madanapalle Road Railway Station (MPL) is situated on Dharmavarm - Pakala Branch line and all the trains stops here. Trains are available here to travel to Guntakal and Secunderabad. Daily trains are available from and to Guntakal & Tirupati. Other nearest Railway Station is Kurabalakota Railway Station where only Passenger trains stops.
The primary and secondary school education is imparted by government, aided and private schools, under the School Education Department of the state. The medium of instruction followed by different schools are English, Telugu.
Madanapalle has long standing educational institutions like Besant Theosophical College,Vasishta School, Rishi Valley School, a boarding school, founded by the philosopher Jiddu Krishnamurti, and Zilla Parishad High School, which was founded in 1924. It also has four engineering colleges - Madanapalle Institute of Technology and Science, Sir Vishveshwaraiah Institute of Science & Technology, Golden Valley Integrated Campus, Aditya College of Engineering.
Jiddu Krishnamurti is one of the notable personalities from the city.