Country

India


State

Tamil Nadu



Language spoken

Tamil


District

Dharmapuri







Colleges and Universities

Dharmapuri Medical College, Saptagiri Engineering College



Map of Dharmapuri
Dharmapuri is a City in Kongu Nadu region in the Western part of Tamil Nadu in South India and it is located in the foot hills of Vytla Hills.The town is located at 126km from Bangalore ,220km from Coimbatore,260km from Mysore,300km from Chennai. It is located between latitudes N 11 47' and 12 33' and longitudes E 77 02' and 78 40'. The total geographical area of Dharmapuri District is 4497.77 km2, i.e. 3.46% of Tamil Nadu. And it is one of top leading Mango cultivator and producer of state.
Contents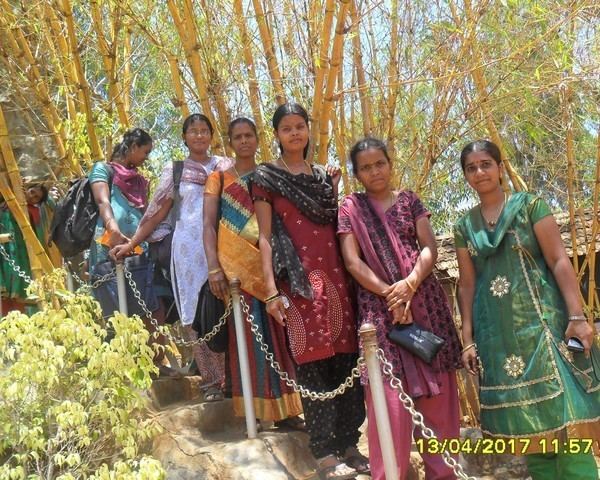 Places to visit around bangalore hogenakkal falls in dharmapuri tamil nadu
Ilavarasan was found dead near the railway track in dharmapuri
Geography
Dharmapuri is situated in the northwestern corner of Tamil Nadu and is bounded by vytla Hills on the east, Nallampalli taluk on the South, Palacode taluk on the north and the Pennagaram taluk on the west. It is located between latitudes N 11 47' and 12 33' and longitudes E 77 02' and 78 40'. The total geographical area of Dharmapuri district is 4497.77 km² which is 3.46% of Tamil Nadu. Dharmapuri was called Thahadoor when King Adhiyaman ruled the Kongu Nadu. Adhiyaman Kottai is available on salem highway. so many temples build in the period when Adhiyaman ruled. There is a subway from Adhiyaman kottai temple to Dharmapuri Kottai temple. Dharmapuri is located on one of the geographically important area in south India. It is 130 km away from Bangalore city and 300 km from State Capital Chennai. All the corporations in Tamil Nadu except Thoothukudi and Tirunelveli lies within 300 km from Dharmapuri. Neighboring states cities like Bangalore, Mysore, Tumkur, Chittoor, Tirupathi, Thrissur, Palakkad, Puducherry also lie within a 300 km radius.
Climate
The climate is generally normal and warm condition . The summer period of March, April, May and June reaching a maximum temperature of up to 38 °C . The temperatures drop in December and the low temperatures continue up to February, touching a minimum of 12 °C in January. The district has an average annual rainfall of 895.56 mm. The tropical forests here generally have short shrubs and thorned-plants.
Demographics
According to 2011 census, Dharmapuri had a population of 68,619 with a sex-ratio of 1,013 females for every 1,000 males, much above the national average of 929. A total of 6,759 were under the age of six, constituting 3,470 males and 3,289 females. Scheduled Castes and Scheduled Tribes accounted for 6.92% and .14% of the population respectively. The average literacy of the town was 77.08%, compared to the national average of 72.99%. The town had a total of 17136 households. There were a total of 26,943 workers, comprising 606 cultivators, 427 main agricultural labourers, 1,052 in house hold industries, 22,566 other workers, 2,292 marginal workers, 54 marginal cultivators, 77 marginal agricultural labourers, 213 marginal workers in household industries and 1,948 other marginal workers.
As per the religious census of 2011, Dharmapuri (M) had 88.99% Hindus, 9.65% Muslims, 0.99% Christians, 0.02% Sikhs, 0.01% Buddhists, 0.01% Jains and 0.33% following other religioner.
Education Institutions
Government Dharmapuri Medical College Hospital in Dharmapuri.
Government College of Engineering in Harur Highway.
Government College of Arts and Science near Collectrate.
Roadways
Dharmapuri is well connected by major National highway NH-7. Commonly called North-South corrider which originates from Varanasi and terminates at Kannyakumari Passes through the district. It is also connected by state highways such as SH-17 (Dharmapuri-Hosur-Malur of karnataka), SH-60 (Hogennakal-Dharmapuri-Titupattur),& SH-60A(Dharmapuri-Harur(via: Morapur).
Railways
Dharmapuri station is a Junction formerly (Station code itself indicates DPJ), at that time it was under Southern Railways and had been connected with Chennai, via Morappur by meter-gauge; as like as now connected with Banglore, via Hosur. After reforming the zones of Indian railways, its chennai route had been abondoned and came under South Western Railways. It is undertaken by Bengaluru Division. However planning to reconstruct the Morappur route again with meter-gauge is in consideration of the government.
Airways
The nearest International airport is Kempegowda international Airport .Located in bengaluru at a distance of 162km.
Another nearest airport is in Salem at a distance of 45km which is now not in use.
References
Dharmapuri Wikipedia
(Text) CC BY-SA