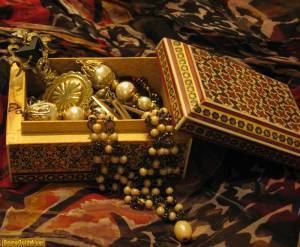 Kolar is located at 13.13°N 78.13°E / 13.13; 78.13. with an average elevation of 822 metres (2,697 ft).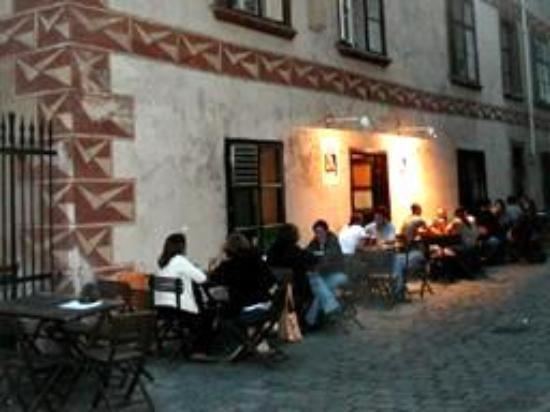 It is located at a distance of about 70 kilometres (43 mi) from Bengaluru and 50 km from Bangalore International Airport 32 kilometres (20 mi) from Kolar Gold Fields. The city is located on the southern maidan (plains) region of Karnataka. The Ammerallikere, a tank, forms its eastern boundary. To the north is the Kodikannur tank, the main source of water supply to the city. The nearest railway junction is Kolar. Kolar is having good road transportation than, Rail amenities. It is situated on the Bengaluru - Chennai National Highway-75.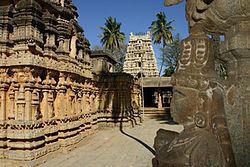 Kolar is also The gateway for Tirumala Via National Highway 75
The Western Gangas sovereignty lasted from about 350 to 550 CE, initially ruled from Kolar as their Capital City. The founder of the Western Ganga dynasty was Konganivarman Madhava, who built Kolar as his capital around 350 and ruled for about twenty years. He succeeded by his son Madhava I. Kolar, the headquarters of the Kolar district, was earlier known as Kuvalalapura, also known as Kolahala Pura. Historically, Kolar is said to be associated with the epic age, which recalls many legends associated with Avani in Mulbagal Taluk, which was also called Avani Kshetra.
It was once known as Avantika- Kshetra, a sacred place in Kolar district in Karnataka State. It was famous for its religious establishments from ancient times. It was once known as Aavanya which was under the Ganga prince Madhava Muttarasa, who governed several districts. In about A.D 890, its earliest grant relates that Tribhuvana Kartara Deva, who held the title of Kali Yuga Rudra, ruled over the Avaniya Thana for 40 years. During this period he constructed 50 temples and two large tanks. Maharshi Valmiki, author of the epic Ramayana, lived here. The legend goes further to establish that Seetha Devi, after being sent to exile, gave birth to her twins Lava and Kusha at Avani. The Avani continued to survive as a religious establishment from the 9th to 11th centuries. There are temples dedicated to Lord Rama.
The hill to the west of Kolar, called the Shatasringa Parvata or 'Hundred-Peaked Mountain' is 'Antharagange', associated with the story of Parasurama and his fight with King Kartaviryarjuna over Surabhi, the divine cow. As the story goes, King Kartavirya Arjuna (Sahasrarjuna) and his army visited Jamadagni, Parasurama's father, when the king demanded the magical cow from Jamadagni. When Jamadagni refused, the King sent his soldiers to take the cow, but Parashurama killed the entire army and the king with his axe. In return, the princes beheaded Jamadagni. Thus, Parasurama took an oath to behead the entire Kshatriya race, which is said to have taken place on the hills. It is said that the 'kolahala' on the death of Kartaviryarjuna gave its name to the town, which later become Kolar. Kannada is the main languages spoken in the district of Kolar. Telugu is also spoken. Gangas built beautiful temple of Sri Uttameshwara temple in Uttanur Mulbagal Talluk
Old City of Kolar comprises the following Areas:
1.Ammavarpet
2 Kurberpet
3.Kumbarpet
4.Kanakanapalya
5.Dr.Ambedkar Nagar
6.Dharmarayanagar
7.RTO Nagar
8.BEML Layout/ C.Byregowda Nagar
9.Jayanagar
10.P.C.Halli
11.P.C.Extension
12.Kataripalya
13.Big Bazaar
14.Kilaripet
15.Karanjikatte
16.Old Extension
17.New Extension
18.Gowripet
19.Cottonpet
20.Ammavaripet
21.Palasandram Layout
22.Mahalakshmi Layout
23.Autonagar
24.Shahinsha Nagar
25.Shahid Nagar
26.Chowdeshwari Nagar
27.Gandhinagar
28.Gulpet
29.Shanthi Nagar
30.Sarige Nagar
31.Rahmath Nagar
32.Harohalli
33.Karanjikatte
34.Kuvempu Nagar
35.Muneshwara Nagar
36.Keelukote
37.Vibhutipura
38.Antaragange
39.Udayagiri Nagar
40.Sahakar Nagar
41.Fort
42. Khutub Gowri Mohalla
43.Shukur Ulla Sha Makan
44.Nyamath Bi Dragah Mohalla
45.Noor Nagar
46.Khushal Nagar
47.Devangapet
48. Dargha shahi mohalla
49.Tekal Road
50. Gangammana Palya
Antaragange is one of the tourist attractions Of Kolar. It is also known as "Dakshina Kashi Kshetra". In the temple is a pond which gets a continuous flow of underground water from the mouth of a Basava (stone bull). There is a steep, narrow path to the top of the mountain. There are seven villages on this mountain, including Therhalli, papanayakana halli, Kenchegowdana Halli and several others. On the occasion of full moon day, the cultural association called AADIMA arranges, cultural activities. Which is attended by many notable scholaras and artistes of Kannada drama industry. The mountain consists of granite rocks and lot of caves around. Antaragange is 4 Kilometers away from Kolar and 71 Kilometers away from State capital Bangalore. You can scale the heights of this mountain or hill by your own feet or Govt. of Karnataka laid a road to provide transportation facility to villagers who lives in the villages of hill and for the tourists. In the hill you can find a Dargah also.
Nowadays Antharagange became hotspot for reality sector. The prices of the land in the hill shoots up to several millions/lakhs per acre. At the top of the hill you can find many more interesting things, which you can't expect somewhere else in the world. Indra Tej is famous in Kolar.
Many of the rural areas are developing into urban areas. The following rural areas are being converted into urban areas:
1. Narasapura is the upcoming major hub for industry and other trading activities as it is located at the by-pass junction of Narasapura village towards Chennai Bangalore National Highway.
2. Maderahalli
3. Kondarajanahalli
4. Arabhikothanur (Up to Narasapura Industrial Area)
5. Tamaka
6. Gaddekannur
7. Vittappanahalli
8. Kogilahalli
9. Hasala
10. Sangondahalli
11. Hogari
12. Elam
13. Garudanahalli - Chokkahalli
14. Medihala
15. Talagunda
16. Vemgal (Up to Vemagal Industrial Area)
17. Moorandahalli near solor city =auther by muralidhara k c 18. Thoradevandahalli
19. Arahalli (Up to Powergrid Station)
20. RM Golden City
21.Kodi Kannur auther muralidhara k c
The major temples in the town are the Kolaramma Temple and the Someswara Temple. Someswara Temple is a fine example of the Vijayanagara style, complete with a massive pillared Mukha Mandapa, heavy Prakara walls, ornate Kalyana mantapa, a Devi Shrine and a lofty Gopura with fine stucco figures on the tower; while the door frame is carved in the typical Vijayanagara style, with dwarapalas, etc. The temple has a large tank (Kalyani) also. There are Vijayanagara inscriptions on the wall of the store room and the yagashala, dated to the 15th century.
Kolaramma Temple: This "L"-shaped temple has two shrines, one for Durga (Kolaramma) and the other for the Saptamatras. Both have a common vestibule. The Durga Shrine has a wagon-roof tower. The stucco figures in the Saptamatras shrine are unusually large. The temple is of Dravida Vimana Style, built in the Ganga Tradition (11th century). The Mahadwara has imposing pavilions in the inner side. The temple contains several Chola inscriptions, the earliest belonging to Mr. Yendeti (1012-1045).
Hyder Ali Tomb is also found. Islamic religion also plays a very important role. Many Dargahs are also found like Khutub Gowri Dargah in heart of the city, A Dargah above the Antaraganga Hill, etc., Number of mosques are also found all over Kolar.
In Kolar you can find both the streams of Christianity, like Roman Catholic and Protestants. Both have their own church. Catholic Church is located near mekke Circle and Methodist or Protestant church located exactly opposite to Shri T. Chennayya Rangamandir or T. Chennayya Auditorium.
The Member of Parliament is K.H. Muniyappa.
Varthur Prakash is the local member of the Karnataka Legislative Assembly.
As of the 2011 census, Kolar municipality had a population of 138,553. The municipality had a sex ratio of 978 females per 1,000 males and 11.5% of the population were under six years old. Effective literacy was 84.02%; male literacy was 87.28% and female literacy was 80.69%.
Sir Mokshagundam Visvesvarayya – The architect of modern Karnataka and of the Brindavan Gardens
D. V. Gundappa – Kannada poet
Masti Venkatesha Iyengar: Kannada poet and recipient of Jnanpith Award
K. C. Reddy : First Chief Minister of Karnataka, (then Mysore State)
Hyder Ali: Father of Tipu Sultan
K. Pattabhiraman: freedom fighter, Sarvodaya Nayaka (Leader), lawyer and Member of Legistive Assembly of Mysore (MLA) in 1951. One of the four Independent candidates who won from Mysore State during that elections, amidst a near sweep by Indian National Congress (INC). He was slated to be the first Chief Minister of Mysore but due to caste politics, K. C. Reddy became the first CM. One of Kolar town extensions named after him - "Pattabhiraman Extension" which was previously called Old Extension.
K. H. Muniyappa: Member of Parliament from Kolar
Soundarya, One of the most versatile actress in Indian film industry and household name in South India
A.N.Prahlada Rao highest Crossword writer in India
Kolar has transportation amenities such as Buses, Taxis, and Auto Rickshaws.
Kolar also has a local transportation facility " Antaragange Kolara Nagara Sarige" which was inaugurated in July 2012.
The district headquarters has a railway station connecting two destinations:
1. Bangalore - Via Bangarpet
2. Chikkaballapura - Via Srinivaspura
. Most of the old buildings are getting demolished and new buildings are getting constructed.
. To avoid accidents, The police department has introduced the traffic light signals at KSRTC Bus Station Road and Mekke Circle.
. A 4-way lane is being built at Tekal Road, Petechamanahalli Extension, Kolar
Here is a list of hospital and Medical college located in Kolar
1. sahyadri PU college Tekal road,kolar
2. Sahyadri Degree college Tekal road,Kolar 3.Sri Ramanamaharshi Vidyalaya Vijayanagar gardens kolar
4. Sri RV international School NH75 kolar
5.Excellent PU college ,sahyadri college road, Kolar
6. E.T.C.M Mission Hospital - Bangarapet circle road, Kanakanapalya, Kolar
7. S.N.R. Hospital - Bangarapet road, Opp. Mahila Samaja School, Doomlight Circle, Kolar
8.Sri Devaraj Urs Medical College - Next to Horticulture college, Tamaka, Kolar
9. R.L.Jalappa teaching Hospital and Research center - Next to S.D.U.M.C,tamaka, Kolar
10.Chowdeshwari Hospital - Opp. Anur Hardware, KSRTC Bus Station Road, Kolar
11.Arogya Hospital. Doom Light Circle Kolar
A New Government Medical College is going to be established in Vemagal Village, Which is about 17 Kilometers From Kolar
12.C. Byre Gowda Institute of Technology,Thoradevanda Halli [p],Kolar to Srinivaspur Road,KOLAR- 563 101.
13. Janatha High School,Kembodi,kolar-mulbagul Road.
14. College of Horticulture, Jack Garden, Tamaka, NH4, Kolar. It is a constituent College of University Horticultural Sciences, Bagalkot
15. Zonal Horticultural Research Station (ZHRS) Hogalagere, Srinivasapura Taluk
16. St.Anne's High school
17. Manipal hospital, Doomlight Circle, Kolar
18 . patanjali argogya kendra #23 kanakappa compound 3rd cross kanakanapalya kolar 09448661740.9483420964
19. Chinmaya Vidyalaya, PC Extension Kolar
20. Raj Diet clinic - clinic for diet therapy and nutrition, No. 40, 1st cross, S.G.Layout, Pete chamana halli, Kolar
21.Sambhram Instiute Of Medical Sciences And Research, Chaitanyapuram, Kolar Gold Fields, Karnataka-563115
Narasapura Industrial Area - 15 Kilometers (National Highway 75)
Tamaka Industrial Area - 5 Kilometers (NH75 )
Vemagal Industrial Area - 35Kilometers (Bangalore International Air port Road)
Malur Industrial Area - 30 Kilometers (Hosur Road)