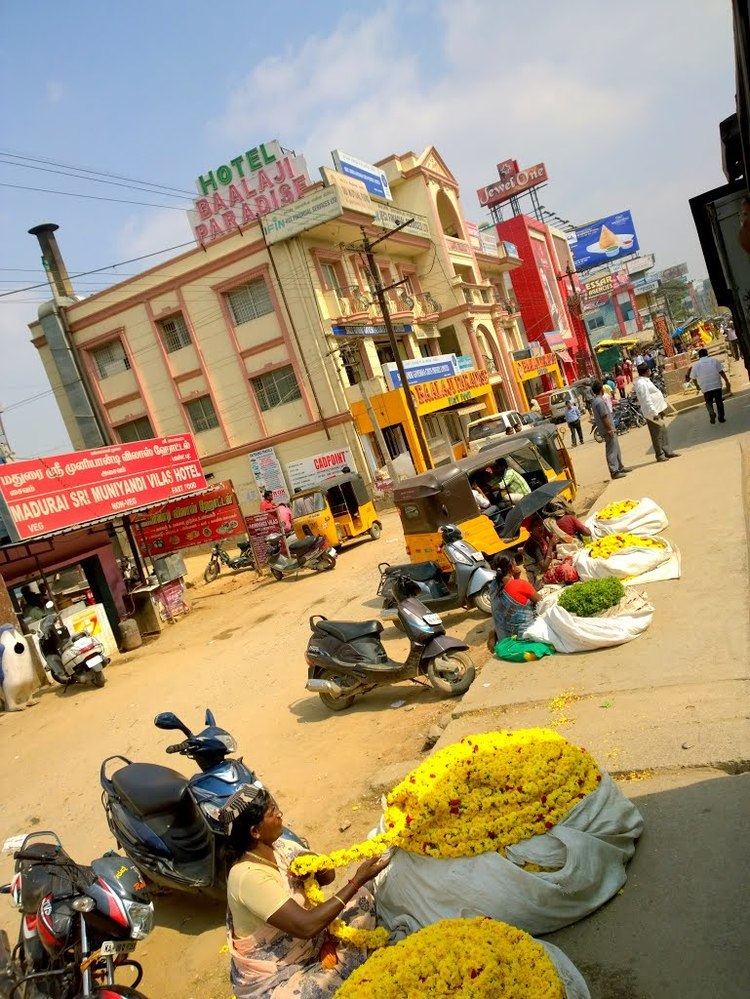 Hosur was part of Mysore Kingdom until 1799, when Tipu Sultan lost the third Anglo-Mysore war, he handed over southern part of Mysore kingdom as a part settlement to English government.
Hosur was constituted as a Selection Grade Town Panchayat in the 1962. And it was upgraded to Second Grade Municipality in the Year 1992. In the year 1998 it was upgraded to Selection Grade Municipality vide G.O.(MAWS) No.85 dt. 22.05.1998. In 2011, Vide GO. No. 127 dt.08.09.2011 town panchayats Mathigiri, Village Panchayats Zuzuvadi, Mookandapalli, Avalapalli, Chennathur were included in Hosur Municipality.
Hosur experiences a tropical savanna climate (Köppen climate classification Aw) with distinct wet and dry seasons. Due to its high elevation, Hosur usually enjoys salubrious and moderate climate throughout the year, with occasional heat waves. The coolest month is January with an average low temperature of 17.1 °C and the hottest month is May with an average high temperature of 33.6 °C. Winter temperatures rarely drop below 12 °C, and summer temperatures seldom exceed 35 °C. Hosur receives rainfall from both the northeast and the southwest monsoons and the wettest months are October, September and August, in that order. The summer heat is moderated by fairly frequent thunderstorms but no flooding. Humidity is 31% and average rainfall is 84 cm.
According to 2011 census, Hosur had a population of 116,821 with a sex-ratio of 968 females for every 1,000 males, much above the national average of 929. A total of 14,307 were under the age of six, constituting 7,274 males and 7,033 females. Scheduled Castes and Scheduled Tribes accounted for 8.08% and .17% of the population respectively. The average literacy of the city was 76.69%, compared to the national average of 72.99%. The city had a total of 29255 households. There were a total of 43,959 workers, comprising 212 cultivators, 308 main agricultural labourers, 747 in house hold industries, 38,463 other workers, 4,229 marginal workers, 57 marginal cultivators, 62 marginal agricultural laborers, 189 marginal workers in household industries and 3,921 other marginal workers.
As per the religious census of 2011, Hosur had 83.66% Hindus, 11.37% Muslims, 4.5% Christians, 0.05% Sikhs, 0.02% Buddhists, 0.11% Jains, 0.27% following other religions and 0.02% following no religion or did not indicate any religious preference.
Hosur is a cosmopolitan town with mix of linguistic groups. Tamil is the official and spoken language,while there are large number of Kannada and Telugu speakers followed by Hindi and English speakers in the town.
Hosur is an industrial hub and houses several automobile and manufacturing industries. The major companies include Kansai Nerolac Paints,TVS Motors, Ashok Leyland, Titan, Hindustan Motors, Kamaz Vectra Motors, Alstom, Faiveley Transport, Caterpillar Inc., Carborundum Universal, Exide Industries Ltd, Hindustan Motors, Hindustan Unilever,Schaeffler, TTK Prestige,Tab India Granites Pvt Ltd,Bata Shoes and Del Monte Foods. There are plans for the development of an Information Technology Special Economic Zone near Hosur. ELCOT has called for applications for the allotment of land in the IT Park of Hosur in the month of June 2010. Proximity to Bangalore is seen as advantage.
A variety of fruits and vegetables are cultivated around Hosur. The land is very fertile and there is significant access to fresh water as well as labor. Crops consist of tomatoes, cabbages, onions, mangoes, capsicum, carrot, cucumber, beans, coriander leaves, turnip and radish. Roses are also grown in large numbers. District Livestock Farm was started in 1824. Central Sericultural Germplasm Resources Centre (CSGRC) was established in 1991 to protect and conserve mulberry and silkworm germ plasm resources.
National Highway AH43(Old NH7) passes through Hosur connecting it with Bangalore, Chennai, Kanyakumari, Palakkad and Salem. This stretch of the highway passing through the town is a Golden quadrilateral Highway Hosur has a central bus station which was re-constructed and opened on July 18, 2010. TNSTC Salem Division buses connect Hosur to major cities and towns in Tamil Nadu and also to neighboring states. Several private bus services and KSRTC also operate buses connecting Hosur.
Hosur has a railway station, located on the Bengaluru-Dharmapuri-Salem railway line and falls under the Bengaluru Division of the South Western Railway. Hosur is well connected to major cities across the country by rail.
Hosur Aerodrome was established in 1994. It has 7012 feet long and 150 feet wide runway. The present aerodrome located at Bellagondahalli is maintained by TAAL.The nearest major airport is the Bengaluru International Airport, about 80 km from Hosur.
Hogenakkal Falls which is located in dharmapuri district
Rajaji Memorial at Thorapalli where Rajaji was born
Sri Chandrachoodeshwara Temple,Hosur.
Ecological Park & Walkers Lane at Ramanaicken Lake.
Kelavarapalli Reservoir Project is one of the prime attractions at Krishnagiri. Kelavarapalli Reservoir Project or Kelavarapalli Dam is situated at a distance of 10 km away from Hosur and 8 km from Karnataka, across the River Ponniar, which originates from the eastern slopes of Chennakesava Hills.
Kelavarapalli Reservoir Project, built in 1995, has become a popular picnic spot at Hosur. It is noted for its children's park and landscaped gardens.
James Hunter served as a Lieutenant in the Royal Artillery. He was a military painter, and his sketches portrayed aspects of military and everyday life. Some of his paintings of Hosur are below