Born

1 August 1932Meetawala Chawl, Dadar East, Bombay, British

India

(present-day

Mumbai

, India) (

1932-08-01

)

Similar People
Meena Kumari Biography: Life History | Career | Unknown Facts | FilmiBeat
Meena Kumari (1 August 1933 – 31 March 1972), born Mahjabeen Bano, was an Indian film actress, singer and poet under the pseudonym "Naaz", also known as The Tragedy Queen and often called the Cinderella of the Indian films.
Contents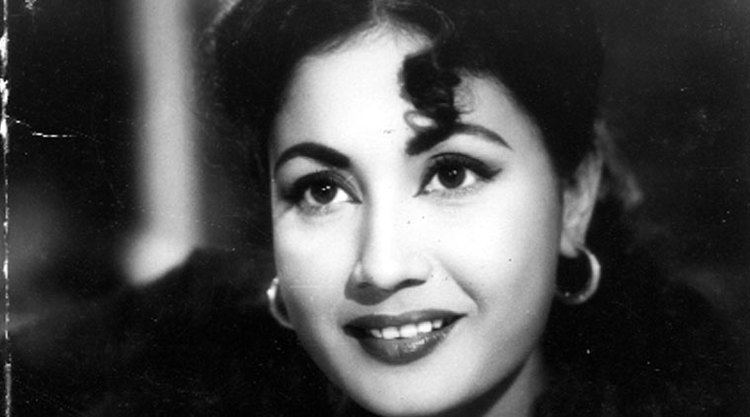 Indian film critics regarded Meena Kumari as a "historically incomparable" actress of Hindi cinema. Meena Kumari made waves as an actor beyond compare in the 60s, Kumari got the author-backed roles and her male co-stars were said to be wary of starring opposite her. During a career spanning 33 years from her childhood to her death, she starred in about 92 films of a variety of genres, many of which have achieved classic and cult status today, such as Sahib Bibi Aur Ghulam, Pakeezah, Mere Apne, Aarti, Baiju Bawra, Parineeta, Dil Apna Aur Preet Parai, Foot Path, Char Dil Char Rahen, Daera, Azaad, Miss Mary, Sharada, Dil Ek Mandir, Kaajal, Chirag Kahan Roshni Kahan, Majhli Didi, Phool Aur Patthar, Bhabhi Ki Chudiyan, Yahudi, Halaku, Baadbaan and Kohinoor. Kumari was also a playback singer, as a child artist till 1945, later as an actress and as a heroine in Duniya Ek Sarai, Piya Ghar Aaja and Bichchade Balam.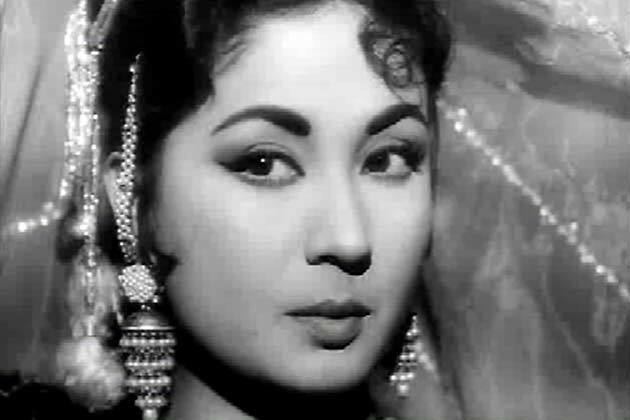 Vinod Mehta (writer of Meena Kumari - The Classic Biography) was told by a director: "Even Dilip Kumar (the tragedy king) found it difficult to keep his calm in front of her". Raaj Kumar would often forget his dialogues while working with Meena Kumari on set. Madhubala was also a fan of Meena Kumari and said: "She has the most unique voice. No other heroine has it." Satyajit Ray described Kumari as "undoubtedly an actress of the highest calibre". Amitabh Bachchan said " No one, not any one, ever spoke dialogues the way Meena Kumari did .. no one .. not anyone to date.. and perhaps never will " Legendary Music Director Naushad said on the record " Hindi film industry may produce great actresses but there would never be another Meena Kumari". Meena Kumari empathized greatly with Marilyn Monroe, the fact that Marilyn's husband, Arthur Miller, had some passing similarities to Meena's husband Kamal Amrohi, made the identification closer. It is said that throughout her life, Meena Kumari had a love–hate relationship with the movies.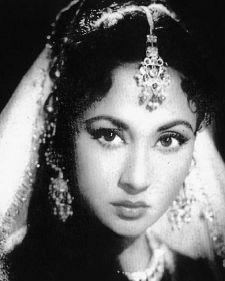 Meena Kumari won four Filmfare Awards in the Best Actress category and was the recipient of the inaugural Filmfare Awards (1954) Best Actress Award for Baiju Bawra and had a consecutive win in the second Filmfare Awards (1955) for Parineeta. Kumari made history at the 10th Filmfare (1963), by receiving all of the nominations for Best Actress and won for her performance in Sahib Bibi Aur Ghulam. In the 13th Filmfare (1966), Kumari won her last Best Actress Filmfare award for Kaajal.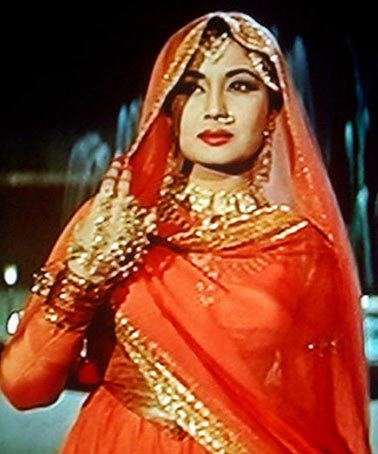 The greatest hallmark of Meena Kumari lied in her ability to depict the struggle of Indian women existing especially in the 50s and 60s. Kumari's onscreen persona is described as a perfect example of real traditional Bharatiya Nari by the Indian film fraternity, such as Mohammed Zahur Khayyam and Javed Akhtar. She gained a reputation for playing grief-stricken and tragic roles, and her performances have been praised and reminisced about throughout the years. Her portrayal of "Sahibjaan", a nautch girl with a golden heart in Pakeezah under Kamal Amrohi's direction became a historical document. In her performances beauty, aristocracy, and tragedy all blended into one. Her role as Chhoti Bahu, in Guru Dutt's Sahib Bibi Aur Ghulam is considered to be one of the best performances in Indian Cinema. The role of Chhoti Bahu, in Sahib Bibi Aur Ghulam was dangerously close to Kumari's own tragic life. Like the character of Chhoti Bahu, in real life too, Meena Kumari became addicted to alcohol. Kumari's life and prosperous career were marred by heavy drinking, troubled relationships, an ensuing deteriorating health, which ultimately led to her death from liver cirrhosis in 1972.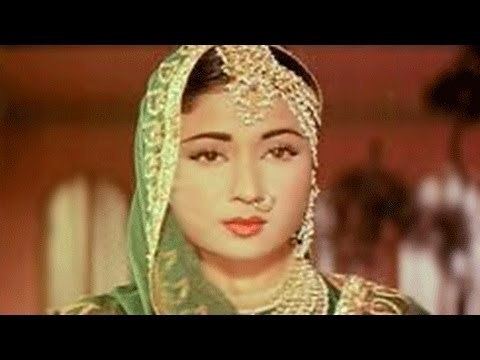 Family Background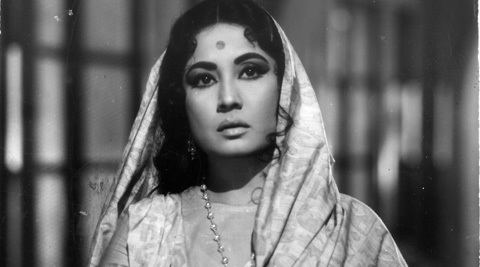 Meena Kumari's father was a Sunni Muslim named Master Ali Bux who had migrated from Bhera, Punjab. He was a veteran of Parsi theater, played harmonium, taught music, wrote Urdu poetry, played small roles in films such as Idd Ka Chand and composed music for films like Shahi Lutere. Meena Kumari's mother Iqbal Begum, whose original name was Prabhawati Devi, was a Bengali Christian converted to Islam. Iqbal Begum was the second wife of Ali Bux. Before meeting and then marrying Ali Bux, she was a stage actress and dancer under the stage name "Kamini" and was related to the well known Tagore family of Bengal.
Connection with Tagore family
Meena Kumari's grandmother, Hem Sundari Thakur (Tagore) was the daughter of Rabindranath Tagore's younger brother. After she became a widow at an early age, her own family, along with her in-laws, compelled her to give up all her rights to their family name and property. Consequently, she embraced Christianity, left for Meerut, became a nurse, and married an Urdu journalist named Pyare Lal Shankar Meeruti, who was a Christian. Hem Sundari had two daughters; one of these was Prabhawati (Iqbal Begum), Meena Kumari's mother.
Birth and childhood
Meena Kumari was born with the name Mahjabeen in a family of poor theatre artistes; Ali Bux and Iqbal Begum on 1 August 1933. This was a great disappointment to Ali Bux because he desperately wanted a son. The Bux family lived next to Rooptara studios in Dadar, Bombay, and Ali Bux was forever hopeful of getting a major break in the film industry, but that never happened. Meena Kumari was the second daughter of Ali Bux and Iqbal Begum. Khursheed Bano (also an actress) was her elder sister and Mahliqa (also known as Madhu, first married to actor Mehmood Ali) was her younger sister. At home, Mahjabeen's family fondly called her by the name "Munna". At the time of her birth, her parents were unable to pay the fees of Dr. Gadre, who had delivered her, so her father left her at a Muslim orphanage. However, he picked her up after a few hours.
Little Mahjabeen is said to have said "I do not want to work in movies. I want to go to school, and learn like other children. Despite her protestations of wanting to go to school, her parents started peddling four-year-old Mahjabeen to film studios for work opportunities, and director Vijay Bhatt offered little Mahjabeen a child's role in his production Leatherface. On her first day she was paid Rs. 25.
Leatherface was released in 1939. Mahjabeen's looks and talent brought more opportunities, ever since that ugly beginning against her wishes. At the age of four she became the bread earner in the Bux family. In an interview in 1962, Meena Kumari explained that the fact she had been supporting her parents from the age of four gave her immense satisfaction. Kumari further said "The first day I trotted along to work, I little imagined that I was saying goodbye to the normal pleasantries of childhood. I thought I would go to the studio for a few days and then go to the school, learn a few things and play and make merry like other children, but that was not to be". Mahjabeen was admitted into a regular school, but that was not for long, because the demands of work frequently interrupted her curricula. She never went to school in any meaningful sense, and her education was the result of private tuition, and more significantly the result of individual interest; in every sense she was self-educated. Kumari concentrated most on Urdu although she could get by in English and Hindi. Little Mahjabeen used to carry her children's books onto the sets and even while travelling with her parents on outstation shoots. On the sets, little Mahjabeen was nicknamed "Reading Mahjabeen".
Early work as Baby Meena (1939–45)
Little Mahjabeen embarked on her acting career at the age of four. She was immersed in work over the next four years as a child artist, mostly in Vijay Bhatt productions; Leatherface (1939), Adhuri Kahani (1939), Pooja (1940) and Ek Hi Bhool (1940). Vijay Bhatt became her mentor and, on the sets of Ek Hi Bhool (1940), he rechristened Mahjabeen as Baby Meena.
More films followed for baby Meena, namely Nai Roshni (1941), Bahen (1941), Kasauti (1941), Vijay (1942), Garib (1942), Pratiggya (1943) and Lal Haveli (1944).
Breakthrough as Meena Kumari (1946–52)
At the young age of 13, baby Meena became the heroine Meena Kumari in Ramnik Production's Bachchon Ka Khel (1946).
One of the major blows in Kumari's life was the death of her mother, Iqbal Begum, 18 months after the family's arrival at their new house in Bandra. She had lung cancer and died on 25 March 1947. In an interview given to Filmfare magazine in 1958, Meena Kumari remembers her mother's last days and her untimely death. Films like Duniya Ek Sarai (1946), Piya Ghar Aaja (1947) and Bichchade Balam (1948) performed with credit and won her recognition from all in the industry. The phase continued with several other films, including some mythologicals and fantasies like Veer Ghatotkach (1949), Shri Ganesh Mahima (1950), Lakshmi Narayan (1951), Hanuman Patal Vijay (1951) and Aladdin Aur Jadui Chirag (1952). Films such as Magroor (1950), Hamara Ghar (1950), Sanam (1951), Madhosh (1951), and Tamasha (1952) either saw her in multi-starrers or in lead roles which unfortunately failed to leave a lasting impact on the audience. Meena Kumari desperately needed a film which would transform her into a sensation among the audience and she soon got one - it was her mentor Vijay Bhatt's musical, Baiju Bawra (1952).
Marriage to Kamal Amrohi (1952)
On the sets of Tamasha, Ashok Kumar introduced filmmaker Kamal Amrohi to Meena Kumari. Later, Kamal Amrohi offered Meena Kumari a lead role in his upcoming film Anarkali and the contract was signed on 13 March 1951. On 21 May 1951 Meena Kumari was involved in a serious motor car accident while returning from Mahabaleshwar to Bombay. She was admitted to Sasoon hospital in Poona, was severely injured around the left hand, and there was some doubt whether she would be able to use it again. Kumari went through terrible bouts of depression, and Kamal Amrohi religiously visited her during her days in the hospital. When they were not scheduled to meet, both Kumari and Amrohi would write letters to each other.
For four months this hospital affair continued and love blossomed. This accident left Meena Kumari with a banded left pinky which remained banded throughout her life, and she used to cover her left hand with a dupatta or saree during shoots. After Kumari was discharged from hospital, the famous telephoning marathon between her and Amrohi began during nights. Soon shooting of the film Anarkali commenced but unfortunately, the producer Makhanlaljee, suffered a crippling financial disaster and the film was abandoned. On 14 February 1952 Meena Kumari, 18, and Kamal Amrohi, 34, secretly got married in a simple "Nikah" ceremony in the presence of a Qadi and Kumari's younger sister, Mahliqa (Madhu). The Nikah paper was witnessed by Baqar Ali (Kamal Amrohi's friend and assistant) and Qadi's two sons, and signed in the name of Mahjabeen Bano (Meena Kumari's real name) and Syed Ameen Haider (Kamal Amrohi's real name). After the ceremony Amrohi planted a kiss on Kumari's forehead and the newlyweds parted. Amrohi left for Sion and Meena and Madhu returned home. The marriage was kept secret from the family and media, although Kamal Amrohi was already married and had three children from his former wife. After some months, the matrimony news leaked to his father, Ali Bux, by a cook who overheard their midnight phone conversations. The angry father regularly hurled accusations, and recommended a divorce. Meena Kumari remained adamant on her decision, but stayed in her father's house. Meanwhile, Kamal Amrohi planned a film called Daera in 1953. Kumari asked her father's permission for working in the film, but Ali Bux refused on the basis that the dates were given to Mehboob Khan for the film Amar. Reluctantly, Meena Kumari agreed, but after shooting for five days, she instigated a disagreement with Mehboob Khan and left the studios. The following day it was disclosed to her father by some external sources that she was off to Bombay Talkies to work for Daera. Ali Bux warned his daughter that if she went for Daera the doors of his house would be permanently shut for her. On 14 August 1953 Meena Kumari drove to Bombay Talkies and worked in front of her husband's camera, and at night, on her return, Ali Bux refused to open the door. Meena Kumari turned her car around and left for her husband's residence at Sion.
When the news of the marriage became public, the Indian press commented: "Meena Kumari's reputation as the quiet and silent girl of the Indian cinema was aided considerably by her announcement of her marriage, which had been kept secret over a year". In a sponsored program broadcast over Radio Ceylon in 1958, Meena Kumari gushed enthusiastically about her first ever visit to her husband's home town, Amroha, in the northwest region of Uttar Pradesh. She and Kamal had been there in 1956, four years after they were married. The area is rich in culture, architecture, mangoes, sugarcane and fresh water fish. Meena Kumari exulted with joy and gratitude, and referred to her husband with high regard, love and extreme respect.
A friend, actress Nadira said in an interview: "Meena is wildly in love with her husband whom she admires, respects and fears. What is more, she is terribly possessive of him! Kumari always addressed Amrohi as "Chandan" or "Kamal Sahab", and Amrohi called Meena Kumari "Manju".
Rising star (1952-56)
1952: Baiju Bawra - Meena Kumari gained fame with her role as a heroine in Vijay Bhatt's Baiju Bawra. It became a huge commercial and critical success and catapulted Kumari to stardom. She won the first ever Filmfare Best Actress Award for Baiju Bawra on 21 March 1954 at the Metro Theatre in Bombay. The film was a musical, set in Mughal India of the 16th century, with classical Hindustani melodies. The music director, Naushad, also received the inaugural Filmfare Best Music Director Award for the song "Tu Ganga Ki Mauj"; this was Naushad's first and only Filmfare Award win.
1953: Parineeta - Directed by Bimal Roy, (starring Ashok Kumar and Meena Kumari as leads) won Kumari the second Filmfare Best Actress Award. The film was based upon the 1914 Bengali novel by Sharat Chandra Chattopadhyay. This version of the film is considered to be the most faithful adaptation of the novella, particularly due to Meena Kumari's interpretation of the role of Lalita. Do Bigha Zamin - directed by Bimal Roy, was celebrated as the first Indian film to win the International Prize at Cannes in 1954.Foot Path - directed by Zia Sarhadi, was Meena's first film with Dilip Kumar. This movie was featured in Avijit Ghosh's book, 40 Retakes: Bollywood Classics You May Have Missed. Daera - was written and directed by Kamal Amrohi, starring Meena Kumari, Nasir Khan and Nana Palsikar in lead roles. other films include Naulakha Haar and Dana Paani.
1954: Baadbaan- directed by Phani Majumdar, had a star cast of Meena Kumari, Dev Anand, Ashok Kumar and Usha Kiran. It was the first ever film in India to have been produced by a workers' cooperative. Chandni Chowk - directed by B. R. Chopra in 1954, a classic Muslim social drama film, was Chopra's second directorial venture and another success at the box office.Ilzaam - directed by R C Talwar and Rafiq Anwar, starring Meena Kumari and Kishore Kumar, also premiered.
1955: In Azaad - directed by Sriramulu Naidu S.M, Kumari pranced gaily with Robin Hood Dilip Kumar. It was the top grossing Hindi film in the year of its release, and one of the biggest hit films in the decade. Hit songs from the movie include "Aplam Chaplam" sung by Lata Mangeshkar and Usha Mangeshkar, and "Na Bole Na Bole" sung by Lata Mangeshkar.Adl-e-Jehangir - was a Hindi language historical drama film directed by G.P. Sippy, and it became a commercial success at the box office.Bandish - directed by Satyen Bose starring Meena Kumari, Ashok Kumar, and Daisy Irani was a box office hit.Ruksana - was directed by R.C. Talwar and starred Meena Kumari and Kishore Kumar.
1956: Ek Hi Raasta - was a family-drama Indian Hindi film directed and produced by B. R. Chopra. It starred Meena Kumari with newcomer Sunil Dutt, Ashok Kumar and Daisy Irani. The film proved to be successful at the box office and was screened for more than 25 weeks, which was called a "Jubilee Hit". Bandhan - directed by Hemchandra Chunder, based on the popular Bengali novel Mantra Shakti, starred Meena Kumari and Pradeep Kumar as leads and was awarded with a Certificate of Merit in National Film Awards.Mem Sahib - directed by R.C. Talwar, featured Meena Kumari for the first time with Shammi Kapoor. The modern avatar of Meena Kumari was well received by audiences and the film became a box office hit.Halaku - a historical Hindi movie directed by D.D. Kashyap included Meena Kumari, Pran (actor), Minoo Mumtaz, Raj Mehra and Helen. It was one of the box office hits and celebrated a silver jubilee.Naya Andaz - directed by K. Amarnath, starring Meena Kumari and Kishore Kumar in lead roles, was a musical hit.
Tragedy Queen of Indian Cinema (1957)
In the late 1950s and early 1960s, Meena Kumari essayed roles in films that mirrored her own unhappy life, due to tensions and later separation (never a formal divorce) from husband Kamal Amrohi. The intensity and power in these celluloid tragedies was derived from her own personal situation and emotional makeup in those years. The conviction and strength of the characters she portrayed, in a series of films, earned her a repute as The Great Tragedienne and the endearing crown of The Tragedy Queen of Indian Cinema was popularly bestowed on her.
1957: Sharada - directed by L.V. Prasad, was Meena Kumari's first venture with Raj Kapoor. A difficult role to essay, it was refused by all leading actresses of the day until Meena Kumari finally agreed. The finesse which Meena vested in her role earned her Best actress at Bengal Film Journalists' Association Award. The film gained great critical success. The film was the ninth highest grossing film at the Indian Box Office in 1957 and was noted as one of the best performances of Meena Kumari.Miss Mary - a comedy film directed by L.V. Prasad, starred Meena Kumari and Gemini Ganesan. The film was one of the biggest hits of that year.
1958: For Sahara - directed by Lekhraj Bhakri, Meena Kumari received a Filmfare Best Actress nomination.Yahudi - directed by Bimal Roy starred Meena Kumari, Dilip Kumar, Sohrab Modi, Nazir Hussain and Nigar Sultana. It was based on the play Yahudi Ki Ladki by Agha Hashar Kashmiri, a classic in Parsi - Urdu theatre, about persecution of Jews in the Roman Empire. The film was a box office hit with the famous song "Yeh Mera Diwanapan Hai" sung by Mukesh.Farishta - starred Ashok Kumar and Meena Kumari as lead protagonist. The film was rated as above average.Savera - was directed by Satyen Bose, with Meena Kumari and Ashok Kumar in lead roles.
1959: Chirag Kahan Roshni Kahan - directed and produced by Devendra Goel, stars Meena Kumari with newcomer Rajendra Kumar and Honey Irani. The film was a huge hit in the box office and Meena Kumari received a Filmfare nomination for Best Actress for her performance.Char Dil Char Rahen - was directed by Khwaja Ahmad Abbas, with star cast Meena Kumari, Raj Kapoor, Shammi Kapoor, Kumkum and Nimmi. The film received warm reviews from critics.Shararat - was a 1959 romantic drama film written and directed by Harnam Singh Rawail, starring Meena Kumari, Kishore Kumar, Raaj Kumar and Kumkum in lead roles, with the memorable song "Hum Matwaley Naujawan" sung by Kishore Kumar and the Tragedy Queen very well matched the boisterous Kishore Kumar.
1960: Dil Apna Aur Preet Parai - was a Hindi romantic drama written and directed by Kishore Sahu. The film starred Meena Kumari, Raaj Kumar and Nadira as leads. The film tells the story of a surgeon who is obligated to marry the daughter of a family friend, while he is in love with a colleague nurse, played by Meena Kumari. It is one of the noted acting performances of lead actress Meena Kumari's career. The film's music is by Shankar Jaikishan, and features a hit song, the Hawaiian-themed "Ajeeb Dastan Hai Yeh" sung by Lata Mangeshkar. At the 1961 Filmfare Awards it created an upset by beating the popular musical epic Mughal-e-Azam of Naushad for the Best Music Director category.Kohinoor - directed by S. U. Sunny featured Meena Kumari, Dilip Kumar, Leela Chitnis and Kumkum. Its tone was light and it lacked the intense characterisations of earlier films of both Dilip Kumar and Meena Kumari, who are otherwise known as the Tragedy King and Tragedy Queen respectively. The film was one of the biggest Hindi film hits in the decade.Bahaana - directed by Kumar, had a star cast inclusive of Meena Kumari, Sajjan, Anwar, Kumar, Pramila, Azurie and Sheela Vaz.
1961: Bhabhi Ki Chudiyan - was a family drama directed by Sadashiv J. Row Kavi with Meena Kumari and Balraj Sahni in the lead roles. It is one of the noted acting performances by Meena Kumari. The film was one of the highest-grossing films of the year at the Indian box office with the famous song "Jyoti Kalash Chhalke" by Lata Mangeshkar.Zindagi Aur Khwab - directed S. Bannerjee, starring Meena Kumari and Rajendra Kumar, was a hit at the Indian box office.Pyaar Ka Saagar - was directed by Devendra Goel with Meena Kumari and Rajendra Kumar.
Critical acclaim (1962)
The year 1962 proved to be a watershed. On 13 June 1963, Meena Kumari created history in Filmfare, which remains unique to this day, by being the sole leading lady to have been nominated for all slots for the 10th Filmfare Best Actress award (in 1963). The nominations were for her roles in Sahib Bibi Aur Ghulam, Aarti and Main Chup Rahungi. Kumari won her third best actress Filmfare for Sahib Bibi Aur Ghulam. The Bengal Film Journalists' Association conferred the Best Actress Award on Meena Kumari for Aarti.
Sahib Bibi Aur Ghulam (1962)
Sahib Bibi Aur Ghulam was a film produced by Guru Dutt and directed by Abrar Alvi featured Meena Kumari as the iconic Chhoti Bahu. It is based on the Bengali novel "Shaheb Bibi Golam" by Bimal Mitra. The film stars Meena Kumari, Guru Dutt, Rehman, Waheeda Rehman and Nazir Hussain. The film's music is by Hemant Kumar and the lyrics were by Shakeel Badayuni. The film is also noted for its brilliant cinematography by V. K. Murthy and the famous songs "Na Jao Saiyaan Chhuda Ke Baiyan" and "Piya Aiso Jiya Mein" sung by Geeta Dutt.
Sahib Bibi Aur Ghulam was perhaps the most perilous mix of the reel and real. Meena Kumari played the character of Chhoti Bahu, which was dangerously close to her own tragic life. Kumari was an adept in using artifacts to make her acting more appealing. For Sahib Bibi Aur Ghulam, in order to support a drooping heavy look which is associated with immoderate consumption of liquor, she used to apply concentrated Eau de Cologne under her nose deliberately. The irritation caused by such action helped her in achieving the perfect look for the role of an alcoholic.
The film was a major critical and commercial success. Meena Kumari's performance as Chhoti Bahu is regarded as one of the best performances of Hindi cinema. To quote the review featured in Upperstall: "While each of the performances are spot on, if there is one person who is the heart and soul of the film, it is Meena Kumari. Her portrayal of Chhoti Bahu is perhaps the greatest performance ever seen by an actress on the Indian Screen."
The film won four Filmfare Awards, including the Best Actress award. This movie is also nominated for the Golden Bear at the 13th Berlin International Film Festival, where Meena Kumari was selected as a delegate. Sahib Bibi Aur Ghulam was also chosen as India's official entry to the Oscars.
1962: Aarti - directed by Phani Majumdar, stars Meena Kumari in the title role of Aarti, with Ashok Kumar, Pradeep Kumar and Shashikala appearing in pivotal roles. The Bengal Film Journalists' Association acknowledged Aarti as the ninth-best Indian film of the year and conferred the Best Actress Award on Meena Kumari. Main Chup Rahungi - directed by A. Bhimsingh with Meena Kumari and Sunil Dutt in lead roles was one of the biggest hits of the year and Meena Kumari received a Filmfare nomination for Best Actress for her performance.
1963: Dil Ek Mandir, directed by C. V. Sridhar, stars Meena Kumari, Rajendra Kumar, Raaj Kumar and Mehmood. The film's music is by Shankar Jaikishan. The film was a big hit in the box office and so was the film's music with the famous songs "Ruk Jaa Raat" and "Hum Tere Pyar Mein Sara Alam", sung by Lata Mangeshkar. Akeli Mat Jaiyo - directed by Nandlal Jaswantlal, was a romantic comedy with Meena Kumari and Rajendra Kumar in leads. Kinare Kinare - was directed by Chetan Anand with Meena Kumari, Dev Anand and Chetan Anand.
1964: Sanjh Aur Savera - was a romantic drama film directed by Hrishikesh Mukherjee, starring Meena Kumari, Guru Dutt and Mehmood. This marked the final film appearance of Guru Dutt, who died later in the year of the film's release. Benazir - was a Muslim social film directed by S.Khalil, starring Meena Kumari, Ashok Kumar, Shashi Kapoor and Tanuja. Chitralekha directed by Kidar Sharma, starring Meena Kumari, Ashok Kumar and Pradeep Kumar, was based on the 1934 Hindi novel by the same name by Bhagwati Charan Verma, about Bijgupta serving under the Maurya Empire, and king Chandragupta Maurya (340 BCE–298 BCE) and his love for courtesan Chitralekha. the film's music and lyrics were by Roshan and Sahir Ludhianvi and noted for songs such as "Sansaar Se Bhaage Phirte Ho" and "Man Re Tu Kaahe". Gazal directed by Ved-Madan, starring Meena Kumari and Sunil Dutt, was a muslim social film about the right of the young generation to the marriage of their choice. It had music by Madan Mohan with lyrics by Sahir Ludhianvi, featuring notable filmi-ghazals such as "Rang Aur Noor Ki Baraat", performed by Mohammed Rafi and "Naghma O Sher Ki Saugaat" performed by Lata Mangeshkar. Main Bhi Ladki Hoon was directed by A. C. Tirulokchandar. The film stars Meena Kumari with newcomer Dharmendra.
Separation from husband and addiction to alcohol (1964)
After their marriage, Kamal Amrohi allowed Meena Kumari to continue her acting career, but on three conditions.
1. You will return home by 6:30 every evening.
2. You will allow no one in the makeup room except your makeup man.
3. You will sit in your own car which will take you to work and fetch you back.
Meena Kumari agreed to all terms, but with passing time she kept breaking them. It is said Kumari felt oppressed by the feudal attitude and high-handed behavior that Kamal Amrohi brought to their relationship. Kamal Amrohi's lavish productions Daera and Pakeezah, and his Kamalistan studios (1958) were mostly financed by Kumari's earnings. Meena Kumari was watched over. Kamal Amrohi had issued strict instructions and had deployed assistant Baqar Ali to prevent any other man from meeting Meena Kumari on the sets. In 1972 Kamal Amrohi told Vinod Mehta (writer of Meena Kumari - The Classic Biography) "I didn't mean it like that. These were just ground rules. I mean, if she returned home at 7 instead of 6:30 it was acceptable for me. I just wanted her to appreciate that besides having responsibilities to her career, she had responsibilities to her home and husband". Amrohi further said that he was prepared to overlook Meena bending his conditions, but he would have loved it if she herself confessed when such bendings took place. "It really pained me to learn of these incidents from outside sources".
Kamal Amrohi said in an interview with Filmfare Magazine that he used to advise Meena against accepting assignments which would harm her reputation. He used to be a little harsh sometimes, he admitted, but it was all in her interest.
Khursheed explained clearly that "she loved children. Kamal Sahab never wanted a child from Meena". Kamal denied it: "It was Manju who never wanted a baby because she felt it would harm her screen image". Nargis Dutt relates how she once questioned Meena: "Haven't you ever wanted to become a mother?" - " Is there any woman who does not want to become a mother?" Meena replied with tears in her eyes. Kumari raised Kamal Amrohi's son, Tajdaar, who was greatly attached to his Chhoti Ammi (younger mother).
Abrar Alvi, director of Sahib Bibi Aur Ghulam, recounts how Kamal Amrohi would have his spy and right-hand man Baqar Ali present even in the makeup room while Meena's makeup was being done, and one awful evening, when working beyond schedule to complete a shot, he had to face his heroine dissolving in tears.
In 1963, Sahib Bibi Aur Ghulam was selected as the Indian entry to the Berlin Film Festival and Meena Kumari was selected as a delegate. The then Minister of Information & Broadcasting, Mr. Satya Narayan Sinha, arranged for two tickets, one for Meena Kumari and one for her husband, but Kamal Amrohi refused to accompany his wife and said: "I do not want to tag along merely as Meena Kumari's husband." The Berlin trip never materialized.
During a premiere at Eros cinema, Sohrab Modi introduced Meena Kumari and Kamal Amrohi to the governor of Maharashtra. Sohrab Modi said "This is the renowned actress Meena Kumari, and this is her husband Kamal Amrohi". Whereupon before greetings were exchanged, Kamal Amrohi interjected: "No, I am Kamal Amrohi and this is my wife, the renowned actress Meena Kumari". Saying this, Kamal Amrohi left the auditorium. Meena Kumari saw the premiere alone.
On 5 March 1964, at the mahurat of the film Pinjre ke Panchhi, Kamal Amrohi's assistant, Baqar Ali slapped Meena Kumari when she insisted on letting the budding poet-lyricist Gulzar into her makeup room.
Meena Kumari never returned home and never stepped into their Pali Naka home thereafter. Kumari stayed in actor Mehmood's house for a while, who was married to her sister, Mahliqa (Madhu), before moving to one in Janaki Kutir, Juhu. Kamal Amrohi rushed to Mehmood's house to reconcile their differences and escort her back, but Kumari refused.
Meena Kumari wrote in her poetry about Amrohi:

دل سا ساتھی جب پايا
بے چينی بھی ساتھ ملی

दिलसा साथी जब पाया
बेचैनी भी साथ मिली
"Dil saa saathi jab paya
Bechaini bhi saath mili"

(When I found a partner like my heart
Restlessness also found with him)
Meena Kumari was a patient of chronic insomnia and was on sleeping pills for a long time since the days of the telephoning conversations with Kamal Amrohi. During 1963, Dr. Saeed Timurza, her physician, then prescribed a small peg of brandy as a sleeping pill alternative and this was officially how she came into contact with the habit that was to kill her. Somehow this prescribed peg of brandy turned into heavy drinking after her separation from her husband. Meena Kumari and Kamal Amrohi never formally divorced, but separated in 1964. During those years of separation from her husband, Kumari's name was associated with Rahul, Gulzar, Dharmendra and Sawan Kumar Tak.
1965: Kaajal directed by Ram Maheshwari, stars Meena Kumari, Dharmendra, Raaj Kumar, Padmini, Helen, Mehmood and Mumtaz. The film was declared a "Hit" in the box office and was listed in the Top 20 films of 1965. Meena Kumari won her fourth and last Filmfare award for Kaajal. The film was originally based on the novel "Maadhavi" by Gulshan Nanda. Bheegi Raat, directed by Kalidas, with Meena Kumari, Ashok Kumar and Pradeep Kumar in lead roles was one of the biggest hits of the year with the famous song "Dil Jo Na Ke Saka" sung by Lata Mangeshkar and Mohd Rafi. The film Purnima, directed by Narendra Suri, featured Meena Kumari and Dharmendra in lead roles.
1966: Phool Aur Patthar, directed by O. P. Ralhan, starred Meena Kumari and Dharmendra in lead roles. This movie went on to become a golden jubilee hit, catapulting Dharmendra to stardom and was the highest-grossing movie for the year 1966. Meena Kumari's performance in the film ensured her a nomination in the Best Actress category in the Filmfare awards for that year. The film Pinjre Ke Panchhi was directed by Salil Choudhury, with Meena Kumari, Balraj Sahni and Mehmood in main roles.
1967: Majhli Didi was directed by Hrishikesh Mukherjee. Majhli Didi stars Meena Kumari and Dharmendra. The film was India's entry to the 41st Academy Awards for Best Foreign Language Film. The film Bahu Begum was directed by M. Sadiq, starring Meena Kumari, Pradeep Kumar and Ashok Kumar. The film has music by Roshan and lyrics by Sahir Ludhianvi and is known for the songs "Hum Intezaar Karenge Tera Qayamat Tak", sung by Mohammad Rafi and Asha Bhonsle and "Duniya Kare Sawal To Hum" by Lata Mangeshkar. Noorjehan, directed by Mohammed Sadiq, was a historical film starring Meena Kumari and Pradeep Kumar, with Helen and Johnny Walker in minor roles. It dramatised the epic love story of Empress Nur Jehan and her husband, the Mughal Emperor Jehangir. The film Chandan Ka Palna was directed by Ismail Memon, starring Meena Kumari and Dharmendra.
1968: Baharon Ki Manzil a Suspense Thriller, directed by Yakub Hassan Rizvi, stars Meena Kumari, Dharmendra, Rehman and Farida Jalal. The film was one of the major hits of the year. The film Abhilasha was directed by Amit Bose. The cast includes Meena Kumari, Sanjay Khan and Nanda.
Deteriorating health and treatment in London (1968)
Heavy drinking had badly damaged Meena Kumari's liver. In 1968, she fell seriously ill. The medical advice was that Kumari needed more advanced and permanent cure.
She was taken to London and Switzerland in June 1968 for treatment. From the months of June to August, Meena Kumari was in the safe hands of Dr. Sheila Sherlock.
Upon recovery, Kumari returned to India in September 1968 and on the fifth day after her arrival, Meena Kumari, contrary to doctors' instructions resumed work. Director Sawan Kumar Tak said "Not only did she not drink, she would not let me drink either. she did not touch a drop after London". After returning from London, Kumari for the first time, purchased her own home, which was on the eleventh floor of a building called "Landmark", situated at Carter Road, Bandra.
1970: Jawab was directed by Ramanna, starring Meena Kumari, Jeetendra, Leena Chandavarkar and Ashok Kumar. Saat Phere was directed by Sudhir Sen, with Meena Kumari, Pradeep Kumar and Mukri in pivotal roles.
1971: Mere Apne written and directed by Gulzar, was his first directorial venture. The film stars Meena Kumari, Vinod Khanna and Shatrughan Sinha in lead roles along with Deven Verma, Paintal, Asit Sen, Asrani, Danny Denzongpa, Keshto Mukherjee, A. K. Hangal, Dinesh Thakur, Mehmood and Yogeeta Bali. Mere Apne was declared "Above Average" in the box office, but Meena Kumari's performance was noted as one of the best performances by the critics. Dushman, directed by Dulal Guha, stars Meena Kumari, Rehman and Rajesh Khanna with Mumtaz in lead roles. The film became a "super-hit" at the box office.
1972: Gomti Ke Kinare directed by Saawan Kumar Tak, in his directorial debut, stars Meena Kumari, Sanjay Khan and Mumtaz.
Completion of Pakeezah (1956–72)
In 1954, during the shooting of Azaad (1955 film), Meena Kumari and Kamal Amrohi were in South India, and here Kamal Amrohi began outlining the plot of his next film with his wife and decided to call it 'Pakeezah'. Like the movie, its title has a fascinating history too; The title was changed many times due to superstitious reasons, but finally the original stayed. After the failure of Daera in 1953, Pakeezah as an idea, was roaming around in Amrohi's mind. A concept, he said, was irretrievably fixed by his love for his wife. He hoped to create a film which would be worthy of her as an actress, and worthy of the love he felt for her as a woman. Kamal declared that for every line he wrote, he had Meena in mind. He wished to present her on the screen as no one had before: beautiful, sad, sanguine, dejected, calculating, sexy - he ambitioned to capture as many dimensions of her as he knew of. Pakeezah took 16 years to reach the silver screen. First planned by Amrohi in 1956 as a black and white venture, the film transformed into a colour with CinemaScope venture. It went on the studio floors in 1964, but the shooting came to a standstill after their separation (never formally divorced), in March 1964, when it was more than halfway complete.
Kamal Amrohi wrote a letter to his estranged wife on 24 August 1968.
"Only Pakeezah completion remains unsettled. You have made a condition that unless I give you a divorce you will not complete Pakeezah. Even this knot can be untied... I will free you from your marital ties. After this, if you wish to complete your Pakeezah, I would be the most happy to do so. This is my request, that Pakeezah on which the fortune of many people depends, and which had the good wishes of so many people, should not be left uncompleted if possible. You have better means. You have box office appeal, and most of all Pakeezah needs you personally... Pakeezah that is like a sinking ship will reach a shore under your care."
Meena Kumari wrote to her husband Kamal Amrohi in early 1969
"In regard to my working in Pakeezah, I have always been willing and clamoring to work. Pakeezah is my life dream and it will be my greatest pleasure to see it completed. As for my remuneration, I am glad you have given me an opportunity to prove my regards and respect for you. I shall accept only ONE GUINEA as a token of goodwill for my entire work in Pakeezah."
On 16 March 1969, five years and twelve days after she left her husband, gravely ill, Meena Kumari reported for work again on Pakeezah. Kamal Amrohi organized a great reception. He gave his wife a peda (sweet) as a peace offering and made a documentary film on her arrival at the studio. Meena Kumari was determined to complete the film and, well aware of the limited time left for her to live, went out of her way to complete it at the earliest. Despite her rapidly deteriorating health, she gave the finishing touches to her performance. Vinod Mehta (writer of Meena Kumari - The Classic Biography) shared an incident which occurred during the last days of the shooting of Pakeezah: "On outdoor shooting Kamal Amrohi's unit travelled in two cars near a place called Shivpuri in Madhya Pradesh, the cars all but ran out of petrol, and for miles around there was nothing except a long, deserted, straight road. It was discovered that a bus passed on this route every morning from which fuel could be purchased. Kamal Amrohi decided to spend the night in the desert; he ordered his unit to roll up the windows of the cars and hope for the best. A little after midnight the occupants of the vehicles were surrounded by a dozen armed men. The men knocked on the closed windows and forced their way in. When the armed gang leader learned that one of the people in the car was Meena Kumari, his attitude completely changed. He turned out to be a Meena Kumari fan, and welcomed his guests in true fan tradition. He organized music, dancing, and food. He provided a place to sleep. He instructed his juniors the next morning to fetch petrol for the unit. From Meena Kumari, he wanted a special favor. He sharpened his knife and took it to her. "Please autograph my hand with this", he requested. Meena was not new to signing autographs but she had never attempted anything as ambitious as a knife. Nervously, she wrote her name on this man's hand. He said he was grateful for this favor. Once the unit left, they found at the next town that they had spent the night in the camp of Madhya Pradesh's renowned and dangerous dacoit - Amrit Lal."
Khursheed said: "It was just work between them, Meena had no feeling left for Kamal, and if he thinks anything else, he is fooling himself."
Pakeezah had a grand premiere on 3 February 1972, at Maratha Mandir theatre, in central Mumbai, and the prints being carried on a decked-up palanquin. Meena Kumari arrived to attend the last premiere of her life. Kumari let Raaj Kumar, for the benefit of the press, kiss her hand and then went in to see the film. Meena Kumari sat next to Kamal Amrohi during the premiere. When Mohammed Zahur Khayyam complimented Meena Kumari with "Shahkar ban gaya." (it's priceless.), she was in tears. After watching the whole film, Kumari told a friend that she was convinced that her husband was the finest film-maker in India. Kumari regarded the film as Kamal Amrohi's tribute to her. The film finally released for the general masses the following day. An idea which once lingered in its creator's mind for almost 18 years finally reached the silver screen on 4 February 1972. Pakeezah enjoyed a successful run of 33 weeks and even celebrated its silver jubilee. The film has since gained a cult and classic status, and Meena Kumari's performance as a golden-hearted Lucknow nautch girl drew major praise. She posthumously received her twelfth and last Filmfare nomination for Pakeezah. Bengal Film Journalists' Association Awards bestowed the Special award to Meena Kumari for Pakeezah in 1973.
Death
Three weeks after the release of Pakeezah, Meena Kumari was seriously ill. On 28 March 1972, she was admitted to St Elizabeth's Nursing Home.
Meena Kumari died on the auspicious day of Good Friday, 31 March 1972, due to liver cirrhosis at a seductively young age of 38. As per husband Kamal Amrohi's wish, she was buried at Rahematabad Qabristan, located at Narialwadi, Mazgaon, Mumbai.
Kamal Amrohi stated: "Once people took away my Manju after naming her Meena Kumari, Now this cruel death has snatched her away from everybody, But I know she is not dead, She is sleeping in my heart in an immortal sleep." (Kamal Amrohi died February 11, 1993 in Mumbai and as per his wish was buried next to Meena Kumari's grave at Rahematabad Qabristan located at Narialwadi, Mazagaon, Mumbai.)
Sahir Ludhianvi, about Meena Kumari: "An artiste with rare talent, a soft spoken woman in white with a soul of a poet. Her whole life was a sacrifice of her own emotions, her personality, her own ego and their sublimation in the art that gives joy to millions. A cruel destiny put her lily-white soul on the cross of human emotion.
Dilip Kumar lamented: "31 March 1972 was an unfortunate day since on this day in front of their own eyes they had seen helplessly the slow going away of a dear friend."
Dev Anand concluded: "Meena Kumari was the greatest artiste of them all. I regret there was no recognition of her historic talent."
Raaj Kumar was confident that "She would live for all time to come."
Burjor Khurshedji Karanjia, editor of Filmfare: "She made a lot of money and lost it, she knew great love and lost that too. Across those exquisite sculptured features, the marble-made flesh, flustered the bemused query."
Baldev Raj Chopra, producer-director wrote: "Meena Kumari is no more. It almost appears that, with her death, we are reaching the end of an era of great artistes dedicated and larger than life."
Mr V. Verma said: "She had combined in herself two radical opposites, the grace of Moghul like live living and the spontaneity of a hippie."
Gulzar writes: "Meena... closed her eyes and went to sleep/ Bidding life adieu! Never once did she breathe thereafter/ After a trying life full of struggle and strife,/ Wasn't it a remarkably stark and easy death!"
Khwaja Ahmad Abbas tributed: "Martyrs never die. And it was Meena Kumari, the mortal human being, that was buried in a grave. Her soul, her art, is beyond decay."
The Poetess Naaz
Meena Kumari was also a talented Urdu poetess under the pseudonym Naaz. According to Naushad Ali, Kumari's poetry clearly reflected her angst. Haunting, crystalline, and precisely observed, Kumari's poetry reveals a side of her personality that was rarely on display in her films. It proved that she was a much more sensitive and self-aware woman than her fans tend to realize.
I write, I recite - an album consisting of Meena Kumari's poems under the label of LP Vinyl Record was released in 1971, for which Mohammed Zahur Khayyam gave music. The poetry in the album (nazms) has been written, recited and sung by the poet herself. The album was re-released on 19 September 2006.
Tanha Chand (Lonely Moon), a collection of Meena Kumari's poems, was compiled by Gulzar and published after her death in 1972.
تم کيا کروگے سن کر مجھ سے ميری کہانی
بے لطف زندگی کے قصے ہيں پھیکے پھیکے

"Tum kya karo ge sun kar mujh se meri kahani
Bay lutf zindagi ke qissay hain pheekay pheekay"

(Why do you want to listen to my story:
Colorless tales of a joyless life)
The Poet – A Life beyond Cinema has her collected poems translated from Urdu to English by academician-writer Noorul Hasan and an introduction by Philip Bounds and Daisy Hasan published by Roli Books.
"This is Life"
My heart wonders incessantly
If this is life, what is it that they call death?
Love was a dream?
Ask not about the fate of this dream?
Ask not about the punishment
I received for the crime of loyalty

Legacy
Meena Kumari herself once said that people picked strands of her hair to make a taweez (talisman) out of it. One of the most remarkable facts about her acting resided in the fact that she never used products like glycerin in order to shed tears, but always shed her genuine ones while acting. Indian Film Critic Bhawana Somaaya says: "There was a time when top heros were not willing to work with Meena Kumari, because she played the powerful roles". Vinod Mehta shares: "Meena Kumari become so powerful that she would make or break stars, Kumari adopted an attitude of guardian, artistic mentor towards the newcomers who worked opposite her like Rajendra Kumar in Chirag Kahan Roshni Kahan and with Sunil Dutt in Ek Hi Raasta." Meena Kumari helped Dharmendra enormously in the initial stages of his career, and established Dharmendra's acting career in Indian Cinema. The legendary Kathak master Pandit Lachhu Maharaj's praise for Meena Kumari's dance when he remarked on the unique way in which she would take a turn. "The way in which she would turn, the angles of her shoulders, come naturally to her and cannot be taught." Ashok Kumar said: "Meena was a natural actress. She was very choosy, but once she accepted a role, she put her heart into it and it's not surprising that she's still remembered for her sensitive portrayals. Sometimes when saying a dialogue I'd add a line not in the script and even as I worried about how Meena would react, she'd surprise me with just the right response." Amitabh Bachchan said "Meenaji was a soft spoken gentle lady, always appreciative of the work done by new comers, she was extremely kind to me at the trial and ever since always most encouraging whenever I got a chance to meet her. Meena Kumari's greatness lay in her immense talent and humaneness". Javed Akhtar shares: "Young Indian women used to emulate Kumari's dignified sober fashion styles, the way Kumari wore a saree, her hair style, her bindi style, and this was the first time an Indian actress achieved such status and fame. Meena Kumari undoubtedly, became the "First Female Style Icon of Indian Cinema."
A postal stamp was issued in honour of Meena Kumari on 13 February 2011 by India Post.
Meena Kumari's most awaited film Pakeezah was released on 4 February 1972, and just a day before Pakeezah released on 3 February 1972, a boat "Pakeezah" was sailing near the shores of Mumbai. Tajdar Amrohi shares: "When the shooting of Pakeezah started again in 1969, the first song shot was "Mausam Hai Ashiqaana". With this song, Meena Kumari set a new fashion trend of girls wearing Lunghi. Indian Film Critic Bhawana Somaaya says: "Pakeezah is just like poetry on celluloid, I can not imagine anybody else in this movie except Meena Kumari."
Pakeezah was the inaugural film telecast by Doordarshan, India's state-owned television station when it began broadcasting from Amritsar in Punjab in the early 70s. It was specially beamed towards Lahore nearby, in Pakistan. Thousands flocked at Lahore, from as far as Karachi, hundreds of miles away, to see Pakeezah. It was a flood - the crowds stampeded the streets of Lahore to get to the television screens placed at strategic points on virtually every street corner.
Neville Tuli, chairman, Osian's Group said in a statement: "Meena Kumari is a true icon for Womanhood and Cinema, absorbing all, breaking all, in the search to be herself". On 24 February 2016 Meena Kumari's original publicity material and memorabilia, including paintings and portraits of her films, were displayed at the Womanhood Festival at Osianama Liberty Mumbai India.."
"There was no dichotomy between the actor and the role she played." says Rekha Banerjee, wife of the late film director and screenplay-writer, Shanu Banerjee. She recalls from the sets of Bahu Begum, Meena Kumari sobbing inconsolably, long after the director had called "cut", so deeply did she immerse herself in the role.
Historian critic Philip Bounds and researcher Daisy Hasan write regarding Meena Kumari's legacy of poetry: "Poetry was the medium through which Kumari distanced herself from her public image and criticized the industry that had brought her to public attention in the first place. In that sense, her poems tell us as much about Bollywood as they do about herself."
Javed Akhtar narrates: "Kamal sahab gave me a job and helped me. My salary was Rs.50 and even in the 60s, you could not rent a house with that amount of money. I used to sleep in a corner of the studio. I started living in the costume room of the studio. I didn't have enough money to even go out to have a meal. In the evenings I would just potter around in the drawers. There were many cupboards filled with costumes of Pakeezah; sherwanis, dresses, shoes. One day I opened a drawer and found amid the clutter, three Filmfare trophies. I dusted them and realized they were Meena Kumari's Filmfare trophies. I had never held a trophy and a Filmfare trophy was akin to the Oscar in India. There were big mirrors in the room. In the evenings I would come back and lock myself in the costume room and hold the trophies in front of the mirror, acting how I would accept it if I were to receive it. The first trophy I held in my hand was that of Meena Kumari! I was an eighteen-year-old boy who had no home, no money, no food, but these trophies encouraged me to achieve my dreams, and for this, I will be always thankful to Meena-ji."
Satyajit Ray said: "I saw Meena Kumari's Sahib Bibi Aur Ghulam, she was undoubtedly an actress of the highest calibre."
Music Director Naushad says that "Meena, throughout her short life was exploited by people for their own ends, and was so frustrated that she took to drinking and writing poetry to fight her feeling of betrayal." Due to the contrast between her stardom and troubled private life, Kumari is closely linked to broader discussions about modern phenomena such as mass media, fame, and consumer culture. Every year, on Meena Kumari's birthday, numerous articles are printed and television programmes aired to commemorate her, and modern magazines continue to publish stories on her personal life and career.
Filmfare Awards
Filmfare Best Actress Award
Nominated & Won
Baiju Bawra (1954)
Parineeta (1955)
Sahib Bibi Aur Ghulam (1963)
Kaajal (1966)
Nominated & Not Won
Azaad (1956)
Sahara (1959)
Chirag Kahan Roshni Kahan (1960)
Aarti (1963)
Main Chup Rahungi (1963)
Dil Ek Mandir (1964)
Phool Aur Patthar (1967)
Pakeezah (1973)
Factual Analysis
In 64 years and 62 editions of the Filmfare Awards, Meena Kumari's unusual feat of garnering all three nominations in the Best Actress category remains unaccomplished by any other actress and is unique till this day. She reached this pinnacle in the 10th Filmfare Awards, 1963.
Meena Kumari's record for the highest number of Filmfare Award for Best Actress remained unbroken for 13 years (1966-1979) until it was finally broken by Nutan in the 26th Filmfare Awards, 1979.
Her record for the highest number of nominations in the Best Actress category (12) was eventually broken after 35 years by Madhuri Dixit in the 53rd Filmfare Awards, 2008.
Bengal Film Journalists' Association Awards
Meena Kumari has won several awards at the Bengal Film Journalists' Association Awards (BFJA)
Biography
One of the first biographies of Meena Kumari was written just after her death by Vinod Mehta in October 1972. It was titled "Meena Kumari - The Classic Biography". The biography was re-launched in May 2013.
In film
Meena Kumari has always been a subject of interest anong present day filmmakers, thanks to her massive star appeal. In 2005, a modern day adaption of her classic film Sahib Bibi Aur Ghulam was to be made in which Priyanka Chopra was to portray her role of 'Chhoti Bahu'. However, the film got shelved and paved way for a TV series helmed by director Rituparno Ghosh in which actress Raveena Tandon essayed this role. In 2015, it was reported that Tigmanshu Dhulia will be making a film on Hindi cinema's Tragedy Queen, a screen adaptation of Vinod Mehta's book, "Meena Kumari - The Classic Biography in which actress Kangana Ranaut was to portray Kumari. The film was shelved yet again due to lack of authentic facts and after strong protestion of her stepson Tajdar Amrohi who claimed of making another film titled 'Meenabakamal' on her. Presently, the film's script has gone to actress Vidya Balan and awaits her nod. Vidya, who has always shown her interest in playing the Great Tragedeinne was also offered the same role back in 2012 after her film The Dirty Picture but she somehow rejected the offer. The fate of an official biopic on Meena Kumari presently hangs midway.
Filmography
Actress
2020
Chadarangam (TV Series)
- Episode #1.10 (2020)
1972
Pakeezah
as
Nargis / Sahibjaan
1971
Mere Apne
as
Anandi Devi / Auaji (Aunt)
1969
Maya Theevu Ragasiyam
1968
Abhilasha
as
Meena R. Singh
1968
Baharon Ki Manzil
as
Nanda / Radha
1967
Bahu Begum
as
Zeenat Jahan Begum
1967
Chandan Ka Palna
as
Shobha Rai
1967
Noorjehan
as
Mehrunnisa / Noor Jehan
1966
Pinjre Ke Panchhi
as
Heena Sharma
1966
Phool Aur Patthar
as
Shanti Devi
1964
Chitralekha
as
Chitralekha
1964
Sanjh Aur Savera
as
Gauri
1964
Maain Bhi Ladki Hun
as
Rajni
1963
Akeli Mat Jaiyo
as
Seema (as Meenakumari)
1962
Sahib Bibi Aur Ghulam
as
Chhoti Bahu
1962
Main Chup Rahungi
as
Gayetri
1961
Bhabhi Ki Chudiyan
as
Geeta
1961
Pyaar Ka Saagar
as
Radha / Rani
1961
Zindagi Aur Khwab
as
Shanti
1960
Dil Apna Aur Preet Parai
as
Karuna
1960
Kohinoor
as
Princess Chandramukhi
1959
Chirag Kahan Roshni Kahan
as
Ratna
1959
Char Dil Char Rahen
as
Chavli
1957
Miss Mary
as
Miss Mary / Laxmi
1957
Sharada
as
Sharada Ram Sharan
1955
Adil-E-Jahangir
as
Zarina
1953
Do Bigha Zamin
as
Thakurain
1952
Aladdin and the Wonderful Lamp
as
Princess Badar
1951
Hanumaan Pataal Vijay
1951
Sanam
as
Rani-Sadhna's Friend
1950
Shri Ganesh Mahima
as
Satyabhama
1949
Veer Ghatotkach
as
Surekha
1944
Lal Haveli
as
Young Mukta (as Baby Meena)
1942
Garib (as Baby Meena)
1941
Bahen
as
Bina, as a child (as Baby Meena)
1941
Kasauti (as Baby Meena)
Costume Designer
Music Department
1966
Pinjre Ke Panchhi (playback singer)
Thanks
1972
Gomti Ke Kinare (dedicated to the memory of - as Meenaji)
Self
1967
After the Eclipse (Documentary short)
as
Self (voice)
1953
Dream House (Short)
as
Self
References
Meena Kumari Wikipedia
(Text) CC BY-SA