Other names

First name Said

Siblings

Masood-ur-Rehman







Nominations

Filmfare

Award for Best Supporting Actor

Movies




Similar People

Manmohan Desai,

Guru Dutt

, Asrani, Abrar Alvi, Joy Mukherjee

Died

5 November 1984 (aged 63) Bombay, India
Veteran film actor habib ur rehman died after protracted illness 26 02 16 92newshd
Rehman (23 June 1921 – 5 November 1984) was an Indian film actor whose career spanned from the late 1940s through to the late 1970s. He was an integral part of the Guru Dutt team, and most known for his roles in films, like Pyar Ki Jeet, Badi Bahan,Pyaasa (1957), Chaudhvin Ka Chand (1960), Sahib Bibi Aur Ghulam (1962), Dil ne phir yad kiya, Chhoti Bahen, and Waqt (1965).
Contents
The Tragic End of Rehman | Tabassum Talkies
Early life and education
Said Rehman Khan was an actor in Hindi and Indian films. He was born on 23 June 1921 at Lahore, British India, in a Pashtun origin family. He graduated from Robertson College Jabalpur. Among his nephews, are prominent Pakistani film and TV actor Faisal Rehman and Fasih Ur Rehman, Indian classical dancer and sons of his younger brother Massud-ur-Rehman famous cinematographer in Pakistan.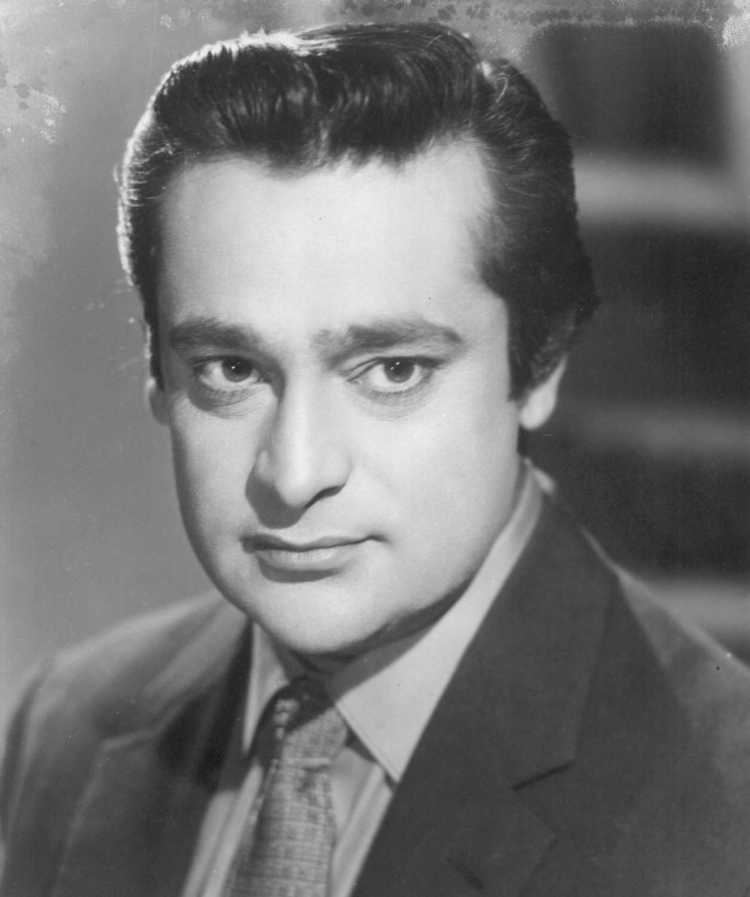 Film career
After college (1942) he joined the Royal Indian Air Force and trained at Poona as a pilot. Air Force didn't appeal to him and soon left for a career in films at Bombay. He is best known for his suave sophisticated roles, which suited his personality. His movie career started with a job as third assistant director to Vishram Bedekar at the studios in Pune. Vishram needed an Afghan who could tie a Pushtun turban on one of his characters. Rehman could do that being a Pushtun, and that brought him to the screen for some lead roles. His one of the major hit as hero was movie Pyar ki jeet with Suriya, Ek dil ke tukade Hazar hue, koi yahan gira, koi wahan gira was major hit. Badi bahan was another big hit with Suriya.
Initially he played lead roles, as time passed and his hair turned grey, he accepted character roles and made his mark in some hit films; Chaudhvin Ka Chand and Sahib Bibi Aur Ghulam (where he played a debauched zamindar, Chhote Sarkar), Waqt were some of his memorable roles, the first two with Guru Dutt.' famous actor, producer, director. He was a regular in Guru Dutt films (Pyaasa). They were old friends from the days they were trying to break into films. Rehman also did key roles in 'Baharon Ki Manzil', 'Gomti Ke Kinare', 'Dushman', 'Holi Ayi Re'. Rehman received four Filmfare nominations as Best Supporting Actor for: Phir Subah Hogi (1958), Chaudhvin Ka Chand (1960), Sahib Bibi Aur Ghulam (1962), Dil Ne Phir Yaad Kiya (1966).
Death
In 1977, he suffered three heart attacks after which he got throat cancer and died after a prolonged and painful illness in 1984.
Filmography
Actor
1985
Angadikkappurath (as Rehman)
1982
Dil... Akhir Dil Hai
as
Arvind Desai (as Rehman)
1982
Rajput
as
Thakur Pratap Singh (as Rehman)
1982
Vakil Babu
as
Khan (Public Prosecutor) (as Rehman)
1981
Ahista Ahista
as
Dr. Siddiqui (as Rehman)
1981
Dhanwan
as
Mill Owner (as Rehman)
1980
Sanjh Ki Bela (as Rehman)
1980
Zalim
as
Commissioner Khanna (as Rehman)
1980
Ramu To Diwana Hai (as Rehman)
1979
Salaam Memsaab
as
Mehra (as Rehman)
1977
Chacha Bhatija
as
Ranbir Singh Teja (as Rehman)
1977
Aashiq Hoon Baharon Ka
as
Mr. Chandidas Rai (as Rehman)
1977
Amaanat
as
Amar (as Rehman)
1975
Aandhi
as
K. Bose (as Rehman)
1974
Azad Mohabbat
as
Public Prosecutor (as Rehman)
1974
Duniya Ka Mela
as
Judge Jamna Prasad (as Rehman)
1974
Love in Bombay
as
Mehra (as Rehman)
1974
Prem Shastra
as
Rajan Arora (as Rehman)
1974
Compulsed
as
Surendra Sinha (as Rehman)
1974
Aap Ki Kasam
as
Sunita's Father (as Rehman)
1974
Dost
as
Mr. Gupta (Kaajal's father) (as Rehman)
1974
Aarop
as
Makhanlal Singh (as Rehman)
1974
Nirmaan
as
Shyamlal / Son of India / Pran Mehra (as Rehman)
1973
Heera Panna
as
Raja Saab (as Rehman)
1973
Kashmakash
as
Rana Chaudhary (as Rehman)
1973
Anhonee
as
I.G. (as Rehman)
1973
Insaan Aur Insaan (as Rehman)
1972
Jai Jwala
as
Shahenshah Akbar (as Rehman)
1972
Rut Rangeeli Ayee
as
Dr. Sukhdev (as Rehman)
1972
Gomti Ke Kinare
as
Gopal Das (as Rehman)
1971
Dushmun
as
Judge (as Rehman)
1971
Ganga Tera Pani Amrit
as
Deokinandan (as Rehman)
1971
Thi Reeta (as Rehman)
1971
Chingari
as
Commissioner Ashok (as Rehman)
1970
Darpan
as
Balraj's Elder Brother (as Rehman)
1970
Devi
as
Shekhar's Elder Brother (as Rahman)
1970
Umang
as
Rai Saheb (as Rehman)
1970
Mastana
as
Mr. Dhanraj (as Rehman)
1970
Maa Aur Mamta
as
Father Henry (as Rehman)
1970
Holi Ayee Re
as
Thakur Gopal Singh (as Rehman)
1969
Intaquam
as
Sohanlal (as Rehman)
1969
Tumse Achha Kaun Hai
as
Eye Surgeon (uncredited)
1968
Abhilasha
as
Major General Ranjit Singh (as Rehman)
1968
Humsaya
as
Prince Pratap Singh (as Rehman)
1968
Juari
as
Chaari (as Rehman)
1968
Mere Hamdam Mere Dost
as
Ajit Narang (as Rehman)
1968
Payal Ki Jhankar
as
Diwan (as Rehman)
1968
Shikar
as
Sharma (as Rehman)
1968
Aabroo
as
Chandrashekhar Verma (as Rehman)
1968
Baharon Ki Manzil
as
Subodh Roy (as Rehman)
1967
Dulhan Ek Raat Ki
as
Ranjeet (as Rehman)
1967
Mera Munna (as Rehman)
1967
Palki
as
Nawab Mirza (as Rehman)
1967
Noorjehan
as
Shahenshah Jalaluddin Mohammed Akbar (as Rehman)
1966
Baharen Phir Bhi Aayengi
as
Mr. Varma (as Rehman)
1966
Chhota Bhai
as
Deewan (as Rehman)
1966
Daadi Maa
as
Dr. Bharati (as Rehman)
1966
Dil Diya Dard Liya
as
Satish (as Rehman)
1966
Dil Ne Phir Yaad Kiya
as
Amjad (as Rehman)
1966
Do Dilon Ki Dastaan (as Rehman)
1966
Sagaai
as
Dr. Tandon (as Rehman)
1966
Sunehre Qadam (as Rehman)
1965
Waqt
as
Chinoy (as Rehman)
1965
Janwar
as
Mahendra Srivastav (as Rehman)
1964
Ganga Ki Lahren
as
Surgeon (as Rehman)
1964
Gazal
as
Akhtar Nawab (as Rehman)
1964
Kaise Kahoon
as
Dr. Shailesh Naik (as Rehman)
1964
Magic Carpet (as Rehman)
1963
Mere Mehboob (uncredited)
1963
Phool Bane Angaare
as
Senior Army Officer (uncredited)
1963
Taj Mahal
as
Shahenshan Jehangir (as Rehman)
1963
Yeh Rastey Hain Pyar Ke
as
Ashok Srivastava (as Rehman)
1962
Sahib Bibi Aur Ghulam
as
Chhote Sarkar (as Rehman)
1961
Batwara
as
Pran (as Rehman)
1961
Dharmputra
as
Javed (as Rehman)
1960
Chaudhvin Ka Chand
as
Pyare Miyan / Nawab Sahib (as Rehman)
1960
Chhalia
as
Kewal (as Rehman)
1960
Ghunghat
as
Manohar (as Rehman)
1959
Chhoti Bahen
as
Shekhar (as Rehman)
1959
Pehli Raat (as Rehman)
1959
Bhai-Bahen
as
Kedarnath Rai (as Rehman)
1958
Phir Subha Hogi
as
Rehman (as Rehman)
1958
12 O'Clock
as
Rai Mohan (as Rehman)
1957
Miss Bombay (as Rehman)
1957
Thirst
as
Ghosh (as Rehman)
1954
Pyaase Nain (as Rehman)
1952
Ajeeb Ladki (as Rehman)
1951
Ek Nazar
as
Raj Kumar / Rajju (as Rehman)
1950
Badi Bahen (as Rehman)
1950
Pardes
as
Rajan (as Rehman)
1950
Pyaar Ki Manzil (as Rehman)
1950
Shadi Ki Raat (as Rehman)
1949
Bari Behen
as
Shyam (as Rehman)
1949
Paras
as
Kumar (as Rehman)
1948
Pyaar Ki Jeet
as
Hero (as Rehman)
1947
Intezaar Ke Baad (as Rehman)
1946
Hum Ek Hain
as
Yusuf (as Rehman)
1946
Shahjehan
as
Shahjahjan (as Rehman)
References
Rehman (actor) Wikipedia
(Text) CC BY-SA