Film impressions the lost thumris of pakeezah 1972
Pakeezah (Pākīzā, meaning Pure) is a 1972 Indian cult classic film, written and directed by Kamal Amrohi, who was known for his perfectionism. The music is by Ghulam Mohammed and Naushad Ali. The film starred Meena Kumari, Raaj Kumar, Ashok Kumar, Nadira, D.K. Sapru and Veena . Meena Kumari's performance as a golden-hearted Lucknow nautch-girl drew major praise. Sadly, this was to be Meena Kumari's last performance.
Contents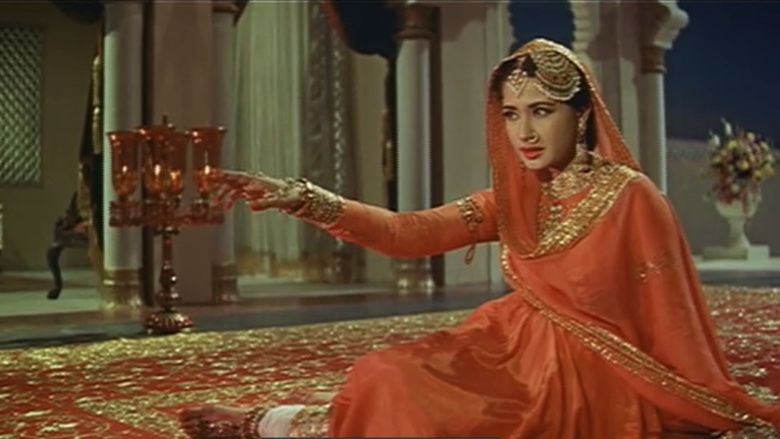 Kamal Amrohi's PR man said: "Shah Jahan made Taj Mahal for his wife, Kamal Sahab wanted to do the same with Pakeezah." The concept, Kamal Amrohi says was irretrievably fixed with his love for his wife Meena Kumari. According to Kamal Amrohi, he hoped to create a film which would be worthy of her as an actress, and worthy of the love he felt for her as a woman. Meena Kumari regarded the film as Kamal Amrohi's tribute to her.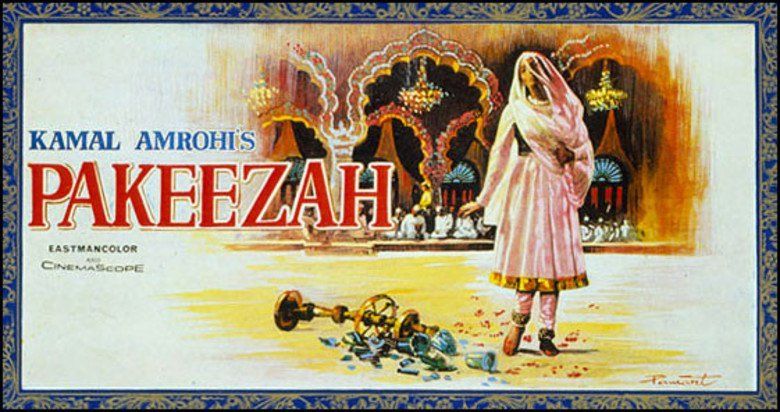 The film tells the story set in Muslim Lucknow at the turn of the century, its central character is a Lucknowi nautch-girl, for her to fall in love was forbidden, it was a sin she was told, a nautch-girl is born to delight others such is her destiny and yet her restless soul could not suppress her surging desire - "To Love and Be Loved". It was ostensibly, or loosely based on Kamal Amrohi and Meena Kumari's own love story.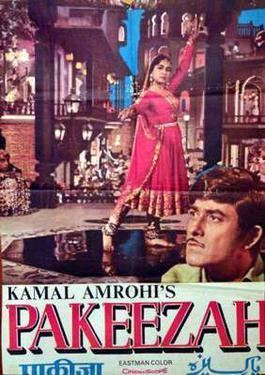 Pakeezah took 16 years to reach the silver screen. Pakeezah released on 3 February 1972, with a grand premiere at Maratha Mandir theatre in central Mumbai and Meena Kumari attended the last premiere of her life along with Kamal Amrohi.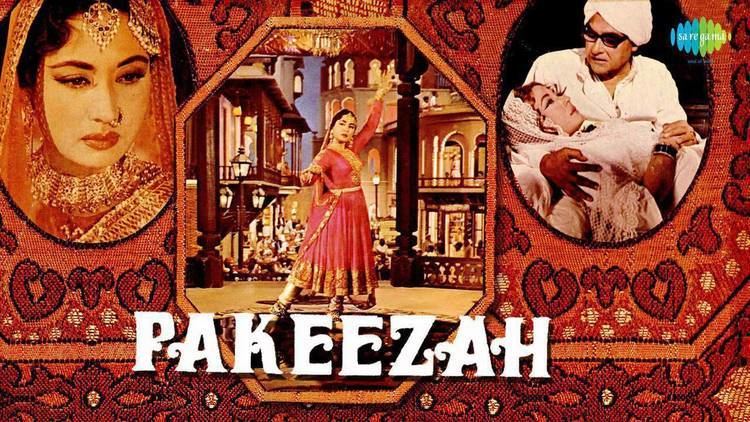 Already battling cirrhosis of the liver, Meena Kumari was ill throughout the filming and died only a few weeks after it was finally released. It was Meena Kumari's last great performance and one that solidified her reputation as a legendary actress. An Indian critic has said Pakeezah was "Poetry, fantasy and nostalgia rolled into one on an epic scale".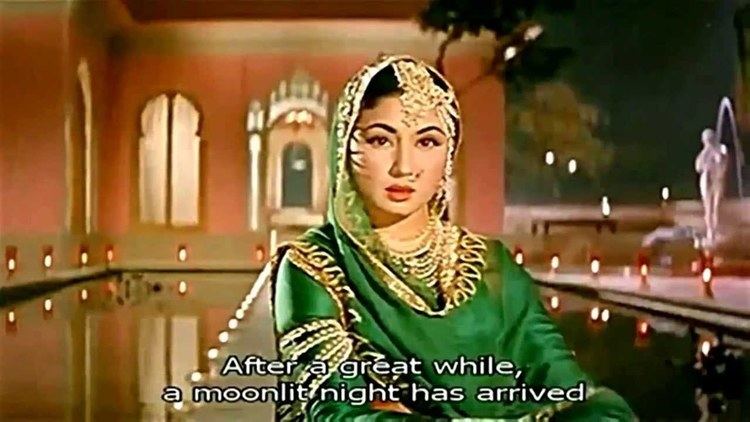 Plot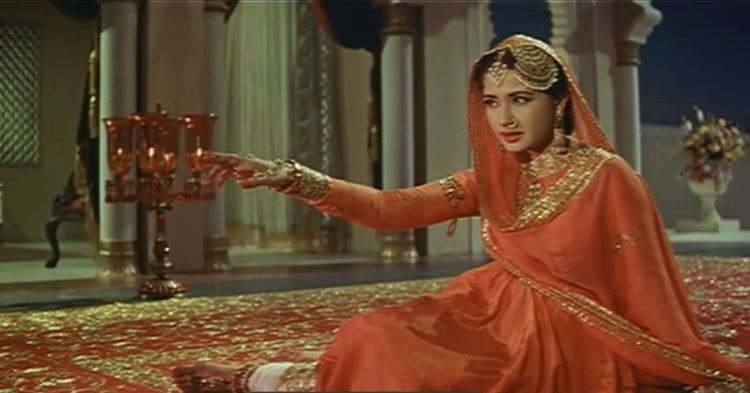 This movie is about a tawaif Sahibjaan (Meena Kumari), who is born to a courtesan, Nargis (also Meena Kumari). After being spurned by her lover Shahabuddin's (Ashok Kumar) family, Nargis is driven to a graveyard where she gives birth to Sahibjaan secretly. Nargis dies during childbirth and her sister Nawabjaan (Veena), a brothel madam, brings her up as her own. Unable to break away from the vicious circle, Sahibjaan grows up to be a beautiful and popular dancer and singer. The aggressive, Nawab Zafar Ali Khan (Kamal Kapoor), wants to make her his own with the help of the brothel madam, and takes her to his boat for the night, which is attacked by elephants, saving Sahibjaan from a horrific fate, but throwing her in the fast flowing river, in a broken boat. Whence here she is taken to the riverside tent of Forest ranger Salim Ahmed Khan (Raaj Kumar), where alone with his diary, she reads how he was the same man who had written a beautiful couplet on her feet, and left for her to read it, while travelling in the same compartment some time before. She sings in rapture and love, remembering this beautiful interlude in her otherwise barren life. Salim Ahmed Khan returns to his tent and is pleasantly surprised to find her. Enthralled by her beauty and innocence, he eventually convinces her to elope with him, which she does. But trials and tribulations await Sahibjaan as she is recognized by men wherever she goes in the company of Salim. When Salim renames her Pakeezah (pure of heart) and takes her to a cleric to be legally married, she refuses and returns to the brothel. Salim eventually decides to marry someone else and invites Sahibjaan to dance at his wedding, to which she agrees. During this event, Nawabjaan recognises Shahabuddin and calls him to witness the irony of the situation; his own daughter dancing and entertaining his family. Shahabuddin's father tries to shoot Nawabjaan to silence her, which leads to a very surprise ending.
Cast
Meena Kumari - Nargis / Sahibjaan / Pakeezah
Raaj Kumar - Salim Ahmed Khan
Ashok Kumar - Shahabuddin
Veena - Nawabjaan
Nadira - Madame Gauhar Jaan
Kamal Kapoor - Nawab Zafar Ali Khan
D.K. Sapru - Hakim Saab
Concept
In 1955 Meena Kumari and Kamal Amrohi were in South India and here Kamal Amrohi began outlining the plot of his next film with his wife Meena Kumari and decided that he would call it Pakeezah(the name has a fascinating history too. It was changed many times due to superstitious reasons, but finally the original stayed. After the failure of Daera in 1953, Pakeezah as an idea was roaming Amrohi's mind. A concept, Kamal Amrohi says was irretrievably fixed with his love for his wife Meena Kumari, he hope to create a film which would be worthy of her as an actress, and worthy of the love he felt for her as a women. Kamal Amrohi declares that every line he wrote he had Meena in mind. He wished to present her on the screen as no one had before: beautiful, sad, sanguine, dejected, calculating, sexy he ambitioned to capture as many dimensions of her as he knew of.Meena Kumari regarded the film as Kamal Amrohi tribute to her. Kamal Amrohi son Tajdar Amrohi raised by Meena Kumari said "What you see in Pakeezah is exactly how our home looked like -- the same windows, chandeliers, arches and curtains." The grandfather's character was taken from Amrohi's father. "The dining table sequence in which Raaj Kumar says, 'Afsos, log doodh se bhi jal jaate hai (Alas, people get burnt by milk, too),' was inspired by everyday domestic scenes at our home. "When an elder enters the room, the womenfolk put on their veil. This is what baba showed in Pakeezah and that's how women at our home behaved."says Tajdar, "And his romance with my chhoti ammi was very dignified. Despite being separated, they felt for each other. But they never divorced as rumours go. They loved each other and chhoti ammi respected my father and never allowed anyone to say anything against him."
In 1964, Kamal Amrohi and Meena Kumari got separated due to their mutual differences but the separation never led to formal divorce. The project came to a halt. In moments of desperation, Kamal thought of a substitute for Meena Kumari. He even made some sort of search, but each time he came back from where he had started. The one and only woman who could play Sahibjaan was Meena Kumari.
According to Vinod Mehta, Meena Kumari had a special niche for Pakeezah. There is however one sentence worth considering: 'the surging desire to love and be loved'. And it was this line in which Meena saw a reflection of her life. Kamal Amrohi himself pronounced, 'Pakeezah is Meena Kumari.'
Development
It was planned together by Kamal Amrohi and Meena Kumari in 1956 and at first, was launched as a Black & White venture. Later with color technology coming in, Kamal Amrohi started it all again in the new color format. But soon after that when Cinemascope also got introduced, Amrohi now wanted to shoot it in Cinemascope. So he brought the required lens from MGM on royalty basis and started shooting. However, after a while an error was detected in the shoot being done with the new lens. The matter was reported to MGM, who after studying the problem, didn't collect their due royalties and also gifted that lens to Amrohi as an appreciation gesture. The film was still being made, when in 1964, Kamal Amrohi and Meena Kumari got separated due to their mutual differences. The project came to a halt for some time when it was more than halfway complete.
Kamal Amrohi wrote a letter to his estranged wife on 24 August 1968.
"Only Pakeezah completion remain unsettled.You have made a condition that unless i give you a divorce you will not complete Pakeezah. Even this knot can be untied ... I will free you from your marital ties. After this if you wish to complete your Pakeezah. I would be the most happy to do so. This is my request, that Pakeezah on which the fortune of many people depends, and which had the good wishes of so many people should not be left uncompleted if possible. You have better means. You have box-office appeal, and most of all Pakeezah needs you personally ... Pakeezah that is like a sinking ship will reach a shore under your care."
Meena Kumari wrote to her husband Kamal Amrohi in the early 1969
"In regard to my working in Pakeezah, I have always been willing and clamouring to work. Pakeezah is my life dream and it will be my greatest pleasure to see it completed. As for my remuneration, I am glad you have given me an opportunity to prove my regards and respect for you. I shall accept only ONE GUINEA as a token of goodwill for my entire work in Pakeezah."
As the shooting again started in 1969, Meena Kumari was suffering from liver cirrhosis and was in serious critical condition under observation. But since, Kumari was still Amrohi's only choice, she agreed to complete the film, despite her severe ill health conditions. On 16 March 1969, five years and twelve days after Kumari left her husband, Gravelly ill, Meena Kumari reported for work again on Pakeezah. Kamal Amrohi organized a great reception. He gave his wife a peda(sweet) as a peace offering, and made a documentary film on her arrival at the studio. Meena Kumari was determined to complete the film and, was well aware of the limited time left for her to live, went out of her way to complete it at the earliest. Meena Kumari condition became so bad that during the filming of the last song "Teer-e Nazar," she collapsed. A body double, Padma Khanna, was used. Meena Kumari personally trained her for the scene, Padma Khanna's face remained veiled throughout the song and the veil was lifted at instances to show Meena Kumari's face.
Casting
In 1958, at the initial stages the following had been signed: Josef Wirsching as photographer, Ghulam Mohammed as music director, Ashok Kumar as the hero, Meena Kumari as the heroine, and a handful of Urdu writers as lyricists Kaifi Azmi, Majrooh Sultanpuri, Kaif Bhopali including Kamal Amrohi. When the project got resumed in 1964, Amrohi was confronted with another difficulty Ashok Kumar was getting no younger. He had to find a younger leading man for his film. Dharmendra, Rajendra Kumar, Raaj Kumar and Sunil Dutt were considered for the same role which eventually went to Raaj Kumar. Raaj Kumar and Kamal Amrohi had worked previously together in Dil Apna Aur Preet Parayi, and according to Kamal Amrohi the one thing that he liked about Raaj Kumar was his voice. Not only did Raaj Kumar speak literate Hindustani, he spoke it well and deep. And after finalizing Raaj Kumar the role was modified from being a businessman's character to a forest officer according to the strong built and impressive persona of Raaj Kumar. Two conspicuous deaths were those of Ghulam Mohammed and Josef Wirsching. During the making of the film, composer Ghulam Mohammed and cinematographer Josef Wirsching died, leaving director Kamal Amrohi at a loss. Eventually, though, composer Naushad was brought in to compose the background score; and after Wirsching's death, over a dozen of Bombay's top cinematographers stepped in as/when they had a break from their other assignments, and they maintained an even look.
Design
A one-and-a-half-crore rupee film, CinemaScope, Eastmancolor, sixteen years in the making, Kamal Amrohi sketched all the set designs and camera movements, and personally selected every costume, right down to the bangles worn by the minor characters. Tajdar Amrohi said the haveli in Pakeezah is Inspired by their family haveli back home in Amroha, Uttar Pradesh, Kamal Amrohi recreated the exact replica in Mumbai. Most of the film was shot at Filmistan Studios where the magnificent sets were mounted. The chandeliers were imported from Belgium and bills of the carpets alone ran into lakhs. Vinod Mehta said, " Kamal Amrohi saw in Pakeezah an epic, a larger-than-life film with hundreds of extras, with expensive and exotic sets, with superhuman effort made to preserve period flavour; and all this he wished to do with the collected professional proficiency he had acquired in nearly two decades. This was no do-it-yourself cinema; instead, it was visioned as the ultimate in spectacle and pageantry." .
Music
When "Pakeezah" was resumed in 1969, many exhibitors suggested Kamal Amrohi to change the music according to the then famous trend and style. To this Amrohi said that he would have readily done this if only 'Ghulam Mohammed' was still breathing alive. But, now he cannot betray a man, who gave him such melodious songs, after his unexpected and untimely death. So he kept his music intact, but used fewer songs as planned to keep up with the fast changing times. . Ghulam Mohammed, the music director of Pakeezah, sadly could not be alive to see the success of his film. It is said that he did not get his due in the Hindi Film Industry in spite of his brilliant work in films like Mirza Ghalib (1954) and Shama (1961). The legendary composer Naushad was brought in to do the background score for the movie and he also added some fine 'Thumris' in it as required. After few years HMV (now SAREGAMA) released all the remaining 9 unreleased tracks in a different LP titled PAKEEZAH – RANG BARANG, about which many are still not aware of.
Premiere
Pakeezah film released on 3 February 1972, with a grand premiere at Maratha Mandir theatre in central Mumbai and the prints being carried on a decked-up palanquin. Meena Kumari arrived to attend the last premiere of her life. Kumari let Raaj Kumar, for the benefit of the press, kiss her hand and went in to see the film. Meena Kumari was seated next to Kamal Amrohi during the premiere. When Mohammed Zahur Khayyam complimented Meena Kumari with "shahkar ban gaya" (it's priceless), she was in tears.
After watching the film, Meena Kumari told a friend that she was convinced that her husband Kamal Amrohi was the finest film-maker in India.
Details
Screenplay: Kamal Amrohi
Art Direction: N.B. Kulkarni
Set Design : Kamal Amrohi
Costume Design : Meena Kumari
Director Of Photography : Josef Wirsching
Lyrics: Majrooh Sultanpuri, Kaifi Azmi, Kaif Bhopali, Kamal Amrohi
Music: Ghulam Mohammed, Naushad Ali (Background Score, Title Music)
Singers: Lata Mangeshkar, Mohd. Rafi, Vani Jairam, Parveen Sultana, Rajkumari
Awards
20th Filmfare Awards – 1973
Legacy
Pakeezah is India's first colour film in Cinemascope and Meena Kumari's most awaited film and has since acquired major cult status as well. Tajdar Amrohi shares "When the shooting of Pakeezah resumed in 1969 the first song shot was "Mausam Hai Ashiqana" with this song Meena Kumari set a new fashion trend of girls wearing Lungi.
Indian Film Critics Soumya Bhavyaa says "Pakeezah is just like poetry on celluloid I can not imagine anybody else in this movie except Meena Kumari." Pakeezah music is cited as greatest classical album in Hindi cinema history and was one of the best-selling Bollywood albums of the 1970s.
Pakeezah was the inaugural film telecast by Doordarshan, India's state-owned television station, when it began broadcasting from Amritsar in Punjab in the early 70s. It was specially beamed towards Lahore nearby, in Pakistan. Thousands flocked at Lahore, from as far as Karachi, hundreds of miles away, to see Pakeezah. It was a flood the crowds stampeded the streets of Lahore to get to the television screens placed at strategic points on virtually every street corner.
Vinod Mehta (the biographer of Meena Kumari) shared an incident which occurred during the last days of Pakeezah shooting "On outdoor shooting Kamal Amrohi's unit travelled in two cars near a place called Shivpuri in Madhya Pradesh, the cars all but ran out of patrol, and for miles around there was nothing except a long, deserted, straight road. It was discovered that a bus passed on this route every morning from which fuel could be purchased. Kamal Amrohi decided to spend the night in desert he ordered his unit roll up the windows of the cars and hope for the best. A little after midnight the occupants of the vehicles were surrounded by a dozen armed men. The men knocked on the closed windows and forced their way in. when the armed gang leader learned that one of the persons in the car was Meena Kumari, his attitude completely changed. He turned out to be a Meena Kumari fan and welcomed his guests in true fan tradition. He organized music, dancing, and food. He provided place to sleep. He instructed his juniors the next morning to fetch petrol for the unit. From Meena Kumari, he wanted a special favour. He sharpened his knife and took it to her. 'Please autograph my hand with this,' he requested. Meena was not new to signing autographs but she had never attempted anything as ambitious as a knife. Nervously, she wrote her name on this man's hand. He said he was grateful for this favour. Once the unit left, they found at the next town that they had spent the night in the camp of Madhya Pradesh's renowned and dangerous dacoit—Amrit Lal."
Dwyer and Patel have argued that the Pakeezah courtesan genre is responsible for "some of the most extravagant and beautiful sets and costumes in the history of the Hindi film" – or the pooling of a golden, artificial light that paints his actress as she returns to the Pink Palace. Hence, if Pakeezah's narrative structure (which is also to say its use of time) derives from the codes and conventions of Bollywood filmmaking, as does nominally its emphasis on art design as a source of spectatorial pleasure, Amrohi's spatial articulations and handling of light underscore his individualized sensibility. In this respect, Pakeezah does more justify the popular Indian cinema; it manifests the artistic sensibility of a truly 'rare… connoisseur.' Meena Kumari delivers a phenomenal performance as the leading female protagonist, especially given the circumstances, as she was terminally ill when filming resumed. It is perhaps one of her greatest works along with Baiju Bawra (1952), Parineeta (1953) and Sahib Bibi Aur Ghulam (1962). These are all films which have helped to consolidate her status as the tragedienne of Indian cinema. The film is also known as one of the historical films which display the sophistication and elegance of Muslim culture in India. Books and documentaries made about the film include Meghnad Desai's Pakeezah: An Ode to a Bygone World. Filmmaker/critic Peter Wollen, named Pakeezah as one of the ten best movies ever made in the 1992 "Sight and Sound" poll. Pakeezah ranks on the lists of top Indian films, including the 2002 British Film Institute poll of Top 10 Indian Films. Pakeezah is also remembered for being one of the last great films to have starred the legendary actress Meena Kumari.
Soundtrack
The soundtrack for the film was composed by Ghulam Mohammed (composer) and Naushad, with lyrics by Kaifi Azmi, Majrooh Sultanpuri, Kamal Amrohi and Kaif Bhopali. Due to the demise of the composer before the completion of the film in 1969, Naushad was signed to compose the background score for the film. He also composed the songs, Nazaria Ki Maari, Title Music - Alap, Mora Saajan Sauten Ghar Jaye and Kaun Gali Gayo Shyam. These renderings are presented in the voices of the veteran singer Rajkumari, Parveen Sultana, Vani Jairam and Naseem Bano Chopra. There were total 18 songs recorded, however only 9 of them were used in the film.
References
Pakeezah Wikipedia
(Text) CC BY-SA
Pakeezah IMDb
Pakeezah themoviedb.org