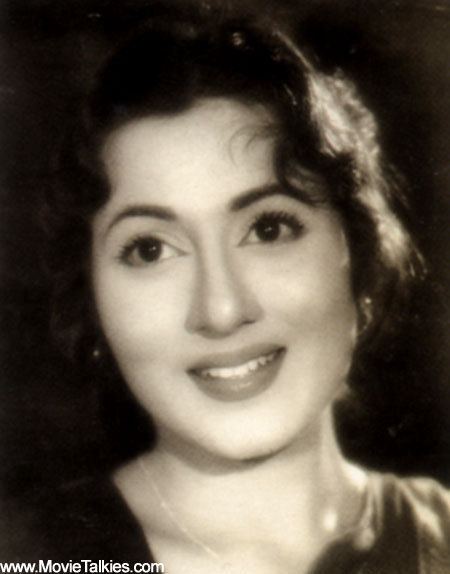 Madhubala was born Mumtaz Jehan Begum Dehlavi, on 14 February 1933 (Valentine's Day) in Delhi, India. Her father, Attaullah Khan, who was from Delhi, married Ayesha Begum, and Mumtaz Jehan, later to be known as Madhubala, was born there. The family endured many hardships. Madhubala's three sisters and two brothers died at the ages of five and six. The dock explosion and fire of April 14, 1944 wiped out their small home. The family survived only because they had gone to see a film at a local theater. With his six remaining daughters to provide for, Khan, and the young Madhubala, began to pay frequent visits to Bombay film studios to look for work. At the age of 9, this was Madhubala's introduction to the movie industry, which would provide financial help to her family.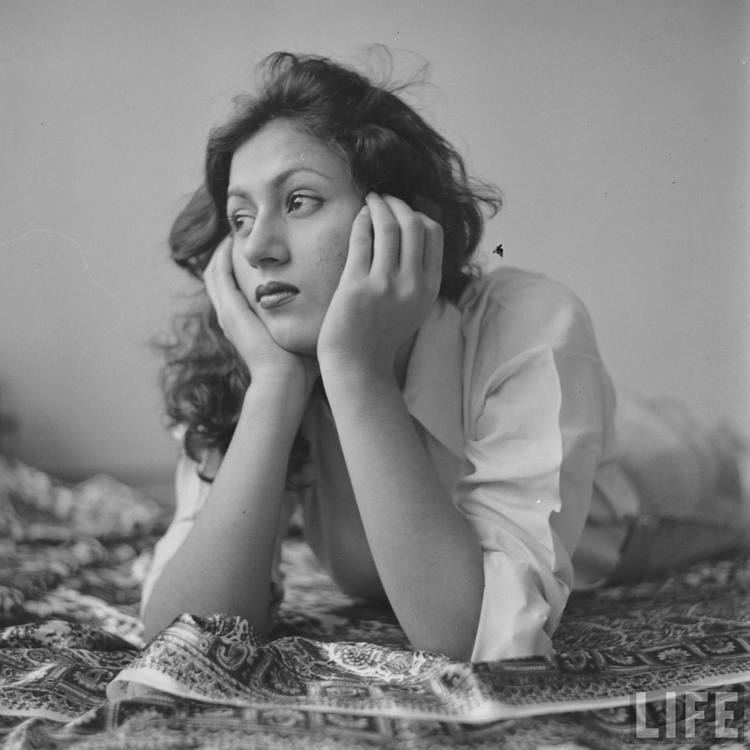 Madhubala's first movie Basant (1942), was a box office success. She acted as the daughter to a mother played by actress Mumtaz Shanti. A nine year old Madhubala, then a child artist often tottered around various studios of Bombay in search of work and made several friends there. Around the same time, another child artist "Baby Mahajbeen" also visited these studios and was known to Madhubala. This child artist, later on, became one of the most sought after stars and one of her contemporaries - Meena Kumari. Actress Devika Rani was impressed by her performance and potential, and advised her to assume the screen name "Madhubala", literally meaning "honey belle". Her first lead role, at the age of 14, was with producer Kidar Sharma when he cast her opposite Raj Kapoor in Neel Kamal (1947). This was the last film in which she was credited as Mumtaz before assuming her screen name "Madhubala". She achieved stardom and popularity in 1949 when she was cast as the lead in Bombay Talkies studio's Mahal – a role intended for well-known star Suraiya. Madhubala, with established actresses, screen-tested for the role before she was selected by the film's director Kamal Amrohi. The film was the third largest hit at the 1949 Indian box office. Following the success of Mahal, Madhubala appeared in the box office hits Dulari (1949), Beqasoor (1950), Tarana (1951) and Badal (1951).
The first Indian woman in Hollywood. In the early 1950s, as Madhubala became one of the most sought-after actresses in India, she attracted interest from Hollywood. She appeared in the American magazine Theatre Arts where, in its August 1952 issue, she was featured in an article with a full page photograph under the title: "The Biggest Star in the World - and she's not in Beverly Hills". The article described Madhubala's immense popularity in India, and explored her wide appeal and large fan base. It also speculated on her potential for international success. Academy Award winner American director Frank Capra, while visiting Bombay for International Film Festival of India, was keen to give her a break in Hollywood, but her father Ataullah Khan declined.
Madhubala's co-stars Ashok Kumar, Raj Kapoor, Rehman, Pradeep Kumar, Shammi Kapoor, Dilip Kumar, Sunil Dutt and Dev Anand were the most popular of the period. She also appeared with Kamini Kaushal, Suraiya, Geeta Bali, Nalini Jaywant, Shyama and Nimmi, notable leading ladies. The directors she worked with, Mehboob Khan (Amar), Guru Dutt (Mr. & Mrs. '55), Kamal Amrohi (Mahal) and K. Asif (Mughal-e-Azam), were amongst the most prolific and respected. Madhubala also became a producer with the film Naata (1955), in which she also acted. She also produced Mahlon Ke Khwab (1960) and acted in it
During the 1950s, Madhubala took starring roles in almost every genre of film being made at the time. Her 1950 film Hanste Aansoo was the first ever Hindi film to get an "A" – adults only – rating from the Central Board of Film Certification. She was the archetypal fair lady in the swashbuckler Badal (1951), and following this, an uninhibited village beauty in Tarana (1951). She played the traditional ideal of Indian womanhood in Sangdil (1952), and produced a comic performance as the spoilt heiress Anita, in Guru Dutt's satire Mr. & Mrs. '55 (1955). In 1956, she acted in costume dramas such as Shirin-Farhad and Raj-Hath, and played a double role in the social drama Kal Hamara Hai (1959). In the mid-1950s, her films including the major ones such as Mehboob Khan's Amar (1954) did not do well commercially. However, she bounced back between 1958 and 1960 when she starred in a series of hit films. These include Howrah Bridge, opposite Ashok Kumar where she played the role of an Anglo-Indian Cabaret singer involved in Calcutta's Chinatown underworld. In the song "Aaiye Meherebaan" from this film, she lip-synced a torch song dubbed by Asha Bhosle which has remained popular to this day. Among other successful films, she played opposite Bharat Bhushan in Phagun; Dev Anand in Kala Pani; Kishore Kumar in Chalti Ka Naam Gaadi; and Bharat Bushan again in Barsaat Ki Raat (1960). Then in 1960, she appeared in the magnum opus Mughal-e-Azam.
Madhubala acted in as many as seventy films from 1947 to 1964, but only fifteen of which were box office successes. Dilip Kumar regrets that "(h)ad she lived, and had she selected her films with more care, she would have been far superior to her contemporaries..." Kumar also points out that "actresses those days faced a lot of difficulties and constraints in their career. Unable to assert themselves too much, they fell back on their families who became their caretakers and defined everything for them."
It was the film Mughal-e-Azam that marked what many consider to be Madhubala's greatest and definitive characterization, as the doomed courtesan Anarkali. Although the film took nine years to complete, it was not until 1953 that Madhubala was finally chosen for the role. Bunny Reuben in his book Dilip Kumar: Star Legend of Indian Cinema claimed that Dilip Kumar's role was instrumental behind this selection. Mughal-e-Azam gave Madhubala the opportunity of fulfilling herself totally as an actress, for it was a role that all actresses dreamt of playing, as Nimmi acknowledges that "as an actress, one gets a lot of roles, there is no shortage of them, but there isn't always good scope for acting. With Mughal-e-Azam, Madhubala showed the world just what she could do."
However, by the late 1950s, her health was deteriorating rapidly, and director K. Asif, probably unaware of the extent of Madhubala's illness, required long shooting schedules that made physical demands on her, whether it was posing as a veiled statue in suffocating make-up for hours under the studio lights or being shackled with heavy chains. It was also a time when Madhubala's relationship with Dilip Kumar was fading out, and "The lives of Madhubala and her screen character are consistently seen as overlapping, it is because of the overwhelming sense of loss and tragedy and the unrelenting diktat of destiny that clung to both and which neither could escape".
Mughal-e-Azam was released on 5 August 1960, and became the highest-grossing film at that time, a record that went unbroken for 15 years until the release of the film Sholay in 1975. Madhubhala was nominated for a Filmfare Award for her performance in Mughal-e-Azam.
In 1960, Madhubala was at the peak of her career and popularity with the release of Mughal-e-Azam and Barsaat Ki Raat. She did have intermittent releases in the early 1960s. Some of these, such as Jhumroo (1961), Half Ticket (1962) and Sharabi (1964), performed above average at the box office. However, most of her other films released during this time were marred by her absence and subsequent lack of completion due to her prolonged illness. These films suffer from compromised editing, and in some cases the use of "doubles" in an attempt to patch-in scenes that Madhubala was unable to shoot. Her last released film Jwala, although filmed in the late 1950s, was not issued until 1971.
In their 1962 book Self-Portrait, Harish Booch and Karing Doyle commented that "Unlike other stars, Madhubala prefers a veiled secrecy around her and is seldom seen in social gatherings or public functions." (p. 76), and went on to say that "Contrary to general belief, Madhubala is rather simple and unassuming" (p. 78). This is echoed in Madhubala's sister's interview with Filmfare: "(Madhubala) became a craze because she was never seen in public. She wasn't allowed to attend any function, any premiere. She had no friends. But she never resisted, she was obedient. Being protective, my father earned the reputation of being domineering". Dilip Kumar added: "She was extremely popular... and I think the only star for whom people thronged outside the gates. Very often when shooting was over, there'd be a vast crowd standing at the gates just to have a look at Madhu... It wasn't so for anyone else. That was her personal effect on fans. Her personality was vivacious." But, "She was aware of her beauty," reminisces B. K. Karanjia, former Filmfare editor and a close friend of both Madhubala and her father, "and because there were so many in love with her, she used to play one against the other. But it was out of innocence rather than shrewd calculation." Dev Anand recalled in a similar way: "She liked to flirt innocently and was great fun." However, with Dilip Kumar she had a long association.
Dilip Kumar and Madhubala first met on the set of Jwar Bhata (1944 film) when she was 11 years of age, and worked together again on the film Har Singaar(1949), which was shelved. Their relationship began two years later during the filming of Tarana (1951 film. They became a romantic pair appearing in a total of four films together. Actor Shammi Kapoor recalled that "Dilip Kumar would drive down from Bombay to meet Madhubala... he even flew to Bombay to spend Eid with her, taking time off from his shooting stint..." But, Madhubala's father Ataullah Khan did not give them permission to marry. Dilip Kumar said: "She was a very, very obedient daughter", and who, in spite of the success, fame and wealth, submitted to the domination of her father and more often than not paid for his mistakes. "This inability to leave her family was her greatest drawback", believed Shammi Kapoor, "for it had to be done at some time." The Naya Daur (1957 film) court case happened in 1956 when Dilip Kumar testified against Madhubala and her father in favor of director B.R. Chopra in open court. This struck a fatal blow to the Dilip-Madhubala relationship as it ended any chance of reconciliation between Dilip Kumar and Madhubala'a father. Reflecting on this, while Dilip Kumar said he was "trapped", Shammi Kapoor felt "this was something which went beyond him (Dilip) and he couldn't control the whole situation..."
Madhubala fell in love with Kishore Kumar during making of 1956 movie "Dhake ki malmal" . Their love continued to blossom despite Kishore Kumar being a married man . In 1958 his marriage ended with his first wife. Madhubala married Kishore Kumar in 1960 and according to Leena Chandavarkar (Kishore's fourth wife): "When she realized Dilip was not going to marry her, on the rebound and just to prove to him that she could get whomsoever she wanted, she went and married a man she did not even know properly." B. K. Karanjia assumed that "Madhubala may have felt that perhaps this was her best chance" because by this time she became seriously ill, and was about to stop working completely; however, he added that "it was a most unlikely union, and not a happy one either." Madhubala's illness was known to Kishore, but like all the others, he did not realize its gravity; Ataullah Khan did not approve of his son-in-law at all, but he had lost the courage to disapprove. Ashok Kumar reminisced in a Filmfare interview: "She suffered a lot and her illness made her very bad-tempered. She often fought with Kishore, and would take off to her father's house where she spent most of her time." Madhubala's sister echoes this view albeit in a slightly different tone: "After marriage they flew to London where the doctor told her she had only two years to live. After that Kishore left her at our house saying: 'I can't look after her. I'm on outdoors often'. But she wanted to be with him. He'd visit her once in two months, though. Maybe he wanted to detach himself from her so that the final separation wouldn't hurt. But he never abused her as was reported. He bore her medical expenses. They remained married for nine years."
Her husband stated this about his second wife in an interview given to Pritish Nandy in 1985:" Madhubala was quite another matter. I knew she was very sick even before I married her. But a promise is a promise. So I kept my word and brought her home as my wife, even though I knew she was dying from a congenital heart problem. For 9 long years I nursed her. I watched her die before my own eyes. You can never understand what this means until you live through this yourself. She was such a beautiful woman and she died so painfully. She would rave and rant and scream in frustration. How can such an active person spend 9 long years bed-ridden? And I had to humour her all the time. That's what the doctor asked me to. That's what I did till her very last breath. I would laugh with her. I would cry with her."
Madhubala had ventricular septal defect (a hole in her heart) which was detected while she was shooting for Bahut Din Huwe in Madras in 1954. By 1960, her condition had aggravated, and her sister explains that "Due to her ailment, her body would produce extra blood, so it would spill out from the nose and mouth. The doctor would come home and extract bottles of blood. She also suffered from pulmonary pressure of the lungs. She coughed all the time. Every four to five hours she had to be given oxygen or else would get breathless. She was confined to bed for nine years and was reduced to just bones and skin". In 1966, with a slight improvement in her health, she made a valiant attempt to complete her work in Chalak opposite Raj Kapoor, which needed only a short spell of shooting, but she could not even survive that strain. When acting was no longer an option, Madhubala turned her attention to film direction. In 1969 she was set to make her directorial debut with the film Farz aur Ishq. However, the film was never made, as during pre-production, she died on February 23, 1969, shortly after her 36th birthday. Her tomb was built with marble and inscriptions included aayats from the Quran and verse dedications. Controversially, her tomb was demolished in 2010 to make space for new graves.
Madhubala's strong presence in the public memory has been evidenced by all recent polls about top actresses or beauties of the Indian cinema. Every year, on her birthday, numerous articles are printed and television programmes aired to commemorate her, to the present day. Her posters are still in demand and sold alongside contemporary actresses such as Meena Kumari, Nargis, Waheeda Rehman and Nutan. Modern magazines continue to publish stories on her personal life and career, often promoting her name heavily on the covers to attract sales. Many believe, however, that Madhubala remains one of the most underrated actresses as "Her beauty attracted more attention than her talent."
In 2004, a digitally-colourized version of the original Mughal-e-Azam was released, 35 years after her death. In 2012, her 1962 release Half Ticket was also remastered, digitally coloured and re-released after 50 years of its original release.
On March 18, 2008, a commemorative postage stamp featuring Madhubala was issued. The stamp was produced by India Post in a limited edition presentation pack. It was launched by veteran actors Nimmi and Manoj Kumar in a ceremony attended by colleagues, friends and surviving members of Madhubala's family. The only other Indian film actress that was honoured in this manner was Nargis Dutt, at that point of time.
On August 10, 2017, the New Delhi center of Madame Tussauds unveiled a statute of Madhubala, as the famous courtesan Anarkali (of Mughal-E-Azam fame) as a tribute to the legendary actress. The Madame Tussauds is coming to New Delhi in the later part of the year.