Died

July 18, 2012, Mumbai




Born

29 December 1942 (

1942-12-29

)

Amritsar,

Punjab

, British India

Other names

Jatin KhannakakaRKThe Original King of RomanceThe First Superstar of Hindi Cinema

Occupation

Film actor, producer, politician

Years active

1966–2012 (actor)1991–1996 (politics)1971–1995 (producer)

Spouse

Dimple Kapadia (m. 1973–2012)

Children

Twinkle Khanna, Rinke Khanna

Movies
Chhup Gaye Sare Nazare - Rajesh Khanna & Mumtaz - Do Raaste - Bollywood Hit Love Songs {HD}
Rajesh Khanna ( pronunciation born Jatin Khanna; 29 December 1942 – 18 July 2012) was an Indian actor, film producer and politician who is known for his work in Hindi cinema. He was referred to as the "first superstar" and the "original superstar" of Indian cinema. He starred in 15 consecutive solo hit films from 1969 to 1971, still an unbroken record.
Contents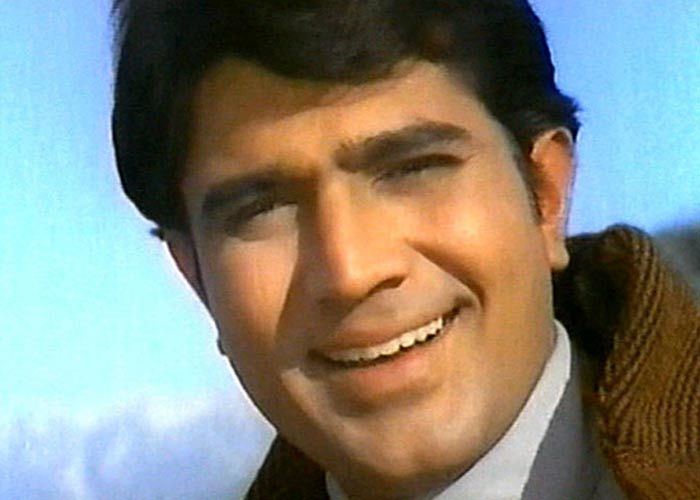 He made his debut in 1966 with Aakhri Khat. During his career he appeared in more than 168 feature films and 12 short films. He received the Filmfare Best Actor Award three times and the BFJA Awards for Best Actor (Hindi) four times. In 1991, he was awarded the Filmfare Special Award and in 2005, he received the Filmfare Lifetime Achievement Award. He was the highest paid Indian actor from 1970 to 1987 whereas Amitabh Bachchan shared the same tag with Khanna from 1980 to 1987.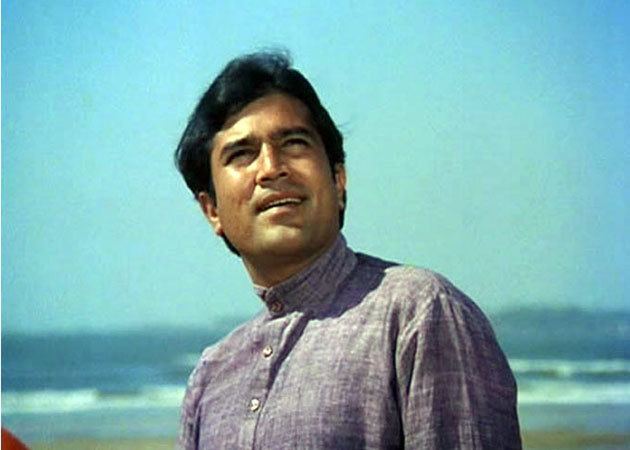 He was also a Lok Sabha member of the Indian National Congress from New Delhi (Lok Sabha constituency) from 1992 to 1996.
He married Dimple Kapadia in March 1973, eight months before her debut film Bobby was released and had two daughters from the marriage. Their elder daughter Twinkle Khanna is married to actor Akshay Kumar, while they also have a younger daughter Rinke Khanna.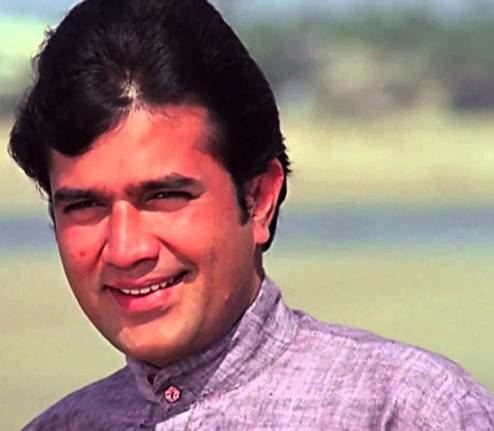 After being critically ill, Khanna died on 18 July 2012. Khanna has been posthumously awarded India's third highest civilian honour, Padma Bhushan. On 30 April 2013 he was officially bestowed the title: The First Superstar of Indian cinema at the Dadasaheb Phalke Academy Awards He has also been honored with a stamp and statue in his likeness, and a road being renamed in his honor.
Top 5 dialogues of rajesh khanna...
Early life
Credited as the first superstar of Indian cinema, Rajesh Khanna was born on 29 December 1942, in Amritsar in the state of Punjab, as Jatin Khanna. Khanna was adopted and raised by Chunnilal Khanna and Leelawati Khanna, who were relatives of his biological parents. His father had migrated from pre-partitioned Pakistan to "Gali Tiwarian" in Amritsar. His biological parents were Lala Hiranand and Chandrani Khanna. Lala worked as headmaster of the MC High School in Burewala (in present-day Pakistan), Vehari District, Punjab, Pakistan. His adoptive parents belonged to a family of railway contractors who had moved from Lahore to Bombay in 1935. Khanna lived in Saraswati Niwas, in Thakurdwar near Girgaon, Mumbai.
He attended St. Sebastian's Goan High School with his friend Ravi Kapoor, who later took the stage name Jeetendra. Khanna gradually started taking interest in theatre, did many of stage and theatre plays in his school and college days, and won many prizes in inter-college drama competitions.
In 1962 Khanna played a wounded mute soldier in the play Andha Yug and impressed with his performance; the chief guest suggested that he get into films soon. Khanna became a rare newcomer who had his own MG sports car, who struggled to get work in theatre and films in the early 1960s.
Khanna did his first two years of Bachelor of Arts in Nowrosjee Wadia College in Pune from 1959 to 1961. Khanna later studied in K. C. College, Mumbai and Jeetendra studied from Siddharth Jain College. Khanna tutored Jeetendra for his first film audition. Khanna's uncle KK Talwar changed Khanna's first name to Rajesh when he decided to enter films. His friends and his wife called him Kaka (meaning baby faced boy in Punjabi).
Early career (1966–1975)
Rajesh Khanna was one of eight finalists from more than 10,000 contestants in the 1965 All India Talent Contest, organised by United Producers and Filmfare. Khanna won the contest. BR Chopra, Bimal Roy, GP Sippy, HS Rawail, Nasir Husain, J. Om Prakash, Mohan Saigal, Shakti Samanta and Subodh Mukherji and others had created the United Producers organisation and were the judges of the contest.
He made his film debut in the 1966 film Aakhri Khat, directed by Chetan Anand, followed by Raaz, directed by Ravindra Dave, both of which were a part of his predetermined prize for winning the All-India United Producers' Talent Competition. G.P. Sippy and Nasir Hussain were the first to sign Rajesh Khanna after he won the contest. Aakhri Khat was India's entry for the Best Foreign Language Film at the 40th Oscar Academy Awards in 1967. Khanna in an interview to the newspaper The Hindu said,
"Though 'Aakhri Khat' is my first film, I received my first break as a leading actor in Ravindra Dave's, 'Raaz', in 1967. My heroine was Babita, already a popular actress then. Though I had lots of confidence, I was shy in facing the camera initially. In my first three shots, I had to perform with stress on my body language and dialogue delivery. Though I was right with my dialogues, my movements were not up to the mark. Ravindra Dave explained me my scenes and movements very clearly correcting my way of walking."
Being under contract with United Producers, he got projects like Aurat, Doli and Ittefaq. He was then noticed for his performances in films like Baharon Ke Sapne, Aurat (1967), Doli, Aradhana and Ittefaq. In Bahraon Ke Sapne, the response from the public in the first week of run forced the film's ending to be changed from a tragic one to a happier one from the second week. Later Waheeda Rehman suggested Asit Sen to take Khanna for the lead role in Khamoshi. Through Aradhana he rose to "instant national fame" and film critics referred to him as the first superstar of India. Rajesh Khanna was cast in a double role (father and son) opposite Sharmila Tagore and Farida Jalal. It also saw the resurgence of Kishore Kumar, who eventually became the official playback voice of Rajesh Khanna. They worked together until Kishore's death in 1987 and songs of their combination were released until 1991.
In 1971, he acted in Haathi Mere Saathi, which became that year's highest-grossing film and the biggest grosser ever till then. Khanna is credited with giving Salim Khan and Javed Akhtar their first chance to become screenplay writers by offering them work in Haathi Mere Saathi. Javed Akhthar accepted and said in an interview: "One day, he went to Salimsaab and said that Mr. Devar had given him a huge signing amount with which he could complete the payment for his bungalow Aashirwad. But the film's script was far from being satisfactory. He told us that if we could set right the script, he would make sure we got both money and credit." Rajesh bought Rajendra Kumar's bungalow named Dimple in Carter Road for 31 lakhs in 1970 and renamed it Ashirwaad.
Badnam Farishte in 1971 was the first film of Khanna to flop at the box office since his consecutive 17 hits from 1969.In 1972, Khanna acted in 10 releases, nine of which became successful. His Hindi films Dushman, Amar Prem, Apna Desh and Mere Jeevan Saathi, together earned more than Rs.5 crore. His other films of 1972 like Dil Daulat Duniya, Bawarchi, Joroo Ka Ghulam and Shehzada earned more than Rs.4.5 crores. His next release Anuraag was a hit. The film Maalik released in end of 1972 was unsuccessful. He made a guest appearance in a Telugu movie called Bangaru Babu directed by V.B. Rajendra Prasad in 1973, which was a hit at the box office.As per the review of Raja Rani (1973 film) made in 2014 by the Hindu newspaper, the film did well at the box office and, taking into consideration the inflation as of 2014, the film would have grossed more than 100 crores. The attire worn by Khanna was a sleeveless shirt and trousers, thick leather belt, shoes without socks and a black cap. The Hindu review noted "On a lesser actor, the attire would have fallen flat, but Khanna, as a small time thief, carries it with characteristic élan."
Rajesh acted alongside Mumtaz in eight films. They were neighbours and got along very well, which translated onto the screen. Mumtaz stated "I would pull his leg and tease him about his fan following. Whenever Rajesh entered a hotel in Madras, there was a queue of 600 girls waiting to see him at midnight. As a result, even I would get some importance, as people would ask for my autograph as well. He was very generous with his associates, and would party a lot."
During the peak of his career he would be mobbed during public appearances. Fans kissed his car, which would be covered with lipstick marks, and lined the road, cheering and chanting his name. Female fans sent him letters written in their blood. There used to be a line of cars of his producers and hysterical fans outside his bungalow every day. Actor Mehmood parodied him in Bombay to Goa where the driver and conductor of the bus were called 'Rajesh' and 'Khanna'. Even today, he remains the favourite of mimicry artists, who copy his trademark style and dialogue delivery.
During the filming of Amar Prem there was a scene that needed to be shot at Howrah Bridge with a boat carrying Khanna and Sharmila under the bridge. The authorities ruled this scene out as they realised that if the public found out that the star would be there, it may create problems on the bridge and that it might collapse due to the amount of people trying to get a glimpse of their favourite actor. Film critic Monojit Lahiri remembers "Girls married themselves to photographs of Rajesh Khanna, cutting their fingers and applying the blood as sindoor. Rajesh was God, there has never been such hysteria."
In the year 1974, the Filmfare Awards were held honouring the films released in the year 1973. Khanna was nominated for his performance in a complicated role in Daag. However, since Rishi Kapoor had paid Rs.30,000 to receive the Best Actor award for his role in Bobby, Khanna did not win the award for his performance in Daag.
Several songs sung by Kishore Kumar in the 1970s were based on Rajesh Khanna. During the filming of the song 'Mere Sapnon Ki Rani' in Aradhana, Sharmila Tagore was shooting for a Satyajit Ray film and director Shakti Samanta had to shoot their scenes separately and then join the scenes together. In the 1970s, his chemistry with Sharmila Tagore, Mumtaz, Asha Parekh, Zeenat Aman, Tanuja and Hema Malini were also popular with audiences.
The BBC made a film on him, titled Bombay Superstar, in 1973. Shooting began when he got married and his film Daag premiered. In the video it can be noticed that Khanna was shooting for Aap Ki Kasam. A textbook prescribed by the Mumbai University contained an essay, "The Charisma of Rajesh Khanna!"
Sharmila Tagore said in an interview to The Indian Express that "women came out in droves to see Kaka. They would stand in queues outside the studios to catch a glimpse, they would marry his photographs, they would pull at his clothes. Delhi girls were crazier for him than Mumbai girls. He needed police protection when he was in public. I have never seen anything like this before or since."
Music remained one of the biggest attractions of all Rajesh Khanna films throughout his career. Many of the musical scores for Khanna's films were composed by Laxmikant-Pyarelal, Sachin Dev Burman and R. D. Burman. The trio of Rajesh Khanna, Kishore Kumar and R.D. Burman went on to make a number of popular films, including Kati Patang, Amar Prem, Shehzada, Apna Desh, Mere Jeevan Saathi, Aap Ki Kasam, Ajnabee, Namak Haraam, Maha Chor, Karm, Phir Wohi Raat, Aanchal, Kudrat, Ashanti, Agar Tum Na Hote, Awaaz, Hum Dono and Alag Alag.
Rajesh Khanna had 15 consecutive solo hit films between 1969 and 1971. These were Aradhana, Doli, Bandhan, Ittefaq, Do Raaste, Khamoshi, Safar, The Train, Kati Patang, Sachaa Jhutha, Aan Milo Sajna, Mehboob Ki Mehendi, Choti Bahu, Anand and Haathi Mere Saathi. He had 17 consecutive hit films as the lead hero from 1969 to 1971 which included 15 solo hero films and 2 non-solo hero films; Andaz and Maryada.
Khanna considered Guru Dutt, Meena Kumari and Geeta Bali to be his idols. Khanna said in an interview: "My inspirations include Dilip Kumar's dedication and intensity, Raj Kapoor's spontaneity, Dev Anand's style and Shammi Kapoor's rhythm."
1976–1978
Between 1976 and 1978, Khanna acted in five box office hits and in nine films that were not commercially successful. Seven of the unsuccessful films were critically acclaimed and have achieved strong cult status over the years among the viewers; these films included Mehbooba, Bundal Baaz, Tyaag, Palkon Ki Chhaon Mein, Naukri, Chakravyuha and Janta Hawaldar, which were directed by Shakti Samanta, Shammi Kapoor, Din Dayal Sharma, Meraj, Hrishikesh Mukherjee, Basu Chatterjee and Mehmood Ali, respectively. Khanna persuaded Samanta to cast his sister-in-law Simple Kapadia opposite him in Anurodh. Films starring Rajesh Khanna and directed by Shakti Samanta tended to be commercially successful, but Mehbooba was an exception. The change from romantic and social movies to action oriented multi-starrers caused some decline of Khanna's career in terms of box office ratings. The declaration of emergency in India had angered the masses and this helped films having the lead character revolting against corruption to become successes. Actor Joy Mukherjee made Chhailla Babu, a suspense thriller in 1977, which became the only successful film of his as a director, and the unexpected success of Chhailla Babu gave a boost to the career of Khanna. However, Khanna continued basically in solo-hero socialy sober household meaningful films during this era and played a variety of characters in films of various genres. During this phase too he had box office hits like Maha Chor, Chhailla Babu, Anurodh, Karm, Tinku and Bhola Bhala.
Khanna was the first choice of director Raj Kapoor for the lead role in Satyam Shivam Sundaram, however, Rishi Kapoor, due to his boyish resentments and since few members from the Raj Kapoor camp vehemently opposed Khanna being the lead, the role went to Shashi Kapoor. However Raj Kapoor was determined to work with Khanna hence co-starred with him in Naukri.
1979–1991
After 1978, Khanna starred in critically acclaimed commercially successful films such asAmar Deep, Phir Wohi Raat, Bandish, Thodisi Bewafaii, Dard, Kudrat, Dhanwan, Ashanti (1982 film), Avtaar, Agar Tum Na Hote, Souten, Jaanwar, Asha Jyoti, Awaaz, Naya Kadam, Hum Dono, Babu, Aaj Ka M.L.A. Ram Avtar, Shatru, Insaaf Main Karoonga, Anokha Rishta, Nazrana, Angaarey, Adhikar, Amrit, Awam and Rupaye Dus Karod. Director Bharathiraja decided to remake his 1978 Tamil box office hit film "Sigappu Rojakkal" in Hindi with Khanna playing the role of a psychopath. Kamal Haasan who played the same role in Tamil won South Filmfare Best Actor Award for his portrayal. But the Hindi movie was seen as controversial by traditional and orthodox Hindi moviegoers and was not a commercial success, although Khanna's performance has been later rated by critics higher than the original.
Tina Munim and Rajesh Khanna became the leading on and off screen couple of the eighties with hits like Fiffty Fiffty, Suraag – The Clue, Souten, Aakhir Kyun, Bewafai, Insaaf Main Karoonga and Adhikar. Ram Awatar Agnihotri wrote that Tina Munim showed the first sparks of the dedicated actress she would become in the films "Alag Alag" and "Adhikar", both with Khanna. His on-screen pairings with Shabana Azmi, Smita Patil, Padmini Kolhapure and Poonam Dhillon were also popular in the eighties. He also acted in the Marathi hit film "Sundara Satarkar" in 1981.
Kamal Hasan was close friend of Khanna and Kamal quoted in an interview "He probably hadn't been to a public theatre since he became a star. When we reached, things were okay. He enjoyed the mediocre film (The Swarm) thoroughly and refused to leave until the end titles. That's when I panicked. This was Rajesh Khanna, the star of the millennium. If audiences got to know he was present there would be a stampede and blood on my hands. But Mr Khanna refused to listen. He stayed on till the end. The inevitable happened after the show. All hell broke loose as audiences realised he was there. I became Rajesh Khanna's bodyguard and security officer as I took him through the crowd. His shirt was torn, but he was enjoying himself thoroughly. He giggled and chuckled like a child." Khanna starred in remakes of 3 films of Kamal and in return Kamal acted in 2 remakes of Khanna's films.
Khanna performed in successful multi-star films including Rajput, Dharm Aur Qanoon, Paapi Pet Ka Sawaal Hai, Zamana, Dil-E-Nadaan and Ghar Ka Chiraag. He did three movies with Jeetendra: Dharam Kanta, Nishaan and Maqsad. In 1984, Maqsad was the second-highest ranked film in terms of box office results, earning 8.5 crores. In Aaj Ka M.L.A. Ram Avtar, Khanna played the character of a corrupt politician. Viewers praised his role in the film. In 1985 he produced Alag Alag. According to The Guardian (UK), he had 11 releases as solo lead hero in the year 1985 and eight of them were hits. In 1985, the film Bewafai, with Khanna as the lead hero and Rajinikanth in a negative role, released and became a success and grossed Rs 11.95 crore at the box office that year. Before joining politics, one of his last films as the lead hero was Swarg, released in 1990. David Dhawan regards Swarg as his favourite directorial venture.
He worked in films of different genres: tragedy in Babu as a rickshaw puller, thriller in Redrose as a psycopath, political adventure in Awam, fantasy in Bundalbaaz and Jaanwar, crime in Phir Wohi Raat and Angarey, suspense in Chakravyuha and Ittefaq, comedy in Joru Ka Ghulam, Bawarchi, Hum Dono and Masterji, action in Ashanti and Zamana, and family dramas addressing different issues in Aanchal, Amrit and Agar Tum Na Hote and films addressing issues of social concerns Avtaar, Naya Kadam and Akhir Kyun. He did films of different themes such as reincarnation in Kudrat, spiritualism in Maalik and immaturity while falling in love in Anokha Rishta, Nazrana and Dil E Nadan. He played a variety of characters as the lead hero: a postman in Palkon Ki Chaon Mein, a lawyer who proves that his senior has committed a rape 25 years earlier in Kudrat, a politician in Aaj Ka MLA Ram Avtaar, a young musician forced by fate to marry two women in Asha Jyoti, a professional advocate in Awaaz, a fisherman in Prem Bandhan, a patriot in Prem Kahanai, a righteous farmer in Bandhan and a Muslim who falls in love with a prostitute's daughter in Mehboob Ki Mehendi.
He shared close relationships with R. D. Burman and Kishore Kumar. The trio were friends and have worked together in thirty-two films. Kishore Kumar had even credited Rajesh Khanna for his resurgence, so much so that he sang for Alag Alag, the first film produced by Rajesh Khanna without charging anything. In 1985 Pancham found himself being sidelined after failures of a few films, but Rajesh Khanna was among the few who continued to stand by him. Rajesh and Pancham worked together even after the death of Kishore in the films Jai Shiv Shankar, the unreleased film Police Ke Peechhe Police (both produced by Khanna) and Sautela Bhai. Khanna even helped Leena Gangully and Amit Kumar in completing Mamta Ki Chhaon Mein, the last film directed by Kishore, who died before the completion of the film.
Pyarelal of the Laxmikant-Pyarelal duo quoted in an interview that "Rajesh Khanna was lucky for us and we were lucky for him too. From the 1969 Do Raaste to the 1986 Amrit, we gave hits together both as films and as music scores.... When we went on our first overseas concert tour in 1984, he came and danced to three songs. He was very particular about his music and would take a tape home if he could not assess a song. He would then give his feedback after a day or two. But if he liked a song at the sitting, he would loudly shout "Wah! Wah!" in appreciation…. It was God's blessing that we came up with such a vast range of hit songs for him, including in his home productions Roti and films like Chhailla Babu, Chakravyuha, Fiffty Fiffty, Amar Deep and Anurodh. Incidentally, he had a stake in Mehboob Ki Mehndi too. He had great interest in music and a terrific sense of melody too. His music is dominated by Pancham (R.D. Burman) and us and we accepted Shakti Samanta's Anurodh only because Rajesh Khanna had some misunderstanding with Pancham then, and did not want to work with him." Khanna would always request music directors to fit in Kishore Kumar wherever possible. In fact, Kishore was very reluctant to sing "Waada Tera Waada" in Dushman and suggested to Laxmikant-Pyarelal to get it sung by Rafi. Then Laxmikant made Kishore meet Rajesh Khanna and Khanna winked at Laxmikant and told Kishore that in that case the song should be scrapped. On hearing this, Kishore immediately agreed to sing it by himself for Khanna.
Actors who were part of the cast of most of his films include Ashok Kumar, Sujit Kumar, Prem Chopra, Madan Puri, Asrani, Bindu, Vijay Arora, Roopesh Kumar, Dina Pathak and A. K. Hangal, who remained part of his "working team" from the start until the late eighties. The lyricist whom he preferred for his movies was Anand Bakshi. Films by Shakti Samanta with Khanna in the lead, music by Pancham and lyrics by Anand Bakshi had people swooning. The films Samanta directed without Khanna in the eighties were duds. His other close friends from the film industry include Raj Babbar, J. Om Prakash, Prem Chopra and D. Rama Naidu and Jeetendra.
Celebrities of the post-2000 era, like Madhur Bhandarkar, say that they take at least three or four turns in Carter Road even today just to see Khanna. The younger generation stars like Imran Khan still regard Rajesh Khanna as someone who would take the top slot as the most romantic hero of all time. Shahrukh Khan idolises Rajesh Khanna and has opined; "Rajesh Khanna, you can't touch". Anupam Kher said "Kishore Kumar, Sanjeev Kumar, S. D. Burman, R. D. Burman, Rajesh Khanna and Smita Patil changed the face of Indian cinema. They're remembered by the films that they did." Actor Tom Alter confessed "I still dream of being Rajesh Khanna. For me, in the early 1970s, he was the only hero – romantic to the core, not larger than life, so Indian and real – he was my hero; the reason I came into films and he still is." Actor Irrfan Khan stated in an interview, "The kind of craze witnessed by Rajesh Khanna has not been duplicated by anyone. He was the biggest and the most real star Bollywood has produced. I'd say stardom is that feeling of being possessed by your idol; you are so overwhelmed with euphoria you lose touch with reality." The trend of wearing guru kurtas and belts on shirts became famous in the seventies and eighties because of Khanna. Javed Akhthar, in an interview, told about his experience with Khanna's stardom: "Bangalore used to have a state lottery and the government asked him to draw the lucky number. They organised it in a stadium. I was with him as we were discussing some scripts. I don't know if I will experience that again, the sound of 50,000 people gasping (when they saw him). He was like Caesar. It was unbelievable".
Later career (1991–2012)
After the early nineties, while serving as Congress M.P. from 1991 to 1996, he returned to acting, playing the lead in Khudai (1994), which was about a father and son both falling in love with the same woman. After 1992, he appeared in only 10 films and declined most film offers. He made a comeback as an NRI in Aa Ab Laut Chalen (1999), and Kyaa Dil Ne Kahaa (2002) and played the solo lead in the films Sautela Bhai in 1996, Pyar Zindagi Hai in 2001, Kaash Mere Hote in 2009, Wafaa in 2008 and Riyasaat in 2010. He did 4 television serials in the period 2000–2009.
Television
Khanna was a life member of the International Film And Television Research Centre, the International Film And Television Club and the Asian Academy of Film & Television. He was Faculty Guest of "Specialised Cinema Courses At Asian School Of Media Studies". On 10 April 1999 Khanna inaugurated the live concert of S.P. Balasubramanyam, held at Lal Bahadur Shastri Stadium, Hyderabad as a tribute to Pancham. In 2001 and 2002, Rajesh played the lead in two television serials: Aapne Parai (B4U & DD Metro) and Ittefaq (Zee TV). He performed in a video album based on Tagore's songs (Rabindra Sangeet) without payment. He also endorsed Star se Superstar tak – a talent hunt programme in 2007 and donated a Gold Trophy of Rs.1 crore. In its Silver Jubilee Episode on 14–15 March 2008, K for Kishore aired a Rajesh Khanna special. He signed on to star in a TV serial with Creative Eye Banner, (Dhiraj Kumar) in 2007, and in 2008 performed in a TV serial, Bhabhima, with Leena Ganguly as his co-star. His successful TV serial Raghukul Reet Sada Chali Aayi began in November 2008 and ended in September 2009. Khanna cited the lack of good roles for actors like him in films as the reason for him not appearing much in films after 2001. He said in an interview on being queried about his decision to do TV serials: "The reach of TV is much more than cinema today and one episode of my serial is likely to be watched by more people than a super-hit film". In 2009, on his 67th birthday, Shemaroo Entertainment released his films and a song collection titled Screen Legends-Rajesh Khanna-the Original Superstar. In May 2012, Havells, the fan making company endorsed Khanna as Brand Ambassador for their new ad campaign featuring him in solo advertisements.
Political and business career
At the insistence of Rajiv Gandhi, he started campaigning for Congress after 1984. In the election for New Delhi seat in the 1991 Lok Sabha election, Khanna lost to L.K. Advani by a narrow margin of 1589 votes, after which Khanna stood on the grounds at the counting station insisting that he had been cheated of a win. A by-election took place and Khanna won the same seat in 1992 by defeating Shatrughan Sinha by 25,000 votes. Rajesh Khanna was a member of Parliament for the Indian National Congress, from the New Delhi constituency, where he won the 1992 by-election, retaining his seat until 1996 after which he was not interested in active politics. When Khanna was MP, he did not accept new acting assignments, but only acted in the film Khudai (1994). After leaving parliament, he was a political activist for the INC and campaigned for the party till the 2012 Punjab election.
Khanna and a group of foreign investors bought land in Shirdi on which they planned to build a religious resort for disciples of Sai Baba of Shirdi.
Box office record
During his career, Khanna played the lead in 74 films that were shown in cinemas for more than 50 continuous weeks, and 22 films that were shown for more than 25, but less than 50 weeks.
Personal life
In the late 1960s and early 1970s, Khanna fell in love with the then fashion designer and actress Anju Mahendru. They were in a relationship for seven years. Mahendru states that the couple did not speak to each other for 17 years after the break-up. Later Khanna married the budding actress Dimple Kapadia in March 1973, before Kapadia's debut film Bobby released in November of that year. They have two daughters from the marriage; Twinkle and Rinke. Khanna and Kapadia separated in 1984, but did not complete the divorce proceedings. In the 1980s Tina Munim was romantically involved with Khanna while working with Khanna in 11 movies from 1980 to 1987. Munim had been a fan of Rajesh since her school days. According to website Bollywood Mantra reporter, the relationship with Tina ended in 1987, when Khanna refused to marry her as their marriage would have a bad impact on his daughters. Khanna and Kapadia however maintained an amicable relationship where they both were seen together at parties and family functions. Kapadia also campaigned for Khanna's election and worked in his film Jai Shiv Shankar (1990).
Khanna's elder daughter Twinkle Khanna, an interior decorator and a former film actress, is married to actor Akshay Kumar, while his younger daughter Rinke Khanna, also a former Hindi film actress, is married to a London-based investment banker Samir Saran. On 17 July 2012, a woman named Anita Advani claimed that she had been Khanna's live-in partner, and sent a legal notice to his family members asking for compensation. The family denied the claims.
Illness and death
In June 2012, it was reported that Rajesh Khanna's health had been deteriorating for some time. On 23 June he was admitted to Lilavati Hospital in Mumbai due to health complications. He was discharged on 8 July from the hospital and was reportedly fine.
On 14 July, Khanna was readmitted to the Lilavati Hospital, but was discharged on 16 July. He died on 18 July 2012, at his bungalow, Aashirwad, in Mumbai. Sources confirmed that his health had been deteriorating since July 2011 as he was diagnosed with cancer. After his death his co-star Mumtaz said that Khanna was suffering from cancer for the duration of the prior year and had undergone chemotherapy sessions. His funeral took place on 19 July at 11:00. His funeral was attended by nearly 9 lakh people and his fans had come from places like Surat, Ahmedabad, California, Singapore and from other foreign countries. Police had to resort to lathi-charge to control the crowd of fans who had gathered for the procession from Khanna's Bandra house to the crematorium. He died in the presence of his wife Dimple Kapadia, daughters Rinke Khanna and Twinkle Khanna, son-in-law Akshay Kumar, grandchildren, Anju Mahendru and other close relatives. His pyre was lit by his grandson, Aarav, with the assistance of Akshay Kumar. Amitabh Bachchan cited that Khanna's last words were "Time is up, Pack up". In his special recorded message to his family, friends and fans which was played on his "chautha", he thanked and saluted his friends and fans for the love they showered on him. On 25 July 2012, his ashes were immersed in the Ganges by his wife Dimple Kapadia and daughter Rinke Khanna.
Reactions and legacy
Following his death, there was a quick spate of reactions from within the Bollywood fraternity.
The President of India Pratibha Patil lamented the passing away of the actor. In a press release she said "I am saddened to learn about the passing away of Rajesh Khanna. In his prime as an actor he was the heartthrob of the young generation of 1970s, who tried to model themselves on him and his style."
Other celebrities who paid homage to him at his house after his death included Manoj Kumar, Asha Parekh, Ranjeet, Jeetendra, Rakesh Roshan, Yash Chopra, Randhir Kapoor, Rishi Kapoor, Shabana Azmi, Dharmendra, Vinod Khanna, Asrani, Prem Chopra, Govinda Arun Ahuja, Salman Khan, Shahrukh Khan, Aamir Khan, Amitabh Bachchan, Himesh Reshammiya, and Sajid Khan. His prayer meeting, organised in a grand way at the Taj Land's End hotel in Bandra, on 21 July 2012, was attended by many, including Reena Roy, Padmini Kolhapure, Neelam, Jaya Prada, Amar Singh, Bindu, Poonam Dhillon, Neetu Kapoor, Jaya Bachchan, Aamir Khan, Kiran Rao, Ranbir Kapoor, Mithun Chakraborthy, Shakti Kapoor, Shashi Kapoor, Suresh Oberoi, Parmeshwar Godrej, Tabu, Sonali Bendre and Jackie Shroff.
Shahrukh Khan reacted by saying: "To live with intention and walk to the edge. Play with abandon, choose with no regret. Smile and made us do the same. Sir, you defined our era. Whenever life felt tough you made us feel how love could change it all. RIP." Mumtaz also added that she had memories of having workied with him and said that she had been crying the whole morning, but was happy that she had met the ailing Khanna in Mumbai in June 2012, when the two discussed their respective battles with cancer. While Shahid Kapoor quoted: "RIP to the 1st king of romance ... Rajesh Khanna." Subhash Ghai added that Khanna "was the powerhouse of the Hindi film industry. I met him on the set of Aradhna, he had some kind of energy and you will be charged when he is around you. His name will be written in golden words." Amitabh Bachchan was quoted as saying: "The word 'superstar' was invented for him, and for me it shall ever remain his, and no others .. !! His generation and the generations that follow, shall never be able to describe, or understand his phenomena .. !!". His son-in-law Akshay Kumar told reporters about his death and added that "he has gone to a nice and heavenly place. I am happy that he has gone there and hope that everyone will pray for him."
Vyjayanthimala commented that "his death is a big loss to the industry. It's my bad luck that I didn't have the chance to work with him because he came much later. I remember when he came to Chennai for some film shoot, the college girls went crazy to catch a glimpse of him when he was going to his studio." Manna Dey said: "He was a great actor, truly a superstar, no doubt about it. I am honoured to have done playback for him. I have worked for him in several movies, and actors like him are a rarity." Mrinal Sen recollected how Khanna had wanted to cast him in one of his films, but the latter could not manage due to date problems. "We had met several times. Once I had wanted to cast him in one of my films, but somehow that didn't work out due to his date problems."
Buddhadeb Dasgupta said Khanna's acting would continue to inspire young actors in the future. "He was a great actor and was the first superstar. He was a much bigger star than Amitabh Bachchan. His acting will continue to inspire young actors of the coming generations." Rituparno Ghosh said: "In the film 'Anand', Khanna delivered some of Indian cinema's most memorable dialogues. The use of the word 'babu moshai' by Amitabh Bachchan, who played a Bengali doctor in the film, is so deeply etched in the minds of Indians that it has almost become a synonym for Bengalis for the rest of the countrymen. "In a dhoti and kurta, you showed the rest of India how truly elegant Bengal was" Madhur Bhandarkar said, "The epitome of superstardom is no more amongst us. There was none, there is none and there won't be any like you, kakaji."
Film historian S. M. M. Ausaja added: "He never acted in a Bengali cinema. But right from the late 1960s to the 70s he was the top star and worked with the top directors of his era, most of whom were Bengalis." There were also reactions from the Gali Tiwaria where the his ancestral house was, and had since been converted to a temple through his donation. Songs from his movies were played as the news of his death became known. His foster brother Muni Chand Khanna said that "he used to love to play cricket when he lived here. He was a simple boy when he lived here and led a simple life even after achieving so much." As were the residents of Burewala, Pakistan.
Additionally, those within the political spectrum that offered their condolences included Prime Minister Manmohan Singh, who said that he "convey[s] my heartfelt condolences to the members of the bereaved family and countless fans and admirers of Shri Rajesh Khanna." INC President Sonia Gandhi also expressed her sorrow. Regional political leaders who offered their condolences included Chief Minister of West Bengal Mamata Banerjee, who said: "Rajesh Khanna was always a symbol of romance. His smiling face and the ability to connect with people at ease had made him popular. We lost a big pole star in the film world today." As well as Bihar Chief Minister Nitish Kumar who added that "his death has caused irreparable loss to Hindi cinema."
Condolences also came from Pakistan where Prime Minister Raja Pervaiz Ashraf called Khanna a "great actor whose contribution to the field of films and arts would be long remembered. [He had a] large fan following across the borders and captivated audiences with his excellent acting skills." Ali Zafar wrote on Twitter: "Rajesh Khanna – RIP. So many fond memories from his movies and songs.", while Syed Noor said: "Rajesh Khanna was such a huge actor of the subcontinent that he will be remembered by the people for many years to come. The era he reigned over is unlikely to be experienced by any other actor of this subcontinent." Geo TV also aired a nearly hour-long tribute with contributions from actors, filmmakers and musicians.
A postage stamp, bearing his likeness, was released by the India Post to honour him on 3 May 2013. On his first death anniversary, a bronze statue of Rajesh Khanna was unveiled at Bandra Bandstand, Mumbai. A chowk (intersection) in Girgaon has been named "Superstar Rajesh Khanna Chowk" in his memory.
Awards
Khanna won four Best Actor Awards in the Bengal Film Journalists' Association Awards, and received 25 nominations. He won three Filmfare Best Actor Awards, one Filmfare Special Guest Actor Award in 1973, and received a Filmfare Special Award in 1991, after 25 years in the Hindi film industry. He received the Filmfare Lifetime Achievement Award at the 50th anniversary Filmfare award ceremony in 2005.
Filmography
Actor
-
Ittefaq (TV Series)
as
JD
- Episode #1.1 - JD
2014
Riyasat
as
Godfather Don Saheb
2012
Jaanleva Black Blood
as
CID
2012
Six December
as
Guest Appearance
2010
Vijay - Winner All the Way
as
Special Appearance
2010
Do Dilon Ke Khel Mein
as
Joginder Singh
2009
First Time - Pehli Baar
as
Special Appearance
2009
Kaash Mere Hote
as
Retired Colonel Patra
2008
Raghukul Reet Sada Chali Aayi (TV Series)
2007
Om Shanti Om
as
Appearance in song
2006
Jaana... Let's Fall in Love
as
Hamid in Special Appearance
2002
Kyaa Dil Ne Kahaa
as
Siddharth (Rahul's dad)
2001
Apne Paraye (TV Series)
2001
Pyaar Zindagi Hai
as
Hridaynath
1999
Aa Ab Laut Chalen
as
Balraaj Khanna
1996
Sautela Bhai
as
Master Tulsiram
1995
Kis Kaam Ke Yeh Rishte
1991
Rupaye Dus Karod
as
Lawyer and Novelist Ravi Varma
1991
Begunaah
as
Jeevanlal 'J.V.'
1990
Dushman
as
Guest Appearance
1989
Main Tera Dushman
as
Shankar Truck Driver in Special Appearance
1989
Mamata Ki Chhaon Mein
as
Special Appearance
1989
Police Ke Peechhe Police
1989
Paap Ka Ant
as
Deputy Commissioner Police Khanna
1987
Avam
as
Captain Amar Kumar
1986
Angaaray
as
Ravi ( Special Appearance)
1986
Mohabbat Ki Kasam
as
Krishna (Special Appearance)
1986
Shatru
as
Inspector Ashok Sharma
1986
Anokha Rishta
as
Robert Brown Bob
1986
Amrit
as
Amrit Lal Sharma
1985
Insaaf Main Karoonga
as
Captain Ravi Khanna
1985
Oonche Log
as
Rai Bahadur Rajdev Singh / Raju
1985
Aakhir Kyon?
as
Alok Nath
1985
Durgaa
as
Mohan Babu ( Special Appearance)
1985
Hum Dono
as
Raja and Dr. Shekhar
1985
Zamana
as
Inspector Vinod S. Kumar
1984
Paapi Pet Ka Sawaal Hai
as
Mohan / Sheik / Shankar Rao / ...
1984
Dharm Aur Qanoon
as
Justice Diwan / Rajan
1984
Asha Jyoti
as
Deepak Chander
1984
Aaj Kaa M.L.A. Ram Avtar
as
Ram Avtaar
1983
Agar Tum Na Hote
as
Ashok Mehra
1983
Film Hi Film
as
Special Appearance
1982
Disco Dancer
as
Master Raju ( Special Appearance)
1982
Ayaash
as
Special Appearance
1982
Dharam Kanta
as
Ram / Shanker
1982
Ashanti
as
Police Inspector Kumar Chandra Singh
1982
Rajput
as
Dhirendra Singh
1982
Suraag
as
Qawaali Singer Guest Appearance
1981
Fiffty Fiffty
as
Kishan Singh
1981
Dard (Conflict of Emotions)
as
Deepak Srivastav / Vikas 'Vicky'
1981
Dhanwan
as
Vijay Kumar Saxena
1981
Sundara Satarkar
as
Special Appearance
1981
Khoon Aur Paani
as
Special Appearance
1981
Kudrat
as
Mohan Kapoor / Madho
1980
Shadi Se Pahale
as
Special Appearance in song Ek Khoobsurat Ladki Mujhe Raat Ko Mili Thi
1980
Phir Wohi Raat
as
Dr. Vijay - a psychiatrist
1980
Thodisi Bewafaii
as
Arun Kumar Choudhary
1979
Janta Hawaldar
as
Constable Janta Prasad
1979
Muqabla
as
Qawwali Singer (Special Appearance)
1979
Naya Bakra
as
Guest Appearance as person visiting courtesean
1979
Prem Bandhan
as
'Kishan' Mohan Khanna
1978
Chakravyuha
as
Amit Narayan
1978
Naukri
as
Ranjit Gupta 'Ronu'
1978
Bhola Bhala
as
Ram Kumar Verma / Nathu 'Nathiya' Singh
1977
Anurodh
as
Arun Choudhury / Sanjay Kumar / Pritam Nath Ghayal
1977
Aashiq Hoon Baharon Ka
as
Ashok Sharma
1977
Palkon Ki Chhaon Mein
as
Ravi Raj Sinha (Dak Babu)
1977
Hatyara
as
Special Appearance
1977
Chalta Purza
as
Amar Gupta
1977
Chhailla Babu
as
Babu Chhailla
1976
Bundal Baaz
as
Rajaram 'Goku' 'Raja'
1976
Ginny Aur Johnny
as
Inspector in Special Appearance
1976
Maha Chor
as
Rajeshwar A. Singh and Raju Khan 'Johnny Fernandes'
1976
Mehbooba
as
Prakash and Suraj
1976
Sawa Lakh Se Ek Ladaun
as
Qawal (Special Appearance)
1975
Prem Kahani
as
Rajesh Kamleshwar Narain
1975
Aakraman
as
Karnail Singh
1974
Humshakal
as
Ram / Laxman
1974
Ajanabee
as
Rohit Kumar Saxena
1974
5 Rifles
as
Rakesh Khanna in Special Appearance
1974
Prem Nagar
as
Chhotey Kunver Karan U. Singh
1974
Aap Ki Kasam
as
Kamal Bhatnagar
1973
Namak Haraam
as
Somnath (Somu) / Chander Singh
1973
Daag: A Poem of Love
as
Sunil Kohli
1973
Bangaru Babu
as
Special Appearance
1972
Apna Desh
as
Akash Chandra
1972
Dil Daulat Duniya
as
Vijay
1972
Shehzada
as
Rajesh / Raji
1972
Anuraag
as
Gangaram (Guest Appearance)
1972
Mere Jeevan Saathi
as
Prakash
1972
Joroo Ka Ghulam
as
Rajesh
1972
Bawarchi
as
Raghu (Bawarchi)
1971
Badnam Farishte
as
Lawyer Prakash- Special Appearance
1971
Dushmun
as
Surjit Singh / Dushmun
1971
Maryada
as
'Raj Bahadur' Rajan
1971
Haathi Mere Saathi
as
Raj Kumar 'Raju'
1971
Mehboob Ki Mehndi
as
Yusuf
1971
Guddi
as
Guest Appearance
1970
Kati Patang
as
Kamal Sinha
1970
Khamoshi
as
Mr. Arun Choudhury (Patient #24)
1970
Sachaa Jhutha
as
Bhola and Ranjit Kumar
1970
The Train
as
CID Inspector Shyam Kumar
1969
Do Raaste
as
Satyan Gupta
1969
Aradhana
as
Arun / Suraj Prasad Saxena
1969
Bandhan
as
Dharmchand "Dharma"
1968
Shrimanji
as
Guest Appearance
Music Department
1983
Souten (playback singer)
1974
Aavishkar (playback singer)
1974
Ajanabee (playback singer - uncredited)
1974
Prem Nagar (playback singer)
1973
Daag: A Poem of Love (playback singer)
1973
Raja Rani (playback singer)
1972
Shehzada (playback singer)
1972
Amar Prem (playback singer)
1970
Safar (playback singer)
1969
Aradhana (playback singer - uncredited)
1967
Baharon Ke Sapne (playback singer)
Producer
1999
Parakh (TV Series) (producer)
1995
Barsaat (co-producer)
1990
Jai Shiv Shankar (producer)
1989
Police Ke Peechhe Police (producer)
1987
Adha Sach Adha Jhoot (TV Series) (producer)
1978
Chakravyuha (co-producer)
1971
Haathi Mere Saathi (co-producer)
1971
Mehboob Ki Mehndi (co-producer)
Soundtrack
1977
Palkon Ki Chhaon Mein (performer: "Ladkadane Do Mujhe")
1974
Aavishkar (performer: "Mahashoonya Ke Mahaan Vistar Mein")
1974
Ajanabee ("Ik Ajnabi Haseena Se Yun Mulaqat Ho Gayi")
1974
Prem Nagar (performer: "Ek Muamma Hai Samjh Ne Ka Na Samjha Ne Ka")
1973
Daag: A Poem of Love (performer: "Main To Kuch Bhi Nahin")
1973
Raja Rani ("Haan Toh Main Kya Keh Raha Tha")
1972
Shehzada ("Rimjhim Rimjhim Dekho Baras Rahee Hai", "Naa Jaeeyo, Naa Jaeeyo, Chhod Ke Naa Jaiyo Meri Rani")
1972
Amar Prem (performer: "Raina beeti jaaye, shyam na aaye")
1970
Safar (performer: "Nadiya Chale Chale Re Dhara", "Nadiya Chale")
1969
Aradhana (performer: "Baagon Mein Bahaar Hai" - uncredited)
1967
Baharon Ke Sapne ("O Mere Sajna O Mere Balma")
Miscellaneous
Thanks
1990
Ghar Ka Ujala (the producers wish to thank)
1989
Main Tera Dushman (very special thanks)
1989
Mamata Ki Chhaon Mein (very special thanks)
1989
Paap Ka Ant (very special thanks)
1987
Sitapur Ki Geeta (the producers wish to thank)
1986
Angaaray (the producers wish to thank)
1985
Durgaa (very special thanks)
1982
Disco Dancer (very special thanks)
1982
Suraag (the producers wish to thank)
1981
Sundara Satarkar (the producers wish to thank)
1979
Shaitan Mujrim (grateful thanks)
1979
Muqabla (the producers wish to thank)
1979
Naya Bakra (grateful thanks)
1977
Tinku (the producers wish to thank)
1977
Hatyara (grateful acknowledgment - as Shri Rajesh Khanna)
1977
Aaina (very special thanks)
1976
Ginny Aur Johnny (special thanks)
1976
Sawa Lakh Se Ek Ladaun (the producers wish to thank)
1975
Aakraman (the producers wish to thank)
1974
Badhti Ka Naam Dadhi (very special thanks)
1974
Raja Kaka (very special thanks)
1974
5 Rifles (grateful acknowledgment)
1973
Bangaru Babu (very special thanks)
1971
Badnam Farishte (and above all very special thanks to)
1971
Andaz (the producers wish to thank)
Self
2009
10th International Indian Film Academy Awards (TV Special)
as
Self (Outstanding contribution to Indian cinema)
2005
50th Filmfare Awards (TV Special)
as
Self (Lifetime Achievement Award)
1990
Kujh Khatta Kujh Mittha (TV Special)
as
Self
1988
Zindagi Ek Safar (Documentary)
1987
Raj Kapoor
as
Self (during funeral)
1985
Ram Tere Kitne Nam
as
Self (uncredited)
1979
Cinema Cinema (Documentary)
1973
Man Alive (TV Series documentary)
- Bombay Superstar (1973)
References
Rajesh Khanna Wikipedia
(Text) CC BY-SA