Ethnicity

Punjabi




Years active

1941–1999 (retired)





Name

Shashi Kapoor




Role

Film actor







Full Name

Balbir Raj Prithviraj Kapoor


Born

18 March 1938 (

1938-03-18

) Calcutta, Bengal Presidency, British India(now Kolkata, West Bengal, India)


Residence

Mumbai, Maharashtra, India


Other names

BalbirShashiBalbir RajShasha (used by his brother, Shammi Kapoor)Shashi Baba


Occupation

Actor, Director, Producer




Relatives

Raj Kapoor (Brother)Shammi Kapoor (Brother)See Kapoor family


Spouse

Jennifer Kendal (m. 1958–1984)


Siblings

Raj Kapoor, Shammi Kapoor, Urmila Sial Kapoor, Devi Kapoor, Nandi Kapoor


Children

Kunal Kapoor, Karan Kapoor, Sanjana Kapoor


Parents

Ramsarni Mehra Kapoor, Prithviraj Kapoor


Similar People

Shammi Kapoor, Raj Kapoor, Prithviraj Kapoor, Kunal Kapoor, Jennifer Kendal


Died

4 December 2017 (aged 79) Mumbai, Maharashtra, India
Watch Ailing Actor Shashi Kapoor
Shashi Kapoor (born as Balbir Raj Kapoor; 18 March 1938) was a retired Indian film actor and producer. He has appeared in a large number of Hindi films as well as in a few English-language films. He has also been a film director and assistant director in the Hindi film industry.
Contents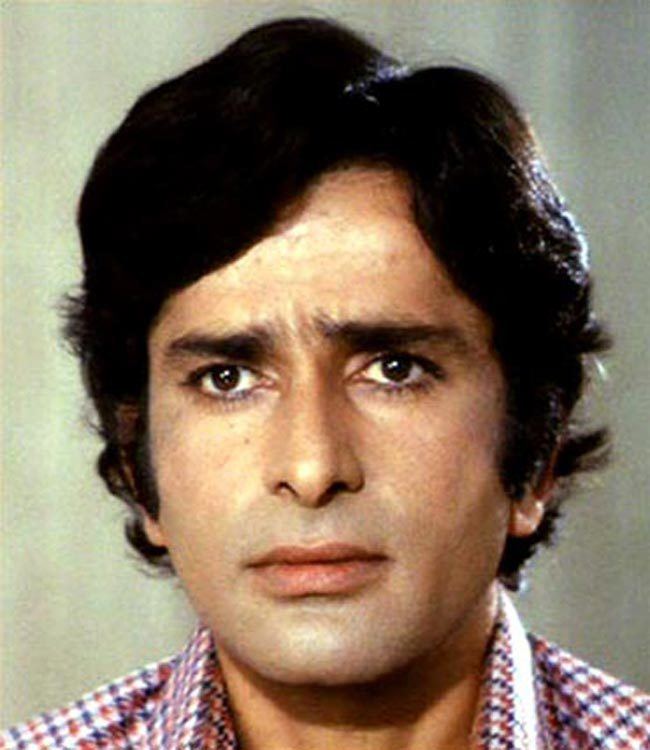 Shashi Kapoor is a member of the Kapoor family, a film dynasty in India's Bollywood cinema. Kapoor was born in Calcutta (now Kolkata) during the British Raj. He is the 3rd and the youngest son of Prithviraj Kapoor, the younger brother of Raj Kapoor and Shammi Kapoor, the widower of Jennifer Kendal (sister of actress Felicity Kendal), and the father of Karan Kapoor, Kunal Kapoor, and Sanjana Kapoor.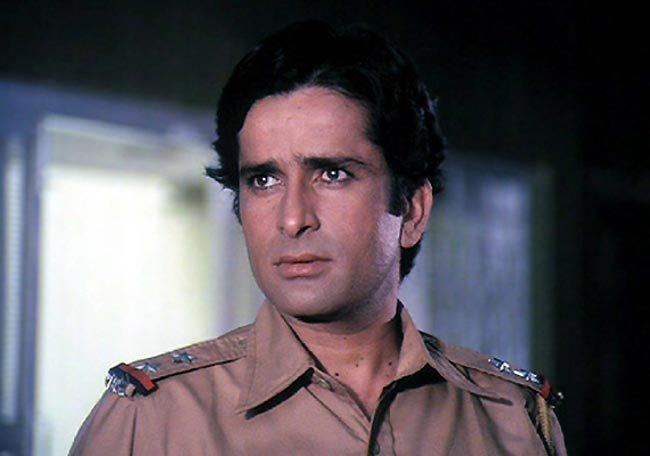 In 2011, he was honoured with the Padma Bhushan by the Government of India for his contributions to Art-Cinema. In 2015, he was awarded the 2014 Dadasaheb Phalke Award, making him the third member of his family to receive the highest award in Indian cinema after Prithviraj Kapoor and Raj Kapoor.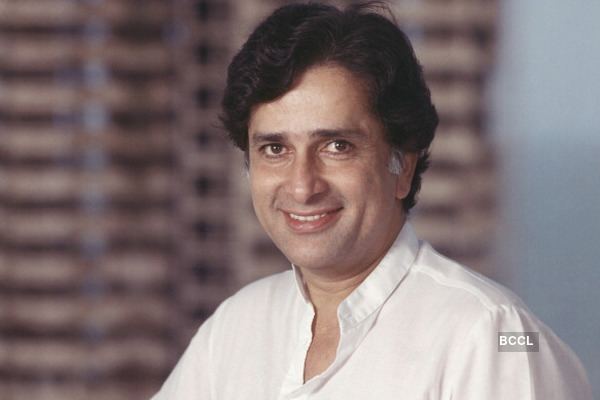 Shashi kapoor gets dadasaheb phalke award moments watch out full video coverave
Child actor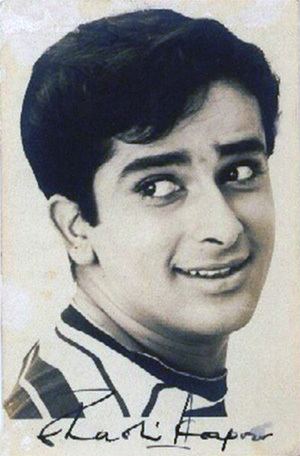 Shashi Kapoor acted in plays directed and produced by his father Prithviraj Kapoor, while travelling with Prithvi Theatres. He started acting in films as a child in the late 1940s, appearing in commercial films including Sangram (1950) and Dana Paani (1953) under the name of Shashiraj as there was another actor by the same name who used to act in mythological films as child artiste. His best known performances as child actor were in Aag (1948) and Awaara (1951), where he played the younger version of the characters played by his older brother Raj Kapoor and in Sangram (1950), where he played younger version of Ashok Kumar. He worked in four Hindi films as a child artiste from 1948 to 1954.
Early career (1960s)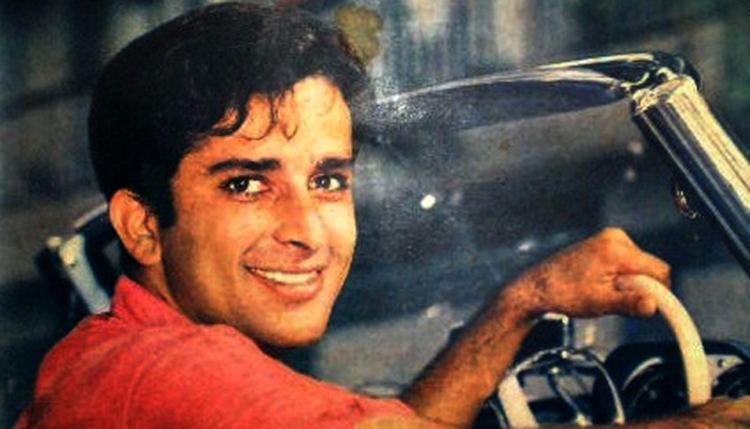 Kapoor got an opportunity to work as an assistant director in the film Post Box 999, the debut film of Sunil Dutt, and worked as an assistant director to Ravindra Dave in Guest House (1959), which was followed by movies such as Dulha Dulhan and Shriman Satyawadi, where Raj Kapoor was the lead hero.
Shashi Kapoor made his debut as a leading man in the 1961 film Dharmputra and went on to appear in 116 Hindi films, including 61 films as the solo lead hero and 55 multi star-cast films, 21 films as supporting actor and special appearance in 7 films. He was a very popular actor in Bollywood during the 60s, 70s and until the mid 80s. Kapoor's early films, Dharmputra, Prem Patra, and Char Diwari, were in Hindi. Since 1961, he started acting in English language films, which include The Householder and Shakespeare-Wallah. He was one of India's first actors to go international. Actress Nanda, who was an established star at this time, signed 8 Hindi films with Kapoor, as she believed that he could deliver good performances. Their first two films as a pair were the critically acclaimed romantic film Char Diwari (1961) and Mehndi Lagi Mere Haath (1962). In the 1960s Kapoor acted in several romantic films opposite Nanda, including Mohabbat Isko Kahete Hain (1965), Jab Jab Phool Khile (1965), Neend Hamari Khwab Tumhare (1966), Raja Saab (1969) and Rootha Na Karo (1970). In an interview in the 1990s, Kapoor declared that Nanda was his favourite heroine and that he regarded her as one of his mentors. In another interview, Nanda stated that Shashi Kapoor was her favourite hero.
1970s and 1980s
Shashi Kapoor formed on screen pairs with Raakhee, Sharmila Tagore and Zeenat Aman from the late sixties to the mid eighties. He also acted opposite actresses Hema Malini, Parveen Babi, and Moushumi Chatterjee in many films. After their first movie together Sharmelee became a blockbuster, Raakhee was frequently paired with him, and they acted in films such as Jaanwar Aur Insaan (1972), Kabhi Kabhie (1976), Baseraa (1981), Pighalta Aasman (1985), the critically acclaimed Trishna (1978), Doosara Aadmi (1977), Bandhan Kuchchey Daghon Ka, Bandh Honth (1984), and Zameen Aasman. He starred with Sharmila Tagore in Waqt (1965), Aamne Samne (1967), Suhana Safar (1970), Patanga (1971), Aa Gale Lag Jaa (1973), Vachan (1974), Paap Aur Punya (1974), Swati (1986), the critically acclaimed New Delhi Times (1985), which fetched Kapoor a National Film Award for Best Actor in 1986, My Love (1970), Anari (1975), Gehri Chot (1983), Maa Beti (1986) and Ghar Bazar (1998). With Zeenat Aman, he worked in films like Chori Mera Kaam (1975), Deewaangee (1976), Roti Kapda Aur Makan, Heeralal Pannalal (1978), Pakhandi (1984), Bhavani Junction (1985), Satyam Shivam Sundaram (1978), Krodhi (1981), Vakil Babu (1982), and Bandhan Kuchchey Dhaagon Ka (1983). He did 10 films opposite Hema Malini.
Kapoor's other movies include Haseena Maan Jayegi (1968) and Ek Shriman Ek Shrimati (1969), both with Babita, Kanyadan (1968) and Pyar Ka Mausam (1969) both opposite Asha Parekh, Chor Machaye Shor opposite Mumtaz, Abhinetri (1970), Aap Beati (1976) and Maan Gaye Ustaad (1981), with Hema Malini, Bezubaan with Reena Roy, Chakkar Pe Chakkar (1976), Kali Ghata (1980), Kalyug (1981), Vijeta (1982) and Pyaar Ki Jeet (1987) all with Rekha and Bepanaah (1985) with Rati Agnihotri. Other films include multi-starrers like Dil Ne Pukara (1967), Trishul (1978), Neeyat (1980), Aandhi Toofan (1985), Naina (1973), Phaansi (1978), Salaakhen (1975), Fakira (1976), and Junoon (1978). He also worked with Rajesh Khanna in Prem Kahani (1975).
From the 1970s to early 1980s, Kapoor starred alongside Pran in 9 films which include Biradari, Chori Mera Kaam, Phaansi, Shankar Dada, Chakkar Pe Chakkar, Rahu Ketu and Maan Gaye Ustaad. He made a popular pairing with Amitabh Bachchan and the two co-starred in a total of 12 films: Roti Kapda Aur Makaan (1974), Deewaar (1975), Kabhi Kabhie (1976), Immaan Dharam (1977), Trishul (1978), Kaala Patthar (1979), Suhaag (1979), Do Aur Do Paanch (1980), Shaan (1980), Silsila (1981), Namak Halaal (1982) and Akayla (1991). Shashi Kapoor was regularly cast with Sanjeev Kumar also in films like Mukti (1977), Trishul, Muqaddar (1978), Swayamvar (1980), Sawaal (1982), and Pakhandi (1984).
He was also known internationally for starring in British and American films, notably Merchant Ivory productions run by Ismail Merchant and James Ivory, such as The Householder (1963), Shakespeare Wallah (1965) (opposite his sister-in-law Felicity Kendal), Bombay Talkie (1970) and Heat and Dust (1982) in which he co-starred with his wife Jennifer Kendal, The Deceivers (1988) and Side Streets (1998). He also starred in other British and American films such as Pretty Polly ("A Matter Of Innocence" (1967)) opposite Hayley Mills, Siddhartha (1972), Sammy and Rosie Get Laid (1987), and Muhafiz (1994). James Ivory directed Kapoor in the first Merchant Ivory production The Householder, then in Shakespeare-Wallah, Bombay Talkie and Heat and Dust while Ismail Merchant directed him in In Custody (1993). He was the first Indian actor to work extensively in Hollywood films and British films.
In 1978, he set up his production house, Film Valas, which produced critically acclaimed films such as Junoon (1978), Kalyug (1981), 36 Chowringhee Lane (1981), Vijeta (1982) and Utsav (1984). In 1991 he produced and directed a fantasy film titled Ajooba which had his frequent co-star Amitabh Bachchan and nephew Rishi Kapoor in the lead.
He regarded Nanda, Pran, Dharmendra, Dev Anand, Ismail Merchant, Rajesh Khanna, Sanjeev Kumar as his closest friends from the industry since the beginning of his career and maintained cordial relations with Amitabh Bachchan, Yash Chopra, MGR, Kishore Kumar, Mohammed Rafi, Lata Mangeshkar and most of his co-stars.
Later career (1987–1999)
He accepted very few roles as a character actor in films since 1987. He acted with Pierce Brosnan in The Deceivers (1988). He also won a National (special jury) Award for his performance in Muhafiz (In Custody) (1994), and played the Rajah in the TV adaptation of Gulliver's Travels (1996). His last and most recent film appearances were in Jinnah (1998), a biographical film of Mohammed Ali Jinnah in which he was the narrator and another Merchant Ivory production titled Side Streets (1998). He retired from the film industry by late 1990s and had not appeared in any film ever since. He was seen in the limelight at the Shashi Kapoor Film Festival held in Muscat, Oman (September 2007). At the 55th Annual Filmfare Awards, Shashi Kapoor received the Filmfare Lifetime Achievement Award.[1]
Personal life
Kapoor attended Don Bosco High School in Matunga, Mumbai. He met English actress Jennifer Kendal in Calcutta in 1956 while both were working for their respective theatre groups. Shashi was both assistant stage manager as well as an actor for his father's theatre group, Prithvi Theatre. Geoffrey Kendal's Shakespearean group was also present at the same time in Calcutta and Jennifer was Geoffrey's daughter. After their subsequent meeting, the couple fell in love and after facing initial opposition from the Kendals and support from sister-in-law Geeta Bali, they got married in July 1958. They acted in a number of films together, most notably in Merchant Ivory productions. They had three children: Kunal Kapoor, Karan Kapoor and Sanjana Kapoor. Jennifer and Shashi established Prithvi Theatre on 5 November 1978 in Mumbai. Jennifer died of cancer in 1984 which shattered him. The English actress Felicity Kendal is his sister-in-law.
Kapoor's children, for a short while, became Hindi film actors but their European looks and accented Hindi prevented them from having successful careers. His eldest son Kunal is married to director Ramesh Sippy's daughter. Kunal moved on to ad film direction and established his production house Adfilm-Valas which is today extremely successful. Shashi's daughter Sanjana is married to wildlife conservationist Valmik Thapar. They have a son named Hamir. Shashi's younger son Karan became successful in modelling and later settled down in London. He is an accomplished photographer.
Health
On 20 July 2012, Shashi Kapoor underwent a cataract surgery at Kokilaben Hospital in suburban Andheri. He was discharged from the hospital the same day.
Civilian Award
2011 – Padma Bhushan by the Government of India
National Film Awards
2015 – Dadasaheb Phalke Award
Winner
1994 – National Film Award – Special Jury Award / Special Mention (Feature Film) for Muhafiz (1993)
1986 – National Film Award for Best Actor for New Delhi Times
1979 – National Film Award for Best Feature Film in Hindi (as Producer) for Junoon
Filmfare Awards
Winner
2010 – Filmfare Lifetime Achievement Award
Filmfare Best Movie Award – Won
1982 Kalyug
1980 Junoon

Filmfare Best Supporting Actor Award – Won
1976 Deewar – Ravi Verma

Nominated
Filmfare Best Supporting Actor Award – Nominated
1983 Namak Halaal – Raja Singh
1977 Kabhi Kabhie – Vijay Khanna

Bengal Film Journalists' Association Awards
BFJA Award for Best Actor
1988 New Delhi Times – Vikas Pande
1965 Jab Jab Phool Khile – Raja

Other awards
2011 – Mohammed Rafi Award
Lifetime Achievement Award
2009 – The 7th Pune International Film Festival (PIFF)
2009 – The 11th Mumbai Film Festival (MFF)
Honours and recognitions
He was honoured by Walk of the Stars as his hand print was preserved for posterity at Bandra Bandstand in Mumbai in November 2013.
Works
Shashi Kapoor presents the Prithviwallahs, by Shashi Kapoor, Deepa Gahlot, Prithvi Theatre (Mumbai, India). Roli Books, 2004. ISBN 81-7436-348-3.
Death
Kapoor was admitted at the Kokilaben Hospital, Versova, Mumbai, on December 4, 2017, for a chest infection,where he reportedly died due to liver cirrhosis at the age of 79 at 5.20 pm, according to the Kokilaben Hospital as confirmed to the Press Trust of India (PTI).
The PTI quotes his nephew Randhir Kapoor, who states that the actor was suffering from kidney failure. "Yes, he has passed away. He had kidney problem for several years. He was on dialysis for several years." Kapoor is survived by two sons, Kunal and Karan, and a daughter, Sanjana, who takes care of the Prithvi Theatre.
Filmography
Actor
1999
Dirty British Boys
as
Villain
1998
Ghar Bazar
as
Amar (Special Appearance)
1998
Side Streets
as
Vikram Raj
1996
Gulliver's Travels (TV Mini Series)
as
Rajah
- Episode #1.2 (1996) - Rajah
1995
Faisla Main Karungi
as
Inspector Ajitkumar Singh
1994
Saboot Mangta Hain Kanoon
as
Raja
1991
Akayla
as
Police Commisioner
1989
Akhri Muqabla
as
Dr. Ravi
1989
Jaaydaad
as
Advocate Malhotra
1989
Oonch Neech Beech
as
Motilal
1989
Gair Kaanooni
as
Kapil Khanna
1989
Farz Ki Jung
as
Inspector Vikram
1989
Meri Zabaan
as
Raja Vijay Singh
1989
Bandook Dahej Ke Seenay Par
1988
Commando
as
Inspector General
1988
The Deceivers
as
Raja Chandra Singh
1988
Hum To Chale Pardes
as
Kumar
1988
Woh Mili Thi
as
Special appearance ( Qawaali Song)
1988
Khatra (TV Movie)
as
Special Appearance
1987
Naam O Nishan
as
Inspector Sangram Singh
1987
Pyar Ki Jeet
as
Dr. Rehman
1987
Sammy and Rosie Get Laid
as
Rafi Rahman
1987
Sindoor
as
Professor Vijay Choudhury
1987
Permission
as
Guest Appearance
1987
Ghar Ka Sukh
as
Special Appearance
1986
New Delhi Times
as
Vikas Pande
1986
Kissa Kathmandu Kaa (TV Mini Series)
as
Feluda
- Kissa Kathmandu Kaa (1986) - Feluda
1986
Swati
as
Dr. Rajendra Prasad
1986
Ilzaam
as
IGP Ranjit Singh
1985
Bhavani Junction
as
Raja Bhavani Pratap
1985
Bepanaah
as
Ravi Malhotra
1985
Aandhi-Toofan
as
Inspector Ranjeet Singh
1985
Pighalta Aasman
as
Suraj P. Arora / Prakash Arora
1984
Yaadon Ki Zanjeer
as
DSP Avinash Choudhary / Munna
1984
Zameen Aasmaan
as
Dr. Kailash
1984
Pakhandi
as
Kishore Ahuha
1983
Bandhan Kuchchey Dhaagon Ka
as
Prem Kapoor
1983
Ghungroo
as
Senapati Vikram Singh
1983
Heat and Dust
as
The Nawab (At the Palace in Khatm)
1982
Bezubaan
as
Kumar - Kalpana's husband
1982
Sawaal
as
Inspector Ravi Malhotra
1982
Vakil Babu
as
Shekhar Kumar
1981
Maan Gaye Ustaad
as
Prince Daulat Singh / Kishan / Jhanjhat Khan
1981
Ek Aur Ek Gyarah
as
Anand
1981
Silsila
as
Sqdr. Leader Shekhar Malhotra
1981
Krodhi
as
CBI Officer Kumar Sahni
1980
Kala Pani
as
Inspector Dharamveer
1980
Ek Do Teen Chaar (TV Movie)
1980
Do Aur Do Paanch
as
Sunil / Laxman
1980
Jise Tu Kabool Kar Le
1979
Kaala Patthar
as
Ravi Malhotra, Engineer
1979
Duniya Meri Jeb Mein
as
Karan Khanna
1979
Gautam Govinda
as
Inspector Gautam
1978
Aahuti
as
Laxman Prasad (L.P.)
1978
Amar Shakti
as
Chhota Kumar / Amar Singh
1978
Heeralal Pannalal
as
Heeralal
1978
Apna Khoon
as
Ram Verma 'Raja'
1978
Do Musafir
as
Raju / Vicky
1978
Satyam Shivam Sundaram: Love Sublime
as
Ranjeev
1978
Rahu Ketu
as
Ravi Kapoor, C.B.I. officer
1977
Chakkar Pe Chakkar
as
Ravi Kumar
1977
Chor Sipahee
as
Inspector Shankar Kumar / Bada Saheb
1977
Doosara Aadmi
as
Shashi Sehgal
1977
Hira Aur Patthar
as
Shankar
1977
Immaan Dharam
as
Mohan Kumar Saxena
1976
Naach Uthe Sansaar
as
Karmu
1976
Fakira
as
Vijay / Nawab Jhumritalaya / Fakira
1976
Shankar Dada
as
Shankar and Ram
1976
Kabhi Kabhie
as
Vijay Khanna
1975
Prem Kahani
as
S.P. Dheeraj Kumar
1975
Salaakhen
as
Raju / Chander
1975
Chori Mera Kaam
as
Bholanath
1974
Mr. Romeo
as
Ramesh Saxena
1974
Vachan
as
Tilak Raj Saxena
1974
Roti Kapada Aur Makaan
as
Mohan Babu
1974
5 Rifles
as
Special Appearance (uncredited)
1974
Paap Aur Punya
as
Ganga Singh / Jwala Singh
1974
Chor Machaye Shor
as
Vijay Sharma
1972
Jaanwar Aur Insaan
as
Shekhar
1972
Chori Chori
as
Special appearance
1971
Sharmeelee
as
Captain Ajit Kapoor
1969
Ek Shriman Ek Shrimati
as
Preetam
1969
Pyar Ka Mausam
as
Sunder / Sunil / Pyarelal / ...
1969
Jahan Pyar Miley
as
Vrajendra / Kalim
1968
Kanyadaan
as
Amar / Kumar
1968
Haseena Maan Jayegi
as
Kamal / Rakesh (double role)
1967
Aamne - Saamne
as
Deepak Verma / Gopal Mittal
1967
A Matter of Innocence
as
Amaz Hudeen
1967
Dil Ne Pukara
as
Dr. Prakash
1966
Neend Hamari Khwab Tumhare
as
Anwar A. Farooqui
1966
Pyar Kiye Jaa
as
Ashok Verma
1965
Mohabbat Isko Kahete Hain
as
Vijay
1965
Jab Jab Phool Khile
as
Raja / Rajkumar
1965
Waqt
as
Munna / Vijay Kumar
1965
Shakespeare-Wallah
as
Sanju
1963
Holiday in Bombay
as
Nath
1963
Jab Se Tumhe Dekha Hai
as
Qawwali singer
1963
Yeh Dil Kisko Doon
as
Raja
1963
The Householder
as
Prem Sagar
1962
Mehndi Lagi Mere Haath
as
Deepak
1962
Prem Patra
as
Arun Kumar Mathur
1953
Parineeta
as
Lakshman(Shekhar's Servant) (uncredited)
1951
Awaara
as
Young Raj (as Shashiraj)
1950
Samadhi
as
Pratap (as Sashi Kapoor)
1950
Sangram
as
Young Kunwar (as Shashi Raj)
1948
Aag
as
Young Kewal Khanna (as Shashiraj)
Producer
1981
36 Chowringhee Lane (producer)
Assistant Director
1974
Manoranjan (assistant director)
1964
Dulha Dulhan (chief assistant director - as Shashi Raj)
1960
Shriman Satyawadi (assistant director - as Shashi Raj)
1959
Guest House (assistant director - as Shashi)
1958
Post Box 999 (assistant director - as Shashi Raj)
Director
1988
Vozvrashchenie Bagdadskogo Vora
Music Department
1982
Vakil Babu (playback singer)
1979
Suhaag (playback singer)
Miscellaneous
Soundtrack
1979
Suhaag (performer: "Main To Beghar Hoon")
Thanks
2018
The Oscars (TV Special) (in memoriam)
Self
2018
Main to Beghar Hoon Kaléidoscopique (Video short)
as
Self (voice)
2010
55th Idea Filmfare Awards (TV Special)
as
Self - Lifetime achievement
1996
Century of Cinema (TV Series documentary)
as
Self
- And the Show Goes On: Indian Chapter (1996) - Self
1994
In Ismail's Custody (Video documentary)
as
Actor
1992
World of Film: India (TV Mini Series documentary)
as
Interview
1988
Zindagi Ek Safar (Documentary)
1987
Raj Kapoor
as
Self (during funeral)
1984
The Wandering Company (TV Movie documentary)
as
Actor of 'Shakespeare Wallah', 'Bombay Talkie' and 'Heat and Dust'
1978
Arena (TV Series documentary)
as
Self
- Cinema: A report from Bombay (1978) - Self
1973
Man Alive (TV Series documentary)
as
Self
- Bombay Superstar (1973) - Self
1968
Saathi
as
Self - During 'Raja Saab' Film Shoot (uncredited)
1967
After the Eclipse (Documentary short)
as
Self (voice)
Archive Footage
2018
The Oscars (TV Special)
as
Self - Actor, Producer (In Memoriam)
References
Shashi Kapoor Wikipedia
(Text) CC BY-SA