Lieutenant

Sue Ellspermann




Succeeded by

Jeb Hensarling




Spouse

Karen Pence (m. 1985)




Preceded by

Adam Putnam




Role

Governor of Indiana




Leader

John Boehner




Name

Mike Pence




Preceded by

Mitch Daniels




Preceded by

Dan Burton







Office

Governor of Indiana since 2013




Education

Indiana University Robert H. McKinney School of Law (1986)




Previous offices

Representative (IN 6th District) 2003–2013, Representative (IN 2nd District) 2001–2003




Children

Michael Pence, Audrey Pence, Charlotte Pence




Similar People

Mitch Daniels, Joe Donnelly, Luke Messer, Dan Burton, Dan Coats




Profiles




Twitter

Facebook
Indiana governor mike pence clowns himself on national tv
Michael Richard "Mike" Pence (born June 7, 1959) is an American politician, lawyer, and the 48th and current Vice President of the United States. He previously served as the 50th Governor of Indiana from 2013 to 2017.
Contents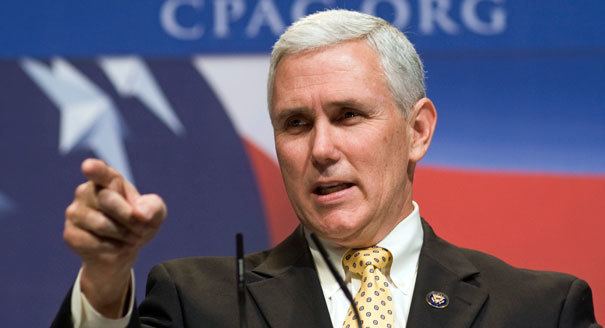 Born and raised in Columbus, Indiana, Pence graduated from Hanover College and earned a law degree from the Indiana University Robert H. McKinney School of Law before entering private practice. After losing two bids for a U.S. congressional seat in 1988 and 1990, he became a conservative radio and television talk show host from 1994 to 1999. Pence was elected to the United States Congress in 2000 and represented Indiana's 2nd congressional district and Indiana's 6th congressional district in the United States House of Representatives from 2001 to 2013. He served as the chairman of the House Republican Conference from 2009 to 2011. Pence positioned himself as a principled conservative and supporter of the Tea Party movement, stating that he was "a Christian, a conservative, and a Republican, in that order."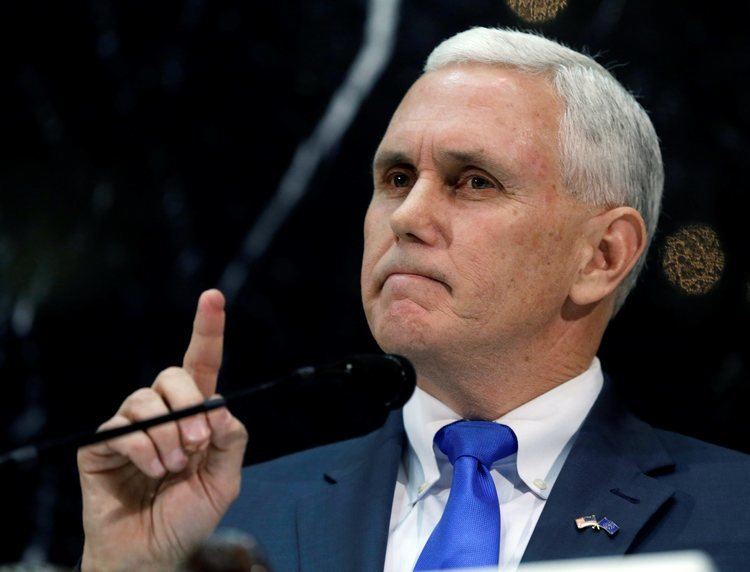 Upon becoming Governor of Indiana in January 2013, Pence initiated the largest tax cut in Indiana's history, pushed for more funding for education initiatives, and continued to increase the state's budget surplus. Pence signed bills intended to restrict abortions, including one that prohibited abortions if the reason for the procedure was the fetus's race, gender, or disability. Pence stirred several high-profile controversies, including with his signature of the Religious Freedom Restoration Act, for which he encountered fierce resistance from moderate members of his party, the business community, and LGBT advocates. He later signed an additional bill acting as an amendment intended to protect LGBT people.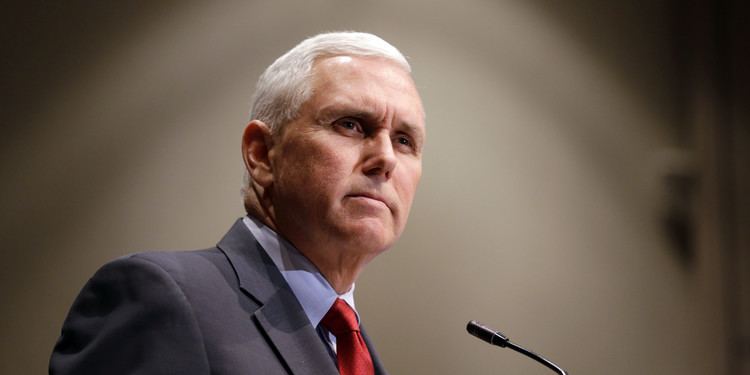 On November 8, 2016, Pence was elected as Vice President, after he dropped out of his gubernatorial re-election campaign in July to become the vice presidential running mate for Republican presidential nominee Donald Trump, who went on to win the presidential election.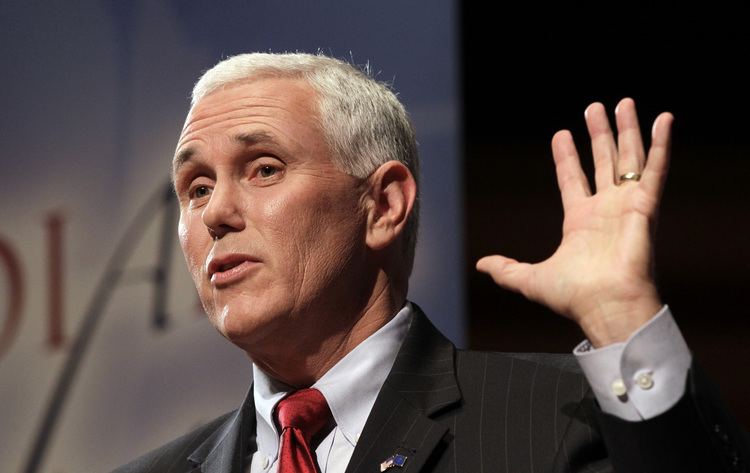 Indiana gov mike pence says religious freedom law absolutely not a mistake
Early life and career
Michael Richard "Mike" Pence was born June 7, 1959, in Columbus, Indiana, one of six children of Nancy Jane (née Cawley) and Edward J. Pence, Jr. (1929–1988), who ran a group of gas stations. His father served in the U.S. Army during the Korean War and received the Bronze Star in 1953, which Pence displays in his office along with its accommodation letter and a reception photograph. His family were Irish Catholic Democrats. Pence was named after his grandfather, Richard Michael Cawley, who emigrated from County Sligo, Ireland, to the United States through Ellis Island and became a bus driver in Chicago, Illinois. His maternal grandmother's parents were from Doonbeg, County Clare.
Pence graduated from Columbus North High School in 1977. He earned a BA degree in history from Hanover College in 1981, and a JD degree from the Indiana University's Robert H. McKinney School of Law in Indianapolis in 1986. While at Hanover, Pence joined the Phi Gamma Delta fraternity, where he became the chapter president. After graduating from Hanover, Pence was an admissions counselor at the college from 1981 to 1983.
In his childhood and early adulthood, Pence was a Roman Catholic and a Democrat. He volunteered for the Bartholomew County Democratic Party in 1976 and voted for Jimmy Carter in the 1980 presidential election, and has stated that he was originally inspired to get involved in politics by people such as John F. Kennedy and Martin Luther King Jr. While in college, Pence became an evangelical, born-again Christian, to the great disappointment of his mother. His political views also started shifting to the right during this time in his life, something which Pence attributes to the "common-sense conservatism of Ronald Reagan" that he began to identify with.
After graduating from law school in 1986, Pence was an attorney in private practice. He ran unsuccessfully for a congressional seat in 1988 and in 1990. In 1991, he became the president of the Indiana Policy Review Foundation, a self-described free-market think tank and a member of the State Policy Network.
Pence left the Indiana Policy Review Foundation in 1993, a year after beginning to host The Mike Pence Show, a talk radio program based in WRCR-FM in Rushville, Indiana. Pence called himself "Rush Limbaugh on decaf" since he considered himself politically conservative while not as outspoken as Limbaugh. The show was syndicated by Network Indiana and aired weekdays 9 a.m. to noon (ET) on 18 stations throughout the state, including WIBC in Indianapolis. From 1995 to 1999, Pence also hosted a weekend political talk show from Indianapolis.
House of Representatives (2001–2013)
In 1988, Pence ran for Congress against Democratic incumbent Phil Sharp, but lost. He ran against Sharp again in 1990, quitting his job in order to work full-time in the campaign, but once again was unsuccessful. During the race, Pence used "political donations to pay the mortgage on his house, his personal credit card bill, groceries, golf tournament fees and car payments for his wife." While the spending was not illegal at the time, it reportedly undermined his campaign.
During the 1990 campaign, Pence ran a television advertisement in which an actor, dressed in a robe and headdress and speaking in a thick Middle Eastern accent, thanked his opponent, Sharp, for doing nothing to wean the United States off imported oil as chairman of a House subcommittee on energy and power. In response to criticism, Pence's campaign responded that the ad was not about Arabs; rather, it concerned Sharp's lack of leadership. In 1991, Pence wrote an essay, "Confessions of a Negative Campaigner", published in the Indiana Policy Review, in which he apologized for running negative ads against Sharp.
Mike Pence rejuvenated his political career by running for the U.S. House of Representatives again in 2000, this time winning the seat in Indiana's 2nd congressional district after six-year incumbent David M. McIntosh opted to run for governor of Indiana. The district (renumbered as Indiana's 6th congressional district beginning in 2002) comprises all or portions of 19 counties in eastern Indiana. As a Congressman, Pence adopted the slogan he had used on the radio, describing himself as "a Christian, a conservative and a Republican, in that order." While in Congress, Pence belonged to the Tea Party Caucus.
In his first year in office, Pence opposed President George W. Bush's No Child Left Behind Act in 2001, as well as President Bush's Medicare prescription drug expansion the following year. Pence was re-elected four more times by comfortable margins. In the 2006, 2008, and 2010 House elections, he defeated Democrat Barry Welsh.
Pence began to climb the party leadership structure and from 2005 to 2007 was chairman of the Republican Study Committee, a group of conservative House Republicans. In November 2006, Pence announced his candidacy for leader of the Republican Party (minority leader) in the United States House of Representatives. Pence's release announcing his run for minority leader focused on a "return to the values" of the Newt Gingrich-headed 1994 Republican Revolution. However, he lost the bid to Representative John Boehner of Ohio by a vote of 168 for Boehner, 27 for Pence, and one for Representative Joe Barton of Texas. In January 2009, Pence was elected as the Republican Conference chairman, the third-highest-ranking Republican leadership position. He ran unopposed and was elected unanimously. He was the first representative from Indiana to hold a House leadership position since 1981. During Pence's twelve years in the House, he introduced 90 bills and resolutions; none became law. His committee assignments in the House were the following:
107th Congress (2001–2003): Agriculture, Judiciary, Small Business
108th Congress (2003–2005): Agriculture, International Relations, Judiciary
109th Congress (2005–2007): Agriculture, International Relations, Judiciary
110th Congress (2007–2009): Foreign Affairs, Judiciary, Select Committee to Investigate the Voting Irregularities of August 2, 2007 (Ranking Member)
111th Congress (2009–2011): Foreign Affairs
112th Congress (2011–2013): Foreign Affairs, Judiciary.
In 2008, Esquire magazine listed Pence as one of the ten best members of Congress, writing that Pence's "unalloyed traditional conservatism has repeatedly pitted him against his party elders." Pence was mentioned as a possible Republican candidate for president in 2008 and 2012. In September 2010, he was the top choice for president in a straw poll conducted by the Values Voter Summit. That same year he was encouraged to run against incumbent Democratic Senator Evan Bayh, but opted not to enter the race, even after Bayh unexpectedly announced that he would retire.
2012 election
In May 2011, Mike Pence announced that he would be seeking the Republican nomination for governor of Indiana in 2012. Incumbent Republican Governor Mitch Daniels was term-limited. Despite strong name recognition and a popular outgoing governor of the same party, Pence found himself in a heated race, eventually pulling out a close win with just under 50 percent of the vote against Democrat John R. Gregg and Libertarian nominee Rupert Boneham. Pence was sworn in as the 50th governor of Indiana on January 14, 2013.
Fiscal and economic policy
Pence "inherited a $2 billion budget reserve from his predecessor, Mitch Daniels, and the state has added to that reserve under his watch, though not before requiring state agencies, including public universities, to reduce funding in years in which revenue fell below projections." The state finished fiscal year 2014 with a reserve of $2 billion; budget cuts ordered by Pence for the $14 billion annual state budget include $24 million cut from colleges and universities; $27 million cut from the 'Family and Social Services Administration' (FSSA); and $12 million cut from the Department of Correction. During Pence's term as governor, the unemployment rate reflected the national average. Indiana's job growth lagged slightly behind the national trend. In 2014, Indiana's economy was among the slowest-growing in the United States, with 0.4 percent GDP growth, compared to the national average of 2.2 percent; this was attributed in part to a sluggish manufacturing sector. Carrier Corp. and United Technologies Electronic Controls (UTEC) announced in 2016 that they would be closing two facilities in Indiana, sending 2,100 jobs to Mexico; the Trump campaign criticized the moves and Pence expressed "deep disappointment". Pence was unsuccessful in his efforts to persuade the companies to stay in the state, although the companies agreed to reimburse local and state governments for certain tax incentives that they had received. The Indiana Economic Development Corporation led by Pence had approved $24 million in incentives to 10 companies who sent jobs abroad. $8.7 million had been paid out by August 2016.
In 2013, Pence signed a law blocking local governments in Indiana from requiring businesses to offer higher wages or benefits beyond those required by federal law. In 2015, Pence also repealed an Indiana law that required construction companies working on publicly funded projects to pay a prevailing wage. Indiana enacted right-to-work legislation under Pence's predecessor, Republican governor Mitch Daniels. Under Pence, the state successfully defended this legislation against a labor challenge. In 2013, Pence also announced the formation of the Indiana Biosciences Research Institute, a life sciences research facility supported with $25 million in startup funds from the state.
Pence made tax reform, namely a 10 percent income-tax rate cut, a priority for 2013. While he did not get the 10 percent cut he advocated, Pence did accomplish his goal of cutting state taxes. Legislators cut the income tax by 5 percent and also killed the inheritance tax. Speaker of the House Brian Bosma said that the legislative package was the "largest tax cut in our state's history, about $1.1 billion dollars." By signing Senate Bill 1, the state corporate income tax would be dropped from 6.5 percent to 4.9 percent by 2021, which would be the second-lowest corporate income tax in the nation. The law also permitted Indiana counties to eliminate the business personal property tax on new equipment and let them exempt small businesses with less than $20,000 worth of equipment from paying personal property taxes.
On June 12, 2013, the Indiana Legislature overrode Pence's veto of a bill to retroactively authorize a local tax. Lawmakers overrode Pence's veto in a 68–23 vote in the House and a 34–12 one in the Senate. Republican legislators overwhelmingly voted against Pence, while most Democrats supported his veto. The Jackson–Pulaski tax fix, one of three bills vetoed by Pence during the session, addressed a 15-year-old county income tax which had been imposed to fund the construction of jail facilities with the stipulation that the tax be lowered by 1 percent after the first several years. The reduction was not implemented and thus county residents paid an additional 1 percent tax that they were legally not required to pay. The bill, which was passed by a huge majority of legislators and subsequently vetoed by Pence, allowed money to be kept and not returned to the tax payers as would have otherwise been necessary.
As governor, Pence pressed for a balanced budget amendment to the state's constitution. He initially proposed the initiative in his State of the State address in January 2015. The legislation passed the state Senate. Indiana has had AAA credit ratings with the three major credit-rating agencies since 2010, before Pence took office; these ratings were maintained throughout Pence's tenure.
In 2014, Pence supported the Indiana Gateway project, a $71.4 million passenger and freight rail improvement initiative paid for by the American Recovery and Reinvestment Act of 2009 (the federal stimulus package), which Pence had voted against while a congressman. In October 2015, Pence "announced plans to pay off a $250 million federal loan" to cover unemployment insurance payments that spiked during the recession. In March 2016, Pence signed legislation to fund a $230 million two-year road-funding package.
Education
During his tenure as governor, Pence supported significant increases in education funding to pre-schools, voucher programs, and charter schools, but frequently clashed with supporters of traditional public schools. In 2014, a little over one year after taking office, Pence helped establish a $10 million state preschool pilot program in Indiana and testified personally before the state Senate Education Committee in favor of the program to convince fellow Republicans (several of whom opposed the proposal) to approve the plan. Although the plan was initially defeated, Pence successfully managed to revive it, "getting Indiana off the list of just 10 states that spent no direct funds to help poor children attend preschool." Demand for enrollment in the program "far outstripped" capacity, and Pence at first refused to apply for up to $80 million in federal Health and Human Services Preschool Development Grant program funding, arguing that "Indiana must develop our own pre-K program without federal intrusion." After coming under sustained criticism for this position, Pence reversed course and sought to apply for the funds.
In 2015, Pence secured significant increases in charter-school funding from the legislation, although he did not get everything he had proposed. Legislation signed into law by Pence in 2013 greatly increased the number of students in Indiana who qualify for school vouchers, making it one of the largest voucher programs in the United States. The annual cost of the program is estimated to be $53 million for the 2015–16 school year.
Pence opposed the Common Core State Standards Initiative, calling for the repeal of the standards in his 2014 State of the State address. The Indiana General Assembly then passed a bill to repeal the standards, becoming the first state to do so.
Despite successful advocacy for more funding for pre-schools, voucher programs, and charter schools, Pence has frequently clashed with teachers unions and supporters of public schooling. In one of his first acts as governor, Pence removed control of the Educational Employment Relations Board, which was in charge of handling conflicts between unions and school boards, from Glenda Ritz, a Democrat who was the Indiana Superintendent of Public Instruction (a separately elected position in the state). Pence created a new "Center for Education and Career Innovation" (CECI) to coordinate efforts between schools and the private sector; Ritz opposed the Center, viewing it as a "power grab" and encroachment on her own duties. Pence eventually disestablished the Center in order to help defuse the conflict. In May 2015, Pence signed a bill stripping Ritz of much of her authority over standardized testing and other education issues, and reconstituting the State Board of Education dominated by Pence appointees. The bill also allowed the board to appoint a chairman other than the Superintendent of Public Instruction starting in 2017, and added the State Board of Education (controlled by Pence) as a "state educational authority" along with the Department of Education (controlled by Ritz) for purposes of accessing sensitive student data. Pence and Ritz also clashed over non-binding federal guidelines that advised Indiana public schools must treat transgender students in a way that corresponds to their gender identity, even if their education files indicate a different gender.
Energy and environment
During Pence's term in office, the Republican-controlled Indiana General Assembly "repeatedly tried to roll back renewable energy standards and successfully ended Indiana's energy efficiency efforts." Pence has been an outspoken supporter of the coal industry, declaring in his 2015 State of the State address that "Indiana is a pro-coal state," expressing support for an "all-of-the-above energy strategy," and stating: "we must continue to oppose the overreaching schemes of the EPA until we bring their war on coal to an end." In 2015, Pence sent a letter to President Obama denouncing the EPA's Clean Power Plan (which would regulate carbon emissions from existing power plants) and stating that Indiana would refuse to comply with the plan. Indiana joined other states in a lawsuit seeking to invalidate the plan. In 2016, Pence stated that even if legal challenges failed, Indiana would continue to defy the rule and would not come up with its own plan to reduce emissions.
Gun policy
In 2014, over the opposition of Indiana school organizations, Pence signed a bill which allows firearms to be kept in vehicles on school property. In 2015, following a shooting in Chattanooga, Pence recruited the National Rifle Association to train the Indiana National Guard on concealed carry. Some National Guard officials from other states questioned why a civilian organization would be involved in a military issue. In May 2015, Pence signed into law Senate Bill 98, which limited lawsuits against gun and ammunition manufacturers and sellers and retroactively terminated the City of Gary's still-pending 1999 lawsuit against gun manufacturers and retailers that allegedly made illegal sales of handguns. The bill was supported by Republicans such as state Senator Jim Tomes, who hoped that the measure would attract more gun-related businesses to Indiana, but opposed by Gary mayor and former Indiana Attorney General Karen Freeman-Wilson, who viewed the measure as "an unprecedented violation of the separation of powers between the legislative and judicial branches of state government." In 2016, Pence signed Senate Bill 109 into law, legalizing the captive hunting of farm-raised deer in Indiana.
Public health
Beginning in December 2014, there was an HIV outbreak in Southern Indiana. In 2011, Planned Parenthood ran five rural clinics in Indiana. They tested for HIV and offered prevention, intervention and counseling for better health. The one in Scott County performed no abortions. The Republican-controlled legislature and Pence defunded Planned Parenthood. Scott County has been without an HIV testing center since 2013. Pence had long been a vocal opponent of needle exchange programs, which allow drug users to trade in used syringes for sterile ones in order to stop the spread of diseases, despite evidence that such programs prevent the spread of AIDS and hepatitis C, and do not increase drug abuse.
In March 2015, after the outbreak began, Pence allowed at least five counties to open needle exchanges, but did not move to lift the state ban on funding for needle exchanges. Critics say Pence's compromise has been ineffective because counties had no way to pay for needle exchanges themselves. Indiana State Health Commissioner Jerome Adams defended Pence, saying that publicly funded needle exchange programs are controversial in many conservative communities. In middle America, Adams said, you can't "just point your finger at folks and say, 'You need to have a syringe exchange and we're going to pay for it with your tax dollars.'"
In 2015, Pence and the Obama administration agreed to expand Medicaid in Indiana, in accordance with the Affordable Care Act. As part of the expansion, Pence negotiated modifications to the program for Indiana that included co-payments by participants. The co-payments are linked to healthy behaviors on the part of the participants, so that, for example, a participant who quit smoking would receive a lower co-payment. Participants can lose benefits for failing to make the payments.
Religion and LGBT rights
On March 26, 2015, Pence signed Indiana Senate Bill 101, also known as the Indiana "religious objections" bill (Religious Freedom Restoration Act, or RFRA), into law. The law's signing was met with criticism by people and groups who felt the law was carefully worded in a way that would permit discrimination against LGBT persons. Such organizations as the National Collegiate Athletic Association (NCAA), the gamer convention Gen Con, and the Disciples of Christ spoke out against the law. Apple CEO Tim Cook and Salesforce.com CEO Marc Benioff condemned the law, with Salesforce.com saying it would halt its plans to expand in the state. Angie's List announced that they would cancel a $40 million expansion of their Indianapolis based headquarters over concerns with the law. The expansion would have moved 1000 jobs into the state. Thousands protested against the policy. Five GOP state representatives voted against the bill, and Greg Ballard, the Republican mayor of Indianapolis, criticized it as sending the "wrong signal" about the state.
Pence defended the law, stating that it was not about discrimination. In an appearance on the ABC News program This Week with George Stephanopoulos, Pence stated, "We are not going to change this law", while refusing to answer whether examples of discrimination against LGBT people given by Eric Miller of anti-LGBT group Advance America would be legal under the law. Pence denied the law permitted discrimination and wrote in a March 31, 2015, Wall Street Journal op-ed, "If I saw a restaurant owner refuse to serve a gay couple, I wouldn't eat there anymore. As governor of Indiana, if I were presented a bill that legalized discrimination against any person or group, I would veto it." In the wake of the backlash against the RFRA, on April 2, 2015, Pence signed legislation revising the law to prevent potential discrimination.
Abortion
Another controversy arose in March 2016 when Pence signed into law H.B. 1337, a bill that both banned certain abortion procedures and placed new restrictions on abortion providers. The bill banned abortion if the reason for the procedure given by the pregnant person was the fetus' race or gender or a fetal abnormality. In addition, the bill required that all fetal remains from abortions or miscarriages at any stage of pregnancy be buried or cremated, which according to the Guttmacher Institute was not required in any other state. The law was described as "exceptional for its breadth"; if implemented, it would have made Indiana "the first state to have a blanket ban on abortions based solely on race, sex or suspected disabilities, including evidence of Down syndrome." Days after the U.S. Supreme Court issued its decision in Whole Woman's Health v. Hellerstedt, a federal court issued a preliminary injunction blocking the bill from taking effect, with U.S. District Judge Tanya Walton Pratt determining that the bill was likely to be unconstitutional and that the State of Indiana would be unlikely to prevail at trial. As Vice President, Pence became the highest level government official to attend the March For Life Rally in Washington D.C on January 27, 2017.
Media and the press
In June 2013, Pence was criticized for deleting comments of others posted on his official government Facebook page; he apologized.
On January 26, 2015 it was widely reported that Pence had planned to launch a state-run, taxpayer-funded news service for Indiana. The service, called "JustIN", was to be overseen by a former reporter for The Indianapolis Star, and would feature breaking news, stories written by press secretaries, and light features. At the time, it was reported that the two employees who would run the news service would be paid a combined $100,000 yearly salary. The target audience was small newspapers that had limited staff, but the site would also serve to communicate directly with the public. The publisher of the Commercial Review of Portland, Indiana, said, "I think it's a ludicrous idea ... the notion of elected officials presenting material that will inevitably have a pro-administration point of view is antithetical to the idea of an independent press." There was speculation that the news service would publish pro-administration stories that would make Pence look good in the event of a presidential run.
According to Associated Press, the idea "of stories prewritten for the media set off a wave of criticism from journalists around the country, who likened the Indiana endeavor to state-run media in Russia and China. Headlines like 'Pravda in the Plains' accompanied calls for Pence to scrap the idea." David A. Graham of The Atlantic regarded the announcement of JustIN as evidence of a disturbing changing trend in how the public gets news. After a week or so of controversy about the idea, Pence scrapped the idea saying, "However well-intentioned, after thorough review of the preliminary planning and careful consideration of the concerns expressed, I am writing you to inform you that I have made a decision to terminate development of the JustIN website immediately."
Syrian refugee crisis
As governor, Pence attempted unsuccessfully to prevent Syrian refugees from being resettled in Indiana. In February 2016, a federal judge ruled that Pence's order to cut off federal funds for a local non-profit refugee resettlement agency was unconstitutional; Pence has appealed. In December 2015, Pence stated that "calls to ban Muslims from entering the U.S. are offensive and unconstitutional".
Public-records requests and use of private email
Pence "repeatedly stonewalled public records requests as governor, often withholding documents or delaying their release if not denying them outright." As governor, Pence routinely used a personal AOL email account to conduct official business, according to public records. In 2016, hackers compromised the account and used it to send fraudulent emails in an attempt to obtain money from Pence's contacts. While this use is not prohibited by Indiana law, some of the emails discussed sensitive matters and homeland security issues. In March 2017, after Pence had become vice president, the State of Indiana released 29 emails to media outlets that had made public records requests, but withheld an undisclosed number of other emails, saying that they were deliberative or advisory and thus exempt from public disclosure. Cybersecurity experts and government transparency advocates were surprised by Pence's use of a personal email account to conduct public business, given Pence's past attacks on Hillary Clinton's use of a private email server while U.S. secretary of state. In 2017, Indiana hired a private law firm for $100,000 to handle a backlog of public-records requests for Pence's personal AOL account email correspondence.
Re-election campaign and withdrawal
Pence ran for a second term as governor. He was unopposed in the May 3, 2016, Republican primary for governor. He was to face Democrat John R. Gregg, former speaker of the Indiana House of Representatives, in a rematch of the 2012 race. However, Pence filed paperwork ending his campaign on July 15, 2016, as Trump announced his selection of Pence as his vice presidential running mate. Lieutenant Governor Eric Holcomb was nominated in Pence's place, and selected Suzanne Crouch as his running mate. Holcomb went on to defeat Gregg in the general election.
2016 vice presidential campaign
Pence endorsed Senator Ted Cruz of Texas in the 2016 Republican presidential primaries.
Donald Trump considered naming Pence as his vice presidential running mate along with other finalists including New Jersey governor Chris Christie and former House speaker Newt Gingrich. The Indianapolis Star reported July 14 that Pence would end his re-election campaign and accept the Republican vice presidential nomination instead. This was widely reported on July 14, 2016. The following day, Trump officially announced on Twitter that Pence would be his running mate.
Immediately after the announcement, Pence said that he was "very supportive of Donald Trump's call to temporarily suspend immigration from countries where terrorist influence and impact represents a threat to the United States". Pence said that he was "absolutely" in sync with Trump's Mexican wall proposal, stating that Mexico was "absolutely" going to pay for it.
According to a FiveThirtyEight rating of candidates' ideology, Pence was the most conservative vice-presidential candidate in the last forty years.
Pence stated that his role model as vice president would be Dick Cheney.
During Pence's preparations for the vice presidential debate in October 2016, Scott Walker played the role of Tim Kaine. (In Kaine's own debate prep, Robert Barnett was selected to play Pence.)
In response to lewd comments made by Donald Trump in 2005, and reported in The Washington Post on Friday, October 7, 2016, Pence said "I do not condone his remarks and cannot defend them", but Pence made clear that he was standing by the presidential candidate. The candidate's campaign substituted Pence for Trump at a campaign event from which Trump was "uninvited" by Paul Ryan, the Speaker of the U. S. House of Representatives.
According to The New York Times, Pence called Trump on October 8, 2016 and told him that he would not appear at the campaign event with Ryan as a replacement for Trump and that Trump would need to handle the next 48 hours on his own, as Pence said he did not think he would be an effective surrogate for Trump. On October 10, 2016, Pence appeared on CNN and said that it was "absolutely false to suggest that at any point in time we considered dropping off this ticket" and that it is the "greatest honor of my life" to be nominated as Trump's running mate.
On October 27, 2016, a chartered Boeing 737 carrying Pence skidded off a runway at LaGuardia Airport in New York City and was slowed by an engineered materials arrestor system; no injuries were reported.
Vice President of the United States (2017–present)
On November 8, 2016, Pence was elected Vice President of the United States as Trump's running mate.
Soon after the election, he was appointed chairman of President-elect Trump's transition team. During the transition phase of the Trump Administration, Pence was reported as holding a large degree of influence in the administration due to his roles as a mediator between Trump and congressional Republicans, for reassuring conservatives about Trump's conservative credentials, and his influence in determining Donald Trump's cabinet.
Pence is the sixth vice president from Indiana, following Schuyler Colfax (1869–1873), Thomas Hendricks (1885), Charles W. Fairbanks (1905–1909), Thomas R. Marshall (1913–1921), and Dan Quayle (1989–1993).
Inauguration
On January 20, 2017, at noon, Pence became the 48th Vice President of the United States, sworn into the office by Justice Clarence Thomas, using Ronald Reagan's Bible, opened to 2 Chronicles 7:14, "If my people, which are called by my name, shall humble themselves, and pray, and seek my face, and turn from their wicked ways; then will I hear from heaven, and will forgive their sin, and will heal their land", which is the same verse Reagan used for his swearing-ins as governor and President. Pence also used his personal Bible which he opens every morning.
Vice presidency
In the early days of his vice presidency, Pence performed many ceremonial duties, including swearing in James Mattis as United States Secretary of Defense and John Kelly as Secretary of Homeland Security just hours after his own inauguration as vice president on January 20. He also administered the oath of office to the White House senior staff on January 22, 2017.
Pence also sat in on calls made by President Trump to foreign heads of government and state such as Russian President Vladimir Putin and Australian Prime Minister Malcolm Turnbull.
Pence appointed as chief of staff Josh Pitcock among 18 vice presidential staffers named in January 2016. Most were former staffers from gubernatorial and congressional days and five of them including Pitcock were also former lobbyists. After working for Pence while he was a congressman, Pitlock had been lobbyist for the state in Washington while Pence was governor. Pitlock's lobbying position had continued while he also worked on the vice presidential campaign. Jarrod Agen was tapped as deputy assistant to the President and director of communications to the Vice President in February. Agen was most recently chief of staff for Governor Rick Snyder of Michigan through the time of the Flint water crisis and previously worked for Mayor Rudy Giuliani in New York, Sharron Angle in Nevada, Steve Poizner in California and MSNBC.
On February 7, 2017, Pence made history by becoming the first Vice President, in his role as president of the United States Senate, to cast a tie-breaking vote to confirm a Cabinet member. He cast the deciding vote to break a 50–50 tie to confirm Betsy DeVos as the Secretary of Education. Pence cast his second tie-breaking vote on March 30, 2017, voting to advance a bill to defund Planned Parenthood. As of July 2017, Pence has cast four tie-breaking votes.
In April 2017, Pence made a tour of the Asia-Pacific region. In South Korea, he met acting president Hwang Kyo-ahn and condemned North Korea's latest missile launch. In Japan, Pence met Prime Minister Shinzo Abe and pledged to work with Japan, South Korea, and China "to achieve a peaceable resolution and the denuclearization of the Korean peninsula," adding "The era of strategic patience is over and while all options are on the table". Pence subsequently traveled to Jakarta, Indonesia, where he met with president Joko Widodo, toured the largest mosque in the region (the Istiqlal Mosque), and praised moderate Islam. Pence ended his trip with stops in Sydney, Australia (where, after meeting with Malcolm Turnbull, he said that the U.S. "intends to honor" a U.S.-Australia refugee resettlement agreement), and Oahu, Hawaii and American Samoa.
On May 21, 2017, Pence delivered the commencement address at the University of Notre Dame. Traditionally, the president of the United States delivers the address at Notre Dame in his inaugural year, but in 2017 Vice President Pence was invited instead. A number of students walked out when Pence took the stage.
Political action committee
On May 17, 2017, Pence filed FEC paperwork to form Great America Committee, a PAC that would be headed by his former campaign staffers Nick Ayers and Marty Obst. This is the only time a vice president has started his own PAC while still in office. Pence denied a New York Times article's allegations that he will run for president in 2020, calling them "laughable and absurd", and said the article was "disgraceful and offensive".
Political stances
Pence is described as being staunchly conservative on fiscal and social issues, with his political views strongly shaped by his Christian faith and by the conservative political theorist Russell Kirk. During his acceptance speech for the nomination of Republican vice presidential candidate at the 2016 Republican National Convention, Pence stated that "I'm a Christian, a conservative, and a Republican, in that order." As one commentator put it, "Pence doesn't simply wear his faith on his sleeve – he wears the entire Jesus jersey."
Abortion, sex education, and stem cell research
Pence is an opponent of abortion, and his unwavering support of abortion restrictions has gained him the support of grassroots conservative activists. He began seeking to defund Planned Parenthood in 2007 and in three congressional sessions, he introduced legislation to block organizations that provide abortion services from receiving any Title X funding, even for services not related to reproductive health or family planning.
Pence has criticized comprehensive sex education. In 2002, he criticized a speech by then-Secretary of State Colin Powell, who stated that it was "important for young people ... to protect themselves from the possibility of acquiring any sexually transmitted disease" through the use of condoms. Pence called Powell's comments a "sad day" and expressed his support for abstinence education. He asserted that "condoms are a very, very poor protection against sexually transmitted diseases" and that Powell was "maybe inadvertently misleading millions of young people and endangering lives".
Pence opposed President Obama's executive order eliminating restrictions on embryonic stem-cell research, saying, "I believe it is morally wrong to create human life to destroy it for research ... I believe it is morally wrong to take the tax dollars of millions of pro-life Americans." He asserted that "scientific breakthroughs have rendered embryonic stem-cell research obsolete".
On January 27, 2017, Pence spoke at the March for Life in Washington D.C., becoming the first vice president and the highest-ranking United States official to ever speak at the annual event.
LGBT rights
Pence has been a staunch opponent of efforts to expand LGBT civil rights. In 2000, Pence stated "Congress should oppose any effort to recognize homosexuals as a 'discrete and insular minority' entitled to the protection of anti-discrimination laws similar to those extended to women and ethnic minorities." He called for "an audit to ensure that federal dollars were no longer being given to organizations that celebrate and encourage the types of behaviors that facilitate the spreading of the HIV virus" and instead advocated for resources to be directed toward institutions "which provide assistance to those seeking to change their sexual behavior".
Pence has said that homosexuals should not serve in the military, saying, "Homosexuality is incompatible with military service because the presence of homosexuals in the ranks weakens unit cohesion." Pence opposed the repeal of "Don't Ask, Don't Tell," saying in 2010 that allowing gays and lesbians to openly serve in the military would "have an impact on unit cohesion".
In 2007, Pence voted against the Employment Non-Discrimination Act, which would have banned workplace discrimination on the basis of sexual orientation. Pence opposed the 2009 Matthew Shepard Hate Crimes Act, saying that Barack Obama wanted to "advance a radical social agenda" and said that pastors "could be charged or be subject to intimidation for simply expressing a Biblical worldview on the issue of homosexual behavior".
Pence opposes both same-sex marriage and civil unions. While in the House, he said that "societal collapse was always brought about following an advent of the deterioration of marriage and family". He has advocated a constitutional same-sex marriage ban but did not champion such a proposed ban for his first year as governor.
Economic policy
Pence was a co-sponsor of H.J.Res.73, a 2011 spending limit amendment to the U.S. Constitution. This amendment would limit federal spending to "the average annual revenue collected in the three prior years, adjusted in proportion to changes in population and inflation". In regards to adopting the gold standard, Pence stated in 2011, "the time has come to have a debate over gold and the proper role it should play in our nation's monetary affairs". Pence proposed legislation to end the dual mandate of the Federal Reserve (maximizing employment and stabilizing prices), requiring the Fed to just focus on price stability and not full employment. He has been a proponent of a flat federal tax rate. Pence opposed the Troubled Asset Relief Program (TARP) (the "Wall Street bailout") of 2008. Pence also opposed the auto industry rescue package of 2008–09, which guided General Motors and Chrysler through bankruptcy.
In 2007, Pence voted against the raising of the federal minimum wage to $7.25 (from $5.15) an hour over two years, stating that it would "hurt the working poor". While in the House, Pence voted against the Employee Free Choice Act ("card check"). He voted against the American Recovery and Reinvestment Act of 2009. He had publicly opposed the bill denouncing it as a failure, and called for a federal spending freeze. Nevertheless, several months after voting against the bill, Pence privately sought $6 million in stimulus funds for projects in his district, and in 2010, hosted a job fair for stimulus-backed employers. A Pence spokesperson stated that "once it became law, he had a responsibility to support local efforts to secure funding for projects that could benefit people in his district". Pence voted against the Dodd–Frank Wall Street Reform and Consumer Protection Act.
Pence was a supporter of earmark reform. He voted against the $139.7 billion Transportation-Treasury spending bill in June 2006, and in favor of a series of amendments proposed that same month by Jeff Flake which would strip other members' earmarks from the federal budget. On occasion, however, Pence secured earmarks for projects in his district.
Health care
Pence voted against the act that created Medicare Part D, a Medicare prescription-drug benefit. Pence voted against the Patient Protection and Affordable Care Act. In June 2012, after the U.S. Supreme Court upheld the Affordable Care Act in NFIB v. Sebelius, Pence likened the ruling to the September 11 terrorist attacks in a closed-door meeting of the House Republican Conference. He immediately apologized for making the statement.
In 2001, Pence wrote an op-ed arguing against the tobacco settlement and tobacco regulation, saying that they would create "new government bureaucracies" and encroach on private lives. He stated that "despite the hysteria from the political class and the media, smoking doesn't kill". Pence asserted, "2 out of every three smokers does [sic] not die from a smoking related illness and 9 out of ten smokers do not contract lung cancer", while acknowledging that "smoking isn't good for you" and people who smoke should quit. In 2009, Pence voted against the Family Smoking Prevention and Tobacco Control Act, which allows the FDA to regulate tobacco products. According to the Centers for Disease Control and Prevention, Pence's state of Indiana has one of the worst smoking problems in America.
Immigration
In June 2006, Pence unveiled an immigration plan (which he described as "No Amnesty Immigration reform") that would include increased border security, followed by strict enforcement of laws against hiring illegal aliens, and a guest worker program. This guest worker program would have required participants to apply from their home country to government-approved job placement agencies that match workers with employers who cannot find Americans for the job. The plan received support from conservatives such as Dick Armey, but attracted criticism from other conservatives such as Richard A. Viguerie and paleoconservatives Phyllis Schlafly and Pat Buchanan, who viewed Pence as lending "his conservative prestige to a form of liberal amnesty".
In 2009, Pence opposed birthright citizenship (the legal principle set forth by the Citizenship Clause of the Fourteenth Amendment to the United States Constitution that "All persons born or naturalized in the United States, and subject to the jurisdiction thereof, are citizens of the United States and of the State wherein they reside"). He co-sponsored a bill that would have limited citizenship to children born to at least one parent who is a citizen, immigrants living permanently in the U.S. or non-citizens performing active service in the Armed Forces.
In 2010, Pence voted against the DREAM Act, which would grant the undocumented children of illegal immigrants conditional non-immigrant status if they met certain requirements. In 2010, Pence stated that Arizona S.B. 1070, which at the time of passage in 2010 was the nation's broadest and strictest anti-illegal immigration legislation, was "a good faith to try and restore order to their communities".
Social Security
Pence supported President George W. Bush's unsuccessful 2005 proposal to partially privatize Social Security by allowing workers to invest part of their Social Security payroll taxes in private investment accounts and reduce the increase in benefits for high-income participants. Pence had previously proposed a similar but more aggressive reform plan than Bush's.
When asked in 2010 if he would be willing to make cuts to Social Security, Pence answered, "I think everything has to be on the table." When asked if he would raise the retirement age, he said, "I'm an all-of-the-above guy. We need look at everything on the menu."
Patriot Act
Pence supported the USA Patriot Act on its passage in 2001, and in 2005 called the act "essential to our continued success in the war on terror here at home". Pence was a sponsor of legislation in 2009 to extend three expiring provisions of the Patriot Act (the library records provision, the roving-wiretap provision, and the lone-wolf provision) for an additional ten years.
International trade
Pence "has been a longtime, aggressive advocate of trade deals" between the U.S. and foreign countries. Pence has been a supporter of the North American Free Trade Agreement (NAFTA), and during his tenure in the House, he voted for every free-trade agreement that came before him. Pence voted in favor of the Central American Free Trade Agreement (CAFTA); in favor of keeping the U.S. in the World Trade Organization; and in favor of permanent normal trade relations with China. Pence also supported bilateral free-trade agreements with Colombia, South Korea, Panama, Peru, Oman, Chile and Singapore. Pence's strong stance in favor of free trade sharply differs from the stance of his running mate Trump, who has condemned globalization and the liberalization of trade.
Pence voted against the Trade and Globalization Act of 2007, which would have expanded Trade Adjustment Assistance to American workers adversely affected by globalization. However, in 2014 Pence called for the "swift adoption" of the Trans-Pacific Partnership (TPP), urging Indiana's congressional delegation to support the trade deal.
Foreign policy
Pence supported the Iraq War Resolution, which authorized military action against Iraq. During the Iraq War, Pence opposed setting a public withdrawal date from Iraq. During an April 2007 visit to Baghdad, Pence and John McCain visited Shorja market, the site of a deadly attack in February 2007, that claimed the lives of 61 people. Pence and McCain described the visit as evidence that the security situation in Iraqi markets had improved. The visit to the market took place under tight security, including helicopters overhead, and the New York Times reported that the visit gave a false indication of how secure the area was because of the extremely heavy security forces protecting McCain. Pence chaired the House Foreign Affairs Subcommittee on the Middle East and was a prominent supporter of George W. Bush's Iraq War troop surge of 2007. At the time, Pence stated that "the surge is working" and defended the initial decision to invade in 2003.
Pence has opposed closing the Guantanamo Bay detention camp and trying the suspected terrorists in the United States. As an alternative, Pence has said that the "enemy combatants" should be tried in a military tribunal.
Pence has stated his support of Israel and its right to attack facilities in Iran to prevent the Iranians from developing nuclear weapons, has defended the actions of Israel in its use of deadly force in enforcing the blockade of Gaza, and has referred to Israel as "America's most cherished ally". He visited Israel in 2014 to express his support, and in 2016 signed into law a bill which would ban Indiana from having any commercial dealings with a company that boycotts Israel. He opposes a Palestinian state.
Pence criticized Russian President Vladimir Putin and Barack Obama's alleged weak leadership, saying: "When Donald Trump and I observe that, as I've said in Syria, in Iran, in Ukraine, that the small and bullying leader of Russia has been stronger on the world stage than this administration, that's stating painful facts. That's not an endorsement of Vladimir Putin. That's an indictment of the weak and feckless leadership."
Two weeks prior to the NATO intervention in Libya, Pence thanked the Obama administration and Secretary of State Hillary Clinton for their efforts to isolate the Gaddafi regime. Pence expressed support for "a no-fly zone" and stated that "Gaddafi must go".
Climate change
Pence "does not accept the scientific consensus that human activity is the primary driver of climate change." In 2001, Pence wrote in an op-ed that "global warming is a myth," saying that "the earth is actually cooler today than it was about 50 years ago". In 2006 and 2009, Pence expressed the view that it was unclear whether climate change was driven by human activity, and in 2009 he told political commentator Chris Matthews that there was a "growing skepticism in the scientific community about global warming". In 2009, Pence led the Republican effort to defeat the American Clean Energy and Security Act (Waxman-Markey), a Democratic-backed bill to cut greenhouse gas emissions (and therefore combat climate change) through a cap-and-trade system. On September 27, 2016, however, Pence said "there's no question" that human activity affects both the climate and the environment. Pence holds a lifetime rating of 4 percent from the League of Conservation Voters. While in the House, Pence "voted to eliminate funding for climate education programs and to prohibit the Environmental Protection Agency from regulating greenhouse gas emissions". Pence also "repeatedly voted against energy efficiency and renewable energy funding and rules" and voted "for several bills that supported fossil fuel development, including legislation promoting offshore drilling".
Crime and illegal drugs
Pence has questioned proposals to decrease penalties for low-level marijuana offenses in Indiana, saying that the state should focus on "reducing crime, not reducing penalties". In 2013, Pence expressed concern that a then-pending bill to revise the state's criminal code was not tough enough on drug crimes, and successfully lobbied to limit the reduction in sentencing of marijuana offenses.
In 2016, he signed into law a measure that would reinstate a ten-year mandatory minimum prison sentence for certain drug offenders.
During 2014, Pence sent a letter to United States Attorney General Eric Holder, saying that Indiana would not comply with federal prison rape elimination standards because they were "too expensive". According to the Indiana Department of Corrections, it would cost the state $15–20 million annually to comply with the guidelines. Pence said that a number of rape prevention measures had already been "implemented".
In 2015, Pence signed Senate Bill 94 to lengthen the statute of limitations for rape – continuing for five years after sufficient DNA evidence is uncovered, enough recorded evidence is brought forth or discovered, or the offender confesses to the crime. Pence also signed Senate Bill 8 to allow the death penalty for beheadings if the victim was alive at the time of the offense.
Gambling
Pence has been an advocate of federal restrictions on online gambling. In 2006, he was one of 35 cosponsors of H.R. 4411, the Goodlatte–Leach Internet Gambling Prohibition Act, and H.R. 4777, the Internet Gambling Prohibition Act.
Campaign finance
Pence praised the 2010 Supreme Court ruling in Citizens United v. Federal Election Commission when it was announced. Pence said:
Freedom won today in the Supreme Court. Today's ruling in the Citizens United case takes us one step closer to the Founding Fathers' vision of free speech, a vision that is cherished by all Americans and one Congress has a responsibility to protect. If the freedom of speech means anything, it means protecting the right of private citizens to voice opposition or support for their elected representatives. The fact that the court overturned a 20-year precedent speaks volumes about the importance of this issue.
Pence described the Bipartisan Campaign Reform Act, known as McCain–Feingold, which regulates the financing of political campaigns, as "oppressive restrictions on free speech".
Personal life
Mike and Karen Pence have been married since 1985. The two met while Mike was attending the Indiana University Maurer School of Law. They have three children: Michael, Charlotte, and Audrey. During Pence's service in the House, his family lived in Arlington, Virginia, when Congress was in session. Michael Pence's son is a first lieutenant and training to be a pilot in the United States Marine Corps. Pence is a lifelong fan of the Chicago Cubs and the Indianapolis Colts.
Pence was raised in a Catholic family, served as an altar server, and attended parochial school. He became a born-again Christian in college, while a member of a nondenominational Christian student group, and identified his first year – and specifically "a Christian music festival in Wilmore, Kentucky, in the spring of 1978" referring to the Ichthus Music Festival at then Asbury College in Wilmore – as the moment he made a "commitment to Christ." After that point, Pence continued to attend Mass (where he met his wife) and was a Catholic youth minister. Pence called himself Catholic in a 1994 news piece, although by 1995, he and his family had joined an evangelical megachurch, the Grace Evangelical Church. In 2013, Pence said his family was "kind of looking for a church." He has described himself as "a Christian, a conservative and a Republican, in that order," and as "a born-again, evangelical Catholic."
When asked by Chris Matthews if he believes in evolution, Pence answered and repeated minutes later, "I believe with all my heart that God created the heavens and the earth, the seas and all that is in them. How he did that, I'll ask him about some day." In a 2002 statement on the floor of the House of Representatives (reported in the Congressional Record), Pence told his colleagues "... I also believe that someday scientists will come to see that only the theory of intelligent design provides even a remotely rational explanation for the known universe."
References
Mike Pence Wikipedia
(Text) CC BY-SA