Jokowi was nominated by his party, the Indonesian Democratic Party of Struggle (PDI-P), to run in the 2012 Jakarta gubernatorial election with Basuki Tjahaja Purnama (often known as Ahok) as his running mate. Jokowi was elected as Governor of Jakarta on 20 September 2012 after a second round runoff election in which he defeated the incumbent governor Fauzi Bowo. During his governorship, his characteristic blusukan habit and highly-publicized field visits increased his popularity across the country.
His nomination as PDI-P candidate for the 2014 presidential election was announced on 14 March 2014. The presidential election was held on 9 July 2014. After some controversy about the result of the election, Jokowi was named as president-elect on 22 July. He was formally declared as the winner of the election by the General Elections Commission (Komisi Pemilihan Umum or KPU), winning 53.1% of the vote, the closest in Indonesian history, over his opponent Prabowo Subianto who disputed the outcome and withdrew from the race before the count was completed.
As president, Jokowi's domestic policy has focused on infrastructure development across the archipelago in accordance to a "Global Maritime Axis" policy, following cuts in fuel subsidies and a tax amnesty program. On foreign affairs, his administration has placed an emphasis on "protecting Indonesia's sovereignty", with the sinking of illegal foreign fishing vessels and prescription of capital punishment for drug smugglers, despite foreign criticisms.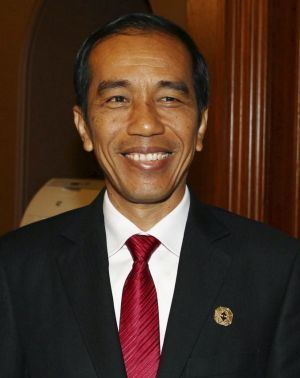 Joko Widodo, born 21 June 1961, is of Javanese descent. Before changing his name (changes of name are not unusual in Java), Jokowi's name was Mulyono. Jokowi is the eldest of four siblings and is the only son of Noto Miharjo (father) and Sujiatmi (mother). His father came from Karanganyar, while his grandparents came from a village in Boyolali. His education began in State Elementary School 111 Tirtoyoso, known for being a school for less wealthy citizens. At the age of twelve, he started working in his father's furniture workshop. The evictions he experienced three times in his childhood affected his way of thinking - and his leadership later on as the mayor of Surakarta (Solo) - as he organised housing in the city.
After primary school, he continued his studies in State Junior High School 1 Surakarta. He had wanted to continue his education in State Senior High School 1 Surakarta but failed the entrance exam and went to State Senior High School 6 Surakarta instead.
Jokowi graduated from the Forestry faculty at Gadjah Mada University, Yogyakarta, in 1985 where his work included studies and research on the use of plywood. He began work at PT Kertas Kraft Aceh, a state-owned firm in the province of Aceh, but he soon became uninterested in his activities in the firm and returned home. He then began working in his grandfather's furniture factory before establishing his own company, Rakabu, whose namesake is his first child.
The company's products were successful in international markets. Products were sold, for example, in France where the goods first established a presence in the European market. It was a French customer named Bernard who gave Joko Widodo the nickname he is famous for, 'Jokowi'. Ultimately he decided to become a politician and promote reform in his home town, Surakarta, after seeing the neat layouts of some European cities while promoting his furniture there.
Jokowi ran in the mayoral race in Surakarta in 2005 with F.X. Hadi Rudyatmo as his running mate. The pair won 36.62% of the vote against the incumbent Slamet Suryanto and two other candidates. When Jokowi first ran for the office of mayor, his background as a property and furniture businessman was questioned. One academic paper claimed his leadership style was successful because it established an interactive relationship with the people of Solo, through which he was able to induce people's strong faith in him. He adopted the development framework of European cities (which he frequently traveled to as a businessman) as a guide for changes in Surakarta.
Jokowi's policies during the seven years that he was mayor of Surakarta included:
Building new traditional markets & renovating existing markets
Constructing a 7-km city walk with a 3-meter wide pedestrian walkway along Surakarta's main street
Revitalizing the Balekambang and Sriwedari parks
Stricter regulations on cutting down trees along the city's main streets
Rebranding Surakarta as a center of Javanese culture and tourism under the tagline 'The Spirit of Java'
Promoting the city as a center for meetings, incentives, conventions and exhibitions (MICE)
The blusukan culture, the manner in which Jokowi made impromptu visits to certain areas to listen to people's issues
Prohibiting his family members from bidding for city projects, therefore suppressing risk of corruption
Healthcare & education insurance program for all residents
A local bus rapid transmit system named Batik Solo Trans
Solo Techno Park, which helped support the Esemka Indonesian car project
His supporters pointed to rapid positive changes in Surakarta under his leadership and the branding the city with the motto 'Solo: The Spirit of Java'. While in office he successfully relocated antique stalls in the Banjarsari Gardens without incident, a helpful move in revitalizing the functions of the open green land; he emphasized the importance of business firms engaging in community activities; he improved communications with the local community by appearing regularly on local television. As a follow-up of the new branding of Surakarta, he applied for Surakarta to become a member of the Organization of World Heritage Cities, which was approved in 2006, and subsequently had Surakarta chosen to host the organization's conference in October 2008. In 2007, Surakarta had also hosted the World Music Festival (Festival Musik Dunia/FMD) which was held at the complex of Fort Vastenburg near the centre of the city. The FMD in 2008 was held in the Mangkunegaran Palace Complex.
Part of Jokowi's personal style was his populist 'can-do' (punya gaye) elements designed to build bonds with the broad electorate. As mayor of Surakarta, he became personally involved in an incident just before Christmas 2011 when the Surakarta municipality had overdue bills of close to $1 million (Rp 8.9 billion) owed to the state-owned electricity company Perusahaan Listrik Negara (PLN). Following the electric company's policy of pursuing a more disciplined approach to collecting overdue bills, it imposed a blackout on street lights in Surakarta just before Christmas. The city government quickly authorized payment but in settling the bill protested that the PLN should consider the public interest before taking this type of action. To reinforce the point, Jokowi made a highly publicized personal visit to the local PLN office to deliver the Rp 8.9 billion in cash in the form of hundreds of bundles of notes and even small coins.
Jokowi was chosen as the 'Tempo Leader of Choice' by Tempo news magazine (2008) and received a 'Changemakers Award' from Republika newspaper (2010); his name also started being considered in national polls for governorship of Jakarta long before his party nomination of him to run for the post, including those by Universitas Indonesia and Cyrus Network (2011).
Jokowi won the 2012 gubernatorial election in Jakarta after a runoff round against incumbent Fauzi Bowo. While governor of Jakarta, Jokowi followed the practice (known as blusukan) of regularly arranging well-publicized visits to local communities, often in quite poor areas, across Jakarta. His inner circle of advisers in Jakarta was reported to include people such as FX Hadi 'Rudy' Rudyatmo, Sumartono Hadinoto, and Anggit Nugroho who were colleagues while he was mayor of Surakarta as well as Basuki 'Ahok' Tjahaja Purnama, his deputy as governor of Jakarta.
Jokowi continued the blusukan practice he had adopted as mayor of Surakarta by regularly visiting population centers, especially slums. During these visits, he wore simple informal clothes and stopped at markets or walked along narrow Jakarta alleys to listen and witness firsthand about issues addressed by local residents such as the price of food, housing difficulties, flooding, and transportation. Polling and media coverage suggested that Jokowi's hands-on style proved very popular both in Jakarta and elsewhere across Indonesia.
On April and June 2013, Jokowi began to implement a system of bureaucratic recruitment called lelang jabatan (literally 'auction of office position'). This system, which was previously unknown in Indonesia and is similar to policies of advancement on merit common for Indonesia's foreign aid donor countries, meant that every civil servant had the same opportunity to achieve a certain position by fulfilling the required qualifications. The test results were announced transparently and the provincial government appointed qualified civil servants in accordance with their achievements and qualifications.
Early after taking office in late 2012, Jokowi introduced a universal health care program in Jakarta, based on a 'Healthy Jakarta Card' (Kartu Jakarta Sehat or KJS). The program proved popular but there were implementation problems. The demand for health services from hospitals across Jakarta rose by 70% in the first few months. The program involved an insurance program provided through the state-owned insurance company PT Askes Indonesia (Persero) and a plan to regulate health charges for treatment for over 20,000 services and procedures. There was confusion over the details of the implementation of the system and long queues for services caused dissatisfaction. The long queues even generated a market for middlemen who offered line-waiting services for up to Rp 150,000 (around $US 15 at end-2013 exchange rates). The various problems led to criticism of Jokowi in the Jakarta regional parliament that he was promoting a populist, poorly-designed program. However Jokowi defended the popular KJS program and counseled patience.
Jokowi launched the 'Smart Jakarta Card' on 1 December 2012, in order to help poor students in Jakarta. This card gives an allowance that can be withdrawn from ATMs in order to buy school needs such as books and uniforms. The usage of the card is constantly monitored and is not allowed to be used for other purposes .
On 10 October 2013, Jokowi inaugurated the construction of the Jakarta MRT, which was previously delayed for years. Subsequently, on 16 October 2013, Jokowi also restarted the construction of the green line of the Jakarta Monorail, although finally the monorail project was disbanded in favor of the Jakarta LRT.
After Jokowi took office, taxes and the provincial budget of Jakarta increased significantly from Rp 41 trillion in 2012 to Rp 72 trillion in 2014.
Jokowi and his vice governor, Basuki, publicized their monthly salary and the provincial budget. They also initiated programs aimed towards transparency, such as online taxes, e-budgeting, e-purchasing, and a cash management system. Moreover, all meetings and activities that were attended by Jokowi and Basuki were recorded and uploaded on YouTube.
Jokowi regulated the chaotic agglomeration of street vendors in Pasar Minggu and Pasar Tanah Abang by relocating them to a new building, as these street vendors were causing horrendous traffic jams. He also built and renovated five traditional markets in 2013 and four traditional markets in 2014. The vendors in these markets are not charged for rent, although they are required to maintain their kiosks and not sell them. They are only asked to pay for maintenance, electricity, and water costs.
In 2013, Jokowi initiated dredging and reservoir normalization projects in order to reduce flood problems. Three of the most notable projects were the normalization of Pluit Reservoir, Ria Rio Reservoir, and Pesanggrahan River. These projects involved the relocation of settlements around the reservoirs, in which Jokowi used the 'lunch diplomacy' tactic to obtain agreement from the local populace. After the inhabitants of these settlements were moved to a new location, the dredging commenced and the project was praised by the Prime Minister of the Netherlands Mark Rutte as successful. These projects helped to reduce the extent of flooding in 2014.
Megawati Sukarnoputri chose Jokowi to be the presidential candidate of her party.
After hearing the Quick Count results of many different polls, Jokowi declared victory on 9 July. However, his rival Prabowo Subianto also declared victory, leaving Indonesian citizens confused. On 22 July, hours before the announcement of the election results, Prabowo withdrew. A victory for Jokowi was expected and realized hours later. The Commission gave Joko Widodo a close victory of 53.15 percent of the vote (representing 70,997,859 voters), to Prabowo's 46.85 percent (62,576,444 votes), though Prabowo's camp disputed these totals.
After his victory, Jokowi stated that, growing up under the authoritarian and corrupt New Order regime, he would have never expected someone with a lower-class background to become president. The New York Times reported him as saying "now, it's quite similar to America, yeah? There is the American dream, and here we have the Indonesian dream". Jokowi was the first Indonesian president to not come from the military or the political elite, and the political commentator Salim Said gave the popular view of the politician as "someone who is our neighbor, who decided to get into politics and run for president".
In the first quarter of 2015, year-on-year GDP grew 4.92 percent. In the second quarter it grew 4.6%, the lowest figure since 2009. Anything less than 6 per cent and Indonesia cannot absorb the new entrants to its labour market each year.
The rupiah weakened further, with its exchange rate per US dollar, falling to Rp 14,000 in August 2015, the lowest level in the last 17 years. On 24 September 2015, it closed at 14797. The rupiah appreciated by 2.28 percent to Rp13.473/USD on 31 December 2016.
The year-on-year inflation in June 2015 was 7.26 percent, higher than in May (7.15 percent) and June the year before (6.7 percent).
Prior to taking office Jokowi sought for outgoing President Yudhoyono to take responsibility for the decision to further increase fuel prices by further removing subsidies. Previous action by former President Yudhoyono to reduce subsidies had resulted in civil unrest. On 1 January 2015, Jokowi took measures which on the surface appeared to reduce fuel subsidies which have been applauded by the International Monetary Fund. The government implemented a fixed diesel subsidy of 1,000 rupiah ($0.08) a liter, while the subsidies for gasoline were reduced or scrapped. The policy stirred up some demonstrations in several places across Indonesia, with Jokowi citing it as necessary to increase funding for the infrastructure, education and health sectors. However Jokowi has failed to execute or obtain execution of his promised infrastructure projects.
"Some say that I would be unpopular if I remove the fuel subsidies. I said I did not seek popularity", he said.
However, since March 2015, the government has set the price of Premium-branded gasoline far below the market price causing the fuel subsidy to be incurred by state-owned oil company Pertamina instead of the direct government account.
Joko Widodo aspires Indonesia to become a global maritime power, (Indonesian: poros maritim dunia or global maritime axis). Jokowi sees that the sea would have an increasingly important role in Indonesia'€s future, and that as a maritime country Indonesia must assert itself as a force between the two oceans: the Indian Ocean and the Pacific Ocean. The five pillars of Jokowi'€s maritime-axis doctrine are:
Rebuild Indonesia'€s maritime culture. As a country consisting of 17,000 islands, Indonesia should be aware of and see the oceans as part of the nation's identity; its prosperity and its future are determined by how we manage the oceans.
Maintain and manage marine resources, with a focus on building marine food sovereignty through the development of the fishing industry.
Provide priority to the development of maritime infrastructure and connectivity by constructing sea highways along the shore of Java, establish deep seaports and logistical networks as well as developing the shipping industry and maritime tourism.
Through maritime diplomacy, Indonesia invites other nations to cooperate in the marine field and eliminate the source of conflicts at sea, such as illegal fishing, violations of sovereignty, territorial disputes, piracy and marine pollution.
Indonesia has an obligation to develop its maritime defense forces. This is necessary not only to maintain maritime sovereignty and wealth, but also as a form of our responsibility to maintain the safety of shipping and maritime security.
Joko Widodo's administration has vowed to develop and upgrade Indonesia's infrastructure, with a focus on road and railway expansion, seaports and airports development, and irrigation. In 2016, the state budget allocated Rp 290 trillion (US$22 billion) for infrastructure, the biggest infrastructure allocation in Indonesian history.
There has been confusion and a start-stop approach on establishing a high-speed train between Jakarta and Bandung using either Japanese or Chinese sponsorship. In late September 2015, Indonesia awarded this multi-billion-dollar railway project to China, to Japan's expressed disappointment.
Indonesia's transportation ministry laid out a litany of shortcomings in plans for a $5.5 billion China-funded high-speed railway, casting doubt on the project and spotlighting Joko Widodo's limits in turning mega-projects into reality as he tries to draw foreign investors to Southeast Asia's largest economy.
Prior to Jokowi's election, Indonesia's foreign policy under former President Yudhoyono was moulded by the mission statement, "A thousand friends and zero enemies".
Jokowi has mandated a three-pronged policy of maintaining Indonesia's sovereignty, enhancing the protection of Indonesian citizens, and intensifying economic diplomacy.
According to Jokowi, Jakarta can no longer tolerate a situation where over 5,000 ships operate illegally in its waters every day, making a mockery out of Indonesian sovereignty and resulting in annual losses of over $20 billion.
"Every day, there are approximately 5,400 foreign fishing ships in our sea," he said. "As many as 90% of them operating illegally."
Jokowi also promotes attempts to release Indonesian drug traffickers from death rows abroad.
In March 2016 Jokowi released a statement calling for the Muslim leaders at the Organisation of Islamic Cooperation summit meeting in Jakarta to unite in reconciliation and push for Palestinian independence. Under Jokowi Indonesia's foreign Minister has visited Palestine, but refused entreaties to establish bilateral diplomatic relations with Israel.
Indonesian laws prescribe the death penalty for some narcotics trafficking and corruption offences. After coming into office, Jokowi stated he refused to grant any clemency for drug offenders facing execution in Indonesia. Judicial executions in Indonesia are carried out pursuant to a Presidential Decree following a death sentence imposed by a trial court. An international and legal controversy arose after the president did not have or read the documents related to the clemency applications when he refused the clemency requests of two foreign nationals. Jokowi argued that Indonesia is currently in a state of emergency over drug-related crime, asserting that "the number of (illegal drug users) who need rehabilitation is nearly 4.5 million people," adding that 1.2 million drug users could not be rehabilitated and nearly 50 of them died each day. The Jakarta Globe reported that the statistics were faulty.
In January 2015, Jokowi outraged the government of Brazil and the Dutch governments for executing a Brazilian citizen (Marco Archer Moreira) and a Dutch citizen; both had been convicted of drug smuggling in Indonesia. Both Brazil and the Netherlands immediately recalled their ambassadors.
During March 2015, Australia proposed that issues around the proposed execution of its citizens Myuran Sukumaran and Andrew Chan, who in 2007 had been denied the right for judicial review by the Indonesia's Constitutional Court because they were not Indonesian citizens, be put before the International Court of Justice. On 29 April 2015, Indonesia executed Sukumaran and Chan. In protest, Australia immediately withdrew its ambassador. On 13 May 2015, Australia reduced its foreign aid to Indonesia from $605.3 million to $366.4 million. Former Indonesian constitutional court chief justice Jimly Asshiddiqie, who was a key player in the anti-death penalty lobby in Jakarta in the lead-up to the executions on 29 April, said the push for Chan and Sukumaran to die had come from Widodo personally.
On the other hand, in 2015 Jokowi granted a Philippine citizen, Mary Jane Veloso, who had been sentenced to death by an Indonesian court, a last-minute temporary reprieve, after Philippine President Benigno Aquino III personally appealed to Jokowi for clemency. Veloso's family maintain that "she was duped by a drug syndicate into flying to Indonesia in 2010 with more than five pounds of heroin hidden in a suitcase." The stay of execution was issued "after someone suspected of recruiting her and tricking her into carrying drugs to Indonesia turned themselves in to authorities in the Philippines."
A French citizen, Serge Atlaoui, was sentenced to death in Indonesia in 2007 after being convicted of drug crimes; Atlaoui denies involvement. In 2015, Corinne Breuze, the French ambassador to Indonesia, warned Jokowi that the execution of Atlaoui would "not be without consequence for our bilateral relationship"; France, which abolished the death penalty in 1981, is opposed to capital punishment in every circumstance. French President Francois Hollande said that there would be diplomatic consequences if Atlaoui was put to death. Atlaoui was set to be executed in April 2015, but was granted a temporary reprieve due to a pending appeal.
Jokowi's staunch pro-death penalty stance has drawn international scrutiny, not only as it could harm Indonesia's foreign relations with the native countries of the condemned convicts, such as Brazil, the Netherlands, and Australia, but also because it imperils Indonesia's own citizens facing the death penalty outside Indonesia. Amnesty International condemned the executions saying they showed a "complete disregard for due process and human rights safeguards." For its own citizens facing execution for drug offenses outside Indonesia, however, Jokowi tries to defend them. In July 2016, the third execution wave was set to be carried out. Mary Jane Veloso was not included as the next inmate in death row to be executed.
Around 130 people remain on death row in Indonesia.
He quickly came under fire from his own political party for other policy weakness and one lawmaker said he should be impeached.
On 9 April 2015 during PDI-P congress, his party's chair, former President Megawati Sukarnoputri, alluded to him as a functionary. Megawati noted the mechanism of presidential election is that a presidential candidate should be nominated by a political party, as a hint that Jokowi presidential position was owed to his PDI-P nomination; thus implying that it is natural for the president to carry out the Party's political policy line. "As the 'extended hands' of the party, you are its functionaries. If you do not want to be called party functionaries, just get out!" said Megawati.
National honours
Indonesia
Star of Service Rank of Utama – 2011
Star of the Republic of Indonesia Rank of Adipurna – 2014
Foreign honours
Brunei
The Most Esteemed Family Order of Brunei (DK) – 7 February 2015
Saudi Arabia
Order of Abdulaziz al Saud - 12 September 2015
East Timor
Great-collar of the Order of Timor-Leste - 26 January 2016
Sweden
Knight of the Royal Order of the Seraphim - 22 May 2017
Other
2008: Listed by Tempo as one of the 'Top 10 Indonesian Mayors of 2008'.
2012: Ranked 3rd at the 2012 World Mayor Prize for "transforming a crime-ridden city into a regional center for art and culture and an attractive city to tourists".
2013: Listed as one of "The Leading Global Thinkers of 2013" in Foreign Policy magazine. In February 2013 he was nominated as the global mayor of the month by the City Mayors Foundation, based in London.
2014: Listed by Fortune as one of 'The World's 50 Greatest Leaders'.
2016: Listed by Bloomberg and awarded as the most successful leader in region of Asia and Australia throughout 2016.
2016-2017: List by "The Muslim 500" as one of the most influential Muslim in the world, which ranked 11 in 2016 and 13 in 2017 .
According to The Economist, Jokowi "has a penchant for loud rock music" and owned a bass guitar signed by Robert Trujillo of heavy metal band Metallica, that was confiscated by the anti-corruption commission, KPK. He is a fan of Metallica, Lamb of God, Led Zeppelin and Napalm Death, a grindcore band that is known for their humanist and socialist political views. Napalm Death also congratulated the president on their Facebook fan page recently; however, after the Bali Nine and the Lindsay Sandiford case, he came under fire from the band, as well as many others within the metal scene including Tony Iommi, after their appeals for clemency were ignored.
On 2 November 2013, while he was the Governor of Jakarta, he was seen in the rock festival Rock in Solo, in casual dress. It was the second time he was seen in this rock festival, with the first being in 2011's Rock in Solo.
He is often compared to former US President Barack Obama, who incidentally spent part of his childhood in Indonesia.
Jokowi is the eldest son of Noto Mihardjo and Sudjiatmi Notomihardjo. He has three younger sisters, named Iit Sriyantini, Ida Yati and Titik Relawati.
He and his wife, Iriana, have three children. Gibran Rakabuming Raka (male, born 1 October 1988) runs a catering and wedding-planning business in Surakarta; he studied abroad in Sydney and Singapore (at the Management Development Institute of Singapore, MDIS). On 11 June 2015 in Surakarta city, Gibran married Selvi Ananda, a former Miss Surakarta. The wedding was attended by several politicians, including Prabowo Subianto. Kahiyang Ayu (female) was born in 1991; she has recently completed an undergraduate degree in food technology at the state-run Sebelas Maret University in Surakarta. Kaesang Pangarep (male) was born on 25 December 1994 and like his elder brother completed his high school years in ACS International, Singapore.
When Kaesang was graduating from ACS International, Jokowi flew on an economy class seat on board a commercial Garuda Indonesia flight instead of using the presidential jet to observe his son's ceremony. This has attracted both the Indonesian and Singaporean media as he was demonstrating humbleness towards the Indonesian society. Jokowi vowed to not take the presidential jet for personal matters.
In June 2013, a film titled "Jokowi", depicting Jokowi's childhood and youth was released. Jokowi expressed some objections to the film saying that he felt his life had been a simple one and was not worthy of being adapted into a film.