Lieutenant

Brian Calley




Alma mater

University of Michigan




Signature




Name

Rick Snyder




Spouse

Sue Snyder (m. 1987)




Preceded by

Jennifer Granholm




Religion

Presbyterianism




Website

Government website




Role

Governor of Michigan




Political party

Republican Party






Full Name

Richard Dale Snyder




Born

August 19, 1958 (age 57) Battle Creek, Michigan, U.S. (

1958-08-19

)


Office

Governor of Michigan since 2011




Education

University of Michigan Law School (1982), Ross School of Business (1979), University of Michigan (1977)




Children

Jeff Snyder, Melissa Snyder, Kelsey Snyder




Similar People

Mark Schauer, Jennifer Granholm, Amos Tuck, Stevens T Mason




Profiles




Facebook

Twitter

Google+
Michigan s governor rick snyder sure is one big nerd
Richard Dale "Rick" Snyder (born August 19, 1958) is an American politician, business executive, venture capitalist, and accountant. He is the 48th and current Governor of Michigan. A member of the Republican Party, he assumed office as governor on January 1, 2011. From 2005 to 2007, Snyder served as the chairman of the board of Gateway, Inc., based in Irvine, California. Prior to his election as governor, he was chairman of the board, chief executive officer, and co-founder of Ardesta LLC, a venture capital firm based out of Ann Arbor, Michigan.
Contents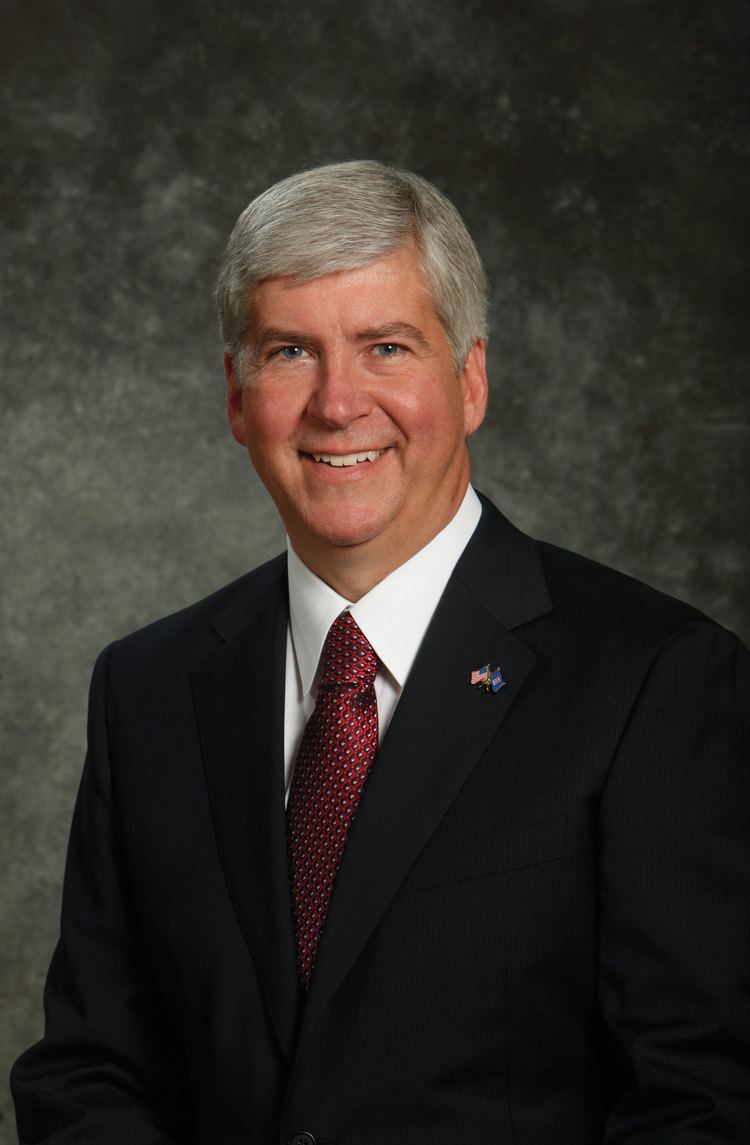 Snyder was considered as a possible Republican Party candidate for Vice President of the United States in 2012, although ultimately Paul Ryan was selected.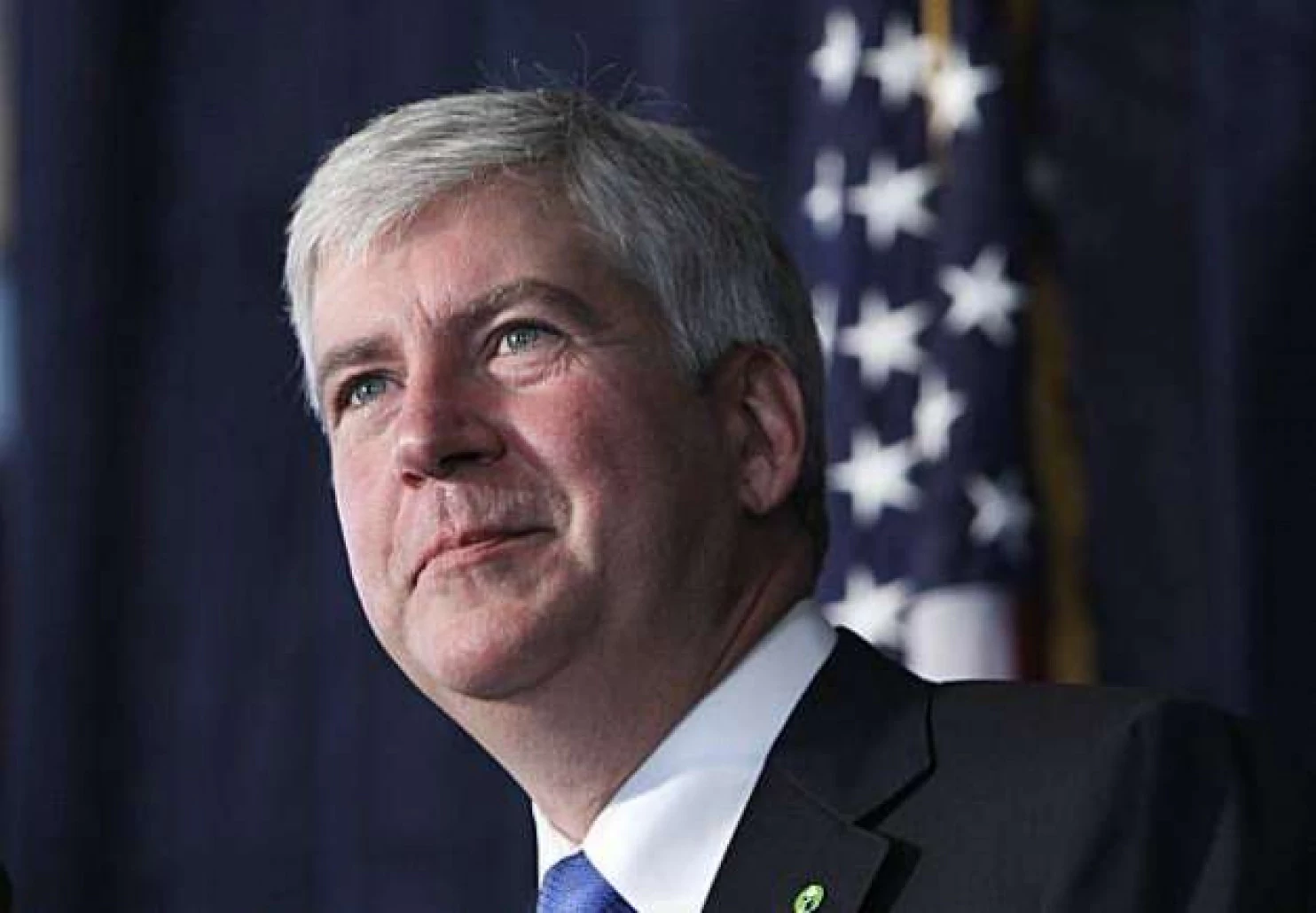 On February 3, 2014, Snyder announced his candidacy for re-election as Governor of Michigan in 2014. He was elected to a second term in the November 4, 2014 vote, defeating his major challenger, Democrat Mark Schauer.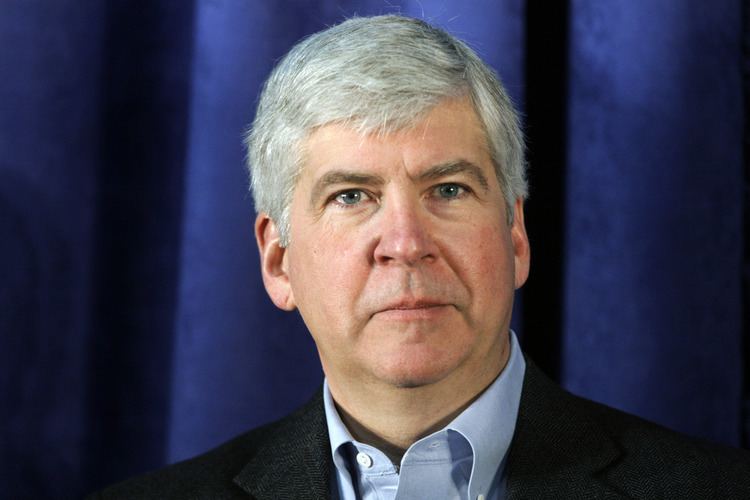 Michigan Governor Rick Snyder: Why I Haven't Stepped Down | Morning Joe | MSNBC
Early life, education, and family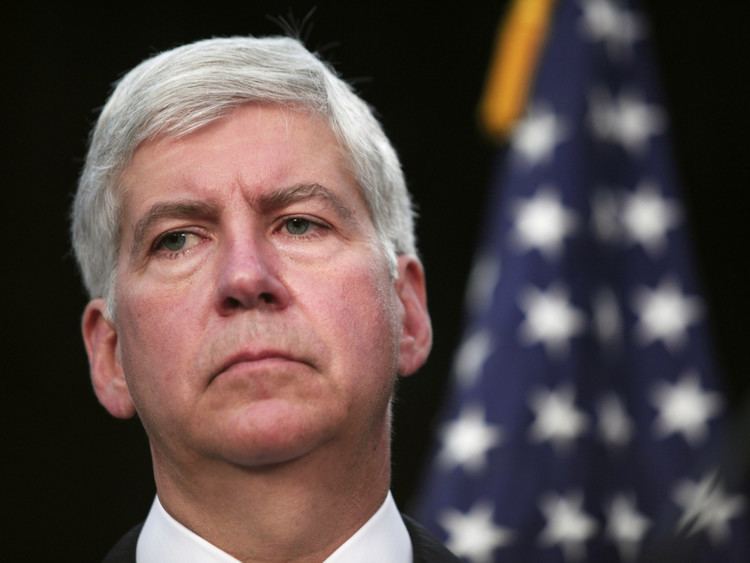 Snyder was born to Dale F. and Helen Louella Snyder in Battle Creek, Michigan, where he was raised. His father owned a small, local window-cleaning company in Battle Creek. He has an elder sister. When he was 16, he took a business class at Kellogg Community College on weekends. By his senior year at Lakeview High School in Calhoun County, Snyder had earned 23 college credits.
Snyder visited the admissions office of the University of Michigan in November 1975 and spoke with the admissions director, who recommended that Snyder attend Michigan and create his own degree. Snyder earned his B.G.S. (1977), M.B.A. (1979), and J.D. (1982) from the University of Michigan by age 23. Snyder is also a Certified Public Accountant (CPA).
He resides in Ann Arbor with his wife Sue and their three children and has a vacation home near Gun Lake. The couple were married in 1987 at Cherry Hill Presbyterian Church in Dearborn. Snyder has indicated he is a practicing Presbyterian.
Business career
Snyder was employed with Coopers & Lybrand, from 1982 to 1991, beginning in the tax department of the Detroit office. Snyder was named partner in 1988. The next year, Snyder was named partner-in-charge of the mergers and acquisitions practice in the Chicago office.
Snyder joined the computer company Gateway, based in Irvine, California, in 1991 as the executive vice president. He served as president and chief operating officer from 1996 to 1997. He remained on the board of directors until 2007. From 2005 to 2007, Snyder served as the chairman of the board. During 2006, Snyder served as interim chief executive officer while a search for a permanent replacement was made. His tenure on the Gateway board ran from 1991 to 2007 until Gateway was sold to Acer Inc. Snyder stated that he did not vote for outsourcing while he was a Gateway board director and he worked to bring jobs to America as the interim CEO of Gateway.
In 1997, Snyder returned to Ann Arbor to found Avalon Investments Inc., a venture capital company with a $100 million fund, along with the co-founder of Gateway, Ted Waitt. Snyder was president and chief executive officer of Avalon from 1997 to 2000. He then co-founded Ardesta LLC, an investment firm, in 2000 along with three co-founders, which invested in 20 start-up companies through 2011. He was Chairman and Chief Executive Officer of the company. He serves on the boards of the U.S. National Historic Landmark Henry Ford Museum and Greenfield Village, the Michigan chapter of the Nature Conservancy, and several boards associated with the University of Michigan. He was also first chair of the Michigan Economic Development Corporation in 1999 under Republican Governor John Engler. He was also the Chair of Ann Arbor SPARK. In addition, he serves as an adjunct assistant professor of accounting at the University of Michigan.
2010
Snyder decided to run for Governor of Michigan. He joined Oakland County Sheriff Mike Bouchard, state Senator Tom George, U.S. Congressman Peter Hoekstra, and Michigan Attorney General Mike Cox as candidates for the Republican gubernatorial nomination. Bill Ford Jr., Chairman of the Ford Motor Company, endorsed Snyder for the Republican nomination for governor. In his first gubernatorial election in 2010, Snyder campaigned as "pro-life, pro-Second Amendment, [and] pro-family," with a focus on the economy. His campaign emphasized his experience in growing business and creating jobs in the private sector, saying that his opponents were mainly career politicians. Snyder favors the standard exceptions on abortion for rape, incest, and saving the life of the mother (he signed legislation banning partial birth abortion in October 2011); he opposes federal funding of abortions; he would not ban embryonic stem cell research; he supports upholding traditional marriage, but would allow civil unions.
On August 3, 2010, Snyder won the primary to secure the Republican nomination with a plurality of 36% of the vote. In the general election on November 2, 2010, Snyder faced Democratic gubernatorial nominee Virg Bernero, the mayor of Lansing, and three minor party candidates. In October 2010, Snyder's campaign total exceeded $11.6 million, outpacing his opponent. Snyder released his tax returns for 2007 and 2008. Snyder won with 58 percent of the vote.
With Snyder's election in 2010, Republicans gained a majority in the Michigan House and increased the Republican majority held in the Michigan Senate. Snyder is the first Certified Public Accountant (CPA) to be elected governor of the state and the only CPA serving as a governor in the United States.
2014
On January 30, 2014, Snyder launched his campaign for a second term as governor. He was unopposed in the Republican primary and faced Democratic former U.S. Representative Mark Schauer for the general election.
Snyder was considered vulnerable in his bid for a second term, as reflected in his low approval ratings, however, Schauer suffered from a lack of name recognition.
He garnered approximately 51% of the vote in the November 4, 2014 election, defeating Schauer and earning a second term.
Governor of Michigan
Snyder was inaugurated as Governor on January 1, 2011 at the Capitol in Lansing. His first executive order as governor was to divide the Department of Natural Resources and Environment into two distinct departments as they were a few years ago: the Department of Natural Resources and the Department of Environmental Quality.
On January 7, 2011, Snyder announced he was appointing Michigan Supreme Court Justice Maura D. Corrigan to head the Department of Human Services and appointed Michigan Appeals Court Judge Brian K. Zahra to fill the resulting Supreme Court vacancy. Snyder delivered his first State of the State address on January 19, the earliest Michigan State of the State since Governor Engler's 1996 address on January 17. He endorsed the Detroit River International Crossing for the first time publicly in the address, which was received favorably by Republicans. Snyder appointed Andy Dillon, a pro-life Democrat, and formerly Speaker of the House, to serve as State Treasurer in his administration.
Snyder presented his first budget to the legislature on February 17, 2011, calling it a plan for "Michigan's reinvention," and saying it would end Michigan's deficits. He described the budget as containing "shared sacrifice" but added that his budget plan would create jobs and spur economic growth. The $46 billion budget reduced $1.8 billion in spending, raised taxes by eliminating tax exemptions on pensions, while at the same time abolished the state's complex business tax, replacing it with a significantly reduced flat tax on the profits of C corporations. This shift in tax burden led State Senate Minority Leader Gretchen Whitmer to criticize the budget, saying that it did not involve "shared sacrifice," but instead was balanced "on the backs of our kids, working families, and our seniors" and "picks out who he's willing to leave behind." Snyder supported the government backed rescue of the American auto industry. This reflected the view of a 56% of Americans in 2012 who supported the 2009 auto bailout according a Pew Research Center poll (63% support in Michigan).
On March 16, 2011, Snyder signed a controversial bill into law that gave increased powers to emergency managers of local municipalities to resolve financial matters. The bill was repealed by voter initiative in November 2012. However, weeks later in December 2012 Snyder signed a revised version of the bill back into law.
On December 22, 2011, Snyder signed into law The Public Employee Domestic Partner Benefit Restriction Act, which prevents the same-sex domestic partners of public employees at both the state and local level from receiving health benefits. In January 2012, the ACLU filed a lawsuit against Snyder and the state of Michigan in federal court on behalf of five Michigan same-sex couples, each with one spouse working for local public schools or municipalities in Michigan. The suit alleges that the law violates the equal protection clause of the Fourteenth Amendment of the United States Constitution. On June 28, 2013, a federal judge struck down the law.
In April 2012, Snyder made a surprise trip to Afghanistan to thank and pledge support for U.S. troops. He traveled to Kuwait and then to Germany where he visited injured U.S. soldiers at the U.S. Military hospital. He has also engaged in trade missions to Europe, Asia, and around the world in order to improve international business relations as well as research and development opportunities associated with Michigan universities. Snyder has focused efforts to attract companies such as Chrysler.
Following approval from the legislature, Snyder signed the fiscal year 2012 budget in June, the earliest it has been completed in three decades. In May 2012, Snyder joined a bipartisan effort urging the U.S. Congress to pass a measure to affirm that States can collect sales taxes on online purchases.
As Governor, Snyder abolished the state's complex business tax in favor of a flat tax, and signed a bill which raised taxes by eliminated tax exemptions for pensions. For years Snyder had said anti-union legislation was not on his agenda, when on the morning of December 6, 2012, during a lame duck session of the Republican-controlled Michigan legislature, Snyder called a joint press conference with the legislative leadership to announce fast-track right-to-work legislation. The legislation passed both houses of the Michigan legislature that day, without committee votes or public hearings. A $1 million appropriation added to the legislation made it ineligible for repeal via referendum. On December 10, President Barack Obama visited Daimler AG's Detroit Diesel factory in Redford, Michigan, and told employees the legislation was about the "right to work for less money." The law effectively provides that payment of union dues cannot be required as a condition of employment. After a required four day wait between the houses of the legislature passing each other's bills, Snyder signed the legislation into law on December 11, 2012, making Michigan the 24th right-to-work state in the U.S. as part of a plan to attract business and jobs to the state. The Employee Free Choice Act, as it was named, has received mixed results in polls.
A Market Research Group poll conducted in March 2012 showed Snyder's approval rating rising to 50% among likely voters, which matched that of President Barack Obama, placing Snyder among the most popular Republican governors in a state carried by Obama in the 2008 election cycle. Snyder was briefly mentioned as a possible pick to be the Republican Party candidate for Vice President of the United States in 2012. His business executive background and 'positive' style have been cited as political assets, with his deeds seen as strengthening the case for electing a business executive candidate as President of the United States. He has been mentioned as a potential Republican Party candidate for President of the United States in 2016.
In December 2012, Snyder signed legislation requiring facilities where at least 120 abortions are performed annually to obtain a state license as freestanding surgical facilities. Planned Parenthood had urged Snyder to veto the bill claiming it unnecessarily increases costs.
In January 2013, Snyder traveled to Israel to meet with Prime Minister Benjamin Netanyahu. He was last in Israel in 1999 as a venture capitalist. "I had a chance to see the start of high-tech boom in Israel and that's great to see. This is really a startup nation. They've done a great job of being entrepreneurial, innovative, and that's a major part of their economy now and the good part is we can learn from that."
In March 2013, Snyder announced a financial emergency for the city of Detroit and appointed an emergency manager, Kevyn Orr. As a result of emergency manager appointments under Snyder's watch, over half of the state's black population lives in cities where the local government was appointed rather than elected by the voters.
On December 27, 2013, Snyder signed a bill into law which nullifies Section 1021 of the National Defense Authorization Act for Fiscal Year 2012, which contains a controversial provision that allows the government and the military to indefinitely detain American citizens and others without trial.
On January 23, 2014, Snyder announced plans to offer visas to 50,000 immigrant workers with advanced degrees to help jumpstart the Detroit economy. The program's advocates claim the program is expected to bring an influx of new jobs and a more stable tax base.
On September 10, Detroit reached a deal with three Michigan counties over regional water and sewer services that could eliminate one roadblock to federal court approval of the city's plan to adjust its debt and exit bankruptcy. The deal with Oakland, Wayne and Macomb counties creates a regional water and sewer authority, but allows Detroit to maintain control of its local system. The deal was crucial to adjusting the city's $18 billion of debt and exit the biggest-ever municipal bankruptcy.
On December 18, the Governor issued an executive order to establish the Michigan Department of Talent and Economic Development to house a new state agency, Talent Investment Agency, created from the merger of Michigan State Housing and Development Authority, the Workforce Development Agency, the Governor's Talent Investment Board and the Unemployment Insurance Agency. Over objections from the state legislature, the Department would come into effect 60 days after the start of the next legislative session.
From 2011 to 2015, Snyder appointed several individuals as Emergency Managers for Flint, Michigan. In 2014, emergency manager Darnell Earley was responsible for changing the source of drinking water for the city to the Flint River, which has trihalomethanes (TTHM) in it. It was later discovered that the water was too corrosive, and leached lead out of the service lines that was then ingested by the people of the city. In September 2015, a study by the Hurley Medical Center found that the community's children were being poisoned by the lead. While Flint transitioned back to its prior source of water in October 2015, lead levels in the city's water remain above the federal action level. Amid allegations that the Michigan Health Department was stalling water treatment expert Marc Edwards' effort to obtain public records, journalists have asked when the State of Michigan knew about the lead poisoning. A petition from a Flint pastor to recall Snyder was denied by the Board of State Canvassers.
In November 2015, Governor Rick Snyder suspended Syrian refugee relocation to the state of Michigan.
References
Rick Snyder Wikipedia
(Text) CC BY-SA