Years active

1967–present




Website

www.rushlimbaugh.com





Name

Rush Limbaugh




Siblings

David Limbaugh





Full Name

Rush Hudson Limbaugh III




Born

January 12, 1951 (age 72) (

1951-01-12

) Cape Girardeau, Missouri, U.S.


Alma mater

Southeast Missouri State University (did not graduate)


Occupation

Radio host, political commentator, author, television host (former)




Role

Talk show host · rushlimbaugh.com




Spouse

Kathryn Rogers (m. 2010)




Education

Central High School (1969), Southeast Missouri State University




Books

Rush Revere and the B, Rush Revere and the Fi, Rush Revere and the A, See - I Told You So, The Way Things Ought to






Similar

Sean Hannity, Dan Bongino, Mark Levin




Profiles




Facebook

Twitter
Rush limbaugh on barack obama his 1 enemy is the republican party
Rush Hudson Limbaugh III ( ; born January 12, 1951) is an American radio talk show host and conservative political commentator. He currently resides in Palm Beach, Florida, where he broadcasts The Rush Limbaugh Show. According to December 2015 estimates by Talkers Magazine, Rush Limbaugh has a cume (cumulative weekly audience) of around 13.25 million unique listeners (listening for at least five minutes), making his show the most listened-to talk-radio program in the US.
Contents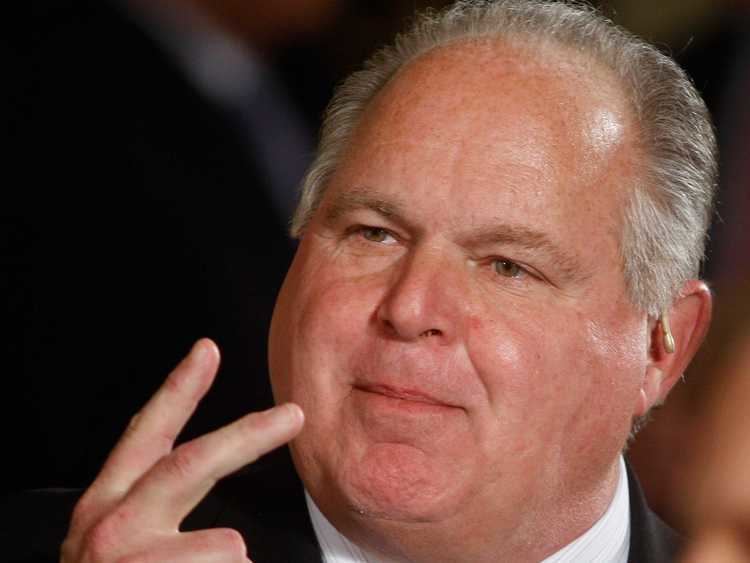 Since he was 16, Limbaugh has worked a series of disc jockey jobs. His talk show began in 1984 at Sacramento, California radio station KFBK, featuring his ongoing format of political commentary and listener calls. In 1988, Limbaugh began broadcasting his show nationally from radio station WABC in New York City, and the show's flagship station became WOR in 2014.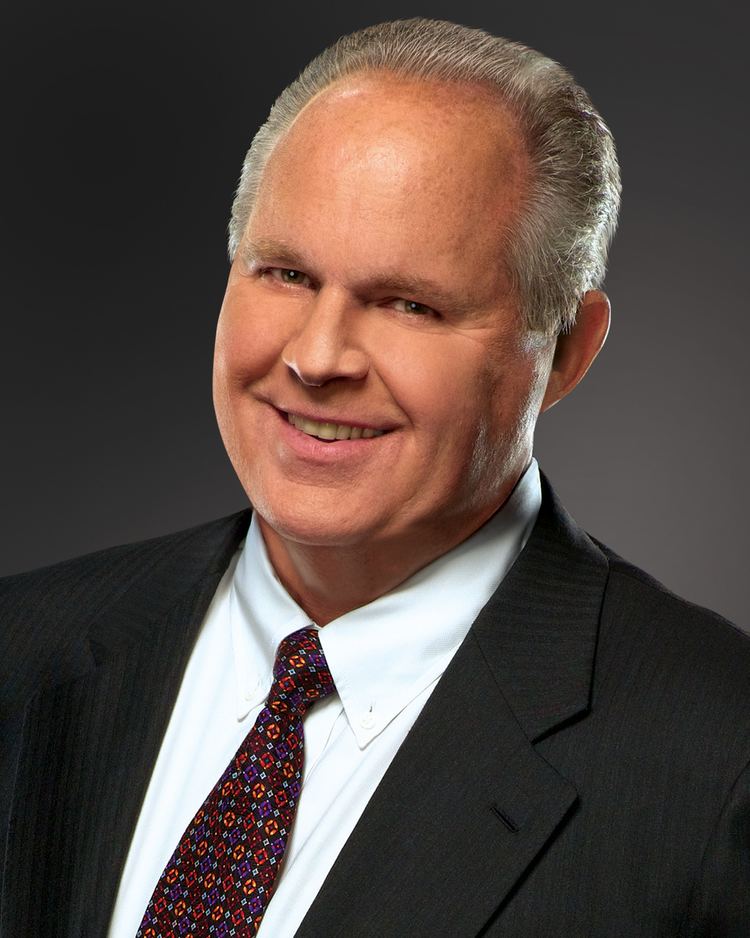 In the 1990s, Limbaugh's books The Way Things Ought to Be (1992) and See, I Told You So (1993) made The New York Times Best Seller list. In his books and on his show, Limbaugh frequently criticizes what he regards as liberal policies and politicians, as well as what he perceives as a pervasive liberal bias in major U.S. media. Limbaugh is among the highest paid people in U.S. media, signing a contract in 2008 for $400 million through 2016. In 2015, Forbes listed his earnings at $79 million for the previous 12 months, and ranked him the 11th highest earning celebrity in the world. His most recent contract, signed on July 31, 2016, will take his radio program to 2020, its 32nd year. Rush limbaugh shredded by caller
Early life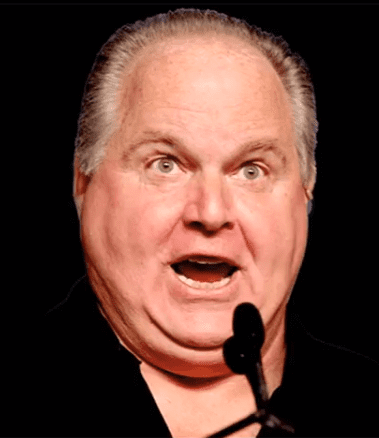 Rush Hudson Limbaugh III was born in Cape Girardeau, Missouri, the son of Mildred Carolyn "Millie" (née Armstrong) and Rush Hudson Limbaugh, Jr. His father was a lawyer and a U.S. fighter pilot who served in the China Burma India Theater of World War II. His mother was a native of Searcy, Arkansas. The name "Rush" was originally chosen for his grandfather to honor the maiden name of family member Edna Rush.
Limbaugh is of part German ancestry. His family has many lawyers, including his grandfather, father and brother David. His uncle, Stephen N. Limbaugh, Sr. is a federal judge in the United States District Court for the Eastern District of Missouri. His cousin, Stephen N. Limbaugh, Jr., is currently a judge in the same court, appointed by George W. Bush. Rush Limbaugh, Sr., Limbaugh's grandfather, was a Missouri prosecutor, judge, special commissioner, member of the Missouri House of Representatives from 1930 until 1932, and longtime president of the Missouri Historical Society. The Federal Courthouse in Cape Girardeau is named for Limbaugh's grandfather Rush.
Limbaugh began his career in radio as a teenager in 1967 in his hometown of Cape Girardeau, using the name Rusty Sharpe. Limbaugh graduated from Cape Girardeau, Missouri Central High School in 1969. He played football. Because of his parents' desire to see him attend college, he enrolled in Southeast Missouri State University but left the school after two semesters and one summer. According to his mother, "he flunked everything," and "he just didn't seem interested in anything except radio."
Limbaugh's biographer states that a large part of his life has been dedicated to gaining his father's respect and approval.
1970s
After dropping out of college, Limbaugh moved to McKeesport, Pennsylvania. In 1972, he became a Top 40 music disc jockey on WIXZ, a small AM radio station that reached much of the Pittsburgh area. He started with an afternoon show and later did mornings, broadcasting under the name Jeff Christie. Limbaugh moved to Pittsburgh station KQV in 1973 as the evening disc jockey, succeeding Jim Quinn. He was fired in late 1974, when the station was sold to Taft Broadcasting. Limbaugh was reportedly told by management that he would never make it as on-air talent, and should consider going into sales. Unable to find another job in local radio, Limbaugh moved back home to Cape Girardeau. He became a lifelong fan of the Pittsburgh Steelers from his time in the region.
For the rest of the decade Limbaugh took jobs at several radio stations, working in music radio, before settling in Kansas City. In 1979, he left radio and accepted a position as director of promotions with the Kansas City Royals baseball team. There he developed a close friendship with then-Royals star third baseman and future Hall of Famer George Brett; the two remain close friends.
1980s
In 1984, Limbaugh returned to radio as a talk show host at KFBK in Sacramento, where he replaced Morton Downey, Jr. The repeal of the Fairness Doctrine—which had required that stations provide free air time for responses to any controversial opinions that were broadcast—by the FCC in 1987 meant stations could broadcast editorial commentary without having to present opposing views. Daniel Henninger wrote, in a Wall Street Journal editorial, "Ronald Reagan tore down this wall (the Fairness Doctrine) in 1987 ... and Rush Limbaugh was the first man to proclaim himself liberated from the East Germany of liberal media domination."
On August 1, 1988, after achieving success in Sacramento and drawing the attention of former ABC Radio President Edward McLaughlin, Limbaugh moved to New York City and began his national radio show. He debuted just weeks after the Democratic National Convention, and just weeks before the Republican National Convention. Limbaugh's radio home in New York City was the talk-formatted WABC (AM), and this remained his flagship station for many years, even after Limbaugh moved to West Palm Beach, Fla., from where he continues to broadcast his show. Limbaugh's show moved on Jan. 1, 2014 to WABC's cross-town rival WOR (AM), its current New York outlet.
1990s
In December 1990, journalist Lewis Grossberger wrote in The New York Times that Limbaugh had "more listeners than any other talk show host" and described Limbaugh's style as "bouncing between earnest lecturer and political vaudevillian." Limbaugh's rising popularity coincided with the Persian Gulf War, and his support for the war effort and his relentless ridicule of peace activists. The program gained more popularity and was moved to stations with larger audiences, eventually being broadcast on over 650 radio stations nationwide.
In 1992, Democrat Bill Clinton was elected President of the United States. Limbaugh satirized the policies of Clinton and First Lady Hillary Clinton, as well as those of the Democratic Party. When the Republican Party won control of Congress in the 1994 midterm elections, the freshman Republican class awarded Limbaugh an honorary membership in their caucus. This event confirmed him as an influential figure on the national political scene.
2000s
Limbaugh had publicized personal difficulties in the 2000s. In late 2001, he acknowledged that he had gone almost completely deaf, although he continued his show. He was able to regain much of his hearing with the help of a cochlear implant in 2001.
In 2003, Limbaugh had a brief stint as a pro football commentator with ESPN. He resigned a few weeks into the 2003 NFL season after making comments about the press coverage for quarterback Donovan McNabb that caused controversy and accusations of racism on the part of Limbaugh. His comment about McNabb was: "I don't think he's been that good from the get-go. I think what we've had here is a little social concern in the NFL. I think the media has been very desirous that a black quarterback do well. They're interested in black coaches and black quarterbacks doing well. I think there's a little hope invested in McNabb and he got a lot of credit for the performance of his team that he really didn't deserve. The defense carried this team." A sportswriter construed the comment as racist against himself and other sportswriters. Another sports analyst wrote Limbaugh's viewpoint was shared by "many football fans and analysts" and "it is ... absurd to say that the sports media haven't overrated Donovan McNabb because he's black."
In 2003, Limbaugh stated that he was addicted to pain medication, and sought treatment. In April 2006, Limbaugh turned himself in to authorities, on a warrant issued by the state attorney's office, and was arrested "on a single charge of prescription fraud." His record was later expunged.
2010s
In 2013, news reports indicated that Cumulus Media, some of whose stations carried Limbaugh's program in certain major markets, including New York, Chicago, Dallas, Washington D.C. and Detroit, was considering dropping his show when its contract with Limbaugh expired at the end of that year, reportedly because the company believed that its advertising revenues had been hurt by listener reaction to controversial Limbaugh comments. Limbaugh himself said that the reports were overblown and that it was a matter of routine dollars-and-cents negotiations between Cumulus and his network syndication partner, Premiere Networks, a unit of Clear Channel Communications. Ultimately, the parties reached agreement on a new contract, with Limbaugh's show moving from its long-time flagship outlet in New York, the Cumulus-owned WABC, to the latter's cross-town rival, the Clear Channel-owned WOR, starting Jan. 1, 2014, but remaining on the Cumulus-owned stations it was being carried on in other markets.
The Rush Limbaugh Show
Limbaugh's radio show airs for three hours each weekday beginning at noon Eastern Standard Time on both AM and FM radio. The program is also broadcast worldwide on the Armed Forces Radio Network.
Radio broadcasting shifted from AM to FM in the late 1970s because of the opportunity to broadcast music in stereo with better fidelity. Limbaugh's show was first nationally syndicated in August 1988, in a later stage of AM's decline. Limbaugh's popularity paved the way for other conservative talk radio programming to become commonplace on AM radio. The show became so popular in the 1990s, even some FM stations picked it up. In March 2006, WBAL in Baltimore became the first major market radio station in the country to drop Limbaugh's nationally syndicated radio program. In 2007, Talkers magazine again named him No. 1 in its "Heavy Hundred" most important talk show hosts.
Limbaugh frequently mentions the EIB (Excellence in Broadcasting) Network, trademarked in 1990. In the beginning, his show was co-owned and first syndicated by Edward F. McLaughlin, former president of ABC, who founded EFM Media in 1988, with Limbaugh's show as his first product. In 1997, McLaughlin sold EFM to Jacor Communications, which was ultimately bought up by Clear Channel Communications. Today, Limbaugh owns a majority of the show, which is syndicated by the Premiere Radio Networks.
According to a 2001 article in U.S. News & World Report, Limbaugh had an eight-year contract, at the rate of $31.25 million a year. In 2007, Limbaugh earned $33 million. A November 2008 poll by Zogby International found that Rush Limbaugh was the most trusted news personality in the nation, garnering 12.5 percent of poll responses.
Limbaugh signed a $400 million, eight-year contract in 2008 with what was then Clear Channel Communications making him the highest paid broadcaster on terrestrial radio. On August 2, 2016, Limbaugh signed a four-year extension of the 2008 contract. At the announcement of the extension, Premiere Radio Networks and iHeartMedia announced that his show experienced audience growth with 18% growth in adults 25–54, 27% growth with 25–54 women, and ad revenue growth of 20% year over year.
Television show
Limbaugh had a syndicated half-hour television show from 1992 through 1996, produced by Roger Ailes. The show discussed many of the topics on his radio show, and was taped in front of an audience. Rush Limbaugh says he loves doing his radio show, but not a TV show.
Other media appearances
Limbaugh's first television hosting experience came March 30, 1990, as a guest host on Pat Sajak's CBS late-night talk show, The Pat Sajak Show. ACT UP activists in the audience heckled Limbaugh repeatedly; ultimately the entire studio audience was cleared. In 2001, Sajak said the incident was "legendary around CBS".
On December 17, 1993, Limbaugh appeared on the Late Show with David Letterman. Limbaugh also guest-starred (as himself) on a 1994 episode of Hearts Afire. He appeared in the 1995 Billy Crystal film Forget Paris, and in 1998 on an episode of The Drew Carey Show.
In 2007, Limbaugh made cameo appearances on Fox News Channel's short-lived The 1/2 Hour News Hour in a series of parodies portraying him as the future President of the United States. In the parodies, his vice president was fellow conservative pundit Ann Coulter. That year, he also made a cameo in the Family Guy episode "Blue Harvest," a parody of Star Wars in which Limbaugh can be heard on the radio claiming that the "liberal galactic media" were lying about climate change on the planet Hoth, and that Lando Calrissian's administrative position on Cloud City was a result of affirmative action. More recent Family Guy appearances have happened in the 2010 episode "Excellence in Broadcasting," and 2011's "Episode VI: It's a Trap!," a parody of Return of the Jedi.
Influence and legacy
As a result of his television program, Limbaugh became known for wearing distinctive neckties. In response to viewer interest, Limbaugh launched a series of ties designed primarily by his then-wife Marta.
On January 30, 2010, Limbaugh was a judge for the 2010 Miss America pageant in Las Vegas. In early 2011, Limbaugh was the subject of the third season of Golf Channel's The Haney Project, in which instructor Hank Haney coached him in eight episodes.
Awards and recognition
In 1992, Ronald Reagan sent Limbaugh a letter in which he thanked him "for all you're doing to promote Republican and conservative principles ... [and] you have become the Number One voice for conservatism in our Country."
In 1994, Republicans in the U.S. House of Representatives made Limbaugh an honorary member.
Limbaugh was awarded the Marconi Radio Award for Syndicated Radio Personality of the Year in 2014 (given by the National Association of Broadcasters). He has won the award four times previously (in 1992, 1995, 2000, and 2005). He was inducted into the National Radio Hall of Fame in 1993. He was later inducted into the National Association of Broadcasters Hall of Fame in 1998.
In 2002, Talkers Magazine ranked him as the greatest radio talk show host of all time. Limbaugh is the highest-paid syndicated radio host.
On March 29, 2007, Limbaugh was awarded the inaugural William F. Buckley, Jr. Award for Media Excellence, by the Media Research Center, a conservative media analysis group.
On January 5, 2008, the conservative magazine Human Events announced Limbaugh as their 2007 Man of the Year.
On December 1, 2008, TV Guide reported that Limbaugh was selected as one of America's top ten most fascinating people of 2008 for a Barbara Walters ABC special that aired on December 4, 2008.
On February 28, 2009, following his self-described "first address to the nation" lasting 90 minutes, carried live on CNN and Fox News and recorded for C-SPAN, Limbaugh received CPAC's "Defender of the Constitution Award", a document originally signed by Benjamin Franklin, given to someone "who has stood up for the First Amendment ... Rush Limbaugh is for America, exactly what Benjamin Franklin did for the Founding Fathers ... the only way we will be successful is if we listen to Rush Limbaugh."
Zev Chafets, whose book Rush Limbaugh: An Army of One was published May 25, 2010, wrote after the first primaries of the 2010 U.S. election season that Limbaugh was "the brains and the spirit behind" the Republican Party's "resurgence" in the wake of the 2008 election of President Barack Obama. In his May 20, 2010, New York Times op-ed column, Chafets pointed among others to Sen. Arlen Specter's defeat, after being labeled by Limbaugh "Republican in Name Only," and to Sarah Palin, whose "biggest current applause line—Republicans are not just the party of no, but the party of hell no—came courtesy of Mr. Limbaugh." More generally, Chafets wrote, Limbaugh has argued the party-of-no Ronald Reagan conservative course for the Republicans vigorously, notably since six weeks after the Obama inauguration, and has been fundamental to, and encouraging to, the more prominently noted Tea Party movement.
Rush Limbaugh was inducted into the Hall of Famous Missourians on May 14, 2012. A bronze bust of Limbaugh is now on display in the Missouri State Capitol building in Jefferson City. It is the only such bust with its own security camera to discourage vandalism.
The Children's Book Council named Limbaugh their 2014 Author of the Year for his book Rush Revere and the Brave Pilgrims: Time-Travel Adventures with Exceptional Americans.
Works
The Way Things Ought to Be (1992) Pocket Books ISBN 0-671-75145-X
See, I Told You So (1993) Pocket Books ISBN 0-671-87120-X
Rush Revere and the Brave Pilgrims (2013) Threshold Editions ISBN 1-476-75586-8
Rush Revere and the First Patriots (2014) Threshold Editions ISBN 978-1-4767-5588-5
Rush Revere and the American Revolution (2014) Threshold Editions ISBN 1-476-78987-8
Rush Revere and the Star-Spangled Banner (2015) Threshold Editions ISBN 1-476-78988-6
Rush Revere and the Presidency (2016) Threshold Editions ISBN 978-1501156892
In 1992, Limbaugh published his first book, The Way Things Ought To Be, followed by See, I Told You So in 1993. Both became number one on the New York Times Best Seller list, The Way Things Ought to Be remaining there for 24 weeks. The text of the first book was taped by Limbaugh, and transcribed and edited by Wall Street Journal Journal writer John Fund. In the second book, Joseph Farah of WorldNetDaily is named as his collaborator.
In 2013, Limbaugh authored a children's book titled Rush Revere and the Brave Pilgrims: Time-Travel with Exceptional Americans. The book was released on October 29, 2013. It won Limbaugh the Author of the Year Award at the Children's Choice Book Awards in 2014.
In 2014, Limbaugh authored his second children's book titled Rush Revere and the First Patriots: Time-Travel with Exceptional Americans. For his new series, Limbaugh was selected as an author-of-the year finalist for the annual Children's and Teen Choice Book Awards.
In late 2014, Limbaugh authored his third children's book titled Rush Revere and the American Revolution. Limbaugh and his wife, Kathryn, dedicated the third book to the U.S. military and their families.
Views
In his first New York Times best seller, Limbaugh describes himself as conservative, and is critical of broadcasters in many media outlets for claiming to be objective. He has criticized political centrists, independents, and moderate conservatives, claiming they are responsible for Democrat Barack Obama's victory over Republican John McCain in the 2008 U.S. Presidential Election and inviting them to leave the Republican party. He calls for the adoption of core conservative philosophies in order to ensure the survival of the Republican party.
James Rainey of the Los Angeles Times quoted Limbaugh as saying after the 2008 election of Barack Obama as the 44th President of the United States that the Democrats will "take your 401(k), put it in the Social Security Trust Fund."
Abortion
Limbaugh considers Roe v. Wade as "bad constitutional law" and supports overturning it, leaving the decision to the states.
African-Americans
Limbaugh has been noted for making controversial race-related statements with regard to African-Americans. He once opined that all newspaper composite pictures of wanted criminals resembled Jesse Jackson, and another time that "the NFL all too often looks like a game between the Bloods and the Crips without any weapons." While employed as what he describes as an "insult-radio" DJ, he used a derogatory racial stereotype to characterize a black caller he could not understand, telling the caller to "take that bone out of your nose and call me back." In March 2010, Limbaugh used the similarity of recently resigned Rep. Eric Massa's surname to the slavery-era African-American pronunciation of "master" to make a pun on the possibility that Gov. David Paterson, New York's first African-American governor, would pick Massa's replacement: "Let's assume you're right [caller]. So, David Paterson will become the massa who gets to appoint whoever gets to take Massa's place. So, for the first time in his life, Paterson's gonna be a massa. Interesting, interesting."
Limbaugh has asserted that African-Americans, in contrast with other minority groups, are "left behind" socially because they have been systematically trained from a young age to hate the United States because of the welfare state.
Capital punishment
Limbaugh supports capital punishment, saying "the only thing cruel about the death penalty is last-minute stays."
Dismissal of consent in sexual relations
Limbaugh dismisses the concept of consent in sexual relations. He views consent as "the magic key to the left."
Drug abuse
Limbaugh has been an outspoken critic of what he sees as leniency towards criminal drug use in America. On his television show on October 5, 1995, Limbaugh stated, "too many whites are getting away with drug use" and illegal drug trafficking. Limbaugh proposed that the racial disparity in drug enforcement could be fixed if authorities increased detection efforts, conviction rates, and jail time for whites involved in illegal drugs.
Environmental issues
Limbaugh is critical of environmentalism and climate science. He has disputed claims of anthropogenic global warming, and the relationship between CFCs and depletion of the ozone layer, saying the scientific evidence does not support them. Limbaugh has argued against the scientific consensus on climate change saying it is "just a bunch of scientists organized around a political proposition." Limbaugh has used the term "environmentalist wacko" when referring to left-leaning environmental advocates. As a rhetorical device, he has also used the term to refer to more mainstream climate scientists and other environmental scientists and advocates with whom he disagrees.
Limbaugh has written that "there are more acres of forestland in America today than when Columbus discovered the continent in 1492," a claim that is disputed by the United States Forest Service and the American Forestry Association, which state that the precolonial forests have been reduced by about 24 percent or nearly 300 million acres.
Feminism
Limbaugh is critical of feminism, saying that: "feminism was established so as to allow unattractive women easier access to the mainstream of society." He also popularized the term "feminazi", referring to about two dozen feminists "to whom the most important thing in life is ensuring that as many abortions as possible occur." He also used the term referring to the half-million large 2017 Women's March as the "Deranged Feminazi March". He credited his friend Tom Hazlett, a professor of law and economics at George Mason University, with coining the term.
Iraq prisoner abuse
On the Abu Ghraib torture and prisoner abuse scandal, Limbaugh said, "This is no different than what happens at the Skull and Bones initiation ... And we're going to ruin people's lives over it and we're going to hamper our military effort, and then we are going to really hammer them because they had a good time."
Obama's policies
On January 16, 2009, Limbaugh commented on the (then-upcoming) Obama presidency, "I hope he fails." Limbaugh later said that he wants to see Obama's policies fail, not the man himself. Speaking of Obama, Limbaugh said, "He's my president, he's a human being, and his ideas and policies are what count for me."
Use of entertainment props
Limbaugh utilizes props to introduce his monologues on various topics. On his radio show, news about the homeless has often been preceded with the Clarence "Frogman" Henry song "Ain't Got No Home." For a time, Dionne Warwick's song "I Know I'll Never Love This Way Again" preceded reports about people with AIDS. These later became "condom updates" preceded by Fifth Dimension's song, "Up, Up and Away". For two weeks in 1989, on his Sacramento radio show, Limbaugh performed "caller abortions" where he would end a call suddenly to the sounds of a vacuum cleaner and a scream. He would then deny that he had "hung up" on the caller, which he had promised not to do. Limbaugh claims that he used this gag to illustrate "the tragedy of abortion" as well as to highlight the question of whether abortion constitutes murder. During the Clinton administration, while filming his television program, Limbaugh referred to media coverage of Socks, the Clintons' cat. He then stated, "But did you know there is also a White House dog?" and a picture of Chelsea Clinton was shown. When questioned about it, Limbaugh claimed that it was an accident and that without his permission some technician had put up the picture of Chelsea.
Claims of inaccuracy
Some groups and individuals have criticized Limbaugh's accuracy. The July–August 1994 issue of Extra!, a publication of Fairness and Accuracy in Reporting (FAIR), alleges 50 different inaccuracies and distortions in Limbaugh's commentary. Others have since joined FAIR in questioning Limbaugh's facts. Comedian Al Franken, who later became a Senator, wrote a satirical book (Rush Limbaugh Is a Big Fat Idiot and Other Observations) in which he accused Limbaugh of distorting facts to serve his own political biases.
Of Limbaugh's controversial statements and allegations they have investigated, Politifact has rated 84% as ranging from "Mostly False" to "Pants-On-Fire" (a signification for extremely false), with 5% of Limbaugh's contested statements rising to the level of "Mostly True" and 0% rated "True." These debunked allegations by Limbaugh include suggestions that the existence of gorillas disproves the theory of evolution, that Ted Kennedy sent a letter to Soviet Leader Yuri Andropov seeking to undercut President Reagan, that a recent lack of hurricanes disproves climate change, and that President Obama wanted to mandate circumcision.
Limbaugh has been criticized for inaccuracies by the Environmental Defense Fund. A defense fund report authored by Princeton University endowed geoscience professor Michael Oppenheimer and professor of biology David Wilcove lists 14 significant scientific facts that, the authors allege, Limbaugh misrepresented in his book The Way Things Ought to Be. The authors conclude that "Rush Limbaugh ... allows his political bias to distort the truth about a whole range of important scientific issues."
On October 14, 2011, Limbaugh questioned the U.S. military initiative against Joseph Kony and his Lord's Resistance Army (LRA), based on the assumption that they were Christians. "They are fighting the Muslims in Sudan. And Obama has sent troops, United States troops to remove them from the battlefield, which means kill them." Upon learning about the accusations leveled against Kony, which included kidnapping whole schools of young children for use as child soldiers, Limbaugh stated that he would research the group. The show's written transcript on his website was not changed.
Michael J. Fox
In October 2006 Limbaugh said Michael J. Fox, who suffers from Parkinson's disease, had exaggerated the effects of his affliction in a political TV advertisement advocating for funding of stem cell research. Limbaugh said that Fox in the ad had been "shameless" in "moving all around and shaking", and that Fox had not taken "his medication or he's acting, one of the two". Fox said "the irony of it is I was too medicated," adding that there was no way to predict how his symptoms would manifest. Limbaugh said he would apologize to Fox "bigly, hugely...if I am wrong in characterizing his behavior on this commercial as an act." In 2012, Fox said Limbaugh in 2006 had acted on "bullying instincts" when "he said I faked it. I didn't fake it," and said Limbaugh's goal was to have him marginalized and shut down for his stem cell stance.
Phony soldiers
In 2007, Media Matters' reported that Limbaugh had categorized Iraq War veterans opposed to the war as "the phony soldiers." Limbaugh later said that he was speaking of Jesse MacBeth, a soldier who falsely claimed to have been decorated for valor but, in fact, had never seen combat. Limbaugh said Media Matters was trying to smear him with out-of-context and selectively edited comments. After Limbaugh published what he claimed was the entire transcript of phony soldiers discussion, Media Matters said that over a minute and 30 seconds of the transcript was omitted without "notation or ellipsis to indicate that there is, in fact, a break in the transcript." Limbaugh said during the minute and a half gap Media Matters had pointed out, he was waiting for relevant ABC news copy on the topic, and the transcript and audio edits were "for space and relevance reasons, not to hide anything." Senator Harry Reid and 41 Democrats, including Hillary Clinton, signed a letter asking the CEO of Clear Channel to denounce Limbaugh. Instead, he gave the letter to Limbaugh to auction. It raised over $2 million for the Marine-Corps Law Enforcement Foundation.
Sandra Fluke
On February 29, 2012, Rush Limbaugh, while talking about contraceptive mandates, included remarks about law student Sandra Fluke as a "slut" and "prostitute." Limbaugh was commenting on Fluke's speech the previous week to House Democrats in support of mandating insurance coverage for contraceptives. Limbaugh made numerous similar statements over the next two days, leading to the loss of 45 to "more than 100" local and national sponsors and Limbaugh's apology on his show for some of his comments.
Leukemia and lymphoma telethon
Limbaugh holds an annual fundraising telethon called the "EIB Cure-a-Thon" for the Leukemia & Lymphoma Society. In 2006, the EIB Cure-a-Thon conducted its 16th annual telethon, raising $1.7 million, totaling over $15 million since the first cure-a-thon. According to Leukemia and Lymphoma Society annual reports, Limbaugh personally contributed between $100,000 and $499,999 from 2000–2005 and 2007, and Limbaugh said that he contributed around $250,000 in 2003, 2004 and 2005. NewsMax reported Limbaugh donated $250,000 in 2006, and the Society's 2006 annual report placed him in the $500,000 to $999,999 category. Limbaugh donated $320,000 during the 2007 Cure-a-Thon, which the Leukemia and Lymphoma Society reported had raised $3.1 million. On his radio program April 18, 2008, Limbaugh pledged $400,000 to the Leukemia and Lymphoma Society after being challenged by two listeners to increase his initial pledge of $300,000.
Marine Corps–Law Enforcement Foundation
Limbaugh conducts an annual drive to help the Marine Corps–Law Enforcement Foundation collect contributions to provide scholarships for children of Marines and law enforcement officers and agents who have died in the line of duty. The foundation was the beneficiary of a record $2.1 million eBay auction in October 2007 after Limbaugh listed for sale a letter critical of him signed by 41 Democratic senators and pledged to match the selling price. With the founding of his and his wife's company Two if by Tea, they pledged to donate at least $100,000 to the MC–LEF beginning in June 2011.
Personal life
Limbaugh has had four marriages, three divorces, and no children. He was first married at the age of 26 to Roxy Maxine McNeely, a sales secretary at radio station WHB in Kansas City, Missouri. They were married at the Centenary United Methodist Church in Limbaugh's hometown of Cape Girardeau on September 24, 1977. McNeely filed for divorce in March 1980, citing "incompatibility." They were formally divorced on July 10, 1980.
In 1983, Limbaugh married Michelle Sixta, a college student and usherette at the Kansas City Royals Stadium Club. They were divorced in 1990, and she remarried the following year.
On May 27, 1994, Limbaugh married Marta Fitzgerald, a 35-year-old aerobics instructor whom he met on the online service CompuServe in 1990. They were married at the house of U.S. Supreme Court Justice Clarence Thomas, who officiated. They were separated on June 11, 2004. Limbaugh announced his divorce on the air. It was finalized in December 2004. In September 2004, Limbaugh became romantically involved with then-CNN news anchor Daryn Kagan, and they broke up in February 2006.
Limbaugh has lived in Palm Beach since 1996. A friend recalls that Limbaugh "fell in love with Palm Beach...after visiting her over Memorial Day weekend in 1995." Unlike New York, Florida does not tax income, the stated reason Limbaugh moved his residence and established his "Southern Command".
On December 30, 2009, while vacationing in Honolulu, Hawaii, Limbaugh was admitted to Queen's Medical Center with intense chest pains. His doctors attributed the pain to angina pectoris.
He dated Kathryn Rogers, a party planner from Florida, for three years before he married her on June 5, 2010. During the wedding reception after the ceremony, Elton John entertained the wedding guests for a reported $1 million fee; however, Limbaugh himself denied that the $1 million figure was accurate on his September 7, 2010, radio show.
Through a holding company, KARHL Holdings (KARHL meaning "Kathryn and Rush Hudson Limbaugh"), Limbaugh launched a line of bottled iced tea beverages, entitled "Two if by Tea" a play on the line from Henry Wadsworth Longfellow's "Paul Revere's Ride "one if by land, two if by sea". KARHL Holdings features a Rush Revere website where children can send notes to Liberty, the time-traveling, talking horse.
Prescription drug addiction
On October 3, 2003, the National Enquirer reported that Limbaugh was being investigated for illegally obtaining the prescription drugs oxycodone and hydrocodone. Other news outlets quickly confirmed the investigation. He admitted to listeners on his radio show on October 10, 2003, that he was addicted to prescription painkillers and stated that he would enter inpatient treatment for 30 days, immediately after the broadcast. Limbaugh stated his addiction to painkillers resulted from several years of severe back pain heightened by a botched surgery intended to correct those problems.
A subsequent investigation into whether Limbaugh had violated Florida's doctor shopping laws was launched by the Palm Beach State Attorney, which raised privacy issues when investigators seized Limbaugh's private medical records looking for evidence of crimes. Roy Black, one of Limbaugh's attorneys, stated that "Rush Limbaugh was singled out for prosecution because of who he is. We believe the state attorney's office is applying a double standard." On November 9, 2005, following two years of investigations, Assistant State Attorney James L. Martz requested that the court set aside Limbaugh's doctor–patient confidentiality rights and allow the state to question his physicians. Limbaugh's attorney opposed the prosecutor's efforts to interview his doctors on the basis of patient privacy rights, and argued that the prosecutor had violated Limbaugh's Fourth Amendment rights by illegally seizing his medical records. The American Civil Liberties Union issued a statement in agreement and filed an amicus curiae brief in support of Limbaugh. On December 12, 2005, Judge David F. Crow delivered a ruling prohibiting the State of Florida from questioning Limbaugh's physicians about "the medical condition of the patient and any information disclosed to the health care practitioner by the patient in the course of the care and treatment of the patient."
On April 28, 2006, a warrant was issued for his arrest on the charge of doctor shopping. According to Teri Barbera, spokeswoman for the sheriff, during his arrest, Limbaugh was booked, photographed, and fingerprinted, but not handcuffed. He was then released after about an hour on $3,000 bail. After his surrender, he filed a "not guilty" plea to the charge. Prosecutors explained that the charges were brought after they discovered he received about 2,000 painkillers, prescribed by four doctors in six months, at a pharmacy near his Palm Beach mansion. In 2009, after 3 years of prolonged discussion regarding a settlement, prosecutors agreed to drop the charge if Limbaugh paid $30,000 to defray the cost of the investigation, completed an 18-month therapy regimen with his physician, submitted to random drug testing, and gave up his right to own a firearm for eighteen months. Limbaugh agreed to the settlement, though he continued to maintain his innocence of doctor shopping and asserted that the state's offer resulted from a lack of evidence supporting the charge.
Before his addiction became known, Limbaugh had condemned illegal drug use on his television program, stating that "Drug use, some might say, is destroying this country... And so if people are violating the law by doing drugs, they ought to be accused and they ought to be convicted and they ought to be sent up."
In June 2006, Limbaugh was detained by drug enforcement agents at Palm Beach International Airport. Customs officials confiscated Viagra from Limbaugh's luggage as he was returning from the Dominican Republic. The prescription was not in Limbaugh's name. After he was released with no charges filed, Limbaugh joked about the incident on his radio show, claiming that he got the Viagra at the Clinton Library and was told they were blue M&M's. He also stated that "I had a great time in the Dominican Republic. Wish I could tell you about it."
Cigar aficionado
In the early 1990s, when the cigar boom was gaining momentum, Limbaugh was seen frequently with a cigar in hand and by the end of the 1990s, cigars had become Limbaugh's staple in many public appearances. Often starting segments of his show with the phrase, "Amid billowing clouds of fragrant and aromatic first, second and sometimes third-hand premium cigar smoke" as well as mentioning a story print-out in his "formerly nicotine-stained fingers," cigars became a common topic of discussion. In the spring of 1994, Limbaugh appeared on the cover of the magazine Cigar Aficionado and shared the story of his conversion to cigars. He has since been a frequent participant in many events such as "The Big Smoke," hosted throughout the year by the magazine. Limbaugh has participated in many charity cigar auctions hosted by the magazine, and is known to talk frequently with his listeners about his and their cigar interests, preferences and recommendations. "I think cigars are just a tremendous addition to the enjoyment of life." He is also frequently seen in his studio smoking a cigar during his show.
Deafness
Rush Limbaugh has described himself as being "100 percent, totally deaf." In 2001, Limbaugh announced that he had lost most of his ability to hear: "I cannot hear television. I cannot hear music. I am, for all practical purposes, deaf – and it's happened in three months." He said that the condition was not genetic. He was diagnosed with autoimmune inner ear disease (AIED) and medications failed to work. On December 19, 2001, doctors at the House Ear Clinic in Los Angeles were able to successfully restore a measure of his hearing through cochlear implant surgery. Limbaugh received a Clarion CII Bionic Ear.
When questioned whether Limbaugh's sudden hearing loss was caused by his addiction to opioids, his cochlear implant doctor, otolaryngologist Jennifer Derebery, said that it was possible but that there is no way to know for sure without performing tests that would destroy Limbaugh's hearing completely. "We don't know why some people, but apparently not most, who take large doses may lose their hearing".
In 2005, Limbaugh was forced to undergo "tuning" due to an "eye twitch," an apparent side-effect of cochlear implants.
On April 8, 2014, on his radio program, Limbaugh announced his decision to 'go bilateral.' "I'm going to get an implant on the right side," he said. After bilateral tuning, there was 100% improvement. "Coming from total deafness, it is miraculous! How can you not believe in God?" Limbaugh said in his national daily broadcast.
References
Rush Limbaugh Wikipedia
(Text) CC BY-SA