Covid-19



Dickens Victorian Village, Salt Fork State Park, Hocking Hills State Park, Northern Kentucky University, Great Black Swamp
Appalachian Ohio is a bioregion and political unit in the southeastern part of the U.S. state of Ohio, characterized by the western foothills of the Appalachian Mountains and Appalachian Plateau. The Appalachian Regional Commission defines the region as consisting of thirty-two counties. This region roughly overlaps with the Appalachian mixed-mesophytic forests, which begin in southeast Ohio and southwest Pennsylvania and continue to north Georgia and Alabama. The mixed-mesophytic forest is found only in Central and Southern Appalachia and eastern/central China. It is one of the most biodiverse temperate forests in the world.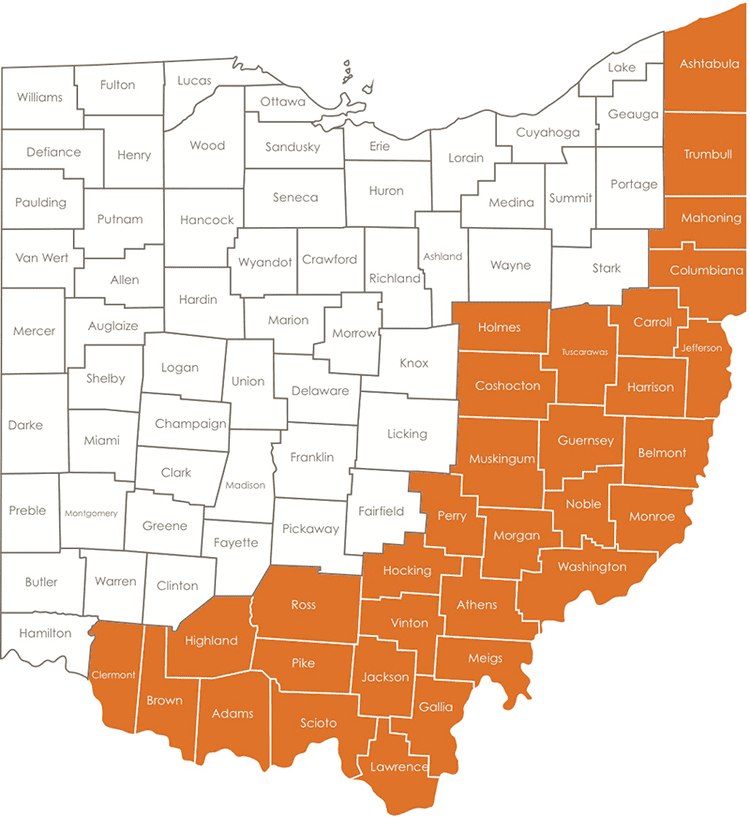 Geologically, Appalachian Ohio corresponds closely to the terminal moraine of an ancient glacier that runs southwest to northeast through the state. Areas south and east of the moraine are characterized by rough, irregular hills and hollows, characteristic of the Allegheny Plateau and Cumberland Plateaus of the western Appalachian Plateau System. Unlike eastern Appalachia, this region does not have long fin-like ridges like those of the Ridge-and-Valley Appalachians subranges, but a network of rocky hollows and hills going in all directions.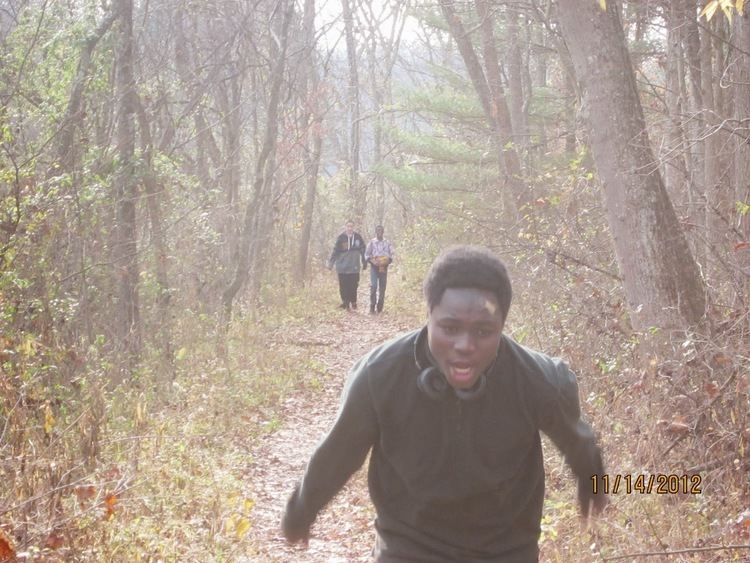 The region is considered part of "central Appalachia", a political, cultural, and bioregional classification that includes southeastern Ohio, Eastern Kentucky, and most of West Virginia.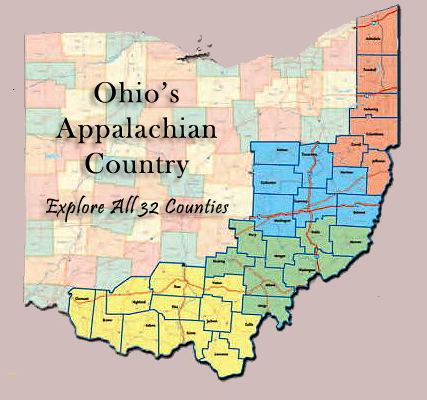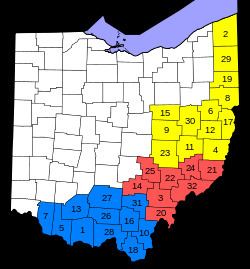 The Governor's Office of Appalachia subdivides the 32 counties of Appalachian Ohio into three smaller regions: East Central Ohio, South East Ohio, and Southern Ohio. The following lists include each county in the region and its county seat.
Appalachian Ohio has several cities within its borders, which as of the 2000 census included the following localities: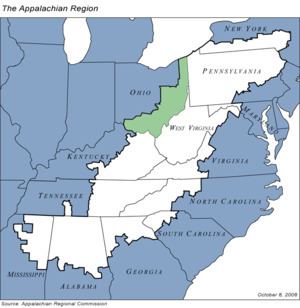 Youngstown Population: 66,982 Mahoning County and Trumbull County
Warren Population: 46,832 Trumbull County
Zanesville Population: 25,586 Muskingum County
Alliance Population: 22,322 Mahoning County
Chillicothe Population: 21,796 Ross County
Athens Population: 21,342 Athens County
Ashtabula Population: 20,962 Ashtabula County
Niles Population: 20,932 Trumbull County
Portsmouth Population: 20,909 Scioto County
Steubenville Population: 19,015 Jefferson County
New Philadelphia Population: 17,056 Tuscarawas County
Marietta Population: 14,515 Washington County
East Liverpool Population: 13,089 Columbiana County
Conneaut Population: 12,335 Ashtabula County
Salem Population: 12,303 Mahoning County
Dover Population: 12,210 Tuscarawas County
Salem Population: 12,197 Columbiana County
Struthers Population: 12,036 Mahoning County
Coshocton Population: 11,682 Coshocton County
Cambridge Population: 11,520 Guernsey County
Ironton Population: 11,211 Lawrence County
Girard Population: 10,902 Trumbull County
Hubbard Population: 8,284 Trumbull County
Campbell Population: 8,235 Mahoning County
Canfield Population: 7,374 Mahoning County
Martins Ferry Population: 7,226 Belmont County
Cortland Population: 6,830 Trumbull County
Logan Population: 6,704 Hocking County
Belpre Population: 6,660 Washington County
Geneva Population: 6,595 Ashtabula County
Columbiana Population: 6,384 Mahoning County
Hillsboro Population: 6,368 Highland County
Jackson Population: 6,184 Jackson County
Wellston Population: 6,078 Jackson County
Toronto Population: 5,676 Jefferson County
Columbiana Population: 5,635 Columbiana County
Nelsonville Population: 5,230 Athens County
St. Clairsville Population: 5,057 Belmont County
Newton Falls Population: 5,002 Trumbull County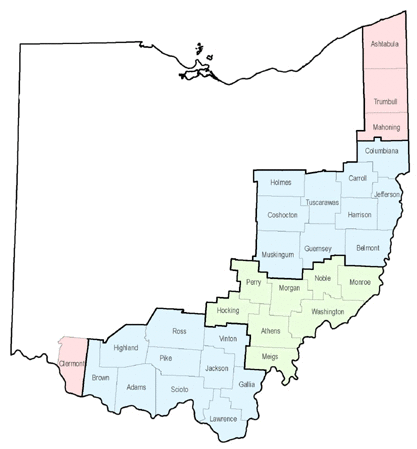 Port Columbus International Airport, in Columbus, is the largest airport and serves most of the residents in southeast Ohio. Port Columbus offers primarily domestic flights. Cincinnati/Northern Kentucky International Airport to the southwest serves most of the residents of Cincinnati and its metropolitan area, and Cleveland Hopkins International Airport to the north is also a major hub airport.
The Appalachian Regional Commission was formed in 1965 to aide economic development in the Appalachian region, which was lagging far behind the rest of the nation on most economic indicators. The Appalachian region currently defined by the Commission includes 420 counties in 13 states, including 32 counties in Ohio. The Commission gives each county one of five possible economic designations— distressed, at-risk, transitional, competitive, or attainment— with "distressed" counties being the most economically endangered and "attainment" counties being the most economically prosperous. These designations are based primarily on three indicators— three-year average unemployment rate, market income per capita, and poverty rate. In 2009, Appalachian Ohio had a three-year average unemployment rate of 8.4%, compared with 7.5% statewide and 6.6% nationwide. In 2008, Appalachian Ohio had a per capita market income of $22,294, compared with $29,344 statewide and $34,004 nationwide. In 2009, Appalachian Ohio had a poverty rate of 16%, compared to 13.6% statewide and 13.5% nationwide. Seven Ohio counties—Adams, Athens, Meigs, Morgan, Noble, Pike and Vinton—were designated "distressed", while nine—Ashtabula, Gallia, Guernsey, Harrison, Jackson, Lawrence, Monroe, Perry and Scioto—were designated "at-risk". The remaining half of Appalachian Ohio counties were designated "transitional", meaning they lagged behind the national average on one of the three key indicators. No counties in Ohio were given the "attainment" or "competitive" designations.
Athens County had Appalachian Ohio's highest poverty rating, with 32.8% of its residents living below the poverty line. Clermont had Appalachian Ohio's highest per capita income ($30,515) and Holmes had the lowest unemployment rate (5.5%). Washington County has the highest high school graduation rate (84.5%), while Adams County has the lowest (68.6%). Although Holmes County has a significantly lower high school graduation rate than Adams County at 51.5%, its graduation rates are somewhat skewed compared to the rest of the region, due to the county's high population of Amish, whose children do not attend school past the eighth grade.
Notable Americans from southern Ohio include:
Charles Kettering, chief engineer and inventor for Chevrolet and General Motors, founder DELCO.
John Glenn, former United States Marine Corps pilot, astronaut, and United States senator.
Sarah Jessica Parker, actress and producer, Nelsonville
Nancy Zimpher, Chancellor of the State University of New York System
Dean Martin, actor, Steubenville
Lou Groza
Jimmy the Greek
Clark Gable, actor, Cadiz
William Henry Harrison 9th US President (1841, March 4 – April 4, shortest term, first president to die in office, only 30 days 12 hrs 30 mins).
Ulysses S. Grant 18th US President (1869–1877) Hiram Ulysses Grant was born in Point Pleasant, Ohio, April 27, 1822. Victor of the American Civil War.
James Abram Garfield 20th US President (1881, March 4 - shot on July 2, died 80 days later) was born in a log cabin in Orange Township, Moreland Hills, Nov 19, 1831.
Benjamin Harrison 23rd US President (1889-1893) grandson of President William H. Harrison, born in North Bend, Ohio, Aug 20, 1833.
William McKinley 25th US President (1897-1901, shot in abdomen on Sept 6, died Sept 13) was born in Niles, Ohio, January 29, 1843.
William Howard Taft 27th US President (1909–1913) born into the powerful Taft family near Cincinnati, September 15, 1857.
Appalachian Ohio Wikipedia