Country

India


Area

97,321 km2



Language spoken

Marathi


State

Maharashtra






Similar

Marathwada, Khandesh, Paschim Maharashtra
Map of Vidarbha
Vidarbha is the eastern region of the Indian state of Maharashtra, comprising Nagpur Division and Amravati Division. Its former name is Berar (Varhad in Marathi). It occupies 31.6% of total area and holds 21.3% of total population of Maharashtra. It borders the state of Madhya Pradesh to the north, Chhattisgarh to the east, Telangana to the south and Marathwada and Khandesh regions of Maharashtra to the west. Situated in central India, Vidarbha has its own rich cultural and historical background distinct from rest of Maharashtra. The largest city in Vidarbha is Nagpur. A majority of Vidarbhians speak Varhadi and Zadi dialects of Marathi.
Contents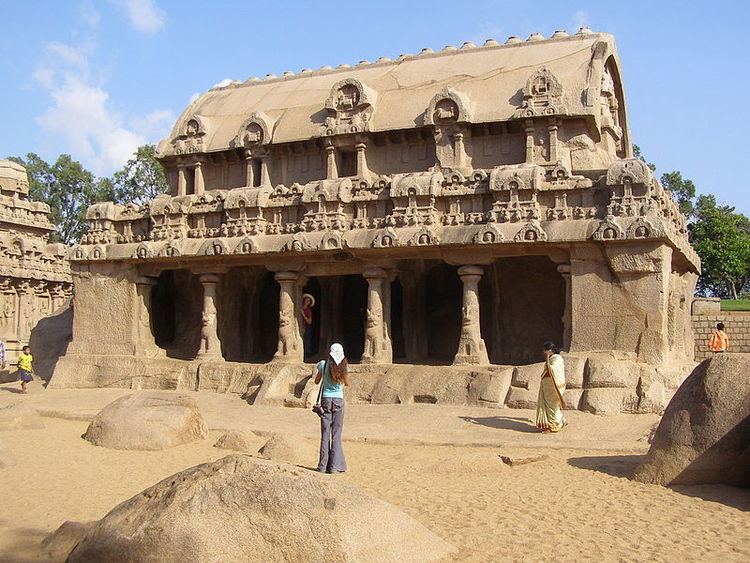 The Nagpur region is famous for growing oranges and cotton. Vidarbha holds two-thirds of Maharashtra's mineral resources and three-quarters of its forest resources, and is a net producer of power. Vidarbha has Tadoba Andhari Tiger Project, Melghat Tiger Project, Pench Tiger Reserve, Bor Wildlife Sanctuary, Navegaon National Park, and Nagzira wildlife sanctuary near Gondia district, all are located in Vidarbha region.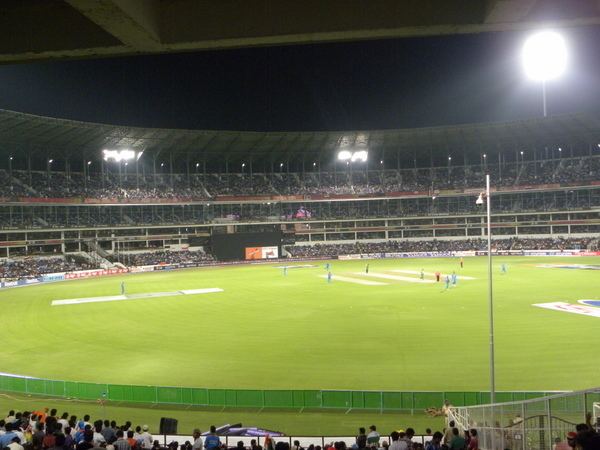 Throughout its history, Vidarbha has remained much calmer during the communal troubles than the rest of India; but it is plagued very much by poverty and malnutrition. It is less economically prosperous compared to the rest of Maharashtra.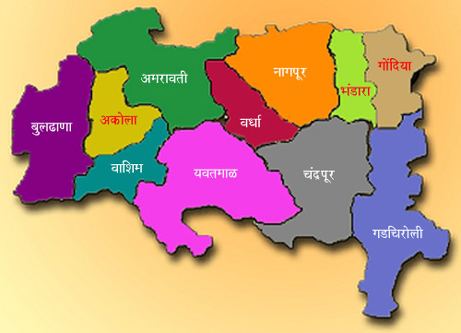 In recent times, there have been calls for a separate state of Vidarbha, due to perceived neglect from the Government of Maharashtra and incompetent political leadership in Vidarbha. The living conditions of farmers in this region are poor compared to India as a whole. There have been more than 200,000 farmers' suicides in Maharashtra in a decade, of which 70% being in the 11 districts of Vidarbha region. Though rich in minerals, coal, forests and mountains, this region is always underdeveloped because of its continuous dominance by the political leadership from the other parts of the state, especially Western Maharashtra. Though being culturally, politically and financially different from the rest of Maharashtra, the calls for a separate state rise to prominence only when the leaders from this region are sidelined by other political leaders in the Government of Maharashtra. Statehood demands have not fructified mainly due to the opposition from a major state political party, the Shiv Sena.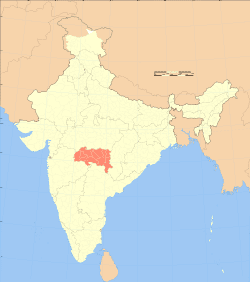 Vidarbha sales pellet making machine great success
Saoji chicken spicy chicken recipe from nagpur
History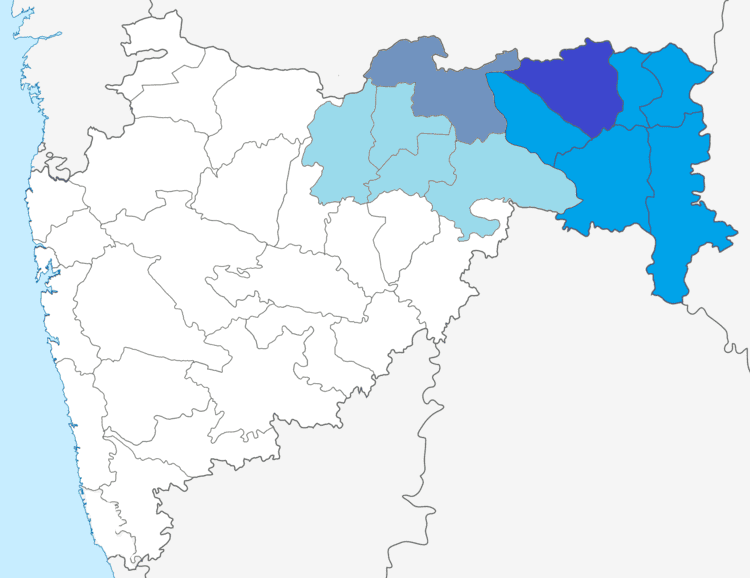 Vidharba was ruled by the Vakataka dynasty in the 3rd and 4th centuries BCE. It consists of two branches - The Pravarapura Nandivardhana and Vatsagulma (now called as Washim) branches. The Pravarapura Nandivardhana branch ruled from different capitals like Pravarapura (Paunar) in Wardha district and Mansar and Nandivardhan (Nagardhan) in Nagpur district. This branch used to maintain matrimonial alliances with the Guptas.
The Vatsagulma branch was founded by Sarvasena, the second son of Pravarasena I after his death. Sarvasena made Vatsagulma (present-day Washim) his capital. The territory ruled by this branch was between the Sahydri Range and the Godavari River. They patronised some of the Buddhist caves at Ajanta. Prabhavatigupta was the queen and regent of the Vākāṭaka Empire. Her father was Chandragupta II of the Gupta Empire and her mother was Kuberanaga of the Naga. She married Rudrasena II of the Vākāṭaka. After his death in 385, she ruled as regent for her two young sons, Divakarasena and Damodarasena for twenty years. This region is named after the mythological Vidarbha Kingdom mentioned in the Mahabharata.
Medieval Period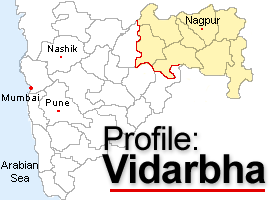 Nagpur was the capital of the Berar Subah, known as the Gulshan-e-Berar in the Medieval period from the rule of the Khiljis to the Mughals according to the Ain-i-Akbari and Alamgir Namah. report the Berar is hole Fourteen sarkar of Vidarhbha region and Sawai Shiri Shrimant Santaji Bhonsle deputy "Sena Sahibe -E-Subah of Berar and Gondwana. He was the father-in-law of Aurangzeb's grandson "Bedar Bakht Mirza, son of Mirza Mohammed Azam Shah Emperor of India, Buland Bakht the king of Gondwana in 1681 deputed by Aurangzeb Alamgeer Emperor of India after sultan Chand Shah son of Buland Bakht After the death of Sultanchand Shah widow wife call Relative of "Sena Sahib-E-Subah". Raghuji Bhonsle "I" In 1732 Raghuji Bhonsle "I"appointed Military officer for collection of revenue and chauth for sultan chand shah family. Then Bhonsle dynasty of Marathas who in the mid-eighteenth century created an independent Hindu princely state that covered much of east-central India. After their defeat in the Third Anglo-Maratha War in 1818, the Bhonsle dominions were reduced to the Nagpur division. In 1853 the last Maharaja of Nagpur died without a male heir and subsequently Nagpur division was incorporated into mainstream British India. Nagpur division became a part of the British Raj's Central Provinces in 1861.
Modern Period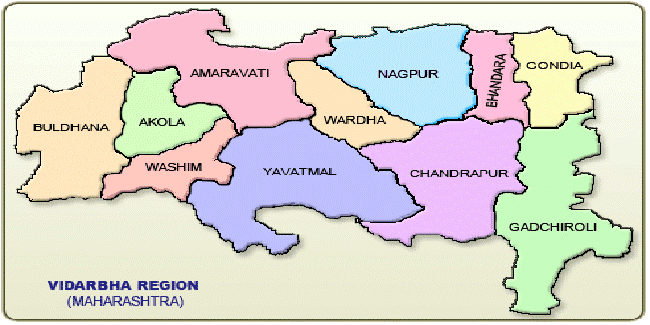 Amravati division, formerly known as Berar division, was administered by the Nizam of Hyderabad until 1853. In that year, citing misgovernance by the Nizam, the British colonial administration took direct control over the province. Berar was added to the Central Provinces in 1903.
During India's independence struggle Nagpur hosted the sessions of Indian National Congress several times. Sevagram was arguably the capital of nationalistic India during the Gandhian era.
After India's independence in 1947, Central Provinces and Berar became the Indian state of Madhya Pradesh. In 1956 Vidarbha was transferred to Bombay state along with all Marathi-speaking areas. In 1960 Bombay State was split along linguistic lines into the states of Maharashtra and Gujarat. Marathi-speaking Vidarbha became part of the state of Maharashtra.
Geography
Geographically Vidarbha lies on the northern part of Deccan Plateau. Unlike the Western Ghats, there are no major hilly areas . The Satpura Range lies to the north of Vidarbha region in Madhya Pradesh. The Melghat area of Amravati district is on southern offshoot of the Satpura Range. Large basaltic rock formations exists throughout Vidarbha, part of the 66-million-year-old volcanic Deccan Traps. Gondia district is unique in Maharashtra in the sense that the entire area of the district is occupied by metamorphic rock and alluvium. Buldhana has the Lonar crater created by impact of meteorite or comet. The eastern districts of Gondia, Bhandara, Gadchirolli and Nagpur fall in earthquake zone 1, which is considered safest in India, while other districts fall in zone 2.
Wainganga is the largest of all the Vidarbha rivers. Other major rivers that drain Vidarbha region are the Wardha, and Kanhan rivers which are all tributaries of Godavari river. In north, five small rivers, Khapra, Sipna, Gadga and Dolar along with Purna, are the tributaries of Tapti river. Penganga river is another big river which originates in Buldhana district. Then it flows through Washim district. There onwards it forms a border between districts, Washim (Vidharbha) and Hingoli (Marathwada), Yavatmal(Vidharbha) and Hingoli, Yavatmal(Vidharbha) and Nanded(Marathwada), Yavatmal and Andhra Pradesh, Yavatmal and Chandrapur. After that it meets Wardha flowing through Chandrapur district and meets Wainganga to become Pranhita river which is a tributary of Godavari. Kas, Kayadhu, Adan, Pus and Arunavati are main tributaries of Penganga river.
Administration & politics
Vidharbha comprises two divisions (Amravati and Nagpur). It has 11 districts namely, Amravati, Akola, Bhandara, Buldana, Chandrapur, Gadchiroli, Gondia, Nagpur, Wardha, Washim and Yavatmal.
Major Cities
Following is the list of major cities in Vidarbha region
District administration
Each district has a collector's office which is responsible for day-to-day administration. The District Collector is a Central Indian Government appointee who is in charge of the governance of a district in a state. Nagpur city, the largest city in Vidarbha, has a special civic body, the Nagpur Improvement Trust, which along with Nagpur Municipal Corporation is responsible for overall development and planning activity. Other significant cities like Amravati, Akola and Chandrapur too have their own municipal corporation. The corporators (representatives) in these civic bodies are elected via elections. Urban areas are split in different wards and each ward elects a representative. Rural areas have a panchayat raj system.
Representation in Lok Sabha
Vidarbha is represented at national level by 10 Lok Sabha seats. Nagpur district which has the highest population density is split into 2 lok sabha seats of Nagpur and Ramtek while districts with lower population density like Chimur and Gadchiroli are clubbed together. Ramtek and Amravati seats are reserved for Scheduled caste candidates only while Gadchiroli-Chimur is reserved for Scheduled Tribes.
Representation in Vidhan Sabha
Vidarbha is represented at state level by 62 assembly seats. Nagpur boasts the densest concentration of assembly seats with the city divided into 6 areas. Certain seats are reserved for Scheduled Tribe candidates only, while others are open to all to contest. As part of the Nagpur Pact the winter session of Maharashtra assembly is held as Nagpur Vidhan Bhavan.
Demographics
Vidarbha has total population of 23,003,179 according to the 2011 census of the government of India. Hinduism is the predominant religion in this region. Buddhism is second most followed religion. This is unusual compared to the rest of Maharashtra and even most north Indian states where usually Islam is second most followed religion. The significant following of Buddhism is due to Neo-Buddhist movement started by Dr. B. R. Ambedkar.
Separate Statehood Movement
1853: After British conquests from Marathas in central India, in 1853 "Nagpur Province" was formed with Nagpur as capital. It was administered by a commissioner under the central government.
1861: "Central Province" was formed by the British, with Nagpur as capital.
1903: On 1 October Berar was also placed under the administration of the commissioner of Central Provinces. It was now named as "Central Province and Berar".
1935: Government of India Act, passed by British parliament formed provincial assembly, providing for an election. Central Province and Berar was kept a separate entity, with Nagpur as capital.
1950: When constitution of India went into effect in 1950; Central Province and Berar became Madhya Pradesh, with Nagpur as capital.
1956: "Vidarbha State" with Nagpur as capital was recommended by Fazal Ali commission (appointed in 1953) for reorganisation of states in India.
1960: On 1 May the "Vidarbha state", recommended by Fazal Ali commission for reorganisation of states, was merged with, newly formed Maharashtra State.
In recent years there have been sporadic calls by its population for Vidarbha to secede from Maharashtra. This is based on a feeling of being neglected by the Maharashtra state government and a desire to assert a distinct political identity. The region has been seen to have fallen behind others in Maharashtra in attracting investment and development funds, being comparatively poorly served by roads, irrigation facilities and educational institutions. However political movements for attaining statehood have failed to hold sway as their leaders have been considered opportunistic. Vidarbha Rajya Party and Vidarbha Rajya Nirman Congress are very small political parties created by leaders that have split from national level parties like INC. Only one national party - BJP has officially included demand for a separate Vidarbha state in its national manifesto.
Vidarbha has total population of 20,630,987 according to the 2001 census of the government of India. Though rich in minerals, coal, forests and mountains, this region is always underdeveloped primarily because of lack of agriculture. Tata group started the country's first textile mill at Nagpur, formally known as Central India Spinning and Weaving Company Ltd. The company was popularly known as "Empress Mills" as it was inaugurated on 1 January 1877, the day Queen Victoria was proclaimed Empress of India.
Noted politician and economist from Vidarbha Late Dr. Shrikant Jichkar opposed separation of Vidarbha from rest of Maharashtra based on the facts that such separation is nonviable for sustenance of Vidarbha. In the quotes of Dr. Jichkar: ″I do this every time the demand surfaces. Those who made an issue of it have lost elections. The Shiv Sena won seats there despite being opposed to Vidarbha and the BJP lost despite being in favor of it. If Vidarbha is hived off, we will have no funds from day one to run the new State. The region's share is burdened by a deficit and Monopoly Cotton Purchase Scheme, Employment Guarantee Scheme and such activity will immediately cease since we would not have money to pay salaries. All available resources - iron ore, surplus power generation, forestry - would not be enough. In this context, Mumbai - and by implication the rest of the State - subsidizes Vidarbha's sustenance. ``Mumbai is the door to the temple of development and we cannot allow a division of the Marathi-speaking State.″
Economy
Vidarbha's economy is primarily agricultural and also the region is rich in forest and mineral wealth. From a business point of view, Gondia, Chandrapur, Akola, yavatmal, Amravati and Nagpur are important cities of Vidarbha. Nagpur is a central hub for business. Amravati is well known for film distributors and its cloth markets. Chandrapur has a thermal power station which is one of the biggest in India and some other heavy industries such as Paper Industries (BILT Ballarpur), Steel Industries (MEL from Steel Authority of India, etc.), Cement Industries (UltraTech Cement, Ambuja Cements, ACC Limited, Manikgarh Cement, Murli Cement) and numerous Coal Mines. Nagpur is also a health hub with people from Madhya Pradesh, Chhattisgarh, Uttar Pradesh, Odisha and Telangana regularly come to Nagpur for their health needs.
An International cargo hub project, the Multi-modal International Cargo Hub and Airport at Nagpur, (MIHAN), is being developed at Nagpur. MIHAN will be used for handling heavy cargo coming from South-East Asia and Middle-East Asia. The project will also include a ₹100 billion (US$1.6 billion) Special Economic Zone (SEZ) for information technology companies. This will be the biggest development project in India so far.
Agriculture
The main cash crops of the region are cotton, oranges and soya beans. Nagpur is the largest Orange growing district. Traditional crops are sorghum (jowar), pearl millet (bajra) and rice. Yavatmal is the largest cotton growing district and is called Cotton City. Gondia is the largest rice growing district. Gondia is a Rice city. Recently Vidarbha region has become infamous for a large number of farmer suicides occurring.
On 1 July 2006 the Prime Minister of India Manmohan Singh announced a Rs. 3,750-crore (Rupees 37.5 billion) relief package for Vidharbha. The package should help farmers in six districts of the region. However the package was not welcomed by most financial pundits and the journalist P Sainath wrote the following in The Hindu newspaper criticising the package and saying that it was destined to fail for sure. Recently it was found that most of the government officials are involved in corruption of the 'packages' which were announced for farmers. Government can suspended more that 400 government officials in this scam. Bhiwapur is famous for red chillies.
Mineral wealth
The Chandrapur, Gondia, Gadchiroli, Bhandara and Nagpur Districts form the main mineral belt, with coal and manganese as the major minerals. Chandrapur district alone contributes 29% of all mineral output of Maharashtra. Iron ore and limestone are identified as potential mining resources.
Industry
Traditionally Vidarbha has lagged behind western Maharashtra in industrial growth. Various incentives were granted to attract industries but have failed. Butibori Industrial Area MIDC outside Nagpur is one of the largest industrial areas in country but few industries have actually opened there. MIHAN an international cargo hub project is currently underway at Nagpur. The project aims to exploit the central location of Nagpur and convert the present airport into a major freight hub with integrated road and rail connectivity along with a Special Economic Zone. Ballarpur Industries, India's largest manufacturer and exporter of paper is located in Chandrapur district.
Education
Shri Sant Gajanan Maharaj College of Engineering (SSGMCE) at Shegaon
College of Engineering and Technology Akola
Rashtrasant Tukadoji Maharaj Nagpur University, Nagpur
Laxminarayan Institute of Technology, Nagpur
Sant Gadge Baba Amravati University, Amravati
Gondwana University, Gadchiroli
Dr. Panjabrao Deshmukh Krishi Vidyapeeth, Akola
Maharashtra Animal and Fishery Sciences University, Nagpur
Kavikulaguru Kalidas Sanskrit University, Ramtek,
Visvesvaraya National Institute of Technology, Nagpur
Maharashtra National Law School
AIIMS, Nagpur
Indian Institute of Management, Nagpur
Shri Ramdeobaba College of Engineering and Management, Nagpur
G.H.Raisoni College Of Engineering, Nagpur
Government College Of Engineering, Nagpur
Indian Institute of Information Technology, Nagpur
Government Polytechnic, Nagpur
Farmers' suicides
There have been more than 200,000 farmers who committed suicide in Maharashtra in the last decade, out of which more than 70% farmers belong to the 11 districts of Vidarbha region. This is mainly because of the infertility of the land, lack of ample amount of water resources, lack of new technologies and due to the negligence of the state government towards the farmers' needs. The main crop in Vidarbha is cotton, but the farmers growing it do not get their share from the government, which leads to the high distress among them, leading to the massive suicides. Due to the absence of any responsible counselling either from the government or society there were many farmers who did not know how to survive in the changing economy. Such stresses pushed many into a corner where suicide became an option for them. This also led the farmers and others in this region to make a call for a separate Vidarbha state. On 2 August 2012, fearing failed monsoon multiplying his debt burden, Murlidhar More committed suicide, the first farmer suicide during 2012. His body was found hanging from a tree in his farm in Yamaji Patil Wadi in Atpadi taluka, Sangli district.
Tourism
Vidarbha has lush green deciduous forests which are home to a variety of flora and fauna. These attract a large number of visitors each year. All of Maharashtra's tiger reserves are located in Vidarbha. They are Melghat Tiger Reserve in Amravati district, Tadoba-Andhari Tiger Reserve in Chandrapur district, Umred Karhandla Wildlife Sanctuary in Nagpur district and Pench Tiger Reserve in neighbouring state of madhya Pradesh to the north . The Nagzira wild life sanctuary and Navegoan Bandh National Park (bird sanctuary) of Gondia District are also very popular. Although the eastern region of the Vidarbha is poorer in natural resources in comparison with the west, it contains Maharashtra's oldest National Park created in 1955, the Tadoba Tiger Reserve spanning 575.78 km2, one of India's 39 Project Tiger Reserves.
The National Park consists of two forested rectangles of the Tadoba and Andhari range. Aside from around 50 tigers, Tadoba Tiger Reserve is home to rare Indian wildlife like leopards, sloth bears, gaur, wild dogs, hyenas, civet and jungle cats, and many species of Indian deer like sambar, cheetal, nilgai, and barking deer. The Tadoba lake sustains the Marsh Crocodile, which were once common all over Maharashtra. Tadoba is also an ornithologist's paradise with a varied diversity of aquatic birdlife.
Thickly clad hills form the northern and western boundary of the Tiger Reserve. To the southwest is a huge lake which acts as a buffer between the park's forest and the extensive farmland which extends up to Irai Lake.
Adjacent to the core forested hills is the Chichghat valley which hosts the forest lodge. The Tadoba Tiger Reserve is an undisturbed forest not crowded by too many tourists. Tadoba Tiger Reserve is open throughout the year and is at three-hour road journey from the city of Nagpur. Chikhaldara is a Hill Station and a municipal council in Amravati district in the state of Maharashtra, India. Featured in the epic, the Mahabharata, this is the place where Bheema killed the villainous Keechaka in a herculean bout and then threw him into the valley. It thus came to be known as Keechakadara—Chikhaldara is its corruption. But there's more to Chikhaldara. The sole hill resort in the Vidarbha region, it is situated at an altitude of 1118 m and has the added dimension of being the only coffee-growing area in Maharashtra. It abounds in wildlife—panthers, sloth bears, sambar, wild boar, and even the rarely seen wild dogs. Close by is the famous Melghat Tiger Project which has 82 tigers. The scenic beauty of Chikhaldara can be enjoyed from Hurricane Point, Prospect Point, and Devi Point. Other interesting excursions include Gavilgad and Narnala Fort, the Pandit Nehru Botanical Gardens, the Tribal Museum and the Semadoh Lake.
Scriptural importance
Aside from cultural distinctness from the rest of Maharashtra, Vidarbha has evolved historically in a different fashion. Many scriptures mention Vidarbha as the location of:
The marriage of Agastya and Lopamudra.
Rukmini-haran (the elopement of Rukmini with Krishna). Rukmini is described as the princess of the Vidarbhas king Bhishmak and when she came to amravati for worship of goddess Ambadevi Lord krishna run with her. Later Rukmini became one of the chief queens of Krishna.
Kundinpur/Kaundinyapur/Kundinapuri, the mythological capital of Vidarbha has been mentioned in Mahabharata
The story of king Nala and Damayanti, also in the Mahabharata.
Ramayana has the reference of Vidarbha as one on the Janapadas at that time. In Ramayana, The Queen Indumatee - Mother of King Dasharath and the paternal grandmother of Rama, Lakshmana, Bharat and Shatrughna was the Princess of Vidarbha.
Kalidasa's epic poem "Meghaduta" also mentions Vidarbha as the place of banishment of the Yaksha Gandharva.
The ancient 'Vijasan' hill, a Buddhist Monastery was discovered recently.
Culture & people
Situated in central India, Vidarbha has a rich cultural and historical background distinct from rest of Maharashtra. Even though Marathi culture is most dominant, Vidarbha has been a melting pot of Telugu speaking people from south, Hindi speaking central India and tribal people of Chhattisgarh. Vidarbha is famous for the Varhādi in Amravati division and Zadipatti in Nagpur division. Varhadi and Zadipatti is another type of speaking Marathi available in only Vidarbha. Marathi language spoken in the rest of Maharashtra but it has some another type of speaking like Puneri [Pune and area], Ahirani in Khandesh [North of Nashik, Dhule, Jalgaon, Nandurbar], Kolhapuri [Kolhapur], etc. The Gadchiroli district of Vidarbha has a large population of tribal people.
Hindu festivals like Holi, Diwali and Dasara are celebrated throughout the region. There are many prominent cultural and literary societies working in Vidarbha.
Vidarbha Sahitya Sangh (for development of Marathi), Vidarbha Rashtrabhasha Prachar Samiti (promotion and spreading Hindi) and Vidarbha Hindi Sahitya Sammelan (for promoting Hindi). The Nagpur Central Museum (estb 1863) maintains collections that are mainly from Vidarbha.
Dr. Vasudev Vishnu Mirashi (1893–1985)
Dr. Vasudev Vishnu Mirashi was a Sanskrit scholar. He was supposed to be an expert of his times on stone and copper inscription and coinage of ancient India.After a brilliant academic career, he shifted to Mumbai and worked as Sanskrit professor in Elphinstone College. Subsequently, in 1919, he was appointed to the Sanskrit chair at Morris College in Nagpur. He was appointed principal of the same college in 1942. During 1947-1950, he served as the principal of Vidarbha Mahavidyalaya in Amraoti.In the 1957-1966 period, Mirashi worked as the Honorary Professor of Ancient Indian History and Culture, and Head of the Department of Post-Graduate Teaching in Humanities at Nagpur University.His Inscriptions of Inscriptions of the Vakatakas (1963), and Inscriptions of the Silaharas (1977) were published in the renowned Corpus Inscriptionum Indicarum Series of the Archaeological Survey of India. Mirashi's other important works comprise four volumes of Literary & Historical Studies in Indology, Kalidasa, and Bhavabhuti.
Sports
Cricket is the most popular sport in this region and Nagpur's Vidarbha Cricket Association Ground (VCA) hosted international cricket matches now superseded by the Vidarbha Cricket Association Stadium, built in 2008 in Jamtha. The Vidarbha cricket team plays in the Ranji Trophy.
References
Vidarbha Wikipedia
(Text) CC BY-SA