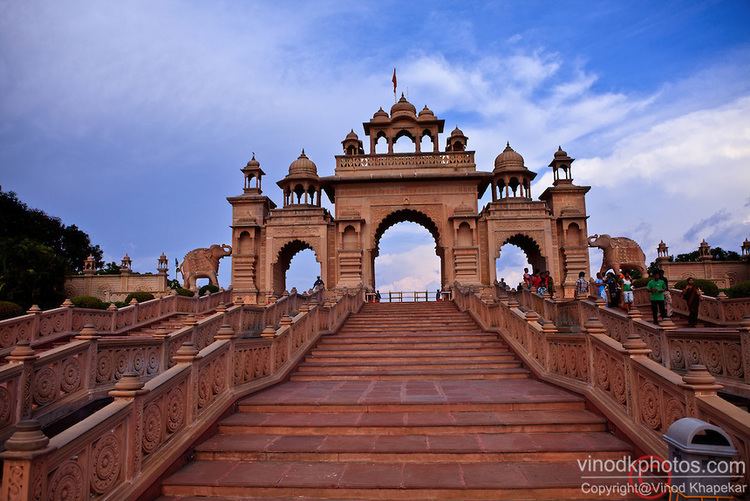 Shegaon is located around 300 km west from the city of Nagpur and 550 km east from the city of Mumbai. Shegaon Railway station is located on the Howrah-Nagpur-Mumbai line of the Central Railway of Indian Railways. It's a small station with no proper facilities but train stops here due to Gajanan Maharaj Temple. It has direct train connectivity to Mumbai CST, Lokmanya Tilak Terminus Mumbai, Delhi, Chennai, Secunderabad, Pune, Tatanagar, Ahmedabad, Okha, Kolhapur, Amravati, Wardha, Nagpur, Gondia, Bilaspur, Howrah-Kolkata, Shalimar-Kolkata, Chandrapur, Chennai Central. From Mumbai several trains halt at Shegaon. Prominent being Gitanjali Express, Vidarbha Express, Amravati Superfast Express, Mumbai Howrah mail and express, Sewagram express, Nagpur-Pune express, Navjivan Express, Gondwana Express, Maharashtra Express, Okha-Puri Express and Ltt - Shalimar Exp.
By road it is well connecting by neighbouring cities like Khamgaon, Balapur, Malkapur and Akola which are located on Hajira (Surat)- Dhule - Howrah (Kolkatta) National Highway 6. It is quite close to the industrial cities of Aurangabad and Nagpur.
Shegaon has a tourist attraction called "Anand Sagar", an INR 3 billion project.
As of 2001 India census, Shegaon had a population of 52,418. Males constitute 52% of the population and females 48%. Shegaon has an average literacy rate of 73%, higher than the national average of 59.5%: male literacy is 78%, and female literacy is 66%. In Shegaon, 14% of the population is under 6 years of age.
Shegaon has colleges offering degree in the area of Commerce and Arts. For skill building, Shegaon has an ITI (Industrial Training Institute). There are 10 schools and 4 junior colleges. It has an engineering college, Shri Sant Gajanan Maharaj College of Engineering (SSGMCE), The engineering college is affiliated with Amravati University. SSGMCE is known for its spiritual activities and compulsory uniform. It also has a MBA program affiliated to Amravati University. The Sansthan also runs other institutes such as Shri Sant Gajanan Maharaj English Medium School, Shri Sant Gajanan Maharaj Warkari Shikshan Sanstha, Shri Sant Gajanan Maharaj Adiwasi Ashram School and Shri Sant Gajanan Maharaj Mentally Retarded School. Mauli college of Engineering, Siddhivinayak Technical Campus, Saraswati college of Computer Application.
It also has Mauli Institute Of Technology and Siddhivinayak Technical Campus School of Engineering & Research Technology commencing from 2011-2012 and Sarsawati College 2009-10.
Shegaon has traditionally been a big market for cotton. Cotton from ginning and pressing mills of Shegaon used to be transported directly to textile mills in Mumbai via goods trains. British textile companies like Rallis India had their procurement office in Shegoan during pre-independence days. Many ginning and pressing mills like M. M. Ginning & Pressing Factory, Bhattad Group of Ginning & Mills, Gajanan Ginning Factory, Bhartia Group Of Ginning And Mills are functional in this area.
Apart from that, Shegaon also has engineering industries that manufacture material handling equipment like chain pulley blocks, industrial cranes, link chain, etc. Shegaon has mineral water bottling plant, oil mills, paint manufacturing and other industries. Gajanan Maharaj College of Engineering also runs a CNC tool room manufacturing precision parts for companies across Maharashtra.
Shegaon tehsil is part of Khamgaon sub-division of Buldhana district. It has area of 436 square kilometres, and consist of 95 villages that have a population of around 125,000
Some of these villages are Jalamb, Pahurjira, Bhota, Sagoda, Bhogaon, Dadgaon, Matargaon, Mongaon Digras, Taroda Tarodi, Paharpurna, Manasgaon, Adsul, Zadegaon, Shrikshetra Nagzari, Chincholi Karfarma, Gaigaon, Jawala Palaskhed, Wankhed, Jawala, Janori, Alasana, Kherda, Gawlkhed, Takali, Lasura, Warkhed, Amboda, Lanjud, Pimpri Deshmukh, Tintrav, Gavhan and Taroda Kasaba.