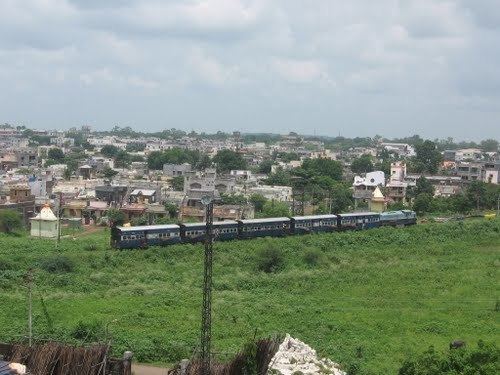 Formerly known as "Yeoti" or "Yeotmal", Yavatmal City was the main town of the Berar Sultanate and according to old writings "the safest place in the world". The then region of Yavatmal (now Yavatmal district), was part of the dominion of Aladdin Hassan Bahman Shah who founded the Bahmani Sultanate in 1347. In 1572, Murtaza Shah ruler of the Ahmadnagar Sultanate (current day Ahmadnagar District), annexed the Yavatmal district, then in 1596, Chand Bibi, warrior queen of Ahmadnagar, ceded the district of Yavatmal to the Mughal Empire, rulers of a large part of India. Following the death of the sixth Mughal Emperor Aurangzeb in 1707, Yavatmal was passed on to the Maratha Empire. When Raghoji I Bhonsle became ruler of the Nagpur kingdom in 1783, he included the Yavatmal district in his territory. After the British East India Company created Berar Province in 1853, Yavatmal became part of East Berar District in 1863 and later part of the South East Berar district, both districts of the Central Provinces and Berar. Yavatmal remained part of Madhya Pradesh until the 1956 reorganization of states when it was transferred to the Bombay State. With the creation of the Maharashtra state on 1 May 1960, Yavatmal district became a part of it.
Yavatmal city is administered by a municipal council (category-A). According to census 2011, its population is nearly 132000. But this figure is number of inhabitants within municipal boundaries. Urbanization has crossed municipal boundaries and neighboring villages have become part of urban agglomeration having population nearing 3 Lacks; the villages are Wadgaon road, Lohara, Umarsara, Waghapur, Moha, Bhos, Pimpalgaon, Pangari, Bhoyar, Parwa, Bhari, and Madkona. Yavatmal is the Fifth most populous city and the largest municipal council in vidarbha.
The principal language of Yavatmal district is Marathi. However, since the district has numerous Scheduled and Nomadic Tribes, various other languages are also spoken in the form of Gormati or Banjari, Gondi, Hindi, Telugu and Kolami. In 1973 the Marathi Sahitya Sammelan, (Marathi Literature Conference) took place in Yavatmal city presided over by Gajanan Digambar Madgulkar.
Festivals like Gudi Padwa, Diwali, Dasara, Bakari-Eid, Ramzaan Eid, Christmas, Easter Sunday and almost all Hindu, Muslim and Christian occasions are celebrated. The district is also home to Buddhist community.
Yavatmal is well connected by the road to the nearby cities like Nagpur, Wardha, Amravati, Akola etc. Shakuntala rail a narrow gauge rail is available connecting yavatmal to central line broad gauge at Murtijapur. Roads and Railways are the major modes of transport in Yavatmal district. Shakuntala rail is the only rail from here
National Highway from Nagpur to Hyderabad passes through the district at Vadki, Karanji, Pandharkawada, Patanbori and Kelapur. State highway from Amravati to Chandrapur passes through Ner, Yavatmal, Jodmoha, Mohada, Umari, Karanji and Wani. Nagpur to Tulzapur state highway route passes through Kalamb, Yavatmal, Arni, Umarkhed etc.
Yavatmal is the southern terminus of the 762 mm narrow gauge railway known locally as the Shakuntala Railway. This line is composed of two legs intersecting with the broad gauge Howrah-Nagpur-Mumbai line at Murtijapur — the 76 km northern leg to Achalpur and the 113 km southeastern leg to Yavatmal. This line was owned by a London-based company which had leased the line to India's Central Railway since 1903. Darwha Station lies on this line.
Wani is a railway junction. From Wani, railway line go up to Rajur, Chanakha, Majari-Varoda, Adilabad and Purna.
In an important development, the state cabinet will approve Wardha-Nanded rail link project. This railway line will connect Wardha-Yavatmal in western Vidarbha with Nanded in Marathwada.
Yavatmal airport is located 9 Kilometres east of the city of Yavatmal and has been taken up by Reliance Airport Developers Ltd for development.
During British rule, Yavatmal city was classified as a hill station. Both cotton-ginning and pressing are carried on in Yavatmal while the town is also the chief trading centre in the district, and connected by road with Dhamangaon station, 29 miles (47 km) away. Major business establishments in Yavatmal include the Raymonds factory which produces special fibre for jeans. The establishments related to cotton, and textile industries has earned the city its nickname "Cotton city". There is a 106-acre (0.43 km2) textile Special Economic Zone (SEZ) under construction while HLL Unilever has also decided to restart the plant they currently have in the city. Other local businesses in the town are dominated by the presence of agricultural supply facilities used by the nearby farming community. Banking services are available in the Yavatmal, Ner, Pusad, Digras, Ghatanji and Pandharkawada and Wani areas. The major industrial centres are at MIDC Lohara, Darwha, Digras, Pusad, Umerkhed, Wani, Umari, Pandharkawada, Ralegaon and Babhulgaon, Ner, and Wani-Maregaon with the main market places in Yavatmal City, Wani, Darwha, Digras, Akola Bazar, Ghatanji, Mohada, Pusad, Umerkhed, Arni and Pandharkawada.
Prominent educational institutes:
Medical : Shri Vasantrao Naik Government Medical College, run by the government, DM Majethia Ayurvedic College.
Technical : Government Polytechnic, Government Residential Women's Polytechnic, Jawaharlal Darda Engineering and Technical Institute (private), Dr. Bhausaheb Nandurkar College of Engineering & Technology y, Jagdamba College of Engineering, ITI Institute, Late Rupeshkumar Ingole Chitrakala Mahavidyalaya
Other formal educational institutes: Amolakchand Vidhi Mahavidyalaya, Amolakchand Mahavidyalaya (Science, Arts and Commerce), Babaji Datey Kala ani Vanijya Mahavidyalaya (Arts and Commerce College), Pharmacy College, Colleges for Physical Education (BPEd), Mahatama Jyotiba Fule College of Social Work (B.S.W., M.S.W), Ayurvedic College in Yavatmal
Schools: Jawaharlal Darda English Medium School and Jr. College, St. Aloysius English Medium School, Free Methodist English School, Kendriya Vidyalaya Yavatmal (central govt. CBSE school), Yavatmal Public School, Sanskar English Medium, Dr. Nandurkar Mahavidyalaya, Waghapur, Nathar English Medium High School, Vivekanand Vidyalaya, Rani Laxmibai Vidyalaya, Loknayak Bapuji Ane Vidyalay, Ane Mahila Maha Vidyalay, Podar International School(CBSE)
Yavatmal Municipal Council was constituted in 1869 but was dissolved shortly thereafter. It was again established in 1894 and thus forms the oldest municipal council in district. Mr. Eliot was first Mayor and Lieutenant, W. Hege was Deputy Mayor. Mr. Govind Punaji Bari was the first Indian Mayor on Yavatmal Municipal council (02-Jan-1914 to 31-May-1932). Under his period Yavatmal got electricity. Elections were conducted for the place of Mayor on 22-Dec-1934, before that the Mayor used to get appointed.
The Prominent persons originating/related with Yavatmal city are:
Nachiket Mor. He is currently a member of the Central Board of the Reserve Bank of India, CARE India, and National Bank for Agriculture and Rural Development. Also, he is current National Director of Bill and Melinda Gates Foundation, India.