Occupation

Actress, singer




Role

Actress




Years active

1985–present




Height

1.81 m




Full name

Uma Karuna Thurman




Name

Uma Thurman








Full Name

Uma Karuna Thurman




Born

April 29, 1970 (age 53) (

1970-04-29

)

Boston, Massachusetts, U.S.




Parent(s)

Nena von SchlebruggeRobert Thurman




Spouse

Ethan Hawke (m. 1998–2005), Gary Oldman (m. 1990–1992)


Children

Maya Thurman-Hawke, Luna Thurman-Busson, Levon Roan Thurman-Hawke




Movies

Pulp Fiction, Kill Bill Volume 1, Kill Bill: Volume 2, Nymphomaniac: Volume I, Batman & Robin




Similar People

Ethan Hawke, Quentin Tarantino, Gary Oldman, Ryan Hawke, Maya Thurman‑Hawke



Partner(s)

Arpad Busson (2007–14)

Uma Thurman's Character Refuses To Say The Words 'Donald Trump'
Uma Karuna Thurman (born April 29, 1970) is an American actress and model. She has performed in a variety of films, ranging from romantic comedies and dramas to science fiction and action movies. Following her appearances on the December 1985 and May 1986 covers of British Vogue, she starred in Dangerous Liaisons (1988). Thurman rose to international prominence with her performance in Quentin Tarantino's Pulp Fiction (1994), for which she was nominated for the Academy Award, the BAFTA Award, and the Golden Globe Award for Best Supporting Actress. She starred in several more films throughout the 1990s such as Batman & Robin (1997), Gattaca (1997), and Les Misérables (1998).
Contents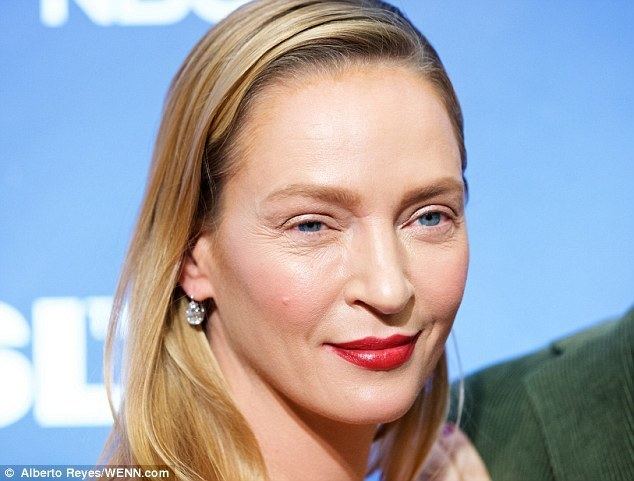 Thurman was awarded the Golden Globe for Best Actress in a Television Film for Hysterical Blindness (2002). Hailed as Quentin Tarantino's muse, she reunited with the director to play the main role in both Kill Bill films (2003–2004), which brought her two additional Golden Globe Award nominations. Other acting credits in the decade include Be Cool (2005), The Producers (2005), and My Super Ex-Girlfriend (2006). She received a Primetime Emmy Award nomination for Outstanding Guest Actress in a Drama Series for her five-episode role in Smash (2012), and garnered critical praise for her supporting performance in the Volume I of Lars von Trier's two-part art drama Nymphomaniac (2013).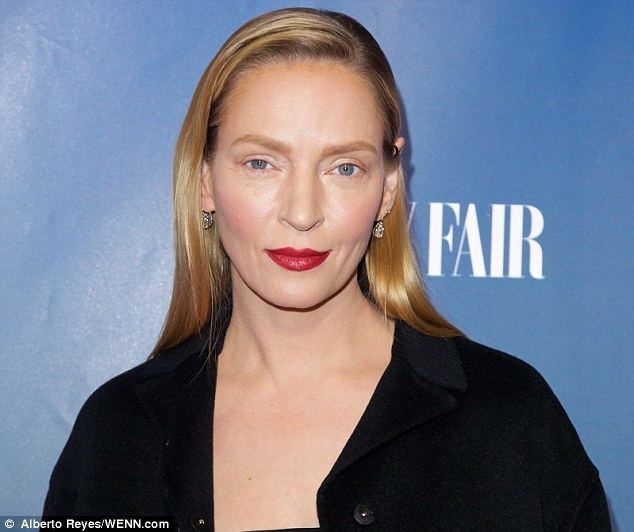 Uma thurman the producers
Early life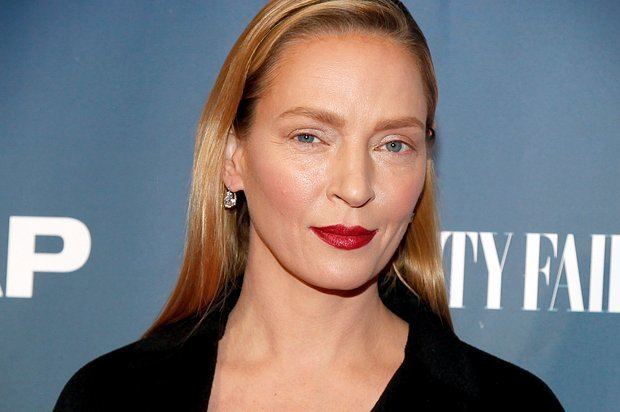 Thurman was born in Boston, Massachusetts. Her forename "Uma" (Sanskrit उमा) literally means "splendour, light" and it is also one of the epithets of Hindu female Goddess Parvati, while her second name "Karuna" (Sanskrit करुणा) means "compassion" or "empathy". Her father, Robert Alexander Farrar Thurman, is a professor of Indo-Tibetan Buddhist Studies; an academic and writer, he lived as an ordained Buddhist monk for three years. Her mother, Nena von Schlebrügge, was German nobility and a high-fashion model, discovered in Stockholm, who moved to New York City at the age of 17 to join the Ford Modeling Agency. Thurman received a Buddhist upbringing, and spent altogether around two years in the Indo-Himalayan town of Almora. She grew up mostly in Amherst, Massachusetts, where she went to Amherst Regional Middle School, then moved to Woodstock, New York. She has three brothers, Ganden (b. 1967), Dechen Karl (b. 1973), and Mipam (b. 1978), and a half-sister named Taya (b. 1961), from her father's previous marriage. Thurman's first cousin, once removed, is Swedish football player Max von Schlebrügge.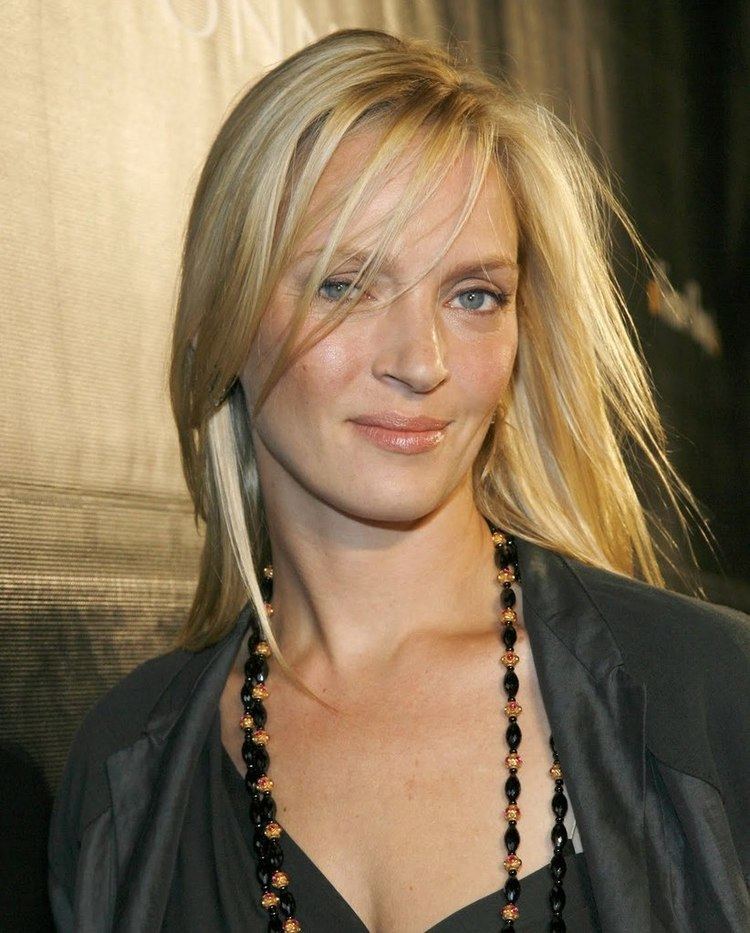 Thurman is described as having been an awkward and introverted girl who was teased for her tall frame, angular bone structure, enormous feet and unusual name (sometimes using the name "Uma Karen" instead of her birth name). When Thurman was 10 years old, a friend's mother suggested a nose job. As a child, she suffered bouts of body dysmorphic disorder.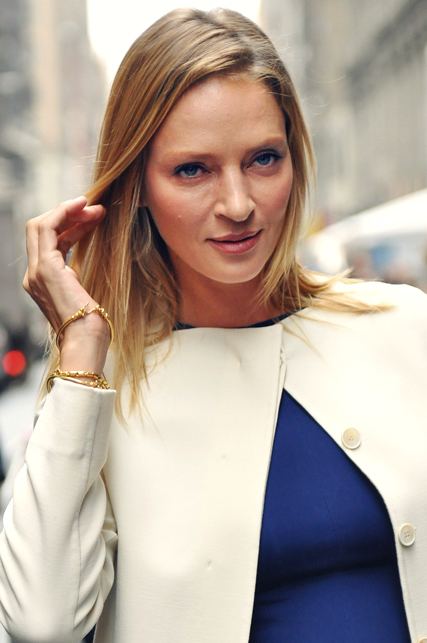 She attended Amherst Public Schools. In the eighth grade she discovered her love for acting. Talent scouts noticed her performance as Abigail in a production of The Crucible and offered her the chance to act professionally. Thurman attended Northfield Mount Hermon School, a preparatory school in Massachusetts, before dropping out to pursue a career in acting.
1980s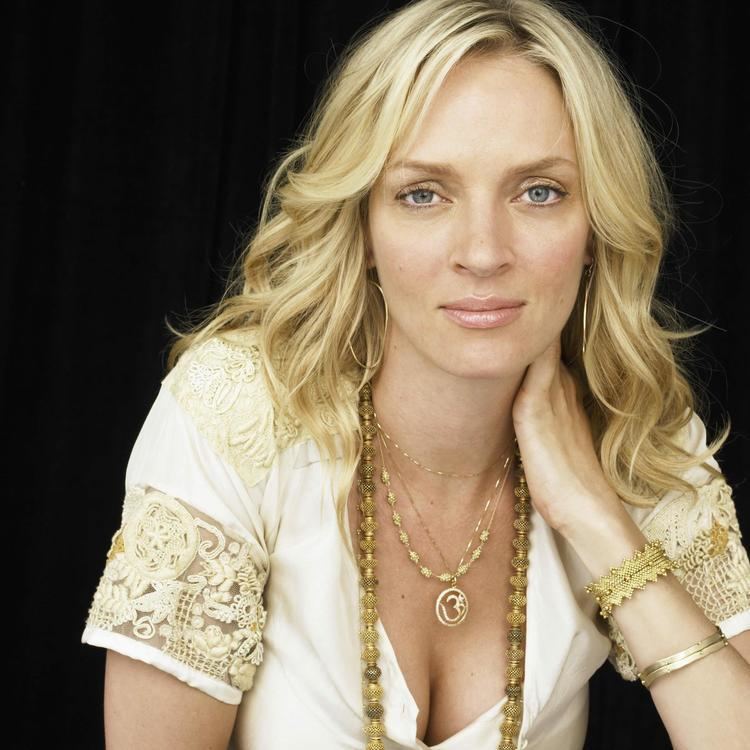 Thurman began her career as a fashion model at age 15, and signed with the agency Click Models. Her early modeling credits included Glamour and the December 1985 and May 1986 covers of British Vogue. She made her movie debut in 1988, appearing in four films that year. Her first two were the high school comedy Johnny Be Good and teen thriller Kiss Daddy Goodnight. She had a small role in The Adventures of Baron Munchausen, playing the goddess Venus alongside Oliver Reed's Vulcan; during her entrance she briefly appears nude, in an homage to Botticelli's The Birth of Venus.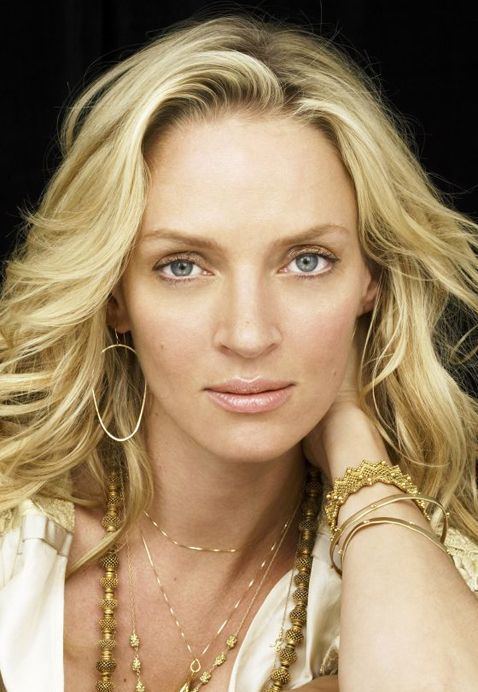 The most notable of these first four films was Oscar-winning drama Dangerous Liaisons, in which Thurman's character of Cecile de Volanges is seduced by the manipulative Vicomte de Valmont (John Malkovich). A commercial success, the picture also garnered Thurman recognition and acclaim from critics and audiences; film critic Roger Ebert found her to be "well cast" in her "tricky" key role. At the time, insecure about her appearance, she spent roughly a year in London, during which she often wore loose, baggy clothing. Malkovich said of her, "There is nothing twitchy teenager-ish about her, I haven't met anyone like her at that age. Her intelligence and poise stand out. But there's something else. She's more than a little haunted."
1990s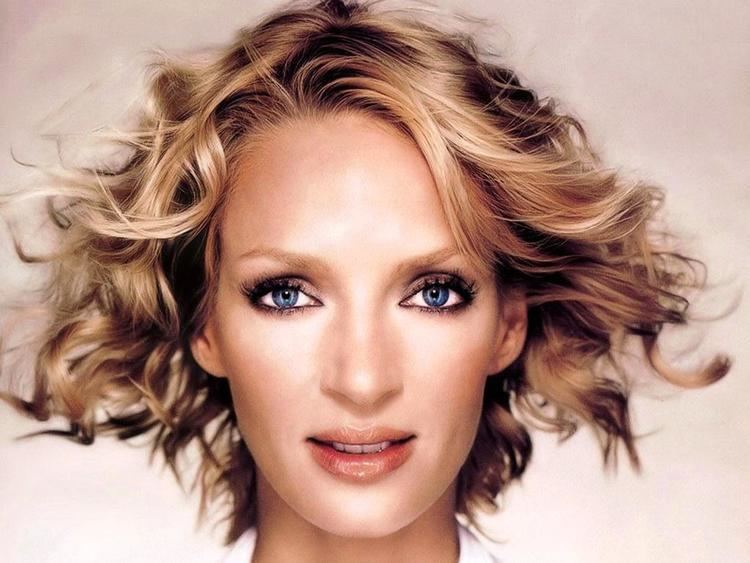 In 1990, Thurman appeared with Fred Ward and Maria de Medeiros in Henry & June, a sexually provocative drama about the relationship and affairs between writer Henry Miller and his wife June Miller in 1931 Paris. The film was the first to receive an NC-17 rating and partly because many American newspapers refused to advertise films with the new rating, it did not get wide release in the United States. However it won Thurman good notices. The New York Times wrote: "Thurman, as the Brooklyn-accented June, takes a larger-than-life character and makes her even bigger, though the performance is often as curious as it is commanding." In the 1991 British adventure Robin Hood, she played Maid Marian, the love interest of the titular character. The film was originally intended for a theatrical release in the US, but premiered as a television film for Fox network. She subsequently appeared in the neo-noir drama Final Analysis, co-starring Richard Gere and Kim Basinger, and starred opposite Andy Garcia in the thriller Jennifer 8, portraying a young blind woman romantically involved with former policeman.
She headlined Gus Van Sant's 1993 adaptation of Tom Robbins' novel Even Cowgirls Get the Blues. Upon its release, the movie received negative reviews and flopped at the box office; Thurman earned a Golden Raspberry Award nomination for Worst Actress. The Washington Post described her acting as shallow, remarking that, "Thurman's strangely passive characterization doesn't go much deeper than drawling and flexing her prosthetic thumbs". Also in 1993, she starred opposite Robert De Niro in the little-seen drama Mad Dog and Glory and auditioned for Stanley Kubrick while he was casting for his eventually unrealized adaptation of the novel Wartime Lies.
In Quentin Tarantino's neo-noir black comedy Pulp Fiction (1994), Thurman portrayed Mia Wallace, the wife of a Los Angeles mobster. Several actresses were considered for the role, but Tarantino wanted Thurman after their first meeting. The film grossed US$213.9 million worldwide and received widespread acclaim, appearing on many critics' lists of the greatest films ever made. She dominated most of the movie's promotional material as her role, which is considered one of the most iconic female film characters from the 1990s. The Washington Post asserted that Thurman was "serenely unrecognizable in a black wig, [and] is marvelous as a zoned-out gangster's girlfriend." For her performance, Thurman was nominated for the Golden Globe and the Academy Award for Best Supporting Actress and launched into the celebrity A-list. She took little advantage of her new-found fame by choosing not to do any big-budget films for the next three years. During an interview with Time magazine in 2003, Tarantino, who considers Thurman his muse, remarked that she was "up there with Garbo and Dietrich in goddess territory."
1996 would see Thurman in two films, the first of which was the ensemble romantic comedy Beautiful Girls, alongside Mira Sorvino, Martha Plimpton, and Natalie Portman. The film saw her play the female lead and love interest of Timothy Hutton's character. Despite modest box office returns, the film was favorably received by the critics, who praised the script and acting, particularly that of Hutton and Portman. Thurman next starred with Janeane Garofalo in the romantic comedy The Truth About Cats & Dogs as a ditzy blonde model. In 1997, she starred opposite Ethan Hawke in Gattaca, a science fiction film set in a future society driven by eugenics where potential children are conceived through genetic manipulation to ensure they possess the best hereditary traits of their parents. Although the picture did not make an impression commercially, it drew many positive reviews and became successful on the home video market. Some critics were not as impressed with Thurman, such as Los Angeles Times, which wrote that she was "as emotionally uninvolved as ever."
Her next film role was supervillain Poison Ivy in Batman & Robin (1997). Budgeted at over US$125 million, the film grossed a modest US$238 million internationally and was unanimously panned, with critics considering it one of the worst films of all time. However, Thurman's performance was largely highlighted; Houston Chronicle remarked that "Thurman [...] sometimes seems to be doing Mae West by way of Jessica Rabbit", and a similar positive comparison was made by The New York Times: "[L]ike Mae West, she mixes true femininity with the winking womanliness of a drag queen". She obtained a Blockbuster Entertainment Award for Best Sci-fi Actress and was also nominated for Favourite Movie Actress at the Kids' Choice Awards. In 1998, she starred as a British secret agent in The Avengers, another financial and critical flop; CNN described her as "so distanced you feel like you're watching her through the wrong end of a telescope."
She took on the role of Fantine in Les Misérables, the 1998 film version of Victor Hugo's novel of the same name, directed by Bille August. On his review of the film, Roger Ebert said that "Thurman's performance is the best element of the movie". After the birth of her first child in 1998, Thurman took a one-year break from acting to concentrate on motherhood, and returned to the screen in the role of a socialite named Blanche Williams in Woody Allen's romantic dramedy Sweet and Lowdown (1999).
She performed in theatre during February 1999, in an update of Molière's The Misanthrope at the Classic Stage Company, but her performance was not well received by critics.
2000s
In 2000, she starred in the period drama The Golden Bowl, which is based on the 1904 novel of the same name by Henry James. Describing her role in The Golden Bowl, the San Francisco Chronicle noted, "Charlotte wasn't the principal character in James' 1904 novel [...] but in the film version [...] she takes center stage. Played by the long-necked Uma Thurman, she's less vixen than ninny – a smooth operator whose maneuvers seem to issue not from shrewdness or intelligence but from a microchip that allows her to robotically spout her lines with careful inflection. It's a blunder of a performance, and makes the viewer wish that [the director] had cast a more accomplished actress — Kate Winslet, perhaps, or Cate Blanchett — who could give dimension to the character and indicate subtext in a way that Thurman can't". Also in November 2000, she narrated the John Moran opera Book of the Dead (2nd Avenue) at The Public Theater.
Most of her roles in the early 2000s were in independent films, such as Vatel (2000), Tape (2001) and Chelsea Walls (2001). The historical drama Vatel saw Thurman play Anne de Montausier, the love interest of 17th-century French chef François Vatel. In Richard Linklater's real-time drama Tape, she starred as the former girlfriend of a drug dealer and volunteer firefighter (Ethan Hawke). She was nominated for the Independent Spirit Award for Best Supporting Female for her part in Tape. Hawke directed her in Chelsea Walls, a drama revolving a number of artists as they spend a single day in New York's famed bohemian home Chelsea Hotel. She would win a Golden Globe for her acting in HBO cable movie Hysterical Blindness, where she was also one of the executive producers. Thurman played a New Jersey woman in the 1980s searching for romance. In its review, the San Francisco Chronicle remarked, "Thurman so commits herself to the role, eyes blazing and body akimbo, that you start to believe that such a creature could exist—an exquisite-looking woman so spastic and needy that she repulses regular Joes. Thurman has bent the role to her will."
Thurman reunited with Quentin Tarantino for the two-part martial arts action film Kill Bill (2003–2004), portraying assassin Beatrix Kiddo, out for revenge against her former lover. Tarantino wrote the part specifically for her. He cited Thurman as his muse while writing the film, and gave her joint credit for the character, whom the two conceived on the set of Pulp Fiction from the sole image of a bride covered in blood. Thurman's main inspiration for the role was the title character of Coffy (played by Pam Grier) and the character of Gloria Swenson from Gloria (played by Gena Rowlands). She said that both of them are "two of the only women I've ever seen be truly women [while] holding a weapon". Production was delayed for several months after Thurman became pregnant and Tarantino refused to recast the part. The film took nine months to shoot, and was filmed in five different countries. The role was also her most demanding, and she spent three months training in martial arts, swordsmanship, and Japanese. Kill Bill was originally set to be released as one film, however, due to its long running time, it was ultimately released in two parts. Both volumes scored highly with critics and audiences, subsequently developing a cult following. Rolling Stone likened Thurman to "an avenging angel out of a 1940s Hollywood melodrama". She was nominated for two Golden Globe for both entries, plus three MTV Movie Awards for Best Female Performance and two for Best Fight.
By 2005, Thurman was commanding a salary of $12.5 million per film. Her first film of the year was the crime-comedy Be Cool, the sequel to 1995's Get Shorty, which reunited her with her Pulp Fiction castmate John Travolta. Despite a lukewarm critical reception, the film grossed US$95 million. She next starred in the romantic comedy Prime with Meryl Streep, playing a woman in her late thirties romancing a man in his early twenties. Her last role of the year was the remake The Producers in which she played Ulla, a Swedish stage actress hoping to win a part in a new Broadway musical. Originally, the producers of the film planned to have another singer dub in Thurman's musical numbers, but she was eager to do her own vocals. She is credited for her songs in the credits. The film bombed commercially but garnered generally acclaim from critics. A. O. Scott of The New York Times who said: "Uma Thurman as a would-be actress is the one bit of genuine radiance in this aggressively and pointlessly shiny, noisy spectacle."
In 2006, she starred opposite Luke Wilson in My Super Ex-Girlfriend, playing a superhero who is dumped by her boyfriend and then takes her revenge upon him. She received $14 million for the role, but the film was panned by critics and made a modest US$61 million worldwide. Entertainment Weekly felt that it was a "miscalculation to make Thurman the antagonist. She does a sprightly satiric turn, but [it is] wasted in a movie that would rather tweak male paranoia than liberate a nerdette terrified of her powers". In the 2007 film The Life Before Her Eyes, Thurman starred as an accident survivor whose guilt causes her present-day life to fall apart. It received a limited theatrical release and was dismissed by critics as "a confusing, painfully overwrought melodrama".
She starred with Colin Firth and Jeffrey Dean Morgan in The Accidental Husband, a romantic comedy where she played a woman who finds herself married while engaged to another man. The film was released in theaters the UK in 2008, but received a direct-to-video premiere in the US, due to financial problems at distributor Yari Film Group. Also in 2008, she took on the role of a cocaine addict in the British television drama My Zinc Bed, co-starring Paddy Considine and Jonathan Pryce. In 2009's Motherhood, she starred as a New York City mother whose dilemmas of marriage, work, and self are shown in the trials and tribulations of one pivotal day. Distributed for a limited release to certain parts of the United States only, the independent dramedy garnered just US$93,388 in three weeks of release. The New York Times critic A. O. Scott felt that Thurman's character is "scattered, ambivalent, flaky and inconsistent – all of which is fine, and energetically conveyed by Ms. Thurman. But what are tolerable quirks in a person can be deadly to a narrative [...] the movie stumbles from loose and scruffy naturalism to sitcom tidiness".
2010s
Thurman filmed a brief role in the fantasy adaptation Percy Jackson & the Olympians: The Lightning Thief (2010), appearing as Medusa, a gorgon cursed by Athena. In 2011, she was a member of the jury for the main competition at the Cannes Film Festival, and her only film in the year —Ceremony— was released for VOD and selected theaters. In the independent comedy, she starred as woman on the eve of her wedding who re-connects with an old fling (played by Michael Angarano). Writing for the New York Daily News, Elizabeth Weitzman was critical of Thurman's role and noted: "She gets stuck in so many small, undeserving projects, one has to wonder who's mapping out her career".
Thurman appeared as one of the powerful and wealthy mistresses of Georges Duroy (Robert Pattinson) in the film adaptation of the 1885 novel Bel Ami, which had a world premiere at the 62nd Berlin International Film Festival, and was released in limited theaters in early 2012. At the time, Thurman joined the cast of NBC's drama series Smash, portraying Rebecca Duvall, a Hollywood actress who wants to star in a new Broadway musical, despite having limited musical ability. She appeared in five episodes of the show's first season. Her performance received largely positive reviews and she earned a Primetime Emmy Award nomination for Outstanding Guest Actress in a Drama Series.
In the critically panned romantic comedy Playing for Keeps (2012), she appeared opposite Gerard Butler, Jessica Biel and Catherine Zeta-Jones, playing what was described as a "desperate-housewife" and a "daffy trophy wife" by Entertainment Weekly. Her next film release was Movie 43 (2013), an independent anthology black comedy film that featured 14 different storylines, with each segment having a different director. Thurman's segment, titled "Superhero Speed Dating", saw her play Lois Lane, one of the women Batman tries to connect with while seeking out a bomb in a speed dating establishment. A commercial bomb, the compilation film was also universally panned by critics, with the Chicago Sun-Times calling it "the Citizen Kane of awful".
Thurman appeared in Lars von Trier's two-part ensemble art drama Nymphomaniac (2013) as Mrs. H, a rejected wife who confronts her estranged husband. The picture had its world premiere at the 64th Berlin International Film Festival, and was released in specialty cinemas, to critical acclaim. Despite Thurman's limited screen time in the Volume I of the film, Rolling Stone magazine remarked that she was "sensational" in a role that defies "[von Trier]'s mixed feelings about female power", while Vanity Fair found her to be "downright terrific", noting that she "lends the character [...] a good deal of dignity". For her part, she received a Bodil Award nomination for Best Supporting Actress. In 2014, Thurman starred in the short films The Mundane Goddess, The Gift and Jump produced for the "Jameson First Shot" competition and created by Jameson Irish Whiskey in association with Trigger Street Productions; all shorts were posted on YouTube. Also in this year, she won the BAMBI Award for Best International Actress.
Thurman obtained the regular role of a television producer dating a much younger man on the NBC miniseries The Slap (2015), the American adaptation of the Australian series of the same name. The eight-part project revolves around the fallout after a man slaps another couple's misbehaving child, and each episode is told through the perspective of a different character. On Thurman's role-centric episode, TV Overmind wrote that it was a "reminder as to why this actress has gone so far in her career". Also in 2015, she played a famed restaurant critic named Simone in the little-seen drama Burnt, starring Bradley Cooper. Variety described her role as a "two-scene cameo [...] though she's mainly on hand to set the plot in motion". Thurman next took on the recurring role of a fixer on the Bravo dark comedy series Imposters, which premiered in February 2017.
In March 2017, it was announced that she would reunite with von Trier on his thriller The House That Jack Built. In April 2017, Thurman was named president of Cannes Film Festival "Un Certain Regard" jury for "works which offer a unique perspective and aesthetic", and during the same month, she joined the cast of Tim Hill's upcoming War with Grandpa.
During July 2017, Uma Thurman officially announced her Broadway theatre debut, in Beau Willimon's "The Parisian Woman".
General
In 1995, Thurman was chosen by Empire magazine as one of the 100 sexiest stars in film history, ranking at No. 20, and in 1997, the magazine listed her as No. 99 in its "The Top 100 Movie Stars of All Time" list. She has also ranked in various occasions in FHM's "100 Sexiest Women in the World" list from the mid 1990s onwards. Thurman has been listed as No. 34, No. 21 and No. 30 in Maxim magazine's "Hot 100" in 2004, 2005 and 2006 respectively. She was named one of the "100 Hottest Women of the 21st Century" by GQ magazine.
On February 7, 2006, Thurman was awarded and named a knight of the Ordre des Arts et des Lettres of France for outstanding achievement in the field of art and literature, and for her work and importance as an actress.
The American rock band Fall Out Boy released a song titled "Uma Thurman" in 2015, celebrating the actress and her roles in Pulp Fiction and Kill Bill. She gave permission for the band to use her name, and during an interview on the Today Show, stated: "It's very, like unbelievably polite and gracious of them. So sweet. I'm so happy for their big success".
Fashion
The Lavender Prada dress Thurman wore at the 67th Academy Awards on March 27, 1995 was admired by the media; Stylecaster.com stated that, as a result, "Thurman became known for her stellar fashion sense, while Prada got a huge boost from instant name recognition the world over." Her Crimson Alberta Ferretti dress at the 72nd Academy Awards on March 26, 2000 remains among the most iconic dresses worn at the ceremony, with The Daily Telegraph voting it the 20th greatest red carpet gown of all time. In 2000, Thurman was selected as the face and spokeswoman of the cosmetics company Lancôme which named several shades of lipstick after her, though they were sold only in Asia. She sued the company in 2008 over the use of her image following her contract' expiration. In 2005, she became a brand ambassador for TAG Heuer and the French fashion house Louis Vuitton, appearing on both companies' advertisement and publicity campaigns. Thurman was chosen as the face of Parfums Givenchy in 2009, and fronted the campaign for the women's fragrance Ange ou Démon Le Secret.
In 2014, Thurman was protagonist for the 15th Campari Calendar, acclaimed for its beauty and printed in a limited edition of 9999 copies, which Thurman defined "an amazing work of art". She was among the actresses photographed by Peter Lindbergh for the 2017 Pirelli Calendar.
Relationships
Thurman met actor Gary Oldman on the set of State of Grace; they married in 1990 and divorced two years later. On May 1, 1998, she married actor Ethan Hawke, whom she met on the set of their 1997 film Gattaca. Hawke's novel Ash Wednesday is dedicated to "Karuna", Thurman's middle name. The marriage produced two children, a daughter (born in 1998), and a son (born in 2002). The couple separated in 2003, and the divorce was finalized in August 2005.
Thurman began dating London-based French financier Arpad Busson in 2007, and they announced their engagement in June 2008. In late 2009, they called off their engagement, but reconciled soon after. The couple called off the engagement for the second time in April 2014. Thurman and Busson have a daughter together, Luna, born in 2012. In January 2017, Thurman and Busson began a custody battle to get custody of their daughter. Thurman ultimately received primary physical custody later that month.
Activism
Thurman has been involved in various philanthropic and activist causes. She supports the United States Democratic Party, and has given money to the campaigns of John Kerry, Hillary Clinton, and Joseph R. Driscoll. She supports gun control laws, and in 2000, she participated in Marie Claire's "End Gun Violence Now" campaign. She is a member of the board of Room to Grow, a charitable organization providing aid to families and children born into poverty. She serves on the board of the Tibet House. In 2007, she hosted the Nobel Peace Prize Concert in Oslo, Norway with actor Kevin Spacey.
In February 2008, in the run-up to the 2008 Summer Olympics, Thurman talked about human rights in China, alongside Steven Spielberg and others, defining "horrible" and "unspeakable crimes against humanity" the Government of China and its political approaches.
In 2011, Thurman was one of a few celebrities attached to USAID and Ad Council's FWD campaign, an awareness initiative tied to that year's East Africa drought. She joined Geena Davis, Chanel Iman and Josh Hartnett in TV and internet ads to "forward the facts" about the crisis. During the same year she also participated at Human Rights Campaign for LGBT civil rights, saying "We're fighting for a conservative value: the right to make a lifelong commitment to someone you love". In 2015 Uma joined "Rhino Rescue Project" and traveled to Southern Africa to assist and help relocating the threatened species of Black rhinoceros; being in very close contact with rhinos, Thurman defined her experience with those animals to be "spiritual, surreal".
Filmography
Actress
2024
The Old Guard 2 (post-production)
2023
The Kill Room (completed)
as
Patrice
2023
Red, White & Royal Blue
as
Ellen Claremont
2022
Hollywood Stargirl
as
Roxanne Martel
2022
Super Pumped (TV Series)
as
Arianna Huffington
- Same Last Name (2022) - Arianna Huffington
- Delete Uber (2022) - Arianna Huffington
- The Charm Offensive (2022) - Arianna Huffington
- Boober (2022) - Arianna Huffington
2022
Suspicion (TV Series)
as
Katherine Newman
- Unmasked (2022) - Katherine Newman
- Questions of Trust (2022) - Katherine Newman
- Be the Gray Man (2022) - Katherine Newman
- The Devil You Know (2022) - Katherine Newman
- Strangers (2022) - Katherine Newman
- Persons of Interest (2022) - Katherine Newman
2020
The War with Grandpa
as
Sally
2019
Chambers (TV Series)
as
Nancy Lefevre
- The Crystal Organ (2019) - Nancy Lefevre
- In the Gloaming (2019) - Nancy Lefevre
- Heroic Dose (2019) - Nancy Lefevre
- Trauma Bonding (2019) - Nancy Lefevre
- With Grace and Gratitude (2019) - Nancy Lefevre
- Murder on My Mind (2019) - Nancy Lefevre
- 2 for 1 (2019) - Nancy Lefevre
- Right to Know (2019) - Nancy Lefevre
- Bad Inside (2019) - Nancy Lefevre
- Into the Void (2019) - Nancy Lefevre
2018
Down a Dark Hall
as
Madame Duret
2017
Imposters (TV Series)
as
Lenny Cohen
- Maid Marian on Her Tip-Toed Feet (2018) - Lenny Cohen
- That's Enough. Off You Go. (2018) - Lenny Cohen
- Always Forward, Never Back (2017) - Lenny Cohen (uncredited)
- Is a Shark Good or Bad? (2017) - Lenny Cohen
- Cohen, Lenny Cohen. (2017) - Lenny Cohen
- We Wanted Every Lie (2017) - Lenny Cohen
2018
The House That Jack Built
as
Lady 1
2018
The Con is On
as
Harriet 'Harry' Fox
2015
The Slap (TV Series)
as
Anouk
- Ritchie (2015) - Anouk
- Rosie (2015) - Anouk
- Aisha (2015) - Anouk
- Connie (2015) - Anouk (credit only)
- Manolis (2015) - Anouk (credit only)
- Anouk (2015) - Anouk
- Harry (2015) - Anouk
- Hector (2015) - Anouk
2014
American Dad! (TV Series)
as
Gwen Ling
- Now and Gwen (2014) - Gwen Ling (voice)
2014
The Gift (Short)
as
Miss Anderson
2014
The Mundane Goddess (Short)
as
Hera
2013
Nymphomaniac: Vol. I
as
Mrs. H
2013
Nymphomaniac: Vol. II
as
Mrs. H
2013
Movie 43
as
Fake Lois Lane (segment "Super Hero Speed Dating")
2012
Playing for Keeps
as
Patti
2012
Smash (TV Series)
as
Rebecca Duvall
- Previews (2012) - Rebecca Duvall
- Tech (2012) - Rebecca Duvall
- Publicity (2012) - Rebecca Duvall
- The Movie Star (2012) - Rebecca Duvall
- Understudy (2012) - Rebecca Duvall
2012
Bel Ami
as
Madeleine Forestier
2010
Percy Jackson & the Olympians: The Lightning Thief
as
Medusa
2008
A Muppets Christmas: Letters to Santa (TV Movie)
as
Joy
2008
My Zinc Bed (TV Movie)
as
Elsa / wife
2008
The Accidental Husband
as
Emma
2007
The Life Before Her Eyes
as
Diana (Adult)
2007
Mission Zero (Short)
as
Uma Thurman
2006
My Super Ex-Girlfriend
as
Jenny Johnson / G-Girl
2005
The Naked Brothers Band: The Movie
as
Uma Thurman
2004
Paycheck: Alternate Ending (Video short)
as
Rachel
2004
Kill Bill: Vol. 2
as
Beatrix Kiddo aka The Bride aka Black Mamba aka Mommy
2003
Kill Bill: Vol. 1
as
The Bride
2002
Hysterical Blindness (TV Movie)
as
Debby Miller
2000
The Golden Bowl
as
Charlotte Stant
2000
Vatel
as
Anne de Montausier
1999
Sweet and Lowdown
as
Blanche
1998
The Avengers
as
Dr. Emma Peel
1998
Les Misérables
as
Fantine
1997
Batman & Robin
as
Poison Ivy / Dr. Pamela Isley
1996
Four Tales of Two Cities
as
Maya (segment "Duke of Groove")
1996
The Truth About Cats & Dogs
as
Noelle
1996
Beautiful Girls
as
Andera
1995
Duke of Groove (TV Movie)
as
Maya
1995
A Month by the Lake
as
Miss Beaumont
1994
Pulp Fiction
as
Mia Wallace
1993
K.D. Lang: Just Keep Me Moving (Music Video short)
as
Hitchhiker
1993
Even Cowgirls Get the Blues
as
Sissy Hankshaw
1993
Mad Dog and Glory
as
Glory
1992
Jennifer 8
as
Helena Robertson
1992
Final Analysis
as
Diana Baylor
1991
Dylan Thomas
as
Caitlin Thomas
1991
Robin Hood
as
Maid Marian
1990
Henry & June
as
June Miller
1990
Where the Heart Is
as
Daphne McBain
1988
Dangerous Liaisons
as
Cécile de Volanges
1988
The Adventures of Baron Munchausen
as
Venus / Rose
1988
Johnny Be Good
as
Georgia Elkans
1987
Kiss Daddy Goodnight
as
Laura
1984
Nausicaä of the Valley of the Wind
as
Kushana (English version, voice)
Producer
2023
The Kill Room (producer) (completed)
2019
Chambers (TV Series) (producer - 10 episodes)
- The Crystal Organ (2019) - (producer)
- In the Gloaming (2019) - (producer)
- Heroic Dose (2019) - (producer)
- Trauma Bonding (2019) - (producer)
- With Grace and Gratitude (2019) - (producer)
- Murder on My Mind (2019) - (producer)
- 2 for 1 (2019) - (producer)
- Right to Know (2019) - (producer)
- Bad Inside (2019) - (producer)
- Into the Void (2019) - (producer)
2008
The Accidental Husband (producer)
2002
Hysterical Blindness (TV Movie) (executive producer)
Writer
2006
Kill Bill: The Whole Bloody Affair (character: The Bride - as U)
2004
Kill Bill: Vol. 2 (based on the character The Bride created by - as U)
2003
Kill Bill: Vol. 1 (based on the character "The Bride" created by - as U)
Soundtrack
2022
Hollywood Stargirl (performer: "Dreaming")
2012
Smash (TV Series) (performer - 3 episodes)
- Previews (2012) - (performer: "Let Me Be Your Star", "The 20th Century Fox Mambo", "Mr. & Mrs. Smith", "The National Pastime", "Second-Hand White Baby Grand")
- Tech (2012) - (performer: "The 20th Century Fox Mambo", "Happy Birthday to You" - uncredited)
- The Movie Star (2012) - (performer: "Let Me Be Your Star", "Dig Deep" - uncredited)
2005
The Producers (performer: "When You Got It, Flaunt It", "That Face", "Springtime for Hitler", "Prisoners of Love", "Goodbye!")
2004
Kill Bill: Vol. 2 (performer: "The Legend of Pai Mai")
Thanks
2022
Everything Everywhere All at Once (thanks)
2019
QT8: The First Eight (Documentary) (special thanks)
2010
Faith and Dreams (Short) (special thanks)
2008
Valentino: The Last Emperor (Documentary) (thanks: un grazie gigantesco)
2005
Kill Dill (Short) (thanks)
2004
'Pulp Fiction' on a Dime: A 10th Anniversary Retrospect (TV Short documentary) (special thanks)
2000
Hamlet (special thanks)
1997
Julian Po (acknowledged contributor)
Self
-
Directed By (Documentary) (completed)
as
Self
2011
Cannes Film Festival (TV Series)
as
Self - Presenter / Self - Jury President / Self - Jury Member / ...
- Cérémonie d'ouverture du 76e Festival de Cannes 2023 (2023) - Self - Presenter
- Cérémonie de clôture du 70ème Festival de Cannes (2017) - Self - Jury President
- Cérémonie de clôture du 67ème festival de Cannes (2014) - Self - Presenter
- Cérémonie de clôture du 66ème festival de Cannes 2013 (2013) - Self - Presenter
- Cérémonie de clôture du 64ème festival de Cannes (2011) - Self - Jury Member
- TV Festival Du Cannes 2011 (2011) - Self - Interviewee
2003
Entertainment Tonight (TV Series)
as
Self
- Episode #41.169 (2022) - Self
- Episode #41.139 (2022) - Self
- Episode #41.125 (2022) - Self
- Episode #36.68 (2016) - Self
- Episode dated 10 February 2015 (2015) - Self
- Episode dated 19 August 2008 (2008) - Self
- Episode dated 18 April 2008 (2008) - Self
- Episode dated 16 April 2008 (2008) - Self
- Episode dated 13 October 2003 (2003) - Self
2022
The Oscars (TV Special)
as
Self - Presenter
2022
The Tonight Show Starring Jimmy Fallon (TV Series)
as
Self - Guest
- Uma Thurman/Deion Sanders/Liam Gallagher (2022) - Self - Guest
2022
Access Hollywood (TV Series)
as
Self
- Episode #26.137 (2022) - Self
2022
The Graham Norton Show (TV Series)
as
Self - Guest
- Courteney Cox/Minnie Driver/Taron Egerton/Ariana DeBose/Uma Thurman/Lola Young (2022) - Self - Guest
2021
Nature (TV Series documentary)
as
Narrator
- Born in the Rockies: Growing Up (2021) - Narrator (voice)
- Born in the Rockies: First Steps (2021) - Narrator (voice)
- Pumas: Legends of the Ice Mountains (2021) - Narrator (voice)
2021
Hollywood Insider (TV Series)
as
Self
- A Tribute to Studio Ghibli: A Masterclass of Storytelling and Cinema - 'Spirited Away' & More (2021) - Self
2020
The Age of Nature (TV Mini Series documentary)
as
Self - Narrator
- Awakening (2020) - Self - Narrator
2005
Live with Kelly and Mark (TV Series)
as
Self - Guest
- Uma Thurman/JP Saxe (2020) - Self - Guest
- Uma Thurman/Vanessa Williams/Nicole 'Snooki' Polizzi (2019) - Self - Guest
- Spring Has Sprung Week/Uma Thurman/Pitbull (2019) - Self - Guest
- Jan-You-ary - Day Four (2018) - Self - Guest
- That's My Baby: Thanksgiving Cooking Week - Day 2 (2017) - Self - Guest
- Episode dated 5 April 2011 (2011) - Self - Guest
- Episode dated 13 October 2009 (2009) - Self - Guest
- Episode dated 20 July 2006 (2006) - Self - Guest
- Episode dated 25 October 2005 (2005) - Self - Guest
- Episode dated 11 March 2005 (2005) - Self - Guest
2005
Today (TV Series)
as
Self - Guest
- Episode dated 5 October 2020 (2020) - Self - Guest
- Episode dated 26 October 2015 (2015) - Self - Guest
- Episode dated 12 February 2015 (2015) - Self - Guest
- Episode dated 8 April 2011 (2011) - Self - Guest
- Episode dated 25 October 2005 (2005) - Self - Guest
2020
Che tempo che fa (TV Series)
as
Self - Guest
- Episode dated 19 January 2020 (2020) - Self - Guest
2003
Extra (TV Series)
as
Self
- Episode #25.273 (2019) - Self
- Episode #21.114 (2015) - Self
- Episode dated 15 October 2003 (2003) - Self
- Episode dated 10 October 2003 (2003) - Self
2014
Skavlan (TV Series)
as
Self - Guest
- From New York/Uma Thurman/Robert Irwin/Susan Cain/Ann Coulter/Noah Kahan (2018) - Self - Guest
- Uma Thurma/Margot Wallström/Slash/Svante Pääbo (2014) - Self - Guest
2018
Ok! TV (TV Series)
as
Self
- Episode #3.180 (2018) - Self
2018
Late Night with Seth Meyers (TV Series)
as
Self - Guest
- Uma Thurman/Jimmi Simpson/Stephanie Wittels Wachs (2018) - Self - Guest
2017
The Late Show with Stephen Colbert (TV Series)
as
Self - Guest
- Uma Thurman/Jacob Williams (2018) - Self - Guest
- Uma Thurman/Jason Jones/Alison Krauss (2017) - Self - Guest
2017
Kalachakra: The Enlightenment (Documentary)
as
Self - Narrator
2017
The 71st Annual Tony Awards (TV Special)
as
Self - Presenter
2017
Le journal du Festival (TV Series)
as
Self
- Episode dated 18 May 2017 (2017) - Self
2016
The First Monday in May (Documentary)
as
Self (Cameo)
2014
24th Annual Gotham Independent Film Awards (TV Special)
as
Self - Host
2014
Bambi Verleihung 2014 (TV Special)
as
Self - Winner
2014
Watch What Happens Live with Andy Cohen (TV Series)
as
Self - Guest
- Uma Thurman & Dominic Monaghan (2014) - Self - Guest
2014
The Late Late Show with Craig Ferguson (TV Series)
as
Self - Guest
- Uma Thurman/D.J. Qualls (2014) - Self - Guest
2014
Inside Edition (TV Series documentary)
as
Self
- Episode dated 18 March 2014 (2014) - Self
2014
Jimmy Kimmel Live! (TV Series)
as
Self - Guest
- Uma Thurman/Jai Courtney/Amos Lee (2014) - Self - Guest
2014
The EE British Academy Film Awards (TV Special)
as
Self - Presenter
2014
71st Golden Globe Awards (TV Special)
as
Self - Presenter (uncredited)
2011
Late Night with Jimmy Fallon (TV Series)
as
Self - Guest
- Episode dated 14 January 2013 (2013) - Self - Guest
- Episode dated 8 April 2011 (2011) - Self - Guest
2012
Close Up (TV Series documentary)
as
Self - Interviewee
- Uma Thurman (2012) - Self - Interviewee
2012
Love, Marilyn (Documentary)
as
Self - Reader
2011
The 2011 Independent Spirit Awards (TV Special)
as
Self - Presenter
2010
Sundance Skippy (Documentary)
as
Self
2009
Made in Hollywood (TV Series)
as
Self
- Episode #5.5 (2009) - Self
1994
Late Show with David Letterman (TV Series)
as
Self - Guest
2009
Festival Updates (TV Special)
as
Self
2008
The City (TV Series)
as
Self
- If She Can Make It Here- (2008) - Self (uncredited)
2008
Wetten, dass..? (TV Series)
as
Self
- Wetten, dass..? aus Berlin (2008) - Self
2008
Valentino: The Last Emperor (Documentary)
as
Self
2003
The View (TV Series)
as
Self - Guest
- Episode dated 1 May 2008 (2008) - Self - Guest
- Episode dated 12 January 2006 (2006) - Self - Guest
- Episode dated 24 December 2003 (2003) - Self - Guest
2008
The Daily Show (TV Series)
as
Self - Guest
- Uma Thurman (2008) - Self - Guest
2008
Ant & Dec's Saturday Night Takeaway (TV Series)
as
Self - Guest Announcer
- Episode #8.2 (2008) - Self - Guest Announcer
2007
The 17th Annual Gotham Awards (TV Special)
as
Self
2007
Marc Jacobs & Louis Vuitton (TV Movie documentary)
as
Self
2006
Space Top 10 Countdown (TV Series)
as
Self
- Unsung SF Movies (2007) - Self
- Anti-Heroes (2006) - Self
2003
Late Night with Conan O'Brien (TV Series)
as
Self - Guest
- Episode #14.84 (2007) - Self - Guest
- Uma Thurman/Kevin Smith/New York Dolls (2006) - Self - Guest
- Uma Thurman/Jon Favreau/Sugarcult (2004) - Self - Guest
- Uma Thurman/Josh Lucas/North Mississippi Allstars (2003) - Self - Guest
2006
Anatomy of a Scene: Shark Attack (Video documentary short)
as
Self
2006
The Cast of 'My Super Ex-Girlfriend' (Video documentary short)
as
Self
2006
The Making of 'My Super Ex-Girlfriend' (Video documentary short)
as
Self
2006
Total Request Live (TV Series)
as
Self
- Episode dated 20 July 2006 (2006) - Self
2006
HypaSpace (TV Series documentary)
as
Self
- Episode #5.143 (2006) - Self
2006
The Oprah Winfrey Show (TV Series)
as
Self - Guest
- Episode dated 26 May 2006 (2006) - Self - Guest
2006
1 Leicester Square (TV Series)
as
Self
- Episode #1.8 (2006) - Self
2003
Friday Night with Jonathan Ross (TV Series)
as
Self - Guest
- Episode #10.7 (2006) - Self - Guest
- Episode #5.4 (2003) - Self - Guest
2006
The 78th Annual Academy Awards (TV Special)
as
Self - Presenter
2006
Le grand journal de Canal+ (TV Series documentary)
as
Self
- Episode dated 7 February 2006 (2006) - Self
2006
The Reichen Show (TV Series)
as
Self - Guest
- Episode dated 20 January 2006 (2006) - Self - Guest
2005
10 Most Excellent Things: The Producers (TV Movie)
as
Self
2005
Batman & Robin Villains: Poison Ivy (Video documentary short)
as
Self
2005
Beyond Batman: Bigger, Bolder, Brighter - The Production Design of 'Batman & Robin' (Video documentary short)
as
Self
2005
Beyond Batman: Dressed to Thrill - The Costumes of 'Batman & Robin' (Video documentary short)
as
Self
2005
Beyond Batman: Freeze Frame - The Visual FX of 'Batman & Robin' (Video documentary short)
as
Self
2005
Beyond Batman: Frozen Freaks and Femme Fatales - The Makeup of 'Batman & Robin' (Video documentary short)
as
Self
1998
HBO First Look (TV Series documentary short)
as
Self
- The Producers (2005) - Self
- The Avengers (1998) - Self
2005
Getaway (TV Series documentary)
as
Self
- Episode #14.43 (2005) - Self
2005
Corazón de... (TV Series)
as
Self
- Episode dated 18 November 2005 (2005) - Self
- Episode dated 24 October 2005 (2005) - Self
2005
Magacine (TV Series)
as
Self
- Episode dated 21 October 2005 (2005) - Self
2005
Be Cool, Very Cool (Video documentary short)
as
Self
2005
Be Cool: Close-Up - Dance Partners (Video short)
as
Self
2005
Independent Lens (TV Series documentary)
- Double Dare/Piki and Poko: Taking the Dare! (2005)
2005
The Paul O'Grady Show (TV Series)
as
Self - Guest
- Episode #2.15 (2005) - Self - Guest
2005
GMTV (TV Series)
as
Self
- Episode dated 8 March 2005 (2005) - Self
2005
Good Morning America (TV Series)
as
Self - Guest
- Episode dated 4 March 2005 (2005) - Self - Guest
2005
Reel Comedy (TV Series)
as
Self
- Be Cool (2005) - Self
2005
Good Day Live (TV Series)
as
Self - Guest
- Episode dated 23 February 2005 (2005) - Self - Guest
2005
Behind the Microphone: Nausicaa of the Valley of the Wind (Video short)
as
Self
2005
Unscripted (TV Series)
as
Self
- Episode #1.9 (2005) - Self
2005
The 62nd Annual Golden Globe Awards 2005 (TV Special)
as
Self - Nominee
2005
Tsunami Aid: A Concert of Hope (TV Special)
as
Self
2004
From Hong Kong to Hollywood: The Making of John Woo (TV Movie documentary)
as
Self
2004
Remembering the Future: Paycheck & the Worlds of Philip K. Dick (TV Movie documentary)
as
Self
2004
'Pulp Fiction' on a Dime: A 10th Anniversary Retrospect (TV Short documentary)
as
Self
2004
2004 MTV Movie Awards (TV Special)
as
Self - Winner
2004
Paycheck: Designing the Future (Video documentary short)
as
Self
2004
Tempting Fate: The Stunts of 'Paycheck' (Video documentary short)
as
Self
2004
E! True Hollywood Story (TV Series documentary)
as
Self
- Uma Thurman (2004) - Self
2004
The Making of 'Kill Bill: Volume 2' (TV Movie documentary)
as
Self
2004
On-Air with Ryan Seacrest (TV Series)
as
Self - Guest
- Episode dated 1 March 2004 (2004) - Self - Guest
2004
The 76th Annual Academy Awards (TV Special)
as
Self - Presenter
2004
The 61st Annual Golden Globe Awards (TV Special)
as
Self - Nominee & Presenter
2003
The Ellen DeGeneres Show (TV Series)
as
Self - Guest
- Episode #1.73 (2003) - Self - Guest
1994
The Tonight Show with Jay Leno (TV Series)
as
Self - Guest
- Episode #11.217 (2003) - Self - Guest
- Episode #4.145 (1996) - Self - Guest
- Episode #3.268 (1995) - Self - Guest
- Episode #3.185 (1994) - Self - Guest
2003
Charlotte Roche trifft... (TV Series documentary)
as
Self
- Quentin Tarantino: Teil 2 (2003) - Self
2003
Filmland (TV Series documentary)
as
Self
- Episode #2.9 (2003) - Self
2003
God kveld Norge (TV Series)
as
Self
- Episode dated 18 October 2003 (2003) - Self
2003
Sendung ohne Namen (TV Series)
as
Self
- You've Gotta Fight - For Your Right - To PAAAAAARTY! (2003) - Self
2003
Howard Stern (TV Series)
as
Self - Guest
- Episode dated 15 October 2003 (2003) - Self - Guest
- Episode dated 14 October 2003 (2003) - Self - Guest
2001
Charlie Rose (TV Series)
as
Self - Guest
- Episode dated 10 October 2003 (2003) - Self - Guest
- Episode dated 6 November 2001 (2001) - Self - Guest
- Episode dated 27 April 2001 (2001) - Self - Guest
2003
The Making of 'Kill Bill' (TV Movie documentary)
as
Self
2003
Revealed with Jules Asner (TV Series)
as
Self - Guest
- John Travolta (2003) - Self - Guest
2003
9th Annual Screen Actors Guild Awards (TV Special)
as
Self - Nominee
2003
Cartaz Cultural (TV Series)
as
Self
2003
The 60th Annual Golden Globe Awards (TV Special)
as
Self - Winner
2002
All the Love You Cannes! (Documentary)
as
Self
2002
The 74th Annual Academy Awards (TV Special)
as
Self - Audience Member
2002
The 2002 IFP/West Independent Spirit Awards (TV Special documentary)
as
Self - Nominee
2002
8th Annual Screen Actors Guild Awards (TV Special)
as
Self
2001
Power of Peace (TV Mini Series documentary)
as
Self - Host
- Peace in Our Schools (2001) - Self - Host
- Global Peace (2001) - Self - Host
- Family Peace (2001) - Self - Host
- Personal Peace (2001) - Self - Host
2001
IFP Gotham Awards 2001 (TV Special)
as
Self
2001
The Directors (TV Series documentary)
as
Self
- The Films of Joel Schumacher (2001) - Self
2001
The Rosie O'Donnell Show (TV Series)
as
Self - Guest
- Episode dated 27 April 2001 (2001) - Self - Guest
2000
Great Books (TV Series documentary)
as
Narrator
- Les Miserables (2000) - Narrator
2000
VH1/Vogue Fashion Awards (TV Special)
as
Self
2000
Without Lying Down: Frances Marion and the Power of Women in Hollywood (TV Movie documentary)
as
Narrator (voice)
2000
The 72nd Annual Academy Awards (TV Special)
as
Self - Presenter
1999
The 71st Annual Academy Awards (TV Special)
as
Self - Presenter
1998
The Making of 'Gattaca' (Video short)
as
Self
1998
Showbiz Today (TV Series)
as
Self
- Episode dated 7 June 1998 (1998) - Self
1998
The Clive James Show (TV Series)
as
Self - Guest
- Episode #1.2 (1998) - Self - Guest
1995
The 67th Annual Academy Awards (TV Special)
as
Self - Nominee & Presenter
1990
CBS This Morning (TV Series)
as
Self - Guest
- Episode dated 6 March 1990 (1990) - Self - Guest
Archive Footage
2014
Entertainment Tonight (TV Series)
as
Self
- Episode #42.286 (2023) - Self
- Episode #41.246 (2022) - Self
- Episode #41.241 (2022) - Self
- Episode #41.192 (2022) - Self
- Episode #41.144 (2022) - Self
- Episode #38.275 (2019) - Self
- Episode #37.128 (2018) - Self
- Episode #37.127 (2018) - Self
- Episode dated 8 October 2014 (2014) - Self
2022
Les Chroniques du Mea (TV Series)
as
Self
- Le Monde Perdu (1997) (2022) - Self
2022
The Charlie Kirk Show (Podcast Series)
as
Self
- DeSantis Destroys Disney Groomers + Dr. Pierre Kory Joins the Program (2022) - Self
2022
Fearless with Jason Whitlock (Podcast Series)
as
Self
- Will Smith Slaps Chris Rock, Channels Kanye West, Dishonors God at the Oscars (2022) - Self
2022
Hannity (TV Series)
as
Self
- Episode dated 28 March 2022 (2022) - Self
2022
Patriot Outpost (TV Series)
as
Self
- Ron DeSantis SLAMS Woke Hollywood Oscars And Disney For Opposition To Parental Rights In Education (2022) - Self
2021
Moments Within Moments
as
Self
2020
Charles Bronson, Hollywood's Lone Wolf (TV Movie documentary)
as
Self (uncredited)
2020
MsMojo (TV Series)
as
Self
- Top 10 Times Talk Show Hosts Made Celebrities Uncomfortable (2020) - Self
2019
Hollywood's Stories (TV Series documentary)
as
Self
- #MeToo & Harvey Weinstein Scandal (2019) - Self
2019
QT8: The First Eight (Documentary)
as
Self
2019
Auto/Biography (TV Series documentary)
as
Self
- The Case of the Missing Movie Cars (2019) - Self
2019
Untouchable (Documentary)
as
Self (uncredited)
2018
Beyond Boundaries: The Harvey Weinstein Scandal (Documentary)
as
Self - Red Carpet Interviewee
2015
The Switch Drag Race (TV Series)
as
Beatrix Kiddo / Mia Wallace
- Episode #2.25 (2018) - Beatrix Kiddo
- Episode #1.7 (2015) - Mia Wallace
2018
Six Sides of Katharine Hepburn (Documentary short)
as
Self
2018
Breakfast (TV Series)
as
Self
- Episode dated 4 February 2018 (2018) - Self
2018
Sky News: Sunrise (TV Series)
as
Self
- Episode dated 4 February 2018 (2018) - Self (uncredited)
2018
Sky World News (TV Series)
as
Self
- Episode dated 4 February 2018 (2018) - Self (uncredited)
2017
The Andrew Klavan Show (Podcast Series)
as
Self
- The Weirdness of the Left (2017) - Self
2017
Access Hollywood (TV Series)
as
Self
- Episode #22.36 (2017) - Self
- Episode #21.146 (2017) - Self
2016
The Naked Babes of Batman (Video short)
as
#4 - Dangerous Liaisons (1988)
2016
Superheroes Who Have Been Nude (Video short)
as
#9 - Dangerous Liaisons (1988)
2016
L'IA et Mathieu (TV Mini Series)
as
Self
- Surpopulation, suicide de l'espèce (2016) - Self
2016
Welcome to the Basement (TV Series)
as
Mia Wallace
- Star Wars, Buster Keaton, Dinosaur (2016) - Mia Wallace
2015
The Legend of the Palme D'Or (TV Movie documentary)
as
Self (uncredited)
2014
Top 40 Ultimate Action Movies (TV Movie documentary)
as
Self
2013
Scatter My Ashes at Bergdorf's (Documentary)
as
Self (uncredited)
2012
Special Collector's Edition (TV Series)
as
Cécile de Volanges
- Las amistades peligrosas (2012) - Cécile de Volanges
2012
Final Cut: Ladies and Gentlemen
2011
Music Box (TV Mini Series)
as
Self
- Dark Side - Rati Tsiteladze (2011) - Self
2011
Primera Dama (TV Series)
as
The Bride
- La campaña contra Facundo (2011) - The Bride
2006
Kill Bill: The Whole Bloody Affair
as
The Bride / Beatrix Kiddo
2006
Boffo! Tinseltown's Bombs and Blockbusters (Documentary)
as
Mia Wallace (uncredited)
2005
VM Show Vol. 2 (TV Series)
as
The Bride
- Sant Esteve (2005) - The Bride (uncredited)
- Quin fred! (2005) - The Bride (uncredited)
- Donem la nota (2005) - The Bride
- Flashback (2005) - The Bride (uncredited)
2005
Shadows of the Bat: The Cinematic Saga of the Dark Knight - Batman Unbound (Video documentary short)
as
Self
2005
Cinema mil (TV Series documentary)
as
Self / Cécile de Volanges
- Plot (2005) - Cécile de Volanges
- Episode #1.2 (2005) - Self
- Episode #1.1 (2005) - Self
2005
Midnight Movies: From the Margin to the Mainstream (Documentary)
as
Self
2004
The Ultimate Hollywood Blonde (TV Mini Series documentary)
as
Self
2004
VH1 Goes Inside (TV Series documentary)
as
Mia Wallace
- Awesome Movie Songs (2004) - Mia Wallace
2003
Celebrities Uncensored (TV Series)
as
Self
- Episode #1.15 (2003) - Self
2002
Pulp Fiction: The Facts (Video documentary short)
as
Self
2002
Heart of the Festival (TV Movie)
as
Self
2001
De Superman à Spider-Man: L'aventure des super-héros (TV Movie documentary)
as
Poison Ivy
1997
You're Still Not Fooling Anybody (Short)
as
Self (uncredited)
References
Uma Thurman Wikipedia
(Text) CC BY-SA