Native name

ಪುನೀತ್ ರಾಜಕುಮಾರ್




Full Name

Lohith




Name

Puneeth Rajkumar




Nationality

Indian




Role

Film actor




Other names

Appu










Born

17 March 1975 (aged 46) (

1975-03-17

) Madras, Tamil Nadu, India


Residence

Bengaluru, Karnataka, India


Occupation

Actor, playback singer, television presenter




Spouse

Ashwini Revanath (m. 1999)




Siblings

Shiva Rajkumar, Raghavendra Rajkumar, Lakshmi, Poornima




Movies

Rana Vikrama, Power, Anna Bond, Ninnindale, Arasu




Years active

1976–19892002–present





Died

29 October 2021 (aged 46) Bangalore, Karnataka, India
Power - Kannada Full HD Movie | Kannada New Movies | Puneeth Rajkumar, Thrisha, Shivaji Prabhu
Puneeth Rajkumar Movies List
Puneeth Rajkumar (17 March 1975 – 29 October 2021) was an Indian film actor and television presenter who works primarily in Kannada cinema. He was a lead actor in 25 films; as a child he appeared in films featuring his father, Rajkumar. His performances in Vasantha Geetha (1980), Bhagyavantha (1981), Chalisuva Modagalu (1982), Eradu Nakshatragalu (1983) and Bettada Hoovu (1985) were praised. He won the National Film Award for Best Child Artist for his role of Ramu in Bettada Hoovu. Puneeth's first lead role was in 2002's Appu.
Contents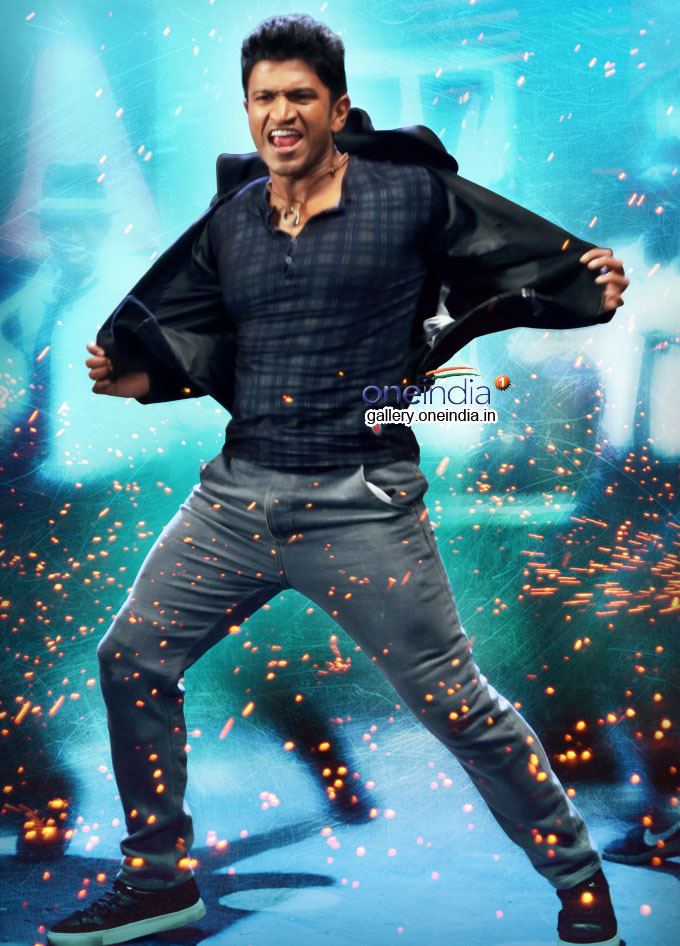 He appeared as a lead actor in commercially successful films, including Appu, Abhi (2003), Mourya (2004), Aakash (2005), Arasu (2007), Milana (2007), Vamshi (2008), Raam (2009), Jackie (2010), Hudugaru (2011), Doddmane Hudga (2016) and Raajakumara (2017), and is one of the highest paid actors in Kannada cinema. In 2012, he debuted as a television presenter on the popular the game show Kannadada Kotyadhipati, a Kannada version of Who Wants to Be a Millionaire?. His elder brother, Shiva Rajkumar, is a popular actor.
Puneeth married Ashwini Revanth on 1 December 1999. They met through a common friend, and have two daughters: Drithi and Vanditha.
1976–89: As child actor
Director V. Somashekar first brought Puneeth (then known as Lohith) onscreen when he was six months old in his thriller film, Premada Kanike (1976), starring Rajkumar and Aarathi. This was followed by Vijay's Sanaadi Appanna (1977), based on Krishnamoorthy Puranik's novel of the same name, when Puneeth was one year old. Thayige Thakka Maga (1978) was again directed by V. Somashekar and starred his father. Two years later, directors Dorai-Bhagavan cast him as Shyam in Vasantha Geetha (1980). This was followed by K. S. L. Swamy's mythological drama Bhoomige Banda Bhagavantha (1981, appearing as Lord Krishna) and B. S. Ranga's Bhagyavantha (1982), in which he recorded his first popular song: "Baana Daariyalli Soorya", composed by T. G. Lingappa. That year, he appeared in two hit films (Chalisuva Modagalu and Hosa Belaku) with his father. For the former, Puneeth received his first Karnataka State Film Award for Best Child Actor (Male). In 1983 he appeared in two mythological films: Bhakta Prahlada as the protagonist, Prahlada, and Eradu Nakshatragalu, for which he received his second Karnataka State Film Award for Best Child Actor.
In 1984 Puneeth starred with Rajkumar in the thriller Yarivanu and sang "Kannige Kaanuva", written by Rajan-Nagendra. His biggest break as a child actor came in the 1985 drama Bettada Hoovu, directed by N. Lakshminarayan and based on Shirley L. Arora's novel What Then, Raman? For his portrayal of the innocent Ramu, Puneeth received the award for Best Child Artist at the 33rd National Film Awards. In his early teens he appeared in Shiva Mecchida Kannappa (1988) as the young Kannappa with his elder brother, Shiva. Puneeth's final child role was in Parashuram (1989), with his father.
2002–07: Debut as lead and breakthrough
In April 2002, Puneeth made his film debut as a leading man in the masala film Appu with Rakshita, also making her film debut. The musical, directed by Puri Jagannadh and produced by Parvathamma Rajkumar in which he played a college boy, was a box-office success and his dancing skills were praised by critics. Puneeth sang "Taliban Alla Alla", with lyrics by Upendra and music by Gurukiran. The film's success spawned remakes in Telugu (Idiot (2003)) and Tamil (Dum (2003)).
Puneeth next appeared in Dinesh Babu's Abhi (2003) as a plucky college boy who is devoted to his mother. In the film, based on a true story and produced by Parvathamma Rajkumar, he starred with debutante Ramya.
Meher Ramesh's Veera Kannadiga was Puneeth's first 2004 release. The film, written by Puri Jagannadh, was simultaneously made in Telugu as Andhrawala with N. T. Rama Rao Jr. in the lead role. Paired with debutante Anitha it showcased his dancing and stunt skills. Although the film was criticised for its violence and poor plot, it was successful at the box office. Puneeth next starred in S. Narayan's family drama Maurya, a remake of the Telugu Amma Nanna O Tamila Ammayi starring Ravi Teja and written by Puri Jagannadh. The remake enhanced Puneeth's reputation as an actor in his own right.
He released two films in 2005. Mahesh Babu's Aakash reunited Puneeth with Ramya (from Abhi), and he appeared in Veera Shankar's action film Namma Basava with Gowri Munjal. He recorded songs in both films. Puneeth's only 2006 release was Ajay, directed by Meher Ramesh and produced by Rockline Venkatesh. In the film, a remake of the 2003 Telugu Okkadu, he played a professional kabaddi player who protects a girl endangered by her uncle (played by Prakash Raj). As a result of these films, Puneeth was called the "Powerstar of Sandalwood".
Puneeth's first release in 2007 was his production Arasu, directed by Mahesh Babu, in which he played an expatriate businessman who renounces his wealth for the woman he loves. For his performance, he received his first Filmfare Best Actor award. Puneeth's other release that year was Prakash's reaffirmation of traditional family values, Milana, in which he played the radio jockey Akash. For the film, he received his first Karnataka State Film Award for Best Actor.
2008–11: Career challenges
The actor released two films in 2008: D. Rajendra Babu's Bindaas and Prakash's Vamshi. Puneeth's first 2009 release was Raaj - The Showman. Although the film (directed by Prem) was criticised, his performance was praised. His other film, Raam with Priyamani, was a remake of the Telugu hit Ready.
Puneeth returned to the limelight in 2010 with back-to-back hits. The first was Jacob Varghese's political thriller Prithvi, in which he played a bureaucrat in Ballari district who fights corruption. His next release was the action film Jackie directed by Duniya Soori, which was a commercial success. Puneeth Rajkumar is praised by both the critics and fans. His dare-devil stunts in movies are still a record in South Indian cinema. He also danced well in the movie.
2011–15: Hudugaru and other films
In 2011, Puneeth co-starred in K. Madesh's Hudugaru, a remake of the Tamil film Nadodigal in which he reprised M. Sasikumar's role in the original. For his performance, he received his second Filmfare and first SIIMA Best Actor awards. In Yogaraj Bhat's travelogue Paramathma, Puneeth's next release, his character searches for love.
He worked with Soori again in 2012 on the action film Anna Bond, produced by Parvathamma Rajkumar. For his performance, he received the Suvarna Best Actor award and was nominated for an IIFA award. Puneeth starred in another Tamil remake, Poraali, filmed in Kannada as Yaare Koogadali by Samuthirakani. He played Kumar, who escapes with his friend from a mental asylum and finds refuge in a man's house.
In 2014, Puneeth starred in Jayanth C. Paranjee's romance Ninnindale with Erica Fernandes. Although his performance as a New York-based adventure enthusiast based in New York was praised by critics, the film was unsuccessful at the box office. Puneeth's next release was K. Madesh's Power ***, a remake of the Telugu film Dookudu. Appearing with Trisha for the first time, he played a tough police officer. The film earned a record ₹22 crore (₹220 million) in six days. In 2015 he played himself in B. M. Giriraj's Kannada-Malayalam bilingual film, Mythri, which also starred Mohanlal and Bhavana. Puneeth's other release that year was Pawan Wadeyar's Rana Vikrama, an action film with Adah Sharma and Anjali.
2016–Present
In March 2016, Puneeth worked for M. Saravanan's Chakravyuha and Duniya Soori's Doddmane Hudga. In 2017, he appeared in Santhosh Ananddram's Raajakumara. He also had the starring role in A Harsha's Anjani Putra alongside with Rashmika Mandanna, which was remake of Tamil film Poojai.
Singing career
Puneeth sang alone in Appu, and sang a duet on "Jothe Jotheyali" from Vamshi. He sang a fast number in Jackie and sang in his brother Shiva's films, Lava Kusha and Mylari.
Television
In 2013, Puneeth hosted the first season of Kannadada Kotyadhipati, modeled on the Hindi show Kaun Banega Crorepati, which in turn, modeled on the British show Who Wants to Be a Millionaire?. Its first season was successful, and a second season followed.
Other interests
Puneeth was involved in philanthropy with his mother at the Shakti Dhama ashram in Mysore, and owns the Bengaluru Premier Futsal team.
Endorsements
Puneeth was a brand ambassador for Karnataka Milk Federation's Nandini Milk products, LED Bulb Project, 7 Up (PepsiCo), F-Square, Dixcy Scott, Malabar Gold and Manappuram, and was a brand ambassador of the Indian Premier League cricket team Royal Challengers Bangalore. Puneeth also owns a team in Premier Futsal, Bengaluru 5.
Awards and nominations
National Film Awards
1985: Best Child Artist — Bettada Hoovu
Filmfare Awards South
2016: Best Playback Singer- Male - Run Antony - Nominated for 'Jhanak Jhanak'
2014: Best Playback Singer- Male - Power*** - Nominated for 'Guruvara Sange'
South Indian International Movie Awards
IIFA Utsavam
2017: Best Playback Singer- Male - Nanna Ninna Prema Kathe - Nominated for 'Maduve Munji'
2017: Best Playback Singer- Male - Run Anthony - Nominated for 'Jhanak Jhanak'
South Scope Film Awards
2008: Best Actor — Vamshi
2009: Best Actor — Raaj the Showman
Other awards
2010: Suvarna Film Award for Best Actor — Jackie
2012: Suvarna Film Award for Most Favorite Actor — Anna Bond
2010: Udaya Film Award for Best Actor — Jackie
2015: Zee Music Awards For Best Singer - "Adhyaksha"
2016: Mirchi Music Awards South - Sensational Singer Of The Year, 2015
Death
On 29 October 2021, Puneeth died in Bangalore after suffering a heart attack at the age of 46. He donated his eyes in accordance with a pledge by his father Rajkumar, that he along with all his family members will donate their eyes after death. A state funeral was conducted, and was attended by the Chief Minister of Karnataka and other major leaders. His funeral was reportedly attended by more than a million fans. He was buried at Sree Kanteerava Studios in Bangalore.
Filmography
Actor
-
Puneeth Rajkumar-Jacob Varghese film (pre-production)
-
Untitled Puneeth Rajkumar FIlm (pre-production)
2021
Yuvarathnaa
as
Yuvaraj / Arjun
2019
Natasaarvabhowma
as
Gagan Dixit
2018
Rajaratha
as
Narrator (Kannada version, voice)
2015
Rana Vikrama
as
Rana Vikrama / ACP Vikrama
2014
Ninnindale
as
Vicky Venkatesh
2012
Yaare Koogadali
as
Kumara
2012
Mugamoodi
as
as Bruce Lee's friend (Special appearance)
2012
Anna Bond
as
Bond Ravi aka Anna Bond
2010
Jackie
as
Janakirama 'Jackie'
2004
Veera Kannadiga
as
Munna / Shankar
2003
Abhi
as
Abhishek (as Abhi)
1988
Shiva Mecchida Kannappa
as
Young Dinna
1985
Bettada Hoovu
as
Ramu (as Master Punett)
1984
Yarivanu?
as
Shyam (as Master Lohith)
1983
Eradu Nakshatragalu
as
Raja (as Master Lohith)
1983
Bhakta Prahlada
as
Prahlada (as Master Lohith)
1982
Hosa Belaku
as
Puttu (as Master Lohith)
1982
Chelisuva Modagalu
as
Ramu (as Master Lohith)
1981
Bhoomige Banda Bhagavantha
as
Krishna (as Master Lohith)
1980
Vasantha Geetha
as
Shyam (as Master Lohith)
1978
Thayige Takka Maga
as
Young Kumar (as Master Lohith)
Music Department
2021
Yuvarathnaa (playback singer)
2020
French Biriyani (playback singer)
2019
Crossroads (playback singer)
2019
Aduva Gombe (playback singer)
2017
Anjaniputra (playback singer)
2017
Raajakumara (playback singer)
2017
Melkote Manja (playback singer)
2016
Golisoda (playback singer)
2016
Crazy Boy (playback singer)
2016
Run Antony (playback singer)
2016
Chakravyuha (playback singer)
2015
Rocket (playback singer)
2015
Uppi 2 (playback singer)
2014
Thirupathi Express (playback singer)
2012
Anna Bond (playback singer)
2010
Mylari (playback singer)
2010
Jackie (playback singer)
2009
Raam (playback singer)
2008
Vamshi (playback singer)
2008
Bindass (playback singer)
2007
Lava Kusha (playback singer)
2007
Arasu (playback singer)
2005
Namma Basava (playback singer)
2005
Akash (playback singer)
2005
Rishi (playback singer)
2004
Mourya (playback singer)
2004
Veera Kannadiga (playback singer)
2003
Abhi (playback singer)
2002
Appu (playback singer)
1989
Parashuram (playback singer)
1985
Bettada Hoovu (playback singer)
1984
Yarivanu? (playback singer)
1983
Eradu Nakshatragalu (playback singer)
1983
Bhakta Prahlada (playback singer)
1982
Chelisuva Modagalu (playback singer)
Producer
-
Puneeth Rajkumar-Jacob Varghese film (producer) (pre-production)
2019
Crossroads (producer)
1996
Soothradhara (producer)
Soundtrack
2017
Anjaniputra (performer: "1234 Shille Hodi")
2002
Appu (performer: "Taliban Allah Allah", "Panavidu Panavidu", "Aa Devara Haadidu")
Writer
2022
Gandhada Gudi (Documentary)
Thanks
2020
French Biriyani (very special thanks)
2020
Law (very special thanks)
2020
Gentleman (very special thanks)
2018
Rajaratha (special thanks - as Power Star Puneeth Rajkumar)
2017
Kataka (very special thanks)
Self
2022
Gandhada Gudi (Documentary)
as
Puneeth Rajkumar
2021
Dance Dance (TV Series)
as
Self - Guest
- Grand Premiere (2021) - Self - Guest
2019
Padde Huli
as
Self (Cameo)
2018
Humble Politician Nograj
as
Self
2017
Family Power (TV Series)
2015
UPstarters (TV Series)
2012
Kannadada Kotyadhipathi (TV Series)
Archive Footage
2022
Dance Karnataka Dance (TV Series)
as
Self
- Episode #6.24 (2022) - Self
2016
Weekend with Ramesh (TV Series)
- Episode #2.34 (2016)
References
Puneeth Rajkumar Wikipedia
(Text) CC BY-SA