Native name

ಶಿವ ರಾಜ್‌ಕುಮಾರ್




Years active

1986–present




Full Name

Putta Swamy




Spouse(s)

Geetha (m. 1986)





Name

Shiva Rajkumar




Occupation

Actor




Role

Film actor







Born

12 July 1961 (age 62) (

1961-07-12

)

Madras, Madras State, India




Alma mater

University of MadrasM.G.R. Government Film and Television Training Institute




Siblings

Puneeth Rajkumar, Raghavendra Rajkumar, Lakshmi, Poornima




Upcoming movies

Punyavantha, Operation Golden Gang, AK 97




Movies

Vajrakaya, Bhajarangi, Om, Jogi, Anand




Profiles




Facebook




Other names

Shivanna, Shivu, Puttu



Preethi Neeilade Shiva Rajkumar Hits | Best Kannada Songs Jukebox
Shiva Rajkumar's Daughters Wedding Video
Nagaraju Shiva Putta Swamy (born 12 July 1962), known by his screen name Shiva Rajkumar, is an Indian film actor, producer, playback singer, and television presenter, best known for his work in Kannada cinema. He is the eldest son of actor Rajkumar. In his career spanning over three decades, Shiva has worked in over 100 films.
Contents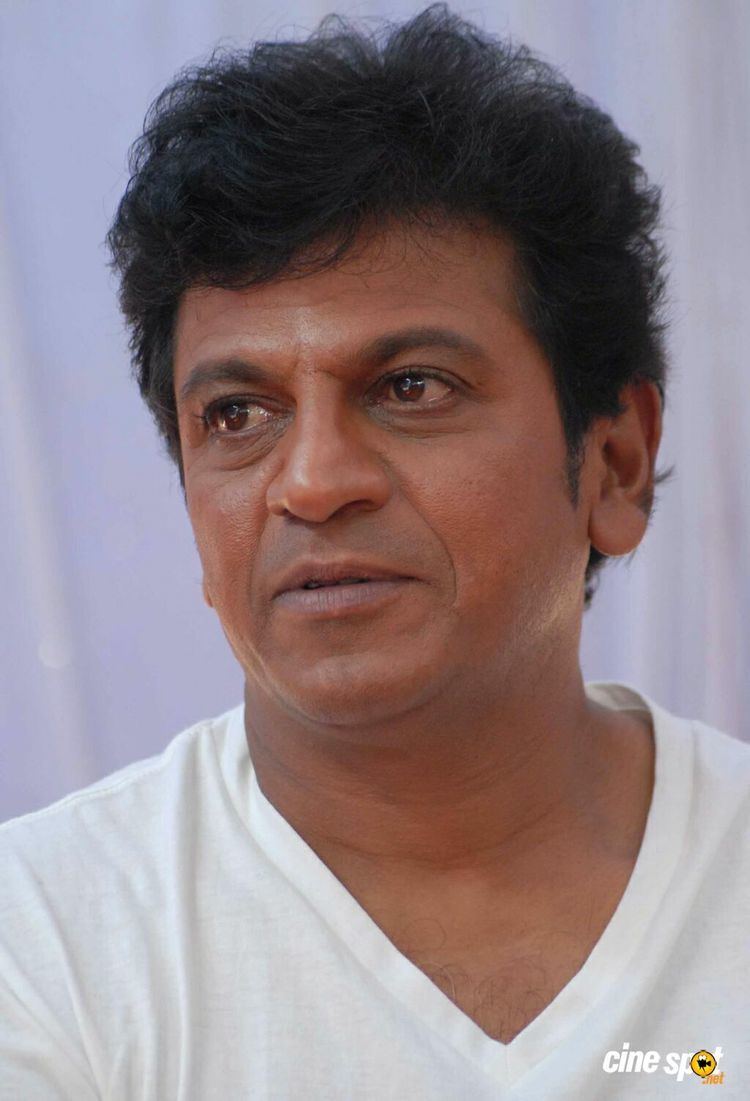 After graduating in Bachelor of Science (Chemistry), Shiva made his debut screen appearance in films with Singeetham Srinivas Rao's Anand (1986) which fetched him the Cinema Express Award for Best Actor. His first three films, namely Anand, Ratha Sapthami (1986) and Mana Mechchida Hudugi (1987) were all highly successful, earning him the title Hattrick Hero coined by the media and his fan followers.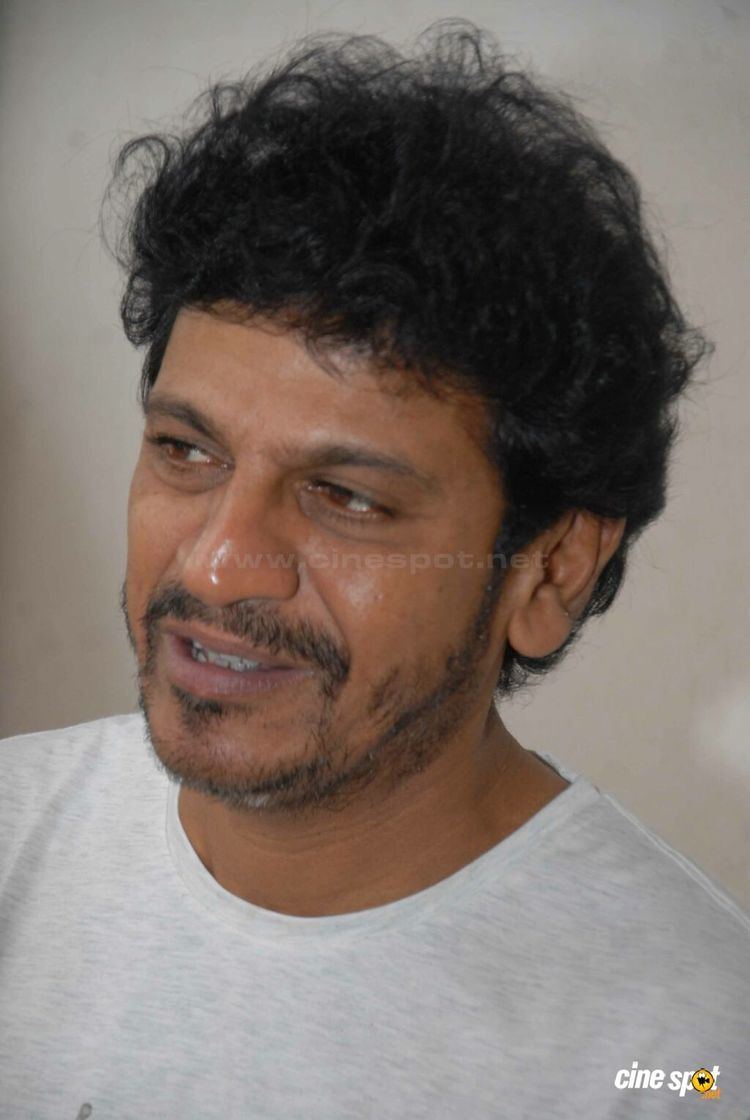 Shiva has worked in the film industry for over 30 years, featuring in films such as Anand, Ratha Sapthami (1986), Om (1995), Janumada Jodi, Nammoora Mandara Hoove, A.K. 47, Jogi, Bhajarangi, Killing Veerappan and Shivalinga which created milestones in Kannada film industry and records at the box office. He was conferred honorary doctorate by Vijayanagara Sri Krishnadevaraya University in 2014. In the year 2010, he made his television debut with a talk show Naaniruvude Nimagagi aired in Zee Kannada.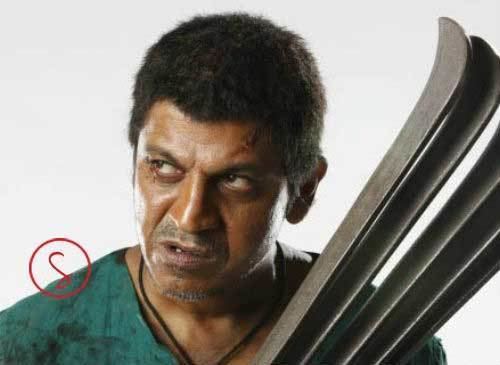 Personal life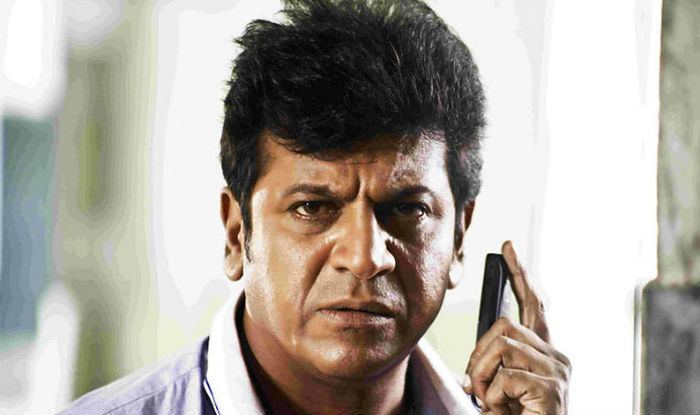 Shiva Rajkumar was born in Madras (now Chennai), Tamil Nadu, to actor Rajkumar and film producer Parvathamma as the first of five children. His two brothers are Raghavendra Rajkumar, a film producer and a former actor, and Puneeth Rajkumar, an actor in Kannada cinema. Shiva did his schooling in T. Nagar, Chennai and then studied at the New College, Chennai.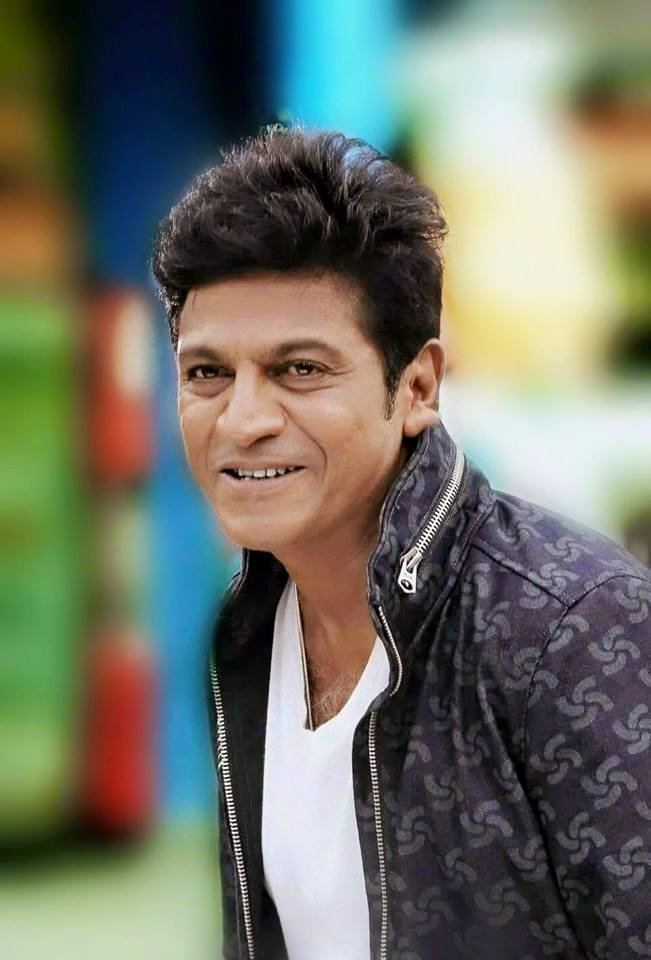 On the insistence of film director K. Balachander, Shiva joined an acting school in Chennai after completing his graduation from Madras University in 1983. After getting trained in Kuchipudi dance from Vempetti Chinni Sathyam in Chennai during his college days, he made an entry into the Kannada film industry with Anand.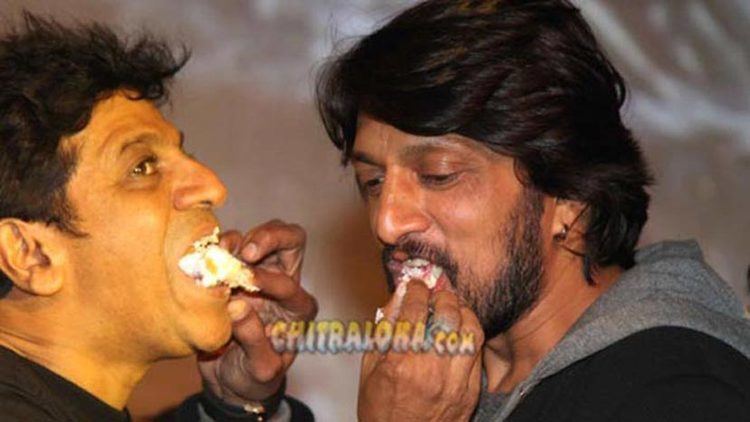 Shiva married Geeta, the daughter of the former Chief Minister of Karnataka, S. Bangarappa. The couple have two daughters: Niveditha and Nirupama.
He was awarded an honorary doctorate from the Vijayanagara Sri Krishnadevaraya University.
Acting career
Shiva started his acting career with the film Anand in 1986. In his career spanning over 30 years, he acted in a variety of roles. The most notable movies of his career are Janumada Jodi, Jogi, Anand, Ratha Sapthami, Nammoora Mandara Hoove, Om, and Chigurida Kanasu. He acted in Sugreeva, which was shot in 18 hours. His Om, directed by Upendra, set a trend of gangster movies in Kannada and other film industries in India. It continues to be shown even to this day.
His film Cheluveye Ninne Nodalu was shot at the 7 wonders of the world. His 100th movie, Jogayya, is the sequel to his blockbuster Jogi.
Bhajarangi (2013) was a box-office success, and went on to run for more than 100 days. The film was released in Karnataka, Maharashtra, Andhra Pradesh and Tamil Nadu. It was released in 212 theatres in the state of Karnataka alone. He played a coach in the sports drama Aryan, his first release of 2014.
Statement against dubbing
Shiva opposed the proposal of voice dubbed movies releasing in Kannada film industry. He openly criticized the need for voice dubbed movies in Indian film industry.
Awards and honours
Shiva has won four Filmfare and four state awards in the best actor category. He has also won numerous Cine-Express, Sirigannada, ETV awards. He has also lent his name for creating awareness for social causes and charity. In his birthday, 'Shivarajkumar Suvarana Mahotsava Abhinandana Samithi' was formed for charity.
Honorary awards
SIIMA Award for Social Responsibility (2012)
Karnataka State Awards
Om (1995–96)
Hrudaya Hrudaya (1999-00)
Chigurida Kanasu (2003–04)
Jogi (2005–06)
South Indian International Movie Awards
SIIMA Award for Social Responsibility 2012
SIIMA Best Actor- Kanadda for shiva 2014
SIIMA Best Actor- Kanadda for Bajarangi 2013
SIIMA Best Actor- Kanadda for Shivalinga, 2017
International honours
Kohinoor of South India – Presented by the British South India Council of Commerce & Visionnaire Entertainment – London (2016)
Other
Ujjwala Express Award: Aanand (1986), Bhoomitaayiya Chochala Maga (1998)
Chitra Rasikara Sangha Prashasti: Midida Shruthi (1992), Janumada Jodi (1996), A.K.47 (1999)
Hero-Honda Express Award: OM (1995), Janumada Jodi (1996), A.K.47 (1999)
AaryabhaTa Prashasti: Janumada Jodi (1996)
Screen Award: Nammoora Mandara Hoove (1996)
SICA Special Jury Award: Thavarige Baa Thangi (2002), Chigurida Kanasu
Hello Gandhinagara Award: Chigurida Kanasu (2004)
Filmography
Actor
-
Bhairathi Ranagal (announced)
-
Shivarajkumar-Rishab Shetty Film (announced)
-
Shiva Rajkumar Untitled Movie (announced)
-
Kabzaa 2 (pre-production)
-
Satyamangala (pre-production)
-
Untitled KS Ravikumar/Shivarajkumar Project (pre-production)
-
Nee Siguvaregu (filming)
2023
Captain Miller (filming)
2023
Jailer (post-production)
2022
Vande Mataram: 75th Independence Day (by Kannada Celebrities) (Music Video)
as
Shivarajkumar
2021
Bhajarangi 2
as
Bhajarangi / Aanji
2019
Rustum
as
Abhishek Bhargav (Rustum)
2017
Mass Leader
as
Captain Shivraj
2017
Bangara s/o Bangarada Manushya
as
Shiva
2017
Gautamiputra Satakarni
as
Kalahasteeshwara
2016
Santheyalli Nintha Kabira
as
Kabeera
2016
Killing Veerappan
as
A Special Task Force strategist (as Shivaraj Kumar)
2015
Vajrakaya
as
Viraj (as Shiva Rajkumar)
2013
Bhajarangi
as
Bhajarangi / Jeeva
2013
Kaddipudi
as
Kaddipudi alias Anand
2013
Lakshmi
as
Lakshminarayana
2010
Cheluveye Ninna Nodalu
as
Tourist Guide
2010
Aithalakkadi (Guest Appearance)
2009
Devaru Kotta Thangi
as
Shivu
2009
Hatrick Hodi Maga
as
Surya
2008
Paramesha Panwala
as
Paramesha
2008
Bandhu Balaga
as
Subramanya
2006
Gandugali Kumara Rama
2005
Jogi the King
as
Madesha (as Shivaraj Kumar)
2003
Chigurida Kanasu
as
Bangaadi Shankar
1998
Bhoomi Thayiya Chochchala Maga
as
Karna
1997
Prema Raga Haadu Gelathi
1996
Nammoora Mandaara Hoove
as
Manoj
1996
Ibbara Naduve Muddina Aata
1993
Jaga Mechida Huduga
as
Shivu
1992
Mavanige Thakka Aliya
1992
Purushotthama
as
Raj-Paramashivu
1991
Aralida Hoovugalu
as
Vijay Kumar
1990
Aasegobba Meesegobba
as
Ram Prasad Sharma
1989
Ade Raaga Ade Haadu
as
Chandru / Nanda
1989
Inspector Vikram
as
Vikram
1988
Shiva Mecchida Kannappa
as
Dinna
1987
Manamecchida Hudugi
as
Shivu
1986
Ratha Sapthami
as
Vishwanath
1974
Shri Srinivasa Kalyana
as
Master Puttaswamy
Music Department
2019
Aduva Gombe (playback singer)
2010
Cheluveye Ninna Nodalu (playback singer)
2007
Gandana Mane (playback singer)
2007
Lava Kusha (playback singer)
2007
Thayiya Madilu (playback singer)
2004
Rowdy Aliya (playback singer)
2003
Smile (playback singer)
2001
Sundara Kanda (playback singer)
2000
Galate Aliyandru (playback singer)
2000
Krishna Leele (playback singer)
1999
Hrudaya Hrudaya (playback singer)
1999
Chandrodaya (playback singer)
1998
Andaman (playback singer)
1997
Prema Raga Haadu Gelathi (playback singer)
1997
Ammavra Ganda (playback singer)
1996
Janumada Jodi (playback singer)
1992
Purushotthama (playback singer)
1991
Modada Mareyalli (playback singer)
1991
Aralida Hoovugalu (playback singer)
1988
Ranaranga (playback singer)
Soundtrack
2007
#73, Shaanthi Nivaasa (performer: "Ondu Olle Katheya Heluve")
Thanks
2017
Samyuktha 2 (special thanks)
Self
2022
Dance Karnataka Dance (TV Series)
as
Self - Judge
- Episode #6.24 (2022) - Self - Judge
- Episode #6.23 (2022) - Self - Judge
2020
We Are One Family (Short)
as
Self
2018
Bigg Boss Kannada (TV Series)
as
Self - Guest
- Episode #6.1 (2018) - Self - Guest
2016
Kick (TV Series)
as
Self - Judge
- Episode #1.14 (2016) - Self - Judge
- Episode #1.13 (2016) - Self - Judge
2007
#73, Shaanthi Nivaasa
as
Self - Narrator
Archive Footage
2016
Weekend with Ramesh (TV Series)
- Episode #2.34 (2016)
References
Shiva Rajkumar Wikipedia
(Text) CC BY-SA