Years active

1986–present




Residence

Chennai,

Tamil

Nadu, India

Occupation

Film actorproducerFilm directorTelevision presenter

Children

Pooja Rai, Meghna Rai, Sidhu Rai

Parents

Swarnalatha Raj, Manjunath Rai

Movies

Rudhramadevi, Un Samayal Arayil, Thoonga Vanam, Singham, Race Gurram




Similar People
Chaupal 2018 LIVE | Prakash Raj Interview | Indian Film Actor | News18 India
Actor Prakash Raj Superb Answers To Media Questions | TFPC
Prakash Raj (born Prakash Rai on 26 March 1965) is an Indian film actor, film director, producer, thespian and television presenter who is known for his works in the South Indian film industry, and a few Bollywood films. He acted in back-to-back stage shows for ₹300 a month in the initial stages of his career when he joined Kalakshetra, Bengaluru, and he has 2,000 street theatre performances to his credit.
Contents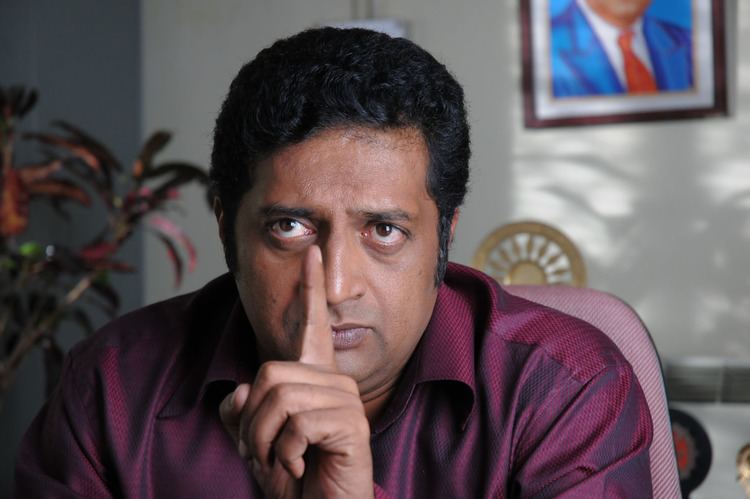 After working in the Kannada television industry and Kannada cinema for a few years, he made his debut in Tamil cinema through Duet (1994) by K. Balachander and has since been a commercially successful film star in Tamil. In remembrance, he named his production company Duet Movies. Prakash has also worked in a number of Bollywood films.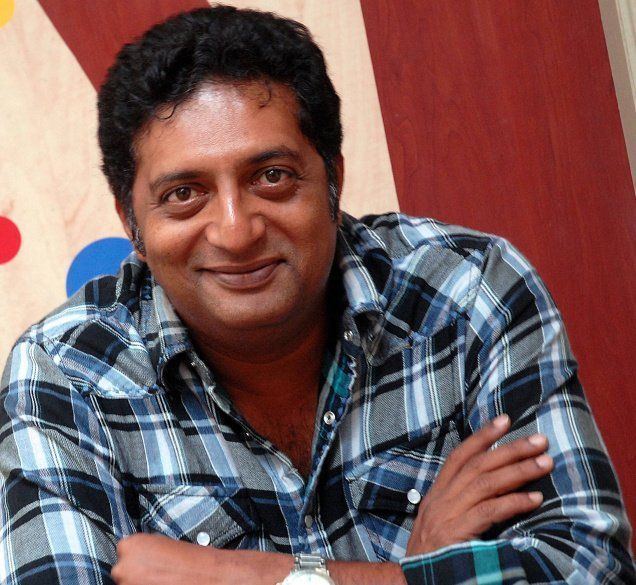 Apart from his mother tongue Kannada, Prakash's fluency in Tamil, Telugu, Malayalam, Marathi, Hindi and English has placed him among the most sought after actors in Indian cinema. He has played a variety of roles, most notably as the antagonist and, of late, as a character actor. Prakash, as an actor has won a National Film Award for Best Supporting Actor in 1998 for Mani Ratnam's Iruvar, a National Film Award – Special Jury Award / Special Mention (Feature Film) for a Telugu film Antahpuram directed by Krishna Vamsi in 1998 and a National Film Award for Best Actor in 2009 for his role in Kanchivaram, a Tamil film directed by Priyadarshan, and as a producer has won a National Film Award for Best Feature Film in Kannada for Puttakkana Highway directed by his long-time theatre friend B. Suresh in 2011. Prakash was also the host of Neengalum Vellalam Oru Kodi during the show's second season.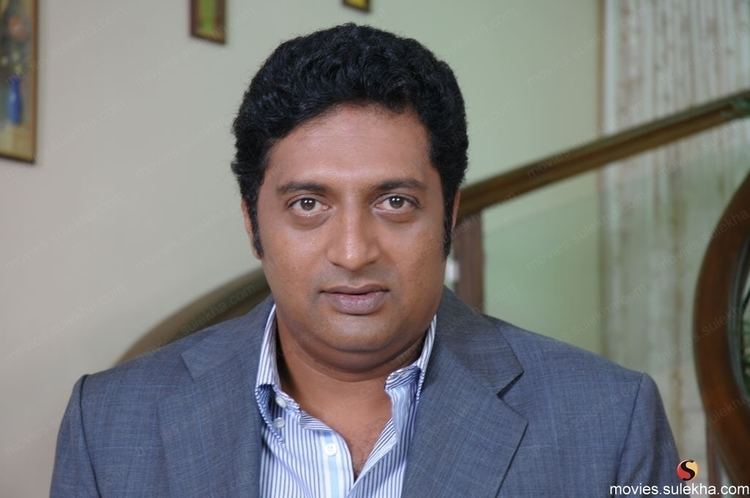 Personal life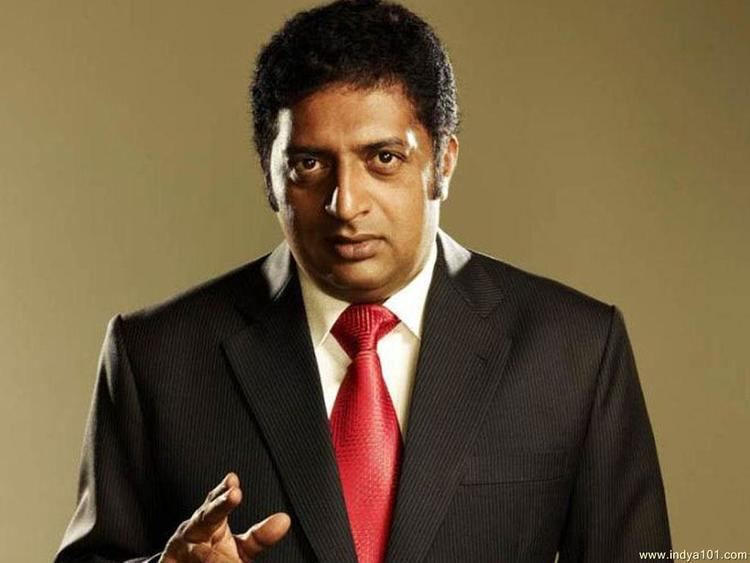 Prakash Rai was born in Bengaluru, Karnataka on 26 March 1965 to a Tulu speaking father Manjunath Rai and a Kannadiga mother Swarnalatha in a lower-middle-class Family. His brother is Prasad Rai who is also an actor. He completed schooling at St. Joseph's Boys' High School, Bangalore and joined St. Joseph's College of Commerce, Bangalore. Prakash Rai changed his name to Prakash Raj based on prominent Tamil film director K. Balachander's advice; he is still called Prakash Rai in his home state Karnataka.
Prakash Rai married actress Lalitha Kumari in 1994. They have two daughters, Meghana and Pooja, and a son Sidhu. The couple divorced in 2009.
He married choreographer Pony Verma on 24 August 2010.. They have a son, Vedhanth.
As actor
Prakash began his acting career with Doordarshan serials like Bisilu Kudure (Kannada) and Guddada Bhootha (Tulu and Kannada). He later took up supporting roles in Kannada films like Ramachari, Ranadheera, Nishkarsha and Lockup Death. He was noticed for his dialogue delivery and histrionics. His breakthrough role came in Harakeya Kuri, directed by K. S. L. Swamy starring Vishnuvardhan with whom he had acted in other films like Mithileya Seetheyaru, Muthina Haara and Nishkarsha. His performance was noticed by Geetha, the lead heroine of the film who introduced Prakash to her mentor K. Balachander, a Tamil director. He acted under the screen name "Prakash Rai" in Kannada films and was rechristened "Prakash Raj" by K. Balachander for his debut Tamil film Duet, which saw him playing his first major role.
Prakash re-entered Kannada films through Nagamandala in 1997, directed by T. S. Nagabharana which was selected for Indian Panorama in the International Film Festival in 1997. He was also a part of Mani Ratnam's stage show, Netru, Indru, Naalai. In 1997, he acted in Mani Ratnam's biopic Iruvar. The movie dealt with the relationship between politicians M. G. Ramachandran and M. Karunanidhi, for which he won the National Film Award for Best Supporting Actor.
He starred in many Malayalam films in '96: The Prince, Indraprastham and Oru Yathramozhi, the last one released in 1997. He also acted in Pandippada, with Dilip in 2005, Thekkekara Superfast in 2003, Keerthichakra in 2006, Amal Neerad's Anwar, Shyamaprasad's sensational movie Elecktra in 2010, For most of his mollywood movies, he will render his own voice. He is also seen in his Upcoming Movie Achayans
He acted in many Telugu films, including 1998's Antahpuram which earned him National Film Award – Special Jury Award / Special Mention.
He played an important role in Venkat Prabhu's Saroja. In 2008, he produced a film titled Abhiyum Naanum and played an important character in it. He remade the movie in Kannada as Naanu Nanna Kanasu.
Since Wanted (2009), Prakash Raj has been a regular villain in Hindi language Bollywood movies, including Singham (2011) as Jaikant Shikre, Dabangg 2 as Bachcha Singh, Mumbai Mirror (2013) as Shetty, and the movie Policegiri opposite Sanjay Dutt and Prachi Desai, as Nagori.
He acted with actor Kamal Haasan in the film Thoongaa Vanam (2015).
As director
He took on the mantle of directoring with Naanu Nanna Kanasu in Kannada in 2010 for which he was the joint producer. The film completed 125 days successfully in the theatres across Karnataka becoming the biggest hit of the year. He was nominated for the Filmfare South 'The Best Director' category for his very first film.
He then directed the Telugu and Tamil bilingual film Dhoni. In 2014, he directed the multilingual Oggarane, Ulavacharu Biryani and Un Samayal Arayil in Kannada, Telugu and Tamil respectively. The Tamil and the Telugu versions didn't do any miracles at the box office, while Oggarane, the Kannada version became a runaway blockbuster hit of the year.
As producer
Prakash became a producer from the Tamil film Dhaya that released in 2002 in which he was seen in the lead role with actress Meena. It earned him a Special Jury National Award for his performance. Then he produced films in Tamil like Naam in 2003, Azhagiya Theeye in 2004, Kanda Naal Mudhal in 2005, Poi in 2006 (starring Uday Kiran, his mentor K. Balachander and himself), Mozhi in 2007, Velli Thirai and Abhiyum Naanum that won many Tamil Nadu State Awards in 2008 and Inidhu Inidhu in 2010.
The first non-Tamil film that he produced was his directorial debut in Kannada Naanu Nanna Kanasu in 2010, a remake of his own Tamil production Abhiyum Naanum for which he was the joint producer with his long-time Bengaluru theatre friend, Kannada director-producer B.Suresh. In 2011, he acted and jointly produced a Kannada film Puttakkana Highway again with B.Suresh who directed the film. It was a milestone in Prakash's production career since Puttakkana Highway won him the National Award for Best Regional Film for the year 2010–2011 and an award in 4th Bengaluru International Film Festival 2011.
His first Telugu production was the Tamil-Telugu bilingual Payanam and Gaganam in 2011 starring superstar Nagarjuna Akkineni and himself in the lead role. In 2012, he produced two Tamil films Mayilu and Dhoni. In 2013 he produced a Telugu-Tamil bilingual Gouravam. He produced a multilingual film Oggarane, Ulavacharu Biryani and Un Samayal Arayil in Kannada, Telugu and Tamil in respectively in 2014. Oggarane became a huge blockbuster hit that year.
Humanitarian work
Prakash Raj adopted Kondareddipalle village in Mahabubnagar District located in Telangana state.
Controversies
Prakash has been involved in several controversies.
He was banned by Telugu film producers six times in the past. Prakash reacted to it by saying,
"If people who work with me say that I play hide and seek why do they repeat me? Why am I in Mahesh's nine films out of his ten. Why don't you judge me with my work? How I go about it is not important. I don't go by the rules. I put my foot down, I don't take mediocrity. There are certain locations where I can come only at 12 in the morning. I don't go by the rules." It was the first time that an actor was banned by the Telugu industry.
Telugu film industry insiders interpret the ban as a conspiracy by several big heroes and producers. Problems started during the shoot of films like Pavan Kalyan's Jalsa, NTR Jr's Kantri, and Parugu starring Allu Arjun.
There was controversy for his naked appearance for a sequence in his latest Telugu release titled Ongole Githa. The film got an 'A Certificate' from the Censor Board. Prakash reacted by saying, "I did not shed my clothes for creating sensation, I had no plans to star in that sequence. The script demanded and it; as an actor, I have to abide by the script. Director Bhaskar told me that it would be an 'important' sequence in the context of the film and I just carried out his instructions."
Several Kannada organisations staged protests in front of theatres since they felt that some dialogue in a scene from the Hindi film Singham starring Ajay Devgan and Prakash were derogatory against the Kannadigas. The Karnataka Film Chamber of Commerce (KFCC) had demanded the deletion of all "objectionable" dialogue from the movie. The screening was stopped in major centres of Karnataka. The controversial scene starts off with Prakash threatening Ajay that he would bring 1,000 people from Karnataka border to thrash him. Ajay (who plays Bhajirao Singham, a Maratha) retorts that one lion would suffice to shoo away a thousand dogs. The controversy assumes significance in the backdrop of the decades-old border dispute between Karnataka and Maharashtra. Kannada protesters also felt that Prakash, being a Kannadiga should have told the team that it is not right. Prakash reacted to it to the Kannada and the Telugu media by saying, "I am a Kannadiga myself and I love my mother tongue Kannada. I'm very proud of my community and would never deliberately do anything to hurt my people How would I allow conversations that provide pain to people of Karnataka in any movie in which I am cast? There is nothing controversial about the dialogue. I am a Maratha in the movie, the controversy has started just because I am a Kannadiga and I used the word 'Karnataka border' in the film because the villain in the film stays in Goa, the Karnataka border." Finally the dialogue was removed, and the whole team of Singham including the director, Rohit Shetty, production house 'Reliance Big Entertainment' and Prakash apologised to all the Kannadigas; the issue was resolved.
Filmography
Actor
-
Cheeku (TV Series) (announced)
-
Sathuranga Vettai 2 (announced)
as
Rajendran
-
K.G.F: Chapter 3 (pre-production)
as
Vijayendra Ingalagi
-
Kira: The Return of the Unknown (pre-production)
-
Nedulan (filming)
as
Fr. Simon Peter
-
Viduthalai Part 2 (filming)
2024
Guntur Kaaram (filming)
2023
Pushpa: The Rule - Part 2 (filming)
-
Agni Siragugal (post-production)
2023
Kunjamminis Hospital (post-production)
-
Madha Gaja Raja (completed)
2023
Ponniyin Selvan: Part Two
as
Sundara Chozhan
2023
Ranga Maarthaanda
as
'Rangamarthanda' Raghava Rao
2023
Waltair Veerayya
as
Kaala
2022
Mukhbir: The Story of a Spy (TV Series)
as
SKS Moorthy
- End Point (2022) - SKS Moorthy
- Last Throw of the Dice (2022) - SKS Moorthy
- Operation Grand Slam (2022) - SKS Moorthy
- Chhaliya - Behrupiya (2022) - SKS Moorthy
- Desert Hawk (2022) - SKS Moorthy
- True Lies (2022) - SKS Moorthy
- In the Lion's Den (2022) - SKS Moorthy
- The Recruit (2022) - SKS Moorthy
2022
Ponniyin Selvan: Part I
as
Sundara Chozhar
2022
Thiruchitrambalam
as
Inspector Neelakandan
2022
Sita Ramam
as
Brig. YK Joshi
2022
Bimbisara
as
Grandfather Vishwanandan Varma
2022
Anantham (TV Series)
as
Venkatesan
- Chapter 8 - Venkatesan (2022) - Venkatesan
- Chapter 7 - Parvathy (2022) - Venkatesan
- Chapter 5 - Krishnan Menon (2022) - Venkatesan
- Chapter 4 - Ananth (2022) - Venkatesan
- Chapter 1 - Maragatham (2022) - Venkatesan
2022
K.G.F: Chapter 2
as
Vijayendra Ingalgi
2022
Attack
as
V.K. Subramaniam
2022
Pada
as
N. Rajasekharan(IAS)
2021
Zamaanat: And Justice for All
2021
Jai Bhim
as
I.G. Perumalsami (as Prakashraj)
2021
PellisandaD
as
Kondaveeti Veera Venkata Pattabhi Seetharamayya
2021
Aaradugula Bullet
as
Narasimha Murthy
2021
Navarasa (TV Series)
as
Sivaraman
- Edhiri: Karuna (2021) - Sivaraman
2021
Vakeel Saab
as
Nanda Gopal
2021
Yuvarathnaa
as
Gurudev Deshmukh
2021
Alludu Adhurs
as
Jaipal Reddy
2020
Line of Fire (TV Series)
2020
Shootout at Alair (TV Series)
as
DySP Suryanarayana
- Home Guard Vijendra Prasad (2020) - DySP Suryanarayana
- IG Praveen Chand (2020) - DySP Suryanarayana
2020
Paava Kadhaigal (TV Series)
as
Janakiraman
- Oor Iravu (2020) - Janakiraman
2020
Sarileru Neekevvaru
as
Yeddula Nagendra
2019
Ruler
as
Veerendranath Thakur
2019
Venky Mama
as
Vijay Prakash
2019
Asuran
as
Venugopal Seshadri
2019
1st Rank Raju
as
CEO Parthasarathi
2019
Maharshi
as
K. Satyanarayana
2019
Anukoni Athidhi
as
Dr. M.K. Nair
2019
Dev
as
Ramalingam (Dev's Father)
2019
F2: Fun and Frustration
as
Dora Swamy Naidu
2019
NTR Kathanayakudu
as
Nagireddy
2018
Hello Guru Prema Kosame
as
Viswanath
2018
Chekka Chivantha Vaanam
as
Senapathi
2018
60 Vayadu Maaniram
as
Govindarajan
2018
Srinivasa Kalyanam
as
R.K, Sri's father
2018
Mahanati
as
Aluri Chakrapani
2018
Bharath Ane Nenu
as
Varadarajulu
2018
Rangasthalam 1985
as
Dakshina Murthy
2017
Kalavaadiya Pozhudhugal
2017
Golmaal Again
as
Vasu Reddy
2017
Raja the Great
as
SP Prakash and Lucky's Father
2017
Nakshatram
as
Parasuramaiah
2017
Kootathil Oruthan
as
Special Appearance
2017
Shatamanam Bhavati
as
Raghavaraju
2016
Naanu Mattu Varalakshmi
2016
Sometimes
as
Krishnamurthy
2016
Kadavul Irukaan Kumaru
as
ACP Manimaaran
2016
Idolle Ramayana
as
Bhujangaiah
2016
Kotigobba 2
as
Satya's father
2016
Srirastu Subhamastu
as
Krishna Mohan
2016
Devara Naadalli
as
Inspector Kanitkar
2016
Speedunnodu
as
Veerbhadrappa
2016
Bangalore Naatkal
as
Grace's Father
2015
Thoongaa Vanam
as
Vital Rao
2015
Rudhramadevi
as
Mahamantri Shiva Devayya
2015
Mr. Airavata
as
Prathap Kale
2015
S/O Satyamurthy
as
Sathyamurthy
2015
JK Enum Nanbanin Vaazhkai
as
Rudhratchagan
2014
Pilla Nuvvu Leni Jeevitham
as
Prabhakar
2014
Govindudu Andari Vaadele
as
Balaraju
2014
Kathai Thiraikathai Vasanam Iyakkam
as
Guest appearance
2014
It's Entertainment
as
Karan
2014
Alludu Seenu
as
Narasimha / Bhai (dual role)
2014
Un Samayal Arayil
as
Kalidasan
2014
Race Gurram
as
Bheem Prakash
2013
Thulli Vilayadu
as
Singam
2013
Singh Saab the Great
as
Bhoodev Singh
2013
Bhaag Milkha Bhaag
as
Veerapandian
2013
Policegiri
as
Nagori Subramaniyam
2013
Balupu
as
Mohan Rao / Nana / Nanaji
2013
Thillu Mullu
as
Sivagurunathan
2013
Chennaiyil Oru Naal
as
Gautham Krishna
2013
Ongole Githa
as
Adikeshavulu
2013
Seethamma Vaakitlo Sirimalle Chettu
as
Relangi Mavayya
2012
Dabangg 2
as
Thakur Bachchalal Singh
2012
Damarukam
as
Lord Shiva / Sambhayya
2012
Cameraman Gangatho Rambabu
as
Rana Nayudu
2012
Devudu Chesina Manushulu
2012
Bodyguard
as
Varadarajulu
2011
Dookudu
as
Shankar Narayana
2011
Mambattiyan
as
IG Ranjith
2011
Rowthiram
as
Guest Appearance
2011
Singham
as
Jaikant Shikre
2011
Bhuddah Hoga Tera Baap
as
Kabir
2011
Badrinath
as
Bhishma Narayana
2011
Ponnar Sankar
as
Raja Manthiappan
2011
Engeyum Kadhal
as
Cameo Appearance
2011
Mr Perfect
as
Maggie's father
2011
Dongala Mutha
as
Munna Bhai
2011
Vastadu Naa Raju
as
Narasimha
2010
Lady Tiger
as
Abraham / Isaac
2010
Collector Gari Bharya
as
Hero
2010
Anwar
as
Stalin Manimaran
2010
Brindaavanam
as
Bhanu Prasad
2010
Golimar
as
DGP Prakash Raj
2010
Naanu Nanna Kanasu
as
Raj Uthappa (as Prakash Rai)
2010
Theeradha Vilaiyattu Pillai
as
Anbazhagan
2009
Solla Solla Inikkum
as
Bhadri Narayanan
2009
Josh
as
College Principal
2009
Anjaneyulu
as
Jai Prakash - Chief Secretary
2009
Thoranai
as
Tamizharasan (Tamil) / Suryaprakash (Telugu)
2009
Konchem Ishtam Konchem Kashtam
2009
Villu
as
J.D. (as Prakash Raaj)
2008
Abhiyum Naanum
as
Raghuraman
2008
Kantri
as
Pothuraju / Prakash Raj
2008
Arai Enn 305-il Kadavul
as
Arnold / Kadavul
2008
Santhosh Subramaniyam
as
Subramaniyam
2008
Vellitherai
as
Kannaiyya / (Thalapathi) Dileep Kanth
2008
Vidiyum Varai Kaathiru
as
Criminal
2007
Munna
as
Kamalakar / Kakha
2006
Aadivaram Aadavaallaku Selavu
2006
The Dance of Life
as
Zamindar
2006
Thiruvilaiyaadal Aarambam
as
Guru
2006
Khatarnak
as
Police commissioner
2006
Vathiyar
as
Eeswara Pandian
2006
Stalin
as
Home Minister Muddu Krishniah
2006
Vettaiyaadu Vilaiyaadu
as
Arogyaraj
2006
Vikramarkudu
as
DGP K. Gopinath
2006
Thalai Nagaram
as
ACP Gopinath
2006
Idhaya Thirudan
as
ACP Mayilravanan IPS
2006
Paramasivan
as
Nanda Kumar
2006
Saravana
as
Soundarapandi
2005
Meri Zindagi Ek Agneepath
2005
Athadu
as
CBI officer Anjaneya Prasad
2005
Pandippada
as
Pandi Durai
2005
Arindhum Ariyamalum
as
Adhi Narayanan
2005
Athanokkade
as
Father of Ram
2005
Subhash Chandra Bose
as
Venkataraman / Vijay Kumar / Bahadur
2005
Chakram
as
Chakram's father
2005
Konchem Touchlo Vunte Cheputanu
2005
Nuvvostanante Nenoddantana
as
Prakash
2005
Andarivaadu
as
Veerendra 'Veeru' Singh
2005
Bhageeratha
as
Venkata Ratnam
2005
Man on Mission Taqatwar
2005
Mission Vande Mataram
2004
M. Kumaran S/O Mahalakshmi
as
Eeshwar
2004
Intlo Srimathi Veedhilo Kumari
2004
Shart: The Challenge
as
Nanda
2004
Vasoolraja M.B.B.S
as
Dr. Vishvanath
2004
Naa Autograph Sweet Memories
as
Prakash
2004
Yagnam
as
Inspector Pratap Reddy
2004
Thekkekara Super Fast
as
Johnykutty
2004
Kartavya: Lion on Duty
2004
Lakshmi Narasimha
as
Dharma Bhiksham
2004
Sri Anjaneyam
as
Anji's father
2003
Tagore
as
Suryam (as Prakashraj)
2003
Simhachalam (as Prakashraj)
2003
Preethi Prema Pranaya
as
Dr. Ashok Chandrashekhar the elder son of Dr. C.
2003
Sambhu (Special Appearance)
2003
Charminar
as
Surendra Babu
2003
Nijam
as
CBI officer (as Prakashraj)
2003
Amma Nanna O Tamila Ammayi
as
Raghu Veer
2003
Kadhal Sadugudu
as
Chithambaram
2003
Gangotri
as
Neelakantha Naidu (as Prakashraj)
2003
Fools (as Prakashraj)
2003
Okkadu
as
Obul Reddy (as Prakashraj)
2002
Rifles (as Prakashraj)
2002
Khadgam
as
Amjad Khan (as Prakashraj)
2002
Kadhal Azhivathillai
as
Simbhu's father
2002
Nuvve.. Nuvve...
as
Vishwanath
2002
Idiot
as
Police Commissioner Vipra Narayana
2002
Indra
as
Governor Chenna Kesava Reddy (as Prakashraj)
2002
Kannathil Muthamittal
as
Dr. Herold Vikramsinghe
2002
Premaku Swagatam
as
Mahendra
2001
Alli Thandha Vaanam
as
Prakash
2001
Nuvvu Naaku Nachchav
as
Nandini's Dad
2001
Bhalevadivi Basu (as Prakashraj)
2001
Ammayi Kosam
as
Anjali's father
2001
Little John
as
Kaala Bhairavan
2001
Rishi
as
Inspector Shakthivel
2001
Maa Aavida Meeda Vottu Mee Aavida Chala Manchidi
2001
Vaanchinathan
as
Chidambaram
2001
Mrugaraaju (as Prakashraj)
2000
Kshemanga Velli Labhamga Randi
as
Master
2000
Manoharam
as
Srinivasamurthy (as Prakashraj)
2000
Tirumala Tirupathi Venkatesa
2000
Azaad
as
Inspector Salim (as Prakashraj)
2000
Chinna Chinna Kannile
2000
Adavi Chukka
as
Baba (as Prakashraj)
2000
Badri
as
Nanda (as Prakashraj)
2000
Main Hoon Hero Khiladi
1999
Kakki Chattaya Karupu Chattaya
1999
Samudram
as
Havaldar Lokraj Verma
1999
Premaku Velaayera
as
Venkata Narayana
1999
Raja Kumarudu
as
Dhanunjay / Dhanraj
1999
Padaiyappa
as
Inspector General of Police
1999
Sneham Kosam
as
Peddabbayi (as Prakashraj)
1998
Anthahpuram
as
Narasimham (as Prakashraj)
1998
Kanasalu Neene Manasalu Neene
1998
Yaare Neenu Cheluve
as
Jeetu the husband of Jyothi
1998
Preethsod Thappa (as Prakash Rai)
1998
Choodalani Vundi
as
Mahendra (as Prakashraj)
1997
Nerukku Ner
as
Sub-Inspector
1997
V.I.P
as
Guest Appearance
1997
Raasi
as
Melapatty Ramasamy's Son
1997
Nagamandala (as Prakash Rai)
1997
Iruvar
as
Tamil Selvam (Tamilzhchelvan) (as Prakashraj)
1997
Minsaara Kanavu
as
Jaipal
1997
Hitler (as Prakashraj)
1997
Suswagatham
as
Vasudeva Rao (as Prakashraj)
1996
Indraprastham
as
Mohan George
1996
The Prince
as
Surya (as Prakashraj)
1995
Sankalpam
as
Gaddapalugu Chenchu Ramayah
1995
Bombay
as
Inspector Kumar
1995
Om Shakti Naag Shakti
1993
Nishkarsha (as Prakash Rai)
1993
Tropical Heat
as
Inspector
1990
Guddada Bhootha (TV Mini Series)
as
Shreenivas
1990
Mutthina Haara
as
Soldier
Producer
2019
The Promise of the Butterfly (executive producer)
2019
Arishadvarga (producer)
2016
Idolle Ramayana (actor)
2014
Un Samayal Arayil (producer - as Prakash Rai)
2010
Naanu Nanna Kanasu (producer - as Prakash Rai)
2008
Abhiyum Naanum (producer)
2008
Vellitherai (producer)
2005
Kanda Naal Mudhal (producer)
2004
Azagiya Theeye (producer)
Director
2014
Un Samayal Arayil (as Prakash Rai)
2010
Naanu Nanna Kanasu (as Prakash Rai)
Writer
2010
Naanu Nanna Kanasu (as Prakash Rai)
Music Department
2018
Hello Guru Prema Kosame (playback singer)
Thanks
2012
Mithunam (special thanks)
Self
2016
Apoorva
as
Self (voice, as Prakash Rai)
2014
Gajakesari
as
Self - Narrator (as Prakash Rai)
2012
13th International Indian Film Academy Awards (TV Special)
as
Self - Winner (Best Villain)
2012
Neengalum Vellalam Oru Kodi (TV Series)
as
Self - Host Season 2
2012
Zee Cine Awards 2012 (TV Special)
as
Self - Winner Best Actor In A Negative Role (Male / Female)
2011
Prematho Mee Lakshmi (TV Series)
as
Self (2011)
References
Prakash Raj Wikipedia
(Text) CC BY-SA