The film is noted for its technical prowess, witty dialogues and lyrics, combined with an art that has become a trademark of Soori's rustic feel cinema.It is also known as one of the trend setter film & all time highest grosser of Kannada film industry.One of the notable performance & Landmark movie in Puneeth Rajkumar's career Music was composed by V. Harikrishna with Yograj Bhat as the lyricist for all the songs in Kannada. The album, which celebrated its platinum disc, is also available as a 5.1 audio DVD disc. After successful screening in Australia, United Kingdom and Germany, Jackie was released in the USA and Singapore in February 2011.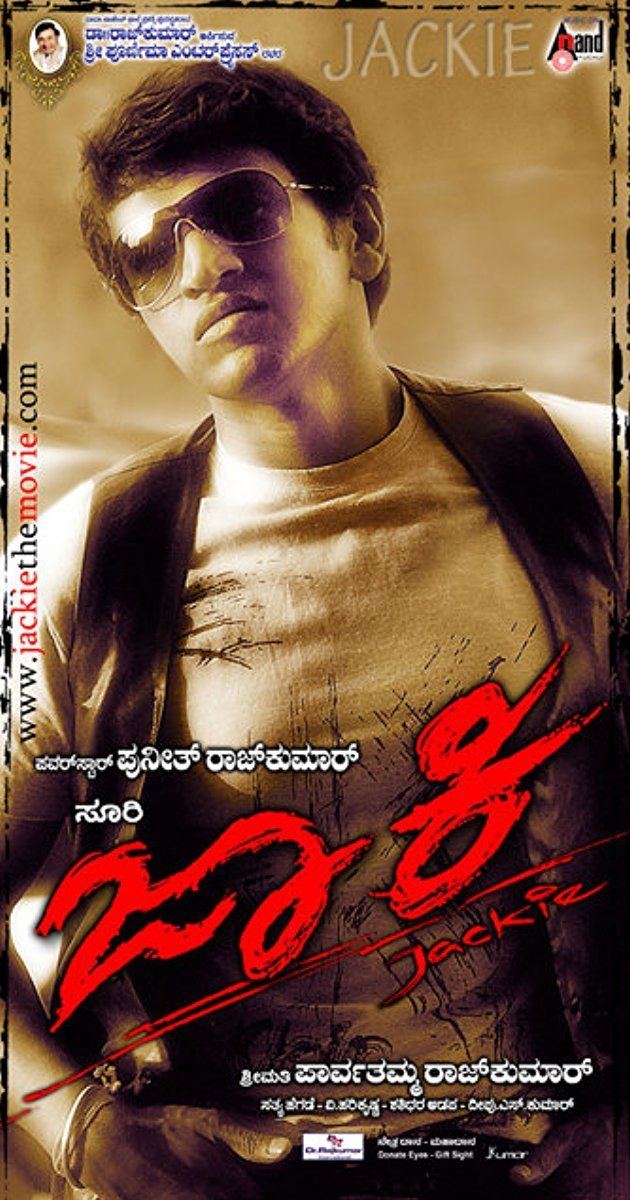 Jackie is basically inspired from Ramayana, each scene is modernised into present audience and market trends. Janakirama alias Jackie (played by Puneet Rajkumar) is an 8th standard passed living with his mother Jayamma who operates a flour mill in a village. Jackie is a guy who dreams of making it big; but not by hard work. He is an expert card player and thinks he can repay all his debts with earnings from it. He does every job and hopes he would one day make it big as a realtor. He is talkative and uses the opportunities around him to eke out a living. In the locality where he lives, a priest's daughter Yashodha (played by Harshika Poonacha), is in love with a photo studio owner who is actually a conduit for a human trafficker and asks Jackie to help her get married. Jackie initially tries to help but when the priest questions him, he decides to cop out of the issue respecting the aged father's feelings.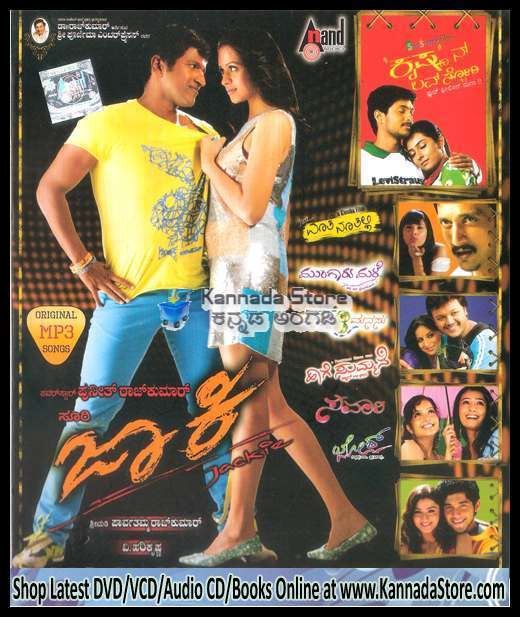 Losing all hope, Yashodha elopes with her lover, along with a blind girl(fiction). The priest is under the impression that Jackie is the mediator in this case. So it becomes responsibility of Jackie to trace Yashodha and the blind girl. Meanwhile, Jackie is followed by police as he has sheltered a friend who has fled from the prison and a cop is killed during the escapade. In the dense forest, he averts a ritual of human sacrifice where Lakshmi (played by Bhavana Menon) is the intended victim. The trouble shoots up for Jackie again as even the wrong-doers are chasing him now. As he lands up in Bengaluru, he finds out that the blind girl who went with Yashodha is dead. He gets a clue of Prasanna alias Jooli (Petrol Prasanna) when he becomes friendly to constable Bheemanna (played by Rangayana Raghu) which leads to suspicious activities of a gang transporting girls to abroad in oil tankers, headed by Mithai Rama (played by Ravi Kale). Jackie is on the hunt for the dangerous team and as the police from other part also follow Jackie, it is where the cinema finds a happy-ending climax.
With a budget of ₹8 crores, the production of the film started on 3 March at Kantheerava Studio and took place for 95 days in Bengaluru, Mysore, Italy and Namibia. The film is made in the home production of Dr. Rajkumar's family under the banner of Poornima Enterprises. Jackie is Puneet's 15th film and his first with Duniya Soori. The film saw the debut of Malayalam actress Bhavana in Kannada language films.
Director Soori, who is known for maintaining his script and characters a secret, had earlier revealed that the film is about how life takes a turn for Jackie and the way he faces the challenges and added that the film will be different from Puneet's earlier films. Soori, however, was initially "scared" to be directing a Puneet Rajkumar flick just because of the enormous expectations from the audience. SnorriCam has been used extensively in the film's song and stunt sequences giving it a point-of-view feel. The same team continued their success in Anna Bond.
Remake rights was purchased by NS Rajkumar, who is dubbing the Kannada film to Telugu and Malayalam languages for a 2011 release.
Puneet Rajkumar as Janakirama aka Jackie
Bhavana Menon as Lakshmi
Harshika Poonacha as Yashodha
Rangayana Raghu as Meese Bheemanna
M. S. Umesh
Mithra
Sumithramma as Jayamma
Raju Thalikote as a matrimonial agent
Shobharaj as Police Superintendent
Ravi Kale as Mithai Rama
Petrol Prasanna as Prasanna alias Jooli
Honnavalli Krishna as a chicken seller
Director: Soori, Lyricist: Yograj Bhat and Music director: V. Harikrishna appeared on-screen in the introduction track of the Jackie.
Jackie, received an opening unprecedented in Kannada film industry after it was purchased by distributors at astronomical prices many days before the film's release. Jackie was released on 14 October 2010 in over 160 theaters all over Karnataka apart from 4 in Tamil Nadu and a 3 multiplex in Hyderabad. The film, which was initially slated for a late September release, was later postponed to October owing to pending work on digital grading.
Jackie was released overseas by Bevin Exports in the countries of Australia, UK, Singapore, Germany, US, Dubai and New Zealand among others. The same firm had earlier released other Kannada blockbusters like Mungaaru Male and Aramane worldwide. The global distribution will be on a 50:50 sharing between Poornima Enterprises and Bevin Exports.
It was screened in Melbourne, Adelaide and Perth on 7 November where it was well received by the audience which also consisted of non-Kannadigas. Similar reception was reported in Germany where screening took place in mid-December. In the UK, it was screened in the months of November and December in association with Gandhadagudi Movies Team. The film was part of the Indian Melbourne Film Festival on 29 Dec. In United States, Jackie was released in a phase-wise manner from 2nd week of Jan 2011. In its first phase, screening was held in San Francisco and Bay Area. In the next phase, the film was screened in Los Angeles, New Jersey, Dallas and Houston. In Singapore, it was screened on 6 March 2011.
However the Kannada version has been hit in Kerala and brought great name to Puneeth there, the Malayalam version is expected to release soon.
The Dubbed Telugu version of Jackie is produced by Nadella Sujatha through Suraj Films studio and was released in the state of Andhra Pradesh on 6 May 2011.
The first week collection of 'Jackie' is Rs.10 crores from 127 centers says Raghavendra Rajakumar on behalf of the Poornima Enterprises In Mysore Mandya and Hassan it is Rs.1.10 crore in the first week, in Chitradurga it is Rs.68 lakhs, in Hubli it is Rs.60 lakhs and in Shimoga center the first week share is Rs.31 lakhs. In a place like Bangalore the multiplexes gave good revenue and in the first week in Bangalore & it made total collection of 34 cr in 100Days of its run.
Jackie was well received by critics. It was given 3.5/5 rating by Times of India with a consensus that "the brilliant narration keeps one hooked to the seat from the beginning to the end. The story is not only entertaining but quick-paced too, with expressive and punchy dialogues." The technical team consisting of award-winning cinematographer Sathya Hegde, art director Shashidhar Adapa, stuntmen Ravi Verma and Different Danny, spearheaded by Soori, won accolades from fans and critics alike, as did the performance of Puneet Rajkumar playing the protagonist Jackie "who has outdone himself playing the character that's rustic and local, yet charming and suave" – according to DNA India review.
Best Film of 2010 – Suvarna Awards 2011
Best Actor (Puneet Rajkumar) – Suvarna Awards 2011
Jackie Kannada soundtrack was released in the month of August 2010. In a first of its kind, audio was simultaneously released over Bluetooth by a Bengaluru-based company called TELiBrahma. TELiBrahma developed an exclusive mobile application for the film and distributed it across about 100 of its proprietary technology called BluFi locations in Bengaluru. Considered a success, this campaign resulted in nearly 55,000 downloads in 16 days.
Overall, the commercial reception of the album was successful with 20,000 audio CDs being sold on the first day. The music album was released again on a 5.1 Audio DVD during platinum disc celebration on 27 December 2010.
The music was composed by V. Harikrishna and lyrics were penned by Yogaraj Bhat.
A portion of the song Kannalle Eno from Rajkumar's 1980 movie Vasantha Geetha was re-used in the title track of this movie.
Leaked Song
The soundtrack of the film created quite a stir before the audio release when the song "Ekka Raja Rani" was leaked on YouTube. This song, though unfinished, became quite popular with listeners.
Telugu version audio release was held on 26 February 2011 at Hotel Daspalla in Hyderabad with Telugu film personalities Akkineni Nageswara Rao and Allu Arjun as chief guests. Bhuvana Chandra, Vennelakanti and Vanamali have composed the Telugu lyrics.