8.6

/

10

Alchetron

Rate This




Country of origin

India




No. of seasons

8




First episode date

3 July 2000




Number of seasons

8






Original language(s)

Hindi, English




Running time

approx. 60 minutes




Final episode date

2017






Composer(s)

Keith Strachan (1-8) Matthew Strachan (1-8) Ramon Covalo (4-8) Sawan Dutta (5-8)




Production company(s)

Big Synergy Productions




Presented by

Amitabh Bachchan (1-2, 4-), Shah Rukh Khan




Awards

Indian Telly Award for Best Game Show




Nominations

Indian Telly Award for Best TV Show Packaging




Similar

Bigg Boss, Kon Hoeel Marathi Crorepati, Kannadada Kotyadhipati, 10 Ka Dum, Game show




Profiles




Twitter
Kaun Banega Crorepati (Who Will Become a Millionaire; popularly known as KBC) is an Indian television game show originally aired on Star Plus commissioned by the programming team of Sameer Nair.
Contents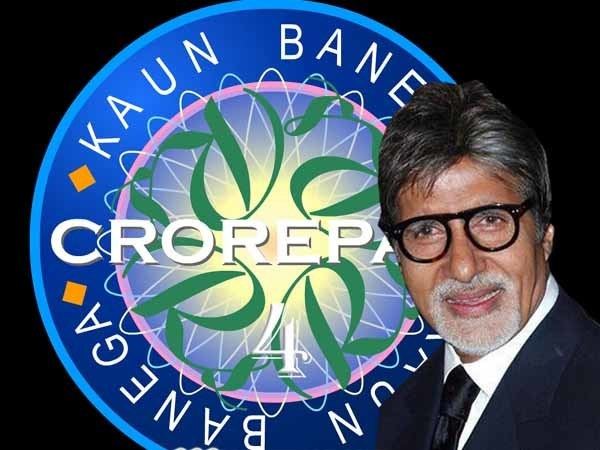 In 2010, produced by Big Synergy for M-Net Original Production.
While based on the UK game show Who Wants to Be a Millionaire?, KBC intersperses the playing of the game with Bollywood style musical numbers and other entertainment.
Director Danny Boyle's 2008 film Slumdog Millionaire was based on the show, and featured the show's host, actor Amitabh Bachchan in a cameo appearance. The show's host, based loosely on Bachchan, was portrayed by Anil Kapoor. Kapoor himself has appeared on a celebrity version of the show.
Three years after the film's release, a contestant named Sushil Kumar became the show's first million-dollar winner.
Season 1: 2000-2001
KBC first aired in 2000 and was hosted by Amitabh Bachchan, his first appearance on Indian television. KBC initially offered contestants the chance to win up to ten million rupees, but doubled this in 2001 to two crore rupees, further adjusted from the fourth season to include a jackpot of 50 million rupees. The season ended in 2001. The show was well received from the very first season.
It also aired on SABC 1, at 21h00, from 11 February 2020.
Season 2: 2005-2006
On 5 August 2005, the show was restarted after a four-year hiatus, and renamed Kaun Banega Crorepati Dwitiya (Kaun Banega Crorepati the Second, or KBC 2) in which the final prize amount was doubled to 2 crore rupees. It was abruptly ended by STAR Plus after Amitabh Bachchan fell ill in 2006.
Season 3: 2007
Star Television recruited Shahrukh Khan to host the third season of the show. The grand prize remained 2 crore rupees (approx. US$300,000). The third season of the show began airing on 22 January 2007. However, the show's ratings dropped significantly. The season ended on 19 April 2007 with a special finale.
Season 4: 2010
The fourth season (called KBC4) was hosted by Amitabh Bachchan and started on 11 October 2010, on Bachchan's 68th birthday. This season was telecast 4 days a week, Monday through Thursday evenings. The tagline of the season was "Koi Bhi Sawaal Chota Nahi Hota"(English: No Question is Small) (Literary means: Every Question is Important). The show moved from Star Plus to Sony TV and M-Net India . The new logo designed for the fourth season incorporated the new Indian rupee symbol, which was unveiled the same year. The phone lines for the fourth season opened on 2 August 2010 at 9 PM IST. The total prize money was increased to ₹ 50 million, and a jackpot question for ₹ 50 million (approx. USD745,000) was added. The fourth season of the show was highly successful due to the return of former host Amitabh Bachhan. The season ended on 9 December 2010.
Like many other versions of the show, the season 4 reduced the number of questions from 15, to 13 in this version.
The Indian version adopted the clock format from the US version and is the fourth country's version to do (the others being Japan and the UK; although the US version abandoned the clock for the 2010–11 season when the show's 2010 format changes were made), although the time limits were shorter than in the UK version. There was a 30-second time limit for questions 1 and 2, and a 45-second time limit for questions 3 to 7, but questions 8 to 13 were not timed.
The clock stops whenever a lifeline is used, and if the contestant allows the clock to run out, he/she will be forced to walk away. There were four lifelines: Audience Poll, Phone a Friend, Ask the Expert and Double Dip.
This programme was rebroadcasting on Glow TV (OVHD 108) in 2013, and also rebroadcasting on SABC 2 at 7:00 PM, on 15 February 2020.
Season 5: 2011
Amitabh Bachchan also hosted the fifth season of KBC in 2011. The fifth season started on 15 August 2011 on the Independence Day of India with the same format and ended on 17 November 2011. It was aired 4 days a week. The tagline used for the season was "Koi Bhi Insaan Chota Nahi Hota" (English: No Human is Small). This season was the most popular show on Indian television in 2011.
There were 13 questions. The "Ghar Baithe Jeeto Jackpot" competition allowed viewers to send an answer to a question via SMS during the show, with 100,000 rupees going to the randomly picked winner, who can double or triple this amount by correctly answering further questions.
This show was also airing on SABC 3 at 11:00 PM, from 14 February 2020, and then also airing on e.tv, at 5:30 PM from (10 February 2020, Mondays - Thursdays).
Season 6: 2012
The registration for the season started from 28 May 2012.
This sixth season (called KBC 6) was also hosted by Bachchan and was commenced on 7 September 2012. It aired from Friday to Sunday evenings on Sony TV. The season ended on 26 January 2013. The tagline used for the season was "Sirf Gyaan Hi Aapko Aapka Haq Dilata Hai" (English: Just the knowledge that draws your right as you). There were 13 questions. (It also aired in Pakistan on Express Entertainment.)
Also, in this season, the team of KBC started a new tradition of special appearance of socially backward people titled as "Dusra Mauka". Sonali Mukherjee, a victim of acid throwing, appeared along Lara Dutta. On 13 January 2013 another segment of this show was aired in which, Manoj Kumar, a Mahadalit was accompanied by Indian actor Manoj Bajpayee.
Season 7: 2013
The rehearsals for the show began on 26 June 2013. Registration started from 9:00 PM on 27 June 2013.
This seventh season (called KBC 7) was also hosted by Bachchan. "Seekhna Bandh Toh Jeetna Bandh" (English: Learning stops so Winning stops) (Literary means: Learn to Win) was used as the tagline for the season. The total prize money was increased to ₹ 70 million, and the number of questions increased from 13 to 15. The season was commenced on 6 September 2013.
The season had a few changes, including a new lifeline called Power Paplu. This lifeline aided those who seek to revive any already used lifeline. Double Dip and Ask The Expert were discontinued and in lieu 50:50 and Flip The Question were revived. The prize for jackpot question was increased from ₹ 50 million to ₹ 70 million. The Kaun Banega Crorepati 2013 set was a 360-degree multimedia stage. There were four questions in the new feature Sapta Koti Sandook (English: The Seventh Jackpot) that let contestants win from ₹ 10 million, ₹ 30 million, ₹ 50 million and finally ₹ 70 million. The system of Fastest Finger First was also altered, where the winner of the leader board formed at the end of three questions, sits on the Hot Seat.
Season 8: 2014
The registrations of Kaun Banega Crorepati 8 were commenced on 22 July 2014 and the shooting started on 2 August 2014. Shooting of the entire show was held in Surat. This was the first time that KBC was shot outside Mumbai.
The grand premiere episode of the series was aired on 17 August (Sunday) at 8:30 PM IST for 3 hours. The season aired from 17 August on Monday through Thursday evenings. Initially running for 1.5 hours, the program reduced to an hour. The season ended on 6 November 2014, and aired its two grand finale episodes on 9 November and on 16 November 2014. The tagline for the season was "Yahan Sirf Paise Nahi, Dil Bhi Jeete Jate Hain". Three special guests appeared in the grand premiere episode. Television comedian, Kapil Sharma from Colors TV's television series Comedy Nights with Kapil was the first guest of the show. Moreover, iconic cops Dayanand Shetty (Daya) and Aditya Shrivastava (Abhijeet) from Sony TV's television series CID were also seen. Then the valiant warrior and Rajput hero, Maharana Pratap a.k.a. Faisal Khan from Sony TV's television series Bharat Ka Veer Putra – Maharana Pratap left the audience spellbound with a stellar dance performance. Among others Shillong Chamber Choir led by Neil Nongkynrih performed a medley of evergreen songs of Bollywood followed by a patriotic song at the opening ceremony of KBC-8.

In a live chat on facebook, the show's anchor has indicated about the possibility of the 9th season of the show in 2017.
Rules
The standard Millionaire format is used, with the Fastest Finger contest before the main game.
All contestants must be over the age of 18 and citizens of India to be eligible. The person must not be a former Kaun Banega Crorepati contestant and, as defined in the Income Tax Act, 1961, must also be a resident of India. Furthermore, they may not be employees of the production company, broadcaster, or prize providers.
The contestant is asked to pick a "Padao", which means that after a certain question, for example after Question 6, he will at least get that amount of money after answering that question rightly. The pre-2010 United States format of a "shot clock" will be used in the first few questions - 45 seconds. After the Padao, there is no time limit. The word "padao" is a Hindi word which means to decide the specific level of rest. Essentially a milestone--"parachute" question. Once the question is answered right that money is considered "safe" and will win that amount if he fails any of the questions after the Padao Question.
The money won after each question is roughly doubled from the previous amount won, exponentially increasing the amount won after each correct answer until the contestant reaches the final question, after which they win the maximum prize.
Celebrity guests
During the eighth season, Rani Mukherjee appeared to promote Mardaani, Aditya Roy Kapoor and Parineeti Chopra appeared to promote Daawat-e-Ishq and Priyanka Chopra appeared to promote Mary Kom. Shahrukh Khan, Abhishek Bachchan, Deepika Padukone, Boman Irani, Sonu Sood, Vivaan Shah and Farah Khan came on the show to promote their film Happy New Year. On the finale episode, Ajay Devgn, Sonakshi Sinha and Prabhu Deva promoted Action Jackson. Govinda, Ranveer Singh, Ali Zafar and Parineeti Chopra (who made her second appearance on the show) promoted Kill Dil.
Harshvardhan Navathe (19 October 2000)
Harshvardhan Navathe was the first top prize winner of the Indian version. On 19 October 2000, he answered all 15 questions correctly to win 10,000,000 Rupees.
Vijay Raul and Arundhati (2 May 2001)
Vijay Raul and Arundhati were contestants who appeared in KBC and won 1 crore on 2 May 2001.
Ravi Saini (14 May 2001)
Ravi Mohan Saini was a contestant who appeared on Kaun Banega Crorepati Junior and won 1 crore on 14 May 2001.
Sushil Kumar (2 November 2011)
Sushil Kumar (Motihari, East Champaran, Bihar) is a reality show contestant who was the first contestant on Kaun Banega Crorepati to win 5 crore rupees. He was a computer instructor in MNEREGA earning a meager Rs. 6000 per month before his entry to Kaun Banega Crorepati.
He has been dubbed as the real Slumdog Millionaire.
Sunmeet Kaur Sawhney (12 January 2013)
Sunmeet Kaur Sawhney was a contestant who appeared on Kaun Banega Crorepati and won 50,000,000 rupees on 12 January 2013. She is the second 5 crore winner.
Achin and Sarthak Narula (20 September 2014)
Achin and Sarthak Narula both appeared as contestants on Kaun Banega Crorepati on 20 September 2014 and won 70,000,000 rupees, making this the first and only 7 crore winner. They are the largest Asian winners in the WWTBAM franchise.
Ganesh Shinde (March 2001)
Ganesh Shinde was a contestant who appeared on Kaun Banega Crorepati in March 2001 and won 320,000 rupees. He became the first contestant on KBC to lose 4,680,000 rupees. He was even warned not to take a chance as he would have to go home with only Rs 320,000, instead of the 1 crore he was winning until then.
Prashant Batar (9 November 2010)
Prashant Batar was a contestant on Kaun Banega Crorepati in India, on 9 November 2010, and got to the bonus jackpot 5 crore question, but missed the final question, losing 97 lakhs. He was the second Indian to do this.
He had become season 4's first crorepati, winning 1 crore, but lost it after missing the bonus question. Prashant was also the first contestant in the worldwide Millionaire franchise to use the Double Dip lifeline on the final question.
References
Kaun Banega Crorepati Wikipedia
(Text) CC BY-SA