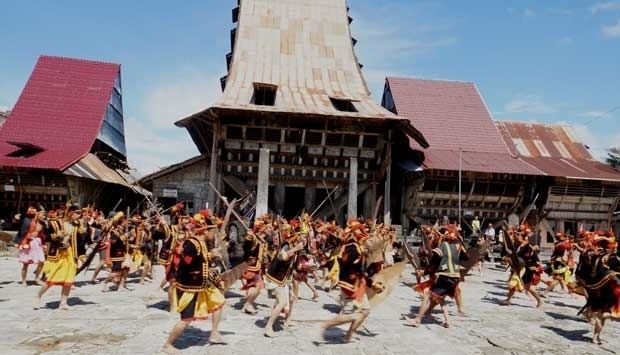 In the days of the Dutch government, a government of North Sumatra named Gouvernement van Sumatra with the area covering the whole of the island of Sumatra, headed by a governor who is based in the city of Medan.

After independence, the first session of the National Committee of Regions (KND), Sumatra was then divided into three sub-provinces namely North Sumatra, Central Sumatra and South Sumatra. North Sumatra province itself is an amalgamation of three administrative regions called residency namely: Residency of Aceh, East Sumatra Residency, and residency of Tapanuli.
With the publication of the Law of the Republic of Indonesia (R.I.) No. 10 Year 1948 on April 15, 1948, it was determined that Sumatra is divided into three provinces, each of which has the right to organize and manage their own household, namely: North Sumatra, Central Sumatra Province, and South Sumatra Province. Date 15 April 1948 subsequently determined as the anniversary of North Sumatra Province.
In early 1949, the reorganization of government back in Sumatra. With the decision of the Government Emergency R.I. No. 22 / Govt / Emergency Government on May 17, 1949, abolished the post of Governor of North Sumatra. Furthermore, the Government Emergency Decree R.I. on December 17, 1949, established the province of Aceh and Tapanuli Province / East Sumatra. Then, with a Government Regulation in lieu of Law No. 5 Year 1950 on August 14, 1950, such provisions shall be lifted and reshaped North Sumatra Province.
Act R.I. No. 24 of 1956, promulgated on December 7, 1956, established an autonomous region of Aceh province, independent of the province of North Sumatra.
The province of North Sumatra stretches across the island of Sumatra between the Indian Ocean and the Strait Malacca. It borders Aceh province on the northwest and Riau and West Sumatra provinces in the southeast. It has an area of 72,981 km². The province contains a broad, low plain along the Strait of Malacca on which the provincial capital, Medan, is located. In the south and west, the land rises to the mountain range that runs the length of Sumatra; the mountains here are dominated by Lake Toba, formed from the caldera of an ancient volcano. Several large islands in the Indian Ocean off the west coast of Sumatra are currently part of North Sumatra, most notably Nias Island and the Batu Islands.
There are 419 islands in propisi North Sumatra. The outer islands is the island Simuk (Nias), and the island Berhala in the Strait of Sumatra (Malacca).
Nias archipelago consists of the island as the main island and other smaller islands in the vicinity. Nias Islands located off the coast of western Indian Ocean. Administration center located in Gunung Sitoli.
Batu Islands consist of 51 islands with four major islands: Sibuasi, Pini, Tanahbala, Tanahmasa. Pulautelo administrative center on the island Sibuasi. Batu Islands located in the southeast of the island of Nias. Other islands in the North Sumatra: Imanna, Pasu, Bawa, Hamutaia, Batumakalele, Lego, Masa, Bau, Simaleh, Makole, Jake, and Sigata, Wunga.
In North Sumatra, there are currently two national parks, the Gunung Leuser National Park and Batang Gadis National Park. According to the Ministerial Decree, No. 44 of 2005, the forest area in North Sumatra today 3.74212 million hectares (ha). Which consists of a Natural Reserve Area / Natural Conservation Area covering an area of 477 070 ha, 1.29733 million ha of protected forest, limited production forest 879 270 ha, Permanent production forest 1,035,690 ha and production forest that can be converted covering 52 760 ha.
But this figure character is de jure alone. Because as a de facto , the existing forests is not covering it anymore. Happens a lot of damage due to encroachment and illegal logging. So far, over 206,000 ha of forest in Sumatra has experienced changes in function. Has been turned into plantations, transmigration. And of the total, as many as 163,000 ha of plantations and 42,900 ha for transmigration area.
The administrative center of North Sumatra is located in the city Medan, governed by a Governor. Earlier, North Sumatra, including Sumatra province in Indonesia shortly became independent in 1945. In 1950, North Sumatra Province was formed that includes former residency of East Sumatra, Tapanuli, and Aceh. In 1956, Aceh split off into Aceh.
North Sumatra is currently subdivided into 25 regencies and 8 autonomous cities, listed below with their (provisional) populations at the 2010 Census and according to the latest (2014) estimates. With proposals under consideration to create three additional provinces from parts of the present North Sumatra, these are grouped below according to the putative new province in which they are situated:
# the area of West Nias Regency is included in the figure for Nias Regency.
Notes
* the area of Tanjung Balai city is included in the figure for Asahan Regency, from which it was carved out in 2007. # the areas of North Labuhan Batu Regency and South Labuhan Batu Regency are included in the figure for Labuhan Batu Regency, from which they were carved out in 2007.
North Sumatra is sub-divided into 25 regencies and 8 cities (formerly municipalities); which in turn are sub-divided into 325 sub-districts; which in turn are further sub-divided into 5,456 villages.
North Sumatra recorded a population of 12,985,075 in the 2010 national census, making the 4th most populous province in Indonesia, with a sex ratio of 99.59 men per 100 women. The latest estimate (for January 2014) is 13,527,937.
North Sumatra is a multi-ethnic province. The Batak, Nias, and the Malay peoples are regarded as the native people of this province. The east coast of North Sumatra is generally inhabited by Malays and Chinese. The Javanese resides around Deli Serdang Regency, including Medan, while the West coast of province is mainly inhabited the Pakpak, Mandailing and Minangkabau peoples. The central region around Lake Toba, is predominantly inhabited by the Batak peoples. The Nias people reside mostly in Nias Island and the surrounding islands. With the opening of tobacco plantations in East Sumatra during the Dutch East Indies era, the colonial government employed many contract laborers for plantations. The newcomers were mostly Javanese and Chinese, and included a small Indian community.
As for percentage, the Batak make up 44,95% out of all population, including Batak Karo and Mandailing. The Javanese comes as second with 30,62%, the Malay add up to 5,92% and next is the Chinese with 5,75%. Nias people make up around 4,10% and the rest are Minangkabau (2,66%), Acehnese (1,27%), Indian (0,80%) and other ethnic groups (1,15%)
The distribution of the tribes, clans and ethnicities in North Sumatra is as follows:
Batak Toba : throughout North Sumatra.
Batak Karo : majority in Karo Regency, and Deli Serdang
Batak Mandailing: East coast and west coast region
Batak Pakpak : majority in Dairi Regency
Malay : around east coast region
Nias : mostly in Nias Island, with small population around west coast
Javanese : Mostly resided east coast area, majority in Medan, Deli Serdang, Serdang Bedagai and Labuhan Batu
Chinese : urban areas such as Medan, Deli Serdang, Binjai, Tanjungbalai and Pematangsiantar
Minangkabau : majority in Medan and Mandailing Natal
Indian : several districts around Medan, Binjai and Deli Serdang
Acehnese : Medan, Binjai up to northten part such as Langkat
In general, a widely used language is Indonesian. The Malays around Deli Serdang and Langkat majority using Malay languages that has similarity with Peraknese Malay language, as for Malays in Medan using Indonesian more than the Malay language itself. The eastern coastal Malays around Serdang Bedagai, Pangkalan Dodek, Batubara, Asahan, and Tanjung Balai, using a Malay dialect "o" as well as in Labuhan Batu with a slight difference of manner. The Javanese people, especially around rural and plantation areas using Javanese as daily conversation, meanwhile the urban Javanese mostly using Indonesian.
The Batak people using Bataknese which is divided into four dialects (Silindung-Samosir-Humbang-Toba), the difference are on Batak Karo people that using Karo language and the Batak Mandailing people around South Tapanauli, Padang Lawas and Mandailing Natal using Mandailing language. Nias language is spoken among Nias people.
Mostly Chinese in North Sumatra are fluent to speak Hokkien with Zhangzhou dialect mixed with Malay/Bataknese/Indonesian words, as for Chinese around Labuhan Batu area using Quanzhou dialect that has similarity with Bagansiapiapi Hokkien. The small Teochew and Hainanese speakers are also exist. The Indian people in Medan speak Tamil with a small Punjabi speakers among Punjabis. The Acehnese people speak Aceh and Gayo language.
More than 95 percent out of all residents are either Islam or Christians, with the rest are Buddhist, Hindus, and folk religion such as Confucian, Parmalim, and Taoist. These are the list religion that recognized in North Sumatra are:
Islam: especially embraced by the Malays, Minangkabau, Javanese, Aceh, Mandailing, Angkola, and partly Toba, Karo, Simalungun and Pakpak
Christian (Protestant and Catholic): especially embraced by Batak Toba, Karo, Simalungun, Nias, Pakpak and partly Batak Angkola, Chinese and Indian
Hindu and Sikh: especially embraced by Indian in urban areas, there are also small Batak Karo people that practising Hindu in rural areas
Buddhist: especially embraced by Chinese in urban areas
Confucian, Taoist and Chinese religion: 99 percent embraced by the Chinese
Traditional religion such as Parmalim/Pemena: embraced by most of the Batak tribe centered in Huta Tinggi, Laguboti district, Toba Samosir Regency
North Sumatra is rich in natural resources such as natural gas in the area of Tandam, Binjai and petroleum in Pangkalan Brandan, Langkat which has been explored since the days of the Dutch East Indies. Besides that, in Kuala Tanjung, Asahan, there are the company named PT Inalum (abbreviated of Indonesia Aluminium) that engaged in ore mining and smelting of aluminum which is the only one in Southeast Asia.
The rivers that disgorge in the mountains around Lake Toba is also a natural resource that is potential enough to be an exploited to resource of hydropower plants. Asahan hydropower which is the largest hydropower plant in Sumatra Island is located on Porsea in Toba Samosir Regency.
Moreover, in the mountains there are many geothermal hot spots were very likely to be developed as a source of thermal energy or steam that can then be transformed into electrical energy.
The province is famous for its plantation area, until now, the plantation economy of the province remains to be excellent. The plantations are managed by private companies and the state. SOE Plantation area is located in North Sumatra, among others PT Perkebunan Nusantara II (PTPN II), PTPN IV and PTPN III.
Besides North Sumatra is also famous for its plantation area. Until now, the plantation economy of the province remains to be excellent. The plantations are managed by private companies also the state. North Sumatra produces rubber, cocoa, tea, palm oil, coffee, cloves, coconut, cinnamon, and tobacco. The plantation is spread in East coast area such as Deli Serdang, Serdang Bedagai Langkat, Simalungun, Asahan, Labuhan Batu, and also around west coast: Central and South Tapanuli.
The size of rice farming. In 2005 the total area of 807.302 hectares of crops stay, or down about 16.906 hectares compared to 2004 reaching vast 824.208 hectares. The productivity of rice plants in 2005 was able to be increased to 43.49 quintals per hectare ranges from 2004 are still 43.13 quintals per hectare, and the rice crop fields change into 26.26 quintals of 24.73 quintals per hectare. In 2005, the rice surplus in North Sumatra reached 429 tons from about 1/2/27 million tonnes of total rice production in this area.
The size of rubber plantations. In 2002 the total area of rubber plantations in Sumatra is 489.491 hectares with a production of 443.743 tonnes. While in 2005, the area under rubber decreased or stayed 477,000 hectares with production also dropped to only 392,000 tons.
Irrigation: The size of technical irrigation entirely in North Sumatra is 132.254 ha that covers an area of 174 irrigation site. A total of 96.823 ha at 7 Irrigation area is very critical damage.
Agricultural Products: North Sumatra produces rubber, cocoa, tea, palm oil, coffee, cloves, coconut, cinnamon, and tobacco. These commodities have been exported to many countries and contributing huge foreign exchange for Indonesia. In addition to commodities, North Sumatra is also known as a producer of horticultural commodities (vegetables and fruits); e.g. Medanese Orange, Deli Guava, Cabbage Vegetable, Tomato, Potato and Carrot generated by Karo, Simalungun and North Tapanuli. The horticultural products have been exported to Malaysia and Singapore.
Sumatra Mandheling and Sumatra Lintong coffee beans are grown in North Sumatra and largely exported to the United States. Mandheling is named after the similarly spelt Mandailing people located in North Sumatra, Indonesia. The name is the result of a misunderstanding by the first foreign purchaser of the variety, and no coffee is actually produced in the "Mandailing region". Lintong on the other hand, is named after the Lintong district, also located in North Sumatra.
In addition to national banks, state banks and international banks, currently there are 61 units of Credited Peoples Banks (BPR) and 7 Credited Sharia Bank (BPRS). Data from Bank Indonesia showed, in January 2006, the Third Party Funds (TPF), which absorbed BPR reached Rp 253.366.627.000 (around 19 million US$) and loans reached Rp 260.152.445.000 (around 19.5 million US$. While assets reached Rp 340.880 837.000 (25.5 million US$).
There are three leading mining company in North Sumatra:
Sorikmas Mining (SMM), main base around South Tapanauli with gold as main commodity
Newmont Horas Nauli (PTNHN).
Dairi Prima Mineral
North Sumatra has several Industrial sit, mainly based around Deli Serdang. Medan Industrial Area (Indonesian: Kawasan Industri Medan) stands for KIM is the main industrial complex in Medan.
Sei Mangkei Industrial Area, also known as Sei Mangkei - Integrated Sustainable Palm Oil Cluster (SM-ISPOIC), is located in Simalungun Regency and was formally opened on 12 June 2010. Four companies have joined in this area, with investment costs totalling up to Rp1.5 trillion ($176 million). In April 2011, three other companies also joined in the Sei Mangkei area. They are Procter & Gamble Co for making CPO derivatives of cosmetic raw materials, Ferrostaal AG and Fratelli Gianazza SpA.
North Sumatra export performance is likely to increase from year to year. In 2004 the foreign exchange earnings reached US $4.24 billion, up 57.72% from the previous year from the sector.
Coffee exports from North Sumatra reached a record high of 46.290 tonnes with Japan's main export destination countries during the last five years. Sumatra coffee exports also listed as the top 10 highest export products with a value of US $3.25 million or 47200.8 tons from January to October 2005.
Of the garment sector, garment exports tend to fall in January 2006. The results of special apparel industry down 42.59 percent from US $1,066,124 in 2005, to US $2,053 in 2006 in the same month.
Import export performance of some industrial products showed a decline. Namely furniture fell 22.83 percent from US $558,363 (2005) to US $202,630 (2006), plywood down 24.07 percent from US $19,771 to US $8,237, misteric acid down 27.89 percent from US $115,362 into US $291 201, stearic acid dropped 27.04 percent from US $792,910 to US $308,020, and soap noodles down 26 percent from AS.689.025 to US $248,053.
Export performance of agricultural imports also decreased the essential oil dropped 18 percent from US $162,234 to US $773,023, seafood / shrimp, coconut oil and robusta coffee also dropped quite dramatically to 97 per cent. Some commodities were increased (a value of over US $ Million) is cocoa, horticulture, arabica coffee, palm oil, natural rubber, seafood (non shrimp). For the results of the molding industry, vehicle tires and rubber gloves.
North Sumatra considered as one of top tourism activities in Sumatra Island, just below Riau Islands. According to Ministry of Tourism, North Sumatra is included on top 10 visited province in Indonesia. There are various kind of tourism place that could be found throughout the province, Berastagi is the best known as hilly place with a cooler temperature as the whole province is in tropical region. Lake Toba also the hilly area included a largest volcanic lake with an island in the center. Nias Island and other several islands narby named Batu Islands is the best place for surfing cause a good sea waves. The capital itself, Medan, has a lot place of interest, mainly on historical tourism. The city also known for its cuisine. The list below are the most known place of interest in North Sumatra:
Lake Toba is the largest volcanic lake in the world. Located in the centre of North Sumatra, the lake can be reached via Parapat (Simalungun regency), Tongging (Karo regency), and Balige (Toba Samosir regency).
Samosir Island is a volcanic island in middle of Lake Toba, It is a popular tourist destination due to its exotic Batak history and the vistas it offers. The tourist resorts are concentrated in the Tuktuk, Tomok, Simanindo, and Pangururan areas.
Bukit Lawang known for the largest animal sanctuary of Sumatran orangutan (around 5,000 orangutans occupy the area), and also the main access point to the Gunung Leuser National Park from the east side.
Nias Island is an island off the western coast of Sumatra. Nias is an internationally popular surfing destination. The best known surfing area is Sorake Bay, close to the town of Teluk Dalam, on the southern tip. This is enclosed by the beaches of Lagundri and Sorake. Tourists can visit the island by plane from Medan, or by ferry from Sibolga.
Bawomataluo village is a settlement in the Teluk Dalam province of the South Nias Regency of Indonesia. The village is built on a flat-topped hill, the name Bawomataluo meaning "Sun Hill", and is one of the best-preserved villages built in traditional style.
Berastagi is a small highland town located 63 kilometers to the south of Medan, and is a popular weekend destination for city dwellers.
Dolok Tinggi Raja has a unique soil color is white because it is located in a limestone hill that resembles snow, and also in the middle of this area there are lakes with hot water with blue-green colored, located in Tinggi Raja, Simalungun.
Lumbini Natural Park is a Buddhist theravada-style temple that is similar to Shwedagon Pagoda in Myanmar.
Dua Warna Waterfall is a two-coloured waterfall located on Sibolangit.
Poncan Island is a resort including a beaches located on west offshore of Sibolga city.
Berhala Island is a 2,5 hectares island located in the Malaka Strait near the boundary of Indonesia and Malaysia. It is a popular place for snorkeling and watching turtle nesting. Visitors can reach the island via boat from Sergei in the Serdang Bedagai regency.
Sipisopiso, one of the highest waterfalls in Indonesia, is located near Tongging in Karo regency.
Simalem Resort, is a 5 star resort located around 8 km from Munthe village, Karo Regency. This place is the good place to sighseeing the whole Lake Toba from top of the Hill.
Taman Iman, Indonesian name for The Garden of Faith located in Sitinjo village, Dairi around 10 km away from Sidikalang, it is a religious garden with dioramas from 5 religion of Indonesia (Islam, Christian, Buddhist, Hindu, and Confucian)
Bahal temple, an ancient Buddhist monastery located on Padang Bolak, Padang Lawas Regency, around 3 hours journey with car from Padangsidempuan. The temple believes constructed between the 11th to 13th century CE.
Sigura-Gura Waterfall located on Porsea, Toba Samosir Regency, this is a waterfall that has a height that reaches 250 meters.
Rahmat International Wildlife Museum and Gallery, is a natural history museum in Medan. The museum displays various taxidermy collections of wildlife from the smallest to the largest according to the habitat.
Tangkahan is a tourist site situated on the edge of the Gunung Leuser national park, around 20 km due north from Bukit Lawang, The main tourist draw at Tangkahan is the presence of Sumatran elephant.
Salib Kasih, Indonesian name for Love Cross, located on Tarutung. The development objective of this cross-shaped monument is to commemorate the service and dedication of Dr. Ludwig Ingwer Nommensen which is a missionary from northern Germany. This Parks built on Dolok (Hill) Siatas Barita.
Lingga is one of the village in the Karo Regency. located at an altitude of about 1200 m above sea level, approximately 15 km from Brastagi and 5 km from the Kabanjahe. Linga is unique Karo traditional house and village that has been built an estimated of 250 years ago, but still sturdy
The modern Kuala Namu International Airport was opened on July 25, 2013 and is located almost 40 kilometers from Medan. The airport replaces the old Polonia International Airport. It serves flights to several Indonesian and Malaysian cities, along with flights to Singapore, Thailand, Sri Lanka and Saudi Arabia. Flights to India and China are also planned. In passenger numbers, Kuala Namu is the fifth largest airport in Indonesia.
Polonia International Airport (Indonesian: Bandar Udara Internasional Polonia) (IATA: MES, ICAO: WIMM) (popularly Polonia Airport, as in Indonesia, Bandara Polonia) is located about 5 km from the Central Business District of Medan. It is the first international airport in Medan, although the airport is under air force authority. Polonia airport is the site of several crashes, is inappropriately located in the center of the city of Medan, has a difficult takeoff path and a short runway.
other airports in North Sumatra are:
Lasondre Airport in Batu Islands
Binaka Airport in Gunung Sitoli, Nias Island
Aek Godang Airport in Padang Sidempuan, South Tapanauli Regency
Sibisa Airport in Ajibata, Toba Samosir Regency
Ferdinand Lumban Tobing Airport or Pinangsori Airport in Sibolga, Centra Tapanauli Regency
Silangit Airport, in Siborong-Borong
North Sumatra has an international seaport at Belawan, near Medan and is now preparing to have a new seaport at Kuala Tanjung, in Batubara Regency, for about Rp.1 trillion ($114 million) budget.
In North Sumatra, there is 2098.05 kilometers down a state-road, which pertained only steady 1095.70 kilometers or 52.22 percent and 418.60 kilometers or 19.95 percent in a state of being, remaining in a state of disrepair. While of 2752.41 kilometers of provincial roads, which is in a state of steady length 1237.60 kilometers or 44.96 per cent, while in a state of being 558.46 kilometers, or 20.29 percent. As damaged roads length 410.40 kilometers, or 14.91 percent, and the damaged length 545.95 kilometers, or 19.84 percent.
There are 28 km toll road in named as Belmera Toll Road in Medan, connecting from Belawan to Tanjungmorawa, passing east side of the city, the government also on going to built a 62 km Medan–Kuala Namu–Tebing Tinggi Toll Road and 17 km Medan–Binjai Toll Road. A project to built toll road from Tebing Tinggi to Parapat and also from Tebing Tinggi to Kisaran also in proportion.
Regional Division I North Sumatra and Aceh or Divre I is regional railway from Aceh to North Sumatra operated by Kereta Api Indonesia, but only in-operation railway are from Binjai to Medan, Medan to Pematangsiantar and Medan to Rantau Parapat, there are an underconstruction rail way to Banda Aceh in Aceh province also to Pekanbaru, Riau province. Medan also has it first airport rail link connecting from city to Kuala Namu Airport