Covid-19
Indonesia




897,767 (2010)




Riau




Riau University


632.26 km2


22 June 1784




H. Firdaus, ST, MT




Sari Valley Artificial Lake, Air Mertua Waterfall



Pekanbaru (Jawi: ???????) is the capital of Riau, a province in Indonesia on the island of Sumatra. It has an area of 632.26 km² with a population of 950,571, making it Sumatras third largest municipality, after Medan and Palembang, and the 8th-largest city in Indonesia after Jakarta, Surabaya, Bandung, Medan, Semarang, Makassar and Palembang.
It is located by the Siak River, which drains to the Strait of Malacca that makes Pekanbaru has direct access to the busy strait and was long known as a trading port (the city name is derived from the Indonesian words of new market or new town, "pekan" meaning market or town, and "baru" meaning new). The city is divided into 12 subdistricts (kecamatan). This city is served by the Sultan Syarif Kasim II International Airport and Sungai Duku Port that is located by the Siak River. A settlement has existed on the site since the 17th century. In the late 19th century, the city was developed to serve the coffee and coal industries, and the Dutch built roads to help ship goods to Singapore and Malacca - Malaysia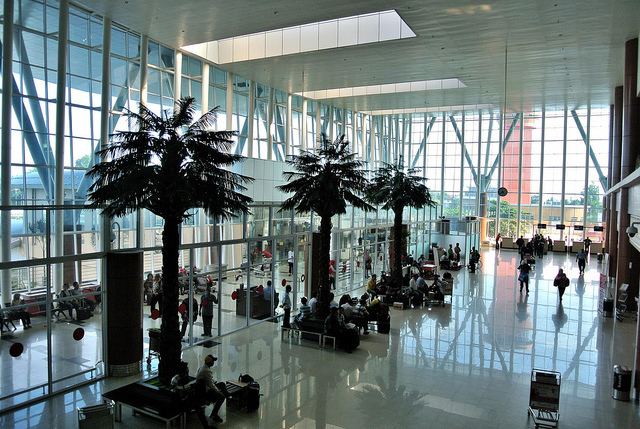 While Sultan Abdul Jalil Alamuddin Syah (1766-1780) moved the capital of the Kingdom of Siak from Mempura to Senapelan (which is now Pekanbaru), this township used to be the settlement only for some people, especially the sultanates family. However due to the development in trade sector and more people decided to settle in this township, thus the sultan wanted to make Senapelan become the center and specialised area in trade sector for the Kingdom of Siak. But the sultans goal was not completely achieved, which thereafter he decided to move the capital once again, to Siak Sri Indrapura.
Pekanbaru Wikipedia
(,)http://upload.wikimedia.org/wikipedia/commons/d/dd/Check_in_counter_Sultan_Syarif_Kasim_II_Interantional_Airport_Pekanbaru.jpg(,)http://libisriau.weebly.com/uploads/9/0/5/2/9052249/6405463_orig.jpg(,)http://www.fas.org.sg/sites/default/files/news_images/IMG_5295.JPG%3F1341577719(,)http://www.fas.org.sg/sites/default/files/news_images/IMG_5010%2520-%2520Copy.JPG%3F1341412047(,)http://upload.wikimedia.org/wikipedia/en/f/ff/Anjung_Seni_Idrus_Tintin_2.jpg(,)http://upload.wikimedia.org/wikipedia/commons/a/a9/Champlain_Habitation_de_Quebec.jpg(,)http://upload.wikimedia.org/wikipedia/commons/3/30/Borobudur_ship.JPG
(,)http://img.agoda.net/hotelimages/298/298325/298325_14062316020019977457_std.jpg(,)http://domusseven.com/sites/default/files/11_0_0.jpg(,)http://img.agoda.net/hotelimages/298/298325/298325_14062316020019977453_std.jpg(,)http://img.agoda.net/hotelimages/298/298325/298325_14062316020019977443_std.jpg(,)http://media-cdn.tripadvisor.com/media/photo-s/01/03/b2/9f/mosque-from-hotel-room.jpg(,)http://www.indonesia.travel/public/media/images/upload/poi/_MG_1201%2520Tugu%2520Zapin%2520Kota%2520Pekanbaru.jpg