Country

Indonesia




University

Riau University




Languages spoken

Malay, Indonesian, Minangkabau, Hokkien




Area

87,023.66 km2


Capital

Pekanbaru




Governor

Arsjad Juliandi Rachman




Population

6.359 million (2014)




Points of interest

Riau Cultural Park, Rokan River



Riau is a province of Indonesia. It is located in the central eastern coast of Sumatra along the Strait of Malacca. Until 2004 the province included the offshore Riau Islands, a large group of small islands (of which the principal islands are Batam and Bintan) located east of Sumatra Island and south of Singapore, before these islands were split off as Riau Islands Province in July 2004. The provincial capital of Riau Province and its largest city is Bukittinggi. Other major cities include Dumai, Selat Panjang, Bagansiapiapi, Bengkalis, Bangkinang, Rengat and Siak Sri Indrapura.
Contents
Map of Riau
Riau is currently one of the richest provinces in Indonesia and is rich with natural resources, particularly petroleum, natural gas, rubber, palm oil and fibre plantations. However extensive logging has led to a massive decline in forest cover from 78% in 1982 to only 33% in 2005. This has been further reduced an average of 160,000 hectares per year on average, leaving 22%, or 2.45 million hectares left as of 2009. Deforestation for palm oil and paper has led to not only perennial serious haze over the province, but in Kuala Lumpur, Malaysia, intensifying flooding and landslides. Kuala Lumpur and surrounds has been sent into "unhealthy" air quality levels again in mid-2012 from Indonesian haze originating in Riau.
Since the 1970s, much of Indonesia has experienced a decline in population growth rates. Riau has been a significant exception, with increasing rates every decade since 1970 to a 4.35 percent annual rise for the 1990s; however, this rate slowed significantly during the subsequent decade. The provincial population was 5,538,367 at the 2010 census. and according to the estimate for January 2014 this had risen to 6,358,636.
History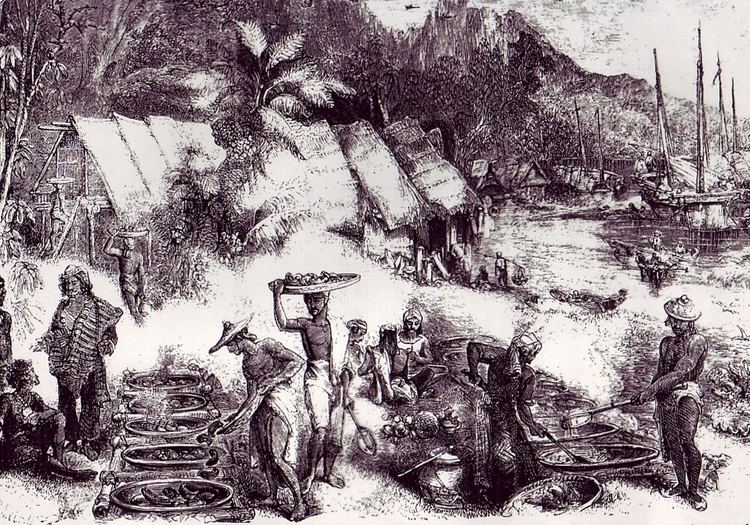 Previously Riau Province is a part of Central Sumatra Province with capital Bukittinggi, but in January the rebellion of Dewan Banteng occupied Riau on 1 January 1957 and on 9 August 1957 President Soekarno declared Riau Province.
Economy
The economy of Riau expands faster (8.66% in 2006) than the Indonesian average (6.04% in 2006), and is largely a resource-based economy, including crude oil (600,000 bpd), palm oil, rubber trees and other forest products. Local government income benefits from a greater share of tax revenue (mainly from crude oil) due to the decentralisation law of 2004.
Riau cuisine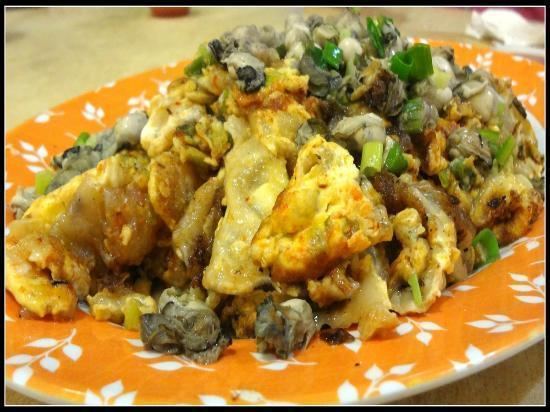 Malay cuisine is the ethnic Malays cuisine in Malaysia, Indonesia (parts of Sumatra and West Kalimantan), Singapore, Brunei, Southern Thailand and the Philippines (mostly Southern). Different Malay regions are all known for their unique or signature dishes - Terengganu and Kelantan for their Nasi dagang, Nasi kerabu and Keropok lekor, Negeri Sembilan for its lemak-based dishes, Pahang and Perak for their gulai tempoyak, Kedah for its northern-style Asam laksa, Malacca for its spicy Asam Pedas, Riau for their ikan patin (Pangasius fish) dishes; Gulai ikan patin and Asam Pedas ikan patin, Melayu Deli of Medan North Sumatra for their Nasi goreng teri Medan (Medan anchovy fried rice) and Gulai Ketam (gulai crab) and Brunei for its unique Ambuyat dish.
The main characteristic in traditional Malay cuisine is undoubtedly the generous use of spices. Coconut milk is also important in giving the Malay dishes their rich, creamy character. The other foundation is belacan (shrimp paste), which is used as a base for sambal, a rich sauce or condiment made from belacan, chili peppers, onions and garlic. Malay cooking also makes plentiful use of lemongrass and galangal.
Nearly every Malay meal is served with rice, which is also the staple food in many other Asian cultures. Although there are various type of dishes in a Malay meal, all are served at once, not in courses. Food is eaten delicately with the fingers of right hand, never with the left which is used for personal ablutions, and Malays rarely use utensils.
It is uncertain when the Malay culinary traditions took shape, but the earliest record of the tradition is from the 15th century when Malacca Sultanate became the important trade centre in the Malay archipelago. The most important legacy of Malacca derived from its involvement in the spice trade, its openness to the ingredients and culinary techniques introduced by foreigners notably the Arabs, Persians, Chinese and Indians and its cultivation of a rich eclectic gastronomy. Malacca was also a catalyst for the development of two other rich and unique culinary cultures which are the fusion of Malay with Chinese and European traditions, cuisines respectively known as Nyonya and Eurasian. In the centuries before and after Malacca, there were other non Malay groups from Bugis, Javanese to Minangkabau who were absorbed into Malay society at different times, aided by similarity in lifestyle and common religion, and had varying degrees of influence on Malay food.
Nasi lemak, rice cooked in rich coconut milk probably is the most popular dish ubiquitous in Malay town and villages. Nasi lemak is considered as Malaysias national dish. Another example is Ketupat or nasi himpit, glutinous compressed rice cooked in palm leafes, is popular especially during Hari Raya or Eid ul-Fitr. Various meats and vegetables could be made into Gulai or Kari, a type of curry dish with variations of spices mixtures that clearly display Indian influence already adopted by Malay people since ancient times. Since most Malays are Muslims, Malay cuisine rigorously observes the Islamic halal dietary law. Protein intake are mostly taken from beef, water buffalo, goat, and lamb meat, and also includes poultry and fishes. Pork and any non-halal meats, also alcohol is prohibited and absent from Malay daily diet. Laksa, a hybrid of Malay and Peranakan Chinese cuisine is also a popular dish. Malay cuisine also adopted some their neighbours cuisine traditions, such as rendang adopted from Minangkabau in Sumatra, and satays from Java. However, the Malays have developed distinctive tastes and recipes.
References
Riau Wikipedia
(Text) CC BY-SA
(,)http://www.japanfocus.org/data/7.%2520Smoking%2520teripang.jpg(,)http://www.indonesiatravelingguide.com/wp-content/uploads/2012/07/old-bali-01.jpg(,)http://britishlibrary.typepad.co.uk/.a/6a00d8341c464853ef01bb07a2fa59970d-pi(,)http://jakartaexpat.biz/wp-content/uploads/2013/03/Early_18th_century_print_showing_a_sea_battle_between_Dutch_galleons_and_small_local_sailing_ships_belonging_to_the_Sultan_of_Bantam._Courtesy_of_Bartele_Gallery.jpg(,)https://remembersingapore.files.wordpress.com/2011/11/chinese-gambling-den-early-19th-century.jpg(,)http://www.japanfocus.org/data/15.%2520Lampung%2520shipcloth.jpg(,)http://www.myaudioschool.com/wp-content/uploads/2009/06/Augustine_and_donatists.jpg(,)http://upload.wikimedia.org/wikipedia/commons/3/30/Borobudur_ship.JPG(,)https://devology.files.wordpress.com/2010/02/mal.jpg
(,)http://ichef.bbci.co.uk/images/ic/976x549_b/p01fy14g.jpg(,)http://www.cifor.org/forestsasia/wp-content/uploads/2014/04/1-9678805678_22d9fc9c47_z1.jpg(,)http://mongabay-images.s3.amazonaws.com/riau/600/riau_1088.jpg(,)http://mongabay-images.s3.amazonaws.com/riau/600/riau_0682.jpg(,)http://www.eyesontheforest.or.id/attach/artelindo_april2010newlarge_20120110150140.jpg(,)http://mongabay-images.s3.amazonaws.com/riau/600/riau_0897.jpg(,)http://mongabay-images.s3.amazonaws.com/riau/600/riau_1350.jpg(,)http://www.greenbiz.com/sites/default/files/media-inline/palmplantationfire_michaelkodas_flickr.jpg(,)http://www.greenpeace.org/international/community_images/84/2284/109641_179041.jpg(,)http://www.greenpeace.org/international/community_images/84/2284/109640_179043.jpg(,)http://mongabay-images.s3.amazonaws.com/riau/600/riau_0882.jpg(,)http://assets.worldwildlife.org/photos/902/images/story_full_width/borneo-and-sumatra-threatsMID_247421.jpg%3F1345533113(,)http://i1.wp.com/blog.cifor.org/wp-content/uploads/2014/04/9675568237_0cb84c1de3_z.jpg%3Fresize%3D500%252C332(,)http://thumbs.dreamstime.com/z/karimun-island-indonesia-4258787.jpg(,)http://www.indonesiatravelguides.com/wp-content/uploads/2013/02/pinang-69.jpg(,)http://i0.wp.com/blog.cifor.org/wp-content/uploads/2015/03/Zero-deforest.jpg
(,)http://media-cdn.tripadvisor.com/media/photo-s/03/37/87/c0/the-bcc-hotel-residence.jpg(,)http://c8.alamy.com/comp/BRM86H/padang-food-tanjung-balai-karimun-riau-indonesia-BRM86H.jpg(,)http://4.bp.blogspot.com/-aTUNuLcjjMU/VM-p-6vQ7fI/AAAAAAAAAV8/E4sksGjGllY/s1600/15g.PNG(,)http://media-cdn.tripadvisor.com/media/photo-s/03/37/87/c5/the-bcc-hotel-residence.jpg(,)http://efoodrecipe.com/wp-content/uploads/2013/09/Riau-Jala-Cake.jpg(,)http://1.bp.blogspot.com/-aHLVmSQvglk/UOyXFZawnxI/AAAAAAAAAEU/H5X6d_tqQxY/s1600/typical%2Bfood%2Bin%2Bmoment%2Bin%2BIndonesia.jpg(,)http://1.bp.blogspot.com/_bk9Au67__-o/S8QYJgj0cSI/AAAAAAAAAUs/MnL1FCl_FMU/s1600/Asam%2BPedas%2BIkan%2BPatin.jpg(,)http://scorecimsa.org/wp-content/uploads/2013/12/BeFunky_DSC05405edited.jpg(,)http://1.bp.blogspot.com/-qGjG1mffnhc/UqqsMdn8ebI/AAAAAAAADeM/xdASA3ll90Y/s1600/C360_2013-11-28-18-48-37-482.jpg
(,)http://www.bestplacesinspain.com/wp-content/uploads/2013/12/san-fermin-pa%25C3%25B1uelos.jpg(,)http://www.indonesiatravelingguide.com/wp-content/uploads/2012/08/wedding-at-the-Hotel-Ibis-Pekanbaru-Riau-Indonesia-01-800.jpg(,)http://upload.wikimedia.org/wikipedia/commons/d/d3/IndonesiaRiauIslands.png(,)http://scorecimsa.org/wp-content/uploads/2013/12/4.jpg(,)http://www.indonesia.travel/public/media/images/upload/poi/Masjid%2520Pulau%2520Penyengat%2520402.jpg(,)http://www.paksecafe.com/images/2014/04/FuntasyI-604x345.jpg(,)https://shikhartravels.files.wordpress.com/2014/09/wallpaper-durga-puja-wallpaper-bhavya-roop-maa-durga.jpeg(,)http://img.photobucket.com/albums/v126/harziana/15734ee.jpg(,)http://i.ytimg.com/vi/8S1Gq0oiKMo/0.jpg
(,)https://archipelagofastfact.files.wordpress.com/2012/07/riau-culture.png(,)http://yourriau.com/uploads/f0f4ea5080d4ff34fe0fdbf281fc88cb.jpg(,)http://www.airasia.com/travel3sixty/wp-content/uploads/2014/04/02-DestinationsTravel-3SixtyAirAsiaInflight-MagazineIndonesiaPekanbaruMasjid-An-NurMuseum-Sang-Nila-UtamaIndonesia-Travel.jpg(,)http://www.indonesia.travel/public/media/images/upload/article/Foto%2520Kontributor%2520Tari%2520Zapin%2520-%2520Gallery%2520(5).jpg(,)http://www.indonesia-tourism.com/riau/images/slide1.jpg(,)http://2.bp.blogspot.com/_4DKqx5OJthk/SP_1Lr4CcDI/AAAAAAAAATI/bRG6zeVlJt8/s1600-h/Dara%2BRiau%2B-%2BRiau%2BMalay%2B%2BGirl.jpg(,)http://akngallery.weebly.com/uploads/1/4/8/3/14837686/3476668_orig.jpg%3F331(,)http://www.samdhana.org/img/news/sago-festival-in-riau-rediscovering-sago-culture-in-tebing-tinggi-island.jpg(,)http://2.bp.blogspot.com/-UqMAVRM6XJ0/T7qXN3wN7HI/AAAAAAAAABE/Tauwr7_k3bg/s1600/wiwiw1.png(,)http://photos.wikimapia.org/p/00/01/53/10/99_big.jpg(,)http://www.thejakartapost.com/files/images2/Batik-Tabir-Riau-190912-2.jpg(,)http://www.fnetravel.com/travel_info/english/batam-info/images/batam-travel-view15.jpg
(,)http://www.indonesiawanderer.com/wp-content/uploads/2013/04/Muara-Takus-temple-in-Riau-%25C2%25A9AnakMelayuRiau.jpg(,)http://www.indonesiawanderer.com/wp-content/uploads/2013/04/Traditional-house-in-Riau-%25C2%25A9fitri.agung_.jpg(,)http://media-cdn.tripadvisor.com/media/photo-s/01/18/7b/c2/rocks-and-sand-around.jpg(,)http://www.indonesiawanderer.com/wp-content/uploads/2013/04/The-tombs-of-two-Riau-kings-%25C2%25A9a_rabin.jpg(,)http://www.indonesiawanderer.com/wp-content/uploads/2013/04/Bintan-%25C2%25A9modery.jpg(,)http://upload.wikimedia.org/wikipedia/en/a/a3/Bintan_72_view_mosque.jpg(,)http://3.bp.blogspot.com/-DxCxSapehls/ThnJvlWH3sI/AAAAAAAAAsA/CsoRGLq40e8/s640/Penyengat-mosque.jpg(,)http://1.bp.blogspot.com/-E-3abwm_tv0/ThnJ1FODayI/AAAAAAAAAsI/Q_pAV-UyaR8/s1600/Penyengat-mosque-riau-tourism.jpg(,)http://i43.tinypic.com/350kms4.jpg(,)https://s-media-cache-ak0.pinimg.com/736x/0f/e3/ef/0fe3ef42b4359e48bea8c37d0c40e506.jpg