Status

Operational




Population

3,774 (122%)




Capacity

3,082




Security class

Minimum–maximum




Phone

+1 415-454-1460







Location

San Quentin, California, U.S.


Opened

July 1852, 165 years ago




Managed by

California Department of Corrections and Rehabilitation


Address

San Quentin, CA 94964, USA




Similar

Alcatraz Island, ADX Florence, Golden Gate Bridge, Santa Rita Jail, La Santé Prison
Lockdown san quentin state prison
Facilities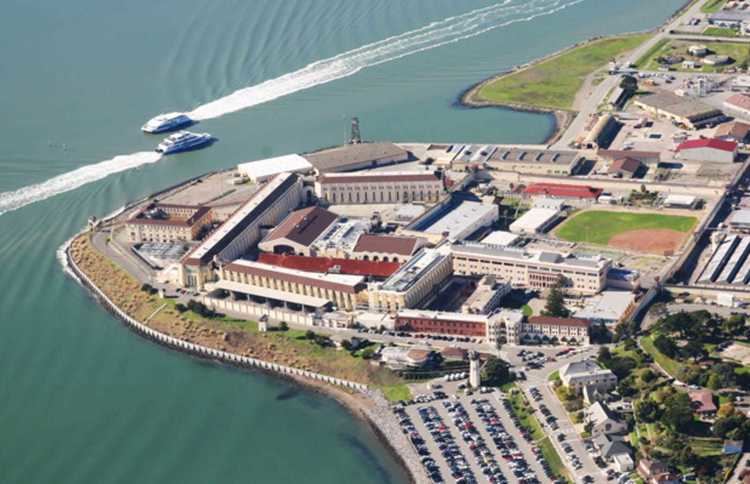 The correctional complex sits on Point San Quentin, which comprises 432 acres (1.75 km2) on the north side of San Francisco Bay. The prison complex itself occupies 275 acres (1.11 km2), valued in a 2001 study at between $129 million and $664 million.
The prison complex has its own ZIP code for mail sent to inmates, 94974; the ZIP code of the adjacent community of Point San Quentin Village is 94964. It is bordered by San Francisco Bay to the south and west and by Interstate 580 to the north and east, near the northern terminus of the Richmond-San Rafael Bridge.
As of October 30, 2013 the prison had a design capacity of 3,082 but a total institution population of 4,223, for an occupancy rate of 137 percent. It has Level I ("Open dormitories without a secure perimeter") housing; Level II ("Open dormitories with secure perimeter fences and armed coverage") housing; a Reception Center (RC) which "provides short term housing to process, classify and evaluate incoming inmates"; and a Condemned unit.
As of Fiscal Year 2006/2007, the prison had 1,718 staff and an annual budget of $210 million. It is one of the largest prisons in the United States with a population of 4,223 inmates as of October 30, 2013. By December 2016, the population had declined to 3,774 inmates.
Death row
Men condemned to death in California (with some exceptions) must be held At San Quentin, while condemned women are held at Central California Women's Facility in Chowchilla. As of December 2015, San Quentin held almost 700 male inmates in its Condemned Unit, or "death row." As of 2001, San Quentin's death row was described as "the largest in the Western Hemisphere"; as of 2005, it was called "the most populous execution antechamber in the United States." The states of Florida and Texas had fewer death row inmates in 2008 (397 and 373 respectively) than San Quentin.
The death row at San Quentin is divided into three sections: the quiet "North-Segregation" or "North-Seg," built in 1934, for prisoners who "don't cause trouble"; the "East Block," a "crumbling, leaky maze of a place built in 1927"; and the "Adjustment Center" for the "worst of the worst." Most of the prison's death row inmates reside in the East Block. The fourth floor of the North Block was the prison's first death row facility, but additional death row space opened after executions resumed in the U.S. in 1978. The adjustment center received solid doors, preventing "gunning-down" or attacking persons with bodily waste. As of 2016 it housed 81 death row inmates and four non-death row inmates. A dedicated psychiatric facility serves the prisoners. A converted shower bay in the East Block hosts religious services. Many prison programs available for most inmates are unavailable for death row inmates.
Although $395 million was allocated in the 2008–2009 state budget for new death row facilities at San Quentin, in December 2008 two legislators introduced bills to eliminate the funding. The state had planned to build a new death row facility, but Governor Jerry Brown canceled those plans in 2011. In 2015 Brown asked the Legislature for funds for a new death row as the current death row facilities were becoming filled. At the time the non-death row prison population was decreasing, opening room for death row inmates. As of 2015 the San Quentin death row has a capacity of 715 prisoners.
Executions
As noted above, all executions in California, of both male and female prisoners, must occur at San Quentin. The execution chamber is located in a one story addition in proximity to the East Block. Women executed in California would be transported to San Quentin by bus before being put to death.
The methods for execution at San Quentin have changed over time. Prior to 1893, the counties executed convicts. Between 1893 and 1937, 215 people were executed at San Quentin by hanging, after which 196 prisoners died in the gas chamber. In 1995, the use of gas for execution was ruled "cruel and unusual punishment", which led to executions inside the gas chamber by lethal injection. Between 1996 and 2006, 11 people were executed at San Quentin by lethal injection.
In April 2007, staff of the California Legislative Analyst's Office discovered that a new execution chamber was being built at San Quentin; legislators subsequently "accuse[d] the governor of hiding the project from the Legislature and the public." The old lethal injection facility had included an injection room of 43 square feet (4.0 m2) and a single viewing area; the facility that was being built included an injection chamber of 230 square feet (21 m2) and three viewing areas for Family, victim, and press. Governor Arnold Schwarzenegger stopped construction of the facility the next week. The legislature later approved $180,000 to finish the project, and the facility was completed.
In addition to state executions, three federal executions have been carried out at San Quentin. Samuel Richard Shockley and Miran Edgar Thompson had been incarcerated at Alcatraz Island federal penitentiary and were executed on December 3, 1948, for the murder of two prison guards during the Battle of Alcatraz. Carlos Romero Ochoa had murdered a federal immigration officer after he was caught smuggling Mexicans across the border near El Centro, California. He was executed at San Quentin's gas chamber on December 10, 1948.
Programs
VVGSQ - Vietnam Veterans Group San Quentin - Although the group had been meeting for some time, the name officially began on April 7, 1987. In 1988 they started the annual Christmas Toy giveaway, giving toys to visiting children. In 1989 they began the annual scholarship fund for high school seniors. They spend their time raising money and since 1987 have given over $80,000.00 to the community.
The Last Mile started in 2011 under Chris Redlitz (entrepreneur and venture capital) initiative. The program aims to give resources and mentorship to inmates to help them find their way into tech startup entrepreneurship and reduce the rate of recidivism.
The San Quentin Drama Workshop began at the prison in 1958 after a performance of Waiting for Godot the previous year.
The San Quentin SQUIRES ("San Quentin Utilization of Inmate Resources, Experiences, and Studies") program, which began in 1964, is reported to be the "oldest juvenile awareness program in the United States." It involves inmates at the prison interacting with troubled youths for the purpose of deterring them from crime, and was the subject of a 1978 documentary film Squires of San Quentin. In 1983, a randomized controlled study was published that found that the program produced no overall reduction in delinquency. The program was still functional as of 2008.
Since the 1920s, San Quentin inmates have been allowed to play baseball. Starting in 1994 inmates have played against players from outside the prison. The games occur twice a week through the summer. Originally the Pirates, the team of prisoners is called the "Giants" in honor of the San Francisco Giants, who donated uniforms to the team. A second team called the Athletics was later started, named after the Oakland Athletics. The team of outside players is called the "Willing". The umpires and fans are inmates, but the coaches on the field are volunteers. Although some people question the appropriateness of baseball games being held at the prison, officials believe "organized sports is a way to keep inmates occupied and perhaps teach a few lessons on getting along with others." These games were detailed in a Real Sports with Bryant Gumbel episode on June 20, 2006, and in several other documentaries.
San Quentin has the only on-site college degree-granting program in California's entire prison system, which began in 1996 and which is currently run by the Prison University Project.
No More Tears Program, co-founded by incarcerated men at San Quentin. This program is committed to stopping the violence in the community and changing the mindset. This program stays alive through donations, volunteers, and CDCR who come into the prison and become involved in the workshops with the incarcerated men: Changing the mindset, Response to Violence, Employability, Fixin' da Hood. All inmates and volunteers are working toward achieving the program's mission: stopping the tears of loved ones and Family by being committed to stopping the youth from committing acts of violence.
The California Reentry Program at San Quentin, begun in 2003, "helps inmates re-enter society after they serve their sentences."
Centerforce (www.centerforce.org), a non-profit that for 40 years has been dedicated to educating, advocating, and supporting people who are incarcerated, their families, and communities impacted by incarceration, has a number of programs operating at the prison: the Peer Health Education Program, begun in the early 1990s, provides effective and culturally appropriate health information to men currently living behind the walls; the Back to Family Program provides education and support for men to effectively reunite with and support their families; a number of case management programs to assist men in re-entering their communities. These programs allow men the opportunity to not only change their own lives, but to become positive contributors to the lives of their families and the communities to which they return.
The San Quentin News is the only inmate-produced newspaper in California and one of the few in the world.
Hope for Lifers is an inmate-organized program supported by the Prisoner Reentry Network that provides group therapy and resources for individuals anticipating a hearing before the parole board.
History
Though numerous towns and localities in the area are named after Roman Catholic saints, and "San Quentín" is Spanish for "Saint Quentin", the prison was not named after the saint. The land on which it is situated, Point Quentin, is named after a Coast Miwok warrior named Quentín, fighting under Chief Marin, who was taken prisoner at that place.
In 1840, Point Quentin became part of a Mexican land grant called Rancho Punta de Quentin. The 8,877-acre (35.92 km2) grant was awarded by Governor Juan B. Alvarado to John B.R. Cooper. Cooper sold the rancho in 1850, and the state bought 20 acres for a prison in 1852.
In 1851, California's first prison opened; it was a 268-ton wooden ship named The Waban, anchored in San Francisco Bay and outfitted to hold 30 inmates. After a series of speculative land transactions and a legislative scandal, inmates who were housed on the Waban constructed San Quentin which "opened in 1852 with 68 inmates." A dungeon built at San Quentin in 1854 is thought to be California's oldest surviving public work.
The prison held both male and female inmates until 1932 when the original California Institution for Women prison at Tehachapi was built.
In 1941 the first prison meeting of Alcoholics Anonymous took place at San Quentin; in commemoration of this, the 25-millionth copy of the AA Big Book was presented to Jill Brown, of San Quentin, at the International Convention of Alcoholics Anonymous in Toronto, Ontario, Canada.
The use of torture as an approved method of interrogation at San Quentin was banned in 1944.
The dining hall of the prison is adorned by six 20 ft (6.1 m) sepia toned murals depicting California history. They were painted by Alfredo Santos, one-time convicted heroin dealer and successful artist, during his 1953–1955 incarceration.
Lawrence Singleton, who raped a teenaged girl and cut off her forearms, spent a year on parole in a trailer on the grounds of San Quentin between 1987 and 1988 because towns in California would not accept him as a parolee. Between 1992 and 1997, a "boot camp" was held at the prison that was intended to "rehabilitat[e] first-time, nonviolent offenders"; the program was discontinued because it did not reduce recidivism or save money.
A 2005 court-ordered report found that the prison was "old, antiquated, dirty, poorly staffed, poorly maintained with inadequate medical space and equipment and overcrowded." Later that year, the warden was fired for "threaten[ing] disciplinary action against a doctor who spoke with attorneys about problems with health care delivery at the prison." By 2007, a new trauma center had opened at the prison and a new $175 million medical complex was planned.
Current
Alejandro Avila: rapist and murderer of five-year-old Samantha Runnion. Sentenced to death in 2005.
Lawrence Bittaker: serial killer convicted of torturing and murdering five young women. Sentenced to death in 1981.
Vincent Brothers: convicted and sentenced to death in the shooting and stabbing of five members of his family, including three children. Sentenced to death in 2007.
Albert Greenwood Brown: sentenced to death in 1982 for the 1980 murder of 15-year-old Susan Louise Jordan.
David Carpenter: the "Trailside Killer." Sentenced to death in 1984 and 1988.
Dean Carter: serial killer convicted of murdering 4 women. Sentenced to death in 1985.
Douglas Clark: the "Sunset Strip" killer. Convicted with Carol Bundy of multiple murders in Los Angeles. Sentenced to death in 1983.
Kevin Cooper: convicted for the hatchet and knife massacre of the Ryen family. Sentenced to death in 1985.
Tiequon Aundray Cox: sentenced to death in 1986 for the 1984 murders of four relatives of the former defensive back NFL player Kermit Alexander. He was involved in an escape attempt in 2000.
Jonathan Daniel D'Arcy: a janitor from Buena Park, was convicted of first-degree murder in the February 2, 1993 burning death of Karen Marie Laborde, a 42-year-old mother of two who identified D'Arcy as her assailant before she died. D'Arcy was sentenced to death in Orange County on April 11, 1997.
Richard Allen Davis: convicted of kidnapping and murdering Polly Klaas. Sentenced to death in 1996.
Robert Ward Frazier: convicted for the rape and sodomy for killing Kathleen Aiello-Loreck in 2003. Sentenced to death in 2006.
Skylar Deleon: convicted of the murder of Thomas and Jackie Hawks. Sentenced to death in 2009.
Scott Erskine: convicted of killing Jonathan Sellers, 9, and Charlie Keever, 13. Sentenced to death in 2004.
John Famalaro: sentenced to death on September 6, 1997 for the kidnap, rape, and murder of 23-year-old Denise Anette Huber, from Newport Beach, California, in 1991. Famalaro abducted and murdered Denise on June 3, 1991. He was caught in July 1994 when police found her body in an icebox where he had kept her for 3 years.
Richard Farley: convicted of killing seven of his co-workers and nearly killing another, a female co-worker whom he stalked after she rejected him. Sentenced to death in 1992.
Wayne Adam Ford: convicted of killing four women in 1997 and 1998. Sentenced to death in 2006.
Lonnie David Franklin, Jr.: convicted of ten murders and one attempted murder in Los Angeles, California. The attacker was dubbed the "Grim Sleeper" because he appeared to have taken a 14-year break from his crimes from 1988 to 2002.
Larry Hazlett: convicted of the 1978 rape and murder of 20-year-old Rosamond beauty queen Tana Woolley. Sentenced to death in 2004.
Eric Houston: convicted and sentenced to death for a shooting spree that left three students and a teacher dead and having 80 teens held hostage. The subject of the made-for-television movie Detention: The Siege at Johnson High.
Ryan Hoyt: associate of Jesse James Hollywood, convicted of the murder of Nicholas Markowitz. Sentenced to death in 2003.
Phillip Carl Jablonski: convicted of killing five women. Sentenced to death in 1991.
Randy Kraft: serial killer who was convicted of 16 murders and suspected of 51 others. Sentenced to death in 1989.
John Fitzgerald Kennedy: convicted of murdering Thomas and Jackie Hawks for their yacht. Sentenced to death in 2009.
Gunner Lindberg: White Supremacist, convicted for the murder of twenty-four-year-old former College Student American-Vietnamese Thien Minh Ly in a hate-crime murder. Sentenced to death in 1997.
Jarvis Jay Masters: convicted and sentenced to death for participating in the murder of Corrections Officer Hal Burchfield. Sentenced to death in 1990.
Timothy Joseph McGhee: convicted for murdering 3 people and 9 counts of attempted murder. Sentenced to death in 2009.
Michael Morales: convicted for the brutal murder of Terri Winchell. Sentenced to death in 1983.
Charles Ng: serial killer who tortured and murdered 11 people. Sentenced to death in 1999.
Raymond Lee Oyler: convicted of setting the Esperanza Fire that claimed the lives of five firemen. Sentenced to death in 2009.
Scott Peterson: convicted of murdering his pregnant wife, Laci and their unborn child, Conner, in a much-publicized trial. Sentenced to death in 2005.
Cleophus Prince Jr.: Known as the Clairemont Killer. Convicted and sentenced to death in 1993 for killing six women.
David Allen Raley: convicted of the murder of Jeanine Grinsell in 1985, he is the next in line to be executed once lethal injection executions resume.
Joe Remiro: Founding member of the Symbionese Liberation Army, convicted in 1975 of the murder of Marcus Foster. Sentenced to life in prison without parole.
Ramon Salcido: convicted in 1989 of seven murders, including six relatives and his boss. Sentenced to death in 1990.
Vincent Sanchez: the "Simi Valley Rapist". Serial rapist convicted of 75 counts including a first degree murder charge, felony kidnapping, burglary, rape, and other sex offense charges against numerous victims. Sentenced to death in 2003.
Mitchell Sims: convicted May 20, 1987, of the hotel-room murder of Domino's Pizza deliveryman John Harrington in Glendale; also sentenced to death in South Carolina for the murders of two Domino's employees in that state. Sentenced to death in California on September 11, 1987.
Morris Solomon, Jr.: serial killer convicted of murdering six prostitutes in Sacramento. Sentenced to death in 1992.
Cary Stayner: convicted murderer who killed four women in Yosemite. Sentenced to death in 2002.
William Suff: serial killer convicted of murdering 12 prostitutes in Riverside County. Sentenced to death in 1995.
Chester Turner: serial killer convicted of murdering 14 women in Los Angeles between 1987 and 1998.
Marcus Wesson: convicted of killing nine of his family members. Sentenced to death in 2005.
David Westerfield: convicted of kidnapping and killing seven-year-old Danielle van Dam. Sentenced to death in 2003.
Former
Rodney Alcala: the "Dating Game Killer". Sentenced to death in 1980, 1986, and 2010.
Charles Bolles: alias Black Bart, an American Old West outlaw.
William Richard Bradford: convicted of two murders in the 1980s, the Los Angeles Police Department revealed in July 2006 that there is cause to believe he was a serial killer responsible for several murders in the 1970s and 1980s. He died of natural causes on March 10, 2008 while awaiting execution.
Edward Bunker: FBI most wanted fugitive who reformed and became an author (he wrote a novel set in San Quentin) and actor. Was sentenced at age 17, the youngest inmate at the time.
Neal Cassady: Convicted of marijuana possession in 1958. Protagonist "Dean Moriarty" from Jack Kerouac's novel On the Road was based on Cassady. A member of Ken Kesey's Merry Pranksters.
Richard Chase: "vampire killer," in 1979 sentenced to death in gas chamber for murdering six people, committed suicide in 1980.
Eldridge Cleaver: member of the Black Panther Party, was an inmate between 1958 and 1963.
Juan Corona: convicted of killing 25 people and sentenced to life without parole. He is currently at Corcoran State Prison.
Joseph Cosey: convicted of various crimes; known for document forgery from 1913 to 1940 from historical United States figures.
Henry Cowell: American composer convicted on a "morals" charge in 1936.
Mack Ray Edwards: convicted child killer who committed suicide while on death row.
Alex Garcia: boxing contender of the 1990s.
Leo Gordon: American character actor (TV and film) and screenplay writer. Sentenced to four years for armed robbery. Later part of a movie cast which filmed scenes inside San Quentin.
Merle Haggard: noted country singer, sentenced to 15 years time (he only served three years) starting at age 19 for grand theft auto and armed robbery.
Michael Wayne Hunter: sentenced to death after the murders of his father and stepmother in 1981. Retried in 2002, sentenced to life. Transferred to Salinas Valley State Prison.
George Jackson: member of the Black Panther Party, killed in San Quentin in 1971.
Bruce Lisker: wrongly convicted in the 1983 murder of his mother, Dorka, when he was 17. Exonerated and released from prison in 2009, at age 44.
Jang In-hwan: Korean independence activist who assassinated former American diplomat Durham Stevens in 1908.
Charles Manson: leader of the Manson family. Transferred to Corcoran State Prison in 1989.
S. S. Millard: exploitation filmmaker.
Jim Mitchell, prominent in the strip club and pornography businesses in San Francisco, spent 1994–1997 in San Quentin for murdering his brother Artie.
James Mitose: Japanese American martial artist who brought the art of Kenpo to the United States starting in the late 1930s.
Ed Morrell, accomplice to the Evans-Sontag rail robbery gang; spent five years in solitary confinement; known as the "Dungeon Man" of San Quentin; pardoned in 1908 and became a well-known advocate of prison reform.
Wallace Fard Muhammad: founder of the Nation of Islam.
Art Pepper: jazz alto saxophone player; served two sentences at San Quentin in the 1960s.
Richard Ramirez: serial killer known as "The Night Stalker," convicted of killing 13 people. Sentenced to death in 1989. Died of liver failure on June 7, 2013, after being taken to Marin General Hospital.
Hans Reiser: developer of the ReiserFS file system and convicted for the murder of his wife, sentenced to 15 years to life in 2008. He is currently at Mule Creek State Prison.
Abe Ruef: San Francisco political boss, for bribery.
Wilber Power Sewell Later known as Bill Sands. He wrote a best-selling auto-biography entitled My Shadow Ran Fast.
Sirhan Sirhan: assassin of Robert F. Kennedy, sent to death row at San Quentin in May 1969. After the California Supreme Court struck down the death penalty as cruel and unusual punishment, Sirhan was transferred to Correctional Training Facility. He is currently at Donovan State Prison.
Danny Trejo: actor—inmate between 1965 and 1968.
John Pence Wagner: prison evangelist-inmate between 1966 and 1972. writer of the poem featured on the rear cover of the 1971 album "Guilty!" by Jimmy Witherspoon and Eric Burdon. Died in 1999 of cancer.
Brandon Wilson: convicted in the 1998 slashing death of nine-year-old Matthew Cecchi. Sentenced to death in 1999. Committed suicide on November 17, 2011.
Executed
Burton Abbott: convicted of the rape and murder of a teenage girl; executed in the gas chamber on March 15, 1957.
Clarence Ray Allen: convicted for ordering the killing of three people. At age 76, he was the oldest person ever executed in California (by lethal injection on January 17, 2006).
Stephen Wayne Anderson: convicted murderer, executed by lethal injection on January 29, 2002.
Manny Babbitt: convicted murderer who died by lethal injection on May 4, 1999.
Donald Beardslee: convicted of two murders, executed by lethal injection on January 19, 2005.
William Bonin: convicted of 14 murders, the "Freeway Killer" (one of three men to have the same nickname) became the first person in California history to be executed by lethal injection on February 23, 1996.
Caryl Chessman: convicted rapist, was given the death penalty in 1948 and executed on May 2, 1960. The last man executed in California for a sexual offense that did not also involve murder.
Billy Cook: murderer of Carl Mosser, his wife Thelma, their three small children and motorist Robert Dewey. He died in the gas chamber on December 12, 1952.
Theodore Durrant: convicted of murdering two women in San Francisco. Executed by hanging on January 7, 1898.
Harvey Glatman: convicted of raping and strangling two women, he died in the gas chamber on September 18, 1959.
Barbara Graham: convicted murderer, executed in the gas chamber on June 3, 1955. Subject of the film I Want to Live! starring Susan Hayward.
Robert Alton Harris: convicted of murdering two boys, died in the gas chamber on April 21, 1992.
Edward Hickman: convicted of kidnapping, mutilating, and murdering 12-year-old Marion Parker, died by hanging on October 19, 1928.
Raymond "Rattlesnake James" Lisenba: convicted of killing his wife, he was the last man to be executed by hanging in California on May 1, 1942.
David Mason: convicted of murdering five people, he was executed in the gas chamber on August 24, 1993.
Gordon Stewart Northcott: convicted of killing three boys in the Wineville Chicken Coop Murders, was hanged on October 2, 1930.
Louise Peete: convicted murderer, executed in the gas chamber on April 11, 1947.
Sam Shockley and Miran Edgar Thompson: convicted of killing a guard in the 1946 Battle of Alcatraz escape attempt, executed together in the gas chamber on December 3, 1948.
Stanley Tookie Williams: convicted murderer and early leader of the Crips street gang. Author (several children's books about his experience at San Quentin) and cause celebre. Executed by lethal injection on December 13, 2005.
Television
(Alphabetical by title)
San Quentin was featured in an episode of Beyond Scared Straight, where inmates in the SQUIRES program educated troubled teens about the dangers of prison.
San Quentin is on the rotation of prisons featured on MSNBC's show Lockup, a TV documentary series on life in prison.
The British documentary maker, Louis Theroux, filmed a documentary, Louis Theroux: Behind Bars, exploring the relationships between prisoners and officers.
In 1988, Unsolved Mysteries profiled the case of Mark Adams, an inmate who escaped from San Quentin in 1986.
External views of San Quentin are used in several episodes of the first season of The Flash in 2015. It is where The Flash's father is being held for the murder of his wife.
Concerts and music videos
(Chronological)
Country music singer Johnny Cash performed at San Quentin at least twice in his career. The first was in 1958, which included among its audience members a young and incarcerated Merle Haggard; Haggard was inspired to pursue music after being released in part because of that concert. Eleven years later, on February 24, 1969, Cash played another live concert for the prison inmates. The 1969 concert was released as an album At San Quentin and as a television documentary Johnny Cash in San Quentin (filmed by Granada Television). During the concert, the song "San Quentin," about an inmate's loathing for the prison, received such an enthusiastic response that Cash immediately played an encore.
In 1979, San Francisco band Crime played for the prisoners wearing exact copies of the uniforms worn by the prison guards.
In 1990, B. B. King recorded Live at San Quentin in the prison; it won a Grammy Award for Best Traditional Blues Album in 1991.
In 1995, Paul Rodriguez shot a stand up comedy special from the prison, with much of the act geared toward the auditorium of convicts.
Metallica filmed the "St. Anger" music video in front of the inmates in 2003. They used various locations of the prisons except for the death chambers, and also held a free concert on site for all prisoners.
Film
(Alphabetical by title)
The 1999 movie, 10 Things I Hate About You, indicates that the main male protagonist, Patrick Verona, spent a year in San Quentin. This is used to sustain the idea that he is a horrible person with a dark history and criminal record.
In the 2015 film Ant-Man, Scott Lang (Paul Rudd) is released from San Quentin after serving time for stealing from his former employer.
In the 2001 film Baby Boy, the prison had a small appearance when Rodney (Snoop Dogg) was arrested, then he was released from the prison.
A few episodes of the 1960s ABC Western series The Big Valley mention San Quentin. In one notable episode, Jarrod Barkley hires an ex-prisoner to work on his family's ranch after he was wrongly convicted of murder when Jarrod prosecuted him. The ranch hands figure he is from San Quentin because of a gray jacket he is wearing, which one states is what you receive upon being released from San Quentin.
San Quentin is depicted in the 2008 exploitation film Black Devil Doll. The villain, black revolutionary and convicted murderer Mubia Abul-Jama, is electrocuted.
In the film Blood In Blood Out, the main character Miklo is sent to San Quentin, where much of the film's plot takes place.
The 1997 film Cube features a character named after San Quentin.
Humphrey Bogart played a character who escapes from San Quentin in the 1947 film, Dark Passage.
The 1954 film Duffy of San Quentin tells the story of Clinton Duffy, who was warden of San Quentin between 1940 and 1952.
The 1957 film Escape From San Quentin portrays an escape from the San Quentin work farm. In the film, a few of the inmates break in to hunting lodges and steal booze and guns. They steal a prison truck, get to a local airstrip, and hot wire a small plane to make their getaway.
In the 1996 film Freeway, Vanessa Lutz insists that when she turns serial killer Bob Wolverton over to the authorities, he will be sentenced to death in the San Quentin gas chamber.
The 2013 film Fruitvale Station used the prison, in which real life character Oscar Grant did time, as a filming location for a flashback scene. Actual prisoners served as extras.
The 2015 film Get Hard, San Quentin state prison was the prison businessman James King (Will Ferrell) was sentenced to, in the movie "San Quentin" experienced a semantic shift to "San Fucking" in reference to jail sexual harassment.
The 1989 film Heathers, after the accidental death of her best friend, the film's main character, Veronica, tells her accomplice that she will "have to send my S.A.T. scores to San Quentin instead of Stanford."
The 1957 film House of Numbers told the story of an older brother's efforts to help his younger brother escape from San Quentin.
The 1958 film I Want To Live! tells the story of Barbara Graham, who was executed in San Quentin's gas chamber. It was directed by Robert Wise and starred Susan Hayward.
William Beaudine directed the film Men of San Quentin (1942).
The 2010 film Predators included a character called Stans from San Quentin who had been sentenced to execution for 38 murders.
In the 1992 film Reservoir Dogs, character Joe Cabot tells a joke mentioning San Quentin. Edward Bunker, who portrayed "Mr. Blue" in the film, spent time in San Quentin when he was a teenager. The movie was directed by Quentin Tarantino.
San Quentin (1937) was directed by Lloyd Bacon; starred Pat O'Brien, Humphrey Bogart, and Ann Sheridan; and was filmed at the prison. The second (made in 1946) starred Lawrence Tierney and was directed by Gordon Douglas.
In 1968, the prison scenes in Woody Allen's film Take the Money and Run were shot in San Quentin.
In the 2011 film The Lincoln Lawyer, criminal defense lawyer Mickey Haller (played by Matthew McConaughey), leaves Los Angeles for San Quentin to see his former client Jesus Martinez (played by Michael Peña), who was wrongly convicted of murder.
Fiction, literature and publications
(Alphabetical by author)
Gang-pulp author Margie Harris wrote a story on San Quentin for the short-lived pulp magazine Prison Stories. The story, titled "Big House Boomerang," appeared in the March 1931 issue. It used San Quentin's brutal jute mill as its setting. Harris' knowledge of the prison came from her days as a newspaper reporter in the Bay Area, and her acquaintance with famous San Quentin prisoner Ed Morrell.
In David Kessler's 2009 novel Mercy, the character of Clayton Burrow is on Death Row in San Quentin after being convicted of killing his high school enemy.
In John Steinbeck's 1937 novel Of Mice and Men, George says to Lennie that their childhood friend Andy Cushman is in San Quentin "On account of a tart".
Video games
San Quentin is often mentioned and occasionally appears in Cause of Death.
San Quentin is mentioned various times in L.A. Noire; the threat of a gas chamber is also referenced by the main characters during interrogations.
San Quentin Avenue is a street in Bohan, a borough in Grand Theft Auto IV. Bohan, is similar in size and demographics to the Bronx, just as the whole map of Liberty City is similar to New York City. Many other streets in Bohan are also named for real-life prisons.
References
San Quentin State Prison Wikipedia
(Text) CC BY-SA