Cause of death

lethal injection


Role

serial killer


Victims

21–36+




Other names

Patrick Kearney



Country

United States




Name

William Bonin




Date apprehended

June 11, 1980






Born

January 8, 1947 (age 49), Willimantic, Connecticut, United States


Conviction(s)

First-degree murderRobberySodomyMayhem




Span of killings

May 28, 1979–June 2, 1980




Books

Doing Time: Stories from the Mind of a death row Prisoner




Criminal penalty

capital punishment



Died

February 23, 1996 (aged 49) San Quentin State Prison, San Quentin, California, U.S.


Similar

John Bittrolff, Arthur Gary Bishop, Lawrence Bittaker and Roy Norris
William George Bonin (January 8, 1947 – February 23, 1996) was an American serial killer and twice-paroled sex offender, also known as the Freeway Killer, who committed the rape, torture and murder of a minimum of 21 boys and young men in a series of killings in 1979 and 1980 in southern California. Bonin is also suspected of committing a further fifteen murders.
Contents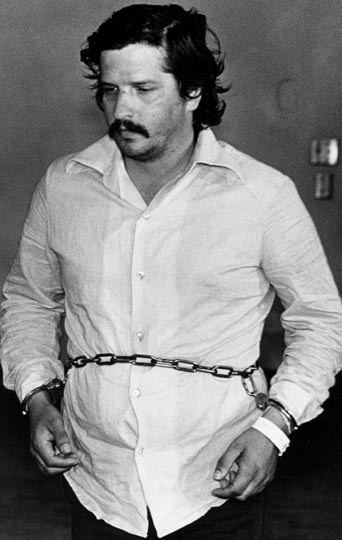 Described by the prosecutor at his first trial as "the most arch-evil person who ever existed", Bonin was convicted of 14 of the murders linked to the "Freeway Killer" in two separate trials in 1982 and 1983. He spent 14 years on Death row before he was executed by lethal injection at San Quentin State Prison on February 23, 1996.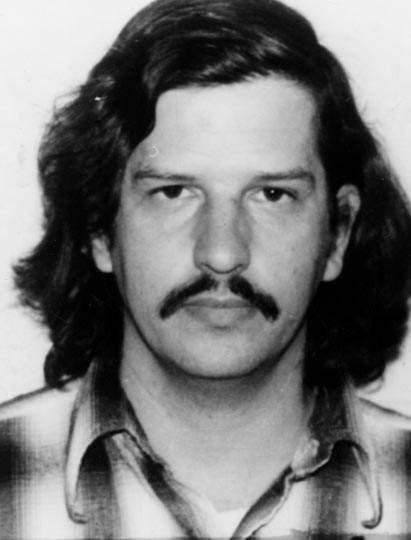 Bonin became known as the "Freeway Killer" due to the fact that the majority of his victims' bodies were discovered alongside numerous freeways in southern California. He shares this epithet with two separate and unrelated serial killers: Patrick Kearney and Randy Steven Kraft.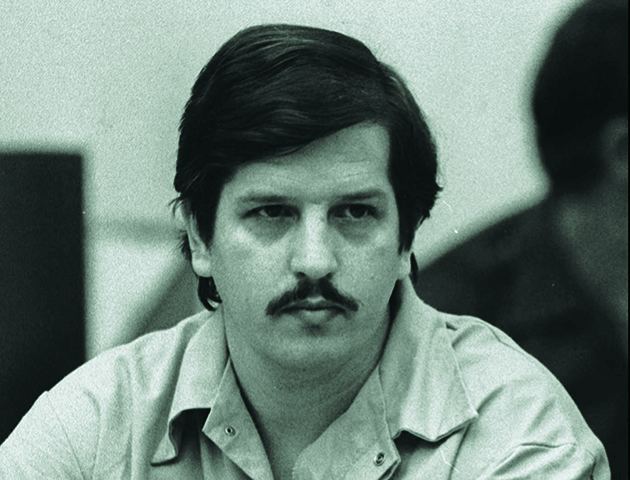 Childhood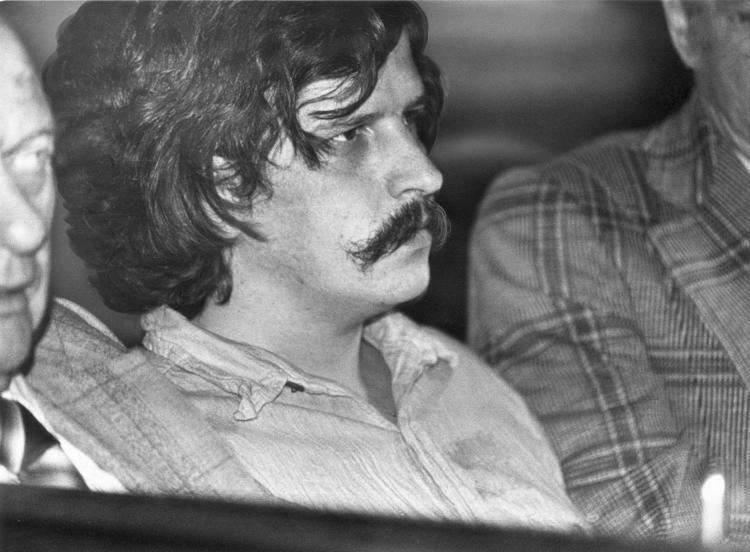 Bonin was born in Connecticut in January 1947, the second of three brothers born to Robert and Alice Bonin. Both of Bonin's parents were alcoholics, and his father was a compulsive gambler who was physically abusive towards both his wife and children. Bonin and his brothers were severely neglected as children, and were often fed and clothed by sympathetic neighbors. In addition, the brothers were often placed in the care of their grandfather, a convicted child molester who had molested Bonin's mother when she had been a child and adolescent, and who is known to have sexually abused his three grandsons.
In 1953, Bonin's mother placed her sons in an orphanage in an effort to protect her children from their father's physical violence. This establishment was known to severely discipline the children it housed for both minor and major breaches of conduct, with the punishments administered including severe beatings, enduring various stress positions, and partial drowning in sinks filled with water. Although Bonin later freely discussed many aspects of his childhood and adolescence, he refused to discuss his memories of being housed within this establishment beyond divulging that he consented to sexual advances from older males only if his abuser would first tie his (Bonin's) hands behind his back. He was to remain at this orphanage until the age of 9, when he returned to live with his parents in the town of Mansfield.
At the age of 10, Bonin was arrested for stealing vehicle license plates and was placed in a juvenile detention center for other minor crimes. While housed at this juvenile detention center, he was repeatedly physically and sexually abused by several people, including his adult counselor. Four years later, in 1961, facing the prospect of the foreclosure of their home, Bonin's parents opted to relocate to California. The Bonin family settled in a modest home on Angell Street in the city of Downey; shortly thereafter, Bonin's father died from cirrhosis of the liver. While living at this address, Bonin is known to have molested both his younger brother, and several neighborhood children. Many of these neighborhood children were lured into Bonin's home with the promise of alcohol, and all his known victims were younger than he was. In addition to these acts of molestation, Bonin is known to have committed several acts of robbery, petty theft, and grand theft in his teenage years.
Engagement and U.S. Air Force
Shortly after graduating from high school in 1965, Bonin became engaged to marry; this engagement had largely been at the behest of his mother, who believed the prospect of marriage would quell her son's evident sexual preference for males. The same year of his graduation, Bonin joined the U.S. Air Force. He later served five months of active duty in the Vietnam War as an aerial gunner, logging over 700 hours of combat and patrol time. Bonin was to later claim his experiences in Vietnam had installed a belief within him that human life is overvalued. On one occasion, while under enemy fire, he risked his own life to save the life of a wounded fellow airman. For this act, Bonin received a Good Conduct Medal in recognition of his gallantry. Bonin later claimed to have engaged in consensual sexual relations with both males and females in Vietnam; he also later admitted to sexually assaulting two fellow soldiers at gunpoint during the period of the Tet Offensive.
Bonin served three years in the U.S. Air Force before he received an honorable discharge in October 1968. Upon his discharge, Bonin returned to Downey to live with his mother. Shortly thereafter, he married his fiancée; the couple soon divorced.
First convictions
On November 17, 1968, at age 21, Bonin committed a sexual assault on a youth. He was to commit three further sexual assaults upon boys and youths over the following four months. The victims of these four assaults were aged between 12 and 18 and in each instance, he bound or otherwise restrained his victim before forcibly engaging in sodomy, oral copulation, and methods of torture which included bludgeoning and the squeezing of his victims' testicles.
In early 1969, Bonin was arrested as he attempted to restrain a 16-year-old youth whom he had lured into his vehicle; he was indicted on five counts of kidnapping, four counts of Sodomy, one count of oral copulation, and one count of child molestation against the five youths he had abducted and assaulted or—in the case of the final youth he had abducted—attempted to assault since the previous November. Bonin pleaded guilty to molestation and forced oral copulation and was sentenced to the Atascadero State Hospital as a mentally disordered sexual offender considered amenable to treatment in January 1971. While detained at this hospital, Bonin was subjected to a battery of psychiatric examinations: these examinations revealed that Bonin possessed a higher than average IQ of 121, and displayed traits of manic depression in addition to damage to the prefrontal cortex of his brain—which would likely reduce his ability to restrain any violent impulses; his physical examinations also revealed extensive scars on his head and buttocks, which he had likely sustained in the three years he had been housed at the Connecticut juvenile detention center as a child, although Bonin claimed to have no memory of any such incidents of abuse.
Two years after his arrival at the Atascadero State Hospital, Bonin was sent to prison, declared unsuitable for further treatment—largely due to his repeatedly engaging in forceful sexual activity with male inmates. On June 11, 1974, he was released from prison after doctors concluded he was "no longer a danger to the health and safety of others."
Further offenses and imprisonment
On September 8, 1975, Bonin encountered a 14-year-old named David McVicker hitchhiking in Garden Grove; McVicker accepted Bonin's offer to drive him to his parents' home in Huntington Beach; shortly after McVicker had entered Bonin's vehicle, he was taken aback by Bonin asking him if he was gay. When McVicker asked Bonin to stop his car, Bonin produced a gun and drove the youth to a deserted field, where he ordered McVicker to undress, then beat and raped him. After beating and assaulting McVicker, Bonin began to strangle the youth with his own T-shirt, then immediately became apologetic when McVicker began screaming. He then drove McVicker home before casually stating, "We'll meet again."
McVicker immediately informed his mother of the rape; she in turn notified Garden Grove police. Shortly thereafter, Bonin was charged with the rape and forcible oral copulation of a minor, and the attempted abduction of a 15-year-old which had occurred two days after Bonin had assaulted McVicker. In this second instance, Bonin had sexually propositioned a 15-year-old, who had rejected Bonin's offer of $35 for sex. In response, Bonin had attempted to strike the youth with his vehicle. Bonin pleaded guilty to these charges, and on December 31, 1975, he was sentenced to serve between one and 15 years' imprisonment, to be served at the California Men's Facility in San Luis Obispo. He was released from detention on October 11, 1978, albeit with 18 months' supervised probation.
Acquaintance with Vernon Butts
Upon his release, Bonin moved to an apartment complex in Kingswood Village in southeast Los Angeles County (approximately 1 mile from his mother's home), and soon found employment as a truck driver for a Montebello delivery firm named Dependable Drive-Away. He also established a reputation among teenage boys in his neighborhood as a gregarious individual who allowed them to socialize in his apartment, and who bought alcohol for minors. In addition, Bonin dated a young woman whom, he informed acquaintances, he regularly accompanied to Anaheim on Sundays, to partake in her hobby of roller skating.
Shortly after moving to Kingswood Village, Bonin became acquainted with a 43-year-old neighbor of his named Everett Fraser. Bonin became a regular attendee at the frequent parties Fraser held at his apartment and through these social gatherings, he became acquainted with a 21-year-old named Vernon Butts and an 18-year-old named Gregory Miley. Butts, a porcelain-factory worker and part-time magician who held a fascination with occultism, later claimed to have been both fascinated with and terrified of Bonin, while freely admitting to taking a great delight in watching Bonin abuse and torture his victims. Miley—an illiterate Texas native with an IQ of 56 who supported himself with casual work—also actively participated in the murders he accompanied Bonin upon.
Murder spree
Bonin usually selected young male hitchhikers, schoolboys or, occasionally, male prostitutes as his victims. The victims, aged 12 to 19, were either enticed or forced into his Ford Econoline van, where they were overpowered and bound hand and foot with a combination of handcuffs, and wire or cord. They were then sexually assaulted, extensively beaten about the face, head and genitals, and tortured before typically being killed by strangulation with their own T-shirts, although some victims were stabbed or battered to death. One victim, Darin Kendrick, was forced to drink hydrochloric acid; three victims had ice-picks driven into their ears and another victim, Mark Shelton, died of shock.
In order to minimize the chances of a potential victim escaping from his vehicle, Bonin removed all inner handles from the passenger-side and rear doors of his van, and stowed ligatures, knives, household tools and other instruments in his vehicle to facilitate the restraining and torture of his victims. The victims were usually killed inside this van before their bodies were discarded alongside or close to various freeways in southern California.
In a minimum of 12 of the murders, Bonin was assisted by one or more of his four known accomplices. According to one attorney present throughout Bonin's subsequent confession, the escalating levels of brutality he had exhibited towards his victims had been similar to that of a drug addict requiring an ever-greater increase of dosage to attain a satisfactory level of euphoria, and Bonin later emphasized to neurologists he had felt an intense sense of excitement as he searched for his victims.
First murder and initial arrest
The first murder for which Bonin was charged was that of a 13-year-old hitchhiker named Thomas Glen Lundgren. Lundgren was last seen leaving his parents' house in Reseda at 10:50 a.m. on the morning of May 28, 1979: his body, clad only in a T-shirt, shoes and socks, was found the same afternoon in Agoura. An autopsy revealed that Lundgren had suffered emasculation and bludgeoning to his face and head, with his skull sustaining multiple fractures. In addition, the youth had been slashed across the throat, extensively stabbed, and strangled to death. His underwear, jeans, and severed genitals were discovered strewn in a field close to his body. In the abduction and murder of Lundgren, Bonin was assisted by Vernon Butts, who is suspected of accompanying or assisting Bonin on at least eight further murders attributed to the Freeway Killer.
In mid-1979, Bonin was again arrested for molesting a 17-year-old boy in the coastal community of Dana Point. This violation of the conditions of his parole should have resulted in Bonin being returned to prison; however, an administrative error committed prior to Bonin's scheduled court date resulted in his release. Everett Fraser drove to collect Bonin from the Orange County Jail where he had been incarcerated.
Fraser later recollected that as he drove Bonin home, Bonin made a statement which he (Fraser) had interpreted at the time as an expression of remorse: "No one's going to testify again. This is never going to happen to me again."
Freeway Killer murders
Two months after the murder of Thomas Lundgren, on August 4, 1979, Bonin and Butts abducted a 17-year-old named Mark Shelton shortly after the youth left his Westminster home to walk to a movie theater near Beach Boulevard. Screams were heard from the vicinity of the Shelton household by neighbors, leaving a strong possibility Shelton was abducted by force. The youth was violated with foreign objects including a pool cue, causing his body to enter a state of shock which proved fatal. His body was then discarded in San Bernardino County. The following day, Bonin and Butts encountered a 17-year-old West German student named Markus Grabs attempting to hitchhike from Pacific Coast Highway. Grabs was bound with lengths of cord and ignition wire and driven to Bonin's home where he was sodomized, beaten, and stabbed a total of 77 times before his nude body was discarded in Malibu Creek, close to Las Virgenes Canyon Road. His body was found the following morning, with one investigator likening the network of injuries inflicted upon the victim to that of a rabid dog unable to determine when to cease biting.
On August 27, Bonin and Butts abducted a 15-year-old Hollywood youth named Donald Ray Hyden. Hyden was last seen alive walking along Santa Monica Boulevard at one a.m.; his body was found by construction workers later the same morning in a dumpster located near the offramp of the Ventura Freeway. Prior to his death by ligature strangulation, Hyden had been bound, beaten about the face, sodomized, then stabbed in the neck and genitalia and bludgeoned about the skull. Evident attempts had also been made to remove his testicles and slash his throat.
Two weeks after the murder of Donald Hyden, on September 9, Bonin and Butts encountered a 17-year-old La Mirada youth named David Louis Murillo cycling to a movie theater. Murillo was lured into Bonin's van where he was bound, repeatedly raped, extensively bludgeoned about the skull with a tire iron, then strangled with a ligature before his nude body was thrown over an embankment into a bed of ivy alongside Highway 101. Eight days after the murder of David Murillo, on September 17, an 18-year-old Newport Beach youth named Robert Christopher Wirostek was abducted as he cycled to his job at a grocery store; his body was found on September 27 alongside Interstate 10.
Bonin is not known to have killed again until on or about November 1, when he and Butts abducted and murdered an unidentified young man approximately 5 ft 10 in in height, and estimated to be between 19 and 25 years old. This victim was savagely beaten, then strangled to death before his body was discarded in an irrigation ditch alongside State Route 99, close to the Kern County city of Taft. Although never identified, Bonin later estimated the age of this victim to be 23, and freely admitted to inserting an ice pick into this victim's nostrils and ear prior to his murder. Approximately four weeks later, Bonin—operating alone—abducted and strangled a 17-year-old Bellflower youth named Frank Dennis Fox; his body was found two days later alongside the Ortega Highway, five miles east of San Juan Capistrano. The body itself bore signs of extensive blunt force trauma to the face and head, with ligature marks on the wrists and ankles indicating Fox had been bound throughout his ordeal. No clothing or other identifying evidence was discovered at the scene. Ten days after the murder of Frank Fox, a 15-year-old Long Beach youth named John Fredrick Kilpatrick disappeared after leaving his parents' home to socialize with friends. Kilpatrick was strangled to death before his body was discarded in a remote area of Rialto. His body was found on December 13; Kilpatrick remained known as a John Doe until August 5, 1980.
On January 1, 1980, Bonin brutalized and strangled a 16-year-old Ontario youth named Michael Francis McDonald; his fully clothed body was found alongside Highway 71 in western San Bernardino County two days after his murder; his body was not identified until March 24.
Participation of Gregory Miley
On February 3, Bonin drove from Downey to Hollywood in the company of 18-year-old Gregory Matthews Miley with the specific intention of committing a further murder. The pair encountered a 15-year-old named Charles Miranda standing close to the Starwood nightclub, hitchhiking along Santa Monica Boulevard. According to Miley, Bonin and Miranda engaged in consensual sexual activity in the rear of the van as he drove, before Bonin then whispered to him (Miley), "Kid's going to die." Miranda was then overpowered and bound by Bonin, who then asked the youth how much money he had in his possession. When Miranda responded he had "about $6", Bonin ordered Miley to take the youth's wallet, before raping his victim. Miley also attempted to rape the youth, but was unable to sustain an erection. In frustration, Miley assaulted Miranda with various sharp objects, before assisting Bonin in beating the youth. Bonin then strangled Miranda to death with a T-shirt and a tire iron as Miley repeatedly jumped on his (Miranda's) chest. His nude corpse was then dumped in an alleyway alongside East Second Street in Los Angeles.
Five minutes after the pair had discarded Miranda's body, Bonin suggested to Miley: "I'm horny again, let's go and do another one." A few hours later, in Huntington Beach, the pair encountered a 12-year-old named James Macabe at a bus stop on the corner of Beach Boulevard and Slater Avenue. Macabe was lured into Bonin's van on the promise he would be driven to his intended destination of Disneyland. According to Miley, the boy entered the rear of the van voluntarily as Bonin drove to a grocery store parking lot, where he parked the van, and entered the rear of the vehicle. Miley then drove in an aimless manner for what he later described as being a "very, very long distance". As he drove, Miley continually heard Macabe crying as Bonin beat and raped him, before forcing the boy to sleep in his arms. Miley then joined Bonin in beating the youngster and crushing his neck with a tire iron simply because he "felt like" doing so. Bonin then strangled Macabe to death with his own T-shirt, before the pair discarded his fully clothed, beaten body alongside a dumpster in the city of Walnut. Macabe's body was found three days later.
On February 4, Bonin was arrested for violating the conditions of his parole; he was remanded in custody at the Orange County Jail until March 4.
Subsequent killings
Ten days after Bonin had been released from custody, on March 14, he abducted and killed an 18-year-old Van Nuys youth named Ronald Gatlin. Gatlin was abducted shortly after he had left a friend's home. He was beaten, sodomized and suffered several deep, perforating ice pick wounds to the ear and neck before being strangled with a ligature. Gatlin's body, bound hand and foot, was found the following day in the city of Duarte. One week later, on March 21, Bonin lured a 14-year-old named Glenn Barker into his van as the youth hitchhiked to school. Barker was also raped, beaten and strangled to death with a ligature; his body also bore evidence of numerous burns to the neck which had been inflicted with a lit cigarette. In addition, Barker had been violated with foreign objects which had extensively distended his rectum. At 4 p.m. the same day, a 15-year-old named Russell Rugh was abducted from a bus stop in Garden Grove. Rugh was bound, beaten and strangled to death after an estimated eight hours of captivity before his body was discarded alongside that of Glenn Barker in Cleveland National Forest. The youths' nude bodies were found on March 23.
Encounter with William Pugh
One Friday evening in March, 1980, Bonin offered a 17-year-old named William Ray Pugh a ride home as the pair left the house of Everett Fraser. Within minutes of accepting the ride, Bonin asked Pugh whether he would like to engage in sex with him. Pugh later stated he panicked and stuttered upon hearing this question and, after sitting in silence for several minutes, attempted to leave the vehicle once Bonin had slowed the van at a stoplight. In response, Bonin wordlessly leaned across and grabbed Pugh by the collar, dragging him back into the passenger seat. According to Pugh, Bonin then confided in him that he enjoyed abducting young male hitchhikers on Friday and Saturday nights, whom he then restrained and abused before strangling them to death with their own T-shirts. In a matter-of-fact tone, Bonin then informed Pugh: "If you want to kill somebody, you should make a plan and find a place to dump the body before you even pick a victim." Bonin then informed Pugh he had not chosen to refrain from assaulting and killing him out of sentiment; he'd been spared because the pair had been seen leaving Fraser's party together.
Pugh was driven to his home without being assaulted.
Murder of Harry Turner
On March 24, Bonin and Pugh abducted a 15-year-old runaway named Harry Todd Turner from a Los Angeles street. Turner had absconded from a boys' home in the desert community of Lancaster four days prior to his meeting Bonin and Pugh. Pugh was to later testify that he and Bonin lured Turner into Bonin's van with an offer of $20 for sex. After binding, sodomizing and biting the youth, Bonin ordered Pugh to "beat him (Turner) up." After Pugh had bludgeoned and beat Turner about the head and body for several minutes, Bonin strangled the youth to death with his own T-shirt before discarding his body at the rear delivery door to a Los Angeles business. Turner's autopsy subsequently revealed the youth's genitals had been mutilated, and he had received a total of eight fractures to the skull inflicted by a blunt instrument before he had been strangled.
Later killings
On the afternoon of April 10, Bonin abducted a 16-year-old Bellflower youth named Steven John Wood as the youth walked to school, having attended a dental appointment that morning; his nude, extensively beaten body was discarded in an alleyway in Long Beach, close to the Pacific Coast Highway. No clothing or other identifying evidence was discovered at the scene. Wood's autopsy revealed the youth had been killed by ligature strangulation.
Three weeks later, on April 29, while parked in the grounds of a Stanton supermarket, Bonin and Butts lured a 19-year-old employee named Darin Kendrick into Bonin's van on the pretext of selling the youth drugs. Kendrick was driven to Butts' apartment, where he was overpowered and bound by both men. In addition to enduring sodomy and partial ligature strangulation, Kendrick was forced to drink hydrochloric acid by Bonin, causing caustic chemical burns to his mouth, chin, stomach and chest. Butts then drove an ice pick into Kendrick's ear, causing a fatal wound to the youth's cervical spinal cord. His body was discarded behind a warehouse close to the Artesia Freeway, with the ice pick Butts had driven into his skull still protruding from his ear.
On May 17, Bonin abducted and murdered a 17-year-old acquaintance of his whom he later stated he had decided to kill when he had awoken that morning because he was "tired of having him around". The body of this acquaintance, Lawrence Sharp, was discarded behind a Westminster gas station. His body was found the following day, and his autopsy revealed that, in addition to being bound and sodomized, Sharp had been extensively beaten about the face and body, then strangled with a ligature.
Two days after the murder of Lawrence Sharp, on May 19, Bonin asked Butts to accompany him on a killing; on this occasion, however, Butts reportedly refused to accompany him. Operating alone, Bonin abducted a 14-year-old South Gate youth named Sean King from a bus stop in Downey and discarded his body in Live Oak Canyon, Yucaipa. Bonin then visited Butts' residence and bragged of the killing to his accomplice.
Acquaintance with James Munro
Nine days after the murder of Sean King, Bonin invited an 18-year-old homeless drifter named James Michael Munro to move into the apartment he shared with his mother. Munro had been evicted from his family's home in his native Michigan in early 1980 and had been living rough on the streets of Hollywood for several weeks. As such, Munro readily accepted Bonin's accommodation offer. As had earlier been the case with Gregory Miley, Munro—a bisexual who preferred sexual relations with females—also began a consensual sexual relationship with Bonin. He also accepted a subsequent offer of employment at the Montebello delivery firm where Bonin worked. Munro later described his initial impression of Bonin as being "a good guy; really normal", although on the evening of June 1, Bonin abruptly informed Munro he wanted the two of them to abduct, rape, and kill a teenage hitchhiker.
Surveillance
By early 1980, the murders committed by the Freeway Killer were receiving considerable media attention, and a reward totaling $50,000 for information leading to the conviction of the perpetrator or perpetrators had been offered by leading gay rights activists. Bonin avidly collected newspaper clippings documenting his own manhunt.
Having by this stage determined a definitive link between many of the murders committed within the previous year, investigators from the various jurisdictions where victims had been abducted or discovered had themselves begun collaborating information in their collective hunt for the perpetrator. Six officers from three of the jurisdictions in which the Freeway Killer had most regularly either abducted or deposited the bodies of his victims formed a task force dedicated to the apprehension of the suspect or suspects who, as one of the officers upon this assembled task force later recalled, was striking at an average rate of once every two weeks in the spring of 1980.
By May 1980, William Pugh had been arrested for auto theft, and was housed at the Los Padrinos Juvenile Courthouse. On May 29, Pugh overheard the details of the ongoing series of murders on a local radio broadcast and confided to a counselor his recognition of the modus operandi of the perpetrator as being that described to him by Bonin two months previous. This counselor reported Pugh's suspicions to the police, who in turn relayed the information to an LAPD homicide sergeant named John St. John. Upon hearing the confidential tip from the counselor, St. John conducted an extensive interview with Pugh. Although the youth withheld the fact that he had actually accompanied Bonin on one of his murders, the information Pugh provided led St. John to deduce from his conversation with the youth that Bonin may indeed be the Freeway Killer. (David McVicker had also contacted authorities by this time to report his suspicions Bonin may be the perpetrator. His suspicions were not dismissed, but regarded as one of many public tips to be investigated.)
A police investigation into the background of Bonin revealed his extensive history of Conviction(s) for sexually assaulting teenage boys. Detective St. John assigned a surveillance team to monitor Bonin's movements. The surveillance of William Bonin began on the evening of June 2, 1980.
Murder of Steven Wells
On June 2, the same day as police surveillance of Bonin began, Bonin, accompanied by James Munro, encountered an 18-year-old print shop worker named Steven Jay Wells standing at a bus stop on El Segundo Boulevard. Bonin and Munro enticed the youth into the van. Upon learning Wells was bisexual, Bonin persuaded the youth to accompany him to his apartment on the promise he would be paid $200 if he allowed himself to be bound prior to engaging in sex. At Bonin's apartment, Wells was bound, raped, beaten about the face and torso by both men, then informed he was to be murdered before he was strangled to death with his own T-shirt. Bonin then placed Wells' body inside a cardboard box which he and Munro then carried to his van.
The pair then drove to the residence of Vernon Butts, whom Bonin first invited to view Wells' body with the enticement: "We got it in the van; it's a good one. Come on out and see it." According to Munro, upon viewing Wells' body, Butts replied, "Oh, you got another one!" before Bonin asked for advice as to how to dispose of Wells' body. At Bonin's subsequent trial, Munro recalled Butts' response: "'Try a gas station like' or 'where' - I don't know which - 'we dumped the last one.'" Munro also later testified that Butts had actively dissuaded Bonin from discarding the youth's body in the nearby canyons due to the late hour. Wells' body was instead discarded behind a disused Huntington Beach gas station, where it was found five hours later.
Arrest
After nine days of surveillance, on June 11, police observed Bonin driving in a seemingly random manner throughout Hollywood, unsuccessfully attempting to lure five separate teenage boys into his van, before succeeding in luring a youth into his vehicle. The police followed Bonin until his van parked in a desolate parking lot close to the Hollywood Freeway, then discreetly approached the vehicle. Upon hearing muffled screams and banging sounds emanating from inside the van, these plainclothes officers forced their way into the vehicle; discovering Bonin in the act of raping and strangling a 17-year-old Orange County runaway named Harold Tate, whom he had handcuffed and bound.
Initially charged with the rape of a minor and held on suspicion of the murder of Charles Miranda, Bonin was detained in lieu of $250,000 bond. (The following day, Munro stole Bonin's car and fled to his native Michigan.)
Inside Bonin's van, investigators discovered numerous artifacts attesting to his culpability in the Freeway Killer murders. These items included various restraining devices including lengths of nylon cord, an assortment of knives, a tire iron, and household implements such as pliers and coat hangers. Furthermore, both the interior of Bonin's van and sections of his home were extensively bloodstained, and the inner handles from the passenger-side and rear doors of his vehicle had been removed in an obvious effort to prevent a victim escaping the vehicle. Inside the glove box, investigators also discovered a scrapbook of newspaper clippings related to the murders.
Confessions and indictments
Although initially protesting his innocence in any of the Freeway Killer murders, Bonin confessed his guilt to veteran homicide sergeant John St. John after reading an impassioned letter from the mother of Sean King, imploring him to reveal the location of her son's body. Over the course of several evenings, Bonin confessed to abducting, raping, and killing 21 boys and young men. He expressed no remorse for his actions, but he did demonstrate extreme embarrassment and regret over having been apprehended. His primary accomplice throughout his killing spree, Bonin stated, had been Vernon Butts, with Miley and Munro being active accomplices in other murders. Bonin expressed no remorse for his crimes and later told one reporter who asked him what he would be doing if he were still at large: "I'd still be killing, I couldn't stop killing. It got easier with each one we did." (Police also suspect Bonin to be responsible for approximately 15 other murders.)
Bonin was physically linked to many of the murders by blood and semen stains, and numerous, distinctive green triskelion-shaped carpet fibers found upon seven of the victims' bodies which were forensically proven to be a precise match with the carpeting in the rear of Bonin's van. Furthermore, upon three victims' bodies, investigators had discovered hair samples which had proven to be a precise match with Bonin. Medical evidence also revealed that six of the murders for which Bonin was charged were committed by a unique windlass strangulation method, which was referred to by the prosecutor at Bonin's Los Angeles County trial as "a signature, a trademark."
Initially formally arraigned for the murder of Markus Grabs on July 25, by July 29, Bonin had been charged with an additional 15 murders to which he had confessed and upon which the prosecution believed they had sufficient evidence to obtain a conviction. In addition to the 16 murder indictments, Bonin was also charged with 11 counts of Robbery, one count of sodomy, and one count of mayhem. He was held without bond, and on August 8, these charges were formally submitted against him. Three days later, in accordance with Penal Code section 987, Bonin, at this stage without legal representation, was appointed an attorney named Earl Hanson to act as his legal representative. Hanson remained Bonin's attorney until October 1981 when, at Bonin's request, he was replaced by William Charvet and Tracy Stewart.
Based on Bonin's confession, police obtained a warrant authorizing a search of Vernon Butts' Lakewood property on the same date as Bonin's initial arraignment; this July 25 search uncovered evidence linking Butts to several of the murders to which Bonin had already confessed, and Butts was brought before a Municipal Court on July 29, charged with accompanying Bonin on six murders committed between August 1979 and April 1980. He was also charged with three counts of robbery. In a press statement relating to the police investigation into the murders issued on this date, the Los Angeles County Sheriff's Department stated: "Bonin and Butts are believed to be responsible for the kidnapping, torture and murder of at least 21 young males between May 1979 and June 1980", before adding that five further murder charges would likely be filed against both men in Orange County.
Despite proclaiming his innocence, Butts confessed to having accompanied Bonin upon each of the murder forays in each of the charges listed against him, and to have actively participated in the sexual abuse of several victims. Butts was adamant he had had only a limited role in the torture of the victims, but confessed to actively participating in the torture of one victim. Butts claimed he typically drove in an aimless manner as Bonin abused and tortured his victims in the rear of the van, then stopped the vehicle in order to assist in restraining the victim as Bonin escalated the torture. When asked as to why some victims had been subjected to more extensive blunt force trauma than others, Butts stated that, in many instances, Bonin would escalate the level of beatings to which he subjected his victim if the youth resisted his sexual advances.
Butts was brought before Orange County Municipal Court Judge Richard Orozco on November 14, 1980. On this date, he was formally charged with participating in three further murders committed in this county. His trial was scheduled for July 27, 1981.
On July 31, James Munro was arrested in his home city of Port Huron, Michigan; he was extradited to California, charged with the murder of Steven Wells. Munro pleaded innocent to all charges against him on August 14. On August 22, Gregory Miley—by this stage 19 years old—was arrested in Texas and subsequently charged by California authorities with the murders of Charles Miranda and James Macabe. Miley was arrested after having confessed to his culpability in these February 3 murders in a recorded phone conversation with a friend (thus substantiating Bonin's earlier confession). He initially pleaded innocent to two charges of first-degree murder on December 18, but formally pleaded guilty to both charges at two separate pretrial hearings in May 1981.
Preliminary hearings
At a preliminary hearing held in Los Angeles County before Los Angeles Superior Court Judge Julius Leetham on January 2, 1981, Bonin formally pleaded his innocence to 14 first-degree murder charges and numerous counts of sodomy, robbery and mayhem. In 11 of these indictments, a felony-murder-robbery special circumstance was also alleged. He was ordered to return to court on January 7 for pretrial motions and the formal setting of a trial date (which was eventually set for October 19). On the same date (January 2), Vernon Butts was arraigned on five counts of murder, in addition to three counts of robbery. The date of Butts' formal plea was delayed by Judge Leetham until January 7.
Four days after his formal plea before Judge Leetham, Vernon Butts committed suicide by hanging himself with a towel in his cell. A subsequent coroner's investigation revealed Butts had unsuccessfully attempted to take his own life on at least four occasions prior to his arrest. His attorney, Joe Ingber, theorized that Butts' depressive state had been magnified by the impending release of transcripts of his client's testimony at the preliminary hearing, in which Butts had graphically described the torture the victims had endured prior to their murder.
Prior to Bonin's impending trials, both Miley and Munro had agreed to testify against Bonin at both trials in exchange for being spared the death penalty, with Deputy District Attorney Stirling Norris also agreeing to seek the dismissal of additional charges of sodomy and robbery filed against Munro if he honored his agreement to testify. In the case of Miley, Norris agreed to accept two separate pleas of guilty to first-degree murder in exchange for two consecutive sentences of life imprisonment, with a possibility of parole after 25 years, if Miley agreed to testify against Bonin at both upcoming trials. (Prior to his suicide, Vernon Butts never formally agreed to either testify against Bonin, or to accept any form of plea bargain.)
Los Angeles County
Bonin was brought to trial in Los Angeles County, charged with the murder of 12 of his victims whose bodies had been found within this constituency, on October 19, 1981. He was tried before Los Angeles Superior Court Judge William Keene.
Initial jury selection began on this date, thus postponing the commencing of the actual trial until 16 jurors considered satisfactory by both counsels had been selected. Bonin's trial commenced on November 5, 1981.
Deputy District Attorney Stirling Norris, acting as prosecutor, sought the death penalty for each count of murder for which Bonin was tried, stating in his opening speech to the jury: "We will prove he is the Freeway Killer, as he has bragged to a number of witnesses. We will show you that he enjoyed the killings. Not only did he enjoy it, and plan to enjoy it, he had an insatiable demand, an insatiable appetite - not only for sodomy, but for killing." Norris further elaborated that Bonin had followed a depressingly familiar routine in his murders of luring or forcing his victim into the van, before overpowering and binding his victim. He would then repeatedly rape his captive between and throughout instances of torture, before finally reaching the "climax of the orgy" by killing his victim. Norris further asserted that Bonin considered murder a group sport, and would typically groom people of a low mentality to participate in many of his murders.
Both Miley and Munro testified against Bonin at his Los Angeles County trial, describing in graphic detail the murders in which they had accompanied Bonin. In his testimony, delivered on November 17, Munro stated that shortly after the murder of Steven Wells, he and Bonin drove to a McDonald's restaurant and purchased hamburgers with $10 taken from Wells' wallet. As they had eaten the burgers at Bonin's home, Bonin laughed and mused: "Thanks, Steve, wherever you are" before Munro had also joined in the laughter. Miley testified to his participation in the murders of Miranda and Macabe; describing in graphic detail how both youths were beaten and tortured with various instruments before their murders, and how he had heard a "bunch of bones cracking" as Bonin had pressed a tire iron against victim Charles Miranda's neck. Miley continued his testimony with the words: "The kid vomited. I jumped down on him the same way, killing the guy." Several members of the audience rushed out of the courtroom as Bonin's accomplices delivered their testimony, later stating to reporters gathered outside the courtroom they had found the recited details too nauseating.
The strategy of Bonin's defense attorneys, William Charvet and Tracy Stewart, was to challenge the credibility of numerous prosecution witnesses, and to suggest that extremely significant mitigating factors as to the root causes of Bonin's behavior lay in the extensive physical, sexual, and emotional abuse he had endured throughout his childhood and adolescence. To support this contention, Bonin's defense attorneys summoned an expert on the developmental effects of violence and abuse on children named Dr. David Foster, to testify as to the conclusions of his psychological examinations upon Bonin. Dr. Foster opined that Bonin had, as a result of repeated abandonment, not received the nurturing, protection, and behavioral feedback as a child necessary for sufficient psychological development. This had been so consistent and prevalent, Foster stated, that Bonin held a confusion as to the differences between violence and love. In a direct rebuttal, the prosecution summoned a forensic psychiatrist and expert in both impulse disorders and sexual sadism named Dr. Park Dietz, who testified that the overall pattern of Bonin's behavior was inconsistent with an inability to control his impulses. Dr. Dietz further testified as to Bonin's actions being reflective of planning as opposed to impulsive behavior. In summary, Dr. Dietz concluded that Bonin was a sexual sadist, and that although Bonin suffered from an antisocial personality disorder, neither of these conditions had impaired his ability to control his actions.
Against overruled objections from Bonin's defense attorney, a Fresno-based reporter named David López waived his previously-sought immunity under California's shield law and agreed to testify on behalf of the prosecution as to the details of seven interviews Bonin had granted him between December 1980 and April 1981. López testified on December 14 and 15. In his testimony, López stated Bonin had first informed him he would refuse to talk with any other reporter if López would agree not to broadcast the precise details of the interview. López had agreed to these conditions, and Bonin had confessed to him on January 9 that he was indeed the Freeway Killer, and that he had killed 21 victims. The victims' ages, Bonin had confided, had ranged between 12 and 19, with his youngest victim, James Macabe, being the easiest victim to kill. According to López, Bonin had confided that although he resented the prospect of being executed, he had opted to kill repeatedly simply because he had enjoyed the "sound of kids dying". López also testified Bonin had informed him he had killed one victim by repeatedly punching him in the throat, and that the primary incentive for his revealing the location of the body of Sean King to authorities had been the knowledge police would purchase hamburgers as they searched San Bernadino County for King's remains.
Upon cross-examination, Bonin's defense attorney ensured López conceded his testimony was based upon what he had recalled from the interviews as opposed to any handwritten notes, although he strenuously denied he had received any form of fee to testify.
On December 16, 1981, both counsels delivered their closing arguments before the jury (these closing arguments, rebuttals and surrebuttals lasted until December 22). In his closing argument on behalf of the prosecution, Stirling Norris described Bonin as an insatiable, callous individual who acted with malice aforethought, and who derived extreme pleasure from the suffering he inflicted upon his victims. Having outlined the torture Bonin's victims had endured, Norris concluded his closing arguments by urging the jury to "give him [Bonin] what he has earned". Defense attorney William Charvet began his closing argument in defense of Bonin on December 21. Although Charvet did not specifically ask the jurors to find Bonin not guilty, he did request they only return the "reasonable verdict you can bring"; indicating a likelihood of not guilty verdicts on at least some counts upon which Bonin stood charged. Charvet then hearkened towards the credibility of some of the delivered testimony, pouring particular scorn upon Miley and Munro, whom he emphasized had turned state's evidence, and thus, Charvet alleged, had tailored their testimony to the desires of the police. As such, Charvet contended the testimony of both accomplices as unworthy of belief. Charvet repeatedly reminded the jury he had exposed a myriad of inconsistencies in the testimony of Munro's account of the murder of Steven Wells in the various statements he had given, and had compelled him to admit that he lied on numerous occasions.
Charvet also reminded the jury of the extensive physical and sexual abuse Bonin had endured as a child, and of the diagnoses doctors at the Atascadero State Hospital had reached between 1969 and 1971. Contending the prosecution's case was "full of holes", Charvet then alleged the prosecution had resorted to what amounted to little more than "revulsion tactics" in the hope Bonin would be convicted upon that basis.
Following these closing arguments, Judge Keene ordered the trial recessed until December 28, when he delivered his final instructions to the jury, who then formally began their deliberations.
Bonin's first trial lasted until January 6, 1982. On this date, the jury convicted Bonin of 10 of the murders for which he was tried, although he was found not guilty of the murders of Thomas Lundgren and Sean King, of committing sodomy upon Markus Grabs, of committing mayhem upon Lundgren, and of robbing one other victim. As these verdicts were read by the clerk of court, many relatives and friends of Bonin's victims wept openly. The following day, both the prosecution and defense made alternate pleas for the actual sentence the jury should decide: Stirling Norris requesting the death penalty; William Charvet requesting life imprisonment. On January 20, the jury further found that the special circumstances required within California Law (multiple murders and robbery) had been met in the 10 murder cases for which they had found Bonin guilty, and thus unanimously recommended he receive the death penalty.
Bonin was cleared of the sodomy and murder of Sean King because he had led police to the body of the victim in December 1980, with the agreement that his leading police to King's body could not be used against him in court, and therefore the prosecutors had discussed King's disappearance at the trial, but not the discovery of his body; he was cleared of the charges of mayhem and murder against Lundgren because, according to David López, he had strenuously denied committing this particular killing in the interviews he had granted to him.
In response to the recommendations of the jury, Superior Court Judge William Keene ordered a reconvening of court on February 24, upon which date William Charvet was to argue for a modification of the sentence recommended by the jury. Despite an impassioned appeal by Charvet, Judge William Keene formally sentenced Bonin to death for the 10 murders of which he was convicted on March 12. Describing the murders as "a gross, revolting affront to human dignity", Judge Keene further ordered at this hearing that if Bonin's death sentence were commuted to one of life imprisonment, the sentences should run consecutively. Bonin was then ordered to be remanded to the warden of San Quentin State Prison, to await execution in the gas chamber. He remained unmoved upon receipt of this sentence, having earlier informed his attorney he had fully expected to formally receive the death penalty.
Orange County
Bonin was brought to trial in neighboring Orange County, charged with the robbery and murder of four further victims who had been found murdered within this jurisdiction between November 1979 and May 1980, on March 21, 1983. He was tried before Superior Court Judge Kenneth Lae.
Prior to this second trial, Bonin was temporarily removed from death row and held in solitary confinement, where he remained until the conclusion of the trial. While incarcerated in this capacity, his defense attorney, William Charvet, attempted to secure a change of venue, citing the extensive pretrial publicity surrounding the case minimizing the chances of securing an untainted jury within this jurisdiction; however, this motion was refused by Judge Kenneth Lae, who ruled in November 1982 that there had only been minimal publicity surrounding the Freeway Killer case in Orange County following Bonin's earlier convictions.
Initial jury selection began on March 21, and saw a total of 204 prospective jurors subjected to the process of Voir dire selection before, in June, 16 jurors considered satisfactory by both counsels had been selected. Upon completion of jury selection process, Bonin's attorney renewed his motion that the trial should be moved to a jurisdiction outside of Orange County due to pretrial publicity tainting the jury pool; this motion was again rejected by Judge Lae, who again ruled that the 16 members of the jury selected from Orange County by this date and considered satisfactory by both counsels would serve as jurors throughout the trial, as no likelihood existed of Bonin receiving an unfair trial. Judge Lae ruled that the trial would begin on June 14.
The prosecutor at Bonin's Orange County trial, Bryan Brown, contended that all four victims killed within this constituency had been abducted while hitchhiking, then ordered to strip before being bound about the wrists and ankles. Each of the four victims had then endured rape, beatings, torture, and finally ligature strangulation. In each instance, the ligature had left an impression measuring approximately one-half of an inch upon the victim's neck. Brown also hearkened toward the similarities in each of these murders and two of those for which Bonin had earlier been convicted in Los Angeles County: Charles Miranda and Steven Wells. Particular emphasis was placed upon the fiber evidence found upon each of the Orange County victims—in addition to three victims killed in Los Angeles County—being a precise match to the distinctive carpeting in the rear of Bonin's van. As such, Brown stated, the four Orange County victims had been killed by the same individual who had killed Miranda and Wells, and his accomplices in these two murders, Miiley and Munro, would testify as to their accompanying Bonin on each of these murders. To further support this contention, the prosecution also presented forensic experts who testified that the fibers discovered upon the bodies of all six victims in question were a precise match with the carpeting in Bonin's van. The interior of the van had also been extensively stained with human blood. In reference to the evidence found within the van itself, Brown stated to the jury: "One can truly say from the evidence found within the van it is a virtual death wagon."
These contentions were refuted by William Charvet, who contended that any similarities in modus operandi did not constitute automatic proof of his client's guilt, and that the evidence presented did not support the prosecution's contention beyond a reasonable doubt that Bonin had murdered any of the four Orange County victims, or the two victims killed in Los Angeles County. Specifically, Charvet attacked the credibility of James Munro, and further contended Bonin was simply a scapegoat for four unsolved murders.
This second trial lasted six weeks, and saw Bonin's attorneys call two witnesses in his defense—one of whom was James Munro, who conceded Bonin had communicated with him prior to his testifying in this second trial, requesting he lied when called to deliver his testimony.
Following less than three hours of deliberations, the jury announced on August 2, 1983, that they had found Bonin guilty of each of the four murders, in addition to three counts of robbery.
After three days of deliberations as to the actual penalty to be imposed upon Bonin, the jury announced on August 22 their recommendations that he be sentenced to death on each count. Superior Court Judge Judge Kenneth Lae postponed formal sentencing until August 26. On this date, Bonin received four further death sentences, with Judge Lae describing Bonin as sadistic and guilty of "monstrous criminal conduct".
Death row
Bonin was to remain incarcerated on death row for 14 years at San Quentin State Prison, awaiting execution in the gas chamber.
In his years on death row, Bonin undertook both painting and writing as hobbies, and did receive several minor awards for his artwork, short stories and poems. He also corresponded with numerous individuals, including the mothers of some of his victims; in the correspondence exchanged with his victims' relatives, Bonin never expressed any regret or remorse over having murdered their sons. On one occasion, Bonin informed the mother of victim Sean King that her son had been his favorite victim as "he was such a screamer".
Bonin also contended to his defense attorneys—in addition to several people with whom he corresponded—that Vernon Butts had been the actual ringleader behind the murders, and that he had simply been Butts' accomplice. (These claims would be refuted by Stirling Norris, the prosecutor at Bonin's Los Angeles County murder trial, who recollected shortly before Bonin's execution: "He was the leader, and he chose weak people he could use.")
The method of Bonin's execution was superseded with lethal injection by the state of California in 1992, following the execution of Robert Alton Harris, the first inmate California had executed since 1967. Harris had exhibited evident symptoms of discomfort for up to four minutes throughout his 15-minute execution in the gas chamber. These symptoms had included convulsions. As such, the state of California opted to use lethal injection as an alternate method of execution to the gas chamber, branding the gas chamber a "cruel and unusual" method of execution.
Appeals
Bonin filed numerous appeals against his convictions and sentencing, citing issues such as jury prejudice, the potential of jury inflammation via listening to victim impact statements (which his defense had offered to stipulate at Bonin's trials), and inadequate defense as the bases for each appeal. For these appeals, Bonin hired new lawyers, who initially submitted contentions that his previous defense attorney, William Charvet, had provided inadequate defense at his trials by failing to place sufficient emphasis upon Bonin's bipolar disorder and the sexual abuse he had endured as a child. These lawyers contended that had Charvet placed further emphasis on these issues, Bonin would have been "humanized" in the eyes of his juries.
Each successive appeal proved unsuccessful, with the U.S. Supreme Court refusing to overturn the death penalty convictions for the murders committed in both counties in which Bonin had been tried in August 1988 and January 1989 respectively.
Despite upholding Bonin's convictions, the Supreme Court poured scorn upon the trial judge at Bonin's Los Angeles County trial, William Keene, for failing to fully heed a warning given by the prosecution prior to trial that James Munro had discussed the possibility of agreeing to legal representation by Bonin's defense attorney, William Charvet, prior to his appearance at trial. Despite admonishing Charvet for a potential conflict of interest, Judge Keene had permitted Charvet to act as Bonin's defense attorney at his Los Angeles County trial. In spite of this fact, the Supreme Court ruled in 1989 that Charvet had effectively cross-examined Munro at trial, and that Judge Keene's actions, though ruled as "inexplicable", had not effectively harmed Bonin's legal defense. Further merit was given to Bonin's contention that his defense should have been allowed to stipulate the testimony of the parents of his victims being allowed to identify photographs of their sons in both life and death at his trials. Despite this ruling, this finding was also deemed not to have affected the overall verdict.
A final submission to the United States Court of Appeals was submitted in October 1994, with Bonin contending such issues as his being denied the effective assistance of counsel at both his trials, that he had been denied due process at his Los Angeles trial due to the judge's refusing to suppress the testimony of Munro and Miley, and that the judge at his Orange County trial had denied his counsel's motion for a change of venue upon the basis that pretrial publicity had effectively minimized any chance of obtaining an unbiased jury within the county. This final appeal was rejected on June 28, 1995, with the appellate judges stating they had found no evidence of legal misconduct, and that no evidence existed that the 13 jurors who served upon Bonin's Orange County trial who had admitted to minimal, indirect pretrial exposure to the Freeway Killer case had, as a result of this pretrial publicity, been incapable of judging Bonin with impartiality. As such, the appellate judges declared their satisfaction with the validity of Bonin's convictions.
On 20 February 1996, the 9th Circuit Court of Appeals rejected a plea for clemency submitted by Bonin's attorneys on the grounds of inadequate legal representation at both his trials. Scarcely one hour prior to his scheduled execution, the U.S. Supreme Court refused to hear Bonin's final plea to overturn his death sentence, with the convened panel in almost unanimous agreement that Bonin's own attorneys had not failed to give their client adequate legal representation by not earlier discovering their submitted claims to have discovered evidence attesting to Bonin's innocence. Furthermore, these appellate judges ruled that Bonin's attorneys should not have waited until the last minute to submit arguments to overturn or postpone the impending death sentence of their client. These convened judges also rejected Bonin's final claim that he had a right to choose between the gas chamber or lethal injection as his actual method of execution.
Execution
Bonin was executed by lethal injection inside the gas chamber at San Quentin State Prison on February 23, 1996. He was the first person to be executed by lethal injection in the history of California, and his execution occurred 14 years after his first death sentence had been imposed.
In a final interview given to a local radio station less than 24 hours before he was executed, Bonin claimed he had "made peace" with the fact he was about to die. He added that his only real regret was that he had not pursued his teenage passion of bowling long enough to have turned professional. When asked whether there was anything he had to say to the families of his victims, Bonin stated: "They feel my death will bring closure, but that's not the case. They're going to find out."
At 6 p.m. on the day he was executed, Bonin was moved from his cell to a death watch cell, where he ordered his last meal: two large pizzas, three pints of ice cream and three six-packs of Coke. His final hours were spent in the company of five individuals whom he had chosen for this occasion. These included his attorney, chaplain, and a prospective biographer. Each later stated that Bonin seemed resigned to his fate; his attorney also added that he had not detected any remorse in his client. At 11:45 p.m., Bonin was escorted from his holding cell into the execution chamber. In his final statement, given to the prison warden one hour prior to his scheduled execution at midnight, Bonin again expressed no remorse for his crimes and left a note that stated:
William Bonin was pronounced dead at 12:13 a.m. He was 49 at the time of his execution. No family member of Bonin chose to witness his execution; the event was witnessed by several relatives of his victims, many of whom wept and embraced when his death was officially confirmed. According to several of these witnesses, Bonin's execution passed without complications, and he was heavily sedated throughout the latter stages of the procedure. On this subject, then-Governor Pete Wilson—who had rejected a submitted plea for clemency from Bonin's attorneys three days prior to the execution—referred to William Bonin as the "poster boy for capital punishment", before adding that California's method of execution ensured Bonin's death was infinitely more pleasant than that endured by his victims.
Victims
Bonin and three of his four known accomplices were convicted of 14 murders committed between August 5, 1979, and June 2, 1980; Bonin was also charged with two additional murders for which he was acquitted at his first trial in Los Angeles County. Of these murders for which Bonin was convicted, 10 were committed in Los Angeles County and four in nearby Orange County. The Freeway Killer was suspected of committing at least 21 murders, and the killings for which Bonin was convicted are shown in italics in the adjacent table.
In nine murders; those of Lundgren, Shelton, Grabs, Hyden, Murillo, Wirostek, Kendrick, Wells and the John Doe whose skeletal remains had been found in Kern County on November 30, 1979, Bonin was assisted by his primary accomplice, Vernon Robert Butts; a factory worker who had been 21 years old when he committed his first murder with Bonin. According to Bonin, Butts had been an extremely active accomplice.
Bonin was assisted by 19-year-old Gregory Matthews Miley in the February 3 murders of Miranda and Macabe. Miley then returned to his native Houston in the spring of 1980, to live with his stepfather. He was arrested on August 22.
James Michael Munro, Bonin's lodger and coworker, assisted Bonin in the murder of Steven Wells. The day after Bonin's arrest, Munro fled to his native Michigan, where he was arrested on July 31.
Through questioning Bonin's neighbor, Everett Fraser, police discovered that 17-year-old William Ray Pugh, who had informed police he suspected Bonin of being the Freeway Killer, actually knew Bonin much better than he had initially divulged. Police later learned Pugh had willingly accompanied Bonin on the murder of Harry Todd Turner. As a direct result of this knowledge, first-degree murder charges against a 20-year-old acquaintance of Bonin's named Eric Wijnaendts—brought in December, 1980—were dropped, with the county prosecutor citing insufficient evidence as the cause.
Bonin was not brought to trial for the murders of Mark Shelton, Robert Wirostek, John Kilpatrick, Michael McDonald, or the John Doe whose body was found close to a Kern County reservoir in November 1979 because police did not find sufficient evidence upon any of the victims' bodies which could conclusively link Bonin alone to the crimes. Police did charge Bonin and Butts with the murder of the John Doe, and those of Mark Shelton and Robert Wirostek (alongside that of Darin Lee Kendrick) in October and November 1980. Bonin was formally charged with these murders at a pretrial hearing held on January 2, 1981.
Shelton had been linked to the manhunt for the Freeway Killer upon his body being found in August 1979, as had both the John Doe—whose body discovery location Butts had directly led police to—and Darin Lee Kendrick. Wirostek, who vanished en route to his job on September 17, 1979, was not confirmed as a Freeway Killer victim until his body was formally identified in July 1980.
Two months after all charges had been filed against each defendant, Vernon Butts committed suicide, rendering his recorded testimony in these three cases inadmissible as evidence. The charges against Bonin in relation to Shelton, Wirostek and the John Doe were therefore dropped in accordance with Penal Code section 995 in early 1981. Nonetheless, sufficient physical evidence was still present in the case of Darin Kendrick—a murder for which Bonin was subsequently convicted.
Neither Bonin nor any of his accomplices were ever charged with the murders of John Kilpatrick or Michael McDonald, although Bonin confessed to David López both youths had been victims of his.
Bonin was charged with, but subsequently cleared of, the murders of Sean King and Thomas Lundgren at his Los Angeles County trial. He is known to have confessed to the murder of King, and did lead police to the youth's body; he emphatically denied Lundgren's murder in the series of interviews granted to David López between December 1980 and January 1981, although Bonin stated in these interviews he had killed 21 victims.
Other "Freeway Killers"
On July 1, 1977, Patrick Kearney, the prime suspect in a series of killings of young men known as the Trash Bag Murders, voluntarily surrendered to Riverside Police. Prior to his surrender, Kearney had been a fugitive for two months, following his being forensically linked to the murder of a 17-year-old named John LaMay—a confirmed victim of the Trash Bag Murderer. Kearney subsequently confessed to the murders of 28 boys and young men; many of whose bodies he had discarded alongside freeways in southern California. In contrast to Bonin, Kearney extensively dismembered the majority of his victims' bodies, before typically discarding their remains in trash bags. Although primarily known as the Trash Bag Murderer, Kearney is also known as the Freeway Killer.
Three years after the arrest of William Bonin, two California Highway Patrol officers arrested a 38-year-old Long Beach IT specialist named Randy Steven Kraft as he attempted to discard the body of a 25-year-old Marine from his car in Mission Viejo. The victim had been drugged, bound and garrotted in a similar manner to that of numerous other young men whose bodies had been found alongside or close to various California and Oregon freeways since 1972 in a series of murders also attributed to a perpetrator also known as the Freeway Killer.
A search of Kraft's vehicle revealed an envelope depicting containing over 50 Polaroid pictures of young men—either drugged or deceased—in suggestive poses. Several of these images were of confirmed victims of the Freeway Killer. In addition, police also discovered a coded list depicting cryptic references to his victims in the trunk of Kraft's vehicle, leading Kraft to also become known as the Scorecard Killer.
Although his disposal method had been similar to that of William Bonin, Kraft drugged his victims before he killed them and used differing torture methods upon their bodies, including burning the victims' chest and genitals with an automobile cigarette lighter. In addition, many of Kraft's victims had been aged in their early- or mid-twenties, and a small number of his victims had also been dismembered prior to their disposal.
Collectively, Bonin, Kraft and Kearney may have claimed up to 131 victims.
Aftermath
William Bonin's family refused to claim his remains in the weeks following his 1996 execution. His remains were cremated in a private ceremony with no family members present. Later, his ashes were scattered over the Pacific Ocean.
Both throughout Bonin's trials and in the years prior to his execution, much speculation was given as to whether the root cause of Bonin's crimes lay in his abusive, dysfunctional upbringing. Opponents and advocates of the death penalty alike were in agreement Bonin had endured extensive physical and sexual abuse in his childhood, but much scorn was given to the claims from Bonin's attorneys and supporters that the murders had been a direct manifestation of the abuse he had endured as a child and adolescent, and an attempt to purge his frustration and anger onto his victims. In one article published in the San Francisco Chronicle three days prior to Bonin's execution, an editor named Robert Morse opined: "Bonin was abused as a child. The abuse seems to have been bad, but not nearly as gruesome as the abuse he dealt out. [This] world is filled with articulate people who can write and paint and were abused as children; very few of them become serial killers. The crime rate among the mentally ill is lower than among so-called 'normal' people. To call Bonin's evil a psychiatric disorder, as the defense has, or an illness, is to slander the mentally ill."
Bonin's main accomplice, Vernon Butts, accused of accompanying or otherwise assisting Bonin on at least nine of the murders, hanged himself while awaiting trial on January 11, 1981. He left no suicide note. At the time of his death, he had been scheduled to be tried on July 27 for six of the murders he had accompanied Bonin upon. Correspondence found within his cell indicated Butts had been greatly distressed at the impending release of a transcript of evidence he had given behind closed doors at his preliminary hearing days prior, and the effect it would have on his friends and relatives.
Despite claiming in his formal confession to investigators shortly after his arrest that he had basically participated in the murders out of fear of Bonin, Butts also informed investigators he had considered the killing spree "a good little nightmare", adding that Bonin "really loved those sounds of screams. He loved to hear them scream... he loved every minute of it."
David McVicker, the youth who had survived the 1975 assault and partial strangulation at Bonin's hands and who personally witnessed Bonin's execution, was initially traumatized by his experience, and never discussed his ordeal in detail with his family. In the years immediately following his ordeal, McVicker was haunted by nightmares, dropped out of high school, and began abusing drugs and alcohol on a regular basis. Nonetheless, he described the experience of observing Bonin's execution as being symbolic of closure and "the beginning of my life."
In the years following Bonin's execution, McVicker has actively campaigned to ensure the two accomplices of Bonin who were imprisoned for first- and second degree murder convictions are not set free. In one interview granted in 2011, McVicker stated the primary reason he had been inspired to campaign to ensure James Munro and Gregory Miley are never released were the words one of the murder victims' mothers had spoken to him on after he had testified against Bonin at his Los Angeles County trial: "You've got to speak for my kid."
James Michael Munro was sentenced to a term of 15 years to life for the second degree murder of Steven Wells on April 6, 1981. Munro has repeatedly appealed his sentence, claiming that he had not known Bonin had been the Freeway Killer until after Wells' murder, and that he had been tricked into accepting a plea bargain whereby he pleaded guilty to this second degree murder charge. He has also written to successive Governors, requesting he be executed rather than spend the remainder of his life behind bars for what he claims is "a crime I didn't commit". (In the days following the murder of Steven Wells and prior to Bonin's arrest, Munro boasted to several people of his belief the Freeway Killer would never be caught.)
Munro has repeatedly been denied parole, and is currently incarcerated at Mule Creek State Prison. He is next available for parole in 2019.
Gregory Miley was sentenced to a term of 25 years to life by Superior Court Judge Bonnie Lee Smith on February 5, 1982. This sentence was for the first-degree murder of Charles Miranda, and Miley was informed he would need to serve a minimum of 16 years and eight months before he would be considered for parole. He was later sentenced to a consecutive term of 25 years to life by an Orange County court judge for the abduction and murder of James Macabe. Initially incarcerated at the California Substance Abuse Treatment Facility and State Prison in Corcoran, Miley was later transferred to Mule Creek State Prison.
Throughout the years of his incarceration, Miley was repeatedly reprimanded for violating prison rules. These accrued reprimands had included the possession of contraband drugs, and attempting to engage in non-consensual sodomy with fellow inmates.
On May 25, 2016, Gregory Miley died of injuries he had sustained two days previously, when he had been attacked by another inmate in an exercise yard at Mule Creek State Prison. Initially, Miley was evaluated at the prison medical facility, before returning to his cell; he was later airlifted to hospital after falling into unconsciousness two hours after the attack.
At the time of his death, Miley's next scheduled parole hearing was to be held in 2019. He had most recently been eligible for parole in October 2014, after previously agreeing to a three-year continuance of his most recent request for parole. This subsequent suitability hearing was held on October 29, 2014; the decision made at this hearing was to deny parole.
William Pugh was sentenced to a six-year sentence for voluntary manslaughter in the case of Harry Todd Turner on May 17, 1982. Pugh had initially been charged with the first-degree murder of Turner, in addition to companion charges of robbery and sodomy; however, after five days of deliberation, the jury found Pugh guilty of the reduced charge of manslaughter, and innocent of robbery and sodomy.
Pugh served less than four years of his sentence, and was released from prison in late 1985.
Film
The film Freeway Killer was released by Image Entertainment in 2010. This film is directly based upon the murders committed by Bonin and his accomplices. The film cast Scott Anthony Leet as William Bonin and Dusty Sorg as Vernon Butts.
Bibliography
Bonin, William (1991). Doing Time: Stories from the Mind of a Death Row Prisoner. Red Bluff, Calif.: Eagle Publishing. ISBN 978-1-8790-2704-6. OCLC 84045749.
McDougal, Dennis (1991). Angel of Darkness: The True Story of Randy Kraft and the Most Heinous Murder Spree of the Century. New York: Warner Books pp. 160-168; 171-175, 178; 285-286; 368. ISBN 978-0-7088-5342-9.
Pelto, Vonda (2007). Without Remorse: The Story of the Woman who Kept Los Angeles' Serial Killers Alive. Seven Locks Press. ISBN 978-0-9795-8528-9.
Rosewood, Jack (2015). William Bonin: The True Story of the Freeway Killer. CreateSpace. ISBN 978-1-5196-3119-0.
Television
The Investigation Discovery channel has broadcast a documentary pertaining to the crimes of William Bonin. This episode—entitled The Freeway Killer—was first broadcast in 2014.
References
William Bonin Wikipedia
(Text) CC BY-SA