David Joseph Carpenter (born May 6, 1930), a.k.a. the Trailside Killer, is an American serial killer known for stalking and murdering his victims in State Parks in California. Carpenter killed several people on hiking trails near San Francisco, California. Carpenter killed at least 10 people, with one attempted victim, Steven Haertle, surviving. Carpenter used a .38 caliber handgun in all but one of the killings, with a .44 caliber handgun being used in the killing of Edna Kane on Mount Tamalpais.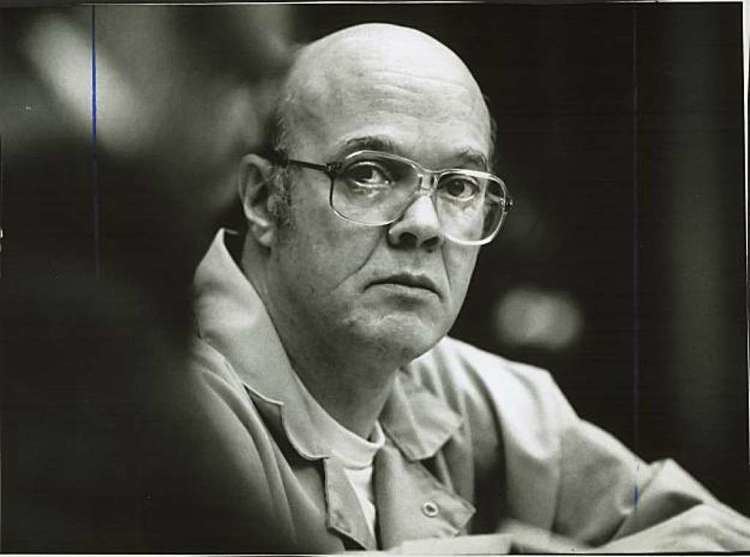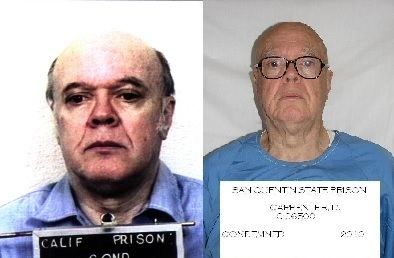 Born and raised in San Francisco, Carpenter was physically abused as a child by his alcoholic father and domineering mother. As a boy, he suffered a severe stutter and a bed-wetting problem, and he tortured animals. At 13, he was incarcerated for molesting two of his cousins.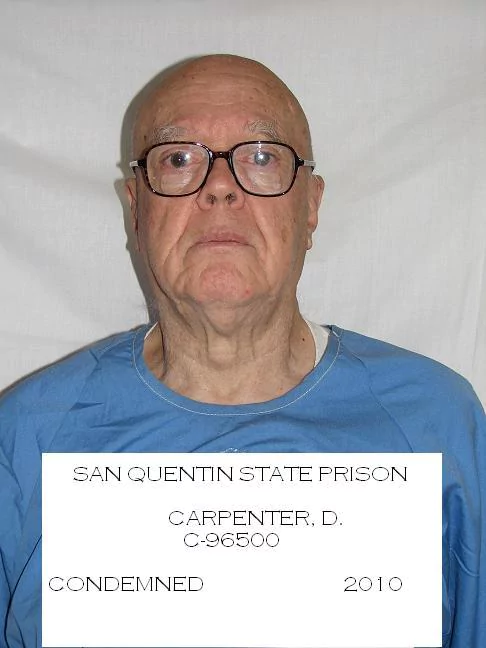 He married in 1955, a union that produced three children.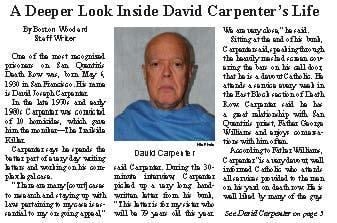 Carpenter attempted murder in 1960, for which he spent seven years in prison. In 1970, he was arrested for kidnapping and spent a further seven years behind bars. After his release, he was a suspect in the notorious Zodiac murders, although he was eventually cleared.
From 1979–1981, Carpenter raped and murdered five women in Santa Cruz and Marin Counties. On May 10, 1988, a San Diego jury convicted Carpenter of five counts of first degree murder in the slayings of Richard Stowers, Cynthia Moreland, Shauna May, Diane O'Connell and Anne Alderson. Carpenter was also pronounced guilty of raping two of the women and attempting to rape a third. He was sentenced to die in the gas chamber, and remains on San Quentin's death row.
Following his conviction in San Diego for the Marin County murders, Carpenter was tried and subsequently convicted by a Santa Cruz jury for the murders of two other women in Santa Cruz County, Ellen Hansen and Heather Scaggs. The same jury also found Carpenter guilty of the attempted murder of Hansen's hiking companion Steven Haertle, the attempted rape of Hansen, and the rape of Scaggs. Hansen, who was a University of California, Davis student, has a memorial scholarship created in honor of her courage during the attack, which allowed Haertle to escape alive. In 1995, the Santa Cruz convictions were overturned due to juror misconduct. The California Supreme Court later reinstated the Santa Cruz convictions.
In December 2009, San Francisco police reexamined evidence from the October 21, 1979, murder of Mary Frances Bennett. Bennett, 23 years old at the time of her murder, had been jogging at Lands End, San Francisco, when she was attacked and stabbed to death. A DNA sample obtained from the evidence was matched to Carpenter through state Department of Justice files. In February 2010, San Francisco police confirmed the match with a recently obtained sample from Carpenter.
Carpenter is still a suspect in the murders of Edna Kane and Barbara Schwartz.
The Trailside killings provide the context for Joyce Maynard's 2013 novel After Her.