Country

India




Headquarter

Belagavi and Kalburgi




Sex ratio

960 ♂/♀




Literacy

70%




State

Karnataka




Time zone

IST (UTC+5:30)




Area

88,361 km²




Population

24.57 million (2011)





Vijay nagar authentic north karnataka food explored
North Karnataka, locally known as Uttara Karnataka, is a geographical region consisting of mostly semi-arid plateau from 300 to 730 metres (980 to 2,400 ft) elevation that constitutes the northern part of the South Indian state of Karnataka. It is drained by the Krishna River and its tributaries the Bhima, Ghataprabha, Malaprabha, and Tungabhadra. North Karnataka lies within the Deccan thorn scrub forests ecoregion, which extends north into eastern Maharashtra.
Contents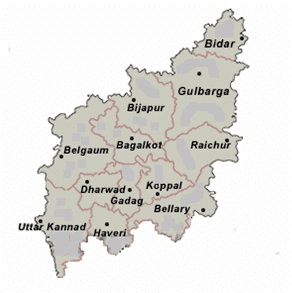 It includes the districts of Belgaum, Bijapur, Bagalkot, Bidar, Bellary, Gulbarga, Yadagiri, Raichur, Gadag, Dharwad, Haveriand Koppal district Major cities in the region are Belgaum, Hubli, Dharwad, Bellary, Bijapur, Gulbarga, Bidar, Ranebennur, Chikodi, Hospet and Gokak.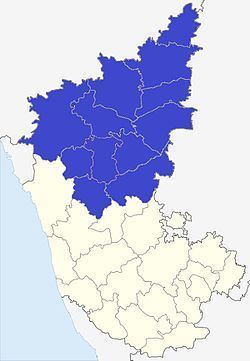 Though the region is semi-arid, part of Belgaum district receive enough rainfall to make them lush and green throughout the year. Belgaum district is quite big and though the north parts of the district are arid and receive less rainfall, the southern parts which are adjacent to North Canara district, like Londa, have an almost highland tropical climate. The stretch from Londa to Alnavar has some of the most dense and beautiful jungles on the Western coastal belt of India. They are part of the Western Ghats and their foothills which are now protected under National Wildlife laws.
Certain parts of the region are well irrigated by many largest multipurpose projects like Upper Krishna Irrigation Project that includes Basava Sagara and Almatti Dams, Tungabhadra Dam and many major and minor lift irrigation projects.
Notable difference from the regions of Old Mysore, Coastal Karnataka and Central Karnataka in terms of language, cuisine and culture, the region is well known for its contributions to the literature, arts, architecture, economy and politics of Karnataka.
Hilarious north karnataka students comedy
Overview
North Karnataka is known for its freedom fighters, social reformers, Hindustani musicians and figures in literature, law, science and technology. It has many Jain monuments from the Kadambas, Rashtrakutas, Badami Chalukyas, Kalyani Chalukyas, Sevuna and Vijayanagara periods (Karnataka Through Centuries). Aihole is known as the cradle of Hindu rock architecture with over 125 temples and monuments, including Rashtrakuta monuments at Lokapura, Bilgi and Kuknur; Kalyani Chalukyas monuments built in the Gadag style at Lakkundi, Gadag and the Koppal District and the Vijayanagar empire temples at Vijayanagara. Badami Chalukyas monuments at Pattadakal, Aihole, and Badami are also well-known. Hampi, in the Bellary District, has some 54 World Heritage monuments and 650 national monuments. Vijayapura or Bijapur city is well known for its historical monuments of architectural importance built during the rule of the Adil Shahi dynasty.
Prehistoric period
North Karnataka's history and culture date back to prehistoric times. The earliest Stone Age find in India was a hand ax at Lingasugur, in Raichur district. Sangankal Hills in the Bellary district, which is known as the earliest village settlement of South India, dates back to the Neolithic period. Iron weapons from 1200 BC, found at Hallur in Dharwad district, demonstrate that North Karnataka used iron earlier than northern India. Prehistoric sites in North Karnataka include rock shelters in Bellary, Raichur and Koppal districts with red paintings which include figures of wild animals. The paintings are done in such a way that the walls of caves are not facing northwest, so the northwest monsoon does not affect them. These rock shelters are found at Kurgod, Hampi in Bellary district and Hire Benakal, near Gangavati in the Koppal district. Burial chambers using granite slabs (known as dolmens) are also found; the best examples are the dolmens of Hire Benakal and Kumati in Hadagali Taluk.
Vibhuthihalli at Shahapur Taluk in the Yadgir district, an Archaeological Survey of India ancient astronomy site, was created with megalithic stones. The stones, arranged in a square pattern with astronomical significance, cover an area of 12 acres (4.9 ha). Ashoka's stone edicts, found in the state, indicate that major parts of Northern Karnataka were under the Mauryas. Many dynasties left their imprint upon the development of North Karnatakan art, among them the Chalukyas, the Vijayanagara Empire and the Western Chalukyas. The inscriptions related to Chutu dynasty are the oldest documents found in North Karnataka.
Ancient
Kishkindha
Karnata Kingdom
Mauryas
Shatavahana dynasty (until early third century CE)[1]
Chutus of Banavasi (vassal to the Satavahanas)
Kurus of Belgaum of 30 BC-65/70 AD.
Chalukyas
Chalukya rule is important in the development of architecture known as Karnata Dravida. Hundreds of monuments built by the Chalukyas are found in the Malaprabha river basin (mainly in Aihole, Badami, Pattadakal and Mahakuta, in Karnataka). They ruled an empire extending from the Kaveri in the south to the Narmada in the north. The Badami Chalukya dynasty was established by Pulakeshin I in 543; Vatapi (Badami) was the capital. Pulakeshin II was a popular emperor of the Badami Chalukya dynasty. He defeated Harshavardhana on the banks of the Narmada river, and defeated Vishnukundins in the south. Vikramaditya I, known as Rajamalla and for building temples, engraved a Kannada inscription on the victory pillar at the Kailasanatha Temple. Kirtivarman II was the last Badami Chalukya king, overthrown in 753 by the Rashtrakuta King Dantidurga.
The Western Chalukya dynasty is sometimes called the Kalyani Chalukyas, after its regal capital at Kalyani (today's Basavakalyan in Karnataka) or the Later Chalukya from its theoretical relationship to the sixth-century Badami Chalukyas. The Western Chalukyas (Kannada: ಪಶ್ಚಿಮ ಚಾಲುಕ್ಯ ಸಾಮ್ರಾಜ್ಯ) developed an architectural style (also called Gadag style) known today as a transitional style, an architectural link between the early Chalukya Dynasty and the later Hoysala empire. The Chalukyas built some of the earliest Hindu temples in India. The best-known examples are the Mahadeva Temple (Itagi) in the Koppal District; the Kasivisvesvara Temple at Lakkundi in the Gadag District and the Mallikarjuna Temple at Kuruvatti and the Kallesvara Temple at Bagali, both in the Davangere District. Monuments notable for craftsmanship are the Siddhesvara Temple at Haveri in the Haveri District, the Amrutesvara Temple at Annigeri in the Dharwad District, the Sarasvati Temple in Gadag, and the Dodda Basappa Temple at Dambal (both in the Gadag district). Aihole was an experimental base for architectural creation.
Badami Chalukyas and Kalyana chalukyas also known as (Kuntaleshvaras).
Kadambas
The Kadambas (Kannada: ಕದಂಬರು) were an ancient dynasty of South India who primarily ruled the region which is the present-day Goa state and the nearby Konkan region (part of modern Maharashtra and Karnataka state). The early rulers of this dynasty established themselves at Vaijayanti (or Banavasi) in 345 AD and ruled for more than two centuries. In 607, the Chalukyas of Vatapi sacked Banavasi, and the Kadamba kingdom was incorporated into the expanding Chalukyan empire. In the eighth century, the Chalukyas were overthrown by the Rashtrakutas, who ruled until the 10th century. In 980, descendants of the Chalukyas and Kadambas revolted against the Rashtrakutas; the Rashtrakuta empire fell, resulting in the establishment of a second Chalukyan dynasty (known as the Western Chalukyas). Chatta Deva, a member of the Kadamba family who helped the Western Chalukyas in this coup, re-established the Kadamba dynasty. He was primarily a vassal of the Western Chalukyas, but his successors enjoyed considerable independence and were well-placed in Goa and Konkan until the 14th century. The successors of Chatta Deva occupied both Banavasi and Hangal, and are known as the Kadambas of Hangal. Later, the Kadambas paid nominal allegiance to the other major powers of the Deccan Plateau (such as the Yadavas and Hoysalas of Dorasamudra) and maintained their independence. Four families of Kadambas ruled in southern India: the Kadamba of Hangal, Goa, Belur and Banvasi.
Rashtrakutas
During the rule of Dantidurga, an empire was built with the Gulbarga region in modern Karnataka as its base. This clan came to be known as the Rashtrakutas of Manyakheta (Kannada: ರಾಷ್ಟ್ರಕೂಟ), who rose to power in 753. During their rule, Jain mathematicians and scholars contributed important works in Kannada and Sanskrit. Amoghavarsha I was the best-known king of this dynasty and wrote Kavirajamarga, a landmark Kannada work. Architecture reached a high-water mark in the Dravidian style, the best examples of which are seen in the Kailash Temple at Ellora, the sculptures of Elephanta Caves in modern-day Maharashtra and the Kashivishvanatha and the Jain Narayana Temples at Pattadakal in modern North Karnataka (all of which are UNESCO World Heritage Sites). Scholars agree that the kings of the imperial dynasty in the eighth to tenth century made the Kannada language as important as Sanskrit. Rashtrakuta inscriptions appear in both Kannada and Sanskrit, and the kings encouraged literature in both languages. The earliest existing Kannada literary writings are credited to their court poets and royalty. Kailash Temple is an example of Dravidian art. This project was started by Krishna I (757–773) of the Rashtrakuta dynasty which ruled from Manyakheta in modern Karnataka. It is located 40 km from the city of Manyakheta (modern Malkhed), on the banks of the Kagini River in Gulbarga district.
Vijayanagara empire
Vijayanagara (Karnata Empire, or Karnataka Empire) is considered the greatest medieval Hindu empire and one of the greatest in the world at that time. It fostered the development of intellectual pursuits and the fine arts. Abdur Razzaq (the Persian ambassador) said, "The eye of the pupil has never seen a place like it and the ear of intelligence has never been informed that there existed anything to equal it in the world".
Deccan Sultanates
The Vijayanagara Empire, with its capital at Hampi, fell victim to the army of the Deccan Sultanates in 1565. As a consequence of this, Bijapur became the most important city of the region. It is a land of monuments; perhaps no other city except Delhi has as many monuments as Bijapur. Bahmani Shahis and Adil Shahis (Bahmani Sultanate) of Bijapur have played an important role in the history of Karnataka with their contributions to art and architecture and their propagation of Islam in the state. The Bidar Sultanate was part of the Deccan sultanates, which were founded by Qasim Barid.
Minor dynasties
Rattas of Saundatti (of Belgaum)
Guttas of Guttal (Dharwad region)
Sendrakas of Nagarkhanda (Banavasi province)
Sindas of Yalaburga (Bijapur-Gulbarga)
Kadamba of Hangal
Naiks of Kanakagiri
Shilahara
Other kingdoms
Seuna Yadavas of Devagiri, 9th–14th century
Ratta dynasty
Kalachuris of Kalyani, 12th century
Kampili, 13th century
Sangama Dynasty
Saluva Dynasty
Inscriptions
Mahakuta Inscriptions, Mahakuta Mahakutesvara temple Pillar inscription
Aihole inscription
Badami inscriptions
Kappe Arabhatta inscription
Itagi Mahadeva Temple Inscription
Lakkundi inscriptions
Gadag inscription
Halasi inscriptions
Princely states
The following are the princely states of British India:
Mudhol State
Sandur (princely state)
Savanur State
Ramdurg State
Jamkhandi State, Kundgol
Kittur
Shorapur
Gurgunta
Kannada-speaking Hyderabad State
South Kannada-speaking Bombay state
Battles
Chalukya Pallava Wars
Battle of Talikota
Battle of Gajendragad
Battle of Raichur
Chola-Chalukya wars
Historic capitals
Palashika (Halasi, or Halsi, or Halshi in Belgaum district) - Kadamba of Halasi
Hanungal, or Panungal (Hangal in Haveri district) - Kadambas of Hangal
Aihole in Bagalkot district - First capital of Badami Chalukyas
Vatapi (Badami in Bagalkot district) - Badami Chalukyas
Pattadakal in Bagalkot district - Briefly third capital of Badami Chalukyas
Mayurkhandi in Bidar district - First capital of Rashtrakuta dynasty
Manyakheta (Malkhed in Gulbarga district) - Rashtrakuta dynasty
Kalyani (Basava Kalyana in Bidar district) - Western Chalukyas
Kundal (Kundal village near sangli in Sangli district) - Western Chalukyas
Annigeri in Dharwad district - Western Chalukyas (last capital of the Chalukyas)
Sudi in Gadag district - Coin mint and capital of Western Chalukyas
Lakkundi in Gadag district - Coin mint of Western Chalukyas
Vijayanagara (Hampi in Bellary district) - Vijayanagara Empire
Gulbarga - Bahamani Sultanate
Bidar - Bahamani Sultanate
Bijapur - Adil Shahi dynasty (Bijapur Sultanate)
Architectural styles
North Karnataka has contributed to various styles of Indian Architecture during the rule of the Kadamba, Badami Chalukyas, Western Chalukya, Rashtrakuta and Vijayanagara empires:
Vesara style
Badami Chalukya architecture
Gadag style of architecture
Rashtrakutas style of architecture
Vijayanagara Architecture
Kadamba architecture
Bijapur style
Keladi Nayaka style
History of Kannada language
Kannada is one of the oldest Dravidian languages, with an age of at least 2,000 years. The spoken language is said to have separated from its proto-Dravidian source later than Tamil, and at about the same time as Tulu. However, the archaeological evidence indicates a written tradition for this language of around 1,500–1,600 years. The initial development of Kannada is similar to that of other Dravidian languages and independent of Sanskrit. In later centuries, Kannada has been greatly influenced by Sanskrit in vocabulary, grammar and literary style.
As for the Dravidian race, the Monier-Williams Sanskrit Dictionary lists for the Sanskrit word draviḍa a meaning of a "collective name for Karnatakas, Gurjaras, Kannadigas and Mahārāstras". North Karnataka has its own dialect of Kannada.
Old Kannada literature
Kadamba script, Halegannada
Chalukya Literature
Kannada literature in the Western Chalukya Empire
Rashtrakuta literature, Asaga, Amoghavarsha I, Kavirajamarga
Extinct Kannada literature
Kappe Arabhatta inscription at Badami
Adikavi Pampa, Sri Ponna, Ranna
Medieval Kannada literature
Kannada literature in Vijayanagara empire
Vachana sahitya, Basavanna, Akka Mahadevi
Kumaravyasa, Karnata Bharata Kathamanjari (Mahabharata in Kannada)
Unification of Karnataka
The role of North Karnataka in Unification of Karnataka
Unification of Karnataka and Vidyavardhaka Sangha
Unification of Karnataka and Aluru Venkata Rao
The Belgaum Conference of 1924
Liberation of Kalyana Karnataka (Hyderabad-Karnataka)
Festivals
In Kannada utsava means "festival". The following are festivals celebrated in North Karnataka sponsored by Govt of Karnataka
Kadamba Utsava
Chalukya Utsava
Pattadakal Utsava
Hampi Utsava
Lakkundi Utsava
Kittur Utsava
Bidar Utsava
Dharwad Utsava
Kanakagiri Utsava
Navaraspur Utsava at (Bijapur)
Sawai Gandharva Festival at Kundgol
Vishwa Kannada Sammelana held at Belagavi
Tourism
Temples of North Karnataka
The temples of North Karnataka may be categorised as historical or modern.
World Heritage Sites
Hampi: Near Hospet in Bellary district
Pattadakal: Near Badami in Bagalkot district
National Park and Sanctuaries in North Karnataka
Anshi National Park
Ranibennur Blackbuck Sanctuary
Daroji Sloth Bear Sanctuary
Bhimgad Wildlife Sanctuary
Bonal Bird Sanctuary
Ghataprabha Bird Sanctuary
Attiveri Bird Sanctuary
Magadi Bird Sanctuary
Gudavi Bird Sanctuary
Utsav Rock Garden is a sculptural Garden located near NH-4 Pune-Bangalore road,Gotagodi Village,Shiggaon Taluk, Haveri District, Karnataka. Utsav Rock Garden is an sculptural garden representing contemporary art and rural culture. A typical village is created where men and women are involved in their daily household activities. A unique picnic spot which delights common people, educated and intellectuals. There are more than 1000 sculptures in the garden of different sizes. It is an anthropological museum. It represents traditional farming, crafts, folklore, cattle herding and sheep rearing.
Universities and other educational institutions
Jaanapada University Shigaon, Haveri
VTU Visvesvaraya Technological University Belgaum[2]
Rani Chennamma University Belgaum
Belagavi institute of Medical Sciences BIMS Belgaum
KLE University Belgaum [3]
KLE college of engineering and Technology Chikkodi,Belgaum
KLE Insititue of Engineering Belgaum
Gogte Engineering College Belgaum
Angadi Insititute of Engineering and Management Belgaum
PES Engineering College Belgaum
Sheikh Engineering college Belgaum
Jain College of Engineering Belgaum
Balekundri college of Engineering Belgaum
National Insititue of Hydorology Belgaum
Rashitrya Military School Belgaum
Kittur Rani Channamma International Residential Sainik SchoolBelgaum
Karnataka Law University Hubli [4]
Central University of Karnataka[5], Gulbarga
Hampi, Kannada University [6]
Karnatak University Dharwad [7]
Gulbarga University Gulbarga [8]
Karnataka State Women University, Bijapur [9]
University of Agricultural Sciences, Dharwad [10]
University for Agricultural Sciences, Raichur
University of Horticultural Sciences (UHS), Bagalkot
Karnataka Veterinary, Animal and Fisheries Sciences University Bidar [11]
Gangubai Hangal Gurukul Unkal Hubli-Dharwad
Institute of Information Technology Hubli-Dharwad (IIIT-HD), IT Park Hubli [12]
B.V.B. College of Engineering and Technology Hubli
S.D.M College of Engineering & Technology, Dharwad. [13]
Karnatak Science College Dharwad
Karnatak College, Dharwar
Basaveshwra Engineering College, Bagalkot [14]
BLDEA's Medical college, Hospital & Research Center Bijapur [15]
BLDEA's Dr P. G. Halakatti College of Engineering & Technology Bijapur
S.T.J. Institute of Technology Ranebennur [16]
Karnataka Institute of Medical Sciences
Vijayanagara Institute of Medical Sciences Bellary
SDM college of Dental Sciences Dharwad
Sainik School Bijapur
J.T College, Gadag
Dr. Gangubai Hangal Gurukul - learn Hindustani classical music in Guru Shishya tradition
Al-Ameen Medical College, Bijapur
Al-Ameen Dental College, Bijapur
SECAB Institute of Engineering & Technology, Bijapur
Hindustani Music
North Karnataka has produced many Hindustani classical musicians of repute. The golden era of Hindustani music in North Karnataka began with the rise to fame of five vocalists: Mallikarjun Mansur, Gangubai Hangal, Kumar Gandharva, Bhimsen Joshi and Basavaraj Rajguru. These five not only contributed to Hindustani classical music, but also left behind a large number of students.
Arts and crafts
Kasuti embroidery: putting stitches by hand on dresswear like Ilkal sarees, especially done by Lambanis of Bellary and Dharwad district
Bidriware: metal handicraft originated in Bidar during the rule of the Bahamani Sultans
Kinhal Crafts: originated in Kinhal (Kinnal) in Koppal district. Crafts are mainly toys, wood carvings and mural paintings.
Gokak toys: originated in Gokak in Belgaum district.
Folk dances
Dollu Kunitha is a popular drum dance. The large drums are decorated with coloured cloth, and slung around the necks of men. The dances are accompanied by songs of religious praise or war.
Veeragase is a popular folk dance, a symbolic presentation of the heroism and valour of the god Veerabahadhra. Its exponents are called Lingadevaru; they perform the dance with religious fervour at festival time, especially during the months of Shravana and Kartika.
Nandikolu kunitha is an art form of male devotees of Lord Siva. The Nandi pole is about 18 cubits long, each cubit representing a dharma. The length of the pole is fitted with brass pots and plates, and an ornate silver or brass umbrella at the top with a silk tassel (which is the flag). The performer (on a sling) balances the pole; this requires skill and strength. The sight of the devotee's inspired dance, to the background beat and the resulting symphony of sounds from the pots and plates on the pole, is impressive.
Jodu halige are percussion instruments used by two artists to produce rhythmic notes of energy and power. Their movements along the stage (expressive of their physical energy) harmonize with the notes produced by the instrument. The Haligi (wood), circular in shape, is made of buffalo hide, and a short stick is used on it. The notes, combined with the bodily movement, are pleasing to an audience.
Lambani nruthya Lambani women, dressed colourfully, move in a circle with clapping and singing. This dance is uncommon, and performed primarily for important festivals.
Veerabhadra kunitha depicts the story of Veerabhadra, the legendary minor god created by Lord Shiva to teach a lesson to his father-in-law Daksha. Veerabhadra goes to the place of the yajna and disrupts the ceremony.
Textiles
Garag, a small town located 15 km north of Dharwad, was the sole producer of the national flag and the hand-woven khadi for its manufacture. Hubballi Siree produces both silk and cotton sarees, worn by most villagers in North Karnataka and parts of Maharashtra. The fabric is primarily woven in Gadag-Betigeri. Bellary has approximately 4,800 families employed in the textile industry.Belagavi Saree also known as "Shahpur Saree" is also famous in North Karnataka,Goa and Maharashtra
Cuisine
Northern Karnataka cuisine may be primarily found in the districts of Bidar, Kalburgi or Gulbarga, Vijapura or Bijapur, Bagalakote, Belagaavi, Raayachooru, Dharwad, Gadag, Haveri, Koppala and parts of Ballari. Wheat and jowar rottis (unleavened bread made with millet) are popular.
The following are typical items in a vegetarian Northern Karnataka meal:
Rotti/Bhakri, Rice, Saaru, Happala and kosambari
Badane kaayi gojju/enne-gai/tumbu-gai - Stuffed and/or sauteed
Shenga/Ellu – Dry chutney in powder form, sometimes called HinDi (nothing to do with the Hindi language); kempu khaara - hot chutney paste made with red chillies, eaten as a condiment
Bele palya - cooked split or whole beLe, chana, moong with greens such as methi, spinach or spring onion
mosaru bajji or raitha - salad with Mosaru and majjige, beNNe or tuppa.
Raw salads - made with spring onion, onion, green chilli or methi leaves, sometimes with oggaraNe of sasive and/or jeerige
Dharwad pedha – Hubli-Dharwad is known for its dharwad pedha (a milk-based sweet), Mirchi Bhaji
and girmit made with murmure (a rice dish).
Belagavi Kunda – Belagavi is known for sweet cuisine Kunda (a milk-based sweet)
Gokak Karadant - Gokak is known for its Gokak karadant (a dry fruits food), Gokak Jawar dosa also famous food in that area.
Festivals and associated foods
Sankranti (January – harvest festival): Madeli, holige of gingelly seeds, Bengal gram dal and ground nut; jawar roti, bajra roti, bharta, chutney powders of Niger, linseed and ground nut
Shivarathri (February/March - eaten after a day's fast): Godhi huggi, allittu, Bengal gram usali, moth bean usali and holige
Holi (March - destruction of evil): holige, jowar wade, pumpkin gargi (some groups prepare a nonvegetarian curry)
Ugadi (April/May - Kannadiga new year): holige, karigadabu, vermicelli payasam, bevu bella and godhi huggi
Basava Jayanthi (May - birthday of Basava): holige, karigadabu and mango shikarane
Karahunnive (June - bullock-worship): holige, karigadabu, jawar wade, pumpkin gargi, kodabale and mango shikarane.
Mannettina Amavasye (June - clay-bullock worship): karigadabu, holige, jawar wade, sajjaka, pumpkin gargi and vermicelli payasam
Naga Panchami (July - cobra-worship): laddu of semolina, bunde, besan, sev, groundnuts, gingelly seeds, gulladki, puffed jowar, kuchagadabu, allittu, Bengal gram usali, moth bean usali, bajra and jowar rotis
Ganesh Chaturthi (August - Ganesha-worship): godhi huggi, holige, modaka, vermicelli payasam, sajjaka, jawar roti, mesta bhaji, rice curds, panchakajjaya, karigadabu and gudagana huggi
Dasara/Mahanavami (September - Durgaunnive (October - farmers' festival, worship of standing crop): foxtail millet holige, chakli, akki huggi, kodabale, holige, karigadabu, undigadabu, kuchchida khara, bhaji of capsicum, cluster beans, pumpkin; chutney powders of Niger, linseed and ground nut (some communities prepare a nonvegetarian curry)
Deepavali (October - Lakshmi puja): holige, karigadabu, karachikayi, laddu of semolina, besan and sajjakada holige
Lingayats
The followers of Basava, chief proponent of Shaivism in Karnataka, are known as Lingayats. Today, Lingayats constitute a major portion of the population of the state.
Buddhism
Buddhism in North Karnataka dates from the third to the first centuries BC. Sannati and Kanaganahalli are two important excavation sites, and there is a Tibetan Buddhist colony at Mundgod.
Madhwas
Madhwas are the followers of Madhwacharya, the proponent of Dwaita philosophy.
References
North Karnataka Wikipedia
(Text) CC BY-SA