Kannada




Karnataka




Bellary




Harihara and Bukkaraya



Hampi (Hampe) is a village in northern Karnataka, India. The name hampi can also mean "champion".It is located within the ruins of the city of Vijayanagara, the former capital of the Vijayanagara Empire. Predating the city of Vijayanagara, it continues to be an important religious centre, housing the Virupaksha Temple, as well as several other monuments belonging to the old city. The ruins are a UNESCO World Heritage Site, listed as the Group of Monuments at Hampi. According to statistics of 2014, Hampi is the most searched historical place in Karnataka on Google.
The emperor Ashokas minor rock edicts in Nittur & Udegolan (both in Bellary district) lead one to believe that this region was within the Ashokan kingdom during the 3rd century BCE. A Brahmi inscription & a terracotta seal dating to the 2nd century CE were also discovered from the excavation site.
The first historical settlements in Hampi date back to 1 CE.
Immediately before the rise of the Vijaynagara kings, the region was probably in the hands of chiefs of Kampili, now a small town, 19 km east of Hampi.
Hampi formed one of the core areas of the capital of the Vijayanagara Empire from 1343 to 1565, when it was finally laid siege to by the Deccan Muslim confederacy. Hampi was chosen because of its strategic location, bounded by the torrential Tungabhadra river on one side and surrounded by defensible hills on the other three sides.
The site is significant historically and architecturally. The topography abounds with large stones which have been used to make statues of Hindu deities. The Archaeological Survey of India continues to conduct excavations in the area, to discover additional artifacts and temples.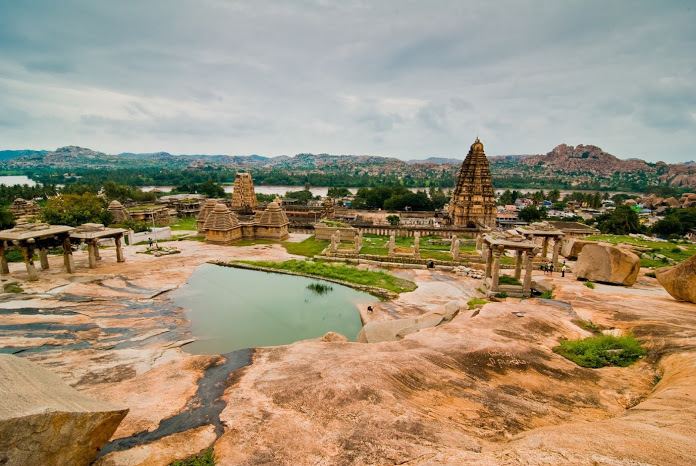 Hampi is situated on the banks of the Tungabhadra river. It is 353 km from Bangalore and 74 km away from Bellary. Hosapete (Hospet), 13 km away, is the nearest railway head. Mantralayam, which is also on the banks of Tunghabhadra, in AP is some 150 km away.The principal industries of the village are agriculture, the support of the Virupaksha temple and some other local holy places in the vicinity, as well as tourism. The annual Vijayanagara Festival is organized by the Government of Karnataka in November.
Due to the presence of several mineral deposits in this region (iron-ore, manganese), mining has been done for a number of years. A recent boom for the supply of iron-ore in the international market has led to increased levels of mining in this district. Some feel that the World Heritage Site at Hampi as well as the Tungabhadra Dam is under threat as a result.
Hampi Wikipedia
(,)http://mysticindia.co.uk/images/photos/square/JC0zRFIsMGBgCmA.jpg(,)http://asi.nic.in/images/headers/hdr_hampi.jpg(,)http://aminearlythereyet.com/blog/wp-content/uploads/2012/04/hampi_stone-bridge.jpg(,)https://tobocdeals.files.wordpress.com/2014/02/1.jpg(,)http://l3.yimg.com/bt/api/res/1.2/lFnZLllXwjtelAq83CCOXQ/YXBwaWQ9eW5ld3M7Zmk9Zml0O2g9NjUwO3E9ODU7dz05NTA-/http://l.yimg.com/os/401/2012/03/07/10-DSC0353-jpg_170749.jpg(,)http://farm4.static.flickr.com/3448/3302190677_d501421c03_b.jpg(,)http://www.thehindu.com/multimedia/dynamic/01726/HAMPI_1726234g.jpg(,)http://squierj.freeyellow.com/India2006/2452HampiSivaTemple.jpg(,)https://thatandthisinmumbai.files.wordpress.com/2010/09/remains-of-the-bridge-across-the-tungabhadra-connecting-the-old-capital-anegundi-and-the-new-capital-hampi-of-vijayanagara.jpg%3Fw%3D584(,)http://upload.wikimedia.org/wikipedia/commons/4/43/Hampi8.JPG(,)https://mgutierrez1.wikispaces.com/file/view/c6.jpg/180495951/c6.jpg(,)http://www.heritagedaily.com/wp-content/uploads/2012/05/VIrupaksha-Temple-at-Hampi-India.jpg
(,)http://www.caleidoscope.in/wp-content/uploads/2013/03/Hampi_landscape_from_Hemakutam_hill.jpg(,)http://www.prismma.in/wp-content/uploads/2012/06/hampi-006.jpg(,)https://smithiesshutter.files.wordpress.com/2012/05/hampi-magical-landscape-w.jpg(,)http://www.indiamike.com/files/images/89/34/11/hampi-landscape.jpg(,)http://travel.paintedstork.com/blog/wp-content/uploads/2011/02/landscapes_1.jpg(,)http://blog.juliehall.net/wp-content/uploads/2010/01/hampi-ruins-2.jpg(,)http://www.bugbog.com/images/galleries/india-pictures/A-india-photos/hampi-karnataka-india/hampi-landscape-karnataka-india.jpg(,)http://travel.paintedstork.com/blog/wp-content/uploads/2013/03/hampi-landscapes.jpg(,)http://images.travelpod.com/tw_slides/ta01/3a9/126/hampi-landscape-hampi.jpg(,)http://www.ascensiongateway.com/blog/uploaded_images/rocks-of-hampi-722351.JPG(,)https://howyoudoin.files.wordpress.com/2012/12/stone-chariot-hampi.jpg(,)http://thumbs.dreamstime.com/z/hampi-s-landscape-26079087.jpg
(,)http://media-cdn.tripadvisor.com/media/photo-s/01/fc/89/98/delicious-food-with-a.jpg(,)http://www.sdtrading.eu/wp-content/uploads/2012/04/feautured.jpg(,)http://upload.wikimedia.org/wikipedia/commons/thumb/0/04/Bisi_Bele_Bath_(Bisibelebath).JPG/800px-Bisi_Bele_Bath_(Bisibelebath).JPG(,)https://rainefallsmainlyfromaplane.files.wordpress.com/2012/09/20120930-144943.jpg(,)http://www.holidify.com/images/foodImages/124.jpg(,)http://www.sdtrading.eu/wp-content/uploads/2012/04/logo.jpg(,)http://im.hunt.in/cg/Hampi/City-Guide/italian-hampi.jpg(,)http://im.hunt.in/cg/Hampi/City-Guide/food-hampi.JPG(,)http://img1.holidayiq.com/photos/ha/Hampi-Photos-Hampi-shareiq-1329885801-162921-JPG-destreviewimages-502x375-1329885801.JPG(,)http://img1.holidayiq.com/photos/ha/Hampi-Photos-Stepwell-shareiq-1329923435-168935-JPG-destreviewimages-500x375-1329923435.JPG(,)http://img1.holidayiq.com/photos/ha/Hampi-Photos-World-cuisine-under-one-roof-shareiq-1329923626-305946-JPG-destreviewimages-500x375-1329923626.JPG(,)http://img1.holidayiq.com/photos/ha/Hampi-Photos-Elephant-Stable-shareiq-1329923432-477832-JPG-destreviewimages-500x375-1329923432.JPG(,)http://im.hunt.in/cg/Hampi/City-Guide/Restaurants-Hampi1.jpg