Country

India




Language spoken

Kannada




Area

10.9 km2


State

Karnataka




District

Bagalkot




Points of interest

Badami cave temples, Mahakuta group of temples, Bhutanatha group of temples - Badami



Badami formerly known as Vatapi, is a town and headquarters of a taluk by the same name, in the Bagalkot district of Karnataka, India. It was the regal capital of the Badami Chalukyas from 540 to 757 AD. It is famous for rock cut and other structural temples. It is located in a ravine at the foot of a rugged, red sandstone outcrop that surrounds Agastya lake.
Contents
Map of Badami
Badami caves bagalkot district
History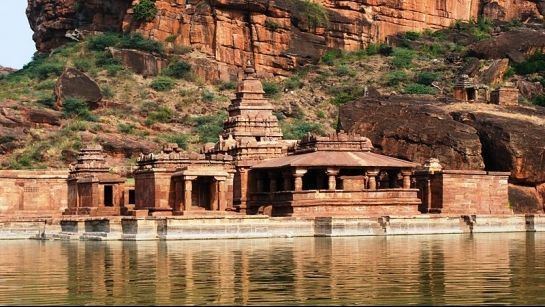 Dravidian architecture - Badami Chalukyas
Hindu temple architecture - Badami Chalukya architecture
Political history of medieval Karnataka - Badami Chalukyas
Architecture of Karnataka - Badami Chalukya architecture
Chalukyas of Badami
Tourism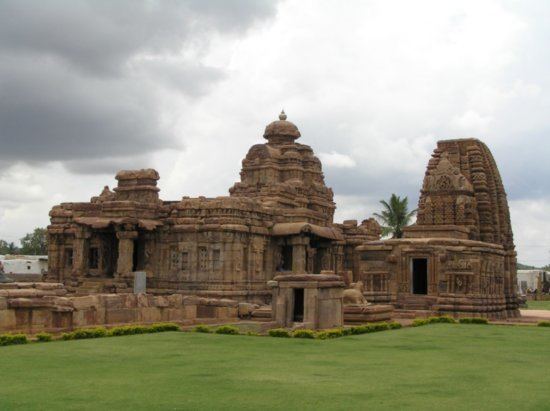 Landmarks in Badami include cave temples, gateways, forts, inscriptions and sculptures.
A Buddhist cave in a natural setting that can be entered only by crawling on knees.
The Bhuhtanatha temple, a small shrine, facing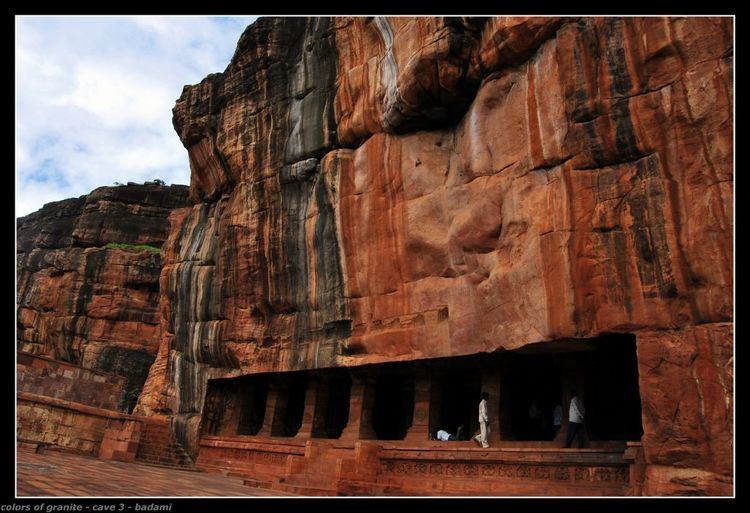 the lake, constructed in 5th century.
Badami Fort situated on top of the hill.
Many Shivalayas including the Malegatti Shivalaya with 7th century origins.
The Dattatreya temple.
The Mallikarjuna temple dating back to the 11th century, built on a star shaped plan.
a Dargah, a dome of an Islamic place of worship on the south fort side.
Vista points on top of the North Fort for the view of the ancient town below.
Temple of Banashankari, a Kuladevata (family deity) for many families, is located near Badami.
Archaeological museum, that has collection of sculptures from Badami, Aihole and Pattadakal.
Culture
The main language is Kannada. The local population wears traditional Indian cotton wear.
Geography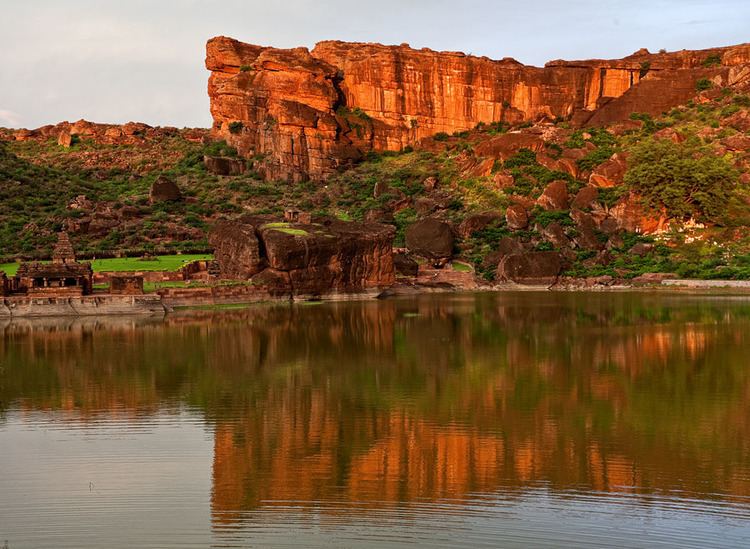 Badami is located at 15.92°N 75.68°E? / 15.92; 75.68. It has an average elevation of 586 metres (1922 ft). It is located at the mouth of a ravine between two rocky hills and surrounds Agastya tirtha water reservoir on the three other sides. The total area of the town is 10.3 square kilometers.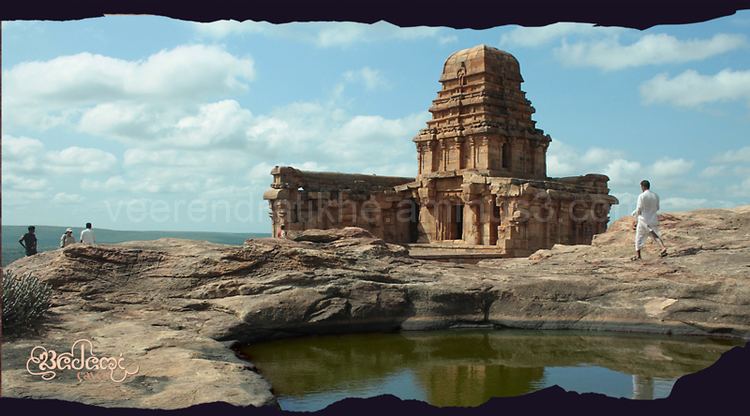 It is located 30 kilometers from Bagalkot,128 kilometers from Bijapur, 132 kilometers from Hubli, 46 kilometers from Aihole, another ancient town, and 589 kilometers from Bangalore, the state capital.
Economy
The main economy is centered around karnataka tourism.
References
Badami Wikipedia
(Text) CC BY-SA
(,)http://www.nativeplanet.com/photos/big/2012/03/_13330835822.jpg(,)http://travel.paintedstork.com/blog/wp-content/uploads/2011/07/badami-5.jpg(,)http://thinkingparticle.com/sites/default/files/imagecache/node-gallery-display/Badami%2520temple%2520with%2520dent%2520in%2520rock%2520for%2520cutting.JPG(,)http://www.ulianka.com/images/historymural/Rajarajesvaram_Temple.jpg(,)http://thinkingparticle.com/sites/default/files/imagecache/node-gallery-display/Temple_Badami.JPG(,)http://www.wondermondo.com/Images/Asia/India/Maharashtra/AjantaMural.jpg(,)http://ssubbanna.files.wordpress.com/2012/09/badami-cave-temples1.jpg(,)http://www.translationdirectory.com/images_articles/languages/badami_chalukya_kannada_inscription.jpg(,)http://www.wondermondo.com/Images/Asia/India/Karnataka/BadamiVish.jpg(,)http://iseeindia.com/wp-content/uploads/2011/08/final1.jpg(,)http://www.aureoholidays.com/wp-content/uploads/2013/12/badami1.jpg
(,)http://blog.parrikar.com/wp-content/uploads/2009/06/badami3.jpg(,)http://aminus3.s3.amazonaws.com/image/g0004/u00003693/i01344671/5f575300e092662a85cf04ad3d13e34f_large.jpg(,)http://www.darter.in/wp-content/uploads/2013/11/badami-sandstone-cliffs.jpg(,)http://travel.paintedstork.com/blog/wp-content/uploads/2009/11/badami_2.jpg(,)http://www.the-golden-chariot.com/blog/wp-content/uploads/2014/07/Golden-Chariot-Badami.jpg(,)http://jlrexplore.com/wp-content/uploads/2015/01/1_badami-5.jpg(,)http://www.darter.in/wp-content/uploads/2014/05/badami-travel-photography-11.jpg(,)http://www.climbingindia.com/images/Rock_Climbing_Badami1.jpg(,)http://www.climbingindia.com/images/Rock_Climbing_Badami3.jpg
(,)http://farm6.static.flickr.com/5178/5553110130_0052260ae5_b.jpg(,)http://1.bp.blogspot.com/-kJIMRjOG_M8/UMjJipI3gRI/AAAAAAAACLQ/bqEzbOe-UIw/s1600/DSC097593.JPG(,)http://www.journeymart.com/de/CityImages/badami-heritage.jpg(,)http://www.journeymart.com/de/CityImages/varaha-cave-badami.jpg(,)http://www.holidify.com/images/foodImages/290.jpg(,)http://4.bp.blogspot.com/-ILtlrnpkEPA/VMJz4737V6I/AAAAAAAAGos/l8BZQ-o1XTs/s1600/badami%252Bpaneer.jpg(,)https://s3.amazonaws.com/Menu_Pic/f5887c76-fd7c-40d2-91d9-f576d306e1a0_chicken%2520badami.jpg(,)http://pakistani-cuisine.com/wp-content/uploads/2014/09/almon_chicken.jpg(,)http://128.199.106.6/assets/uploads/2013/07/White-Chicken-Badami-Korma-Feat311-610x300.jpg(,)http://images.pachakam.com/RcpImags/Badami-Chicken-Pachakam-488.jpg(,)http://farm6.static.flickr.com/5018/5552543887_6deebff119_b.jpg(,)http://www.team-bhp.com/forum/attachments/travelogues/1029407d1356069858t-bangalore-badami-mahabaleshwar-2-states-many-worlds-img_4363.jpg(,)http://mazagrill.co/wp-content/uploads/2014/01/904385_563234857080002_1354482310_o-1020x765.jpg(,)http://laxmidhaul.com/blog/wp-content/uploads/2013/05/mughlai.jpg
(,)http://tourplaces.in/wp-content/uploads/2013/04/golgumbaz.jpg(,)http://1.bp.blogspot.com/-MrMCZVB-ISY/VTDZfznf60I/AAAAAAAAO9c/5Uw9toz5QBk/s1600/DSC_0255.jpg(,)http://greavesindia.co.uk/media/125423/greaves_south_indian_art_badami_sandstone_temple___shutterstock_user_alexandra_lande-resized.jpg(,)http://www.tours2southindia.com/karnataka-tours/gifs/somnathpur-temple-mysore.jpg(,)http://cdn.karnataka.com/wp-content/uploads/2007/10/konti-gudi-aihole.jpg(,)http://readthespirit.wpengine.netdna-cdn.com/religious-holidays-festivals/wp-content/uploads/sites/10/2013/04/Mahavir-Cave-Jain-Badami.jpg(,)http://www.goagreen.com/older/Index/Chariot.jpg(,)https://travelagencyindia.files.wordpress.com/2014/02/badami2.jpg%3Fw%3D500%26h%3D458
(,)https://s3-ap-southeast-1.amazonaws.com/media.thrillophilia.com/site/images/photos/000/005/707/large/badami_four_cave_temple2.jpg%3F1383220613(,)http://cache1.asset-cache.net/gc/517638165-india-karnataka-state-badami-city-view-gettyimages.jpg%3Fv%3D1%26c%3DIWSAsset%26k%3D2%26d%3DX7WJLa88Cweo9HktRLaNXsq5tqTldHiiAs%252BUpBUARjuFO1FOwW2UQmxFeNBXHuyj7cAlkSHcsdtHKAsaHjCxAw%253D%253D(,)http://cache4.asset-cache.net/gc/517638179-india-karnataka-state-badami-city-view-gettyimages.jpg%3Fv%3D1%26c%3DIWSAsset%26k%3D2%26d%3DX7WJLa88Cweo9HktRLaNXizhtnUuIlauCzUHlVZwdQNL%252FWIkjkfV6CSe5GtJjBEnZ1VHhtx2tTy%252FZq%252BeCNgSrA%253D%253D(,)http://cache3.asset-cache.net/gc/517634369-india-karnataka-state-badami-pattadakal-gettyimages.jpg%3Fv%3D1%26c%3DIWSAsset%26k%3D2%26d%3DX7WJLa88Cweo9HktRLaNXu46p7QOCLn6S%252BNsRcMs%252F2VxIdgKK5iZCBObJKgkOwgRDNsDBGl54TrThICFee11wA%253D%253D(,)http://cache3.asset-cache.net/gc/517638167-india-karnataka-state-badami-city-view-gettyimages.jpg%3Fv%3D1%26c%3DIWSAsset%26k%3D2%26d%3DX7WJLa88Cweo9HktRLaNXngxSFEhiNxALUZbVXww6nKou55B0CMmbTeuA1mf8tQ4zctnHFixBMJ%252BSrd1OdL4yQ%253D%253D(,)http://www.darter.in/wp-content/uploads/2013/11/bhoothanatha-temple-badami.jpg(,)http://cache2.asset-cache.net/gc/160146706-badami-cave-temple-columns-gettyimages.jpg%3Fv%3D1%26c%3DIWSAsset%26k%3D2%26d%3D50UZraGGyIbg0uo8DqSiGxvFsXJkxYmtPBu4cXoddmgKEELe2jkM0RB79GPSvZ6PdikhrrLPkmd%252Bm2GquMChaA%253D%253D(,)http://cache1.asset-cache.net/gc/160168765-cave-1-badami-cave-temple-karnataka-gettyimages.jpg%3Fv%3D1%26c%3DIWSAsset%26k%3D2%26d%3D%252Bl1kATZadBp9USmq9ApcoC8DmsicZB%252FiiPw4i5z75GrgQPff8wAFq%252FIhua9ioGVaP0zZv8rKOXYAX0iGdCZzKg%253D%253D(,)http://cache4.asset-cache.net/gc/160247029-interiors-cave-temple-3-badami-karnataka-gettyimages.jpg%3Fv%3D1%26c%3DIWSAsset%26k%3D2%26d%3DFutZZAfhlM4bzr7YH97LD4%252F90xU0xN1myfICMc6FyWVL5Qdmur1yqcV00GFpVqSdZ0bciOSWF61BCRtOsd1tOw%253D%253D(,)http://cache2.asset-cache.net/gc/160146641-cave-temple-1-badami-gettyimages.jpg%3Fv%3D1%26c%3DIWSAsset%26k%3D2%26d%3DxJ%252BNO5hu5omatZ17lPLwpGfeIyEcEokeR8pUVTVy9IPP1Orv5znOxgidmmdMwqMSzzSITg60H9gmKEnX7OpWUQ%253D%253D(,)http://i.ytimg.com/vi/qXmW0sR7S5w/hqdefault.jpg
(,)http://www.travel-karnataka.com/hotels/badami/facts/pattak.jpg(,)http://www.holidayiq.com/destreviewimages/shareiq_1328766367.486307.jpg(,)http://blessingsonthenet.com/img/uploads/city/aim_bn_1311501909.jpg(,)http://media-cdn.tripadvisor.com/media/photo-s/01/f0/1d/85/badami-cave-temples.jpg(,)http://img1.holidayiq.com/photos/sh/shareiq-1328766382-281522-jpg-uploadimages-travel-619x240-1333977452-cropped.jpg(,)http://www.indiaexploring.com/cities/images/badami-mallikarjuna-kashi-vishwanath.jpg(,)http://www.excitingindia.in/wp-content/uploads/2015/02/Badami-caves1.jpg(,)https://karnatakatouristspots.files.wordpress.com/2013/01/karnataka-tourist-spots-1-badami-cave-temple.jpg(,)http://www.nivalink.com/watermark.ashx%3FImageUrl%3Dhotelimages/uploads/72620131233282030144.jpg(,)http://www.onefivenine.com/images/Travel/1.jpg(,)http://im.hunt.in/cg/bijapur/City-Guide/Places-near-Bijapur.jpg(,)http://www.hampitrip.com/tb-images/B2C/Holiday/gallery/3c015588-b122-4226-a9f9-7da8eb7521f7.jpg