Mahabharat is an Indian television series based on the Hindu epic of the same name. The 94-episode Hindi series originally ran from 2 October 1988 to 24 June 1990 on DD National. It was produced by B. R. Chopra and directed by his son Ravi Chopra. The music was composed by Rajkamal. The script was written by the Urdu poet Rahi Masoom Raza, based on the original story by Vyasa. Costumes for the series were provided by Maganlal Dresswala.
Contents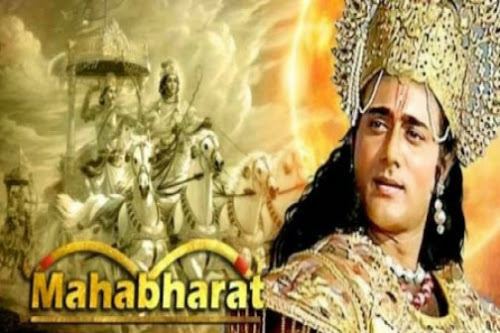 Each episode ran for approximately 45 minutes and began with a title song that consisted of lyrical content and two verses from the Bhagavad Gita. The title song was sung and the verses rendered by singer Mahendra Kapoor. The title song was followed by a narration by Indian voice artist Harish Bhimani of a personification of Time, detailing the current circumstances and highlighting the spiritual significance of the content of the episode.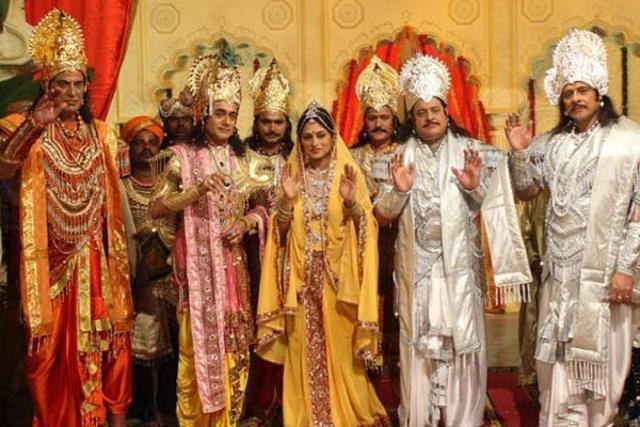 It was shown in the United Kingdom by the BBC, where it achieved audience figures of 5 million. It was also the first programme broadcast on BBC2 after its 1991 revamp, It has also been shown on FBC TV in Fiji and Star Utsav.It also aired on Epic. The series was also dubbed in all major South Indian languages.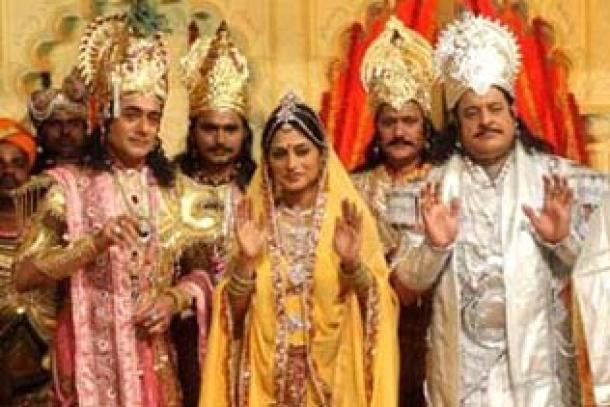 Mahabharat Katha Part II - Story of Barbarik and Veer Babhruvahan was a spin-off series which contained portions and stories left out in Mahabharat.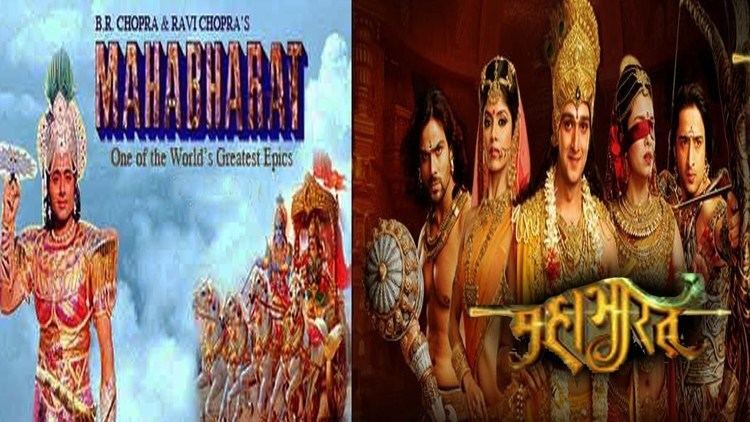 Kuru Clan
Oldest Generation
Raj Babbar as Bharat/ ancestor of Kauravas and Pandavas
Ashalata as Shakuntala, Bharata's mother/ King Dushyanta's wife
1st Generation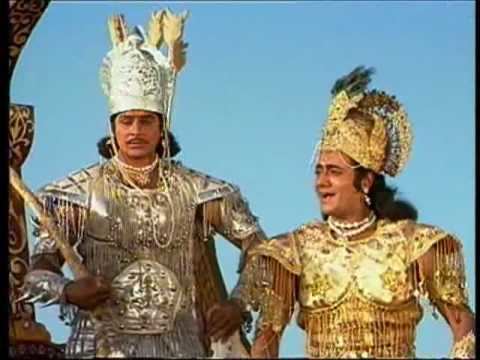 Kiran Juneja as Ganga, Shantanu's first wife
Debashree Roy as Satyavati, Shantanu's second wife/ Vichitravirya and Chitrangada's mother/ Bhisma's step-mother
2nd Generation
Mukesh Khanna as Bhishma, Shantanu- Ganga's eighth son/ eighth Vasu/ Satyavati's step-son
Sudesh Berry as Vichitravirya, Shantanu-Satyavati's second son after Chitrangada, Bhisma's step brother
Meena Chakrabarty as Ambika, 2nd princess of Kashi/ Vichitravirya's first queen
Menaka Babbar as Ambalika, 3rd princess of Kashi/ Vichitravirya's second queen
3rd generation
Girija Shankar as Dhritrashtra, Vichitravirya's son from Ambika(eldest)/ later king of Hastinapur/ father of Kauravas
Renuka Israni as Gandhari, wife of Dhritrashtra/ Queen of Hastinapur/ mother of Kauravas/ King of Gandhara
Tarakesh Chauhan as Pandu, Vichitravirya's son from Ambalika(youngest)/ King of Hastinapur/ father of Pandavas
Nazneen as Kunti, Pandu's first wife/ mother of Yudhisthira, Bhim and Arjun/ Daughter of Shoorsen hence Vasudev's sister andYadava princess
Roma Manik as Madri, Padu's second wife/ Matsya princess/ mother of Nakul and Sahadev
Virendra Razdan as Vidur, the Mahaa Mantri of Hastinapur / son of Ambika's head maid, Parishrami/ half-brother to the kings Dhritarashtra and Pandu of Hastinapura and also the uncle of Pandavas and Kauravas
Kamlesh Maan as Sulabha, Vidur's wife
4th generation
Pandavas
Gajendra Chouhan as Yudhishthir, 1st Pandav/ Eldest son of Kuru Clan/ King of Indraprastha
Praveen Kumar as Bhim, 2nd Pandav/ Second eldest son of Kuru clan/ Yuvraaj(crown Prince) of Indraprastha
Arjun (Firoz Khan) as Arjun, 3rd Pandava
Sameer as Nakul, 4th Pandav
Sanjeev as Sahadeva, 5th Pandav
Roopa Ganguly as Draupadi, Wife of all Pandav/Also called as Panchali/ Yagyaseni/ Younger daughter of Drupad/ Princess of Panchala
Aloka Mukherjee as Subhadra, Arjuna's 2nd wife/ Abhimanyu's mother/ Vasudev's daughter hence Krishna-Balaram's sister and Yadava princess
Kauravas
Puneet Issar as Duryodhan
Vinod Kapoor as Dushasan
Dinesh Anand as Vikarna
Deep Dhillon as Jayadratha, Dussala's husband, Kaurava's brother-in-law
5th Generation
Razak Khan as Ghatotkach
Mayur Vakani as Abhimanyu
Varsha Usgaonkar as Uttara, Abhimanyu's wife/ Virata princess
6th Generation
Officials
Dharmesh Tiwari as Kripacharya, Kulguru, Family Teacher
Surendra Pal as Dronacharya, Guru of Kauravas and Pandavas
Om Katare as Adhiratha, charioteer/Karna's foster father
Saroj Sharma as Radha, Adhiratha's wife,/Karna's foster mother
Pradeep Rawat as Ashwatthama, son of Dronacharya
Ram Mohan as Raj Purohit, Head Priest
Rafique Mukkadam as Minister
Vinod Raut as Purochana, Royal architect
Pramod Kumar as Dwarpal
Abha Mishra as Maid Servant to Ganga
Lalit Tiwari as Sanjaya, Dhritarashtra's advisor and also his charioteer
Yadava Clan
Nitish Bhardwaj as Lord Krishna, Vasudev's younger son
Ramlal Gupta as Ugrasen, King of Mathura
Goga Kapoor as Kans, son of Ugrasen
Devidas as Kans's Minister
Ashok Banthia as Senapati Kritvarma
Ajay Sinha as Akroor, Vrishni Chief
Bashir Khan as Satyaki, General
Vishnu Sharma as Vasudev, Son of Shoorsen, prince of Vrishni tribe
Kshama Raj as Rohini, Vasudev's elder wife
Sheela Sharma as Devaki, Vasudev's younger wife
Manju Vyas as Yashoda, Nand's wife
Sagar Salunke as Balram, Vasudev's elder son
Channa Ruparel as Rukmini, Krishna's chief wife
Parijat as Radha, Krishna's consort
Panchala
Pradeep Sharma as Drupada
Virata
Ashok Sharma as Virata, King of Virata
Chandni Sharma as Sudeshna, Queen of Virata
Sameer Rajda as Uttar, crown prince of Virata
Sharat Saxena as Kichak, Army General of Virata
Kapil Kumar as Shalya
Kashi
Rakesh Bidua as Kashya, King Of Kashi
Jahnavi as Amba, 1st princess of Kashi
Vikrant Mathur as Shakuni's Father, King of Gandhara
Gufi Paintal as Shakuni, Gandhari's brother/ later King of Gandhara
Gods
Shivendra Mahal as Parshuram / Lord Shiva
Dara Singh as Hanuman (cameo)
Satish Kaul as Indra
Gopi Krishna as Chitrasena
Magadha
Rana Jung Bahadur as Jarasandh, King of Magadha, Father-in-law of Kans
Karunakar Pathak as Shishupala, King of Chedi, Cousin of Krishna and Balaram
Salwa
Pawan Shukla as Shalv Kumar, Prince of Salwa Kingdom
Rishi
Prem Sagar as Rishi Kanva
Pankaj Berry as Rishi Kindama, sage who cursed Pandu
Rajesh Vivek as Maharishi Ved Vyas
Other
Vikas Prasad as Ekalavya
Sabrina as Bhootana, (Putana)
Paramjeet Chima as Dashraj, Satyavati's Father
Harish Bhimani as Samay/ Narrator
Episodes
Episode 1 - Introduction of Kuru Family, Raja Bharat and Raja Shantanu
Episode 2 - Ganga Kills Her Sons
Episode 3 - Is Grown-up
Episode 4 - Bhisma Pratigya/Iccha Mrityu Vardaan
Episode 5 - Amba, Ambika and Ambalika's Introduction
Episode 6 - Birth of Pandu, Dhritarashtra and Vidhur
Episode 7 - Karna's Birth-story, Dhritarashtra and Gandhari Get Married and Pandu and Kunti Get Married
Episode 8 - Madri is gifted to Pandu, Pandu is resting and Sage Kindama's curse on Pandu
Episode 9 - Dhritarashtra is king his sanyas and Kansa is king and Akashwani about Krishna
Episode 10 - Birth of Balarama and Five Pandavas
Episode 11 - Krishna Janma
Episode 12 - Pootna's Death
Episode 13 - Krishna brahmand darshan and Krishna gets caught while stealing makhan
Episode 14 - Maiya Mori Mai nahi makhan khayo and Kaliya Nag Tandav
Episode 15 - Radha and Gopikas, protest against Mathura, Devakasur and Trulambasur Vadh
Episode 16 - Kansa invites Krishna to Mathura
Episode 17 - Kansa vadh
Episode 18 - Pandu's Death
Episode 19 - Satyavati, Ambika, Ambalika take sanyas with Rishi Vyas
Episode 20 - Duryodhan Poisons Bhim and Bhim Gets Strength of 1000 Elephants
Episode 21 - Sudama's chivda and Dron arrives to Hastinapur
Episode 22 - Shastra Pooja, Drona insults Karna and Arjun's Test
Episode 23 - Ekalavya, Karna's Education, Arjun's Test of Bird's Eye
Episode 24 - All grown up, prince is to be nominated and everyone exhibit their skills in Rangbhoomi, Karna challenges Arjun and Duryodhan gives Anga desh to Karna
Episode 25 - Drona's guru dakshina to capture Dhrupad
Episode 26 - Krishna gets Sudarshan chakra from Parshuram, defeats Jarasandh and orders building Dwarika
Episode 27 - Yudhishthir Is Crowned as Prince. Rukmini Is Being Forced to Marry Shishupal
Episode 28 - Krishna Kidnaps Rukmini
Episode 29 - Lakshagraha Is Built in Varnavar by Purochan
Episode 30 - Tunneling in Varnavat Begins
Episode 31 - Escape from Lakshagraha
Episode 32 - Hidimb Vadh and Bhima's marriage
Episode 33 - Bakasur Vadh
Episode 34 - Dristadyumna & Draupadi Birth and Draupadi Swayamvar
Episode 35 - Arjun Wins Draupadi and Later She Became the Wives of 5 Pandavas
Episode 36 - Pandav Leave from Panchal to Hastinapur
Episode 37 - Pandavas Arrives at Hastinapur and Kingdom Is Divided
Episode 38 - Pandav Get Khandavprastha
Episode 39 - Coronation of Yudhirsthir, Khandavprastha Becomes Indraprastha
Episode 40 - Arjun runs away with Subhadra
Episode 41 - Arjun Weds Subhadra. Arjun Gets Devdatta Conch and Gandiv and Bhim Gets His Gada
Episode 42 - Jarasandh Vadh, Rajsuya Yagnya begins, Shishupals Story
Episode 43 - Rajsuya Yagya, Shishupal Vadh
Episode 44 - Vyas Predicts War, Draupadi Laughs at Duryodhan
Episode 45 - Pandavas Go to Hastinapur to Gamble
Episode 46 - Yudhirshthir Loses Everything
Episode 47 - Vastraharan of Draupadi
Episode 48 - Pandavas Get Back Everything
Episode 49 - Re-match of Dyut
Episode 50 - Vanvas Begins
Episode 51 - Gandharvas Catch Duryodhan
Episode 52 - Arjun Worships Lord Indra and Lord Shiva for Divyastra and Gets Pashupatastra
Episode 53 - Krishna's story of one grain of rice, Bhim meets Ghatotkach and Hanuman, Arjun learns dance from Chitrasen
Episode 54 - Arjun gets curse of impotency from Urvashi, Abhimanyus as a kid, Jayadraths head is shaved
Episode 55 - Story of Poisoned Water and Yaksha, Abhimanyu Is Grown-up
Episode 56 - Agyatvas in Matsya Desh
Episode 57 - Karna's curse, Draupadi as Maid Sairandhri rejects Keechak
Episode 58 - Keechak Vadh by Bheema
Episode 59 - Kaurav Attack Matsya Desh
Episode 60 - Viraat yudh and clothes for Uttaras dolls
Episode 61 - Abhimanyu's Marriage and Pandavs Decide to Send a Doot to Hastinapur
Episode 62 - Dhritarashtra Does Not Agree and Sends Sanjay
Episode 63 - Duryodhan gets Narayani Sena from Krishna
Episode 64 - Krishna Goes to Hastinapur as Shanti Doot
Episode 65 - Krishna tooks Virat Avtar and Indra takes Karna's kawach kundala
Episode 66 - Karna's Identity Is Disclosed
Episode 67 - Vidur resigns as a prime minister, Kunti meets Karna
Episode 68 - Sanjay gets divya drishti, Ulluk goes to Pandavs
Episode 69 - Sanjay gets divya drishti, Ulluk goes to Pandavs
Episode 70 - Shikhandi's Story
Episode 71 - Arjun Worships Goddess Durga, Rules of War Laid
Episode 72 - Kurukshetra War Begins and Arjun Drops His Weapons, Geeta Saar Begins
Episode 73 - Geeta Saar Continues
Episode 74 - Geeta Saar Continues and Krishna Shows His Maha-Avtaar
Episode 75 - Yudhishthir Gets Blessings, Yuyutsu Changes Side and War Begins, Abhimanyu Faces Bhishma
Episode 76 - Uttar dies, Arjun faces Bhishma and day 2 begins
Episode 77 - Arjun is unstoppable, 3rd is over, 4th day begins, Bhim is surrounded, 10 Kauravs are killed, Krishna takes out his sudarshan
Episode 78 - 9th Day Is Over and 16 Kauravs Are Dead, Bhisma Tells Arjun How to Take Him Out of the War
Episode 79 - Bhishma lies on the Bed of Arrows, Karna meets Bhisma
Episode 80 - Day 11, Dron tries to capture Yudhishthir but is unsuccessful, Shantanu comes to Bhishma
Episode 81 - Chakra Vyuh Planned, Duryodhan Promises Susharma
Episode 82 - Abhimanyu Vadh
Episode 83 - Arjun Vows to Kill Jayadrath and Story About Jayadraths Curse
Episode 84 - Arjun Breaks Kamal Vyuh to Get to Jayadrath
Episode 85 - Jayadrath Vadh
Episode 86 - Ghatotkach dies
Episode 87 - Drona Dies
Episode 88 - Dushasana dies and Karna fights with Arjun, Krishna puts the rath in the land so that Arjun is saved
Episode 89 - Karna's curse, Karna Dies
Episode 90 - Shakuni Dies, Yudhishthir Curses All Woman Kind and Duryodhan Becomes Iron Bodied
Episode 91 - Balaram arrives, Bhim-Duryodhan Gada Yudh
Episode 92 - Duryodhan Dies, Ashwathama, Krip and Kritvarma Remain, Parikshit's Story
Episode 93 - Dhritarashtra Tries to Kill Bhim
Episode 94 - Yudhisthir Becomes King of Hastinapur, Bhishma Dies
Production
According to production team member Kishore Malhotra, the total cost of producing the series was ₹9 crore (US$1.3 million). Firoz Khan was chosen to portray the character of Arjun (which he later adopted as his screen name) despite being rejected in auditions. Praveen Kumar was selected to portray Bheem after Chopra was looking for someone "who could look the robust mythological character". Around six actors were shortlisted for the role of Draupadi, including Juhi Chawla, who opted out of the show as she had bagged a film. Ramya Krishnan and Roopa Ganguly were the final names, and at last Roopa Ganguly was chosen, as her Hindi was good. Govinda (actor) and Chunky Pandey were signed for the role of Abhimanyu, but they opted out when they bagged films. Later, Master Mayur played the role.
Broadcast
It was shown in the United Kingdom by the BBC, where it achieved audience figures of 5 million. It was also the first programme broadcast on BBC2 after its 1991 revamp, but had also been shown late at night on BBC 1 the previous year. It has also been shown on FBC TV in Fiji and Star Utsav.It also aired on Epic. Dubbed versions were aired in Tamil, Telugu, Malayalam and also in Indonesia in the early 1990s.
Reception
Lavanya Mohan of The Hindu on her article "Retelling of Mahabharata on Television over the years" wrote "The version that left the maximum impact on me is BR Chopra's. Yes, the sets were gaudy, the effects comical, and the acting got a little too dramatic at times, but the writing and the way the episodes were paced ensured that the series was ahead of its time."
Home media
The series was uploaded on the website "Rajshri.com" along with its dubbed Tamil version. Home video of Bengali dubbed version of its series has been released by Heart Video.
Legacy
Mahabharat along with Ramayana (1987) became one of the successful mythological television series in Indian television. Many actors went on to become popular through the series. Mukesh Khanna shot to fame as Bhishma and went on to name his production company after the character's name and Roopa Ganguly went on to become a successful actress in Bengali cinema.
References
Mahabharat (1988 TV series) Wikipedia
(Text) CC BY-SA