In Hinduism, Devaki (देवकी) is the daughter of Devaka, sister of Kansa, wife of Vasudeva and mother of Krishna.
Contents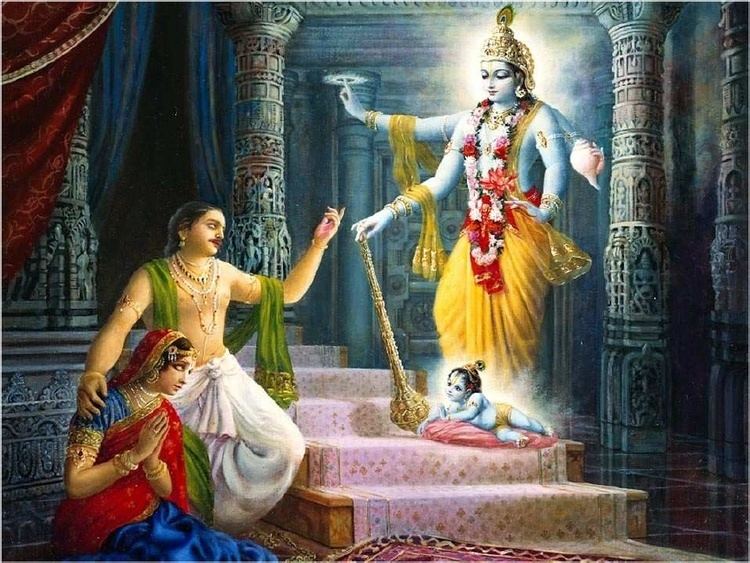 Marriage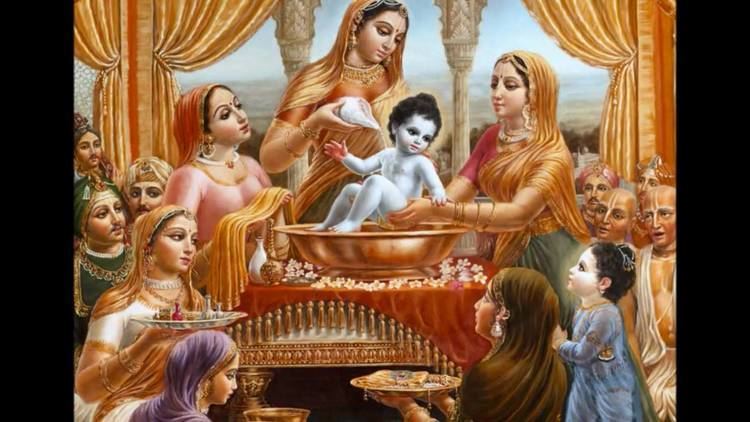 During her Swayamvara, a war broke out between Sini and Somadatta, that led to a generation of a feud between the two clans. Sini abducted Devaki for his friend Vasudeva. Devaki's sisters were also married to Vasudeva.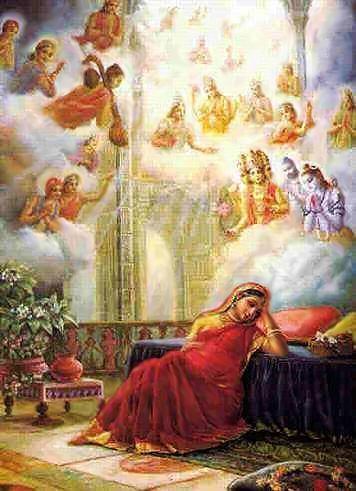 After the marriage ceremony, Kansa volunteered to escort the newly-weds to Mathura and drove their chariot. A celestial voice proclaims that "The eighth child of this damsel that you are ferrying shall become your death!" Angered, Kansa rises to kill Devaki but is stopped by Vasudeva who promises to deliver each child to Kansa.
Imprisonment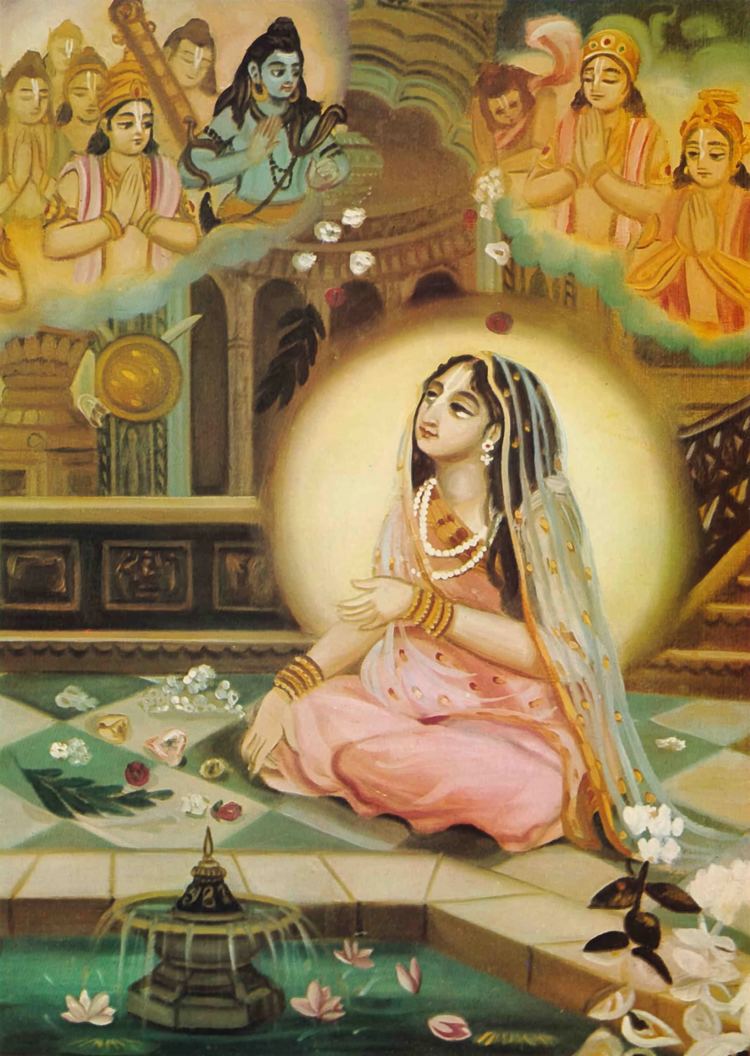 Devaki and Vasudeva were imprisoned by Kamsa due to a delusion caused by Narada in Kamsa's mind. Her six children were killed, while the seventh Balarama appeared as a miscarriage and transferred to Rohini's womb.
Devaki's six dead sons were named Kírttimat, Sushena, Udayin, Bhadrasena, Rijudasa, and Bhadradeha.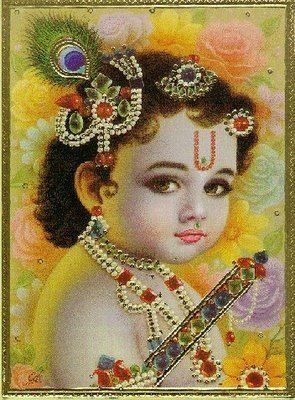 Devaki soon gave birth to Krishna and the baby was switched with Yashoda's daughter Ekanamsha (an incarnation of Yoganidra/Maya) by Vasudeva. She protests against the killing of an innocent girl but Kamsa hurls her on a rock. The girl transforms into an eight-armed goddess says "Fool your destroyer has already been born elsewhere." And vanishes into the heavens.
Devaki and Vasudeva's imprisonment came to an end after Kansa's death.
Post Kansa's death
Vasudeva and Devaki moved to Dwaraka with the rest of Mathura's population.
Devaki temples
In the state of Goa, Devaki Krishna Sansthan temple is a unique temple,perhaps is the only temple in India where Lord Krishna is worshiped alongside mother Devaki. The main Deities Devakikrishna and affiliate deities of Bhumika Devi, Laxmi Ravalnath, Mallinath, Katyayani, Chodaneshwar and Dhada Shankar were originally located at Choodamani island (Chorão island of today). To avoid persecution during the Goa Inquisition they were taken to Mayem in Bicholim and from there shifted to the present location at Mashel. The Garbha Griha (inner sanctum) of the temple has the beautiful idol of Devaki and Lord Krishna. The idol of Devaki is in standing posture holding baby Krishna with her left hand.
References
Devaki Wikipedia
(Text) CC BY-SA