Country

Area

3,709 km2

District

Mathura

Language spoken

• OfficialHindi




State








Colleges and Universities

Points of interest



Map of Mathura
Mathura ( pronunciation ) is a city in the North Indian state of Uttar Pradesh. It is located approximately 50 kilometres (31 mi) north of Agra, and 145 kilometres (90 mi) south-east of Delhi; about 11 kilometres (6.8 mi) from the town of Vrindavan, and 22 kilometres (14 mi) from Govardhan. It is the administrative centre of Mathura district of Uttar Pradesh. In ancient times, Mathura was an economic hub, located at the junction of important caravan routes. The 2011 Census of India estimated the population of Mathura to be 441,894.
Contents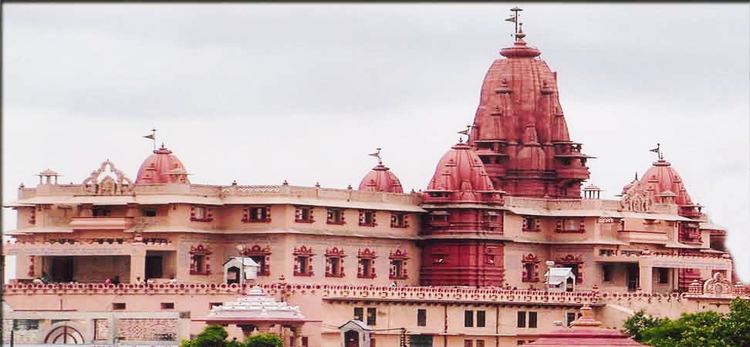 In Hinduism, Mathura is believed to be the birthplace of Krishna, which is located at the centre of the Shri Krishna Janmabhoomi. It is one of the Sapta Puri, the seven cities considered holy by Hindus. The Kesava Deo Temple was built in ancient times on the site of Krishna's birthplace (an underground prison). Mathura was the capital of the kingdom of Surasena, ruled by Kamsa, the maternal uncle of Krishna.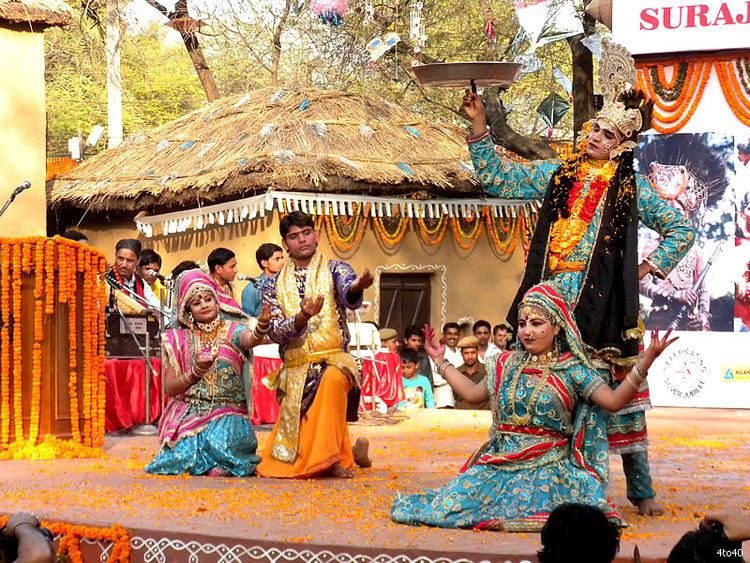 Mathura has been chosen as one of the heritage cities for Heritage City Development and Augmentation Yojana scheme of Government of India.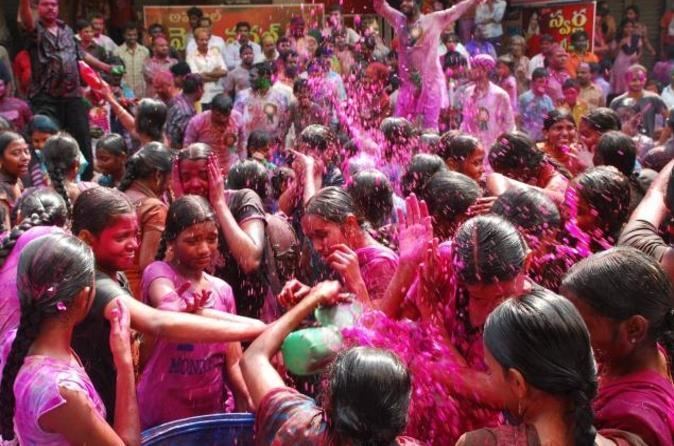 India best places to visit mathura without temples
Exploring the twin cities of mathura and vrindavan
History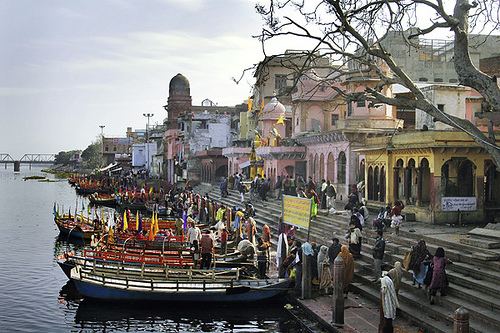 Mathura has an ancient history and also homeland and birthplace of Krishna who was born in Yadu dynasty. According to the Archaeological Survey of India plaque at the Mathura Museum, the city is mentioned in the oldest Indian epic, the Ramayana. In the epic, the Ikshwaku prince Shatrughna slays a demon called Lavanasura and claims the land. Afterwards, the place came to be known as Madhuvan as it was thickly wooded, then Madhupura and later Mathura.
In the 6th century BCE Mathura became the capital of the Surasena Kingdom. The city was later ruled by the Maurya empire (4th to 2nd centuries BCE). Megasthenes, writing in the early 3rd century BCE, mentions Mathura as a great city under the name Μέθορα (Méthora). It seems it never was under the direct control of the following Shunga dynasty (2nd century BCE) as not a single archaeological remain of a Shunga presence were ever found in Mathura. Mathura may have come under the control, direct or indirect, of the Indo-Greeks some time between 180 BCE and 100 BCE, and remained so as late as 70 BCE according to the Yavanarajya inscription, which was found in Maghera, a town 17 kilometres (11 mi) from Mathura. The opening of the 3 line text of this inscription in Brahmi script translates as: "In the 116th year of the Yavana kingdom..." or '"In the 116th year of Yavana hegemony" ("Yavanarajya") However, this also corresponds to the presence of the native Mitra dynasty of local rulers in Mathura, in approximately the same time frame (150 BCE—50 BCE), possibly pointing to a vassalage relationship with the Indo-Greeks.
After a period of local rule, Mathura was conquered by the Indo-Scythians during the 1st century BCE. The Indo-Scythian satraps of Mathura are sometimes called the "Northern Satraps", as opposed to the "Western Satraps" ruling in Gujarat and Malwa. After Rajuvula, several successors are known to have ruled as vassals to the Kushans, such as the "Great Satrap" Kharapallana and the "Satrap" Vanaspara, who are known from an inscription discovered in Sarnath, and dated to the 3rd year of Kanishka (c. 130 CE), in which they were paying allegiance to the Kushans. Mathuran art and culture reached its zenith under the Kushan dynasty which had Mathura as one of their capitals, the other being Purushapura (modern-day Peshawar, Pakistan).
Faxian mentions the city as a centre of Buddhism about 400 CE while his successor Xuanzang, who visited the city in 634 CE, mentions it as Mot'ulo, recording that it contained twenty Buddhist monasteries and five Brahmanical temples. Later, he went east to Thanesar, Jalandhar in the eastern Punjab, before climbing up to visit predominantly Theravada monasteries in the Kulu valley and turning southward again to Bairat and then Mathura, on the Yamuna river.
The city was sacked and many of its temples destroyed by Mahmud of Ghazni in 1018 CE and again by Sikandar Lodhi, who ruled the Sultanate of Delhi from 1489 to 1517 CE. Sikander Lodhi earned the epithet of 'Butt Shikan', the 'Destroyer of Hindu deities'. The Mughal Emperor Aurangzeb, built the Shahi-Eidgah Mosque during his rule, which is adjacent to Shri Krishna Janmabhoomi believed to be over a Hindu temple.
In 2016, 24 people including 2 police officers were killed in the Jawahar Bagh clash, when the police tried to evict a large number of squatters from the public park.
Geography
Mathura is located at 27.28°N 77.41°E / 27.28; 77.41. It has an average elevation of 174 metres (570 feet).
Demographics
The 2011 census of India estimates the population of Mathura to be 441,894, a decadal growth rate of 22.53 per cent from 2001 census of India. Males account for 54% (268,445) and females for 46% (173,449) of this population. Sex ratio of Mathura is 858 females per 1000 males, which has increased from 840 in 2001. However, national sex ratio is 940. Population density in 2011 has increased from 621 per km2 in 2001 to 761 per km2. Mathura has an average literacy rate of 72.65 per cent which has increased from 61.46 percent in 2001 but still lower than the national average of 74.04 per cent. Male and female literacy rate are 84.39 and 58.93 per cent respectively. 15.61 percent of Mathura's population is under 6 years of age. This figure was 19.56 per cent in 2001 census. Mathura has large population of Jat and Yadav in rural areas and Brahmins & Baniyas in urban areas.
The famous cities/villages of Mathura District are as follows.
Vrindavan
Baldeo
Barsana
Goverdhan
Chaumuhan
Kosi Kalan
Rail
Mathura is well connected by train to major cities in India such as New Delhi, Mumbai, Kolkata, Chennai, Bangalore, Hyderabad, Indore, Alwar, Jaipur, Bhopal, Gwalior, Jabalpur, Ujjain, Rewa, Lucknow, Kanpur, Ayodhya,Varanasi etc.
The city is served by four stations, Mathura Junction being the biggest one connecting to West, North and Southern India. Mathura Cantt connects to eastern Uttar Pradesh. Bhuteshwar serves for local trains for Delhi, Delhi NCR, Agra, Bharatpur and Alwar. Another station Krishnajanmabhoomi connects to Vrindavan via rail bus.
Important train that origin/terminate from Mathura: 12177/Howrah - Mathura Chambal Express.
Road
Mathura is well connected by road to the rest of Uttar Pradesh and India. NH 19 (Delhi-Howrah) and NH 44 (Srinagar to Kanyakumari) pass through the city. UP SH 33 (Bareilly to Mathura via Badaun, Ujhani, Kasganj, Soron, Sikandra Rao, Hathras) is a prominent arterial highway. Yamuna Expressway also connects to Mathura and, in fact, is the shortest way to reach Mathura by road.
The city is served by Upsrtc, JNNURAM, Rajasthan, Haryana, Madhya Pradesh, DTC, Chandigarh and Punjab state transportation bus companies. Mathura depot, run by the Uttar Pradesh State Bus Company - runs 120 buses. Direct buses are available to Alwar, Agra, Aligarh, Khair, Indore, Bhopal, Gwalior, Jabalpur, Jaipur, Udaipur, Ajmer, Delhi, Chandigarh, Lucknow, Kanpur, Meerut, Haridwar, Rohtak and other Indian cities. An intercity JNNURM bus facility also exists.
Tram
A tram network has been proposed in the city, which would make Mathura only the second city in India (after Kolkata) to get tran transport. In 2017, the local MLA Shrikant Sharma announced that the trams will be operation in Mathura and Vrindavan by 2018.
Air
As of now, the city has no airport but the airport was proposed to Mathura in 2012. The civil aviation minister Ajit Singh suggested Mathura's name for the site of a new greenfield international airport to chief minister of Uttar Pradesh Akhilesh Yadav. Mathura's name came into play when group of ministers terminated the planning of building Taj International Airport at Greater Noida. Land has been marked, and construction is in progress near the Yamuna Expressway, with plans to open in the next five years with regular flights to Delhi, Mumbai, Ujjain and Varanasi and some international routes in future.
Tourism
Mathura is a holy city for Hinduism, the world's third-largest religion. There are many places of historic and religious importance in Mathura and its neighbouring towns. The twin-city to Mathura is Vrindavan. As the home of Krishna in his youth, the small town is host to a multitude of temples belonging to various sects of Hinduism proclaiming Krishna in various forms and avatars. Some places of interest are:
Baldeo (Dauji Mandir)
Lohwan Mata Mandir
Shri Ratneshwar Mahadev
Gopinath Maharaj Mandir
Keshav Dev Temple (Shri Krishna Janma Bhoomi)
Vishram Ghat (Bank of River Yamuna)
Shri Jagannath Temple Bhuteshwar Mathura
Prem Mandir, Vrindavan
Vrindavan Chandrodaya Mandir, Vrindavan
Mathura Museum
Birla Mandir
Shri Krishna Janmabhoomi
Naam yog Sadhna Mandir (Baba Jai Gurudev Temple)
Banke Bihari Temple
Shri Krishna Janmabhoomi
Iskcon Temple.
Bhuteshwar Temple
The Udasin Kashni Ashram (Ramanrati) near Gokul (Mahaven)
Jama Mosque, Mathura
Shahi-Eidgah Mosque, adjacent to Shri Krishna Janmabhoomi
Strategic importance
Mathura is the home for I Corps (Strike Formation) within the Indian Army's Central Command, hosting Strike I Corps headquarters in a large classified area in the outskirts of the city known as Mathura Cantonment (Central Command itself has its headquarters at Lucknow). It hosts Strike Infantry units, air defence units, armoured divisions, engineer brigades, artillery Units and classified units of Strategic Forces Command. The I Corps is primarily responsible for western borders of India. In 2007 during Exercise Ashwamedha, all the armoured, artillery and infantry divisions performed a simulation of an overall NBC (nuclear-chemical-biological) environment. The aim was to show operational ability in high intensity, short duration and 'sudden' battles.
Industries
Mathura Refinery located in the city is one of the biggest oil refineries of Asia with 8.0 MMTPA refining capacity. This oil refinery of the Indian Oil Corporation is a highly technologically advanced oil refinery. Mathura Refinery is the first in Asia and third in the world to receive the coveted ISO-14001 certification for Environment Management System in 1996.
Textile printing industry that includes both sari-printing and fabric dyeing and silver ornaments manufacturing are major industrial contributors to the region.
Politics
In the 2014 General Elections, Hema Malini of the Bharatiya Janata Party became the Member of Parliament from Mathura Constituency. The Mayor of the city is Mrs. Manisha Gupta of BJP. In Uttar Pradesh Legislative Assembly election, 2017 Shrikant Sharma of the Bharatiya Janata Party became the Member of Legislative Assembly from Mathura Constituency.
Culture
Mathura has contributed a lot towards Indian Culture through its rich heritage. The ethos of Mathura, and in fact the whole of Braj mandal is centered on Krishna and his tales. Mathura sees heightened activities during the major festivities dedicated to Krishna.
The Braj culture has been expressed widely through various practices.
Sanjhee is the colourful art of decorating the ground with flowers.
Rasiya is a tradition that is integral to Mathura's culture. It is the tradition of folk-songs that describe the love of the divine couple Radha and Krshnaji. It is an inseparable part of the Holi celebrations and all other festive occasions at Mathura. (Dhulendi – Holi with drums (dholak), colours, etc. originated from Braj region hundreds of millennia before today.)
Raaslilas of Mathura have become an integral part of Indian Folklore. Krshnaji had danced the Raas with gopis on banks of Yamuna river.
Charkula is a traditional folk dance of the Braj. In this dance, a woman balances a column of deepikas on her head and dances to the accompaniment of Rasiya songs by the menfolk.
The language spoken in the Braj mandal is mainly Hindi which is spoken in a different dialect. This dialect is characteristic with the Braj region and known as Brajbhasha. Being close to haryana and uttar pradesh haryanwi is spoken by people and very few people speak Punjabi. Before Hindi and until past few centuries, Brajbhasha used to be the dominant language in literature.
Mathura is one of the seven most holy places for Hindus in India.
Ayodhyā Mathurā Māyā Kāsi Kāñchī Avantikā I
Purī Dvārāvatī chaiva saptaitā moksadāyikāh II - Garuḍa Purāṇa I XVI .14
A Kṣetra is a sacred ground, a field of active power, a place where Moksha, final release can be obtained. The Garuda Purana enumerates seven cities as giver of Moksha, They are Ayodhya, Mathura, Māyā, Kāsi, Kāñchī, Avantikā, Puri and Dvārāvatī.
Media and communications
All India Radio has a local station in Mathura which transmits various programs of mass interest. Commissioned in 2001, Mathura has a Programme generating Facility (PGF) of Doordarshan - India's Public service Broadcasters.
Educational institutions
B.S.A College of Engineering & Technology GLA University, Sachdeva Institute of Technology, R.K. Group of Institutions (including K.D. Medical College, Hospital & Research Center, K.D. Dental College and Hospital, Rajiv Academy For Technology & Management, Rajiv Academy For Teacher's Education, Rajiv Academy For Pharmacy, etc.), Pmv Polytechnic and Sanskriti University. Krishna Mohan Medical College & Hospital on Sonkh Road Mathura.
Mathura is home to the U.P. Pt. Deen Dayal Upadhyay Pashu Chikitsa Vigyan Vishwavidyalaya Evam Go-Ansundhan Sansthan, the first of its kind in the state and the fourth in the country to be made independent. The college was established in 1947 by Govt of U.P. and it is Asia's first veterinary college which awarded Veterinary science degree. The University is located on the Mathura-Agra road, about 5 kilometres (3.1 mi) from Mathura Junction. The main campus of the University is spread over a land area of 782.32 acres (3.1659 km2) in Mathura Cantt and about 1,400 acres (6 km2) at Madhurikund, about 20 kilometres (12 mi) from the main campus.
Food traveloguedesh da swaad by chef harpal mathura and meerut
References
Mathura Wikipedia
(Text) CC BY-SA