South end:

I-26 near Columbia, SC




Length

987.2 km




North end:

I-90 in Cleveland, OH






States:

South Carolina, North Carolina, Virginia, West Virginia, Ohio
Interstate 77 (abbreviated I-77) is an Interstate Highway in the eastern United States. It traverses diverse terrain, from the mountainous state of West Virginia to the rolling farmlands of North Carolina and Ohio. It largely supplants the old U.S. Route 21 between Cleveland, Ohio, and Columbia, South Carolina, as an important north–south corridor through the middle Appalachians. The southern terminus of Interstate 77 is in Columbia at the junction with Interstate 26. The northern terminus is in Cleveland at the junction with Interstate 90.
Contents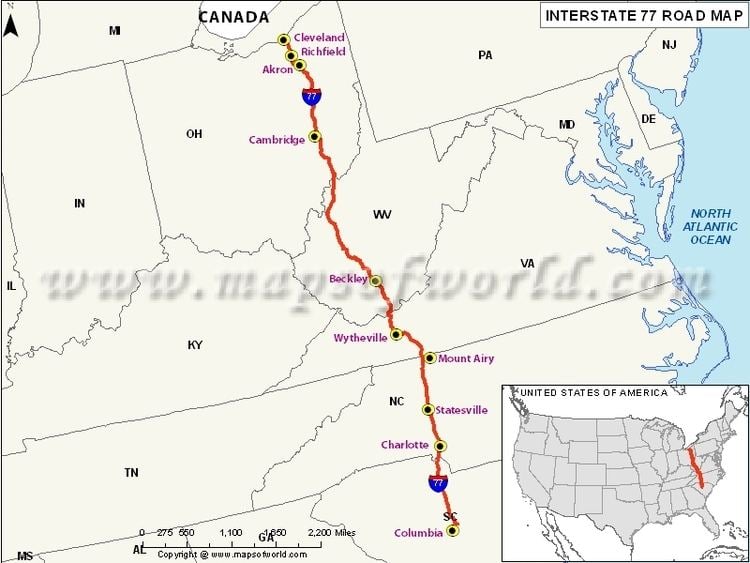 The East River Mountain Tunnel, connecting Virginia and West Virginia, is one of only two instances in the United States where a mountain road tunnel crosses a state line. The other is the Cumberland Gap Tunnel, connecting Tennessee and Kentucky.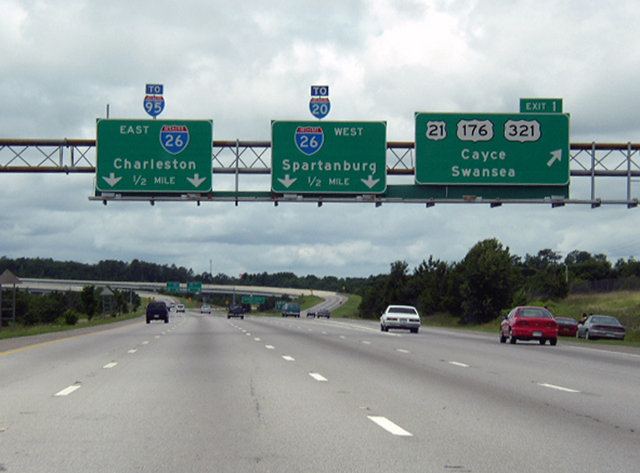 Interstate 77 south interstate 64 east split in west virginia
South Carolina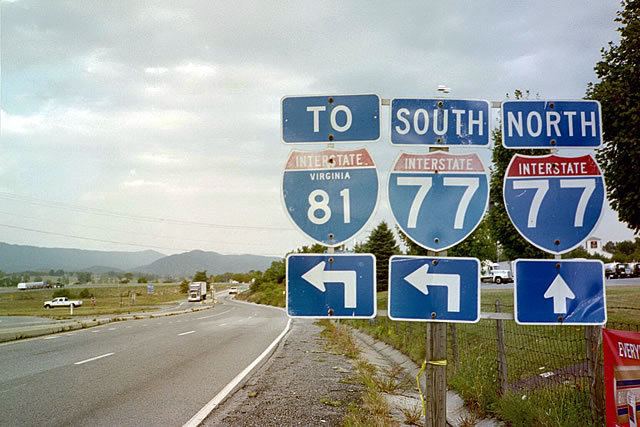 I-77 begins as an eight-lane highway at I-26 in the far southeastern part of the Columbia metropolitan area. The Columbia skyline is visible from this interchange. In the Columbia area, I-77 offers easy access to Fort Jackson before meeting I-20 in the northeastern part of the city. This segment of I-77, combined with I-20 and I-26, form a beltway around Columbia, though it is not officially designated as such. In the Columbia area, the control city for northbound traffic is Charlotte, N.C., while the control city for southbound traffic is Charleston, S.C and Spartanburg, S.C. from Exit 9 to I-26.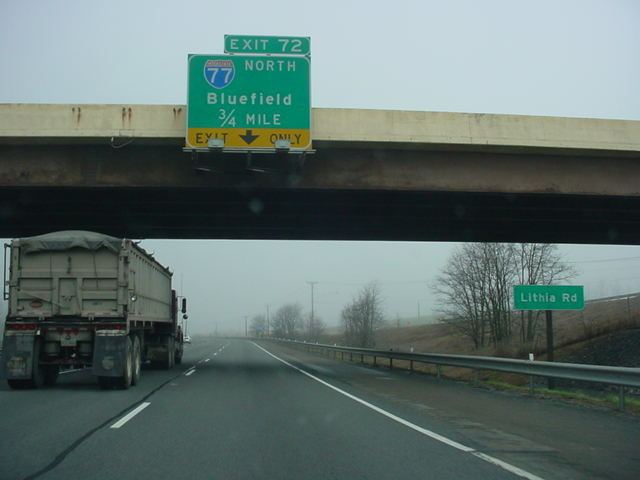 After leaving the northern Columbia suburb of Blythewood, I-77 narrows to four lanes until it widens to eight lanes at Rock Hill from Exit 77 to the North Carolina state line at I-485. The final South Carolina exit (Exit 90), takes motorists to Carowinds, a thrill theme park that was built along the North and South Carolina state line. Much of the Interstate's path through Fairfield and Chester County (north of Columbia) is uphill. This marks the changing terrain from the Midlands to the Piedmont as the road climbs the fall line.
The final section of the entire length of Interstate 77 was completed in Columbia in 1995.
North Carolina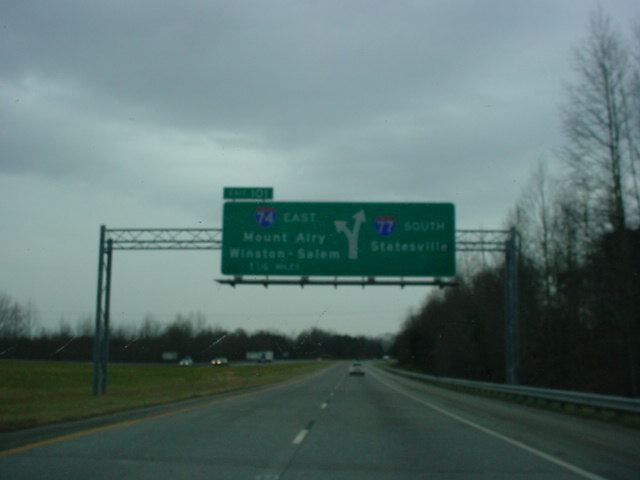 Interstate 77 through North Carolina begins at the South Carolina state line at Pineville where the Carowinds theme park is visible. It narrows to 6 lanes on the NC side south of Charlotte and then widens back up to 8 and 10 lanes through downtown before entering the North Carolina Piedmont. In Charlotte it intersects Interstate 85 as well as intersecting each of the loops of Interstate 485 and Interstate 277 (twice). North of Charlotte, it skirts Lake Norman where it narrows again to 4 lanes before passing through Huntersville, Cornelius, Davidson and Mooresville. Forty miles north of Interstate 85, at Statesville it intersects Interstate 40 and U.S. Highway 70. Next, it crosses over U.S. Route 421 in Yadkin County and continues on through Elkin. The final intersection in the state is with a discontinuous section of Interstate 74 near Mount Airy within sight of the Southern Blue Ridge that Interstate 77 will climb shortly after leaving the state of North Carolina.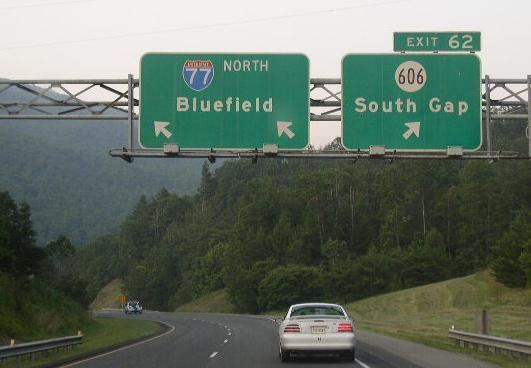 Interstate 77 in Charlotte, North Carolina is also known as the "Bill Lee Freeway"; this designation stretches from Exit 6 (South Tryon Street/Woodlawn Road) in Charlotte to Exit 33 (US 21 North), near Mooresville. A 6-mile (9.6-km) portion south of the city is called the "General Younts Expressway". When I-77 crosses over I-85 (which runs in an east–west direction through the interchange), the northbound lanes are to the west of the southbound lanes.
North Carolina completed its section of Interstate 77 in 1975.
Virginia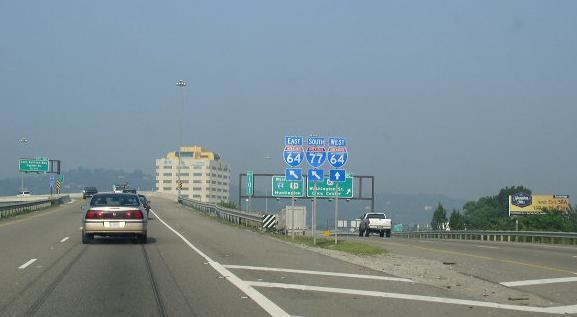 Interstate 77 through Virginia passes through two tunnels. The Big Walker Mountain Tunnel and the East River Mountain Tunnel provide quick interstate access with minimal environmental disruption. For eight miles (13 km), Interstates 77 and 81 overlap near Wytheville. This is a wrong-way concurrency, where two roads run concurrent with each other but are designated in opposite directions.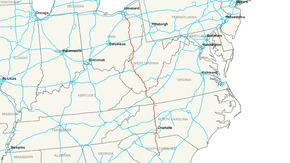 The highway passes through "Virginia's Technology Corridor" despite its very rural and isolated settings. Outside of Wytheville, there is little in the way of development.
West Virginia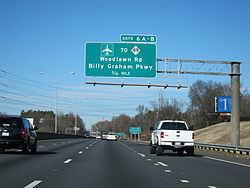 Interstate 77 enters from Virginia through the East River Mountain Tunnel. At milepost 9, Interstate 77 becomes co-signed with the West Virginia Turnpike for the next 88 miles (142 km), a toll road between Princeton and Charleston. It is concurrent with Interstate 64 to Charleston at Beckley. The speed limit is 70 mph (110 km/h) for most of the length, with a 60 mph (97 km/h) limit for the section between Marmet and the toll plaza near Pax.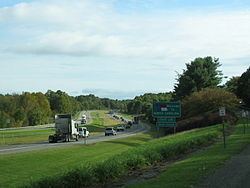 It enters Charleston via the Yeager Bridge and passes by the state capitol complex before splitting off at a four-level junction with Interstate 64 in the downtown. Two miles north of the city center, it junctions with Interstate 79 before proceeding northward towards Ripley and Parkersburg. It leaves the state at Williamstown for Ohio.
North of Charleston, Interstate 77 is known as the "Korean War Veterans Memorial Highway". Within the city limits of Charleston, it is labeled as the "Nurse Veterans Memorial Highway" although not signed or mentioned as such. The toll-free section south of Princeton to Virginia is known as the "Hugh Ike Shott Memorial Highway" although no signage exists to identify it as such. In practice, none of these terms are used by the general public.
Ohio
Entering from West Virginia at Marietta, Interstate 77 passes through rolling Appalachian terrain.
The interchange with I-70 at Cambridge is (or at least at one time was) thought to be the largest interchange in the world, covering over 300 acres (1.2 km2) of land.
Other major Interstate Highways I-77 connects with in Ohio are I-76, I-80 (Ohio Turnpike), and I-90. The interchange with the Ohio Turnpike was completed December 3, 2001, providing direct access; previously, traffic had to exit at Ohio State Route 21 to get to the Turnpike.
Interstate 77 is also known as the "Vietnam Veterans' of America Highway" in Ohio, and the Willow Freeway in Greater Cleveland.
History
Officially designated to run from Port Huron, Michigan to Charlotte, I-77 appeared on the original Interstate system route numbering plan in 1957. The part of Interstate 94 from Detroit northeast to Port Huron, Michigan was originally planned as I-77 in 1957; the current I-77 was I-79. When the current Interstate 79 was added in Pennsylvania, the I-77 designation was moved to its current route, but the I-77 in Michigan also remained in the 1958 numbering plan. It soon became part of I-94.
Originally, I-77 was to terminate at Interstate 85 in Charlotte. However, Congress, in its 1969 amendments to the Interstate Highway Act, added an extension of I-77 from I-85, through a rapidly growing corridor from downtown Charlotte (along an upgrading of US 21 already under construction in some places), into South Carolina near Rock Hill. The highway under this plan was to continue to Columbia, South Carolina, terminating at an interchange with Interstate 20. Collector / distributor ramps to both Alpine and Percival Roads were proposed later on to more efficiently route traffic to and from the Fort Jackson military reservation and the I-77 / I-20 corridors. Additionally, SC-277 was put on the books as well to bring southbound traffic from I-77 directly into the heart of downtown Columbia.
By the late 1970s, the southern terminus of I-77 near Columbia, South Carolina was amended to a grade-separated interchange with SC 12 (Percival Road) with mile markers signed accordingly. This extension was completed in 1986. That same year, the first phase of an interstate spur (to be named Interstate 326) between SC 760 (Jackson Boulevard) and Interstate 26 was opened as far as Bluff Road (SC-48). 1989 saw a two-mile (3 km) extension to the east, adding interchanges at Shop Road (later SC-768) and Garner's Ferry Road / Sumter Highway (US 76/US 378).
The decision to extend I-77 from SC 12 and SC 760 (five miles between the two roads) was made before I-326 was opened, so the southern portion was never signed as such, instead re-designated by SC DOT as SC-478. The northern part of extension was completed as far as Forest Drive in early 1993, with the final 3 miles (4.8 km), including the SC-760 interchange, opened to traffic in 1995. The mile markers and exit numbers for Interstate 77 were adjusted accordingly as the extension was completed. As the Percival Road to I-26 section was under construction, southbound traffic on I-77 was detoured, by "Temporary I-77" signage, via I-20 and I-26 to bypass Columbia.
Junction list
South Carolina
US 21
/
US 176
/
US 321
in Cayce
I‑26
in Cayce
US 76
/
US 378
in Columbia
I‑20
on the Woodfield–Dentsville CDP line
US 1
in Dentsville
US 21
south of Blythewood
US 21
on the Lesslie–Rock Hill line
US 21
in Rock Hill
US 21
north of Fort Mill. The highways travel concurrently to Charlotte, North Carolina.
North Carolina
I‑485
in Charlotte
I‑277
/
US 74
in Charlotte
US 29
in Charlotte
I‑277
in Charlotte
I‑85
in Charlotte
I‑485
in Huntersville
US 21
in Cornelius. The highways travel concurrently to Mooresville.
US 21
southeast of Troutman
US 70
in Statesville
I‑40
in Statesville
US 21
north of Statesville
US 421
west-northwest of Hamptonville
US 21
south-southeast of Jonesville. The highways travel concurrently to Elkin.
I‑74
west-southwest of Pine Ridge. The highways travel concurrently to the Virginia state line north-northwest of Pine Ridge.
Virginia
US 58
/
US 221
in Woodlawn
I‑81
/
US 11
in Fort Chiswell. The highways travel concurrently to Wytheville.
US 52
in Fort Chiswell. The highways travel concurrently to Wytheville.
US 52
west of Bland
US 52
in Rocky Gap
US 52
north-northwest of Rocky Gap. The highways travel concurrently to Bluefield, West Virginia.
West Virginia
US 460
east-southeast of Princeton
US 19
south-southeast of Camp Creek
I‑64
southeast of Crab Orchard. The highways travel concurrently to Charleston.
US 60
southeast of Snow Hill. The highways travel concurrently to Charleston.
I‑79
northeast of Charleston
US 33
in Ripley. The highways travel concurrently to Silverton.
US 50
east of Parkersburg
Ohio
SR 7
in Marietta
I‑70
south-southeast of Cambridge
US 40
east of Cambridge
US 22
northeast of Cambridge
US 36
in Newcomerstown
US 250
in New Philadelphia. The highways travel concurrently to south-southeast of Strasburg.
US 30
/
US 62
in Canton. I-77/US 62 travels concurrently through Canton.
I‑277
/
US 224
south of Akron
I‑76
in Akron. The highways travel concurrently through Akron.
I‑271
in Richfield
I‑80
on the Richfield–Brecksville line
I‑480
on the Independence–Brooklyn Heights line
I‑490
in Cleveland
US 422
in Cleveland
I‑90
in Cleveland
Auxiliary routes
I-277 - Charlotte
I-277 - Akron
References
Interstate 77 Wikipedia
(Text) CC BY-SA