Vinod Khanna born 6 October 1946) is an Indian actor and producer of Bollywood films. He is also an active politician. He is the sitting MP from Gurdaspur. He appeared in 141 films between 1968 and 2013.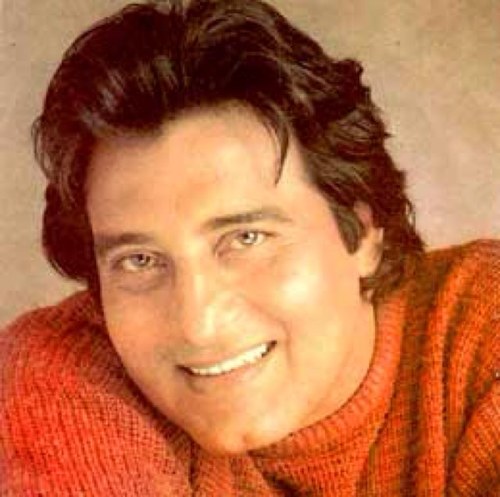 He also played the lead role in the Pakistani film Godfather released in 2007.
Khanna was born to Kamla and Kishanchand Khanna, a textiles, dyes and chemicals businessman, on 6 October 1946, in Peshawar, British India (now in Pakistan). He has three sisters and one brother. Shortly after his birth, India was partitioned and the family left Peshawar and reached Mumbai.
He attended Queen Mary School, Mumbai until class II and then transferred to St. Xavier's High School, Fort. In 1957, the family moved to Delhi where he attended Delhi Public School, Mathura Road. Although the family moved back to Mumbai in 1960, he was sent to Barnes School in Deolali, near Nashik. During his time at the boarding school Khanna watched the epic Solva Saal and Mughal-e-Azam and fell in love with motion pictures. He graduated with a commerce degree from Sydenham College.
Vinod Khanna debuted in Sunil Dutt's 1968 film Man Ka Meet as a villain. At the start of his career, he played supporting or villainous characters in films such as Purab Aur Paschim, Sachaa Jhutha, Aan Milo Sajna, and Mastana in 1970, and in Mera Gaon Mera Desh and Elaan in 1971.
Khanna is one of the few Hindi actors who began by playing villains and moved on to play the hero. He got his first break as the solo lead hero in the film Hum Tum Aur Woh (1971), which was followed by the 1971 multi-hero film Mere Apne directed by Gulzar. In 1973, his performance as an army officer facing death row in another film scripted and directed by Gulzar, Achanak, was critically acclaimed. It echoed the true life story of K. M. Nanavati vs. State of Maharashtra and Khanna portrayed Kawas Nanavati, the real-life Navy officer.
Between 1973 and 1982, Khanna played the lead role in a number of movies. These include Farebi with Moushumi Chatterjee; Qaid in 1975 and Zalim in 1980, both with Leena Chandavarkar; and Inkaar in 1978 opposite Vidya Sinha. In 1980, he starred in Feroz Khan's Qurbani (1980) which became the highest grossing film of that year. In Shankar Shambhu, Chor Sipahee and Ek Aur Ek Gyarah, Khanna appeared with Shashi Kapoor; in Hera Pheri, Khoon Pasina, Amar Akbar Anthony and Muqaddar Ka Sikandar he played with Amitabh Bachchan; and in Haath Ki Safai and Aakhri Daku he played with Randhir Kapoor. He appeared with Sunil Dutt in Daku Aur Jawan, and he had supporting roles in Sachaa Jhutha, Prem Kahani, Kudrat and Rajput, where the lead hero was played by Rajesh Khanna.
Khanna became a follower of the spiritual teacher Osho (Rajneesh) and left the film industry in 1982 for five years.
In 1987, Khanna returned to Bollywood with Insaaf where he performed with Dimple Kapadia. After his comeback he played romantic roles in Jurm and Chandni, but he was mostly offered roles in action films. His Muzaffar Ali-directed Dimple Kapadia-starrer Zooni is still unreleased.
In the 1990s, Khanna worked in films including Muqaddar Ka Badshaah, CID, Jurm, Rihaee, Lekin, and Humshakal. He appeared in multi-hero casts in films such as Khoon Ka Karz, Police Aur Mujrim, Kshatriya, Insaaniyat Ke Devta, Ekka Raja Rani, Eena Meena Deeka, and the 2002 film Kranti. In 1997 he was the producer for Himalay Putra in which he also starred, with his son Akshaye Khanna.
In 1999 Vinod Khanna received a Filmfare Lifetime Achievement Award for his contribution to the industry for over three decades. He has since acted in fewer films, playing character roles in Deewaanapan (2002), Red Alert: The War Within, Wanted (2009) and Dabangg (2010). His performance as solo lead protagonist was critically acclaimed in Pehchaan: The Face of Truth (2005) and the 2007 Pakistani film Godfather (2007), as well as in the multi-starrer Risk (2007).
He ventured into television playing the male lead role of "Kashinath" in the Smriti Irani-produced Hindi serial Mere Apne, which aired on the channel 9X.
In 1997, Khanna joined the Bharatiya Janata Party (BJP) and was elected from Gurdaspur constituency in Punjab in the next year's Lok Sabha poll. In 1999, he was re-elected to the Lok Sabha from the same constituency. Later, he became union minister for culture and tourism in July 2002. Six months later, he was moved to the more important ministry of external affairs (MEA) as Minister of State. In 2004 he won re-election from Gurdaspur. However, Khanna lost out in the 2009 Lok Sabha poll. In 2014 general election he is again elected for 16th Loksabaha from Gurdaspur constituency .
Khanna married Geetanjali in 1971 and had two sons with her, Rahul Khanna and Akshaye Khanna. In 1975, Khanna became a disciple of Osho (Bhagwan Shree Rajneesh). In the early 1980s, he moved to Rajneeshpuram, Osho's commune in the United States, for about five years, cleaning dishes and working as Osho's gardener. His absence from his family, who remained in India, caused friction between the couple, and the marriage ended in divorce.
In 1990, he married Kavita. They have a son, Sakshi (born 12 May 1991), and a daughter, Shraddha.
1975 – Filmfare Best Supporting Actor Award for Haath Ki Safai
1977 – Filmfare Nomination as Best Supporting Actor for Hera Pheri
1979 – Filmfare Nomination as Best Supporting Actor for Muqaddar Ka Sikander
1981 – Filmfare Nomination as Best Actor for Qurbani
1999 – Filmfare Lifetime Achievement Award
2001 – Kalakar Awards Lifetime Achievement
2005 – Stardust Awards – Role Model for the Year
2007 – Zee Cine Award for Lifetime Achievement