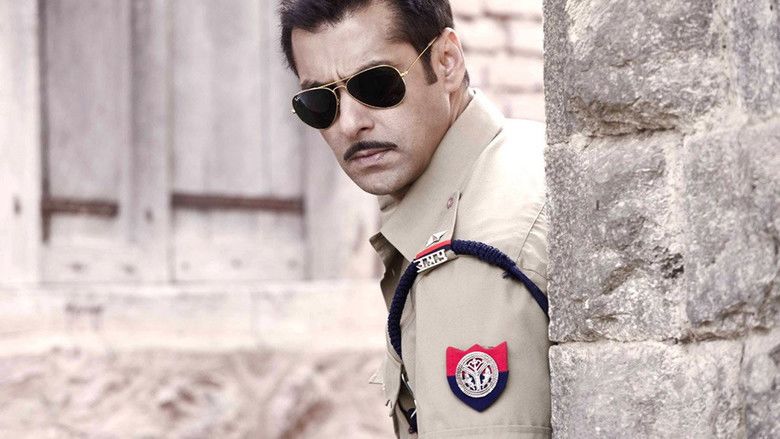 Chulbul Pandey, a young boy, lives with his younger half-brother, Makhanchan "Makkhi" Pandey, stepfather Prajapati Pandey (Vinod Khanna) and mother, Naina Devi (Dimple Kapadia) in Laalgunj, Uttar Pradesh. He has a troubled relationship with his stepfather and Makkhi. After 21 years, Chulbul (Salman Khan) becomes a policeman. Chulbul, who calls himself "Robin Hood" Pandey, lives with his family. Makkhi (Arbaaz Khan) is in love with Nirmala (Mahi Gill), whose father Masterji (Tinu Anand) opposes the relationship. Chulbul falls in love with a girl named Rajjo (Sonakshi Sinha), who he meets during a police encounter.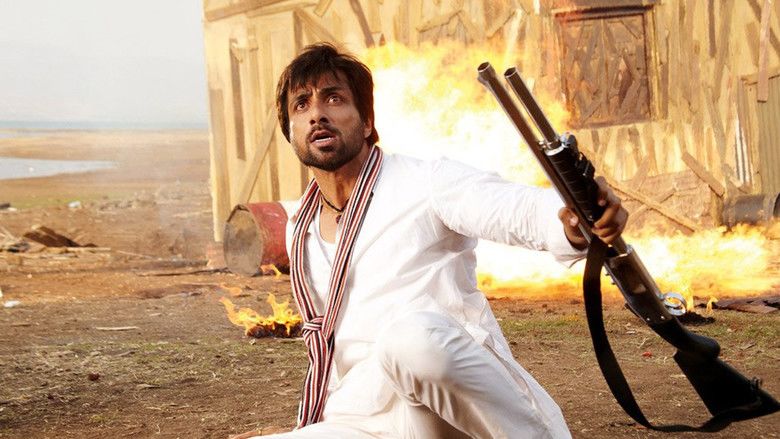 A corrupt political leader named Chedi Singh (Sonu Sood) meets Chulbul and both quickly become enemies. Makkhi asks his father to arrange his marriage with Nirmala. His father refuses because he needs money to repay the loans he took to make his factory, and he believes that he can acquire money through his son marrying a rich girl. In desperate need of money, Makkhi steals from Chulbul's cupboard and gives the stolen cash to Nirmala's father, hoping that he will permit Makkhi to marry Nirmala. Meanwhile, Chulbul meets Rajjo and proposes marriage, which she rejects, as she has to take care of her father, Haria (Mahesh Manjrekar)—a drunkard.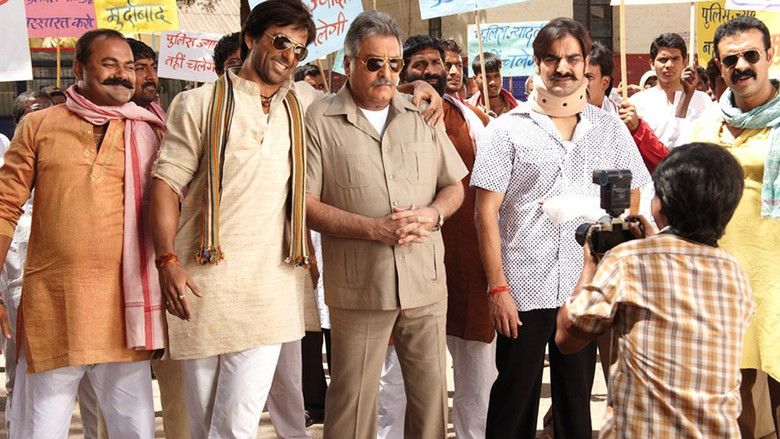 Chulbul comes home to find his mother dead. He goes to his stepfather to make peace, as he is the only family left. His stepfather refuses and despises him as an outcast. Makkhi invites Chulbul to his marriage with Nirmala. Chulbul convinces Rajjo's father to marry her. Rajjo's father commits suicide, as he knows that his daughter will not marry anyone while he is alive. Chulbul takes Rajjo to Makkhi's exuberant wedding. Realising that Makkhi has stolen his money to finance the wedding, Chulbul marries Rajjo in an impromptu ceremony. Nirmala's father feels disgraced and cancels his daughter's wedding.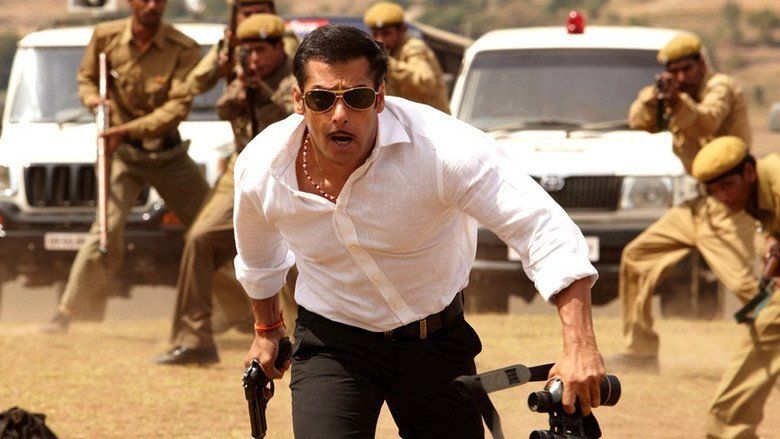 Makkhi beats up one of the workers in his factory due to a small mishap. The worker goes to the police station with his mother to file a complaint. Chulbul beats up Makkhi in public to disgrace him. Chedi takes advantage of the situation, and takes Makkhi along with his father to the police station. Makkhi's father resolves the situation by accepting an apology from Chulbul. Chulbul meets Dayal Babu (Anupam Kher), a local political leader, who also dislikes Chedi. With his help, Chulbul adulterates the breweries of Chedi, and wrongly frames him for it.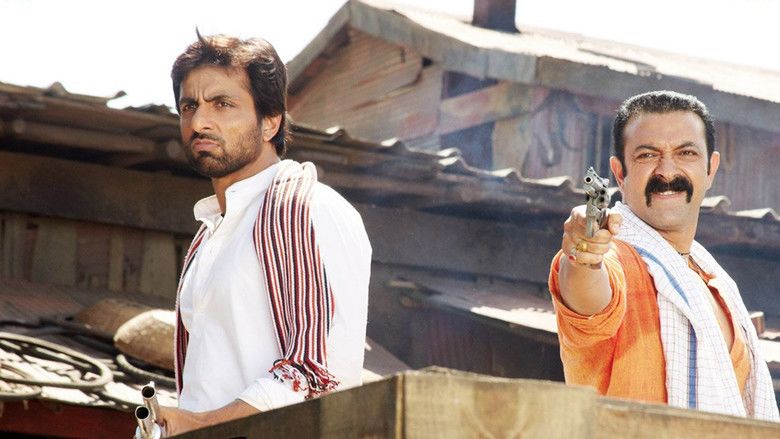 To take revenge, Chedi burns Makkhi's factory. Makkhi's father suffers a heart attack due to shock and is hospitalised. Makkhi goes to Chedi seek help from him, without knowing that it was Chedi, who burnt his factory. Chedi agrees to finance his father's treatment, if he delivers a crate of mangoes to Dayal Babu's house. Unknown to Makkhi, there is a bomb inside the crate, which explodes after he leaves, killing Dayal Babu. Chedi gives Makkhi a task to kill Chulbul. Makkhi accepts, and confesses it to Chulbul. He reveals to Chulbul that Chedi made him plant the bomb unknowingly. Chulbul forgives him and reconciles with his stepfather. Makkhi then reveals to Chulbul that it was Chedi, who killed their mother. Enraged, Chulbul suffocates Chedi to death. Later, Chulbul gets Makkhi married to Nirmala in the presence of her father, while Rajjo reveals that she is pregnant.
Credits adapted from Bollywood Hungama.
Salman Khan grew a moustache after consulting with his brother and prepared his hair to suit his role. For the former, he had to try out nearly fifty styles in a span of four months before commencement of the filming. Photo-shoots were held to finalise his look. Abhinav Kashyap, in an interview with Bollywood Hungama, revealed that initially he had considered a few others for the role of Chulbul Pandey, but eventually changed his mind and approached Salman. Kashyap had seen Arbaaz in Jaane Tu Ya Jaane Na, doing a cameo and approached him to be a part of the project. After reading it, he had instantly accepted to produce and star in it. Sonu Sood was selected for playing the lead antagonist. He revealed that his character was that of a "youth leader with grey shades." Mahesh Manjrekar was later approached to play the father of Sinha's character, although he had plans to quit acting.
In April 2009, Sonakshi Sinha signed for her debut role. Salman had seen her at a function engaging in dancing and offered her the role. Speaking about it, she said that she had lost a weight of 30 kg over two years to prepare for her character of a village girl by "a combination of proper diet and vigorous exercise". She added that she had been "observing people and trying to pick up nuances" as a step of further preparation. Malaika Arora, who had performed a few item numbers in her career, most notably in Dil Se.., was confirmed to do the same in the film. This was the first of its kind in her home production.
Dabangg's shooting took place primarily in Wai and the United Arab Emirates. The shooting commenced in September 2009. Production designer Wasiq Khan drew over 100 sketches detailing out every set in the film. The cinematography was performed by Mahesh Limaye. The first schedule began in the town of Wai and continued for 45 days, during which Sonu Sood, the main antagonist fractured his nose. A schedule, primarily involving a song shoot, was captured in the Khalid Bin Al Waheed station in Dubai, making Dabangg the first film to be shot there. Some scenes were also filmed at the Emirates Palace hotel in Abu Dhabi.
The film, involving around five action sequences, was choreographed by S. Vijayan, who previously served as the stunt director of Wanted, and shot over 60 days. Later, special effects were incorporated into those scenes. The songs were choreographed by Raju Khan and Shabina Khan, while Farah Khan choreographed the item number, "Munni Badnaam Hui". The shooting was completed in early June 2010, and the film went into post-production. A party was held to commemorate the completion of the shooting and the success of the theatrical promo. It was attended by the main cast and crew.
Dabangg's theatrical trailer, running for about two and a half minutes, was released on 23 July 2010, alongside Priyadarshan's Khatta Meetha. Dabangg was described as one of the most anticipated films of the year by The Indian Express. It was reported to have broken pre-release records for hype by Cinematix, a filming awareness product originated by Ormax Media. A special screening of the film took place at Film City on 6 September 2010. The premiere of Dabangg was held in Mumbai on 9 September 2010.
The Soundtrack album was composed by the music director duo Sajid-Wajid and Lalit Pandit, while the lyrics were penned by Faiz Anwar, Lalit Pandit and Jalees Sherwani. Lalit Pandit wrote the song "Munni Badnaam Hui". The album was launched on 6 August 2010 in Delhi. The album contains five original songs, four remixes and one theme song. The audio rights of Dabangg were sold for about ₹90 million (US$1.4 million) to T-Series.
The track "Munni Badnaam Hui" is said to be inspired by an old Bhojpuri folk song "Launda Badnaam Hua Naseeban Tere Liye". Director Abhinav Kashyap accepted using the folk song saying that he, being from Uttar Pradesh, was familiar with the song since childhood so he suggested the very song to be improvised and rephrased to fit the film's requirement. It was alleged that it was inspired from the Pakistani song "Ladka Badnaam Hua" from the film Mr. Charlie (1992).
Dabangg's soundtrack received generally positive reviews from music critics. Joginder Tuteja of Bollywood Hungama gave the album 3 stars and said, "[it] delivers what it promised. One expected a masala soundtrack and this is what one gets with a couple of item song sequences, a couple of theme tracks and two love songs which are actually the highlight of the film. A soundtrack that has something in store for mass as well as class." Atta Khan of Planet Bollywood gave it a rating of 6 out of 10, and called the soundtrack "simple, catchy, easy on the ears and fun". In a 3-star rating, critic Devesh Sharma of Filmfare praised Sajid-Wajid's composition, and the track "Chori Kiya Re Jiya", calling it "[pleasure] to the ears".
The album performed well on the charts after its release. The tracks "Tere Mast Mast Do Nain" and "Munni Badnaam" were successful, and entered the list of top 20 most frequently played songs on radio in India. In August 2010, the track "Tere Mast Mast Do Nain" reached number-one on the Official Asian Download Chart in the United Kingdom based on legal downloads in that country.
Track list
Dabangg released worldwide on 10 September 2010. It opened up across 1,800 screens in India and around 300 screens overseas. The film was released in 2300 theatres worldwide. It was also screened in Norway at an international film festival. The film's DVDs and VCDs were launched by the Reliance Big Home Video on 12 October 2010. It was released on YouTube on 28 January 2011 for free viewing to audiences in India. The satellite rights were pre-sold for ₹100 million (US$1.6 million) to Colors.
The film generally received positive reviews from critics, most of whom praised the performance of Salman Khan. In a 4-star review for Koimoi, Komal Nahta ensured that the film would be a commercial success. Kaveree Bamzai of India Today gave the film four stars while labelling it as "one Zandu Balm of a movie." Film critic Aniruddha Guha of Daily News and Analysis called the film "slightly mad, and terribly entertaining."
Mathures Paul of The Statesman gave the film 3.5 stars and commented, "Dabangg aligns itself with viewers frustrated by the nonexistence of uncomplicated heroism on screen." In a 3-star review for Rediff.com, Abhishek Mande stated "Dabangg is not a movie for non-Salman fans. But for those who worship him it's a film you simply cannot afford to miss." Anupama Chopra of NDTV and Sukanya Venkatgarhavan of Filmfare gave it 3 stars, and both praised Khan's performance.
Gaurav Malani of Indiatimes was critical towards the film's story, remarking "the film doesn't care a damn for coming up with any innovative storyline." Rajeev Masand of CNN-IBN panned the film's screenplay, but praised Khan's performance. Shobhaa De of the Bangalore Times was critical, concluding "Let's hand it to Salman who has pulled off the stunts and pelvic thrusts. Nothing new there. But it is the naughty self-parodying, which is so camp, so out there, which delivers the biggest punch. What's left for this guy now – all he needs is a cape. And he can call himself Superman."
"Munni Badnaam Hui" included a brand name 'Zandu Balm' in its lyrics, much to the displeasure of Emami—the makers of the brand. A trademark case was settled by the producers and Emami out of court, and Malaika Arora was later chosen to an official advertising campaign promoting Zandu Balm. Activist Rajkumar Tak filed a case in the Bombay High Court, demanding that the deletion of the word "Hindustan" from the song, claiming that the censor board had not responded to his queries in regard to the "defaming" lyrics. He found them "highly objectionable" and "unpardonable" and labelled the song a "mockery" for the country, as a girl was "indecently" dancing in the presence of corrupted officers, which, according to him, threw bad light on the nation and "hurt the patriotic sentiments of every Indian".
Before release, critic and writer Shobhaa De called for a boycott of Dabangg, due to Salman's comments on the 2008 Mumbai attacks. She criticised it as "arrogance, ignorance and plain stupidity." This sparked off a fight with the producers via Twitter, and continued after her negative review of the film. Anurag Kashyap, brother of Abhinav Kashyap, tweeted "Salman khan thinks he made my brother's life.. Hope he can do the same for his brother Arbaaz with Dabangg 2." This was taken as "slamming" Salman and resulted in Arbaaz retorting back by referring to the comment as "attitude" instead of "gratitude". However, Anurag later apologised for his remarks, which Arbaaz accepted.
Awards and nominations
Dabangg received accolades in major film award functions in India. Among them, it won the National Film Award for Best Popular Film Providing Wholesome Entertainment. It was given six awards at the 56th Filmfare Awards, including one for Best Film, seven Screen Awards, nine Zee Cine Awards, and ten IIFA Awards.
Dabangg opened to ₹145 million (US$2.3 million) nett collections in its first day, and became the highest opener of all time across India. On the second day, it netted ₹165 million (US$2.6 million). At the end of its weekend, the film collected the total of ₹495 million (US$7.7 million). The film netted ₹106 million (US$1.7 million) on Monday, ₹86 million (US$1.3 million) on Tuesday, ₹70 million (US$1.1 million) on Wednesday, and ₹60 million (US$940,000) on Thursday taking the total nett collections to around ₹815 million (US$13 million) in its first week of release. It subsequently became the highest opening week nett grosser.
Dabangg netted ₹62 million (US$970,000) on the second Friday, ₹75 million (US$1.2 million) on Saturday and ₹105 million (US$1.6 million) on Sunday, for a ₹238 million (US$3.7 million) second weekend, a drop of around 50% from the opening weekend. In its second week, the film earned ₹360 million (US$5.6 million), taking the total nett collections to ₹1.16 billion (US$18 million) in two weeks, thus becoming the second highest-grossing film of all time in two weeks. The distributor share of Dabangg was declared to be ₹770 million (US$12 million)—the second highest in Bollywood. Dabangg collected ₹160 million (US$2.5 million) during the third week and ₹60 million (US$940,000) in its fourth week, taking the domestic nett collections to ₹1.4 billion (US$22 million). The domestic nett collections in eleven weeks was ₹1.4 billion (US$22 million). It eventually progressed to ₹1.41 billion (US$22 million).
Dabangg opened to a positive response in the overseas markets as well. The film's final overseas collections were US$6.10 million. It grossed a total of US$4.20 million in the international markets at the end of its second weekend.
In the United States, Dabangg collected $628,137 from 62 screens in its opening weekend and $1,068,589 at the end of its second weekend. In the United Arab Emirates, it collected 3.2 million Dirhams in the opening weekend, and $1,550,000 at the end of the second weekend. Dabangg collected a total of $5.50 million, making it the fifth highest-grossing in United Arab Emirates with a $2 million gross. In the United Kingdom, it collected £332,673 from 41 screens in its opening weekend and £570,566 by the end of its second weekend. In Australia, the film collected $126,000 from 14 screens in the opening weekend, and A$272,909 at the end of its second weekend. In Mauritius and South Africa, it collected US$25,000 each in its opening weekend. In Fiji, the film collected US$20,000 the opening weekend. In other territories of Europe and Africa, the film collected $100,000 in its opening weekend.
Sequel and remakes
After the release of Dabangg, Arbaaz Khan announced that he was planning a sequel to it. After the commercial success of the film, Khan reported "Dabangg 2 may take time to hit the floors, but it is definitely on the cards." He also announced that the main leads, Salman Khan and Sonakshi Sinha were already cast to reprise their parts in the sequel. Among the new cast members are Prakash Raj, who plays the main antagonist, while Kareena Kapoor performs an item number in the film. Director Abhinav Kashyap opted out of directing the sequel, and therefore Arbaaz took over as the film's director.
Dabangg 2 became one of the highest-grossing Bollywood film of all time in India. Dabangg was remade in Tamil as Osthe by Dharani with Silambarasan playing the lead role, and Sonu Sood reprising his original role. It was also remade in Telugu as Gabbar Singh, starring Pawan Kalyan.