Covid-19
4.9

/

10

7

Votes

Alchetron

Rate This




J. P. Dutta




March 26, 1993 (India)





India






Action, Drama, War




J. P. Dutta, O. P. Dutta




Hindi






J.P. Dutta

,

O. P. Dutta




26 March 1993




Laxmikant–Pyarelal, Laxmikant Shantaram Kudalkar, Pyarelal Ramprasad Sharma




Divya Bharti

(Tanvi Singh),

Sanjay Dutt

(Vikram Singh),

Sunny Deol

(Vinay Pratap Singh),

Dharmendra

(Maharaj Prthivi Singh),

Sunil Dutt

(Maharaj Bhavani Singh)


Dharmendra and Vinod Khanna appear in Kshatriya and Batwara



Kshatriya (Warriors) is a 1993 Bollywood film directed by J.P. Dutta. It features an ensemble star cast including Sunil Dutt, Dharmendra, Vinod Khanna, Sanjay Dutt, Sunny Deol, Meenakshi Sheshadri, Raveena Tandon and Divya Bharti. Sunil Dutt and Dharmendra play fathers to their real-life sons: Sanjay Dutt and Sunny Deol, respectively (Even though Sunil and Sanjay did not actually share screen space). This was Divya Bharti's last film to be released while she was alive; she died 10 days after its release.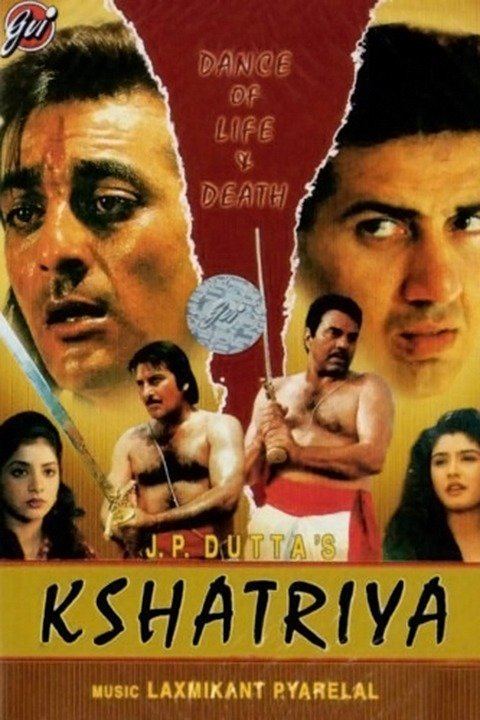 The story of the film was similar to Parampara released after this movie. Both movies were multistarrer films and failed to create good business at the box office. Sunil Dutt, Vinod Khanna and Raveena Tandon were common actors in both movies.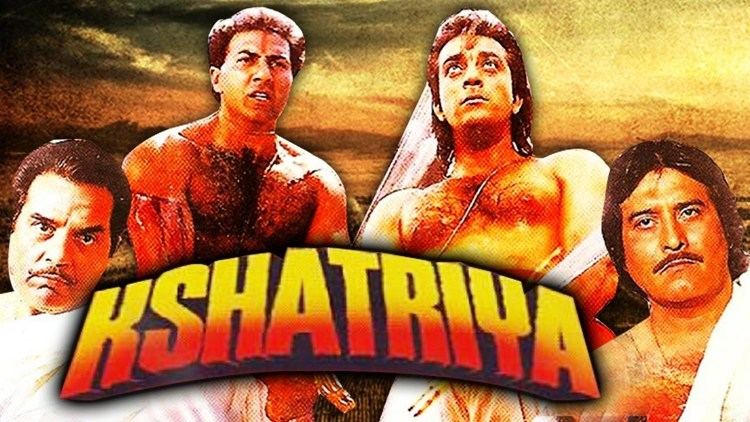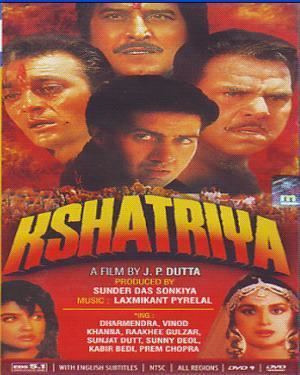 The story is about two warring royal Kshatriya Rajput families in Rajasthan, India, based in Mirtagarh and Surjangarh. The Mirtagarh family is headed by Maharaja Bhavani Singh (Sunil Dutt), his wife Maheshwari Devi (Raakhee), his daughter Divya (Dolly Minhas) and younger brother Jaswant Singh (Vinod Khanna). Surjangarh's family is headed by Prithvi Singh (Dharmendra), his wife Suman (Sumalatha), his brother Devendra Pratab Singh and Devendra's son Vijay Pratab Singh. Vijay falls in love with Divya but both families are against them marrying and Mirtagarh's minister Ajay Singh (Prem Chopra) adds fuel to fire by getting Vijay killed even though Bhavani never wanted him dead. Divya commits suicide after hearing of Vijay's death and Prithvi shoots and kills Bhavani in revenge. Jaswant Singh (Vinod Khanna) returns from England and kills Devendra in revenge and vows to kill Prithvi when he is released. Prithvi's son Vinay (Sunny Deol) and Bhavani's son Vikram (Sanjay Dutt) are sent to England as children to get away from the bloody feud between their families.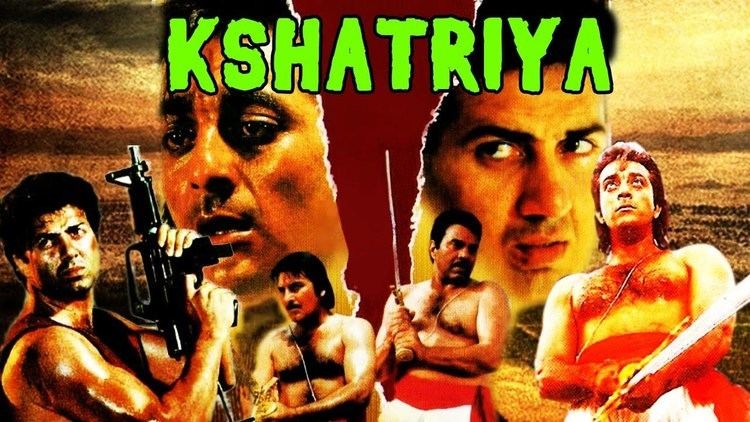 Twenty years later, Vinay and Vikram are the best of friends living in England. Vikram's cousin and Jaswant's daughter Neelima (Raveena Tandon) also live in London. Vinay and Neelima fall in love and want to marry. This could signal the end of the Mirtagarh and Surjangarh feud. But as soon as Prithvi is released from prison, Jaswant challenges him to a sword battle. Vinay and Neelima intervene them while battling and stop them from killing each other. The truth behind the feud between both families is revealed and Vinay and Neelima are forbidden from marrying. Vinay is told the truth of his father killing Vikram's father and then tells Vikram. Vikram bursts into Surjangarh's mansion and shoots Prithvi and Vinay in a fit of rage shoots back at Vikram. While Prithvi and Vikram survive and are recovering in hospital from their wounds, Vinay and Neelima break off her relationship realising this feud will never end. Vinay decides to visit Jaswant and plead him to let him take Neelima away and end this feud. Jaswant refuses and tells Vinay to leave. As Vinay leaves, he is attacked by Shakti Singh. It is then revealed that Shakti and his father Ajay Singh had killed Vinay's cousin Vijay Pratab Singh and want to kill him too. As Shakti tries to attack Vinay, Vinay kills him with his own sword. Jaswant realises that Ajay and Shakti were the conspirators behind all these deaths between both families. He decides to let Vinay and Neelima go and they decide to return to England and settle there.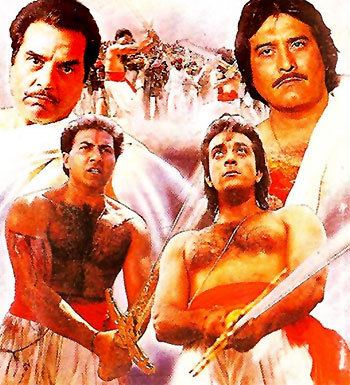 Vikram recovers from hospital and challenges Prithvi to a sword battle. Maheshwari prevents Prithvi from accepting Vikram's challenge after she tells him she has forgiven him for killing her husband Bhavani and he should remember that. Vinay decides to accept Vikram's challenge instead to keep his father's honour. As Vinay and Vikram are duelling, their mothers Suman and Maheshwari intervene and decide to hurt themselves to stop their sons fighting. Eventually they do stop and finally the feud ends.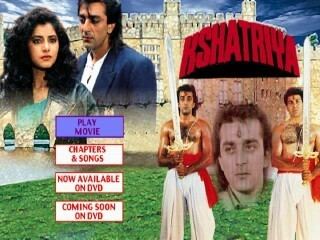 Sunil Dutt ... Maharaja Bhawani Singh (Mirtagarh)
Dharmendra ... Maharaja Pritvi Singh (Surjangarh)
Vinod Khanna ... Raja Jaswant Singh (Mirtagarh)
Sunny Deol ... Vinay Pratap Singh (Surjangarh)
Sanjay Dutt ... Vikram Singh (Mirtagarh)
Meenakshi Seshadri ... Madhu (Jaswant's love interest)
Raveena Tandon ... Neelima (Raja Jaswant's daughter) (Mirtagarh)
Divya Bharti ... Tanvi Singh (Ganga Singh's daughter)
Raakhee ... Maheshwari Devi (Maharaja Bhawani's wife)
Sumalatha ... Suman, Maharaja Pritvi Singh's wife (Surjangarh)
Kabir Bedi ... Thakur Ganga Singh
Prem Chopra ... Ajay Singh (Maharaja Bhawani Singh's minister)
Puneet Issar ... Shakti Singh (Ajay Singh's son)
Nafisa Ali ... Raja Jaswant's wife (Mirtagarh)
Vijayendra Ghatge ... Surjangarh's diwan
Dolly Minhas ... Divya (Mirtagarh)
Salim Fatehi ... Vijay Pratab Singh (Surjangarh)
Kshatriya (film) Wikipedia
Kshatriya (film) IMDb
Kshatriya (film) themoviedb.org