Occupation

Actress




Years active

1973; 1984–present





Name

Dimple Kapadia




Role

Film actress






Full Name

Dimple Chunnibhai Kapadia




Born

8 June 1957 (age 63) (

1957-06-08

)


Relatives

Akshay Kumar (Son-in-law)


Spouse

Rajesh Khanna (m. 1973–2012)


Children

Twinkle Khanna, Rinke Khanna


Parents

Betty Kapadia, Chunnibhai Kapadia




Siblings

Simple Kapadia, Reem Kapadia, Munna Kapadia


Movies

Bobby, Janbaaz, Saagar, Ram Lakhan, Zakhmi Aurat


Similar People

Rajesh Khanna, Twinkle Khanna, Rinke Khanna, Rishi Kapoor, Simple Kapadia
Dimple Kapadia (born 8 June 1957) is an Indian film actress. She was launched by Raj Kapoor at age 16, playing the title role in his teen romance Bobby (1973). In that same year she married Indian actor Rajesh Khanna and retired from acting. Kapadia returned to the film industry in 1984, following her separation from Khanna. One of her films of that period was the drama Saagar (1985). Both Bobby and Saagar won her the Filmfare Award for Best Actress. She went on to establish herself as one of the leading actresses of Hindi cinema in the 1980s.
Contents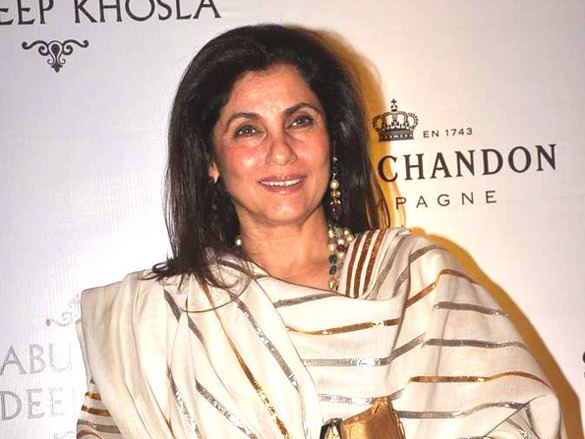 Initially recognized as a national sex symbol, Kapadia was keen to avoid being stereotyped and expand her range of acting roles. She subsequently took on more serious parts in a range of film genres, from mainstream to parallel cinema, and received acclaim for her performances in such films as Kaash (1987), Drishti (1990), Lekin... (1990), and Rudaali (1993), which earned her a National Film Award for Best Actress and a Filmfare Critics Award for Best Actress. She followed with supporting roles in Gardish (1993) and Krantiveer (1994), the latter of which garnered her a fourth Filmfare Award.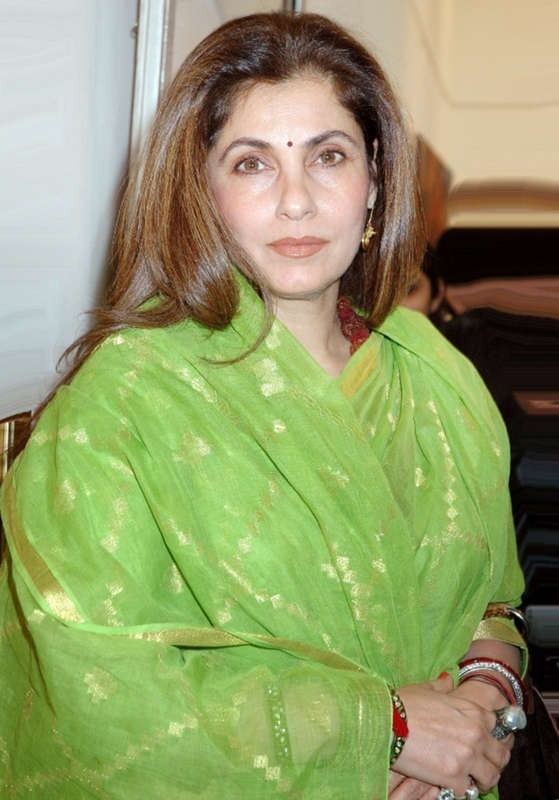 Kapadia continued working infrequently through the 1990s and the 2000s. She played a minor part in Dil Chahta Hai (2001) and was noted for her portrayal of the title role in the American production Leela (2002). Some of her later film credits include leading roles in Hum Kaun Hai? (2004), Pyaar Mein Twist (2005), Phir Kabhi (2008) and Tum Milo Toh Sahi (2010), and supporting roles in Being Cyrus (2005), Luck by Chance (2009), Dabangg (2010), Cocktail (2012) and Finding Fanny (2014). Kapadia is the mother of Twinkle Khanna and Rinke Khanna, both former actresses.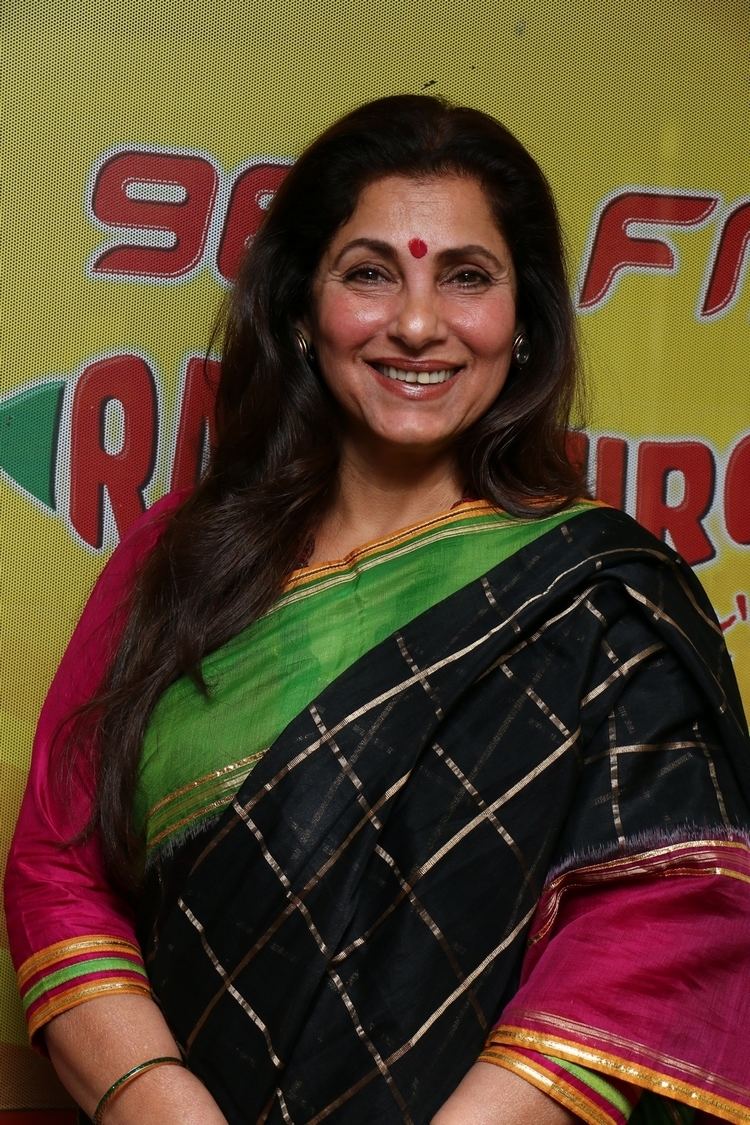 Dimple Kapadia: Biography | Life History | Unknown Facts | Rajesh Khanna | वनइंडिया हिंदी
Personal life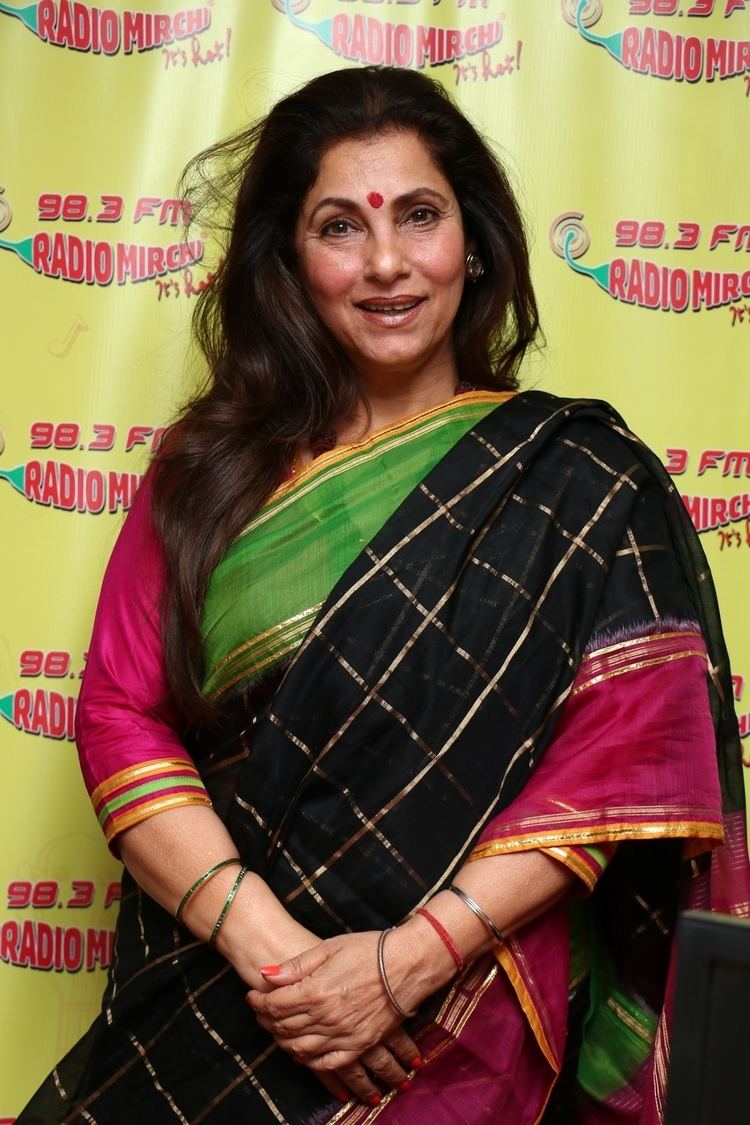 Kapadia is the eldest of the four children of Gujarati entrepreneur Chunnibhai Kapadia and Betty, her younger siblings being late actress Simple Kapadia, a sister named Reem and a brother, Munna. The family resided in Santacruz, Mumbai, and she studied at St. Joseph's Convent High School. Due to her father's wealth and business, she has described her upbringing as "different". She married actor Rajesh Khanna six months before the release of her first film, Bobby, in 1973. She then retired from acting for twelve years to raise her two daughters, Twinkle (b. 1974) and Rinke (b. 1977). Reportedly, it was Khanna who "put a ban on her acting career promptly after the marriage," though Kapadia has once noted that "career has always been secondary" to her.
Kapadia separated from Khanna in April 1982, leaving the house with her two daughters back to her parents. She returned to acting two years later. In a 1985 interview with India Today, she remarked, "The life and happiness in our house came to an end the day I and Rajesh got married," sharing her unhappy marital experience and calling their marriage "a farce". Asked in Filmfare whether she would want to marry again, Kapadia replied, "I'm very happy and content. Why do I need to get married again? Once was more than enough." In 2010, reporter Dinesh Raheja stated that "the bitterness between Rajesh and Dimple washed away", noting that they are seen together at parties and that Dimple campaigned for Khanna's election and also worked in his film Jai Shiv Shankar. In a later interview she reflected back positively on her marriage, referring to it as her "biggest high".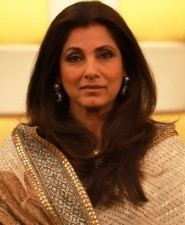 Her daughters also became actresses and retired after settling down. Her elder daughter, Twinkle Khanna, is married to actor Akshay Kumar.
Debut (1973)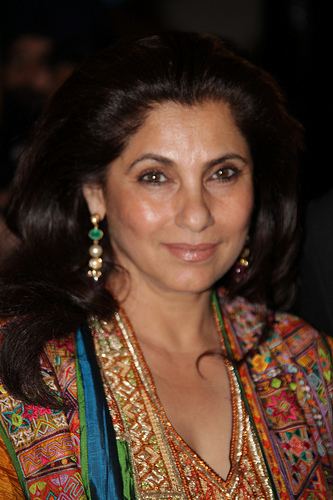 Kapadia once said she had always had aspirations to become an actress when she was a child, calling herself "film-crazy". She was introduced by Raj Kapoor in his 1973 teen romance Bobby. While the film was to be Kapoor's son Rishi Kapoor's first leading role, Kapadia was given the title role of Bobby Braganza, a middle-class Goan Christian girl. The story follows how Bobby falls in love with Raj (Rishi), the son of a wealthy businessman, and how the two face the disapproval of their parents. Bobby was a major mainstream and critical success, and Kapadia was lauded for her performance, which won her the Filmfare Award for Best Actress (tied with Jaya Bhaduri for Abhimaan). In later years Kapadia would credit Raj Kapoor for her development as an actress: "the sum total of me today as an actress, whatever I am, is Raj Kapoor." Several of her lines in the film became popular, particularly, "Mujhse dosti karoge?" ("Will you be my friend?"). In 2008, Rediff.com ranked her performance in the film as the fourth-best female debut of all-time in Hindi cinema: "An elfin little girl with big, lovely eyes, nobody quite portrayed innocence as memorably as Dimple in her first outing. She was candid, striking, and a true natural ... here was a girl who would redefine glamour and grace, and make it look very, very easy indeed." Following the success of the film, Kapadia's modern wardrobe and hairstyle in Bobby, consisting of "knotted polka-dotted blouse and earphone hairstyle", made her a youth fashion icon of the times in India. Consequently polka-dotted dresses were often referred to as 'Bobby Print'. Bhawana Somaaya of The Hindu credits Kapadia as starting film memorabilia merchandising in India. Mukesh Khosla of The Tribune reported that Bobby established her as a "cult figure" as she led the fashion trends. Kapadia had married actor Rajesh Khanna in March 1973 at the age of 16 and eight months later her debut film released. She left the film industry to raise her children.
Comeback and work in the 1980s
After Kapadia's separation from Khanna in 1982, she was keen on returning to acting, which she ultimately did in 1984. For the next decade, she would go on to become one of top five commercial actresses in Bollywood along with Sridevi, Madhuri Dixit, Meenakshi Sheshadri and Jaya Prada. Kapadia accredited the reason for her return was because of a personal need to prove to herself her own capabilities. The first film she worked on was Saagar, directed by Ramesh Sippy, after a mutual friend had notified Sippy about her willingness to return to acting. She first performed a Screen test, which according to her was very unsuccessful as she was extremely nervous and "literally shivering" while making it. To her surprise, Sippy ultimately signed her on to play the lead part opposite her Bobby co-star Rishi Kapoor. Scripted with her in mind, the film was intended to be her comeback vehicle, but its one-year delay meant that several of her proceeding projects would be released before, the first of which was Zakhmi Sher (1984). Saagar eventually premiered in August 1985 and was controversial for several scenes featuring Kapadia, including one scene in which she was seen topless for a split second. The film was a critical success and was eventually chosen as India's official entry to the Oscars that year. Kapadia's performance as Mona D'Silva, a young woman from Goa who is torn between her friend (Kamal Haasan) and the man she loves (Kapoor), won her a second Best Actress award at the Filmfare Awards. A review by Asiaweek labelled her "a delight". Rediff.com noted, "Dimple, caught between a friend and lover, performed solidly and memorably, grounding the two male leads and making the film work." A 1993 issue of India Today wrote, "Saagar was in many ways a paean to her incredible beauty. She looked ravishing: auburn hair, classical face, deep eyes, an aura of sensuality. It was clear she was back."
In 1984 she had a role opposite Sunny Deol in Manzil Manzil, a drama directed by Nasir Hussain. She later said making the film was "one big picnic", though she expressed her lack of comfort performing the "routine song-and-dance" nature of the part. Kapadia's first film of 1985 was Mukul Anand's Aitbaar, a Hitchcockian thriller for which she received positive reviews. Speaking of her performance, she said that during shooting she was "a bag of nerves", which eventually ended up working "to my advantage as it lent my performance the right shade of tautness, without my realising it." Among other films released that year, Kapadia was paired up with Sunny Deol in Arjun, an action film directed by Rahul Rawail and scripted by Javed Akhtar.
Feroz Khan's Janbaaz (1986) told the story of a man fighting the drug menace. The film became known for its steamy love scene involving Kapadia and male lead Anil Kapoor, in which the two also shared a full on kiss, something Hindi movie-goers were not accustomed to in those days. In that same year she acted opposite Saagar co-star Kamal Haasan in her first regional film, Vikram, a Tamil-language sci-fi feature. She played the minor part of Inimaasi, a young princess who falls for the title character, played by Haasan. At that time, she also worked in numerous Hindi films made by producers from the South, including Pataal Bhairavi, which she detested. She has confessed to accepting these roles for financial gain rather than artistic merit during this period, noting, "I shudder even now when I think of those films. As an artiste I got totally corrupted."
In 1987, Kapadia starred in Mahesh Bhatt's drama Kaash. Kapadia and Jackie Shroff starred as an estranged couple who, during a relentless legal battle over the custody of their only son, learn that the boy is suffering from leukaemia, which makes them reunite to spend together the last months of his life. Before shooting began, she called it "the most serious artistic challenge I have ever faced in my career." Bhatt said he decided to cast her in the role because he was aware of her own marital experience, and he noted that during the making of the film she "came closer and closer to the naked truth," so much that "after a certain point, mentally I couldn't differentiate between Dimple and Pooja. She became the character." Kapadia's performance as Pooja was highly praised by critics. In an article discussing her career's best roles, The Times of India wrote, "As ... [a] long-suffering wife who tries making a living for herself and her young son by working odd jobs, Dimple showed immense strength as a performer. This has to be one of her best and most unrecognised performances." Sukanya Verma from Rediff.com noted, "She rendered her Pooja with stoic determination and touching vulnerability making her character extremely believable and sympathetic at once."
In 1988, she played the main protagonist in Zakhmi Aurat, that of a female police officer who gets gang-raped and, after the judicial system fails to convict the criminals, abandons the legal course and joins forces with other rape victims to get revenge by castrating the rapists. The Times of India labelled the film a "B-grade movie", but further noted that "Dimple nonetheless did a very convincing job of portraying her anguish and bitterness at being denied justice." M.L. Dhawan from The Tribune, while documenting the famous Hindi films of 1988, praised Kapadia for "proving her mettle as an actress of intensity and passion." Subhash K. Jha, however, in an article discussing Indian actresses who have played policewomen, wrote that the film "turned into quite an embarrassment for its leading lady."
The three final years of the decade saw the release of several other films featuring Kapadia, but few did well. In 1987, she appeared in two action movies: Rajkumar Kohli's Insaniyat Ke Dushman and Mukul Anand's Insaaf, in which she played a dual role of a dancer and a physician. She worked with Kohli in two more movies in 1988, the horror film Bees Saal Baad and the action drama Saazish. In that same year Mahesh Bhatt cast her again in his action thriller Kabzaa, a critical failure. Ram Lakhan (1989), directed by Subhash Ghai, was a success with both critics and audiences, but Kapadia's role was considered small with one critic saying it did not do "justice to her talent" and another reporting that she "pales into insignificance in the film." Other films of this period include Babbar Subhash's Pyar Ke Naam Qurbaan, opposite Mithun Chakraborty, and J.P. Dutta's action picture Batwara, opposite Dharmendra and Vinod Khanna.
1990s
In the 1990s, Kapadia started venturing more into arthouse films, later citing an "inner yearning to exhibit my best potential." Those films include Drishti (1990), Lekin... (1990), Rudaali (1993) and Antareen (1995). Drishti, a marital drama directed by Govind Nihalani, starred Kapadia and Shekhar Kapur as a married urban couple from an intellectual milieu in Mumbai and followed their trials and tribulations, extramarital affairs, divorce, and ultimate reconciliation after years of separation. Kapadia's part was that of career-woman Sandhya, and for her portrayal she was named the Best Actress (Hindi) of the year by the Bengal Film Journalists' Association. The film was acknowledged as the Best Hindi Film of that year at the annual National Film Awards. Frontline suggested that Kapadia's performance in the film should have earned her the Best Actress award at the same function. In Gulzar's Lekin..., she played a restless sprite named Reva, a role she has often cited as a personal favourite and wished would have had more screen time in the film. Referring to it once as "the most fantastic" part of her career, she recalled the working relationship with Gulzar as "a wonderful experience". To make her character more truthful, Gulzar did not let Kapadia blink even once during filming, trying to capture an "endless, fixed gaze" which would give her "a feeling of being surreal." Lekin... was popular with critics and Kapadia's performance earned her a third Filmfare nomination.
In 1991, she appeared in Prahaar: The Final Attack, the first directorial venture of actor Nana Patekar, with whom she would collaborate in several other films. The film, co-starring Patekar and Madhuri Dixit, received a welcome reception from critics. Kapadia was noted for her "deglamourised role", but most of the praise went to the performance of Patekar himself. Kapadia starred alongside Amitabh Bachchan in Shashi Kapoor's fantasy Ajooba, an Indo-Russian co-production based on Arabian mythology and set in the Afghan kingdom of Baharistan. She played Rukhsana, a young woman who comes from India to rescue her father, court magician Ameer Baba, from prison. The critical response to Ajooba was mostly lukewarm. She played the protagonist in Haque (1991), a political drama directed by Harish Bhosle and scripted by Mahesh Bhatt. Her role was that of Varsha B. Singh, a pregnant Orthodox woman married to an influential politician. Ram Awatar Agnihotri said of her performance, "Dimple Khapadia, playing Varsha, very bravely, tries to make her role look convincing, and she succeeds to a great extent. It is a tribute to her as an actress".
1992 saw the release of Maarg, her third appearance under Mahesh Bhatt's direction. The film was delayed for several years. She played the role of a prostitute, working by choice. Bhatt called her performance "stunning" and reported that when shooting ended, she was "on the point of a breakdown" as she was "exhausted battling with the nitty-gritty of a whore's character". She next played Barkha, a single woman who abandons her premarital daughter upon birth, in Hema Malini's directorial debut Dil Aashna Hai. In Shashilal K. Nair's Angaar, a crime drama based on the life of an underworld don, she played Mili, a homeless orphan collected by an unemployed man, played by Jackie Shroff. Angaar received positive reviews from critics, as did Kapadia's performance, but it was financially unsuccessful, which Meena Iyer of The Times of India—who called it "one of the most engaging mafia films to have come out of Bollywood"—attributed to its dark proceedings.
In 1993, she won the National Film Award for Best Actress for her performance in Rudaali, a drama directed by Kalpana Lajmi. Kapadia played the central character of Shanichari, a lonely and hardened Assamese village woman who, throughout a lifetime of misfortune, has never cried and is now challenged with a new job as a professional mourner. The citation for the award described her performance as a "compelling interpretation of the tribulations of a lonely woman ravaged by a cruel society". Chandra Bhushan said of her character, "Shanichari is dry like a desert but even she has a flavour, affection and audacity and courage to reject the enticement of Zamindar (the landlord)." Aside from a third Filmfare nomination for Best Actress for the role, she won the Filmfare Critics Award for Best Actress, and was acknowledged with Best Actress honours at the Asia Pacific Film Festival and the Damascus International Film Festival. In 2010 Filmfare magazine included her work in the film in their list of "80 Iconic Performances". Another Filmfare nomination for Kapadia came that year for her supporting role as Shanti, a street prostitute, in the Priyadarshan-directed drama Gardish. An adaptation of the 1989 Malayalam film Kireedam, the film starred, among others, Jackie Shroff and Amrish Puri.
In 1994, Kapadia appeared in Mehul Kumar's Krantiveer, alongside Nana Patekar. She played journalist Meghna Dixit, a past rape victim who now tries to persuade an alcoholic and unemployed village man to be a champion of justice for those around him. Kapadia later called the film "out and out a Nana Patekar vessel," but asserted, "I had my share too," crediting the part with allowing her "the freedom to perform". The film became an economic success, emerging as India's third-highest grossing picture of the year. For her performance, Kapadia received her fourth Filmfare Award, this time in the Best Supporting Actress category. Mrinal Sen's 1995 Bengali drama Antareen was the first non-Hindi project Kapadia took part in since Vikram (1986). She played a woman caught in a loveless marriage. Insisting on playing her part spontaneously, Kapadia refused to enrol in a crash-course in Bengali as she wrongly felt that she would be able to speak it convincingly. Her voice was eventually dubbed by actor Anushua Chatterjee, something Kapadia was unhappy with.
Following Antareen, Kapadia, who was reportedly expected to work in more independent films, took a three-year hiatus from acting, later explaining that she was "emotionally exhausted". She returned to commercial cinema in 1996, but the few films she did until the end of the decade met with neither mainstream nor critical success. Her first release in 1997 was the action film Agnichakra, which went unnoticed. She played Amitabh Bachchan's wife in that same year's Mrityudaata, once again under Mehul Kumar's direction. The film was a critical and commercial failure, with India Today panning its "comic book-level storytelling". Trade journal Film Information wrote Kapadia had "no role worth her", and she herself shared similar sentiments.
She appeared in Laawaris (1999) because she liked the subject and considered her role "substantial", which Rediff.com, in turn, described as another preachy "woman of substance", while criticising the film for its lack of originality: "working a worked-to-death formula, [the film] falls flat on its face. This was followed by the final feature she appeared in during the decade, Hum Tum Pe Marte Hain, in which she played the part of Devyani, the strict mother of a wealthy family. Subhash K. Jha called the film an "embarrassment", critic Suparn Verma, in a scathing review, criticised Kapadia's performance, noting that she "wears a permanent scowl" throughout the film, and Bella Jaisinghani of The Indian Express, calling the film "inconsequential", concluded her review writing that she wonders "what made Dimple Kapadia do this to herself".
2000s
She co-starred in Farhan Akhtar's directorial debut Dil Chahta Hai (2001). Depicting the contemporary routine life of Indian affluent youth, it is set in modern-day urban Mumbai and focuses on a major period of transition in the lives of three young friends (Aamir Khan, Saif Ali Khan and Akshaye Khanna). Kapadia played the role of Tara Jaiswal, a middle-aged alcoholic woman, an interior designer by profession, and a divorcee who is not allowed to meet with her daughter. The film presents her story through the character of Siddharth (Khanna), a much younger man whom she befriends and who ultimately falls deeply in love with her. She said making the picture was an "enriching" experience and called her part "a role to die for". Critics lauded Dil Chahta Hai as a groundbreaking film for its realistic portrayal of Indian youth. The film performed well in the big cities but failed in the rural areas, which was attributed by critics to the urban-oriented lifestyle depicted in the movie. Saibal Chatterjee, in a review for Hindustan Times, noted, "Dimple Kapadia, in a brief, somewhat underdeveloped role, presents a poignant study of loneliness."
In 2002, Kapadia portrayed the title role of Leela in Leela, an American production directed by Somnath Sen and co-starring Deepti Naval, Vinod Khanna and Amol Mhatre. Kapadia's part—written specially for her—is that of a forty-year-old married woman and a Mumbai University professor, who, after the death of her mother, loses her sense of happiness and takes a job as a visiting professor of South Asian studies in California. The story follows Leela's acclimation to her new surroundings and particularly her relationship with one of her students there, Kris (Mhatre), a young Indian-American man. Kapadia noted about working in the film, "While in production, I'm all tensed up, and that is what makes me take my acting to the next level." Maitland McDonagh from TV Guide wrote, "Dimple Kapadia shines in this family melodrama ... [her] intelligent, nuanced performance is the film's highlight." Ziya Us Salam from The Hindu called her "a charmer all the way. Exhilarating is the air she breathes, bewitching is the glance she casts and enticingly vulnerable is her condition."
In 2004, she played the lead role of army wife Sandra Williams in Hum Kaun Hai?, a supernatural thriller. The film opened to a mixed critical reception, but Kapadia's performance received positive comments. Subhash K. Jha noted that she "carries the film beyond where it would have been otherwise"; Rama Sharma of The Tribune wrote of her performance, "Dimple lends all her charisma to help the script sail through dead ends. Whether she is scared or scolding children, she has a powerful presence." 2005 saw Kapadia and Rishi Kapoor reunite as a lead couple for the third time after Bobby (1973) and Saagar (1985) in Pyaar Mein Twist. They starred as two middle-aged single parents who fall in love and later have to deal with the reaction of their children. The film generated mostly negative reviews, with several critics concurring that the chemistry between the lead pair is what makes the film watchable. In a two-star review, Khalid Mohamed called Kapadia "a dream actress", but ultimately concluded, "See this twisteroo if you must, only for the undiminished Kapoor-Kapadia chemistry." Few people went to see the film; within two weeks it was declared a flop. In 2006, she co-starred with Saif Ali Khan and Naseeruddin Shah in the psychological drama Being Cyrus (2006), an English-language arthouse feature directed by Homi Adajania. Kapadia enacted the part of Katy, Shah's neurotic and unfaithful wife who runs an affair with Cyrus, a young man who enters their house as an assistant. Her work received varied comments. According to BBC's Poonam Joshi, "The descent into despair of Dimple Kapadia's Katy is enthralling." Derek Elley from Variety, however, panned her for "wildly overact[ing]", with similar sentiments being shared by several critics, including Shradha Sukumaran from Mid Day, who labelled her performance "over-the-top and jerky". In V. K. Prakash's Phir Kabhi Kapadia and Mithun Chakraborty played ageing people who meet at a school reunion and rekindle their high-school romance. At the request of her son-in-law Akshay Kumar, she voiced the character of Devi, the mother of the title character of an elephant (voiced by Kumar) in the animated movie Jumbo (2008).
Kapadia was cast in Zoya Akhtar's first directorial venture, Luck by Chance (2009), a satirical take on the Hindi film industry. She played the part of Neena Walia, an erstwhile superstar—referred to in the film as "a crocodile in a chiffon saree"—who struggles to launch her young daughter in the movie business. Luck By Chance opened to a warm critical response, though its financial income was modest. Critics were appreciative of Kapadia's performance, which earned her a Best Supporting Actress nomination at Filmfare. Deepa Karmalkar from Screen characterised her as "gloriously bitchy", while Sukanya Verma from Rediff hailed her as "stunning, striking, storming".
2010s
Kapadia played the small part of Salman Khan's asthmatic mother in Dabangg (2010). With revenues of ₹2.13 billion worldwide, the film was a huge commercial success, emerging as the popular film of the year in India as well as the second-highest grossing Hindi film of all-time up to that point. Reviews for Kapadia were mixed, with Shubhra Gupta writing that she is "laughably wrong". Tum Milo Toh Sahi, released the same year, was a mature love story, in which she starred as Delshad Nanji, a Parsi woman in charge of an Irani café, who falls in love with a man played by Nana Patekar. Kapadia employed a Parsi accent for the role and, while preparing for it, visited several Irani cafés in Mumbai to understand their cultural basics and get into the mood of the character. The film opened to average reviews, but her performance received generally positive feedback, with several critics noting her chemistry with Patekar. Anupama Chopra, in a negative review, criticised her character, claiming it "veers into caricature", but wrote of Kapadia that she "plays her with affection and energy and at least has some fun doing it."
Kapadia's only film of 2011 was Nikhil Advani's Patiala House, a sports film revolving around cricket in which she was cast as Rishi Kapoor's wife and her son in-law, Akshay Kumar's mother. The role was small, with Times of India's Nikhat Kazmi commenting that she "does end up a bit underutilised". As of December 2011, Kapadia is set to appear in her third non-Hindi and first Malayalam-language film, Bombay Mittayi, for which she started learning the language. She plays the wife of a celebrated Ghazal singer, played by Amar Singh, on whose behest she was offered the part. Her starring film What the Fish was released on 13 December 2013.
Image and artistry
When Kapadia made her comeback to movies, she faced constant comparison to her Bobby days. According to Jyotika Virdi, author of the book The Cinematic Imagination, Kapadia trajectory is "different from that of any female Hindi film star", and she "turned every disadvantage to her advantage." Virdi mentioned Kapadia's forthright manner as having a major contribution to her career: "Speaking candidly to the press, she and the reporters plotted her life's narrative from the innocent teenager snared into an impossible marriage to the emergence of a mature 'woman with experience.'" Virdi also noted Kapadia for "fighting her way to the top, preferring to perform roles she described as serious and exacting rather than flippant and unchallenging," calling her parts in Aitbaar (1985), Kaash (1987) and Drishti (1990) as roles "where she drew from the well of her own experience."
Kapadia is known for her assertive and moody nature; during the making of Janbaaz (1986), director Feroz Khan remarked, "No other girl has so much of pent-up aggression." Journalist Bhawana Somaaya, who conducted a series of interviews with her during the 1980s, stated, "She's a strange bundle of contradictions. Her moods change in a jiffy." According to some critics, this approach has sometimes been at the cost of professional opportunities as "her unpredictable nature and moods have distanced many well wishers". In reply to this, and the said, "I am moody by nature. But I have never consciously hurt anyone." According to Shobha Dé, Kapadia "hates being 'surveyed' and she finds herself in that unenviable situation all the time."
Mahesh Bhatt, with whom she first worked in Kaash (1987), remarked that Kapadia "has gone through so much in her life that she need not read up the text books of method acting to play a real woman." Speaking of her venture into art cinema years later, Bhatt commended her for not turning into "a victim of her own success" by refusing to become "a part of the money-making machine". Mrinal Sen, who directed her in Antareen (1994), compared her to Sophia Loren and described her face as "a landscape of desolation". According to Drishti (1990) director Govind Nihalani, Kapadia is "genuinely interested in doing serious work, something that challenges her talent." Following her success with Rudaali, a 1993 edition of Asiaweek reported that by this time Kapadia had long been "a critic's darling".
Dinesh Raheja from Rediff stated that Kapadia's involvement in art films happened at a time when she "exhausted her appetite for playing the pretty prop in hero-oriented films", arguing that they "honed Dimple's talent for lending fine striations to complex emotions." According to Raheja, Kapadia's casting in Dil Chahta Hai and Leela, in which she played "an older woman who is the object of a younger man's affection" served as "a kind of tribute to her eternal beauty." M.L. Dhawan from The Tribune commented, "All those who have been following Dimple Kapadia's career from Bobby, Lekin and Rudaali will assert that she is more talented than glamorous." Ranjan Das Gupta calls her "an instinctive actress, spontaneous and intelligent" but he notes that her beauty is "her asset as well as limitation". Kapadia describes herself as "a competent actress yet to deliver her best".
Awards
1993 – Best Actress, Rudaali
1973 – Best Actress, Bobby
1985 – Best Actress, Saagar
1993 – Critics Best Actress, Rudaali.
1994 – Best Supporting Actress, Krantiveer
1991 – Best Actress, Lekin...
1993 – Best Actress, Rudaali
1993 – Best Supporting Actress, Gardish
2009 – Best Supporting Actress, Luck by Chance
2014 – Best Supporting Actress, Finding Fanny
1991 – Best Actress (Hindi), Drishti
Other awards
1993 – 8th Damascus International Film Festival, Best Actress, Rudaali
1993 – 38th Asia Pacific Film Festival, Best Actress, Rudaali
References
Dimple Kapadia Wikipedia
(Text) CC BY-SA