Country

India




Language spoken

Marathi




State

Maharashtra




Mayor

Ashok Murtadak (MNS)




Population

1.077 million (2001)




Area

478 km2


District

Nashik








Points of interest

Pandavleni Caves, Muktidham, Sula Vineyards




Colleges and Universities

Maharashtra University of Health Sciences, Yashwantrao Chavan Maharashtra Open University, K K Wagh Institute of Engineering Education & Research, KTHM College, Sandip Foundation



Map of Nashik
Nashik (pron:ˈnʌʃɪk) ( pronunciation ) is an ancient city in the northwest region of Maharashtra at India.
Contents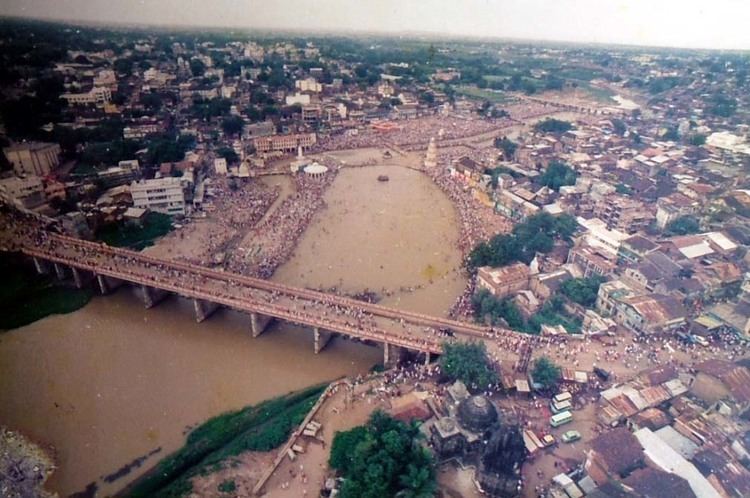 Geography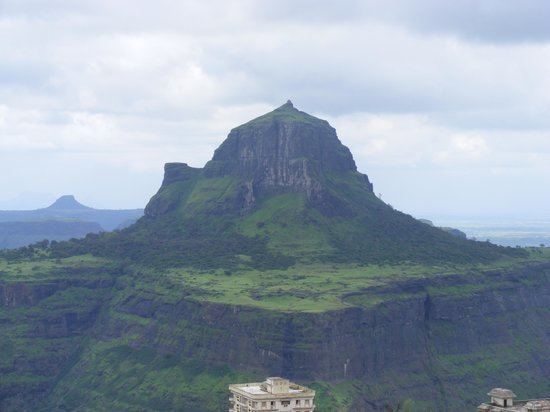 Nashik lies in the northern part of Maharashtra state at 700 m (2,300 ft) from the mean sea level. The river Godavari originates from the Brahmagiri Mountain, Trimbakeshwar about 24 km (15 mi) from Nashik and flows through the old residential settlement, now in the central part of the city. Due to high pollution created by factories in proximity of the city the river was dying at an alarming rate. It has since been successfully cleaned. Other than Godavari, important rivers like Vaitarana, Bhima, Girana, Kashyapi and Darana flow across Nashik.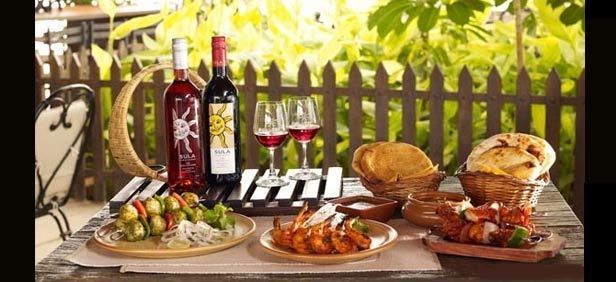 Nashik lies on the western edge of the Deccan Plateau which is a volcanic formation.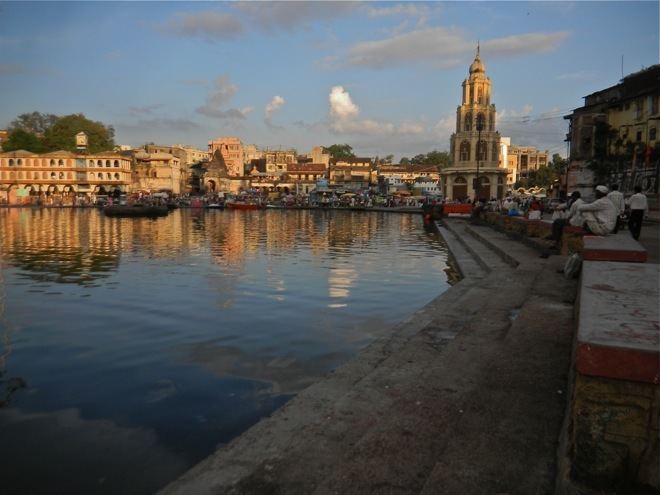 Trimbakeshwar is about 30 km (19 mi) from the city, it is where from river Godavari originates. The land area of the city is about 259.13 km2 (100.05 sq mi).
Climate
The city's tropical location and high altitude combine to give it a relatively mild version of a tropical wet and dry climate.Temperatures rise slightly in October, but this is followed by the cool season from November to February. The cool season sees warm temperatures of around 28 °C during the day, but cool nights, with lows averaging 10 °C, and extremely dry air.
Civic administration
Nashik city is governed by the Nashik Municipal Corporation.
Court
The Nashik Court Building is built in black stone in British Regime and the new building was inaugurated on 18 September 2005. There are 73 courts including taluka court.
Solid waste management
In the Nashik Municipal Corporation area about 225 MT of solid waste is generated per day. Unlike other Indian cities, this garbage is collected by vehicles titled 'Ghantagadi' (meaning the vehicle with a bell): a system which has resulted in a Smaller versions of the ghantagadi ply in the congested old city areas. A plant has been set by the Nashik Municipal Corporation near Pandav Leni (Pandavleni Caves) to process the garbage and convert into compost.
Demographics
Nashik is the fourth largest city in Maharashtra in terms of population. According to the Census of India, 2011, Nashik had a population of 1,486,053. Males constitute 782,517 of the population and females 703,536. Metropolitan Nashik population was 1,561,809 in which 821,921 were males and 739,888 were females. Nashik city had an average literacy rate of 89.85%: male literacy was 93.40%, and female literacy was 85.92%.
The sex ratio is 894 per 1000 males for Nashik city. Child sex ratio is 865 girls per 1000 boys. In Nashik, 11.42% of the population is under 6 years of age. In census year 2001 the Nashik Urban Agglomeration had a population of 11,52,326. Thus it was the fourth largest urban area of Maharashtra State after Mumbai, Pune and Nagpur. The projected population of Nashik urban agglomeration (which includes abutting urban areas like Deolali) as on 11 November 2012 is 15,62,769.
Places to Visit
Panchavati
Panchavati has significant religious attributes for Hindus with a temple complex on the banks of the Godavari river, which includes Kalaram Temple. It is a pilgrimage site, with the Kumbh Mela, the largest peaceful gathering in the world – involving over 10 crore people in 2013, taking place here once every 12 years in rotation with Haridwar, Allahabad, and Ujjain.
Panchavati was the name of a section in the huge forest of Dandakaranya, where Rama with the help of his brother Lakshmana built a nice hut they could call a home in what would eventually become the crucial part of their exile in the wilderness. Panchavati literally means "a garden of five banyan trees". These trees are said to have been there during the exile of Lord Rama. There is a place called Tapovan where Lakshmana, the brother of Rama, cut off the nose of Surpanakha, the sister of Ravana, when she attempted to kill Sita. The entire Aranya Kanda (book of the forest) of Ramayana is set in Panchavati.
Ramkund
Ramkund is a holy place for Hindus. Devotees believe that a dip in this tank will fulfil their wishes. According to the epic Ramayana, Lord Rama used to bathe in this tank during his stay in Nashik.
Muktidham Temple
Muktidham is on Nashik road. This temple with intricate architecture was constructed out of white marble. It has carvings of 18 chapters from the Bhagawad Gita, believed to be the great Indian religious text, 12 Jyotirlinga and idols of Hindu deities.
Kalaram temple
Kalaram Temple is dedicated to Lord Rama. The meaning of 'kalaram' is black Rama.
Sundarnarayan temple
Sundarnarayan Temple is on the corner of Ahillyabai Holkar bridge. This temple was built in 1756 by Chandrachud. The sanctum sanctorum houses the idol of Lord Vishnu. It is built in so that the very first rays of the sun falls on the deity of Lord Vishnu.
Trimbakeshwar
The holy bath tank known as Kushavarta is 5 minutes from the main temple. This Kushvarta holds greater importance during the Kumbhmela shahi snan. At Kushavarta river Ganga takes route to the rest of the India. The origin of the Godavari River is at top of Bramhagiri Hill. This holy pond is always full. Nobody knows how the water comes into the pond and forms the river.
Someshwar temple
This is one of the oldest temples dedicated to Lord Shiva and Lord Hanuman. This place is 6 km from Nashik on the road to Gangapur. The temple is on the banks of the Godavari river.
Kapaleshwar temple
It is one of the oldest temples in Nashik. There is no icon of Nandi (bull) in this temple which is an uncommon for the temples of Lord Shiva.
Deolali
Deolali cantonment falls under Nashik district. It was established in 1869. Army Staff College, now the Defence Services Staff College of India, and the Command Staff College of Pakistan were originally located in Deolali.
Ramsej Fort
Ramshej Fort is 10 km from Nashik near Ashewadi village.The literal translation of Ramshej is 'Ram's bedstead'. According to Indian mythology Lord Rama used to rest on this fort. The fort is flat and on open ground. Trees around the fort are also mild. The fort also has historical significance.
Tringalwadi Fort
Trigalwadi fort is 3000 ft above sea level. There is temple of Lord Hanuman nearly to it. There is also a Trigalwadi Lake. It takes almost 1 hour to see spots on the fort.
Harihar Fort
Harihar Fort is derived by the name Harshgad. Its highest point is 1,120 metres above sea level. It is famous for its cliff for chimney-style climbing and its named as Scottish Fall.
Dams
Gangapur Dam is on the river Godavari near Gangawadi village and is Asia's largest earthen dam, Nashik.
Chankapur dam which is on the Girna river is one of the big dams built by the British in the 19th century. It is 3 km from the village Abhona in Kalwan tehsil and 60 km from Nashik.
Kashypi Dam is on the Kashypi river near Rajapur, Nashik.
Girna Dam is an earthfill type of dam on river Girna near Nandgaon, Nashik District.
Darna Dam is a gravity dam on Darna river near Igatpuri, Nashik district.
Kumbh Mela
Nashik hosts one of the largest religious gatherings in the world known as Maha Kumbh. The Ardh (half) Kumbh Mela is celebrated every six years at Haridwar and Allahabad and the Purna (complete) Kumbh takes place every twelve years at four places in Allahabad, Haridwar, Ujjain, and Nashik. According to the Puranas, it is believed that Kumbh derives its name from an immortal pot of nectar, which the devtas (Gods) and demons fought over. The four places where the nectar fell are at the banks of river Godavari in Nashik, river Kshipra in Ujjain, river Ganges in Haridwar and at the sangam of Ganges, Yamuna and Sarswati in Allahabad.
Agriculture
In early 1925, the table grape revolution was started in Ojhar, a small town near Nashik, by Raosaheb Jairam Krishna Gaikwad. Today, table grapes are exported to Europe, the Middle East, and Asia.
The average Kharip crop area is 663,200 hectares while the average Rabbi crop area is 136500 hectares. The sown area is 658,763 hectares (99%) and the forest land is 340,000 hectares (21.75%). The uncultivable area is 23,000 hectares (1.48%).
Rainwater harvesting
The Nashik Municipal Corporation has made it mandatory for new constructions in the city to install a rainwater harvesting system without which a completion certificate is not granted. This measure is expected to help recharge the aquifers and augment the groundwater level.
Industry
The Igatpuri-Nashik-Sinnar investment region is an important node in the US$ 90 billion Delhi Mumbai Industrial Corridor Project.
There is a Hindustan Aeronautics Limited aircraft manufacturing plant 10 mi (16 km) from Nashik. The Currency Note Press and India Security Press are on Nashik Road, where Indian currency and government stamp papers are printed respectively.
Existing industrial areas in Nashik district are Satpur, Ambad, Sinnar, Igatpuri, Dindori and Vinchur. The proposed areas are Additional Sinner and Malegaon MIDC.
Apart from manufacturing, Nashik is an emerging investment destination for Information Technology companies. Tata Consultancy Services has invested in Nashik under the Government of India BPO promotion scheme (IBPS). After Pune, Nashik is emerging as a promising hub for tech startups and innovation in India. The successful startups include ESDS Software Solutions, Winjit Technologies and Zabuza Labs. TCS has also set up Digital Impact Square, or DISQ, which is a social innovation center.
Nashik has a textile industry. National Bank for Agriculture and Rural Development has selected Yeola Block for development of Paithani Cluster. To facilitate exports, a container freight station was started at MIDC Ambad by the Central Government.
Wine industry
Nashik has been described as "The Wine Capital of India" by Alok Chandra of Business Standard due to the numerous wineries in the district. As of 2013, the Nashik region reportedly produced 10,000 tonnes of grapes per year.
There are 22 wineries in Nashik, out of 46 wineries throughout India total.
Nashik is home to several wine festivals, such as SulaFest in the harvest season.
Education
The city has two state-run universities, the Yashwantrao Chavan Maharashtra Open University and the Maharashtra University of Health Sciences.
People from Nashik
Abhishek Raut, cricketer
Anant Laxman Kanhere, Indian independence fighter
Anjana Thamke, athlete
Dadasaheb Phalke, father of Indian cinema
Pandit Dattatreya Vishnu Paluskar, Hindustani classical vocalist
Vinayak Damodar Savarkar (Indian pro-independence activism, politician, poet, writer and playwright)
Kusumagraj (Vishnu Vāman Shirwādkar), Marathi poet, playwright, and novelist
Shivaji Tupe, Painter
Krishnaji Gopal Karve, Indian freedom fighter, revolutionary
Tatya Tope, leader in the Indian Rebellion of 1857
Dhairya Dand, Inventor, Artist, Designer
Kavita Raut, long-distance runner
Sunil Khandbahale, Innovator, Entrepreneur, Language Enthusiast
Dattaraya Ramchandra Kaprekar, recreational mathematician)
Sayali Bhagat (Model/Actress)
Mahadev Govind Ranade, (18 January 1842 – 16 January 1901) a distinguished Indian scholar, social reformer and author
Dattu Baban Bhokanal, Rower
Chinmay Udgirkar, Actor
Vidit Santosh Gujrathi, Indian chess player
Dadasaheb Gaikwad (Bhaurao Krishnaji Gaikwad), a politician, social worker
References
Nashik Wikipedia
(Text) CC BY-SA