Country (sports)

Switzerland


Name

Roger Federer$


Height

1.85 m (6 ft 1 in)




Role

tennis player



Turned pro

1998




Spouse

Mirka Federer (m. 2009)




Prize money

US$ 97,303,556




Siblings

Diana Federer







Residence

Bottmingen, Switzerland


Born

8 August 1981 (age 41) Basel, Switzerland (

1981-08-08

)


Plays

Right-handed (one-handed backhand)




Children

Leo Federer, Myla Rose Federer, Charlene Riva Federer, Lenny Federer




Parents

Lynette Federer, Robert Federer




Grandparents

Benedikt Anton Federer, Maria Katharina Federer




Similar People

Novak Djokovic, Rafael Nadal, Andy Murray, Stan Wawrinka, Mirka Federer
Roger Federer wins Wimbledon 2017
Roger Federer ( [ˈrɔdʒər ˈfeːdərər]; born 8 August 1981) is a Swiss professional tennis player who is currently ranked world No. 2 in men's singles tennis by the Association of Tennis Professionals (ATP). Federer has won 20 Grand Slam singles titles, the most in history for a male tennis player and has held the world No. 1 spot in the ATP rankings for a record total of 302 weeks, including a record 237 consecutive weeks. After turning professional in 1998, he was continuously ranked in the top ten from October 2002 to November 2016.
Contents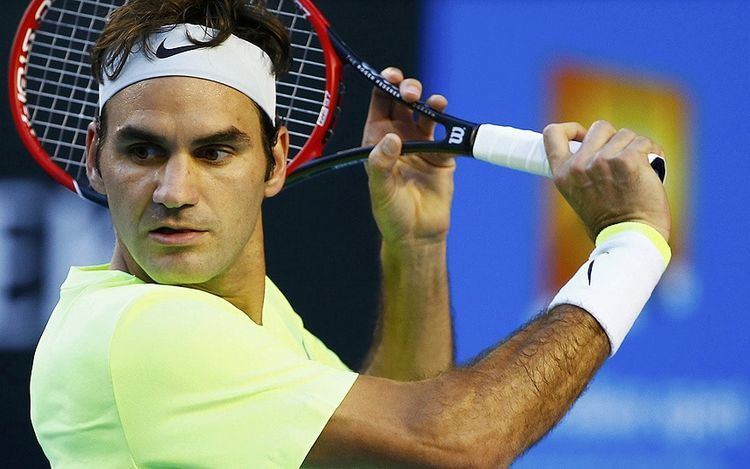 In majors, he has won a record eight Wimbledon titles, five Australian Open titles, a record five consecutive US Open titles and one French Open title. He is among eight men to have captured a career Grand Slam and has reached a record 29 men's singles Grand Slam finals, including ten in a row from the 2005 Wimbledon Championships to the 2007 US Open. Given these achievements, many players and analysts consider Federer the greatest tennis player of all time.
Facts
He became pro in 1998, but he had already won
Wimbledon
and the Orange Bowl as a Junior before even being considered a professional tennis player.
His favorite band is AC/DC.
Roger Federer is a good friend of the professional
golf
player
Tiger Woods
.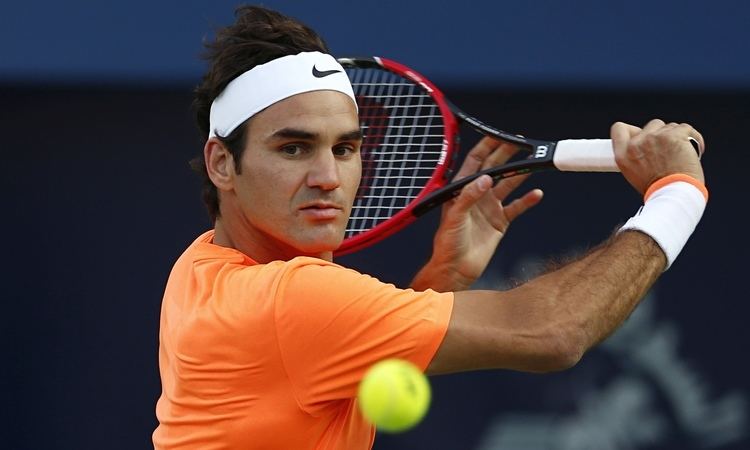 Among Federer's other ATP tournament records include winning six ATP World Tour Finals and playing in the finals at all nine ATP Masters 1000 tournaments. He has also won an Olympic gold medal in doubles with his compatriot Stan Wawrinka at the 2008 Summer Olympic Games and an Olympic silver medal in singles at the 2012 Summer Olympic Games. Representing Switzerland, Federer was a part of the 2001 winning Hopman Cup team and the 2014 winning Davis Cup team.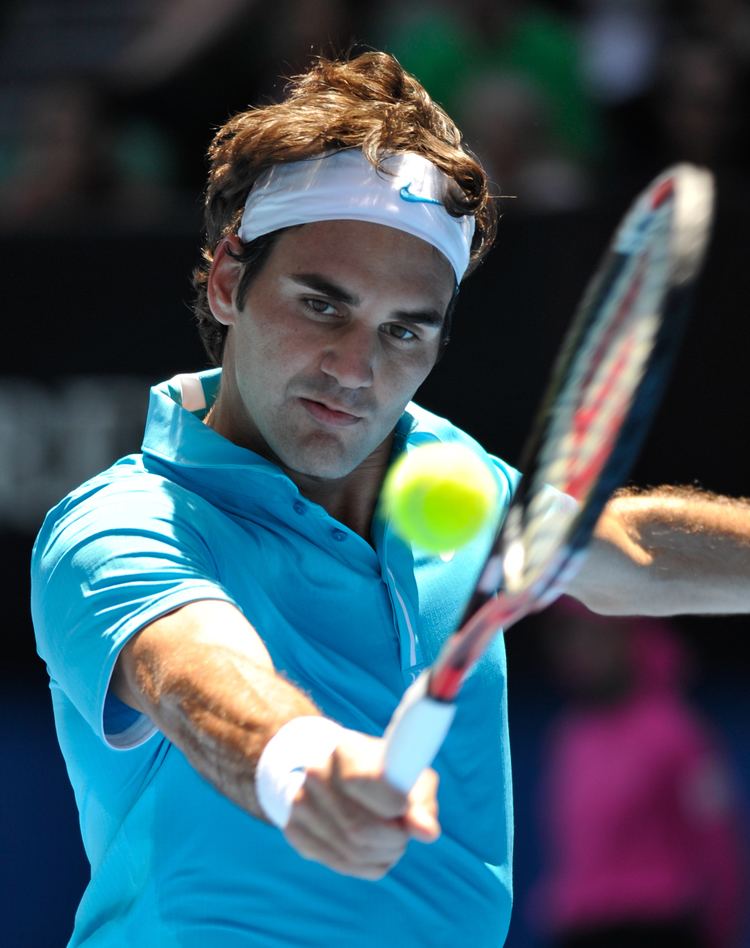 Federer has been named Swiss Sports Personality of the Year a record six times. In 2007, he won the ESPY Award for Best International Athlete and he has won the Best Male Tennis Player award a record seven times. He was named ATP Player of the Year five times , was named ITF World Champion five time, and won the Laureus World Sportsman of the Year for a record four consecutive years. In 2010, MARCA has elected Federer the Sportsman of the Decade. He was named three times the BBC Overseas Sports Personality of the Year. In 2017, ESPN ranked him fourth in it's most famous athletes list.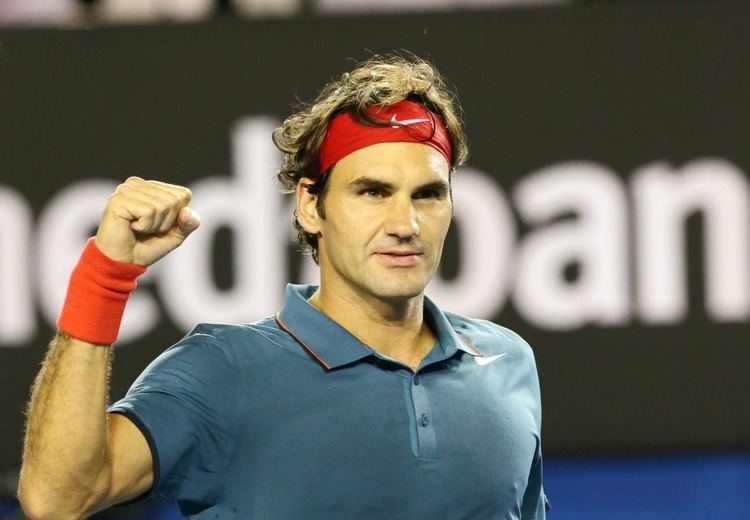 Roger federer greatest tennis player of all time
Childhood and early life
Federer was born in Basel, Switzerland. His father, Robert Federer, is Swiss, from Berneck, in the Canton of St. Gallen ; and his mother, Lynette Federer (née Durand), from Kempton Park, Gauteng. Federer's mother is descended from Dutch and French Huguenots. Federer has one sibling, his older sister Diana, who is the mother of a set of twins. He holds both Swiss and South African citizenship. He grew up in nearby Birsfelden, Riehen, and then Münchenstein, close to the French and German borders and speaks Swiss German, Standard German, English and French fluently, Swiss German being his native language.
Like all male Swiss citizens, Federer was subject to compulsory military service in the Swiss Armed Forces. However, in 2003 he was ruled "unsuitable" and was subsequently not required to fulfill his military obligation. Instead, he served in the civil protection force and was required to pay 3% of his taxable income as an alternative. He grew up supporting F.C. Basel and the Swiss national football team. Federer also credits his hand-eye coordination to the wide range of sports he played as a child, including badminton and basketball.
Family
Federer is married to former Women's Tennis Association player Mirka Federer. He met her while both were competing for Switzerland in the 2000 Sydney Olympics. Miroslava Vavrinec retired from the tour in 2002 because of a foot injury 7 years before she married Federer. They were married at Wenkenhof Villa in Riehen near Basel on 11 April 2009, surrounded by a small group of close friends and family. In July 2009, Mirka gave birth to identical twin girls, Myla Rose and Charlene Riva. The Federers had another pair of identical twins in 2014, this time boys whom they named Leo and Lennart (known as Lenny).
Philanthropy and outreach
In 2003, he established the Roger Federer Foundation to help disadvantaged children and to promote their access to education and sports. Since May 2004, citing his close ties with South Africa, including that being where his mother was raised, he began supporting the South Africa-Swiss charity IMBEWU which helps children better connect to sports and social and health awareness. Later, In 2005, Federer visited South Africa to meet the children that had benefited from his support. In 2005, he auctioned his racquet from his US Open championship to aid victims of Hurricane Katrina. At the 2005 Pacific Life Open in Indian Wells, Federer arranged an exhibition involving several top players from the ATP and WTA tour called Rally for Relief. The proceeds went to the victims of the tsunami caused by the 2004 Indian Ocean earthquake. In December 2006 he visited Tamil Nadu, one of the areas in India most affected by the tsunami. He was appointed a Goodwill Ambassador by UNICEF in April 2006 and has appeared in UNICEF public messages to raise public awareness of AIDS.
In response to the 2010 Haiti earthquake, Federer arranged a collaboration with fellow top tennis players for a special charity event during the 2010 Australian Open called 'Hit for Haiti', in which proceeds went to Haiti earthquake victims. He participated in a follow-up charity exhibition during the 2010 Indian Wells Masters which raised $1 million. The Nadal vs Federer "Match for Africa" in 2010 in Zurich and Madrid raised more than $4 million for the Roger Federer Foundation and Fundación Rafa Nadal. In January 2011, Federer took part in an exhibition, Rally for Relief, to raise money for the victims of the Queensland floods. In 2014, the "Match for Africa 2" between Federer and Stan Wawrinka, again in Zurich, raised £850,000 for education projects in southern Africa.
Pre–1998: Junior years
Federer's main accomplishments as a junior player came at Wimbledon in 1998, where he won both the boys' singles final over Irakli Labadze, and in doubles teamed with Olivier Rochus, defeating the team of Michaël Llodra and Andy Ram. In addition, Federer lost the US Open Junior final in 1998 to David Nalbandian. He won four ITF junior singles tournaments in his career, including the prestigious Orange Bowl, where he defeated Guillermo Coria in the final. He ended 1998 with the #1 junior world ranking, is awarded ITF junior World Champion, and he entered his first tournament as a professional during 1998 in Gstaad, where he lost to Lucas Arnold Ker in the first round.
1998–2002: Early career and breakthrough in the ATP
Federer entered the top 100 ranking for the first time on 20 September 1999 and started at the 1999 Marseille Open defeating the reigning champion of the 1998 French Open, Spaniard Carlos Moya. His first final came at the Marseille Open in 2000, where he lost to fellow Swiss Marc Rosset. Federer won the 2001 Hopman Cup representing Switzerland, along with Martina Hingis. The duo defeated the American pair of Monica Seles and Jan-Michael Gambill in the finals. Federer's first singles win was at the 2001 Milan Indoor tournament, where he defeated Julien Boutter in the final. Although he won his first title already in 1999 on the Challenger tour, winning the doubles event in Segovia, Spain with Dutchman Sander Groen, the final was played on Federer's 18th birthday. In 2001, Federer made his first Grand Slam quarterfinal at the French Open, and at Wimbledon that same year defeated four-time defending champion Pete Sampras to reach the quarterfinals. The most prestigious event final he reached during this period was the 2002 Miami Masters event, where he lost to Andre Agassi on hard court.
Federer won his first Master Series event at the 2002 Hamburg Masters on clay, over Marat Safin; the victory put him in top 10 for the first time. Federer made 10 singles finals between 1998 and 2002, of which he won four and lost six. He also made six finals in doubles. Of note are Federer and partner Max Mirnyi's defeat in the final of the Indian Wells Masters in 2002, and their victory in the same year in the final of the Rotterdam 500 series event. Federer had won the latter a year earlier with partner Jonas Björkman. He finished 2001 with an ATP ranking of #13, and 2002 was the first year he was ranked within the top 10, finishing at #6.
2003: Wimbledon victory
In 2003, Federer won his first Grand Slam singles title at Wimbledon, beating Mark Philippoussis in the final. Federer won his first and only doubles Masters Series 1000 event in Miami with Max Mirnyi and made it to one singles Masters Series 1000 event in Rome on clay, which he lost. Federer made it to nine finals on the ATP Tour and won seven of them, including the 500 series events at Dubai and Vienna. Lastly, Federer won the year-end championships over Andre Agassi, finishing the year as world #2, narrowly behind Andy Roddick by only 160 points.
2004: Imposing dominance
During 2004, Federer won three Grand Slam singles titles for the first time in his career and became the first person to do so since Mats Wilander in 1988. His first major hard-court title came at the Australian Open over Marat Safin, thereby becoming the world #1 for the first time. He then won his second Wimbledon crown over Andy Roddick. Federer defeated the 2001 US Open champion, Lleyton Hewitt, at the US Open for his first title there.
Federer won three ATP Masters Series 1000 events, one was on clay in Hamburg, and the other two were on hard surfaces at Indian Wells and in Canada. Federer took the ATP 500 series event at Dubai and wrapped up the year by winning the year-end championships for the second time. He also won his first tournament on home soil by capturing the Swiss Open in Gstaad. His 11 singles titles were the most of any player in two decades, and his record of 74–6 was the best since Ivan Lendl in 1986. He improved his year-end ranking to world #1 for the first time.
2005: Consolidating dominance
In 2005, Federer failed to reach the finals of the first two Grand Slam tournaments, losing the Australian Open semifinal to eventual champion Safin after holding match points, and the French Open semifinal to eventual champion Rafael Nadal. However, Federer quickly reestablished his dominance on grass, winning the Wimbledon Championships over Andy Roddick. At the US Open, Federer defeated Andre Agassi in the latter's last major final.
Federer also took four ATP Masters Series 1000 wins: Indian Wells, Miami, and Cincinnati on hard court, and Hamburg on clay. The win in Miami was particularly noteworthy as it was the first final contested between Federer and Rafael Nadal in what would become one of the greatest rivalries in tennis history. Federer recovered from down two sets and a break to take the final in five sets. Furthermore, Federer won two ATP 500 series events at Rotterdam and Dubai. Federer lost the year-end championships to David Nalbandian in five sets while playing through a foot injury that sidelined him for almost the entire season after September. He maintained his position as world #1 for the entirety of the season.
The season was statistically one of the most dominant in the Open Era. He won 11 singles titles, which tied his 2004 season as the most in over two decades, his 81 match victories were the most since Pete Sampras in 1993, and his record of 81–4 (95.2%) remains the second-best winning percentage in the Open Era behind only John McEnroe in 1984.
2006: Career best season
The 2006 season was statistically the best season of Federer's career, as well as one of the greatest seasons of any player in tennis history. In November 2011, Stephen Tignor, chief editorial writer for Tennis.com, ranked Federer's 2006 season as the second-greatest season of all time during the Open Era, behind only Rod Laver's Grand Slam year of 1969.
Federer won 12 singles titles (the most of any player since John McEnroe in 1984) and had a match record of 92–5 (the most wins since Ivan Lendl in 1982). Federer reached the finals in an astounding 16 of the 17 tournaments he entered during the season.
In 2006, Federer won three Grand Slam singles titles and reached the final of the other, with the only loss coming against Nadal in the French Open. This was Federer and Nadal's first meeting in a Grand Slam final. He was the first man to reach all four finals in a calendar year since Rod Laver in 1969. Federer defeated Nadal in the Wimbledon Championships final. In the Australian Open, Federer defeated Marcos Baghdatis, and at the US Open, Federer defeated Roddick (2003 champion). In addition, Federer made it to six ATP Masters Series 1000 finals, winning four on hard surfaces and losing two on clay to Nadal. Federer, however, consistently pushed Nadal to the limit on clay throughout the season taking him to fourth-set tiebreakers in Monte-Carlo and Paris, and a thrilling match in Rome that went to a deciding fifth-set tiebreaker.
Federer won one ATP 500 series event in Tokyo and captured the year-end championships for the third time in his career, again finishing the year as world #1. Federer only lost to two players during 2006, to Nadal four times in finals, and to 19-year-old Andy Murray in the second round of the 2006 Cincinnati Masters, in what would be Federer's only defeat before reaching the final of a tournament that year. Federer finished the season on a 29-match winning streak, as well as winning 48 of his last 49 matches after the French Open.
A personal highlight for Federer came near the end of the season when he finally won his hometown tournament the Swiss Indoors in Basel, Switzerland.
2007: Holding off young rivals
In 2007, Federer reached all four Grand Slam singles finals, winning three of them again. He won the Australian Open without dropping a set, beating Fernando González in the final. This made him the first man in the 21st century to accomplish the feat, as Björn Borg at the 1980 French Open was the last to win a Grand Slam tournament without the loss of a set. Federer had entered the year on a huge winning streak and after capturing his fourth Dubai crown Federer's winning streak stood at 41 matches, the longest of his career and only five shy of the record. Federer entered Indian Wells as the three-time defending champion, but his streak would end in controversy. He was defeated by an Argentine, Guillermo Cañas, who had failed a drug test for illegal doping.
This surprising first-round defeat marked the first time since August 2006 he suffered defeat, a period spanning over seven months.
During the clay season, Federer's victory in the Hamburg Masters final was particularly impressive, as it snapped Rafael Nadal's 81-match winning streak on clay, an Open-Era record. Federer turned the match around from a set down to sweep 12 of the final 14 games, including a final set bagel. At the French Open, some anticipated that Federer could become the first man in almost 40 years to hold all four majors simultaneously, having just resoundingly defeated young rival Nadal on clay entering the tournament. However, in a repeat of the previous year Federer played a tough four-set final against Nadal, but was undone by going 1/18 on break-point chances.
At Wimbledon, Federer entered the tournament not only as the four-time defending champion, but also riding a 48-match winning streak on grass. Once again, he defeated Rafael Nadal for a second consecutive year in the final, this time in a thrilling five-set encounter that many analysts hailed as the greatest Wimbledon final since 1980. Victory at Wimbledon equaled him with Björn Borg for the record of five consecutive championships at the All England Club.
Federer reached the final in Montreal before playing a young and relatively unknown Serbian named Novak Djokovic. Djokovic proved his potential by stunning the world #1 in a final-set tiebreaker upset. Federer rebounded in Cincinnati to capture his fifth title of the year. Federer entered the US Open as the three-time defending champion and faced Djokovic in the final. This time, Federer prevailed in a close straight-set match. Victory in New York moved him ahead of Laver and Borg for third on the all-time list of major championship victories. Throughout the tournament, the American press labelled him Darth Federer for his all-black attire (which included tuxedo-striped shorts) and the tournament played The Imperial March from Star Wars when he was announced onto the court for each of his matches. He would close out the year with victories in Basel and the Year End Championships in Shanghai.
He finished the season as the year-end world #1 for the fourth year in a row, demonstrating his dominance, and during these four years he won 11 Grand Slam singles titles. After his phenomenal triple Grand Slam season yet again, Federer became the only player in history to win three Majors in a year for three years (2004, 2006, 2007). It was the third consecutive season that Federer would hold the world #1 ranking for all 52 weeks of the year.
2008: Fifth US Open title and Olympic Gold
Federer's success in 2008 was severely hampered by a lingering bout of mononucleosis, which he suffered from during the first half of the year. At the end of the year, he would suffer a back injury that would prove to be recurring throughout his career.
In 2008, Federer captured one Grand Slam, a singles title at the US Open over Briton Andy Murray. Federer was defeated by Nadal in two Grand Slam finals, at the French Open, and at Wimbledon, when he was going for six straight wins to break Björn Borg's record. At the Australian Open, Federer lost in the semifinals to eventual winner Djokovic, which ended his record of 10 consecutive finals. Later in the year, it was found Federer had been suffering from mononucleosis at the start of the year, particularly during the Australian Open. He lost twice in Masters Series 1000 finals on clay to Nadal, at Monte Carlo and Hamburg. However, Federer captured three titles in 250-level events at Estoril, Halle, and Basel.
At the Olympic Games, Federer and Stan Wawrinka won the gold medal in doubles, after beating the Bryan brothers American team in the semifinals and the Swedish duo of Simon Aspelin and Thomas Johansson in the final However, Federer could only reach the quarterfinals in the singles draw, knocked out by then world #8 James Blake. He ended the year as world #2.
2009: Career Grand Slam, and Major title record
Federer entered the 2009 season with 13 Grand Slams, only one behind Pete Sampras' all-time record. The season began with a loss to Nadal in the finals of the Australian Open in a hotly contested five-set match. Federer struggled following the defeat in Melbourne and entered the clay season without a title.
Federer's season turned around in the final masters event of the clay season, when he defeated Nadal on clay for only the second time to capture the Madrid Masters. Federer entered the French Open with few predicting him to win the elusive Parisian title, having lost to Nadal in the final weekend for the past four seasons. After Nadal's unexpected defeat to Robin Söderling Federer suddenly became the overwhelming favorite. It would not be easy as in his next match he was forced to come from two sets and break point down in the third set to defeat Tommy Haas in five sets. He was also forced to fight back from a two sets to one deficit against a young Juan Martín del Potro to win a five setter in the semifinals. In the final he faced Söderling, and with a straight sets victory finally captured the Coupe des Mousquetaires and the career Grand Slam. This victory tied him with Pete Sampras for the most Grand Slam men's singles titles.
Federer immediately turned his sights to the grass courts of Wimbledon, where he breezed his way to the final. In the championship match he faced long-time rival Andy Roddick in what would be their eighth and eventually final meeting at a Grand Slam. Roddick pushed Federer into a record-setting fifth set, which the Swiss claimed 16–14 to win his 15th men's singles Grand Slam singles title, breaking the all-time record of Pete Sampras.
Federer continued his summer run by winning his third title on the lightning-fast courts of the Cincinnati Masters, defeating Novak Djokovic in the final. At the US Open he defeated Söderling in the quarters and Djokovic, for the third consecutive year, in the semifinals. On the penultimate point of the Djokovic match he hit what many consider to be the greatest shot of his career, a tweener winner, to setup match points. Federer played del Potro in the final and led two sets to one before ultimately losing a fourth set tiebreaker and subsequently the match.
The 2009 season was perhaps the most historically relevant of Federer's career as he completed a career Grand Slam by winning his first French Open title and won a men's record fifteenth Grand Slam singles title at Wimbledon, surpassing Pete Sampras's mark of fourteen. The 2009 Wimbledon final was also historic for being the longest Grand Slam final in terms of games played with Federer prevailing 16–14 in the fifth set. Upon breaking the Grand Slam tournament record, Federer was hailed by some analysts and many tennis greats as the greatest player in tennis history. Federer finished the season as the year end World No.1 for the fifth time in career.
2010: Fourth Australian Open
The year started with a win at the Australian Open, where he defeated Andy Murray in the final and extended the Grand Slam singles record to sixteen titles, matching Andre Agassi's record of four Australian Open titles. Since Wimbledon 2005 Federer had made the finals of 18 out of 19 Grand Slam tournaments, an extraordinary period of sustained excellence unparalleled in the Open Era. This tournament, however, would mark the end of his utter dominance at the majors.
At the French Open, Federer won his 700th tour match and 150th tour match on clay. However, he failed to reach a Grand Slam semifinal for the first time since the 2004 French Open, losing to Söderling in the quarterfinals and relinquishing his #1 ranking, having been just one week away from equalling Pete Sampras's record of 286 weeks as world #1. In a huge upset at Wimbledon, Federer lost in the quarterfinals to Tomáš Berdych and fell to #3 in the rankings for the first time in 6 years and 8 months.
Towards the middle of July, Federer hired Pete Sampras' old coach Paul Annacone on a trial basis to put his tennis game and career back on the right path. At the 2010 US Open, Federer reached the semifinals, where he lost a heart-breaking five-set match to Novak Djokovic after holding two match points. Federer made it to four Masters 1000 finals, prevailing at the Cincinnati Masters against Mardy Fish.
Federer finished the year in strong form, winning indoor titles at the Stockholm Open, Swiss Indoors, and the ATP World Tour Finals in London, which brought his tally to 66 career titles. Federer won the year-end championships in London by beating rival Rafael Nadal for his fifth title at the event. He showed much of his old form, beating all contenders except Nadal in straight sets. It remains the only tournament in his career where Federer defeated all fellow members of the Big Four. Since Wimbledon 2010, Federer had a win-loss record of 34–4. Federer finished in the top two for the eighth consecutive season.
2011: Fifth French Open final and Tour Finals title record
The 2011 season, although great by most players' standards, was a lean year for Federer. He was defeated in straight sets in the semifinals of the 2011 Australian Open by eventual champion Novak Djokovic, marking the first time since July 2003 that he did not hold any of the four major titles. In the French Open semifinals, Federer ended Djokovic's undefeated streak of 43 consecutive wins with a four-set victory. However, Federer then lost in the final to Rafael Nadal. At Wimbledon, Federer advanced to his 29th consecutive Grand Slam quarterfinal, but lost to Jo-Wilfried Tsonga. It marked the first time in his career that he had lost a Grand Slam tournament match after winning the first two sets.
At the US Open, Federer lost a much-anticipated semifinal match with Novak Djokovic, after squandering two match points in the fifth set, which repeated his previous year's result against Djokovic and added a second loss from two sets up in Grand Slam tournament play to his record. The loss at Flushing Meadows meant that Federer did not win any of the four majors in 2011, the first time this has happened since 2002. Later that month, in September 2011, in a South African poll, Federer was voted the second most trusted and respected person in the world, next to Nelson Mandela.
Federer finished the season on a high note by yet again dominating the indoor season, winning his last three tournaments of the year at the Swiss Indoors, Paris Masters, and ATP World Tour Finals. He ended a 10-month title drought by winning the Swiss Indoors for the fifth time, defeating Kei Nishikori. Federer followed this up with his first Paris Masters title, where he became the first player to reach all nine Masters 1000 finals. In the final of the 2011 ATP World Tour Finals, Federer defeated Jo-Wilfried Tsonga for the third consecutive Sunday and, in doing so, claimed a record sixth ATP World Tour Finals title, finishing the year as world #3.
2012: Seventh Wimbledon, Olympic Silver and return to No. 1
The 2012 season was a return to excellence for Federer. He had his most match wins since 2006 and his highest winning percentage and number of titles won since 2007.
Federer reached the semifinal of the 2012 Australian Open, setting up a 27th career meeting with Nadal, a match he lost in four tight sets. He then won the Rotterdam Open for the first time since 2005, defeating Juan Martín del Potro. Federer played in the 2012 Dubai Tennis Championships, where he defeated Andy Murray in the final and won the championship title for the fifth time in his career. Federer then moved on to the Indian Wells Masters, where he defeated Rafael Nadal in the semifinals, and John Isner in the final. Federer won the title for a record fourth time, and, in doing so, equalled Rafael Nadal's record of 19 ATP Masters 1000 titles.
Federer went on to compete at the Madrid Masters on the new blue clay surface, where he beat Tomáš Berdych in the final, thus regaining the world #2 ranking from Rafael Nadal. In the French Open, Federer made the semifinals before losing to Djokovic.
At Wimbledon, Federer survived a five-set match in the third round against Julien Benneteau on his way to the semifinals. In his semifinal match-up against world #1 Novak Djokovic, Federer earned a record eighth Wimbledon final appearance after dispatching Djokovic in four sets. Federer defeated Andy Murray in four sets in the 2012 Wimbledon final, regaining the world #1 ranking in the process. "It's amazing. It equals me with Pete Sampras, who's my hero. It just feels amazing", Federer said of winning his seventh Wimbledon championship, tying Sampras' Open Era record. By defeating top-ranked Djokovic in the semifinals and winning in the finals, Federer returned to the top spot in the world rankings and, in doing so, broke Sampras' record of 286 weeks atop the list.
Four weeks after the Wimbledon final, Federer again faced Murray on the Wimbledon centre court, this time for the final of the 2012 Summer Olympics. This came after an epic 4-hour 26-minute semifinal against Juan Martín del Potro of Argentina that Federer won 19–17 in the third and final set. He lost to Murray in straight sets in the final, winning a silver medal for his country.
Federer won in Cincinnati, beating Novak Djokovic soundly in the final. In the US Open, five-time champ Federer was defeated by Tomáš Berdych in the quarterfinals. In the Shanghai Rolex Masters, defeating Stan Wawrinka in the third round, Federer confirmed his 300th week at #1. Federer made it to the finals of the ATP World Tour Finals, where he lost to Novak Djokovic in two sets.
2013: Injury struggles
Federer struggled with back injuries sustained in March and again in July and saw his ranking drop from #2 to #6. The 2013 season was the first since 1999 in which Federer failed to reach a final in the first four months of the year.
Federer's first and only title of 2013 came at the Gerry Weber Open (def. Mikhail Youzhny), where he also played doubles with good friend Tommy Haas. With the victory in Halle, he tied John McEnroe for the third-most number of ATP titles won by a male player in the Open Era. Federer, however, was unable to maintain his form into Wimbledon, suffering his worst Grand Slam tournament defeat since 2003 in the second round against Sergiy Stakhovsky. Not only did the loss end Federer's record streak of 36 consecutive quarterfinals at Grand Slam tournaments, it meant he would drop out of the top 4 for first time since July 2003, exactly 10 years after he won his first Wimbledon title.
During the summer, he experimented with various different racquets and played the German Open with a blacked-out 98-inch Wilson racquet, instead of his regular Pro Staff 6.1 90 BLX racquet with the smaller 90-inch hitting area. He returned to his regular racquet for the second half of the season. After Wimbledon, Federer continued to be upset early in tournaments in Hamburg and Gstaad because of a serious back injury through October, when he announced that he was parting ways with Paul Annacone, his coach for the last three years. Federer made the final in Basel, succumbing to Juan Martín del Potro in three sets, and indicated it was a mistake to have played certain tournaments while suffering from a back injury.
On 27 December 2013, Federer announced that Stefan Edberg was joining his team as co-coach with Severin Lüthi.
2014: Wimbledon runner-up, and Davis Cup glory
Federer began the season by changing rackets for the first time in his career, from his longtime frame of 90 square inches to one measured at 97 square inches. He had long been at a comparative disadvantage in equipment as almost the entire tour, including his top rivals Nadal and Djokovic, used more powerful frames of between 95 and 100 square inches. At the Australian Open, Federer defeated Jo-Wilfried Tsonga and Andy Murray to reach his 11th consecutive semifinal in Melbourne, before losing to Rafael Nadal in straight sets.
At the Dubai Tennis Championships, he defeated Novak Djokovic in the semifinals, and then defeated Tomáš Berdych in the final to win his sixth Dubai crown and his first title since Halle in 2013. Federer made the final at the Indian Wells Masters, but lost to Novak Djokovic in a final-set tiebreaker. At the Davis Cup quarterfinals, Federer won both of his singles rubbers against Kazakhstan, the second of which was the first live deciding rubber of his Davis Cup career. Federer then took a wild card into the Monte-Carlo Masters defeating Novak Djokovic on his way to the finals, but lost to compatriot Stan Wawrinka in a tight final.
In June, Federer announced that after the end of his third term, he would resign as President of the ATP Players Council, a position he had held since 2008. At the Halle Open, Federer reached both the singles and the doubles finals and won his seventh Halle singles title, beating Alejandro Falla in the final. At Wimbledon, Federer reached a record ninth final, but he was defeated by Djokovic in an epic five-set match.
Federer made the final of the Canadian Open, but was defeated by Jo-Wilfried Tsonga. Federer defeated Spain's David Ferrer in three sets to capture his sixth Cincinnati crown and his 22nd ATP World Tour Masters 1000 title, his first since Cincinnati 2012. He then reached the semifinals at the US Open, but lost in straight sets to eventual champion Marin Čilić. At the Davis Cup semifinals, Federer won both of his singles matches against Italy in straight sets and hence led Switzerland to the final for the first time since 1992.
Federer then played in the Shanghai Masters. He beat Novak Djokovic in the semifinals, ending the Serb's 28-match unbeaten run on Chinese soil. He battled Frenchman Gilles Simon in his second Shanghai final, defeating him in two tiebreak sets and collected the 23rd Masters 1000 title of his career. The victory saw Federer return to world #2 for the first time since May 2013. Federer then played the Swiss Indoors in October, where he won a record sixth title and his 82nd ATP men's singles title overall. Federer also reached the finals of the 2014 ATP World Tour Finals to face Djokovic again, but withdrew from the final because of another back injury from his semifinal match against Stan Wawrinka.
Despite his injury, Federer finished the season on a high by defeating Richard Gasquet to clinch the Davis Cup for Switzerland for the first time in its history. The final was held at the Stade Pierre-Mauroy in Lille, France attracting over 27,000 spectators per match; this broke attendance record for the highest ever officially-sanctioned competition tennis match.
2015: 1,000th win, Wimbledon and US Open runners-up
Federer started his season at the Brisbane International. He defeated Milos Raonic in the final, thereby becoming only the third man in the Open Era to have 1000 or more wins, joining Jimmy Connors and Ivan Lendl, as well as the first man in the Open Era to win at least one title in each of 15 consecutive years. In Dubai, Federer successfully defended his title with a straight-set victory over Novak Djokovic in the final, marking his seventh title at the tournament and, after Wimbledon and Halle, was the third time he had won seven or more titles in a tournament. In addition, Federer became the fourth person since 1991 to surpass 9,000 career aces. In March, he reached the final of the Indian Wells, but lost in three sets to defending champion Djokovic.
Federer won his third title of the season at the inaugural Istanbul Open clay-court tournament, ending a title drought on red clay since the 2009 French Open. Federer made it to the finals of the Italian Open in May. but was unable to win his first title there, losing to Djokovic in the final.
As the new expanded grass season began, Federer won his record eighth Gerry Weber Open and become only the third man in the Open Era to win a title eight times. Federer entered Wimbledon as the second seed. He played a flawless match to defeat Andy Murray in straight sets in the semifinals and advance to his 10th Wimbledon final in a repeat against Novak Djokovic. Federer lost the match in four sets.
He defeated Andy Murray and Novak Djokovic in straight sets to win the Cincinnati Masters for the seventh time. This marked the first time that Federer had beaten the top 2 players in the world at the same tournament. At the US Open, he advanced to his first final there since 2009 without dropping a set, including a win over Stan Wawrinka in the semifinals. In the final, he was once again defeated by top seed Djokovic in four sets. At the Swiss Indoors tournament in Basel, Federer won his sixth singles title of the year, and his 88th ATP title, defeating his old rival Rafael Nadal in the final. It was the seventh time he had captured his hometown tournament.
In December, Federer announced that he headed into the 2016 ATP World Tour season with a new-look coaching team, after announcing that Stefan Edberg would not be travelling with him next year. While countryman Severin Lüthi remained Federer's head coach, joining the team in 2016 was Croatian former world #3 player Ivan Ljubicic. The Swiss tennis player revealed that Edberg originally signed on to the coaching team for one season only in 2014, but agreed to stay on in 2015.
2016: Knee surgery and long injury break
Federer started his season by participating in the Brisbane International as the defending champion, despite having a virus when the tournament started. However, in a rematch of the previous year's final, he lost in the final to Milos Raonic in straight sets. Federer then participated at the 2016 Australian Open and rebounded from his third round defeat by Andreas Seppi in 2015 by reaching the semifinals but lost to eventual champion Novak Djokovic in four sets. The day after his loss to Djokovic, Federer sustained a knee injury and in early February, he underwent arthroscopic surgery to repair a torn meniscus in his knee and missed the tournaments in Rotterdam and Dubai in February and in Indian Wells in March. He was scheduled to return to action in Miami. Due to a stomach virus he had to withdraw from Miami thus prolonging his time on the sidelines.
Federer made his comeback at the Monte-Carlo Masters with straight set wins over Guillermo García-López and Roberto Bautista Agut before losing in the quarterfinals to Jo-Wilfried Tsonga in three sets. Federer then announced that he would be entering the Madrid Open. However, he suffered a back injury during practice and withdrew shortly after arriving. Although the season had been plagued with injuries, Federer regained the #2 ranking in the world for a brief period following Madrid. He then participated in the Internazionali BNL d'Italia where he defeated Alexander Zverev in straight sets, but lost in the third round to Dominic Thiem. He subsequently missed the Madrid Open, before withdrawing from the French Open, breaking a run of 65 consecutive participations in the main draw of Grand Slam tournaments, stretching back to the 2000 Australian Open. On 6 July, he came back from two sets down to defeat Marin Čilić in five sets in the 2016 Wimbledon quarterfinals, equalling Jimmy Connors' all-time records of eleven Wimbledon semifinals and 84 match wins. He suffered his first defeat in a Wimbledon semifinal two days later in a five-set loss to Raonic.
On 26 July, Federer announced that he would miss the 2016 Summer Olympics and the remainder of the 2016 season to fully recover from his knee injury.
2017: Fifth Australian and Eighth Wimbledon titles
Federer played in the Hopman Cup and Australian Open in January 2017. At the Australian Open, he beat top-10 players Tomáš Berdych and Kei Nishikori to reach the quarterfinals, where he beat Mischa Zverev, making Federer the oldest man to compete in a grand slam semi-final since Jimmy Connors in 1991. In the semi-finals, he defeated Stanislas Wawrinka in five sets, making him the oldest player to compete in a Grand Slam final since Ken Rosewall in 1974. Coming back from a break down in the fifth set, Federer defeated Rafael Nadal to win the Australian Open, which also marked Federer's 100th match at the Australian Open; it was the first time Federer had won a match against Nadal in a Grand Slam event since the 2007 Wimbledon final, and also marked Federer's first ever Grand Slam victory over Nadal outside the grass courts of Wimbledon. His victory against Nadal moved Federer to number ten in the ATP Rankings, and made him the oldest player to win a major since Bill Tilden won Wimbledon in 1930.
In March, the Swiss won his 25th Masters title at Indian Wells, defeating Wawrinka in the final and gaining another victory over Nadal in the 4th round. This was also Federer's 90th career title and he climbed to #6 in the ATP rankings. Federer collected his 26th Masters title by defeating Nadal in the final of the Miami Masters in straight sets and climbed to #4 in the ATP rankings. This marked the third time Federer had won in Indian Wells and Miami back-to-back, colloquially referred to as the Sunshine Double (2005, 2006 and 2017).
Federer decided that due to concerns about his longevity, he would skip the entire clay-court season. He won a record-extending ninth title at the Gerry Weber Open in Halle, doing so without the loss of a set . In the 2017 Wimbledon Championships, Federer made it to the final without dropping a set, defeating Milos Raonic in the quarterfinals and Tomáš Berdych in the semifinals. In the final, Federer defeated Marin Cilic in straight sets to win a record-breaking eighth Wimbledon title and his record-extending 19th overall major title, to become the oldest male player to win Wimbledon in the Open era. The Swiss became the second man in the Open era to win Wimbledon without dropping a set after Björn Borg in 1976. It marked the second time in his career that he had won a grand slam tournament without losing a set, matching his performance at the 2007 Australian Open. Federer moved up to become world number 3 in the ATP Rankings after the event and qualified for the ATP Finals for a record 15th time.
At the opening of the summer hard court swing Federer was defeated in the final of the Montreal Masters by Alexander Zverev after injuring his back during the match. Due to the injury, he was forced to withdraw from the Cincinnati Masters. He had little time to recover for the US Open, and the back injury severely affected his practice sessions. From the very beginning, Federer looked uncomfortable and it took him five sets to win each of the first two rounds against Frances Tiafoe and Mikhail Youzhny. His campaign at the US open finally ended in the quarterfinals, where he lost to Juan Martin del Potro in four sets. His game was characterized by unforced errors at critical points in the match and even Federer admitted that he never felt that he had a chance to win the tournament.
Federer's next participation was in September in the inaugural Laver Cup, representing team Europe. Federer played his first singles match on day two, where he dispatched Sam Querrey in straight sets. Later on day two, he partnered with his rival Nadal in doubles, where they defeated the Team World duo of Sam Querrey and Jack Sock in the match tie breaker, which took place at one set all. This was the first time Federer and Nadal competed on the same side of a doubles match. On day three, Federer competed in the final match of the tournament, where he sealed victory for Team Europe by defeating Nick Kyrgios 4–6, 7–6(8–6), [11–9], saving a match point in the champion's tiebreak. With three wins and seven points, Federer was the most accomplished player of the tournament.
Davis Cup
Federer made his Davis Cup for Switzerland debut in the World Group 1st Round against Italy in 1999 at 17 years of age. In his first match he defeated Davide Sanguinetti in four sets and recorded a second singles victory in a dead rubber two days later as Switzerland advanced to the World Group Quarterfinals. In the Quarterfinals Federer, who was still 17 years old, suffered his first Davis Cup loss when he was defeated by Belgian Christophe Van Garsse in five sets. The Swiss team would go on to lose the rubber 3–2. A year later, Federer competed in his first Davis Cup doubles rubber where he teamed with countryman Lorenzo Manta to defeat Australians Wayne Arthurs and Sandon Stolle in four sets. Despite the doubles victory, Federer lost both singles rubbers to Mark Philippoussis and Lleyton Hewitt which saw Switzerland sent to the World Group Playoffs for the first time in Federer's career. He would return for the playoffs in July 2000 and led Switzerland to a 5–0 win over Belarus by recording wins in singles and doubles.
His first Davis Cup highlight came in 2003 as the newly crowned Wimbledon champion led his country to an historic semifinal run. After recording five wins in ties against the Netherlands and France, the Swiss team traveled to Melbourne to play the highly rated Australians. Federer once again defeated Wimbledon runner-up Mark Philippoussis in the second rubber but allowed the Australians to lead the tie 2–1 going into Day 3 after dropping the doubles rubber in five sets. Federer then played Lleyton Hewitt in a sudden death situation for Switzerland and despite leading two sets to love, succumbed to a fast finishing Hewitt in five sets. Australia would go on to claim the Davis Cup title months later as Federer's interest in Davis Cup began to wane and his focus shifted to his personal career. He would go on to skip many ties over the years but often competed in the World Group Playoffs each year in order for Switzerland to maintain their place in the top division.
The emergence of countryman Stanislas Wawrinka as a Grand Slam singles champion in 2014 renewed hope for Federer in his Davis Cup quest, and the pair both committed to playing each tie that year. Their commitment would pay off as wins over Serbia, Kazakhstan and Italy allowed the Swiss team to advance to the 2014 Davis Cup Final. Leading into the final, Federer was suffering from a back injury that threw serious doubt over Switzerland's chance to claim the title, and a second rubber straight sets loss to Gaël Monfils seemingly spelled the worst for Switzerland. However, a rejuvenated Federer returned the following day to help claim the doubles rubber, which set up a fourth rubber singles tie between Federer and Richard Gasquet. Federer defeated Gasquet in straight sets and in doing so handed Switzerland its first (and only to date) Davis Cup title.
Federer holds many Davis Cup records for Switzerland that includes most total wins, most singles wins and most years played.
Olympics
An 18-year-old Federer made his Olympic debut at Sydney in 2000, where he entered the singles competition. He surprised many by reaching the semifinals but lost to Tommy Haas in the semifinals and then to Arnaud Di Pasquale in the bronze medal match, causing Federer to leave Sydney empty handed. At the 2004 Summer Olympics in Athens, Federer was the clear favorite after claiming the world number one ranking earlier in the year and capturing the Australian Open and Wimbledon titles. However, he lost in the second round to 18-year-old Tomáš Berdych. In doubles, he and compatriot Yves Allegro lost in the second round. At the 2008 Summer Olympics in Beijing, Federer was again the top seed and favorite, but lost in the quarterfinals to James Blake. However, he found more success on the doubles court, capturing the gold medal in men's doubles with compatriot Stan Wawrinka, defeating Simon Aspelin and Thomas Johansson of Sweden. At both the Athens and Beijing Olympic Games, Federer was the flagbearer for Switzerland in the opening ceremony. At London 2012, Federer won his first singles medal, losing to Andy Murray in the final to claim the silver. He and Wawrinka were unable to defend their gold medal in doubles, losing in the second round to Jonathan Erlich and Andy Ram of Israel. Federer did not compete in the Rio Olympics after taking the remainder of the season off after Wimbledon to recover from a knee injury.
Federer vs. Nadal
Federer and Rafael Nadal have been playing each other since 2004, and their rivalry is a significant part of both men's careers.
They held the top two rankings on the ATP Tour from July 2005 until 17 August 2009, when Nadal fell to world #3 (Andy Murray became the new #2). They are the only pair of men to have ever finished six consecutive calendar years at the top. Federer was ranked #1 for a record 237 consecutive weeks beginning in February 2004. Nadal, who is five years younger, ascended to #2 in July 2005 and held this spot for a record 160 consecutive weeks, before surpassing Federer in August 2008.
Nadal leads their head-to-head 23–14. Federer has a winning record on grass (2–1) and indoor hard courts (5–1), while Nadal leads the outdoor hard courts (8–5) and clay (13–2). Because tournament seedings are based on rankings, 23 of their matches have been in tournament finals which have included an all-time record nine Grand Slam finals. From 2006 to 2008, they played in every French Open and Wimbledon final. They then met in the 2009 Australian Open final, the 2011 French Open final, and the 2017 Australian Open final. Nadal won six of the nine, losing the first two Wimbledon finals and the second Australian Open final. Four of these finals were five set-matches (2007 and 2008 Wimbledon, 2009 and 2017 Australian Open), with the 2008 Wimbledon final being lauded as the greatest match ever by many long-time tennis analysts. Of their 37 meetings, 13 have reached a deciding set. They have also played in 11 Masters Series finals, including their lone five-hour match at the 2006 Rome Masters which Nadal won in a fifth-set tie-break, having saved two match points.
Federer vs. Djokovic
Federer and Novak Djokovic have met 45 times with Djokovic leading 23–22 wins. They are tied 17–17 on hard-courts and 4–4 on clay while Djokovic leads 2–1 on grass. The Federer–Djokovic rivalry is the largest rivalry in men's Grand Slam tournament history with a record 15 matches played against each other with Djokovic leading 9–6. Djokovic is the only player besides Nadal to defeat Federer in consecutive Grand Slam tournaments (2010 US Open and 2011 Australian Open, also 2015 Wimbledon, US Open and 2016 Australian Open), and the only player besides Nadal and Murray who has double-figure career wins over Federer. Djokovic is one of two players (the other again being Nadal) on tour to have defeated Federer in straight sets at a Grand Slam event (2008 Australian Open, 2011 Australian Open, 2012 French Open) and the only player to do so three times. Of their 45 meetings, 15 have reached a deciding set.
Federer and Djokovic first played in a Grand Slam final at the 2007 US Open where the three-time reigning champion and world #1 Federer emerged victorious in straight sets. Federer ended Djokovic's perfect 41–0 start to the 2011 season in the semifinals of the French Open, but Djokovic was able to avenge this loss at the 2011 US Open in five sets after saving two match points against Federer for the second straight year. In the semifinals of Wimbledon 2012, Federer beat defending champion and world #1 Djokovic in four sets. The two met again during the finals of the 2014 Wimbledon Championships with Djokovic emerging victorious after five sets. Federer also ended Djokovic's 28 straight wins in China at 2014 Shanghai Open. Federer and Djokovic rematched in the 2015 Wimbledon Championships with Djokovic once again claiming victory in four sets. The pair met once more for the final major of the season, the 2015 US Open and once more Djokovic prevailed in four sets. Many experts have included the rivalry between Federer and Djokovic as one of the best rivalries in the Open Era.
Federer vs. Murray
Federer and Andy Murray have met 25 times with Federer leading 14–11. Federer leads 12–10 on hard courts, and 2–1 on grass. They have never met on clay. The two have met six times at the Grand Slam tournament level, the first three times in the finals, Federer winning all three of these matches; at the 2008 US Open and the 2010 Australian Open, both of which he won in straight sets, and at the 2012 Wimbledon Championships in which Murray took the opening set, but went on to lose in four sets. However, Murray won their encounter in the semifinals of the 2013 Australian Open, defeating the Swiss for the first time at a Grand slam tournament in five sets. At the 2014 Australian Open, Federer reversed that result, defeating Murray in four sets in the quarterfinals. The most recent meeting between the two in a Major was in the semifinals of the 2015 Wimbledon Championships, where a dominant Federer triumphed in straight sets.
They met in the final of the 2012 Summer Olympic Games, in which Murray defeated Federer in straight sets, denying the Swiss a career Golden Slam. Murray also leads 6–3 in ATP 1000 tournaments, 2–0 in finals. They have also met five times at the ATP World Tour Finals, with Murray winning in Shanghai in 2008, and Federer in London in 2009, 2010, 2012, and 2014. Murray is one of only three players to have recorded 10 or more victories over Federer (the other two being Nadal and Novak Djokovic).
Federer vs. Roddick
One of Federer's longstanding rivalries was with American Andy Roddick. Roddick lost his world #1 ranking to Federer after Federer won his first Australian Open in 2004. Federer and Roddick met on 24 occasions, including four Grand Slam event finals (three at Wimbledon and one at the US Open – all won by Federer). Federer's record is overall 21–3. Roddick himself said it was not much of a rivalry, being so one-sided.
In the 2009 Wimbledon final, Roddick lost to Federer in five sets. The match included a fifth set of 30 games (a Grand Slam final record) and was over four hours long. In the final game of the deciding set, Roddick's serve was broken for the first time in the match. With that victory, Federer broke Pete Sampras' record of 14 Grand Slam tournament titles, and Roddick apologised to Sampras (who was there) for not being able to stop Federer.
Federer vs. Hewitt
Lleyton Hewitt and Roger Federer played each other on 27 occasions. Early in their careers, Hewitt dominated Federer, winning seven of their first nine meetings, including a victory from two sets down in the 2003 Davis Cup semifinal which allowed Australia to defeat Switzerland. However, from 2004 onward, Federer dominated the rivalry, winning 16 of the last 18 meetings to finish with an 18–9 overall head-to-head record. This is Hewitt's longest rivalry as these two first played each other as juniors in 1996. They met in one Grand Slam tournament final, the 2004 US Open final, where Federer won his first US Open title in a lopsided encounter in which Federer scored a bagel on both sides of a second-set tiebreak. Federer met Hewitt at six of the Grand Slam tournaments in which he lifted the trophy, including all five of his triumphs between 2004 and 2005. Their last meeting was at the 2014 Brisbane International, where Hewitt triumphed over Federer in three sets for his first title since 2010, when he also beat Federer to the Halle title.
Hewitt and Federer teamed up in the men's doubles at Wimbledon in 1999. They got to the third round before losing to Jonas Björkman and Pat Rafter.
Federer vs. Agassi
Federer and Andre Agassi played each other 11 times between 1998 and 2005 before Agassi's retirement in 2006. Federer led the rivalry 8–3. This was Federer's most significant rivalry with an all-time great player of the previous generation. They first met in only the third tournament of Federer's career at the 1998 Swiss Indoors in Federer's hometown, with Agassi prevailing over the 17-year-old. Agassi also defeated Federer at the 2001 US Open and the finals of the Miami Masters in 2002. Federer began to turn the tide at the Masters Cup in 2003, when he defeated Agassi in both the round robin and the final. They played a memorable quarterfinal match at the 2004 US Open that spanned over two days with Federer eventually prevailing in five sets. At the 2005 Dubai Championships, Federer and Agassi attracted worldwide headlines with a publicity stunt that saw the two tennis legends play on a helipad almost 220 meters above sea level at the hotel Burj al-Arab. Their final match was at one of the most prestigious platforms in the sport, when they played in the finals of the 2005 US Open. Federer was victorious in four sets, claiming the 6th Grand Slam tournament of his career and denying Agassi his 9th.
Federer vs. del Potro
Juan Martín del Potro and Roger Federer have played 22 times with Federer leading 16–6. They have met seven times in Grand Slam tournaments with Federer leading 5–2. Their two most famous Grand Slam tournament meetings came in 2009. The first was in the French Open semifinals, when Federer survived a five-set clash when he was on his way to the only French title of his career. The second was in the final of the US Open, where del Potro stunned five-time defending champion Federer in five sets, ending his 20-match winning streak at Grand Slams. Another high-profile match was in the semifinals of the 2012 London Olympics, where Federer prevailed 19–17 in the final set to secure the Olympic silver medal. They also met in the finals of the Swiss Indoors in 2012 and 2013, with del Potro prevailing on both occasions in tight three-set matches. In the 2017 U.S. Open quarterfinals, del Potro beat Federer in 4 sets, and denied the much awaited Federer-Nadal match, as in 2009 US Open semifinals where he beat Nadal in straight sets.
Federer vs. Safin
Marat Safin and Federer played each other 12 times, with Federer leading 10–2. Federer and Safin turned pro within one year of each other, with Safin turning pro in 1997 and Federer in 1998. Federer leads 4–1 on hard courts, 3–0 on grass, and 3–0 on clay courts, while Safin leads 1–0 on carpet. Notable meetings include Federer's defeating Safin at the 2002 Hamburg Masters to win the first Masters 1000 title of his career, as well as Federer's emerging victorious in the semifinals of the 2004 Tennis Masters Cup, after winning a tiebreak 20–18 on his eighth match point. Federer also defeated Safin in the finals of the 2004 Australian Open to capture his first Australian Open and second Grand Slam tournament title. However, Safin defeated Federer in the 2005 Australian Open semifinals, having saved one match point in the fourth-set tiebreak, to end a 26-match winning streak by Federer. They met each other five times in Grand Slam tournaments, with Federer leading 4–1.
Federer vs. Nalbandian
David Nalbandian was Federer's biggest rival in his early career. The two played each other 19 times, with Federer leading 11–8. Nalbandian dominated early on, winning their first five matches from 2002–03. Federer reversed this trend at the 2003 Masters Cup, where he recorded his first victory, and would go on to win 11 of their last 14 meetings. Federer leads 6–5 on hard courts, 1–0 on grass, and 3–1 on clay courts, while Nalbandian leads 2–1 on carpet. Notable meetings include Nalbandian's win in a fifth-set tiebreaker to win the 2005 Masters Cup, and Federer's win in the 2006 French Open semifinals. They met each other six times in Grand Slam tournaments, with Federer leading 4–2.
Federer vs. Berdych
Tomáš Berdych and Federer have played each other 25 times with Federer leading 19–6. Federer leads 11–5 on hard courts, 3–1 on grass courts, 4–0 on clay courts, and 1–0 on carpet. Berdych won their first professional match, notably upsetting then world #1 Federer at the 2004 Summer Olympics. Federer then went on to win their next eight meetings, before Berdych ended the losing streak in 2010. Between 2010 and 2013, Berdych won 5 of 8 meetings. Federer then switched to a larger racquet in 2014 to prevent being overpowered by players like Berdych and leads 8–0 since. They have met nine times in Grand Slam tournaments, with Federer leading 7–2, and Berdych is one of five players, along with Arnaud Clément, Álex Corretja, David Nalbandian, and Jo-Wilfried Tsonga, to defeat Federer multiple times in majors before the semifinal stage. Their most notable Grand Slam matches took place in the 2009 Australian Open, when Federer prevailed in five sets after dropping the first two sets, the 2010 Wimbledon Championships and the 2012 US Open, both of which Berdych won in four sets. Berdych went on to reach the only Grand Slam final of his career after the Wimbledon quarterfinal victory which was significant as it ended Federer's run of seven consecutive finals at Wimbledon dating back to 2003.
Federer vs. Tsonga
Jo-Wilfried Tsonga and Federer have met 17 times with Federer leading 11–6. Federer leads 5–3 on outdoor hard courts and 4–0 on indoor hard, while Tsonga leads 1–0 on grass. They are 2–2 on clay courts. The pair have met six times in Grand Slam tournaments, including their five-set matches in the quarterfinals of 2011 Wimbledon and 2013 Australian Open. They have also one Grand Slam semifinal meeting in the 2010 Australian Open, with Federer winning in straight sets. Federer and Tsonga have played in the 2011 ATP World Tour Finals final and the Swiss maestro won his record-sixth Year-End Championship, after a three-setter. The pair have also met in two ATP World Tour Masters 1000 finals. The first was in the 2011 BNP Paribas Masters, with Federer winning his first title in Bercy, and the second was in the 2014 Rogers Cup, with Tsonga winning his second Masters 1000 title.
Federer vs. Wawrinka
Federer's most notable matchup with a compatriot has been with Stan Wawrinka and they have played each other 23 times with Federer leading 20–3. Federer leads 6–1 in Grand Slam tournaments, 15–0 on hard courts, 1–0 on grass courts and 4–3 on clay courts. The pair are 1–1 in finals. Their first meeting in the final came at 2014 Monte-Carlo Rolex Masters where Wawrinka defeated Federer in three sets to win his first Masters 1000 title before Federer avenged his loss at 2017 BNP Paribas Open by beating him in the final. While the rivalry is one-sided in Federer's favour, the two of them have contested some close matches. Wawrinka defeated Federer in straight sets during the 2015 French Open quarterfinals en route to winning his first French Open title, although Federer then won a straight-sets victory in the 2015 US Open semifinals. Other close matches include the 2012 Shanghai Masters and the 2013 Indian Wells Masters, both of which Federer won in three sets, the 2014 Wimbledon quarterfinal which Federer won in four sets, the 2014 ATP World Tour Final semifinal in which Federer won in three sets after saving four match points and the 2017 Australian Open semifinal which Federer won in five sets. Despite their on-court rivalry, they are friends off court and they have played doubles together on numerous occasions, most notably when they won the doubles Olympic Gold at the 2008 Beijing Olympics and the 2014 Davis Cup.
Legacy
Federer has been regarded by many pundits, coaches, and past and present players as the greatest tennis player of all time. He dominated the game at his peak and has won more Grand Slam tournament titles (19) than any other men's singles player. He is also the first men's singles player to have reached ten consecutive Grand Slam tournament finals and a total of 29 Grand Slam finals. He has earned a men's doubles gold medal, and a men's single silver medal at the Olympics in 2008 and 2012, respectively. He spent the most amount of time in the Open Era at the top of the ATP Rankings (302 weeks). He also holds the record for the most titles (6) at the year-end tournament, where only the year-end eight highest-ranked players participate. Federer was ranked among the top eight players in the world continuously for 14 years and two weeks; from 14 October 2002 till 31 October 2016, when injuries forced him to skip much of the 2016 season.
Federer has won the ATPWorldTour.com Fans' Favourite Award a record 14 times consecutively (2003–2016), has won the ATP Player of the year five time ( 2004–07,2009 ), (5) ITF World Champion (2004–07, 2009) and the Stefan Edberg Sportsmanship Award (voted for by the players) a record 12 times (2004–2009, 2011–2016), both being awards indicative of respect and popularity. He also won the Arthur Ashe Humanitarian of the Year Award twice in 2006 and 2013. He was named the Laureus World Sportsman of the Year for a record four consecutive years (2005–2008). Federer is at times referred to as the Federer Express, shortened to Fed Express or FedEx, and the Swiss Maestro, or just Maestro.
In 2016, he was ranked by ESPN as the greatest male or female tennis player ever. After his victory over Rafael Nadal in the 2017 Australian Open Final, John McEnroe concluded that "Federer [had] cemented himself as the greatest player of all time".
One of his most lasting legacies may turn out to be his creation of a new annual tournament called the Laver Cup which pits Europe against the rest of the world. Federer founded the tournament in honor of tennis legend Rod Laver and the inaugural edition was played in 2017.
Cultural impact
Federer helped to lead a revival in tennis known by many as the Golden Age. This led to increased interest in the sport, which in turn led to higher revenues for many venues across tennis. During this period rising revenues led to exploding prize money; when Federer first won the Australian Open in 2004 he earned $985,000, compared to when he won in 2017 and the prize had increased to $2,774,000.
Upon winning the 2009 French Open and completing the career Grand Slam, Federer became the first individual male tennis player to grace the cover of Sports Illustrated since Andre Agassi in 1999. He was also the first non-American player to appear on the cover of the magazine since Stefan Edberg in 1992. Federer again made the cover of Sports Illustrated following his record breaking 8th Wimbledon title and second Grand Slam of 2017, becoming the first male tennis player to be featured on the cover since himself in 2009.
Playing style
Federer's versatility has been described by Jimmy Connors as: "In an era of specialists, you're either a clay court specialist, a grass court specialist, or a hard court specialist... or you're Roger Federer."
An elite athlete, Federer is an all-court, all-around player known for his speed, fluid style of play, and exceptional shot making. Federer mainly plays from the baseline but is also comfortable at the net, being one of the best volleyers in the game. He has a powerful, accurate smash and very effectively performs rare elements playing tennis, such as backhand smash and skyhook, half-volley and jump smash (slam dunk). David Foster Wallace compared the brute force of Federer's forehand motion with that of "a great liquid whip", while John McEnroe has referred to Federer's forehand as "the greatest shot in our sport." Federer is also known for his efficient movement around the court and excellent footwork, which enables him to run around shots directed to his backhand and instead hit a powerful inside-out or inside-in forehand, one of his best shots.
Federer plays with a single-handed backhand, which gives him great variety. He employs the slice, occasionally using it to lure his opponent to the net and deliver a passing shot. Federer can also fire topspin winners and possesses a 'flick' backhand with which he can generate pace with his wrist; this is usually used to pass the opponent at the net. His serve is difficult to read because he always uses a similar ball toss, regardless of what type of serve he is going to hit and where he aims to hit it, and turns his back to his opponents during his motion. He is often able to produce big serves on key points during a match. His first serve is typically around 200 km/h (125 mph); however, he is capable of serving at 220 km/h (137 mph). Federer is also accomplished at serve and volleying, and employed this tactic frequently in his early career.
Later in his career, Federer added the drop shot to his arsenal and can perform a well-disguised one off both wings. He sometimes uses a between-the-legs shot, which is colloquially referred to as a "tweener" or "hotdog". His most notable use of the tweener was in the semifinals of the 2009 US Open against Novak Djokovic, bringing him triple match point. Federer is one of the top players who employs successfully the "squash shot", when he gets pushed deep and wide on his forehand wing. Since Stefan Edberg joined his coaching team at the start of the 2014 season, Federer has played a more offensive game, attacking the net more often, and improved his volley shots. In the lead-up to the 2015 US Open, Federer successfully added a new unique shot to his arsenal called SABR (Sneak Attack by Roger), in which he charges his opponent while receiving the serve and hits a return on the run. With the switch to a bigger 97 inch racket from 90 inches, Federer has gained easy power while relinquishing some control on his shots. The bigger racket has enabled easier serving and better defense on both wings with less shanks. However this has diminished his forehand, slice backhand and dropshot. Since his comeback in 2017, Federer is noted for his improved backhand both down the line and cross court which was cited as the reason for his defeat of Nadal in the 2017 Australian Open Final and Indian Wells 4th Round.
Federer is also noted for his cool demeanour and emotional control on the court. In contrast to his early career, the majority of his professional game has been characterised by lack of outbursts or emotional frustration at errors, which gives him an advantage over less controlled opponents.
"I don't get the anxiety during a match so much anymore. You know, to throw racquets, to toss balls out of the court, scream and stuff. I almost laugh [on the inside] about it a little bit today when an opponent does it. But that's something for me that's not a problem any more." ~ Roger Federer
Equipment
Federer plays with the Wilson Prostaff RF97 Autograph, a 97 square inch tennis racquet with 21.5 mm beam, 360 g weight, 331 swing weight and 16x19 string pattern (all strung with overgrip). Since the 1998 Wimbledon Junior Championships Federer played with a Pro Staff 6.0 85 racquet. He switched to a bigger custom-built 90 tennis racquet since 2003, which is characterised by its smaller hitting area of 90 square inches, heavy strung weight of 364 grams, and thin beam of 17.5 millimetres. His grip size was 4 3/8 inches (sometimes referred to as L3). Federer strung his racquets at 21.5 kg mains/20 kg crosses pre-stretched 20 percent, using Wilson Natural Gut 16 gauge for his main strings and Luxilon Big Banger ALU Power Rough 16L gauge (polyester) for his cross strings. When asked about string tensions, Federer stated "this depends on how warm the days are and with what kind of balls I play and against who I play. So you can see – it depends on several factors and not just the surface; the feeling I have is most important."
Apparel
Federer has a contract with Nike footwear and apparel. For the 2006 championships at Wimbledon, Nike designed a jacket emblazoned with a crest of three tennis racquets, symbolising the three Wimbledon Championships he had previously won, and which was updated the next year with four racquets after he won the Championship in 2006. At Wimbledon 2008, and again in 2009, Nike continued this trend by making him a personalised cardigan that also had his own logo, an R and an F joined together.
Endorsements
Federer is one of the highest-earning athletes in the world. He is listed at #4 on the Forbes "World's Highest Paid Athletes" list. As of 2013, he remains the top earner in tennis with ten endorsement deals. He makes 40 to 50 million euros a year from prize money and endorsements from Nike and the Swiss companies Nationale Suisse, Credit Suisse, Rolex, Lindt, Sunrise, and Jura Elektroapparate. In 2010, his endorsement by Mercedes-Benz China was extended into a global partnership deal. His other sponsors include Gillette, Wilson, and Moët & Chandon. Previously, he was an ambassador for NetJets, Emmi AG, and Maurice Lacroix.
Grand Slam tournament performance timeline
Note: Federer received fourth-round walkovers at the US Open (2004 and 2012) and the Wimbledon Championships (2007), and a second-round walkover at the Australian Open (2012); these are not counted as wins
Open Era records
These records were attained in the Open Era of tennis.
Records in bold indicate peerless achievements.
Records in italics are active streaks.
References
Roger Federer Wikipedia
(Text) CC BY-SA