Country (sports)

Australia




Turned pro

1956




Name

Ken Rosewall




Height

1.70 m




Parents

Robert Rosewall




Residence

Sydney, Australia


Retired

1980




Role

Tennis player




Weight

67 kg




Children

Glenn Rosewall






Full name

Kenneth Robert Rosewall




Born

2 November 1934 (age 81)Sydney, Australia (

1934-11-02

)


Plays

Right-handed (one-handed backhand)


Books

Ken Rosewall on Tennis, Muscles: The Story of Ken Rosewall, Australia's Little Master of the Courts




Similar People

John Newcombe, Lew Hoad, Fred Stolle, Margaret Court, Margaret Osborne duPont
Wimbledon 1974 ken rosewall vs stan smith
Kenneth Robert ("Ken") Rosewall AM, MBE (born 2 November 1934) is a former world top-ranking amateur and professional tennis player from Australia. He won a record 23 tennis Majors including 8 Grand Slam singles titles and before the Open Era a record 15 Pro Slam titles and a record 35 Major finals overall. He won the Pro Grand Slam in 1963. Rosewall won 9 slams in doubles with a career double grand slam. He is considered to be one of the top male tennis players of all time. He had a renowned backhand and enjoyed a long career at the highest levels from the early 1950s to the early 1970s. Rosewall was one of the two best male players for about nine years and was the World No. 1 player for a number of years in the early 1960s. He was ranked among the top 20 players, amateur or professional, every year from 1952 through 1977. Rosewall is the only player to have simultaneously held Pro Grand Slam titles on three different surfaces (1962–1963). At the 1971 Australian Open he became the first male player during the open era to win a Grand Slam tournament without dropping a set.
Contents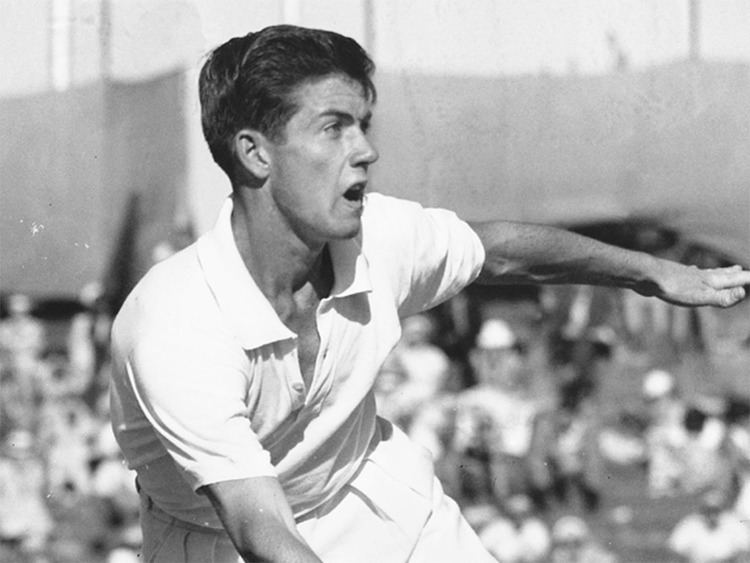 A natural left-hander, he was taught by his father to play right-handed. Perhaps as a result of this unorthodox training (or in spite of it), he developed a powerful and effective backhand but never had anything more than an accurate but relatively soft serve. He was 1.70 m tall (5 ft 7 in) and weighed 67 kg (145 pounds) and was ironically nicknamed "Muscles" by his fellow-players because of his lack of them. He was, however, fast, agile, and tireless, with a deadly volley. His sliced backhand was his strongest shot, and, along with the very different backhand of former player Don Budge, has generally been considered one of the best, if not the best, backhands yet seen.

The father of Brett and Glenn Rosewall, and grandfather of five, Rosewall now lives in northern Sydney.
Rod laver vs ken rosewall
Early life and tennis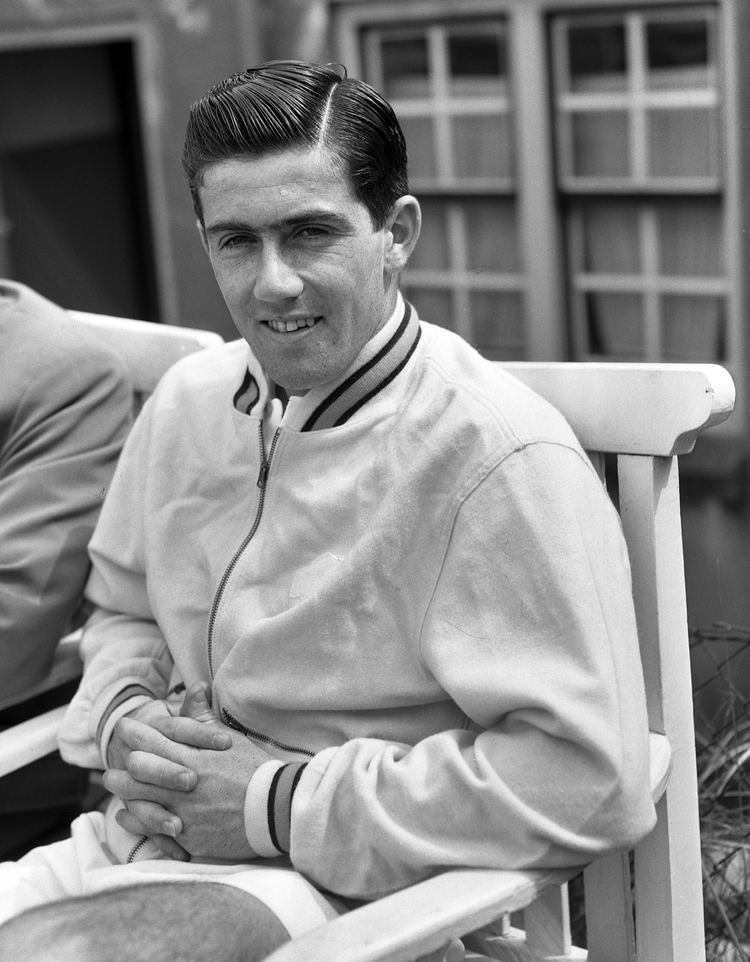 Rosewall was born on 2 November 1934 in Hurstville, Sydney. His father, Robert Rosewall, was a grocer and when Ken was one year old they moved to the Rockdale suburb where his father bought three clay tennis courts. Ken started playing tennis at age three with a shortened racket and using both hands for forehand and backhand shots. They practiced early in the morning, focusing on playing one type of shot for a period of weeks. He was a natural left-hander but was taught to play right-handed by his father. He played his first tournament when he was nine and lost to the eventual winner. At age eleven Rosewall won the Metropolitan Hardcourt Championships for under fourteen. In 1949 at age 14 he became the junior champion at the Australian Hardcourt Championships in Sydney, the youngest player to win an Australian title.
Amateur career: 1950 through 1956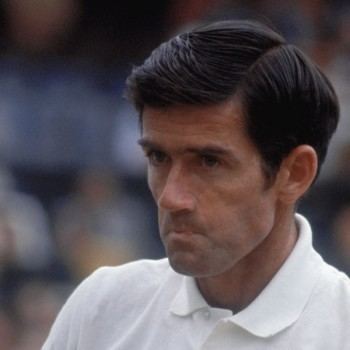 In October 1950 at the age of 15 and still a junior player, Rosewall reached the semifinals of the 1950 New South Wales Metropolitan Championships (not to be confused with the New South Wales Championships), where he was defeated by the world-class adult player Ken McGregor. The following year, he won his first men's tournament in Manly.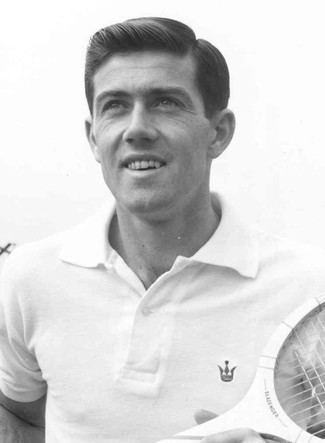 In 1952, still only 17, Rosewall reached the quarterfinals of the U.S. Championships, upsetting the top-seeded Vic Seixas in the fourth round 3–6, 6–2, 7–5, 5–7, 6–3 before losing to Gardnar Mulloy in five sets. In his end-of-year rankings, the British tennis expert Lance Tingay ranked Rosewall and Lew Hoad, his equally youthful doubles partner, jointly as the tenth best amateur players in the world.
Rosewall was only 18 years old when he won the singles titles at the Australian Championships, the French Championships, and the Pacific Southwest Championships in 1953. He was the top seed at Wimbledon but lost a quarterfinal match to Kurt Nielsen. Rosewall then reached the semifinals at the U.S. Championships, where he was defeated by Tony Trabert 7–5, 6–3, 6–3. Rosewall lost again to Trabert in the Challenge Round of the Davis Cup in Melbourne, Australia 6–3, 6–4, 6–4. Rosewall, however, won the fifth and deciding rubber of that tie, defeating Seixas 6–2, 2–6, 6–3, 6–4. At the end of the year, Tingay placed Trabert first and Rosewall second in his annual amateur rankings.
In 1954, Rosewall defeated Trabert in a five-set semifinal at Wimbledon but lost the final to Jaroslav Drobny 13–11, 4–6, 6–2, 9–7.
Rosewall won the singles title at the Australian Championships for the second time in 1955, defeating Hoad in the final 9–7, 6–4, 6–4. At the U.S. Championships, Trabert defeated Rosewall in the final 9–7, 6–3, 6–3.
In 1956, Rosewall and Hoad captured all the Grand Slam men's doubles titles except at the French Championships, from which Rosewall was absent. For several years in their youthful careers, Rosewall and Hoad were known as "The Gold-dust Twins." In singles, Rosewall lost to Hoad in the final of two Grand Slam tournaments. At the Australian Championships, Hoad defeated Rosewall 6–4, 3–6, 6–4, 7–5 and at Wimbledon, Hoad won 6–2, 4–6, 7–5, 6–4. Rosewall, however, prevented Hoad from winning the Grand Slam when Rosewall won their final at the U.S. Championships 4–6, 6–2, 6–3, 6–3.
During his amateur career, Rosewall helped Australia win three Davis Cup Challenge Rounds (1953, 1955, and 1956). Rosewall won 15 of the 17 Davis Cup singles rubbers he played those years, including the last 14 in a row.
Professional career: 1957 through March 1968
Promoter and former tennis great Jack Kramer tried unsuccessfully to sign the "Whiz Kids" (Lew Hoad and Rosewall) to professional contracts in late 1955. But one year later, Rosewall accepted Kramer's offer. Rosewall, during the Challenge Round of the Davis Cup, tried to convince his partner Hoad to do the same, but he rejected the proposition.
1957
Rosewall played his first professional match on 14 January 1957, at Kooyong Stadium in Melbourne against the reigning king of professional tennis, Pancho Gonzales who won after a close five-set match. The following day Rosewall defeated Gonzales in straight sets. Rosewall explained later that there was a huge gap between the amateur level and the professional level. In their series of head-to-head matches in Australia and the U.S. (until May), Gonzales won 50 matches to Rosewall's 26. During this period, Rosewall also entered two tournaments, the Australian Pro at Sydney in February and the U.S. Pro at Cleveland, Ohio in April. He was respectively defeated in straight-sets by Frank Sedgman (second best pro in 1956) and Pancho Segura (third best pro in 1956).
In September, Rosewall won the Wembley title, beating Segura in the final. This was a significant victory for Rosewall because, of the top professional players, only Sedgman and Tony Trabert did not play. At the end of the year, Rosewall won an Australian tour featuring Lew Hoad, Sedgman, and Segura.
Rosewall's record in early 1957 confirmed the difference of level between the best professionals and the best amateurs at the time. After World War II, many of the best amateurs failed in the professional ranks. Other talented and hard-working players succeeded, after a few months or a year, to win important professional events, including Jack Kramer, Segura, Gonzales, Sedgman, Trabert, Hoad, Andres Gimeno, Rod Laver, and Rosewall.
1958
In 1958, Rosewall had the opportunity to show that he was still one of the best players on clay. The previous year, no French Professional Championships (also entitled the "World Pro Championships on Clay" when organised at Stade Roland Garros) had been held. This tournament returned in 1958, and Rosewall beat Jack Kramer, Frank Sedgman, and an injured Lew Hoad in successive matches to claim the title.
Rosewall was the runner-up at the Forest Hills Pro and tied for second (with Pancho Gonzales and Sedgman) in the Masters Round Robin Pro in Los Angeles. Those tournaments were among the most important of the year.
1959
For the first time since he turned professional, Rosewall had a favourable 6–4 win-loss record against Pancho Gonzales for the year. Rosewall won both editions of the Queensland Pro Championships in Brisbane, defeating Tony Trabert in the January final 6–2, 4–6, 3–6, 7–5, 6–1 and Gonzales in the December final 1–6, 7–5, 8–6, 8–6.
1960
The following year Rosewall was incorporated in a new World Pro tour, from January to May, featuring Gonzales, Segura and new recruit Alejandro "Alex" Olmedo. This tour was perhaps the peak of Gonzales's entire career. The finals standings were: 1) Gonzales 49 matches won – 8 lost, 2) Rosewall 32–25, 3) Segura 22–28, 4) Olmedo 11–44. Rosewall was therefore far behind Gonzales on this tour, the American having won almost all their direct confrontations (16 wins for Gonzales to 5 wins for Rosewall). Halfway through the North American part of the tour the standings were Gonzales 23–1 (his only match lost 6–4, 4–6, 13–11 to Olmedo in Philadelphia) and Rosewall 11–13.
Just after Gonzales played and won a minor tournament on 16 May 1960 he decided to retire (as often it was temporary because rapidly needing money Gonzales was back on 30 December 1960). In the absence of Gonzales, Rosewall clearly became the leader, winning six tournaments including the two greatest tournaments of the year, the French Pro at Roland Garros and Wembley Pro. Hoad was finalist in Paris and also won four tournaments making him second to Rosewall.
Measured to current standards Gonzales would not have been ranked number one because he had only played four and a half months in 1960 (one tour and one tournament): he wouldn't have accumulated enough "Race points" to be the first but in 50's or 60's standards he was, for many (McCauley in particular) the number one. At the time Hoad considered Gonzales the best (in L'Equipe in March 1961) and Rosewall didn't consider himself as the pro king but others thought that Rosewall's successes in the biggest tournaments made him the number one in the world (Robert Roy's ranking in L'Equipe). Robert Geist, in DER GROSSTE MEISTER: Die denkwurdige Karriere des australischen Tennisspielers Kenneth Robert Rosewall (THE GREATEST MASTER: The Memorable Career of Australian Tennis Player...) compromises by ranking them equal.
1961
After ten years of World touring, Rosewall decided to take several long holidays in order to spend time with his family and he didn't enter any competition in the first half of 1961. He trained his long-time friend Hoad when the pros toured in Australia where Gonzales, back to the courts after a 7 1⁄2-month retirement, won another World tour featuring Hoad, Olmedo (replacing Rosewall), Gimeno and the two new recruits MacKay and Buchholz (Segura, Trabert, Cooper and Sedgman sometimes replaced the injured players). In the summer Rosewall returned to the circuit and won the two biggest events (because all the best players participated and the events had a (small) tradition): the French Pro at Roland Garros (clay) and Wembley Pro (wood). At Roland Garros the Australian captured the title by beating Gonzales in the final, 2–6, 6–4, 6–3, 8–6, and at Wembley he defeated Hoad in the final, Gonzales's winner in the semifinals.
After having won on clay and on wood Rosewall ended the season by winning on grass at the New South Wales Championships, Sydney, cementing his status as the best all-court player that year.
Robert Roy of L'Equipe, Kleber Haedens and Philippe Chatrier of Tennis de France, Michel Sutter (who has published "Vainqueurs 1946–1991 Winners"), Christian Boussus (1931 Roland Garros amateur finalist), Peter Rowley, Robert Geist, Tony Trabert, John Newcombe, Rod Laver and also the New York Times and World Tennis magazine considered Rosewall as the new no. 1 in the world (see World number one male tennis player rankings)
1962
In 1962 Rosewall completely dominated the pro circuit; not only did he retain his Wembley and Roland Garros crowns, still the two biggest events by far in 1962, but he also won five (Adelaide, Melbourne, Geneva, Milan and Stockholm) of the next six biggest tournaments (in 1962 there were only small tours of lesser importance). He thus captured seven of the eight biggest events that year, the only one he lost was Zurich where he was defeated in the semifinals by Segura who in his turn left the title to Hoad. Rosewall also won two small tournaments in New Zealand and one more, the Australian TV Series (in the last one he was the player who won the most matches).
It seems that Rosewall lost only 8 matches in 1962 : Hoad twice (in the Adelaide Professional Indoor Tournament and in the Australian TV series tournament), Gimeno, Ayala, Buchholz, Segura, Anderson and Robert Haillet.
1963
In an Australasian tour (Australia and New Zealand) played on grass Rosewall defeated Laver 11 matches to 2. A US tour followed with Rosewall and Laver, Gimeno, Ayala and two Americans: Butch Buchholz and Barry MacKay (Hoad was not chosen because there would have been too many Australians). In the first phase of this tour, lasting two and a half months, each player faced each other about eight times. Rosewall ended first (31 matches won – 10 lost in front of Laver (26–16), Buchholz (23–18), Gimeno (21–20), MacKay (12–29) and Ayala (11–30)). In this round-robin phase Rosewall beat Laver in the first 5 meetings, ensuring thus a 13-match winning streak (in counting the last 8 matches in Australasia) and Laver won the last 3. Then a second and final phase of the tour opposed the first (Rosewall) and the second (Laver) of the first phase to determine the final winner (the third (Buchholz) met the fourth (Gimeno)). In 18 matches Rosewall beat Laver 14 times to conquer the US tour first place (Gimeno beat Buchholz 11–7). In mid-May the tournament season started. In those occasions Rosewall only beat Laver 4–3 and won 5 tournaments (the same as Laver), but in particular he won the 3 greatest tournaments of the year 1963: chronologically the U.S. Pro at Forest Hills (without Gimeno and Sedgman) on grass where he defeated Laver 6–4 6–2 6–2, the French Pro at Coubertin on wood where his victim in the final was again Laver who later praised his conqueror: "I played the finest tennis I believe I've ever produced, and he beat me", The Wembley Pro on wood (Hoad finalist). In those tournaments Rosewall won 3 times while Laver reached 2 finals and 1 quarterfinal (Wembley), "Rocket" (Laver's nickname) becoming thus the second player in the world. Rosewall then beat Laver 34 matches to 12. The fact that Rosewall also won the major events clearly indicates that he was the number one in 1963 but also that the best pros were almost certainly the best players in the world during the previous years.
1964
In 1964 Rosewall won one main tournament: the French Pro over Laver on wood (at Coubertin). At the end of the South African tour, Rosewall also beat Laver 6–4 6–1 6–4 in a Challenge Match considered by some as a World Championship match, held in Ellis Park, Johannesburg. In the official pro points rankings (7 points for the winner, 4 points for the finalist, 3 points for the third player, 2 for the fourth one and 1 point to each quarter-finalists) taking into account 19 pro tournaments, Rosewall ended #1 in 1964 with 78 points beating #2 Laver (70 points) and #3 Gonzales (48 points). Nevertheless, that ranking a) brushed aside at least 10 tournaments because McCauley has traced at least 29 pro tournaments played by the touring pros (plus some minor tournaments) and several short tours and b) granted each tournament the same points and then was unfair to the big events where Laver was globally superior to Rosewall.
The majority of tennis witnesses (Joe McCauley, Robert Geist, Michel Sutter... among the journalists and the players themselves) agreed this points rankings for they considered Rosewall the number one in 1964. Rod Laver himself after his triumph over Rosewall at Wembley said "I've still plenty of ambitions left and would like to be the World's No.1. Despite this win, I am not there yet – Ken is. I may have beaten him more often than he has beaten me this year but he has won the biggest tournaments except here. I've lost to other people but Ken hasn't.".
Laver has made a great season and could too claim the top rank. "Rocket" has captured two very great tournaments, a) the U.S. Pro (outside Boston) over Rosewall (suffering from food poisoning) and Gonzales and b) Wembley pro over Rosewall in one of their best match ever (Gonzales has won the probably fourth greatest tournament of that year, the U.S. Pro Indoors, at White Plains, defeating in succession Anderson, Laver, Hoad and Rosewall). Laver was equal to Rosewall in big direct confrontations, 2 all (Coubertin and Johannesburg for Rosewall, US Pro and Wembley for Laver).
Rosewall has the edge over Laver if we consider their clashes against their greatest rival, Gonzales : that year Rosewall has beaten Gonzales 11 times out of 14 while Laver was beaten by Gonzales 8 times out of 13. But Laver won one more tournament (including small 4-man events) than Rosewall (11 to 10) and above all Rocket was clearly superior to Rosewall in minor direct confrontations, defeating Rosewall 13 times out of 15 making thus a 1964 Laver-Rosewall win-loss record of 15–4. So the pros leadership began to change.
1965
Next year until mid-September Rosewall and Laver were quite equal, the latter winning more tournaments including the US Pro Indoors at New York City and the Masters Pro at Los Angeles but Rosewall struck two great blows during the summer of 1965 by winning very easily the U.S. Pro on the Longwood C.C (outside Boston) grass courts crushing Gonzales, 6–3 6–2 6–4, and Laver, 6–4 6–3 6–3, in the last rounds and again Laver, 6–3 6–2 6–4, in the French Pro on the fast wooden courts at Coubertin. But from Wembley to the end of the year, Laver became irresistible and Rosewall had to recognise Laver's supremacy.
1966
1966 was the year of the greatest rivalry between the two Australians who dominated tennis. They shared all the titles and the finals of the five greatest tournaments. Rosewall won the Madison Square Garden (the biggest prize money ever to date) and his cherished French Pro tournaments over Laver, the latter capturing Forest Hills Pro, the U.S. Pro (outside Boston) and Wembley Pro with Rosewall finalist (or second) each time. Of the main tournaments contested by the troupe, Laver won 9, Rosewall 8 and Gimeno 3. If we include lesser tournaments Laver won 15, Rosewall 9 and Gimeno 6. In head-to-head matches between Rosewall and Laver, both player won 7 each. Rosewall was then the clear undisputed vice-king of the courts.
1967
Rosewall's true decline began in 1967 when many players defeated several times Sydney's Little Master. Not only did Laver—almost invincible on fast courts and at that time the undisputed professional tennis king—reach the apogee of his career, but Gimeno threatened Rosewall's second place. The 20 main tournaments of the year where shared by a) Laver, ten titles including the 5 biggest ones, all played on fast courts (U.S. Pro outside Boston, French Pro, Wembley Pro, Wimbledon Pro, Madison Square Garden, World Pro in Oklahoma, Boston Pro (not to be confused with the U.S. Pro), Newport R.R., Johannesburg Ellis Park, Coubertin Pro in April (not to be confused with the French Pro at Coubertin in October), b) Rosewall, six titles (Los Angeles, Berkeley, U.S. Pro Hardcourt in St Louis, Newport Beach, Durban and Cape Town), c) Gimeno, three titles (Cincinnati, East London, Port Elizabeth) and d) Stolle, one tournament (Transvaal Pro). Including lesser tournaments Laver's supremacy was even more obvious: 1) Laver 18 tournaments plus two small tours, 2) Rosewall 7 tournaments, 3) Stolle 4 tournaments and 4) Gimeno 3 tournaments. In head-to-head matches Rosewall trailed Laver 5–8 and was equal to Gimeno 7–7 (Gimeno-Laver: 4–12).
Before 1967 Gimeno always trailed Rosewall in direct confrontations but that year they split their matches. Rosewall defeated Gimeno in Los Angeles, Madison Square Garden, St Louis, Newport, Johannesburg (challenge match), Durban and Wembley whereas Gimeno won in Cincinnati, U.S. Pro, East London, Port Elizabeth, Johannesburg (tournament), Marseille, French Pro. Having won more tournaments than Gimeno, Rosewall deserved nevertheless the second place behind Laver, the latter being for the first year the #1 by far after the 1964–1966 close rivalry between the two Australians.
Forbidden to contest the greatest traditional events, Davis Cup and Grand Slams, during nearly eleven and a half years from 1957 to 30 March 1968, Rosewall reached his best level during this period, in particular from 1960 to 1966, by winning at least 62 tournaments (including 16 less-than-eight-man events) and 7 small tours.
1968
In 1968 there were many different sorts of players:
amateur players, dependent on their national and international federations, allowed to play the amateur events and also the open events but couldn't receive official prize money
registered players, also dependent on their national and international federations, eligible to play the Davis Cup and forbidden to play pro events as an amateur, but authorised to take prize money in the open events contrary to an amateur (example : Okker)
professionals under contract with NTL who had to first play NTL tournaments
professionals under contract with WCT who had first to play WCT tournaments. At the beginning of the open era Dave Dixon, WCT boss, didn't allow his players to enter tournaments where NTL players were present: there were no WCT players at the first two open tournaments, Bournemouth and Roland Garros 1968, while all the NTL players were present. The first tournament where NTL and WCT players competed against each other, was the U.S. Pro, held at Longwood in June 1968
freelance professionals (Hoad, Ayala, Owen Davidson, Mal Anderson, ...).
In 1968 there were a) an amateur circuit including the Davis Cup ("closed" to any "contract" professional until 1973) and the Australian Championships, b) two pro circuits: the "World Championship of Tennis (WCT)" circuit and the "National Tennis League (NTL)" circuit which met on four tournaments, and c) an open circuit (with a little more than 10 tournaments).
Many events were still reserved to the amateur players between 1968 and 1972.
Two tournaments were at the top in 1968: Wimbledon (a 128-man field), and the US Open (a 100-man field), played on grass, where all the best players competed. The third position can be claimed by the French Open, being the first open Grand Slam tournament, but with a lesser field, missing several of the best clay court players (Santana, Okker, Newcombe, Roche and the six other WCT players).
Other notable tournaments that year were the Queen's Club tournament (the Graebner-Okker final cancelled due to rain which also delayed the first matches in Wimbledon) and the greatest pro tournaments where all the NTL and WCT pros could compete (but without amateur or registered players) as the U.S. Pro (outside Boston, on grass), the French Pro (coming back to Roland Garros after the 5-edition interlude at Coubertin), the first Pacific Southwest Open in Los Angeles (64-man field) with all the best players present, the Jack Kramer Tournament of Champions at Wembley in November and perhaps the Madison Square Garden Pro in December with the four best pros of each organisation.
In this context Rosewall played almost all NTL pro tournaments in 1968, the four "NTL-WCT" tournaments and some open tournaments. He entered his first open tournament at 33 years at Bournemouth on clay (the WCT players did not take part) and successively defeated Gimeno and Laver. At Roland Garros, the first Grand Slam tournament of the Open Era, Rosewall confirmed his status of probably the best claycourt player in the world (in fact since 1958 except in 1959 and 1966) by defeating Laver in the final in straight sets. Defeats followed against some of the upcoming 1967 amateur players (Roche twice on grass at the US Pro and at Wimbledon, Newcombe on clay at the French Pro and Okker on grass at the U.S. Open) but his end of the year was better. He reached the semifinals of the US Open, was finalist to Laver at the Pacific Southwest Open, defeating the new US Open winner, Arthur Ashe, and in November captured the Wembley Pro tournament over WCT player, John Newcombe. At age 34 Rosewall was still ranked No. 3 in the world behind Laver and Ashe according to Lance Tingay and Bud Collins.
1969
His true decline, having begun in 1967, was confirmed in 1969. Rosewall was no longer the best claycourt player because Laver had stolen his crown in the final of Roland Garros and moreover Rosewall won only three tournaments (Bristol, Chicago, Midland) that year and was ranked No. 4 by Collins and Tingay.
Having won at age 35 almost all the great events except for Wimbledon, this tournament became Rosewall's priority. The obvious reason it had eluded him was that for ten years (1957–1966) he had been unable, due to the rules that had excluded him because of his professional status, to enter the competition at a time when he was at his best—and particularly between 1961 and 1965 (except 1964) when he was probably the best grasscourt player in the world. Knowing he could reach the last rounds of the French tournament and then be too tired to play well at Wimbledon (as had happened in 1968 and 1969, when he lost in the 4th and 3rd rounds respectively), Rosewall decided not to play Roland Garros any more in the seventies in order to be in optimal condition for Wimbledon.
1970
Being an NTL player at the beginning of 1970 he didn't play the Australian Open held at the White City Stadium in Sydney in January because NTL boss, George McCall, and his players thought that the prize money was too low for a Grand Slam tournament. In March, a tournament, sponsored by Dunlop, was organised at the same site, with a higher quality field because of better prize-money and a better date. The same class players as in the Australian Open were present and in addition not only the NTL pros participated but also some independent pros, such as Ilie Nastase, who usually did not make the trip to Australia. Laver won the tournament after defeating Rosewall in a five-set final watched by a crowd of 8,000. As both the NTL and the WCT boycotted the Roland Garros tournament because it refused to pay guarantees Rosewall also missed the second Grand Slam tournament of the year. All the best players met again at Wimbledon. This time a rested Rosewall reached the final and took the Newcombe, his 9 1⁄2-year-old junior, to five sets but ultimately succumbed. In July Rosewall became a WCT player after that organization took over the NTL and its players. Two months later at the U.S. Open, one of the two 1970 Grand Slams with all the best players, Rosewall took revenge in their semifinal match in three straight sets before defeating Tony Roche in the final to win his sixth Grand Slam tournament.
To fight against the WCT and NTL promoters, who controlled their own players and did not allow them to compete where they wanted, Kramer introduced the Grand Prix tennis circuit in December 1969, open to all players. The first Grand Prix circuit was held in 1970 and comprised 20 tournaments from April to December. These tournaments gave points according to their categories and the players' performances with the top six ranked players invited to a season-ending tournament called the Masters. All the amateurs and independent pros fully invested themselves in this circuit while the contract pros firstly played their own circuit and eventually played in some Grand Prix tournaments. Rosewall and Laver performed well in both circuits. Rosewall was ranked third in the Grand Prix standings and finished third in the Masters behind winner Stan Smith and his 1970 nemesis Laver. Rosewall earned $140,455 in prize money.
After his 1967–1969 steady decline, 1970 saw a rejuvenated Rosewall who was just one set short of winning the Wimbledon and U.S. Open double.
1970 was a year where no player dominated the circuit, the seven leading tournaments were won by seven different players, and different arguments were given to designate the World No. 1. Some, among them Newcombe and the panel of journalists which made the 1971 WCT draw, considered Laver the best player because he won most tournaments (15), earned the most prize money and had a dominantly positive head-to-head record against both Rosewall (5–0) and Newcombe (3–0). But Laver failed at Wimbledon and the U.S Open, the two big tournaments, losing each time in the round of 16. Other tennis pundits, as Joe McCauley (World Tennis) or Lance Tingay (Daily Telegraph), narrowly ranked Newcombe first because he won the most prestigious tournament, Wimbledon with Rosewall second and Laver respectively third and fourth. But considering that Wimbledon and the U.S. Open were the two big events of 1970 Newcombe (Wimbledon winner) and Rosewall (U.S. Open winner) were the main choices for the number one player in the world. Judith Elian of the French sports paper L'Equipe ranked Rosewall as the number one player ahead of Newcombe and the panel of experts for the 'Martini and Rosso' Cup also had Rosewall first, narrowly over Laver. Meanwhile, in his book (see above) Robert Geist ranked the three Australians equal number ones.
1971
After his runner-up finishes at Sydney and Wimbledon and his victory at the US Open in 1970, Rosewall continued his good performances in 1971 in the great grass court tournaments. One year after the first Dunlop Open was held in Sydney, Rosewall was back in Sydney in March, this time for the Australian open held on the White City Courts. Because it was sponsored by Dunlop in 1971, all the World Championship Tennis (WCT) players (including the National Tennis League players since spring 1970) entered (John Newcombe, Rosewall, Rod Laver, Tony Roche, Tom Okker, Arthur Ashe) as well as some independent pros. Only Stan Smith (Army's service), Cliff Richey, Clark Graebner, and the not-yet-good-on-grass players Ilie Nastase and Jan Kodes were missing. Rosewall won the tournament, his second consecutive Grand Slam win and his seventh overall Grand Slam title, without losing a set and defeated Roy Emerson and Okker before beating Ashe in the final in straight sets.
Rosewall and most other WCT players did not play the French Open; yet, Rosewall still tried to reach his seventies goal by winning Wimbledon. In the quarterfinals, Rosewall needed about four hours to defeat Richey in five sets whereas Newcombe quickly defeated Colin Dibley. In the semifinals, the older Rosewall was no match for the fitter Newcombe and lost in straight sets. Later in the summer, Rosewall and some other WCT players (Laver, Andres Gimeno, Emerson, Cliff Drysdale, Fred Stolle, and Roche) did not play the US Open because of the growing conflict between the International Lawn Tennis Federation (ILTF) and the WCT. His children's illnesses was an additional reason for Rosewall not playing this tournament.
As a contract pro, Rosewall was not allowed to play the Davis Cup and thus concentrated mainly on the WCT circuit organised similarly to the Grand Prix circuit which was the equivalent for the independent pros: 20 tournaments (including the Australian Open), each giving the same points amount. The top eight players in ranking points were invited to the WCT Finals, an eight-man tournament, equivalent of the Grand Prix Masters for the WCT players, played in November in Houston and Dallas, USA. When the WCT players were off they could play tournaments on the Grand Prix circuit. Some tournaments such as Berkeley, which had a stronger field than the US Open, were organized by both organisations. But the war between the ILTF and WCT climaxed in a ban by the ILTF beginning on 1 January 1972, of the WCT players from the Grand Prix circuit.
Rosewall ended third on the 1971 WCT circuit behind Laver and Okker and qualified for the WCT Finals. He won the title, taking his revenge over Newcombe for his Wimbledon defeat, in the quarterfinal, defeating Okker in the semis and beating Laver in a four-sets final in what was considered at the time as the best match, with their 1970 Sydney final, between the two rivals since their 1968 French Open final. As a WCT player Rosewall played few Grand Prix tournaments but he had earned enough points to play the Grand Prix Masters held about ten days after his WCT Finals. He refused the invitation as he was tired after a long season and took his holidays at the end of the year.
In 1971 Rosewall won eight tournaments and 76 out of 97 matches (78%) and in direct confrontations trailed Newcombe 1–3, Laver 2–3 but led Smith 1–0. Collins and Elian ranked Rosewall third after Newcombe and/or Smith. Tingay ranked Rosewall 4th, Rino Tommasi 1st, and the Martini-Rossi award was given jointly to Smith and Newcombe. Geist ranked Rosewall co-No. 1 tied with Newcombe and Smith. That year, as in 1970, there was no clear undisputed World No. 1.
1972
1972 saw a return to separate circuits because all traditional ILTF events held from January to July were forbidden to the WCT players. This included the Davis Cup but also Roland Garros and Wimbledon. The 1972 Australian Open organizers used a trick to avoid the ban of the WCT players. They held the tournament from 27 December 1971, four days before the ban could be applied, to 3 January 1972. Thus all contract and, of course, independent pros could enter played but few were interested because the tournament was held during Christmas and New Year's Day period. The draw included only eight non-Australian players. Rosewall reached the final in which he defeated Mal Anderson to win his fourth Australian title and the eight, and last, Grand Slam title of his career. A fragile agreement in the spring of 1972 let the WCT players come back to the traditional circuit in August (in Merion, WCT players Okker and Roger Taylor played). The U.S. Open, won by Ilie Nastase, was the greatest event of the year as only in this tournament were all the best players present with the exception of Tony Roche who suffered from a tennis elbow. Later that year two other tournaments had good fields with WCT and independent pros: the Pacific Southwest Open at Los Angeles and, to a lesser extent, Stockholm both won by Stan Smith.
In many 1972 rankings there were six or seven WCT players in the world top 10 (the three or four independent pros were Smith, Nastase, Orantes and sometimes Gimeno (an ancient NTL then WCT player)) so the WCT Finals held in May in Dallas were considered as one of (if not the first) the greatest events after the U.S. Open. In what is considered one of the two best matches played in 1972, the other being the Wimbledon final, and the best Rosewall-Laver match of the open era Rosewall won his last major title of his long career by defeating aver in five sets. (Laver wrote that the two Australians had played better matches between them in the pre-open days, citing their 1963 French Pro final as the pinnacle; McCauley considered their 1964 Wembley final).
Because of the ILTF's ban once again Rosewall could not enter Wimbledon.
1972
From August 1972 players could enter almost all the tournaments they wanted and the real open era began (at Forest Hills they created the ATP)
Rosewall won seven tournaments in 1972, including the depleted Australian Open and became the oldest Grand Slam male singles champion (37 years and 2 months old) in the open era, and was ranked, by Judith Elian or Tingay or McCauley, No. 3 behind Smith and Ilie Nastase (Bud Collins permuting Nastase and Rosewall). He lost in the second round of the 1972 U.S. Open against Mark Cox.
1973
For Rosewall the beginning of 1973 was identical to the second half of 1972: a desert. He recorded possibly his worst defeat in his whole career at the 1973 Australian Open (once again with a very weak field because as in 1972 among the Top 20 only Rosewall and Newcombe participated) when seeded first he was defeated by German Karl Meiler in his first match (second round): 2–6, 3–6, 2–6. Between May 1972 (victory at Dallas) and April 1973 (victory at Houston, River Oaks) Rosewall captured only two minor titles, Tokyo WCT (not giving points for the WCT Finals) and Brisbane (in December 1972) where the only Top 20 player was himself. If 1967 has been the first year of a relative decline with however many highlights, 1973 (and more accurately his "after-Dallas 1972") has been the real start of Rosewall's true decline : admittedly he was still one of the best players but not one fighting for the first place.
Rosewall did not play Wimbledon that year as the edition was boycotted by the ATP players. After an absence of 17 years Rosewall returned to Davis Cup play in November when he played a doubles match with Rod Laver in the interzonal final against Czechoslovakia.
His best performances in 1973 were firstly his semifinal at the U.S. Open (as in 1972 the greatest event of the year) and secondly his 3rd place at the WCT Finals (he was beaten by Ashe in the semis and defeated Laver for 3rd place). He also won at Houston WCT, Cleveland WCT, Charlotte WCT, Osaka and Tokyo. He was still ranked in the top 10. Tommasi ranked Rosewall 4, Tingay 6, ATP 6, Collins 5, and McCauley 7.
1974–1982
1974 was the first year since 1952 that Rosewall did not win a single tournament. However, he entered nine tournaments (the one at Hong Kong not finished because of rain) and reached three finals including Wimbledon and US Open. This was his last Wimbledon final, at the age of 39. Despite the strong support of the crowd, who were eager to see him finally claim a Wimbledon title, he lost to the 18 years younger Jimmy Connors. Due to the two last strong performances he was ranked between second (Tingay) and the seventh place (Collins) by many tennis journalists. He ranked only 8th in the ATP rankings because he played too few tournaments knowing that he succumbed to the charms of the World Team Tennis "organisation". Rosewall coached the Pittsburgh Triangles team in 1974.
He still stayed in the Top 10 (ATP, Collins, Tommasi) or the Top 15 in 1975 winning 5 tournaments (Jackson, Houston-River Oaks, Louisville, Gstaad, Tokyo Gunze Open) and his two singles in Davis Cup against New Zealand (this event has been finally open to contract pros in 1973 : that year Rosewall was selected by Neale Fraser for the semifinals doubles). Rosewall made his last attempt at Wimbledon, at over 40, and as in his first Wimbledon Open (in 1968) he lost in the same round (4th) and against the same player (Tony Roche).
In 1976 Rosewall dropped out of the Top 10 but stayed in the Top 20 as he won three tournaments: Brisbane, Jackson WCT and Hong Kong (over Nastase then the 3rd player in the world).
1977 was Rosewall's last year in the Top 20, which means he was one of the best players for 26 years (in the Top 20 from 1952 to 1977). He won his last tournaments in Hong Kong and Tokyo (Gunze Open) at the age of 43. Rosewall played in the 1977 Sydney Indoor Tournament. Approaching his 43rd birthday he beat the No. 3 in the world Vitas Gerulaitis 7–6, 6–4 and put in a credible performance losing to Jimmy Connors 7–5, 6–4, 6–2 in the final. The following year he lost in the semi finals at 44 years of age. Afterwards, he gradually retired. In October 1980 at the Melbourne indoor tournament, at nearly 46 years of age, Rosewall defeated American Butch Walts, ranked World No. 49, in the first round before losing to Paul McNamee. Rosewall made a very brief comeback at 47 years of age in a non-ATP tournament, the New South Wales Hardcourt Championships in Grafton in February, where he reached the final, losing to Brett Edwards 6–4, 6–2.
Rivalries
Gonzales and Laver are the two players that Rosewall most often met. His meetings with Laver are better documented and detailed than those with Gonzales. Except the first year (1963) and the last year they played (1976), the statistics of their meetings show a strong domination by Laver; but they are biased before when Rosewall was the better of the two Australians in 1963. In the Open Era a match score of 23–9 in favour of Laver can be documented, overall a score of 79–63.
Including tournaments and one-night stands, Rosewall and Gonzales played at least 182 matches, all of them as professionals, with some results from the barnstorming pro tours lost or badly recorded. A match score of 107–75 in favor of Gonzales can be documented.
Playing style and assessment
In his 1979 autobiography, Kramer writes that "Rosewall was a backcourt player when he came into the pros, but he learned very quickly how to play the net. Eventually, for that matter, he became a master of it, as much out of physical preservation as for any other reason. I guarantee you that Kenny wouldn't have lasted into his forties as a world-class player if he hadn't learned to serve and volley."
Kramer includes the Australian in his list of the 21 greatest players of all time.
During his long playing career he remained virtually injury-free, something that helped him to still win tournaments at the age of 43 and remain ranked in the top 15 in the world. Although he was a finalist 4 times at Wimbledon, it was the one major tournament that eluded him.
Rosewall was a finalist at the 1974 US Open at 39 years 310 days old, making him the oldest player to participate in two Grand Slam finals in the same year, before that, in 1972 Rosewall won the Australian Open Final at age 37 and 2 months making him the oldest player ever (to date) to win a Grand Slam male Singles title.
In 1995 Gonzales said of him: "He became better as he got older, more of a complete player. With the exception of me and Frank Sedgman, he could handle everybody else. Just the way he played, he got under Hoad's skin, but he had a forehand weakness and a serve weakness." In 182 matches against Pancho Gonzales he won 75 and lost 107. In 70 matches against Lew Hoad he won 45 and lost 25.
Grand Slam tournaments
Singles : 8 titles, 8 runners-up
Pro-Slam tournaments
* Singles : 15 titles, 4 runners-up
* other events (Tournament of Champions, Wimbledon Pro – important professional tournaments – 2 runners-up)
Open Era records
These records were attained in Open Era of tennis.
Note: The draw of Pro majors was significantly smaller than the traditional tournaments of Grand Slam; usually they only had 16 or even less professional players. Though they were the top 16 ranked players in the world at the time, this meant only four rounds of play instead of the modern six or seven rounds.
Honours
In the Queen's Birthday Honours of 1971, he was appointed a Member of the Order of the British Empire (MBE). In the Australia Day Honours of 1979, he was appointed a Member of the Order of Australia (AM).
Rosewall was inducted into the International Tennis Hall of Fame in Newport, Rhode Island, in 1980. In 1985 he was inducted into the Sport Australia Hall of Fame.
He is an Australian Living Treasure.
References
Ken Rosewall Wikipedia
(Text) CC BY-SA