Before its release, the film generated a great deal of publicity for itself due to three main reasons: first, the multiple political controversies surrounding the film and its lead actor; second, Khan's presence in the film (he was last seen in a leading actor role in December 2008, when Rab Ne Bana Di Jodi was released); and third, the reunion of the "golden pair" of Khan and Kajol, who last appeared together in the film Kabhi Khushi Kabhie Gham in 2001.
Upon its release, the film broke many box office records. My Name Is Khan was the highest-grossing Bollywood film overseas at the time, which was then overtaken by 3 Idiots. Within four weeks, the film crossed the ₹70 crore (US$11 million) mark in India and became the first film of 2010 to do so. In the overseas markets, the film grossed ₹110.34 crore (US$17 million). My Name Is Khan earned a worldwide gross of ₹200 crore. The film was released in India on DVD on 28 April 2010. Blu-ray in India, plus a DVD release worldwide followed on 10 August 2010.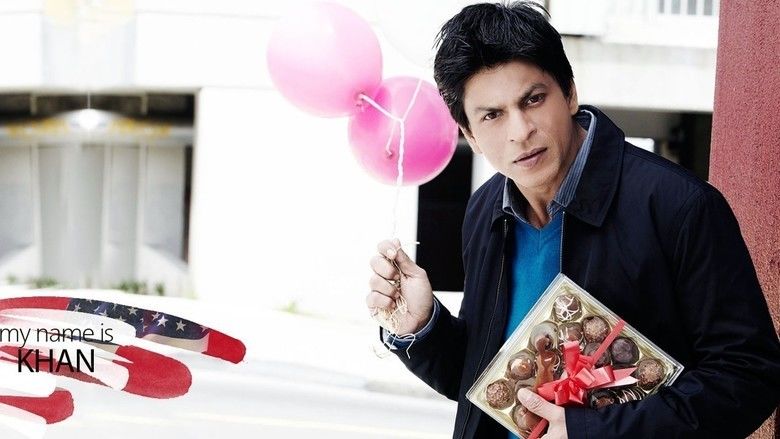 Rizwan Khan is a Muslim child who lived with his brother Zakir (Jimmy Shergill) and his mother (Zarina Wahab) in a middle-class family in the Borivali section of Mumbai. Rizwan has autism. However, he has certain gifts, particularly a special ability to repair things. His difference leads to special tutoring from a reclusive scholar and extra attention from his mother, all which leads to a heightened level of jealousy from his brother Zakir, who eventually leaves his family for a life in the United States.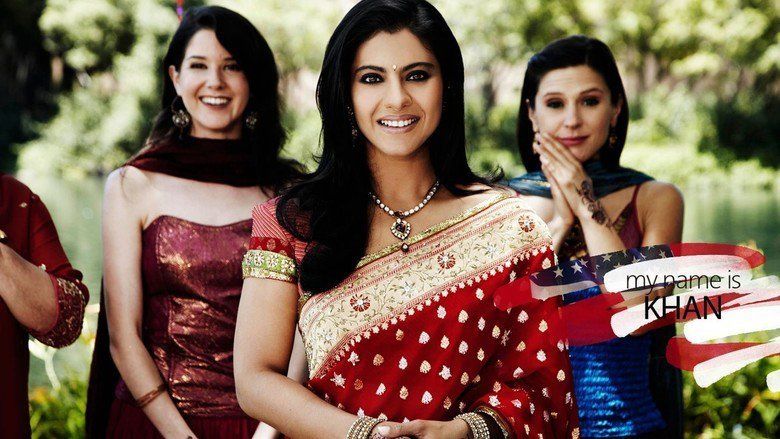 Despite this initial resentment, as an adult Zakir sponsors Rizwan to come and live with him in San Francisco after the death of their mother. It is at this time that Zakir's wife, Haseena diagnoses Rizwan as having Asperger's syndrome. Rizwan also begins to work for Zakir and in the process he meets a Hindu woman, Mandira (Kajol) and her young son, Sameer, from a previous marriage. Despite Zakir's hostility to the match, they marry and settle down in the fictional town of Banville, where both Mandira and Sameer take Rizwan's last name as their own. They also live next door to the Garrick family, consisting of Mark, who is a reporter, his wife Sarah and son Reese.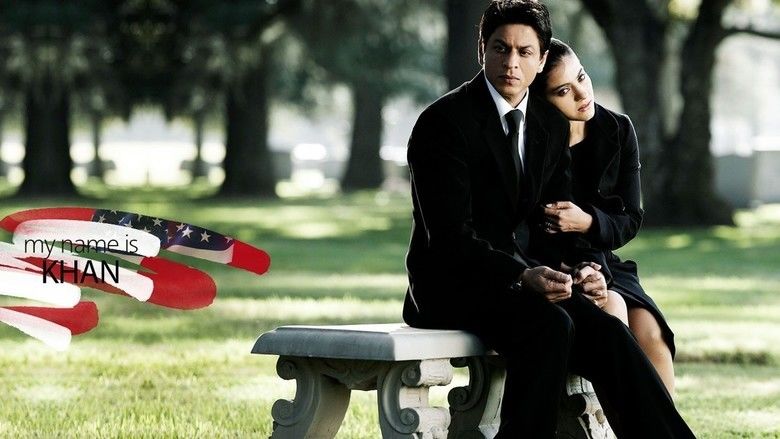 The couples perfect existence is disrupted after the September 11 attacks on the twin towers in New York City. Mark goes to cover the war in Afghanistan and dies there. At the same time, the Khan family begins to experience post 9-11 prejudice in their community and Reese begins to turn against Sameer as well. One afternoon, an argument between them turns into a racially motivated schoolyard fight between Sameer and a number of older students. Reese tries to stop the fight but is held back and Sameer dies from his injuries. A shattered Mandira blames Rizwan for his death stating that Sameer "died only because his name was Khan." She then tells Rizwan that she no longer wants to be with him. When he asks her what he has to do in order for them to be together, she tells him that he has to tell the people of the United States and the President that his name is Khan and that he is not a terrorist.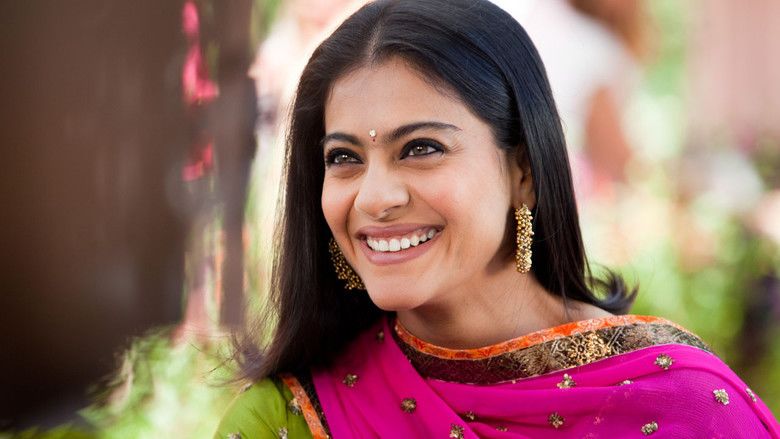 Rizwan thus sets out on a journey that takes him from one US state to another, in order to first meet President George W. Bush and later President-elect Barack Obama. During this quest, he travels to a small town in Georgia and befriends Mama Jenny and her son Joel. Later, in Los Angeles, he prays in a Mosque and overhears violent rhetoric from Faisal Rahman. He reports this to the FBI but there is no response at that moment. Later, while waiting in a crowd to meet President Bush and repeating again and again, "My name is Khan and I am not a terrorist," Rizwan is arrested and placed in a prison by police who misinterpret his statement.
While in the prison he is interrogated as a terrorist suspect and meets the psychiatrist Radha who believes he is innocent. He is later released after a media campaign by some Indian student reporters, who prove his innocence by unearthing his attempts to inform the FBI about Faisal Rahman. After his release, he returns to hurricane-hit Wilhemina to help Mama Jenny and her son. His efforts attract media attention and numerous Muslims come to help as well. At the same time, Reese confesses to Mandira and reveals the identity of the boys who beat up Sam. She informs Detective Garcia who has been assisting her on the case, and the boys are arrested.
After they are brought to justice, she joins Rizwan in Georgia. At the moment she arrives, Rizwan is stabbed by a follower of Faisal Rahman and is rushed to the hospital. With Mandira's help, Rizwan survives and meets President-elect Barack Obama who tells him: "Your name is Khan and you are not a terrorist."
Shah Rukh Khan as Rizwan Khan
Kajol as Mandira, Rizwan's wife
Sonya Jehan as Haseena Khan, Zakir's wife
Jimmy Shergill as Zakir Khan, Rizwan's brother
Zarina Wahab as Razia Khan, Rizwan's mother
Vinay Pathak as Jitesh
Parvin Dabas as Bobby Ahuja, a news channel reporter
Arjun Mathur as Raj Burman
Sugandha Garg as Komal
Sumeet Raghavan as Attacker
Arif Zakaria as Faisal Rahman
Sheetal Menon as Radha
Pallavi Sharda as Sajida Khan
Tanay Chheda as young Rizwan Khan
Arjan Aujla as Sameer (Sam), Mandira's son
Yuvaan Makaar as Young Sameer (Young Sam)
Kenton Duty as Reese Garrick, Sameer's friend
Katie A. Keane as Sarah Garrick, Reese's mother
Dominic Renda as Mark Garrick, Reese's father
Syed Tausif Kamran as BBC Reporter.
Christopher B. Duncan as President of the United States
Md. Mosaddaque Sabri as US President.
Michael Arnold as Reese Garrick (as a child)
Harmony Blossom as Karma Girl
Jennifer Echols as Mama Jenny
Adrian Kali Turner as Funny Hair Joel
Benny Nieves as Detective Garcia
Kyle Hamon as Jim, main bully of Sameer
Shane Harper as Tim Tompson, another bully of Sameer
Marquis Scott as Tyler, another bully of Sameer
Jeremy Kilpatrick as Jimmy, another bully of Sameer
Kavin Dave as Computer Hacker
According to Karan Johar, writer, co-producer and director of My Name Is Khan, the film is about a multitude of perspectives of the various opinions, facts, and propaganda that comes with the global issue of discrimination and intolerance towards a race of people completely unassociated with the evils of terrorism. In an August 2009 interview, Shah Rukh Khan stated that My Name Is Khan is "not about terrorism, or 9/11. It's about a relationship between two people, between an individual and the State, and between an individual and the country. In short, there are the three important components: a love story, Islam, and a mild form of autism."
In an earlier July 2009 interview, Khan also noted that the film focuses on themes concerning "the relationship between the Western world and Islam and how that has changed over the past few years." He describes the film as about "the journey of one family and how it changes because of 9/11" and suggests "we touch upon that in a very unbiased and educated way." In another early interview, he also stated that, "it's not about a disabled man's fight against disability. It's a disabled man's fight against the disability that exists in the world—terrorism, hatred, fighting ... My Name Is Khan is also about Islam and the way the world looks at Islam but we are not taking any sides. We are only trying to say that there are only good people and bad people. There are no good Hindus, bad Hindus, good Christians, bad Christians. Either you are a good person or a bad person. Religion is not the criterion, humanity is."
Karan Johar said in an interview with Bollywood Hungama: "MNIK is an unusual Bollywood film, if at all, and doesn't have those quintessential pre-requisite elements that any Bollywood film has. It's telling a story with a strong message, professing humanity and goodness and putting it out on a big cinematic scale. So all put together it is definitely a different experience for mainstream India (...) All I can say is that MNIK is going to open windows and doors to many people who have stories to tell and are shy to put their story on the celluloid" When asked about comparisons between the film and the 2009 release Kurbaan, noting that both have dealt with similar topics, he added: "I'd say that Kurbaan didn't have 'hope', whereas MNIK had 'hope'. Kurbaan was more darker, grittier and a grey look at a situation, whereas MNIK is a hopeful, far more positive and a lot more positivity in its finishing reels with a triumph to the human spirit. Kurbaan was very cinematic and interesting in its approach but it didn't offer a solution. Rather it just tells the problem. MNIK offers you that solution."
Casting and filming
Production of the film took place in India and the United States. Filming began in Los Angeles during December 2008 and one of the locations used was UCLA. Johar next continued production in Mumbai during April 2009. During June 2009, production moved to San Francisco and the Bay Area, where they filmed a key scene at the Children's Discovery Museum of San Jose.
Shah Rukh Khan and Kajol were cast in the lead roles, reuniting them after many years. The film faced a temporary setback in late December when actor Aamir Bashir was denied a visa to the United States. He was eventually replaced by Jimmy Shergill as Khan's younger brother. Although Shabana Azmi was originally cast as Shahrukh Khan's mother she left the production after his shoulder injury delayed the filming schedule. She was replaced in the role by Zarina Wahab. Tanay Chheda portrayed Shahrukh Khan's character as a child living in the Borivali section of Mumbai. Chheda was chosen because he resembles Khan and because he is recognizable to an international audience after portraying "middle Jamal" in Slumdog Millionaire. He had earlier worked with Khan in the remake of the 1970s film Don: The Chase Begins Again. American actor Christopher B. Duncan was chosen to portray President Barack Obama. Duncan is known for his interpretation of Obama on The Tonight Show with Jay Leno.
Johar had difficulties finding a mosque to film in. According to actor Arif Zakaria, "I don't know if Karan tried to get permission in Mumbai. But we were to shoot in a mosque in Los Angeles and hard as Karan tried to convince the authorities that his film would not propagate anti-social values, he was denied permission [...] We finally shot the two-day scene with Shahrukh Khan on the set of a mosque constructed at The Club in Andheri." Johar also shot for an important scene inside of the studio of CBS 5 . San Francisco's Film Commission Director Stephanie Coyote was responsible for giving permission to the crew to shoot in the film studio.
While shooting for the film, Khan suffered from severe pain in the neck and headaches which were caused by the expressions and posture of Rizwan Khan. His character in the film who has Asperger's Syndrome, has a way of jutting his neck out at a particular angle and wears an expression which has his eyebrows raised in every scene. As he would shoot for hours, he'd get severe migraines. Director Karan Johar admitted that "Shahrukh's character Rizwan had to arch his eyebrows and focus his eyes on a certain place before every take. Halfway through the shooting of the film, Shah Rukh developed severe headaches as result of all the pressure it would put on his head so he had to see a neurosurgeon for that."
After filming in Los Angeles was completed, Johar stated that, "in all my 11 years as a filmmaker I've never felt the experience to be so different. The content of My Name Is Khan is diametrically opposite to whatever I've done in the past." He described working with both Shahrukh Khan and Kajol again as "magic. They build an inexplicable energy on screen." Johar also stated that he was "blown away by Shahrukh who had done monumental research on his autistic character in the film. I was zapped by how much he knew about the subject."
Johar also asked Khan to co-produce the film under his production company Red Chillies Entertainment, Talking about the initiative, the director said:"we were both passionate about the subject, we said why not co-produce the film? We've known each other so long ... that this new initiative is just an extension of our emotions. Besides, I can never make a film without Shah Rukh."
My Name Is Khan debuted in Abu Dhabi, UAE on 10 February 2010. It released globally in cinemas on 12 February 2010. MNIK had a two phase release. To begin with, it had a mainstream release in India coupled with a regular Diaspora release in UK, US, Gulf, Australia and various other countries. "After that in the months of April and May, we would be looking at a mainstream theatrical release in countries like Germany, Poland and other parts of North America," detailed Johar.
My Name Is Khan was screened as part of 60th Berlin International Film Festival's Official Selection in February 2010, out of competition. The website eBay auctioned the tickets for the film's screening at the Berlin Film Festival for a record price of £1.000 (INR60.000) each. All the tickets were sold out in five seconds.
The first look of My Name Is Khan unveiled at a grand function at Mumbai by Johar, Khan and Kajol and was then be beamed across 70 countries worldwide on the Star TV Network. Says Karan, "This is a first in the history of Bollywood – that the promos of a film will play across such a wide platform. And, this has mainly been made possible because of our synergy with Fox Star Studios...and also the first time a Bollywood company is tying up with a mainstream Hollywood studio. So, there are many firsts to this venture." The trailer of the film was released at the premiere of the Hollywood film, Avatar. My Name Is Khan marked the first instance of a film using the Roadblock advertising technique to market a film, in which the three-minute trailer was aired on all leading television channels simultaneously.
The makers of the film made various brand tie-ups to for the promotion of the film. Dish TV entered into a strategic marketing alliance with Fox Star and spend approximately Rs4 crore in a month-long 360 degree integrated marketing campaign which ran across all India to co-promote the brand and the movie. Reebok created an entire MNIK footwear and apparel collection to promote the film.
On 1 February 2010, Khan and Kajol became the first Indian movie stars to ring the opening bell of the New York stock exchange NASDAQ. They were invited by Fox Searchlight Pictures to do so as part of their promotion for My Name Is Khan. Shahrukh Khan also appeared on Friday Night with Jonathan Ross as part of its promotion in the UK, becoming only the second Indian after Shilpa Shetty to do so.
On 7 August 2009, Karan Johar signed a deal for INR 1 billion with Fox Searchlight Pictures, who will market and distribute it in India (FOXSTAR) and worldwide (Fox Searchlight). It covers all rights except music, which has been secured by Sony Music.
Subhash K. Jha (film critic and author of The Essential Guide to Bollywood) gave My Name Is Khan a rave review arguing that Rizwan Khan "repairs almost anything, including irreparably damaged relationships. But this film about damaged lives needs no repairing. My Name Is Khan is a flawless work, as perfect in content, tone and treatment as any film can get [...] My Name Is Khan is no ordinary film. Long after the wary-of-physical-touch Rizwan has finally shaken hands with President Obama, long after the heat and dust of racial and communal hatred has settled down the core of humanism that the film secretes stays with you. Yes, we finally know what they mean by a feelgood film." Nikhat Kazmi of The Times of India also gave it five stars, describing My Name Is Khan as, "indubitably one of the most meaningful and moving films to be rolled out from the Bollywood mills in recent times." Taran Adarsh of Bollywood Hungama gave My Name Is Khan four and a half out of five stars and argues, "When a film stars two of the finest talents of the country, you expect nothing but the best. SRK, well, how does one describe his performance? To state that this is his best work so far would be cutting short the praise he truly deserves [...] Kajol is pure dynamite and casting her for this character was the most appropriate decision. No other actress could've matched SRK in histrionics the way Kajol has. In fact, SRK and Kajol complement each other wonderfully well and this film only proves it yet again. It's a powerhouse performance from this supremely talented actress." Sarita Tanwar of Mid-Day gave the film four and a half out of five stars and described it as "near-perfect", concluding that "The Karan-Shah Rukh-Kajol combo strikes once more."
Rajeev Masand of CNN-IBN gave My Name Is Khan three and a half out of five stars, arguing that "the film shamelessly tugs at your heartstrings and on more than one occasion wallops you to weep. Aided by solid camerawork, tight editing and a layered story, Johar crafts an engaging, stirring saga that is earnest and noble. With this message movie in the mainstream format, the director takes a step in the right direction." Sudhish Kamath from The Hindu wrote, "My Name Is Khan is populist, yet layered with rich political subtext. It's all about types, yet every character feels real. It's about generalisations and yet it chooses to dwell on the specifics. It's all heart and spirit that you can't help but overlook the flaws and admire it." According to BBC critic Manish Gajjar, who gave the film four out of five stars, the film is "a fiction-based film refreshingly told with realism of racial profiling on American soil. It's a rare treat for Hindi commercial cinema and a crossover audience." Pratim D. Gupta from The Telegraph in a positive review concluded, "My Name Is Khan has conscience and courage and two heartfelt performances. It can try your patience a bit but it will not leave you untouched." Namrata Joshi from Outlook, giving the film 3.5 out of 4 stars, described it as "a gentle, affecting and heart-warming film that makes you smile through your tears. It looks at contentious issues but offers overwhelming hope and renewal."
Rotten Tomatoes lists an approval rating of 81%, with 18 positive and 4 negative reviews. As of 21 February 2010, the film has a score of 50 out of a scale of 100 on the review aggregate website Metacritic, based on 7 reviews.
Rachel Saltz of The New York Times states, "Khan is one of a handful of Hindi films (New York, Kurbaan) about Indians living in a paranoid, post-9/11 America, and there's something fascinating about looking at this country through a Bollywood lens, even when the story is a kind of fairy tale. (Most interesting here is the link made between black Americans and Indians, especially Muslims.) Skilfully directed by Karan Johar and with an evocative score by Shankar, Ehsaan & Loy, Khan jerks tears with ease, while teaching lessons about Islam and tolerance." According to Kirk Honeycutt of The Hollywood Reporter, My Name Is Khan is, "a film that delves compellingly into Americans' anti-Muslim hysteria" as it tackles "a subject American movies have mostly avoided – that of racial profiling and the plight of Muslim-Americans. It also allows Shah Rukh Khan to display his talent to an even wider audience. It's well worth the 162-minute journey."
Jay Wesissberg of Variety describes My Name Is Khan as a "riotously overstuffed and enormously enjoyable drama" with "confident camerawork [which] is matched by exceptional production design" He also states that Shah Rukh Khan and Kajol are a "delight together and her natural warmth makes the relationship even more believable."
My Name Is Khan was not India's official entry to the Oscars as best foreign language film, but it made it to the reminder list of films eligible for the 83rd Academy Awards.
My Name Is Khan opened very well in most places across the world, and set many records in the process.However, the performance of the film could not sustain beyond the first or second week in some places, including India and USA. The film's performance in India was quite good but still is generally regarded as "below expectations" due to the high price, while the overseas performance of the film has been record breaking. As of 4 April, the worldwide gross revenue for My Name Is Khan from the box office is US$36,145,870. Domestically, My Name Is Khan generated INR 727 million net (equating to INR 967 million gross).
In India, the film opened with a massive INR 295 million (US$6,356,688), which was the third-highest weekend net for a Bollywood film, behind 3 Idiots and Ghajini. It recorded the third-highest first day business across India, behind 3 Idiots and Ghajini at the time of release. The film broke the record of Race for the biggest opening weekend in the first quarter of the year. The film was reported to have done very well in multiplexes, but comparatively on the lower side in single screens. The film managed to net INR460.8 million (US$9,952,857) in its first week
In rankings based on distributor share, My Name Is Khan comes in fifth behind Dabangg, Raajneeti, Golmaal 3 and Housefull; in a way bearing out Sajid Khan's boast that Housefull will surpass MNIK in India. The film managed to retain the No. 1 spot at the Indian box office for two consecutive weeks, and remained in the top five for six consecutive weeks. At the end of its theatrical run, the film earned ₹82.51 crore (US$12,698,289) in India.
My Name Is Khan grossed US$23 million in the overseas markets making it the highest grossing Bollywood film overseas at the time and now 5th Highest grossing Indian film in overseas markets ever. The film grossed the biggest opening day overseas, taking an estimated INR170 million, beating the overseas opening day collections of 3 Idiots. The film also grossed the biggest opening weekend overseas, taking an estimated INR 255 million, again beating the overseas opening weekend collections of 3 Idiots which grossed INR 185 million. In its first week, it grossed INR393 million (US$8.5 million). As of August 2010, the film has grossed $4,018,771 in the United States and $37,001,087 elsewhere for a worldwide total of $41,019,858.
In the UK, it made £123,000 on its opening day, which was more than the combined total of 3 Idiots in its first two days (£121,000). By the end of the second week, MNIK became only the third Bollywood film to cross the £2 million mark in the UK, after Kabhi Alvida Naa Kehna and Veer-Zaara, according to the exchange rates prevailing at their respective times of release.
My Name Is Khan debuted in USA in 120 theatres, breaking the record set by 3 Idiots which debuted in 119 theatres. The film broke the record for an opening weekend in the US, earning US$1,994,027. The film debuted at No. 13 at the American box office. By the end of the first week, the film grossed US$2,552,283, second only to 3 Idiots which had a Christmas holiday week. By the fourth week, the film earned US$3,868,891 (INR193,820,016), breaking Shahrukh Khan's previous record set by Om Shanti Om. On the 51st day of screening in the US, My Name Is Khan broke the US$4 million barrier, and became only the second Bollywood film ever to cross this mark, after 3 Idiots.
In Australia, the film earned A$39,000 (INR16.1 lakhs) on its opening day, and was ranked No. 11 in the market. By the first weekend, the film earned US$437,687, defeating the previous record set by 3 Idiots (US$350,000). In New Zealand and Fiji, the film earned NZ$13,627 on its opening day, and earned NZ$144,831 (US$100,698) in its first week. By the end of its theatrical run, the film earned NZ$232,586.
In the Middle East the response to the film has been described as "huge" and it earned approximately US$300,000 on its opening day. In Egypt it earned one million Egyptian pounds. By the end of its theatrical run, the film grossed US$517,018.
My Name Is Khan also opened well in Sri Lanka, Pakistan and the Far East. The film is the highest-grossing film in Pakistan, breaking the records set by Avatar, 3 Idiots and Wanted. By its third week, MNIK has become the highest-grossing Bollywood film in the Middle East, earning US$3.3 million. In South Africa, the film earned US$85,214 (Rs. 39.28 lakhs) in its opening weekend. In Malaysia, it earned MYR105,527 (US$31,106) in its opening weekend, and by the second weekend, the film had earned MYR410,864 (US$120,452). In Nigeria, the film earned an "impressive" NGN2,310,137 (US$15,362) in its opening weekend. In Ghana, the film earned GHS10,599 (US$7,443) by the second weekend. In Indonesia, the film has grown from six to 14 screens and has seen a jump of 300 percent in week three. The film has also grossed $425,825 in 7 weeks at the Bahrain box office. The film has also grossed an impressive $55,073 in Poland in its opening weekend. The film grossed $270,698 in South Africa. The film also made $58,683 in Lebanon region. My name is Khan released in Hong Kong on 5 January 2012 and collected $107,197.
My Name Is Khan created several records, both in India and around the world. In India, the film smashed the record for a Bollywood release in the month of February, breaking the previous two-year record held by Jodhaa Akbar. The film also broke the record for a Bollywood release in the first quarter of the year, breaking the previous two-year record held by Race. In the UK, the film broke the four-year record of Kabhi Alvida Naa Kehna, and became the highest-grossing Bollywood film in the UK. In the Middle East it is also the highest grossing Bollywood film.
The film faced considerable falls in collections after its first week. The drops in collections is evident from the fact that 63% of the film's net collections came from the first week, as compared to 54% for Race, 56% for Ghajini, 49% for Rab Ne Bana Di Jodi and 39% for 3 Idiots. In spite of this, the film managed to retain the No. 1 position at the box office for two consecutive weeks. It was in the top 5 list of the Indian box office for six consecutive weeks. Though the mid-week collections saw a drop of 60% from the opening weekend, it held up well against other major releases and secured the highest first quarter collections, a record previously held by the 2008 film Race. Thus, the film is a financial success owing to its record-breaking overseas collections and healthy domestic collections.
In 2017 – Khan was honoured at the San Francisco Film festival for his role in My Name is Khan seven years after the film's release.
The soundtrack is composed by the critically acclaimed Shankar-Ehsaan-Loy, who previously teamed up with Karan Johar to give hit music for his movies like Kal Ho Naa Ho (2003) and Kabhi Alvida Naa Kehna (2006). The lyrics are penned by Niranjan Iyengar. The music was released on 5 January 2010, by Sony Music Entertainment (India) who has also previously released the music for Karan Johar's movies Kabhi Khushi Kabhie Gham...(2001) and Kabhi Alvida Naa Kehna, which gained global musical success. The musical soundtrack consists of 6 original songs and 4 bonus tracks that are taken from Karan Johar's previous successful films that have featured Shahrukh Khan. The soundtrack includes one instrumental called "Khan Theme", composed by Indrajit Sharma and the strings for the song are performed by the Bombay Film Orchestra. The songs such as "Noor-e-Khuda" blend western bar blues and techno sounds with Indian classical styles such as Sufi and Hindustani. The song "Allah hi Rahem" sung by Ustad Rashid Khan is another example of Sufi thematic song. The soundtrack is thus representative of the "indie fusion genre". Unlike Karan Johar's other films, this film has no lip-sync songs. All the songs are in background.
Upon its release, the album received generally positive reviews from most music critics. Gianysh Toolsee of Planet Bollywood states that the soundtrack is "very much about transcending the boundaries set by Bollywood by venturing into an emotional state through Sufism and spirituality."Joginder Tuteja of Bollywood Hungama gives the album a three out of five stars, suggests that director Karan Johar along with musicians Shankar-Ehsaan-Loy and lyricist Niranjan Iyengar "have brought not a partial but a substantial difference to the way music in [Johar's] films is being looked at."
Although Niranjan Iyengar is alone credited for writing the lyrics for the songs, Niranjan penned the only two Sufi songs in the film, "Sajda" and "Allah Hi Rahem". The famous lyricist, Javed Akhtar was approached to write the lyrics for the remaining three songs. Earlier it was reported that he refused to write lyrics, because Javed Akhtar did not want to share the credits with another lyricist since Niranjan Iyengar has written two songs for the film. Later Karan Johar confirmed that Javed Akhtar penned the remaining songs, but Javed did not want him to be credited as the lyricist when the soundtrack released as he had to share the credits with Nirinjan Iyenger. Javed confirmed this and said, "I don't like to share the credits. I would have got the publicity but the other person, who has done a fine job, wouldn't have. I have read the songs penned by Niranjan and I think he has done a great job."
Khan has stated that due to his last name and religion, he (like Rizwan Khan) is frequently subject to excess security checks at airports. On 14 August 2009, Khan arrived in the United States to promote My Name Is Khan and to participate in South Asian-related events around the country (including Indian Independence Day). Upon arriving at Newark Airport in New Jersey, he was pulled aside by immigration officers after his name popped up on their computers, questioned for over an hour (Khan claims it was at least two hours) about the nature of his visit, and was later released. According to the Times Online, "In Delhi, Timothy J. Roemer, the American Ambassador to India, said that the embassy was trying to 'ascertain the facts of the case.' He added: 'Shah Rukh Khan, the actor and global icon, is a welcome guest in the United States.'"
Khan said he was told that it was because "they said my name was common to some name that popped up on the computer." The officials asked if he could provide names of people to vouch for him. Khan noted that he "had all the documents; they were asking me where I was going to be staying. I gave the name of FOX people with whom I had finalised a deal a few days ago as contacts." However, because they wanted to check his luggage which the airline had lost, Khan said that he "was taken to a room where many people were awaiting a secondary check on visa, most were South Asians. In fact many officers were reluctantly vouching for me, some people were asking for autographs and a Pakistani fan even said he knew who I was. But the officers said it was procedure and kept taking numbers from me."
While he was not allowed to use his own phone, Khan was permitted one phone call. He was thus released after officials from the Indian Consulate intervened. Civil Aviation Minister Praful Patel stated that the event will be further explored with U.S. officials. According to the BBC, "Elmer Camacho, a spokesman for the US Bureau of Customs and Border Protection, said the questioning was part of the agency's routine process to screen foreign travellers." When asked if he would demand an apology, Khan replied that he would not.
The director of My Name Is Khan, Karan Johar, was asked during an August 2009 interview with MiD DAY if the event was a publicity stunt for the film. Johar denied that it was and responded: "It's upsetting because I got a text message this morning asking me if it was publicity plug for my movie. (Sarcastically) I mean, if I had that much power over the Homeland Security, why would I allow Shah Rukh to go through something like this? [...] What's really shocking is the fact that when I was writing the film, I never thought that what happened to the protagonist of the film would happen to Shah Rukh." During a January 2010 interview, Khan referred to the implication that the event was a publicity stunt for the film as "lowdown and cheap." Christopher B. Duncan, who portrays President Obama in My Name Is Khan, also commented on the incident stating: "I was very disappointed with what SRK experienced at the airport. We're living in times where the levels of fear can sometimes spill over into paranoia. Here's a man who is an international superstar, being detained for an excessive amount of time at an airport in the United States. It had to be very upsetting for him. Imagine Oprah (Winfrey) being detained at an airport in India for a long time, during a kind of interrogation."
In addition, the incident sparked debate and commentary among Indian politicians, actors, and others. It also led to demonstrations in India. California Governor Arnold Schwarzenegger later invited Khan to have dinner with him "in a bid to diffuse what has become a slight diplomatic row."
In another event, on 5 February 2010, while promoting My Name Is Khan on the British talk show Friday Night with Jonathan Ross, Khan claimed that female security staff at Heathrow Airport in London had printed a naked image of him taken using the newly installed body scanner that he was asked to go through. He said that he autographed it for them, though it is not clear if his comments were intended as a joke. A BAA spokeswoman for Heathrow Airport has denied his claim. She claimed that it was "completely factually incorrect", stressing that images captured using the equipment could not be stored or distributed in any form and that his claims "simply could not be true."
In relation to Khan's comments, The Economic Times has raised concerns over the new body scanners and the possibilities of it being abused to distribute naked pictures of celebrities. His comments have restarted the debate in Britain over whether the new scanners violate individual privacy.
After Shahrukh Khan (who owns the Kolkata Knight Riders cricket team) criticised the fact that members of the Pakistani Cricket Team were not bought by the clubs competing in the 2010 Indian Premier League (IPL), he was condemned by Shiv Sena, a Hindu nationalist political party. There were consequent protests and demonstrations against him and demands that cinemas in India refuse to screen My Name Is Khan. Khan responded by stating, "What did I say that was wrong? All I said was that I wanted people to come to my country." Khan continued by stating that: "I have no idea what I am supposed to apologise for [...] If I am in wrong I would like to apologise but someone needs to explain to me what is wrong." He also stated that he does "not want any confrontation. I am trying to explain myself on every platform [...] I have not said anything that is anti-national." Khan said that he was willing to meet with Bal Thackeray to discuss the issue.
Initially, Shiv Sena rescinded its demand to block release of My Name Is Khan after it was announced that Khan would be allowed to release it "in as many theatres" as he would like. However, on 10 January 2010, when cinemas opened for advanced bookings, individuals disguised as "cinegoers" began to attack cinemas and booking centres. Director Karan Johar and distributors met with police to ask for additional security. In response, Chief Minister of Maharashtra Ashok Chavan threatened to withdraw security cover for party leader Uddhav Thackeray. Later, some security was withdrawn and the Maharashtra government has "called in five battalions of the State Reserve Police Force to protect 63 cinemas in the city that will screen the film directed by Karan Johar from this Friday." There were multiple arrests and leave of all police officials were cancelled. The distributor, Fox Star, stated that the film would still be released on its scheduled opening date, 12 February. It opened to full cinema houses across India.