7.6

/

10

Alchetron

Rate This





Genre

Comedy, Drama, Romance




Duration




Language

Hindi English






Director

Nikhil Advani




Release date

November 28, 2003 (India)




Country

India







Release date

28 November 2003




Writer

Niranjan Iyengar (dialogue), Karan Johar (screenplay), Karan Johar (story)




Directors

Nikhil Advani, Ron Reid Jr.




Music director

Shankar-Ehsaan-Loy, Shankar Mahadevan, Ehsaan Noorani, Loy Mendonsa




Songs

Kal Ho Naa Ho




Cast

Shahrukh Khan

(Aman Mathur),

Jaya Bachchan

(Jennifer Kapur),

Preity Zinta

(Naina Catherine Kapur Patel),

Saif Ali Khan

(Rohit Patel),

Sushma Seth

(Lajjo Kapur),

Reema Lagoo

(Aman's Mother)

Kal ho naa ho deleted scenes shahrukh khan saif ali khan preity zinta
Kal Ho Naa Ho (English: Tomorrow May Never Come), abbreviated as KHNH, is a 2003 Indian romantic drama, directed by debutant director Nikkhil Advani. The film was written by Niranjan Iyengar and Karan Johar and produced by Yash Johar and Karan Johar under their Dharma Productions banner. The soundtrack for the film was composed by Shankar-Ehsaan-Loy, with lyrics written by Javed Akhtar.
Contents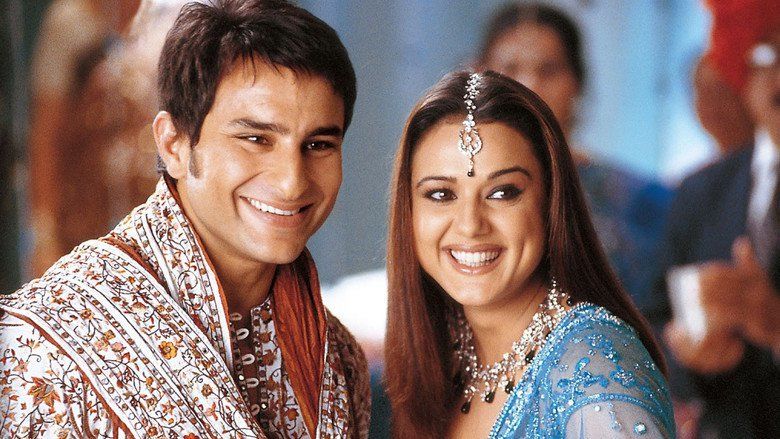 The film features Jaya Bachchan as Jennifer "Jenny" Kapur, Shahrukh Khan as Aman Mathur, Saif Ali Khan as Rohit Patel, and Preity Zinta as Naina Catherine Kapur. It also features Lilette Dubey, Reema Lagoo, Sushma Seth and Delnaaz Paul in supporting roles. The film narrates the story of a pessimistic uptight student, Naina Kapur, who falls in love with her neighbour, Aman Mathur, a terminally ill patient who tries to play matchmaker for Naina and her friend, Rohit Patel.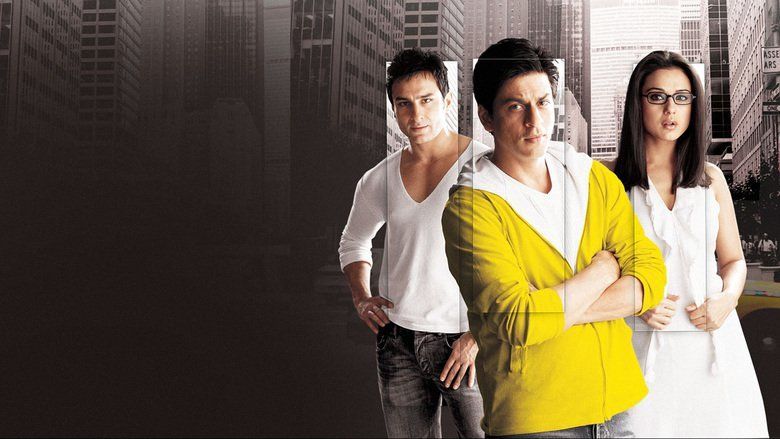 Kal Ho Naa Ho was promoted with the tag-line "A Story of a Lifetime... In a Heartbeat". The movie was produced on a budget of ₹280 million. It was released on 28 November 2003 to largely positive critical reviews. Additionally, it was screened at the Valenciennes, Era New Horizons, Marrakech International and Helsinki Film Festival.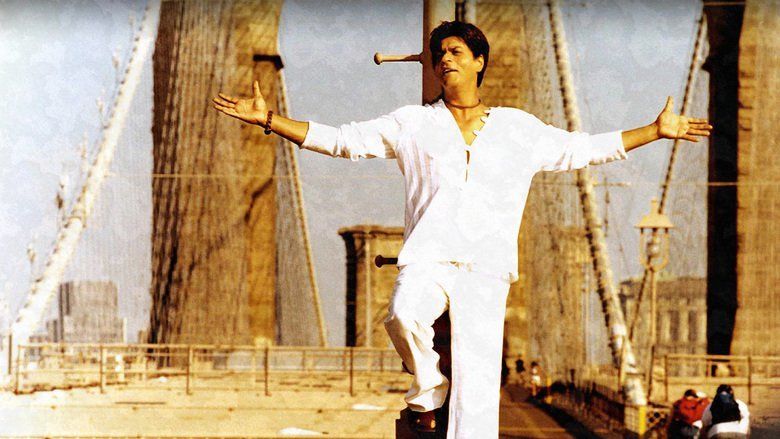 The film was a commercial success and emerged as the second highest-grossing film domestically, and the highest-grossing film in overseas and worldwide that year. When adjusted for inflation, its total net gross in India is ₹1.21 billion (US$19 million). The following year, Kal Ho Naa Ho won two National Film Awards and eight Filmfare Awards. The film was paid homage by the German Embassy in India by releasing a short 8 minute video named Lebe jetzt. The film was remade in Telugu as Chakram.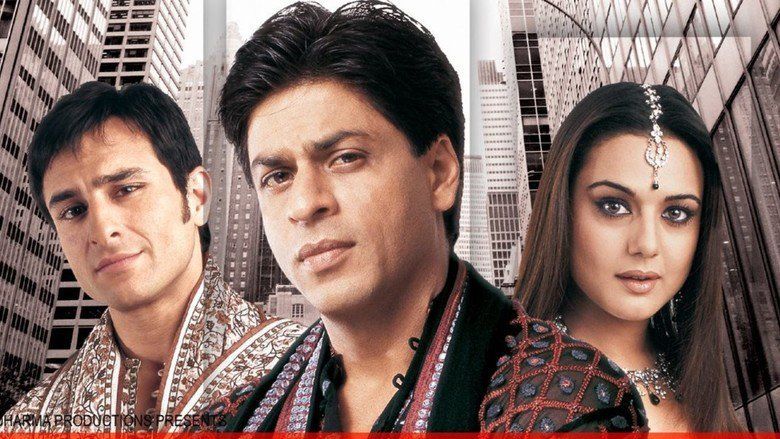 Plot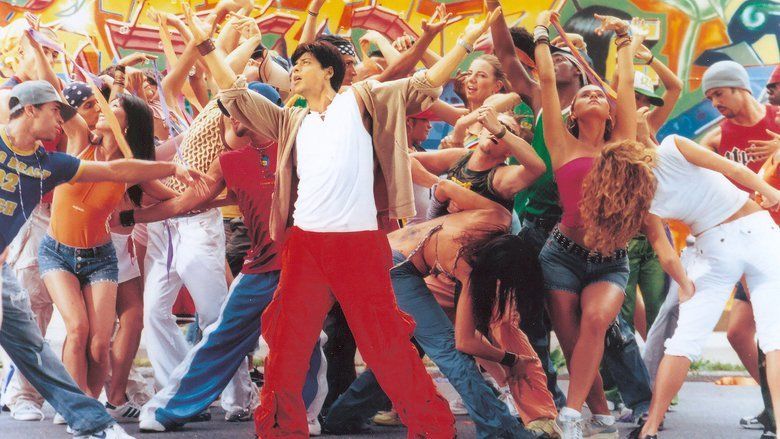 The story follows Naina Catherine Kapur, (Preity Zinta) a pessimistic MBA student who lives in New York City with her widowed mother, Jennifer 'Jenny' Kapur (Jaya Bachchan) and two younger siblings, her biological brother Shiv and her adopted sister Gia. Jenny runs an unsuccessful cafe alongside her neighbor Jaswinder 'Jazz' Kapoor (Lilette Dubey) to provide for her family. Jenny's mother-in-law, Lajjo,(Sushma Seth) is cold towards both Jenny and Gia, as she believes Gia's adoption is what led her son to commit suicide. Naina has two best friends; her classmate Rohit Patel (Saif Ali Khan) and neighbor Jaspreet 'Sweetu' Kapoor. Her life is dull and shadowed by the loss of her father, until Aman Mathur (Shah Rukh Khan) moves into the home next door. He has come to live with his mother (Reema Lagoo) and uncle (Dara Singh). His bubbly attitude and fun-loving ways gradually win over Naina's family as he slowly starts to solve their familial problems. Among many things, Aman transforms Jenny's cafe into an Indian restaurant which alleviates their financial burdens with its success. He also works very hard to bring happiness into Naina's life and encourages her to live life to the fullest. His efforts result in Naina realizing that she loves him. Meanwhile, Rohit is beginning to fall in love with Naina and asks Aman for his help in confessing his true feelings. Naina calls Rohit and informs him that there is something she must say to him, and Rohit interprets this as Naina potentially reciprocating his feelings. Naina reveals to Rohit that she is in love with Aman and a heart broken Rohit calls Aman to tell him what has transpired instead. Naina arrives at Aman's house and is struggling to come clean when she sees a wedding photograph of Aman and an unknown bride. Curious, Naina proceeds to ask Aman who the bride in the photograph is and he reveals it is his wife, Priya (Sonali Bendre) on their wedding day. He goes on to say that has Priya had left for New York after a heated argument, and he had come to win her back. Heartbroken, Naina leaves without confessing while Aman's eavesdropping mother confronts him about what has happened. An emotional Aman reveals that he is not married at all, and in fact, Priya is not his wife but is his childhood friend and doctor. Aman is a terminally-ill patient, suffering from a fatal cardiac disease, and his chances of surviving are extremely low without the vital transplant he needs. He reveals that he is deeply in love with Naina as well but has decided to hide his love for her as he believes his days are numbered and he will eventually bring Naina pain with his loss. He vows to bring Naina and Rohit together as he believes Rohit's love is true and that he will be able to provide for her in the ways Aman will not. Aman embarks on a plan to transform Naina and Rohit's bond, and their friendship blossoms into the beginnings of what might be something more. However, Naina discovers their plans and publicly chides Aman for attempting to ruin her friendship with Rohit, just because Aman was not able to love Naina back. She also believes Rohit's love is not genuine and just the result of Aman's ploys. Aman then takes out Rohit's diary and confesses his true feelings for Naina claiming they are Rohit's. Naina eventually forgives both Aman and Rohit. Once the dust settles, Rohit proposes to Naina, which she accepts. It is during this time that Aman reveals to the entire family that Jennifer's husband had an illicit relationship and fathered Gia. When Gia's biological mother refused to accept her, Jenny adopted her and took her as her own. Unable to deal with the guilt, Naina's father took his own life. Lajjo realizes the years of torment she has put her daughter in law under, and they reconcile. During Naina and Rohit's engagement function, Aman has a health episode and is admitted to a stint in the hospital, unknown to anyone besides Aman's family. Meanwhile, while shopping with Rohit, Naina encounters Priya, who she recognizes as Aman's wife. After introducing herself, Priya's husband Abhay reveals that Aman is terminally-ill and is happy to see that he has friends like Rohit and Naina by his side during what seems to be his last days. Shocked, Naina realizes that then and there that Aman has sacrificed his love for her. She leaves the store in an emotional frenzy and Priya informs Aman about what has just happened. Aman leaves the hospital urgently and meets with Rohit. Frustrated Rohit questions why he is coming in between two people that are in love and why he should marry Naina and not Aman. Aman angrily urges Rohit to marry Naina if not for his own sake, then for Aman's sake as his dying wish. Aman then seeks out Naina and finds her in tears. Naina berates him for loving her so much and embraces him, as he tries to persuade her that he does not love her. Rohit and Naina's wedding rituals begin, in which Aman and Naina tearfully participate. Some time after the marriage, Aman is on his death bed and bids goodbye to everyone before he dies. He is left alone with Rohit after Naina leaves the room in an emotional frenzy. He declares that while Rohit has gotten Naina in this lifetime, he asks him to promise that in every other life to follow, Aman will be the one who gets Naina. Twenty years pass, and a middle aged Naina recalls how Aman impacted every aspect of their lives to a now grown-up Gia. She tells of how Aman taught her how to love life, her family, Rohit, and even herself. They are joined by her teenage daughter Ria and an aged Rohit, who reminds Naina that he loves her as they embrace and walk back towards their home.
Cast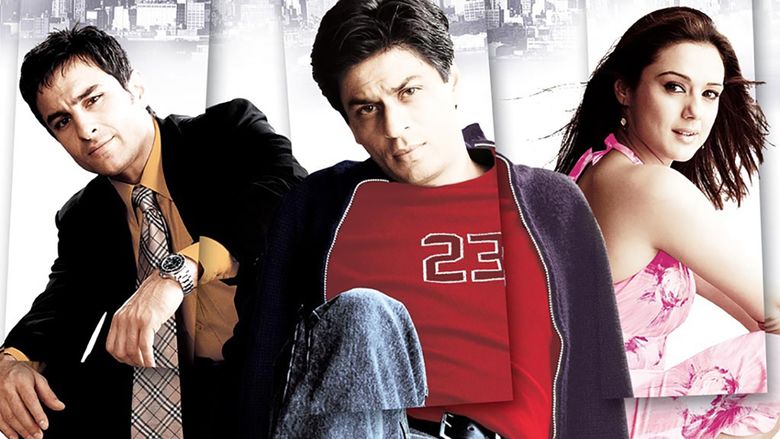 Shah Rukh Khan as Aman Mathur
Preity Zinta as Naina Catherine Kapur/ Naina Catherine Kapur Patel
Saif Ali Khan as Rohit Patel, Naina's best friend and fellow MBA student
Jaya Bachchan as Jennifer "Jenny" Kapur, Naina's Mother
Sushma Seth as Lajjo Kapur, Naina's Grandmother
Dara Singh as Pritam Chaddha, Aman's Uncle
Reema Lagoo as Aman's Mother
Jhanak Shukla as Gia Kapur, Naina's younger Sister
Athit Naik as Shiv Kapur, Naina's younger Brother
Lilette Dubey as Jaswinder "Jazz" Kapoor
Delnaaz Paul as Jaspreet "Sweetu" Kapoor, Jazz's Sister
Ketaki Dave as Sarlaben Patel, Rohit's Mother
Satish Shah as Karsanbhai Patel, Rohit's Father
Sonali Bendre as Priya, Aman's Doctor (Extended guest appearance)
Sulbha Arya as Kantaben, Rohit's Housemaid
Simone Singh as Camilla
Shoma Anand as Kammo
Kamini Khanna as Vimmo
Rajpal Yadav as Guru
Anaita Shroff Adajania as Geeta Parekh, Naina and Rohit's classmate (Extended guest appearance)
Dheepesh Bhatt as Frankie, Sweetu's Boyfriend
Sanjay Kapoor as Abhay, Priya's Husband
Kajol a dancer in song "Maahi Ve" (Special Appearance)
Rani Mukerji a dancer in song "Maahi Ve" (Special Appearance)
Farah Khan as a customer in Jenny's restaurant (Special Appearance)
Uday Chopra as one of the narrators that says 'Day 6'(Special Appearance)
Production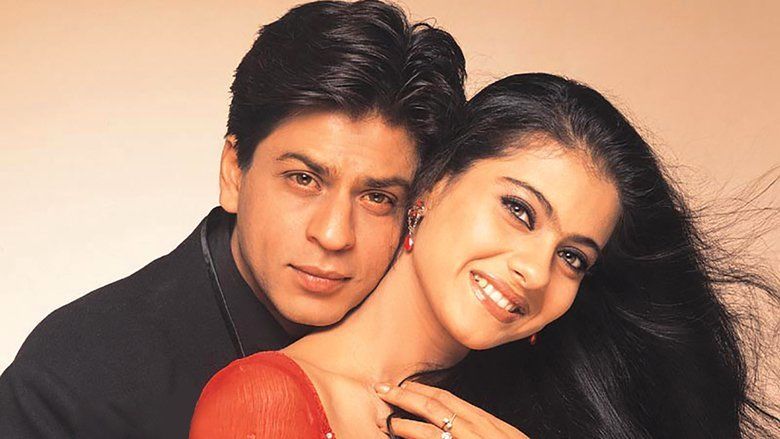 The film was written by Karan Johar with dialogue by Niranjan Iyengar and directed by debutant director Nikhil Advani. It was the last film to be produced by Yash Johar before his death on 26 June 2004. The choreography was by Farah Khan. Manish Malhotra designed the costumes of the three lead actors.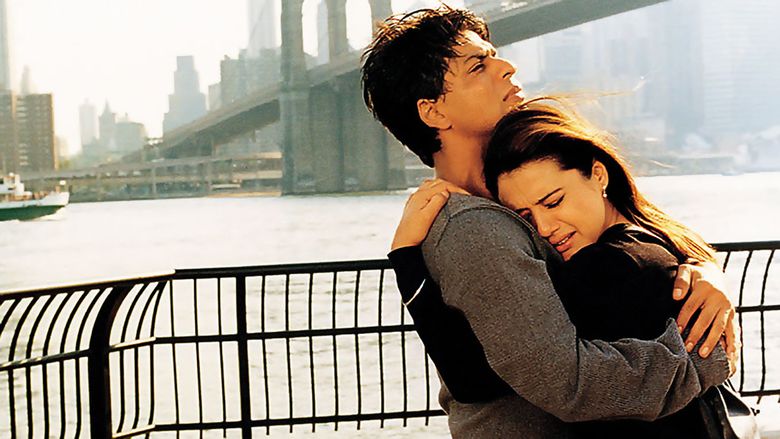 Pre-production of the film began in December 2002. Kareena Kapoor was initially the first choice for Naina, but due to differences over her fees, she refused the role. Preity Zinta was the immediate next choice. Salman Khan was considered for the role of Rohit as Johar had previously worked with him and Shah Rukh in Kuch Kuch Hota Hai. However, Salman declined the offer.
Kajol was also considered for a leading role in the film, but this idea was quickly halted due to her pregnancy at the time of filming. Karan Johar insisted that she at least make a special appearance, which she did in the song "Maahi Ve."
Shooting began in January 2003 in New York City. A major portion of the movie was shot in Toronto due to high production costs in New York City.
Soundtrack
The soundtrack of the film was released on 27 September 2003 by Sony Music at Mumbai's Taj Lands End's banquet hall, Salcette in various formats and consists of seven tracks. The music is conducted by award-winning trio Shankar-Ehsaan-Loy, with lyrics authored by Javed Akhtar. The music went on to do extremely well at the charts, and became the most successful music album of the year. Shankar-Ehsaan-Loy won their first Filmfare Best Music Director Award for this soundtrack, as well as the National Film Award for Best Music Direction.
Unlike with many other Hindi productions, the film's makers also complied with international copyright laws and obtained the license to use Roy Orbison's "Oh, Pretty Woman" for an extended musical sequence taking place in the streets in New York.
After its release, the album was met with high critical and commercial success, with sales of over 2.3 million copies. It was third highest-selling album that year. The title song was featured in Outlook's list of Bollywood's Timeless Melodies, making it the only contemporary selection on the list. The soundtrack was also listed in the top five of BBC Asian Network's Top 40 Soundtracks of all time.
Background
Karan Johar decided to end the association with the composer duo Jatin-Lalit since they publicly stated that they were upset with his decision to use other music directors for Kabhi Khushi Kabhie Gham. This marked the beginning of the collaboration of Shankar Ehsaan Loy with Karan Johar, which continues to date.
Development
The theme of the title song "Kal Ho Naa Ho" was composed by Loy, and Shankar arranged the groove. The song "Pretty Woman" by Roy Orbison was licensed and used in the film.
Release
The film was released in India on 28 November 2003.
Kal Ho Naa Ho is the second Bollywood film to attain wide release in Germany in early 2005 (the first was Kabhi Khushi Kabhie Gham). Since then, Bollywood movies have become increasingly popular in Germany, and other Indian films have been shown on prime time television and have sold well on DVD. This movie was released in Poland in May 2006 as Gdyby Jutra Nie Było (If Tomorrow Never Comes) and in France in 2005 as New-York Masala.
Critical reception
Kal Ho Naa Ho was positively received by critics worldwide.
Taran Adarsh gave the film 4 out of 5 stars and said: "Yes, Kal Ho Naa Ho does live up to the expectations. Yes, the SRK-Karan Johar magic does cast a spell the third time around. The film works, courtesy SRK's incredible performance and Karan's deft writing." Archana Vohra from NDTV gave the film 3 out of 5 stars, stating, "Advani ... seems to have come up with an innovative way to present a done-to-death plot," later adding that "irrespective of the frills, fancy clothes and well-dressed stars, the film does strike a chord and is a brilliant debut by Nikhil Advani." Rediff.com, in a positive review, wrote, "The film is fresh in treatment and storytelling. Shah Rukh excels as the supercool Aman. You understand why it is difficult for Karan to work with any other actor, because SRK steals the show with a designer-made role. Given SRK's performance, it is all the more important to take note of Saif, whose Rohit Patel will be remembered just as much as his Sameer in Dil Chahta Hai. Saif is first-rate, and your heart goes out to this under-rated actor. Preity Zinta slips into character beautifully. Right from the preppy spectacles to her no-nonsense demeanor, Preity captures the spirit of Naina Kapur. She has never looked so pretty. Kal Ho Naa Ho will carry you with its exuberance." Mayank Shekhar in his review for Mid-Day gave it 3.5 stars out of 5 and wrote, "Yes, this is soft-focus, sweet background score, life is simplistic escapist cinema. But the bottom line: at the end of the day, it works and is worth your entertainment bucks. And that's saying a lot." In a positive review, Dave Kehr from The New York Times concluded, "This is a rich meal that may best be reserved for stomachs accustomed to such bountiful fare." Komal Nahta from Outlook, in a 4-star review, remarked, "[writer] Johar has packaged the drama so very contemporarily that the final product holds its own. Undoubtedly, [the film] is one of the cleverest love triangles in Hindi cinema." Ziya Us Salam wrote for The Hindu, "Watch Kal Ho Naa Ho. It is like life. It gives you reason to be disappointed, just as it gives you reason to hope." In a four-star review, Jitesh Pillai of Filmfare wrote, "Anyone (which means almost everyone) who has loved and lost will recognize that Kal Ho Naa Ho is a bittersweet valentine to unrequited love. Nikhil Advani makes the sensational debut that other directors only dream of." Anupama Chopra, in a positive review, wrote, "Advani, who learned family film formula with masters Aditya Chopra and Karan Johar, emerges as a distinctive voice with his first film. Written by Johar, the film revisits old ground-NRIs, wedding song, snazzy club number and Shah Rukh-but also evolves the formula. It has technical pizzazz (split screens, in-camera dialogue) and an urbane wit despite snags like sub-plots with pat endings or a lame pre-interval portion. The dialogue by Niranjan Iyengar is perfectly pitched and the performances uniformly good." Chopra included the film in her list of "Top Ten Movies of The Year", ranked fifth.
Ram Kamal Mukherjee from Stardust praised the film's performances, technical aspects and its entertainment value, but noted several flaws in its "logistic part". Rama Sharma from The Tribune concluded, "Kal Ho Na Ho is a usual filmi love web with a cosmopolitan appeal and a lot of comedy packed in the first half." Jami Bernard from New York Daily News wrote, "Bollywood musicals, those big, loud, colorful extravaganzas from India, are an acquired taste and much of "Kal Ho Naa Ho" doesn't translate easily," though he further noted, "All three leads grow on you."
Box office
Kal Ho Naa Ho grossed ₹58.18 crore (US$9.1 million) in India and $6.1 million (₹27.90 crore) in other countries, for a worldwide total of ₹86.08 crore (US$13 million), against its ₹28 crore (US$4.4 million) budget. It had the highest worldwide opening weekend of the year as it grossed ₹18.59 crore (US$2.9 million). The film earned ₹30.69 crore (US$4.8 million) during its first week. Worldwide, it is the highest-grossing Bollywood film of 2003.
India
It opened on Friday, November 27, 2003, across 400 screens, and earned ₹2.17 crore (US$340,000) nett on its opening day, which is the 4th highest Indian first day of the year. In its opening weekend, the film grossed ₹6.71 crore (US$1.0 million) nett and is the highest Indian opening of the year. It grossed ₹12.45 crore (US$1.9 million) nett in its first week. The film earned a total of ₹38.55 crore (US$6.0 million) nett and is the 2nd-highest-grossing Indian film of 2003.
Overseas
Outside India, it is the highest Indian opening of the year as it grossed $1.85 million (₹8.46 crore) in its opening weekend. It went on to gross $2.6 million (₹11.89 crore) in its first week. The film earned a total of $6.1 million (₹27.90 crore). The biggest gross came from United Kingdom (£1.675 million), USA/Canada ($1.993 million), Gulf ($525,000) and Australia ($210,000). It is the highest-grossing Indian film of 2003.
Awards
Kal Ho Naa Ho received many awards and nominations. The awards it won are highlighted in bold:
Kal ho naa ho sad eng sub full video song with lyrics khnh
References
Kal Ho Naa Ho Wikipedia
(Text) CC BY-SA
Kal Ho Naa Ho IMDb
Kal Ho Naa Ho Rotten Tomatoes
Kal Ho Naa Ho themoviedb.org